Affiliate Disclosure: Cannabis Vape Reviews is supported by readers like you. We may earn commissions for purchases made through our links. Learn More
The RYOT Verb DHV is a rugged, little pocket vape for dry herb. It's simple to operate, performs well, and falls on the budget-friendly end of affordable dry herb vaporizers. This is the perfect beginner vape for someone that's on-the-go.
RYOT is known for their high-quality, functional cannabis and smoking accessories. I've reviewed many of RYOT's products including their protective cases, grinders, and dugout pipe.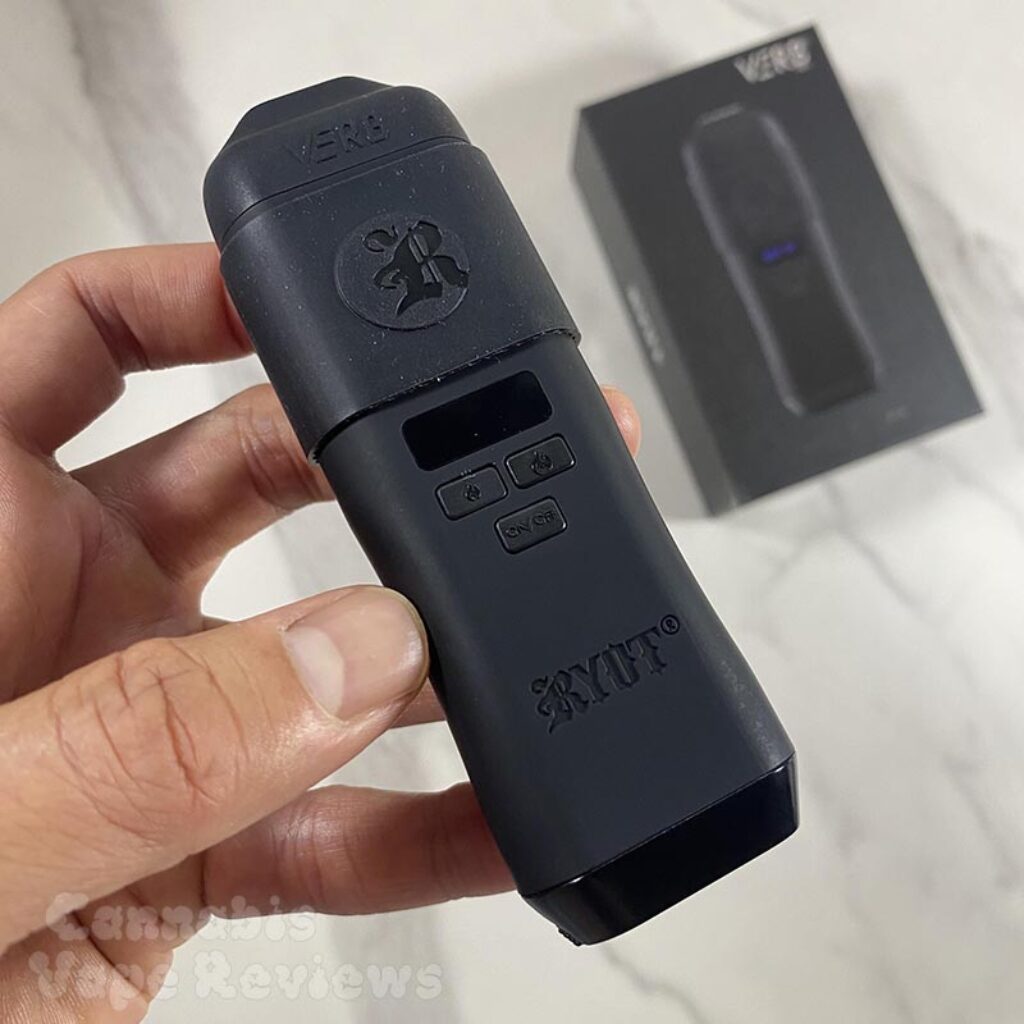 RYOT Verb DHV
Tiny pocket vape with easy operation, funnel for loading, and LED screen to monitor temperature and battery life.
Discount with code at Ryot.com
Their products are well-designed so I had high expectations. This little Verb DHV vape hits all the marks you need in a reliable vape. It's nothing fancy, and it just simply works great.
In this review, we'll be looking primarily at the RYOT Verb DHV vape for flower paired with the RYOT Slym protective carrying case.
What's Included
The following is included with the RYOT Verb DHV:
1x RYOT VERB DHV vaporizer
1x micro usb charging cable
1x cleaning brush
25x cotton swabs
1x magnetic removable poker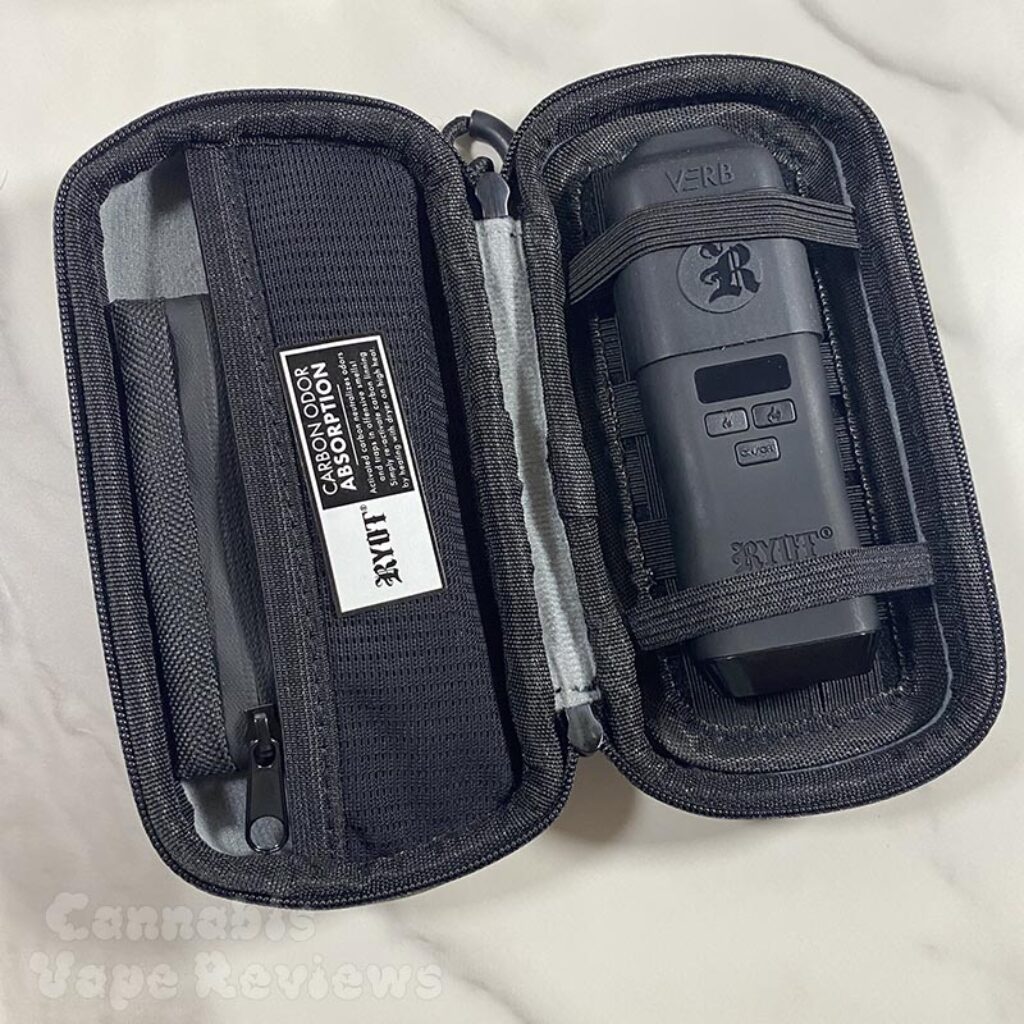 Please note that the Slym carrying case is sold separately.
Design & Features
Designed for simplicity
Silicone mouthpiece with impact and heat resistance
Oven chamber with easy load funnel
Stainless steel magnetic removable poker integrated
Temperature control for rapid heating
OLED display
Slim profile design
2-year limited warranty
Tech Specs
| | |
| --- | --- |
| Dimensions | 6″ × 3.6″ × 1.7″ |
| Weight | 0.4 kg |
| Materials | – |
| Battery | 1200 mAh rechargeable Li-ion |
| Charging Time | – |
| Heating Time | – |
| Oven Capacity | – |
| Sessions | 6-8 sessions per charge |
| Heating Method | – |
| Temperature Settings | 330°F – 420°F |
How to Use
This is one of the simplest dry herb vapes to use.
You pull the mouthpiece off the top of the device, load the oven with your loose leaf herb, then pop the mouthpiece back on.
Click the power button three times to turn on the device. It will start heating immediately.
Then use one of the two buttons to either increase or decrease to your desired temperature. You'll see the temperature changing according to the LED display.
Once the vape reaches the desired temp, the device will vibrate, and the LED screen will indicate that it's time to vape. Start puffing away!
When your session is over, power off the device with another three clicks of the power button.
Our Experience
The vapor quality and airflow on this vaporizer is surprisingly good despite the simplicity of the vape's design and cheap price-point.
You'll get plenty of vapor if you pack the oven with well ground up herb, set to the the lowest temp setting of 330F. The airpath is very short so you'll pull some decent plumes of smoke immediately. I prefer to keep temps low to avoid any discomfort from the heat. At the higher ranges, the vapor may get a tad bit too hot, depending on your personal preference.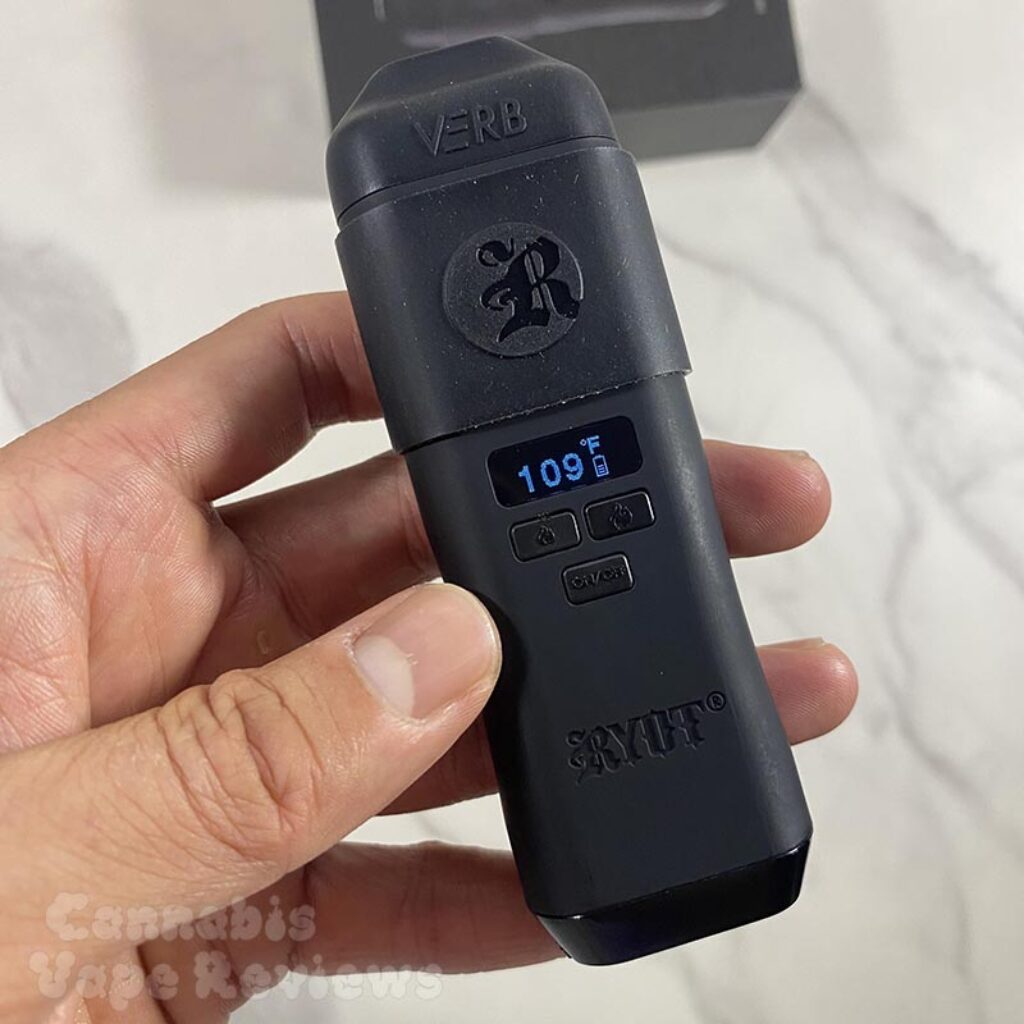 Because of the short airpath and not much air cooling designed into this vape, anything above 350F starts to get a bit too harsh on my throat. But I'm fine if I set the temp at 330F.
The chamber has a funnel shape at the top is quite wide making the oven very easy to load and unload. The built-in poker tool that's magnetically connected to the bottom of the device is convenient. Use this tool to stir up your bowl mid-session or when the vapor seems to be thinning out. You can again use the poker tool to loosen the herb when you want empty out the oven.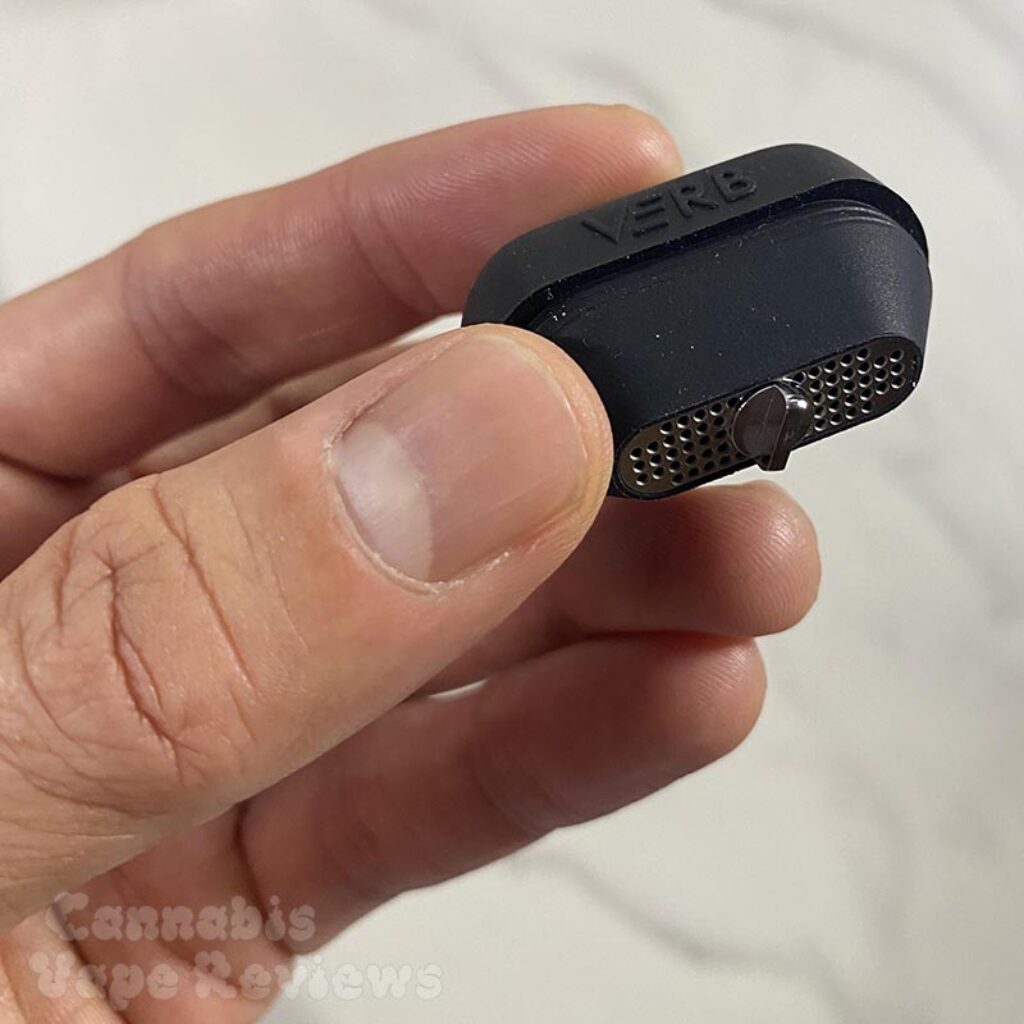 Once you get your temperature dialed in, treat your hits like little sips from a straw rather than heavy rips from a bong . This will give you smooth, consistent vapor from every draw.
Having an easy to read LCD screen with precise temp control and battery life is always good.
Similar pocket vapes such as the DaVinci MIQRO and G Pen Dash may look cooler and more high-tech than the RYOT Verb DHV, but they both lack an LCD screen. The RYOT Verb gets bonus points in this department.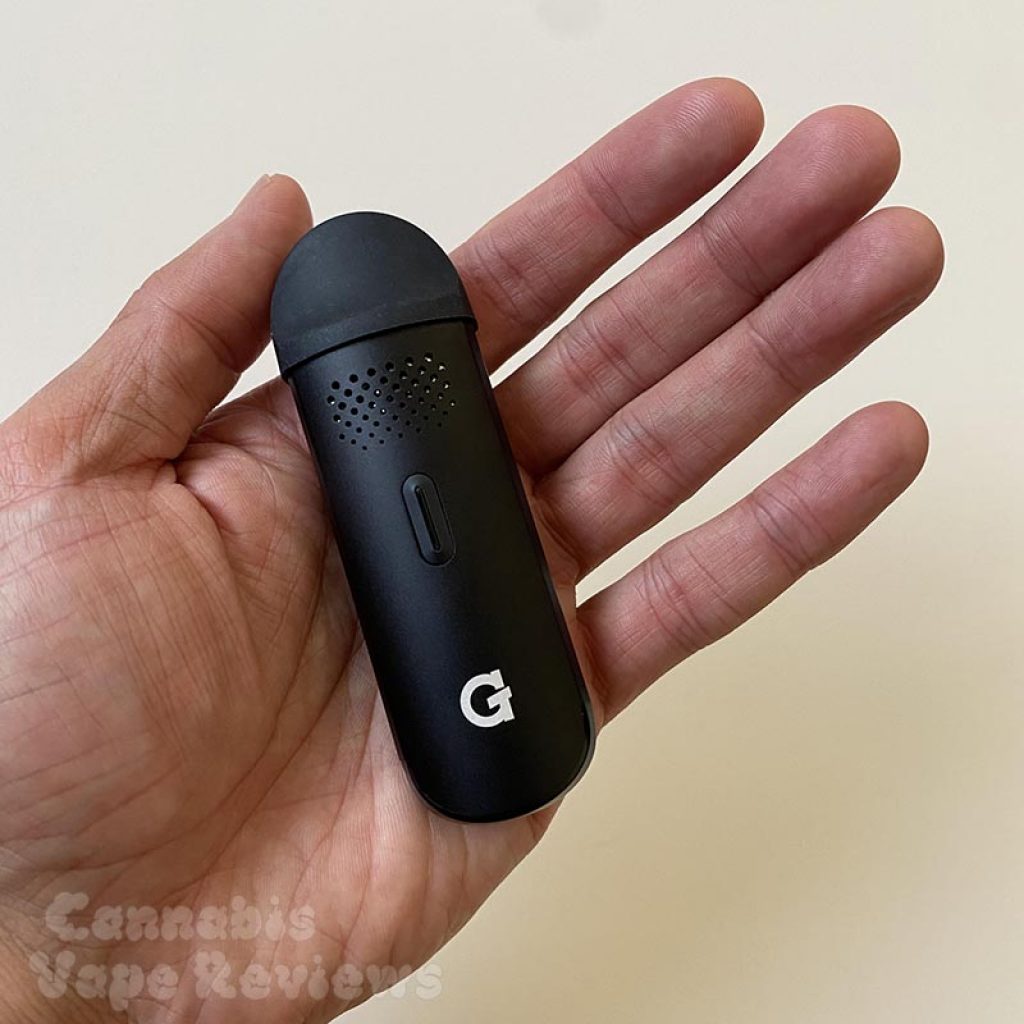 DaVinci vapes use unique LED light patterns that are kind of cool, but more difficult to read than a typical LED display screen.
G Pen Dash vape also lacks a screen and instead, uses a color coded button to differentiate between temperature presets. It's easy to forget what color corresponds to what temp preset.
I'd rather be able to control the temp in exact degrees and be able to see battery life on a clear display like with the Verb DHV vape.
To protect and carry around this vape, the Slym case pairs with it perfectly. Like many of RYOT's other well-designed cases, this case is lined with activated carbon which absorbs odors and hides weed smell.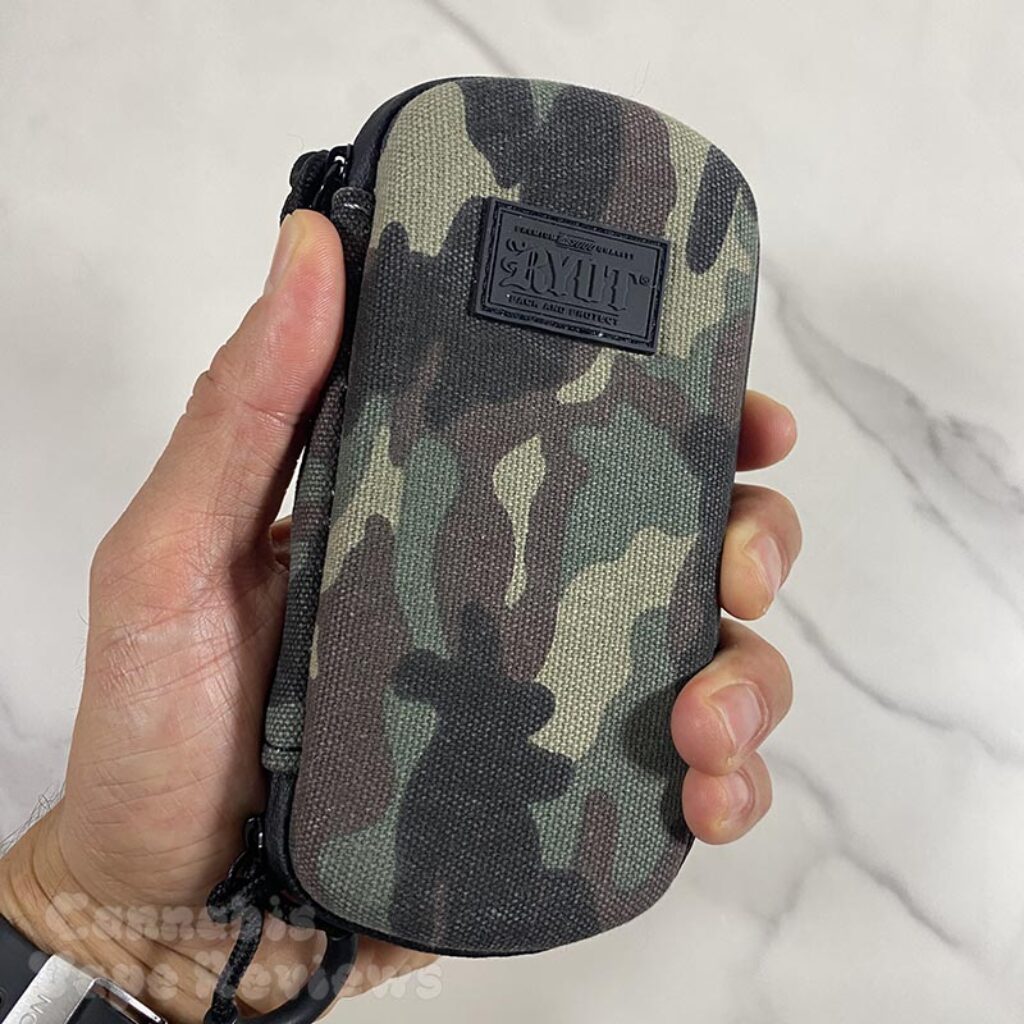 One side of the case has functional elastic straps to hold additional accessories of various sizes and shapes. The DHV vape fits nice and snug in this case without bouncing around. The case is also fitted with high quality zippers that block out moisture and giant pull tabs / loops to easily open and close the zipper.
Final Thoughts
The RYOT DHV Verb is a great dry herb vape that conveniently fits in your pocket. Whether you're looking for an intro vape or a backup to carry with you, the DHV vape is well worth it, especially at the current price point. It performs well, has decent battery life, and couldn't be easier to operate.
Price & Where to Buy
RYOT DHV Verb dry herb vape retails for $100 and is available at Ryot.
Warranty Information – Backed by a 2-year warranty.

15% off
Discount with code at Ryot.com
Tiny pocket vape with easy operation, funnel for loading, and LED screen to monitor temperature and battery life.
Additional Product Photos
Shops for Dry Herb & Flower Vapes