Affiliate Disclosure: Cannabis Vape Reviews is supported by readers like you. We may earn commissions for purchases made through our links. Learn More
The Hydrology9 NX vape is the updated version to the original Hydrology9 dry herb vaporizer. The re-designed NX model has the same great water-cooling feature, but with the most notable difference being the added capability of being able to switch between flower and concentrates.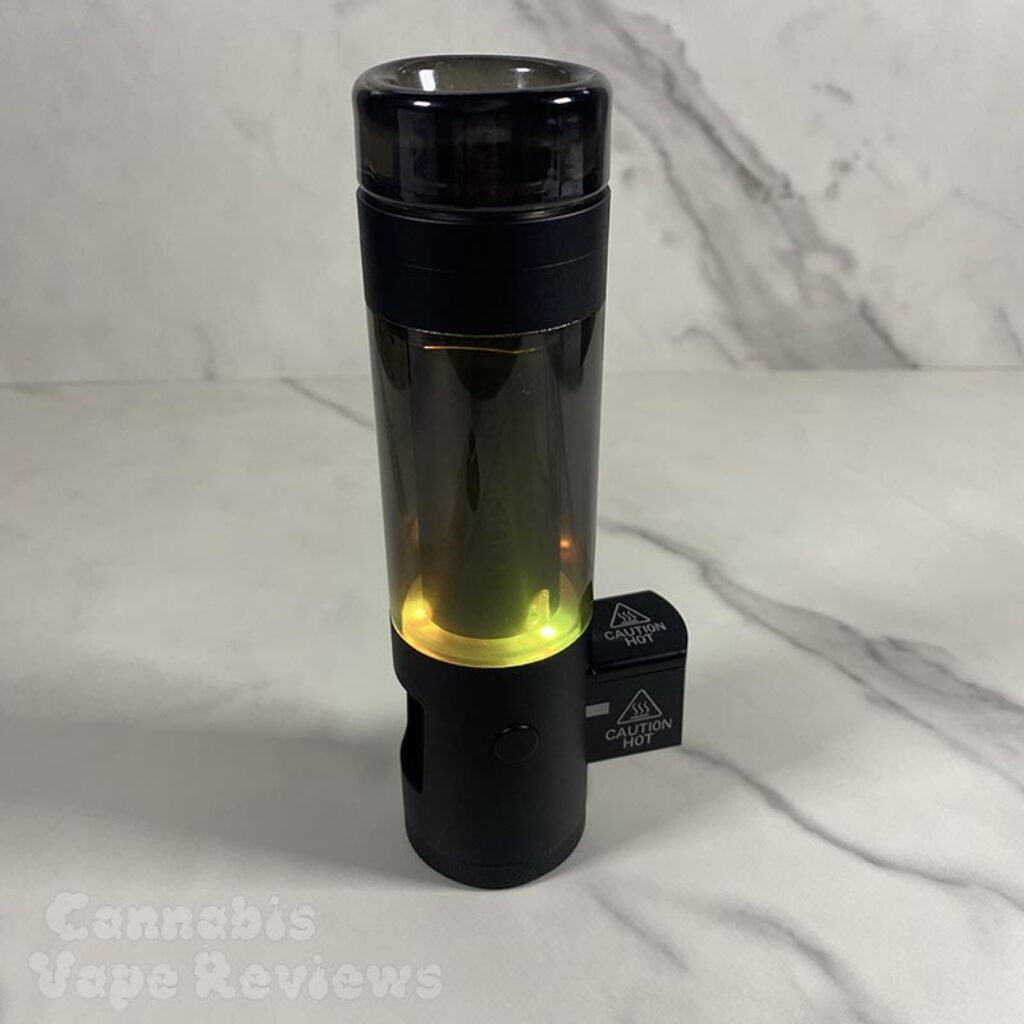 The all new, 2nd generation NX model uses swappable cartridges, depending on the cannabis type being used. At the bottom of the device, they got rid of the stir feature to mix up the herb in the conduction chamber and instead replaced it with a twisting dial to adjust the temperature among 6 different presets.
The Hydrology9 NX is available in two different color styles including the original in silver and limited-edition black midnight style.
In this review, we'll be taking a look at the midnight edition.

Cloudious9 Hydrology9 NX
Combo vaporizer for both wax concentrates and dry herb flower. Uses switchable cartridges and water-cooled chamber for smooth vapors.
Discount with code at Cloudious9
What's Included
1x Hydrology9 NX Vaporizer
1x Magnetic Charging Kit
1x Heating Chamber
1x Tool Kit
1x User manual
1x Silicone sleeve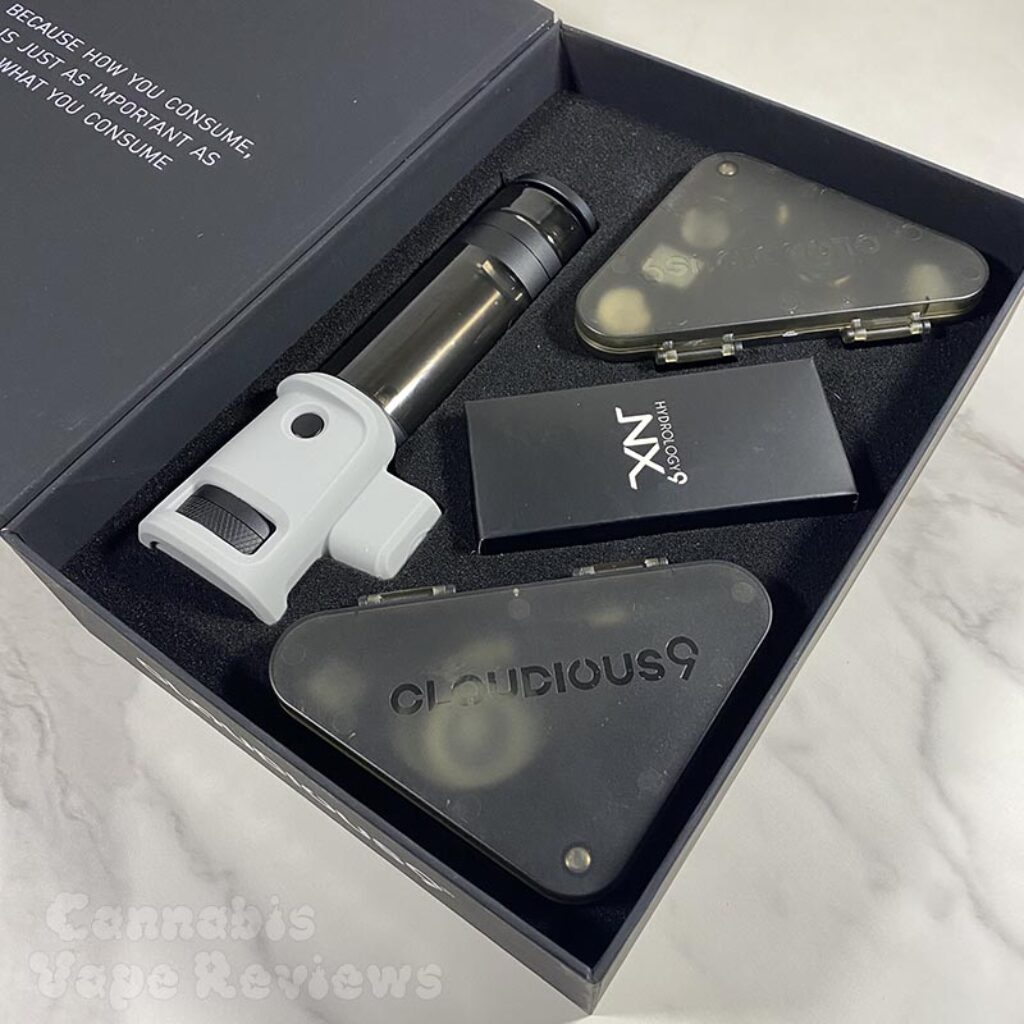 Design & Features
Easily swappable cartridges for flower and concentrates
Fully disassembles for thorough cleaning
Provides water-filtered vapor for silk smooth hits
Improved anti-leak design
Rechargeable and replaceable battery (1900 mAh capacity)
Temperature dial with 6 temperature settings (ranges vary for wax and flower cartridges)
Two different concentrates buckets to use (ceramic bucket and quartz)
Thermal heating plate for the concentrate atomizer
Hidden quartz carb cap located in the magnetic mouthpiece cover
Ceramic heating chamber with dual layers of convection and conduction (flower cartridge)
Body made of borosilicate glass and aluminum alloy
Heavy-duty silicon sleeve for protection and shield from heat
Elegant and portable design
Convenient dab tool holder built into the magnet micro-USB charging port
Leather carrying case and other accessories available
Tech Specs
| | |
| --- | --- |
| Dimensions | Vaporizer device: 45mm x 175mm; Chamber attachment: 18mm x 10mm |
| Weight | – |
| Materials | Borosilicate glass mouthpiece and body; Space grade anodized aluminum alloy body; Concentrates chamber: quartz and ceramic buckets; Flower chamber: ceramic oven |
| Battery | Lithium polymer 1900mAh battery |
| Charging Time | 60 minutes |
| Heating Time | 30 – 60 seconds |
| Oven Capacity | – |
| Sessions | 60-120 times on a full charge |
| Heating Method | Hybrid convection and conduction heating |
| Temperature Settings | 6 temp presets; Temp ranges from 324°F – 750°F |

Cloudious9 Hydrology9 NX
Combo vaporizer for both wax concentrates and dry herb flower. Uses switchable cartridges and water-cooled chamber for smooth vapors.
Discount with code at Cloudious9
How to Use
While the Cloudious9 Hydrology9 NX vaporizer looks complicated and intimidating, it's actually quite easy to operate once you get the hang of it. There's lots of moving parts that put this vape together, but with the simple, one-button interface, you'll master using it in no time.
Basic use of Hydrology9 NX
Remove the mouthpiece and fill the chamber of Hydrology9 NX with water (fill no more than half way), then replace the mouthpiece.
Grab either the cartridge for wax or dry herb. Load it with your cannabis then push the cartridge into the base of the vaporizer.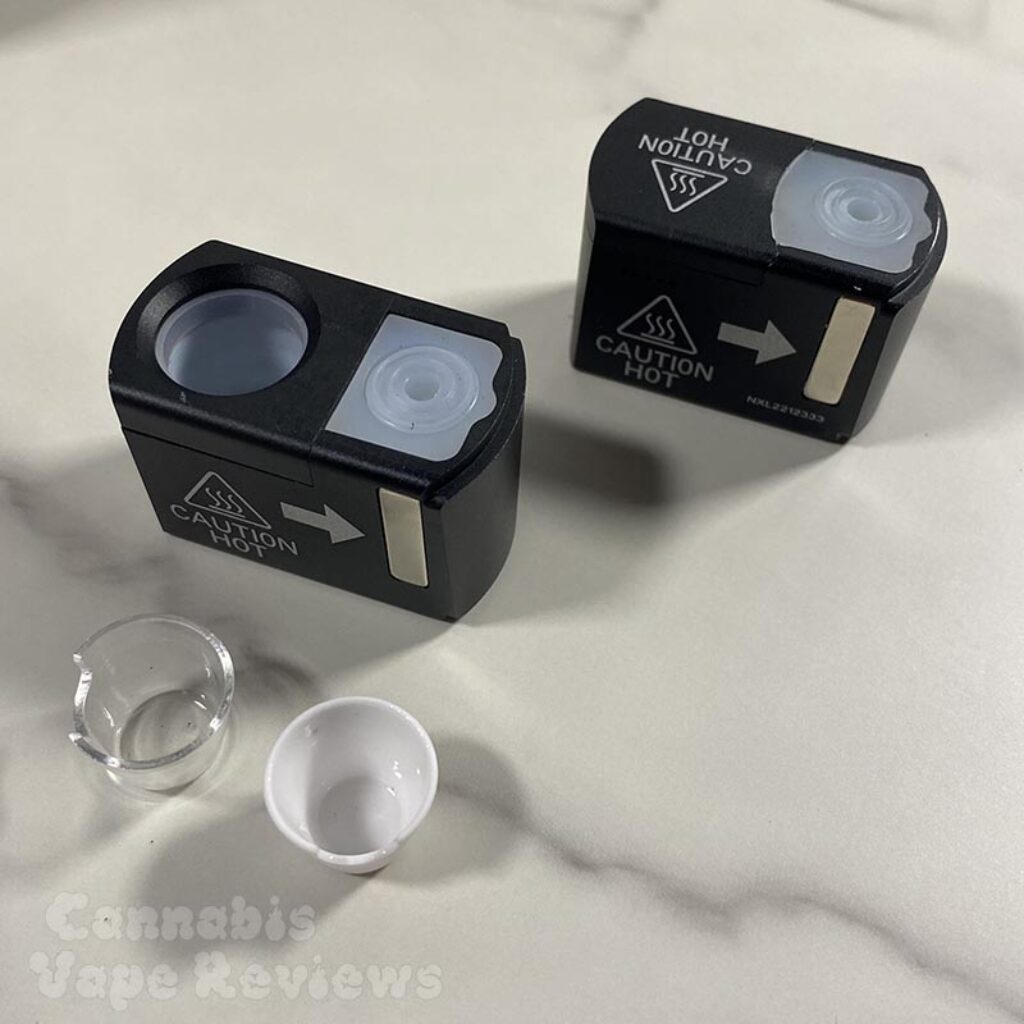 The cartridge can only be loaded from one side of the vape. Insert the cartridge with the arrow facing the opening of the vape that has the pin connections at the base.
The cartridge has to be sticking out to be activated. Power on the device and start toking once desired temp is reached. When you finish your session, either press the cartridge all the way in or power down the device by pressing the power button.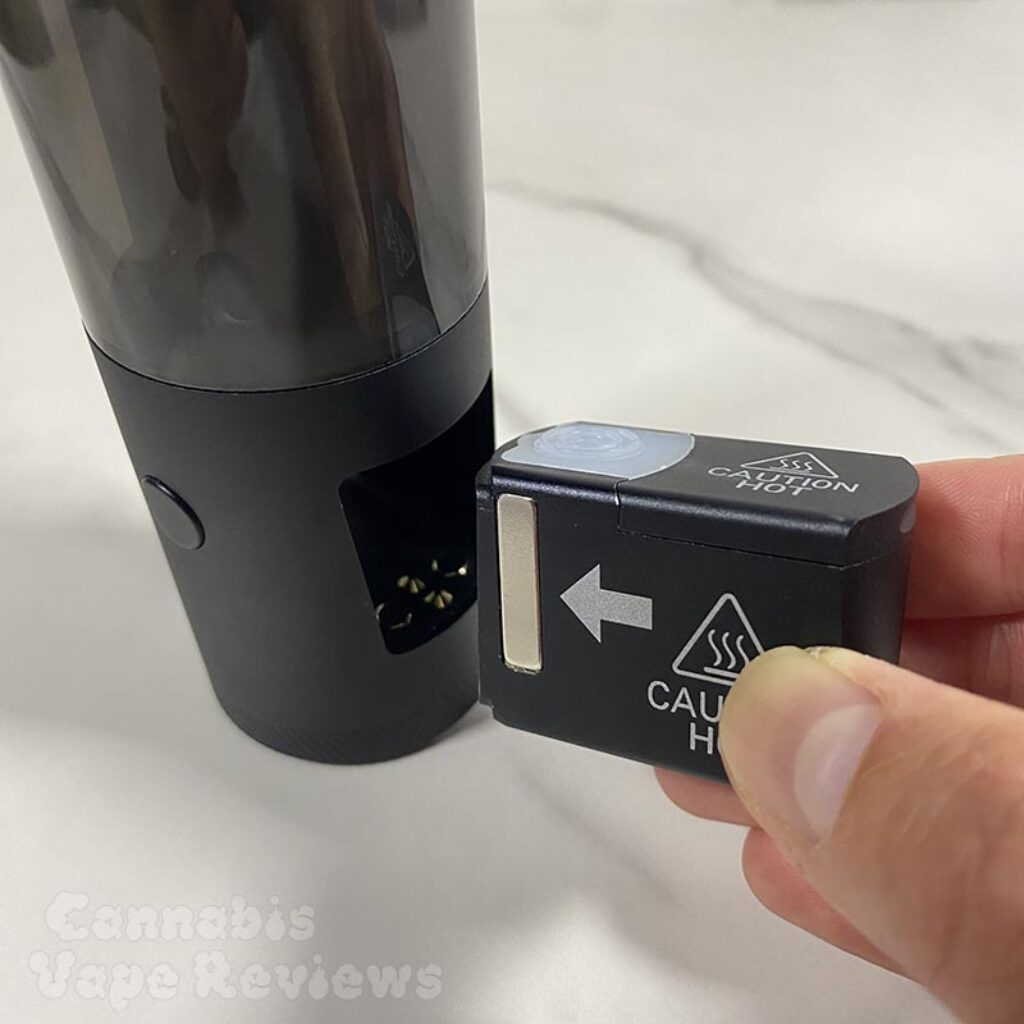 Power on the device – 3x clicks to turn power on/off. Once powered on, the device will immediately start flashing as it heats up to the last selected temp. When the lights turn solid green the selected temp has been reaching and it's time to start puffing.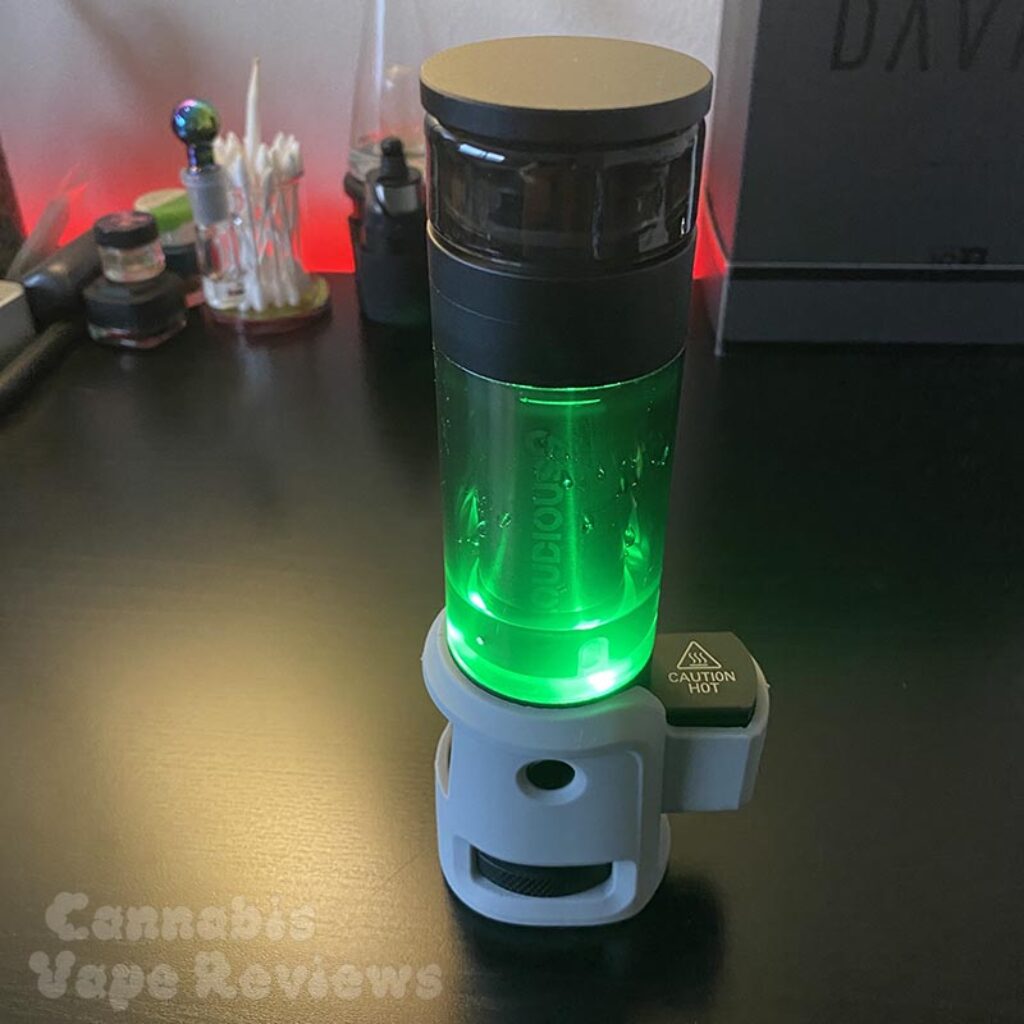 Temperature and battery life
Check battery life – Press and hold button for 3 seconds to check battery life. The Hydrology9 NX device will flash blue when the battery is running low.
Adjust temperature – Twist the dial on bottom of device counter-clockwise to increase temp and clockwise to decrease. Blue is the lowest setting at 356F with white being highest at 455F (when using flower cartridge). For the wax cartridge, the color coding is the same but temp ranges will be from 554F up to 770F.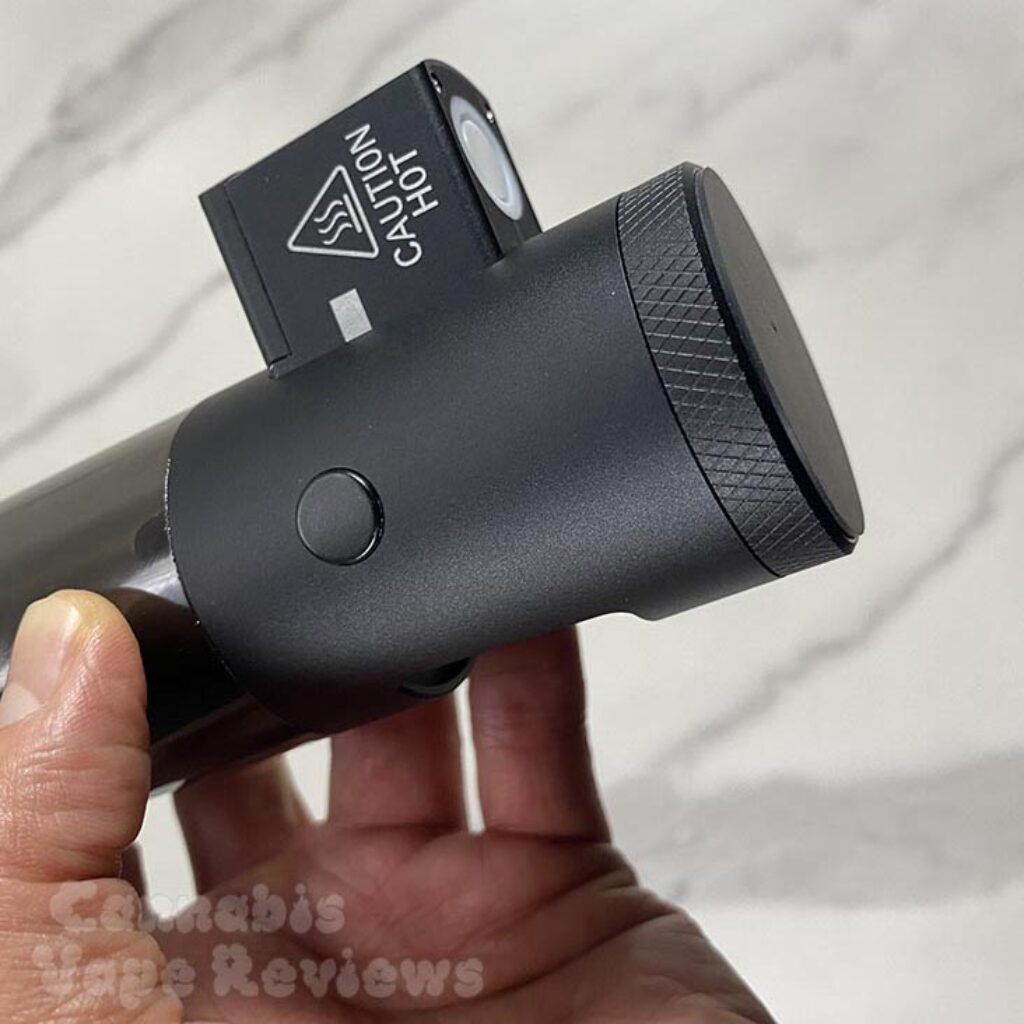 Our Experience
Being intrigued by the original 1st gen Hydrology9, I was excited to test out this updated Hydrology9 NX version.
The last model had some issues with water leaks if you didn't seal it just right. This is always a bit scary when there's water involved, mixed with batteries and electronic components. With this new edition, the design got a few internal upgrades to make it leak-proof.
Leak-proof and water leaks
Upon first use, I still experienced some water leaking. I noticed that the leaks seem to happen when I leave the cartridge completely in the device and let it sit for a few hours. When I pull the cartridge out, I noticed drops of water on top of the cartridge.
This was fixed by re-assembling the entire device and ensuring that all grooves in the seals are perfectly aligned, and tightened down.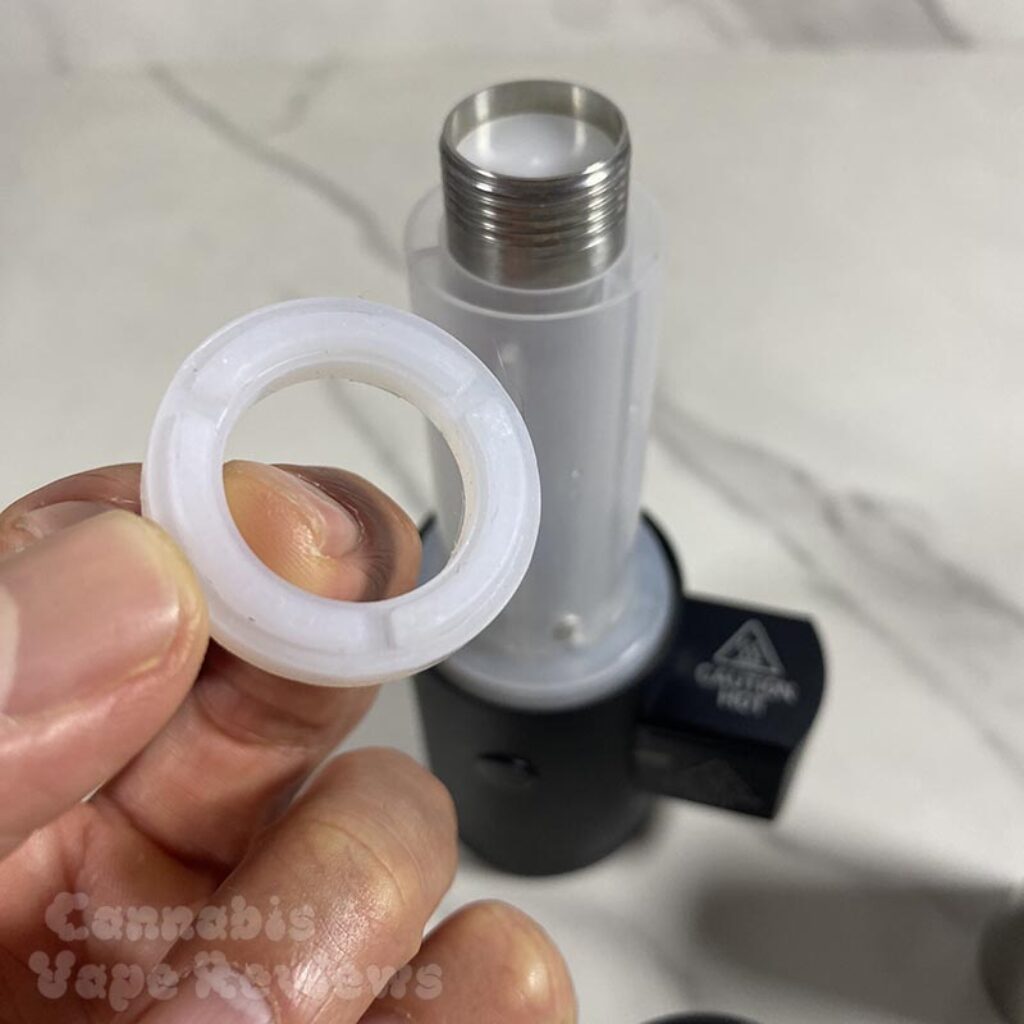 Parts and assembly
The Hydrology9 includes lots of tiny parts, seals, washers, and things. The more parts that a device uses, the more potential problems it introduces as points of failure. This vape seems unnecessarily overcomplicated, however, it's a very unique design that looks cool, and functions great. It Looks cool, the way it lights up is cool, and the ability to switch between wax and flower is awesome. The Hydrology just simply works very well.
The good thing about being able to fully dissemble the device allows you to do a deep cleaning. I like this as I keep all my vapes fresh to continue working on top condition. Also, the modular design allows you to replace worn out or damaged parts (extra parts are included).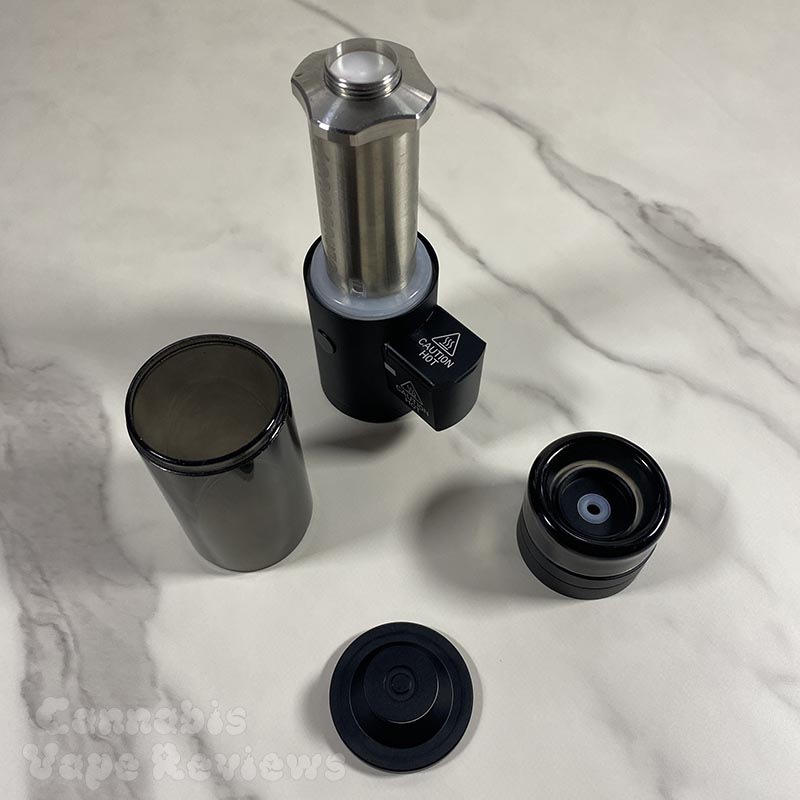 Design and packaging
I noticed some inconsistencies between the manual's instructions and the actual device. For example, for one of the cartridges, the instructions show to untwist the cap to load the chamber, but it's actually sealed with a magnetic lid, not a twist-off.
Perhaps this was for meant for different model or cartridge design, and the manual is outdated. Also, the website and packaging didn't mention anything about a silicone sleeve.
I was surprised to find the included sleeve and consider this a bonus. The packaging for this design is also a bit weird. It's nice, but could use some improvements. This is obviously a minor detail and does not affect the quality or performance of the vaporizer itself.
I noticed some tiny imperfections in the tinted glass. Tiny specs of the tint are chipped off. At the price point of this vape, I want everything looking tip-top. As a typical customer, I'd be somewhat upset, but in all honesty, I got this vape a reviewer so I can't complain! I suggest playing it safe and perhaps going with the original style with clear class, but this is personal preference. Blacked out stuff usually looks cooler if you're into that. Other than the glass, the rest of the vape seems well-designed and clean cut.
Vapor quality and flavor
As with the previous Hydrology9 model, the vapor quality is fantastic. Any time you can opt for water-cooled and filtered vapors, you're going to experience silky smooth vapor hits.
The water-filtering affect works very well at cooling the vapors to prevent any harshness. In fact, at the lower temps, this vaporizer hits dangerously smooth, so be sure not to over do it. You may be extracting way more THC and inhaling more potent vapor than you think.
When using fresh dry herbs, the flavor transfer is great. At the two lowest temp settings, you'll get a few nice draws before your weed starts to taste burnt.
As for concentrates, my first hit was sub-par with some weird flavors. I'm assuming that's because all the parts are new and any residual factory materials may still need to be burned or cleaned off first.
While other vapes in the same class (like the Davinci IQ, Ispire daab, and Dr. Dabber Switch vapes) use "clean" materials such as all glass or ceramic airpaths, the Hydrology9 NX does use some plastic and silicone parts.
These materials can alter the flavor. Other materials that make up the airpath on the NX model include borosilicate glass and aluminum.
It would be nice if the design could be improved to use only these "clean" materials, but then again, this vape is unique in that it offers built-in water-filtration which is rare for a dry herb vape especially.
To be fair, I haven't fully tested the Hydrology9 NX with concentrates. I'll have to do some more testing report back. I've mostly been using it for dry herbs so far which has been great.
Small flower chamber
The oven chamber on the flower cartridge is kind of small and narrow. You'll want a weed scooping and packing tool to help load the chamber and pack down your buds. Otherwise, you'll find yourself grabbing small pinches of your ground up herb and having to smush it down into the oven with your pinky.
If you're in need of a grinder for dry herb you might be interested in Cloudious9's Tectonic9 grinder. The Tectonic9 has a funnel to accurately dispense your herb in those hard to load places exactly for this reason. It also has an "auto-dispensing" feature as it vibrates to shake the ground herb out of the funnel.
Final Thoughts
All-in-all, the Cloudious9 Hydrology9 NX is an impressive combo vape. It's always a pleasure to experience water-cooled vapors for the smoothest hits. This is a unique feature to have built into a vaporizer. Most vapes use a separate water attachment to achieve this affect. The NX is easy to operate, it's design is eye-catching, and it produces great flavor. This vape also allows you to easily switch between cannabis extracts and flower if you like to mix it up.
Price & Where to Buy
Cloudious9 Hydrology9 NX retails for $250 (originally $300) and is available at Cloudious9.
Warranty Information – Backed by 2-year limited warranty.
See how the Cloudious9 NX and original Hydrology9 comparison review here.

15% off
Discount with code at Cloudious9
Combo vaporizer for both wax concentrates and dry herb flower. Uses switchable cartridges and water-cooled chamber for smooth vapors.

15% off
Discount with code at Cloudious9
Get additional savings with a
Cloudious9 bundle
. Several bundles available. Best value bundle includes the Hydrology9 NX vape with leather carrying case, Tectonic9 grinder, and Atomic9 dry herb vape.
Additional Product Photos
Shops for Dry Herb & Flower Vapes