Affiliate Disclosure: Cannabis Vape Reviews is supported by readers like you. We may earn commissions for purchases made through our links. Learn More
The Ispire daab is an electronic rig (also know as an e-rig) designed to be used with all of your cannabis extracts and wax concentrates.
This e-rig uses induction heating for fast heat-up times and precise temperature control. Unlike most e-rigs on the market, the Ispire daab features a clear LED screen to dial in your desired temperature and check battery.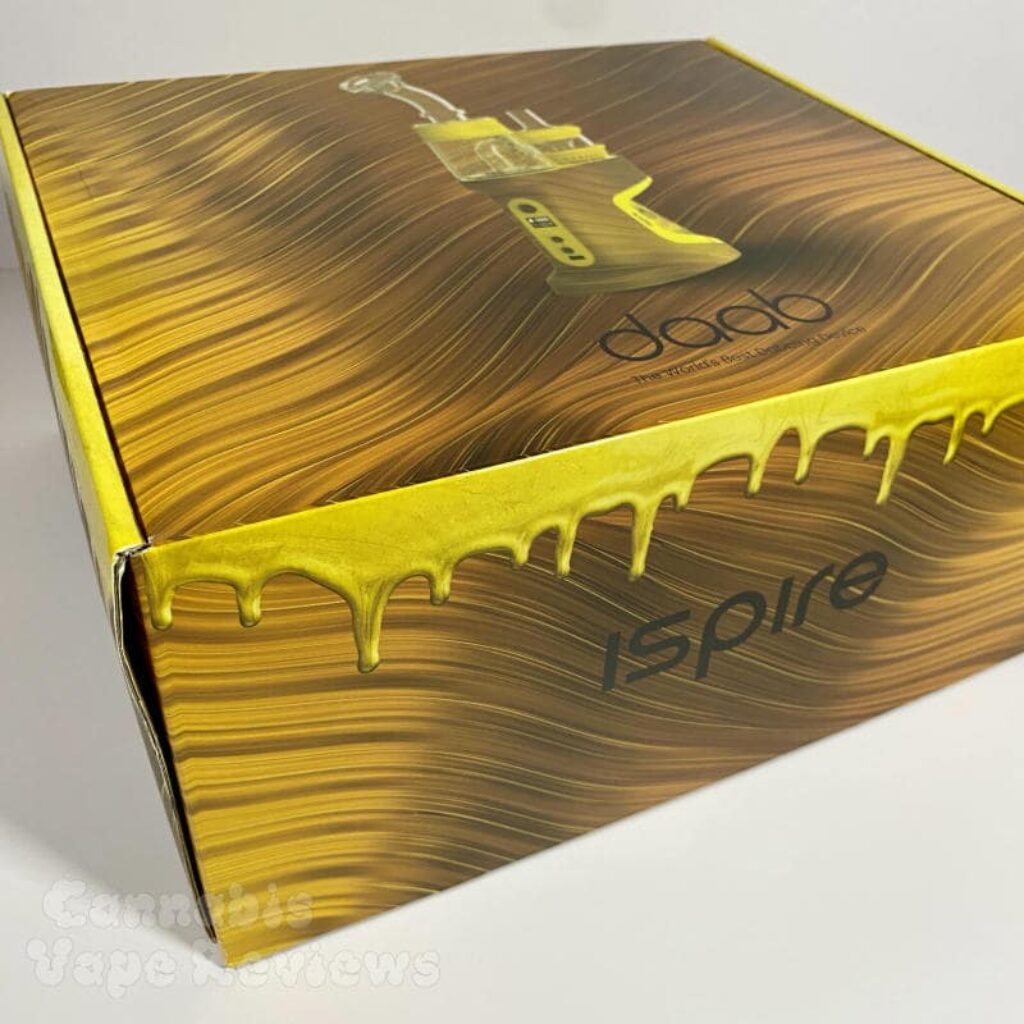 Ispire Honey daab e-rig
Battery-powered Induction heating e-rig, that heats super fast. Features LED screen for precise temp control and battery life, as well as angled carb cap, and protective carrying case.
Discount with code
E-rigs are growing in popularity because of their portability, ease-of-use, and safety. Since these vapes are battery-powered, they do not require a torch so there's no risk of burning yourself or catching something on fire.
Like most electronic dab rigs, the daab comes as a dabbing kit complete with banger (or induction cup in this case), carb cap, dab tool, and everything you need to get in a great dab sesh.
While there are several daab models available, we'll be taking a look at the limited edition Honey daab.
What's Included
The Ispire daab e-rig is a full dabbing kit that includes the following items:
1x daab e-rig
1x Water attachment
1x Reclaim cup
1x Carb cap with angled tip
2x Inner induction cups
1x USB-C charging cable
1x User manual
2x Insulation silicone rings
1x Hard protective carrying case
1x Pack of cleaning supplies
1x Ceramic dab tool
1x Dab mat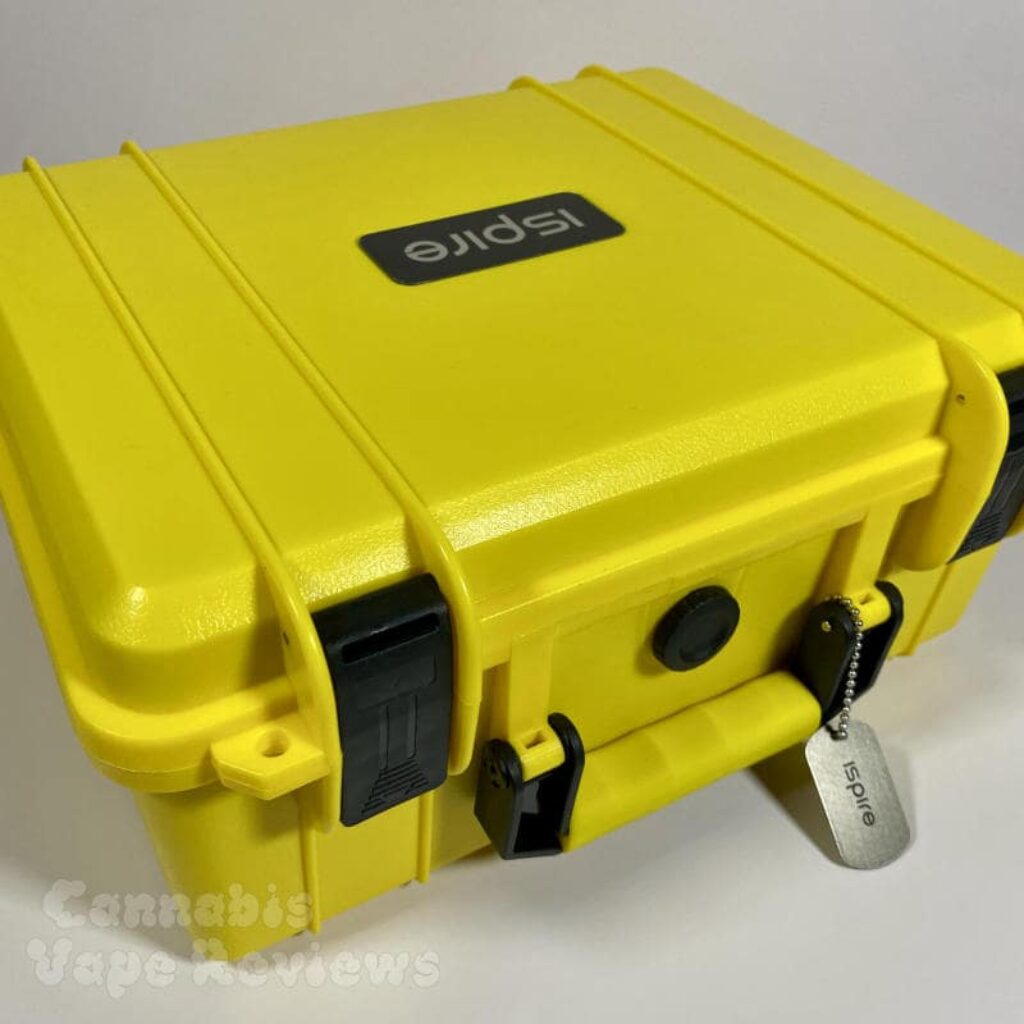 Design & Features
This e-rig comes packed with many useful features.
Most notable are the angled carb cap, induction heating method for fast and precise heating, and wide temperature control range. The daab rig also uses removable induction cups that are unique to induction style vaporizers.
Standard features include:
Fast induction heating
Borosilicate glass cups
Magnetic water chamber attachment (lights up while heating)
Precise temp control (250° to 800°F)
USB-C Pass-through charging
Battery operated (no torch necessary)
Type-C charging port
Viscosity ranges
Safety features
Highly portable (small size device and protective case)
LED screen (displays temp and battery life)

Ispire Honey daab e-rig
Battery-powered Induction heating e-rig, that heats super fast. Features LED screen for precise temp control and battery life, as well as angled carb cap, and protective carrying case.
Discount with code
There's only 3000 units available for the limited edition Honey daab e-rig. Each unit is engraved with the model number and comes with a collectible dog tag with your unit number.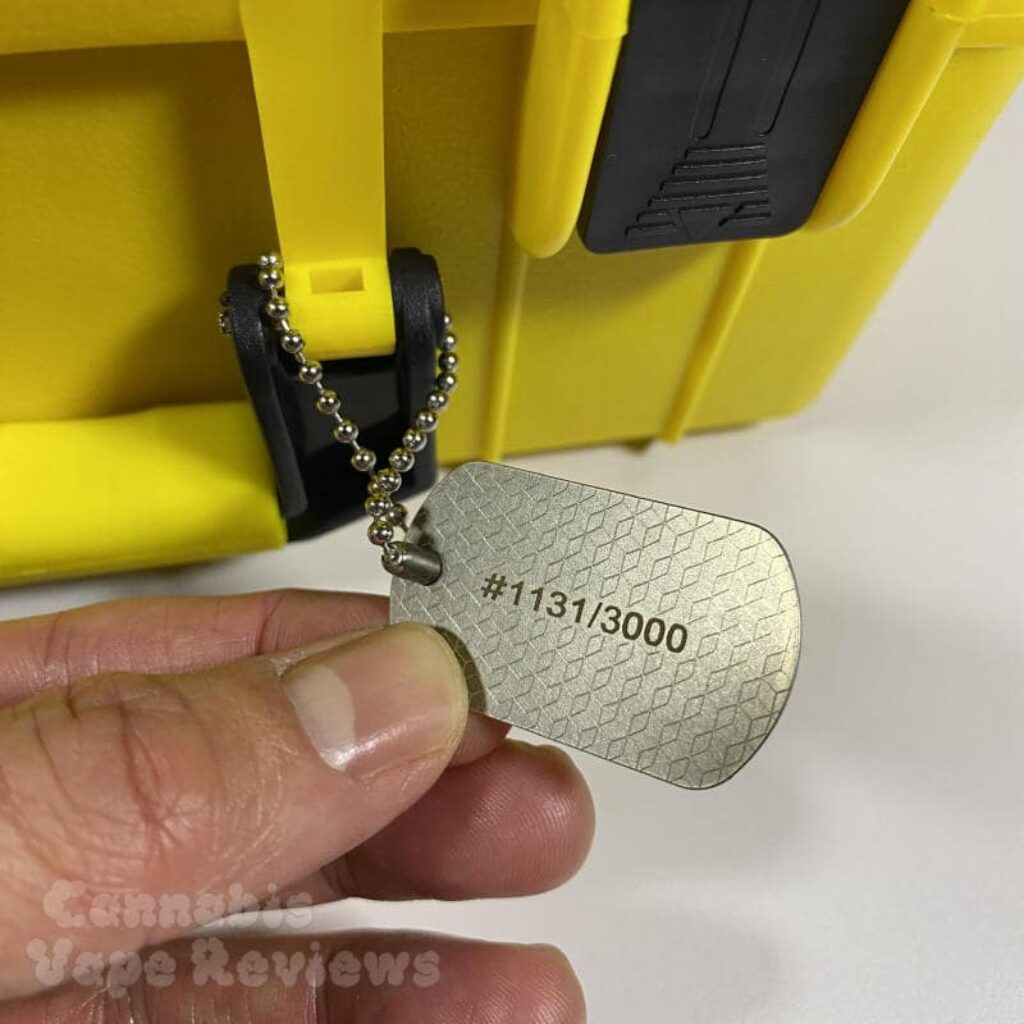 Other distinguishing features of the Honey version include details such as black and yellow carrying case, yellow glass bumpers, honey comb pattern on the glass attachment, and a faux wood grain pattern for the base.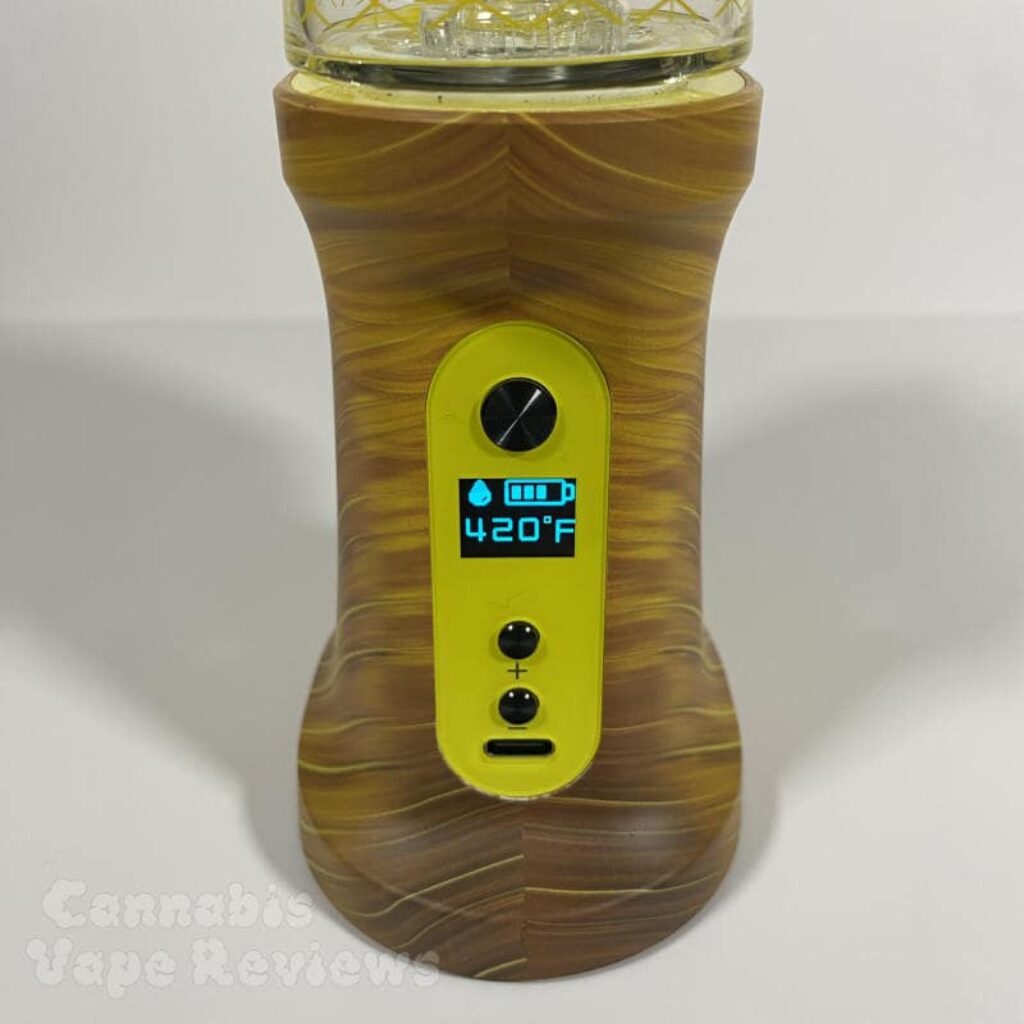 The Ispire daab e-rig is available in many different styles and colors including black, honey edition, cookies brand edition, and a few other cool options.
Tech Specs
| | |
| --- | --- |
| Dimensions | 9.75″ × 3.5″ × 2.25″ |
| Weight | 1.04 lbs |
| Materials | Borosilicate glass induction cups |
| Battery | USB-C pass-through charging |
| Charging Time | – |
| Heating Time | – |
| Oven Capacity | – |
| Sessions | – |
| Heating Method | Induction heating |
| Temperature Settings | 250° to 800°F |
How to Use
The daab rig works well for both cold start dabs and regular dabs.
Here we'll walk through the most basic use of the device and the initial set up.
Setting up your daab rig
To get started, you'll want to setup the rig by first filling the water attachment with just enough water to reach the indicated fill line. Then pop the attachment into the base of the device.
Next, insert the reclaim cup into the base of the device. This separates the induction cups from the induction coil built into the base. And of course, make sure the device is fully charged for best results.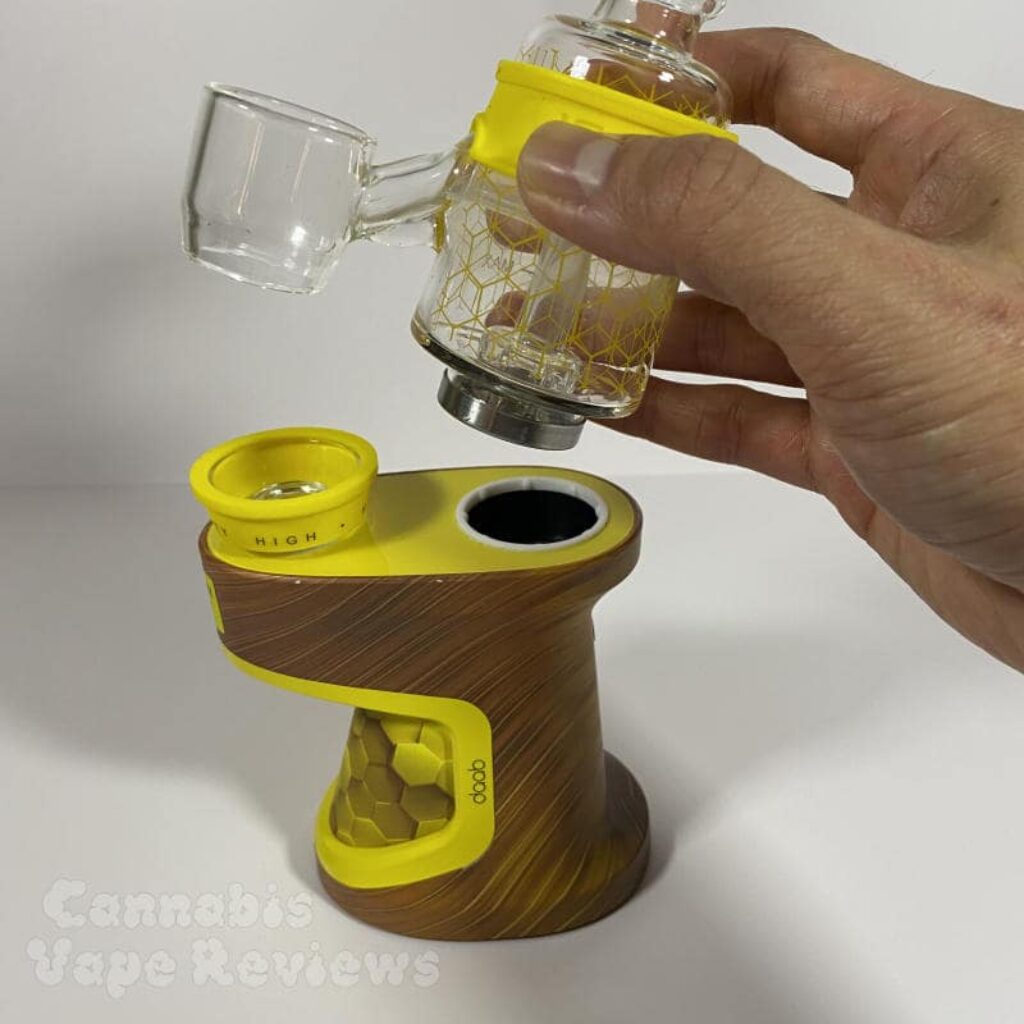 With your e-rig all set, next we'll load the induction cup with your concentrate and power on the device. with 5x rapid clicks of the power button.
Use the included ceramic dab tool to load your dab wax into the bottom of the induction cup. Then drop the induction cup into the claim cup.
Set the device to your desired temp using the temp increase/decrease buttons which changes the temp in 5 degree increments. You'll see the exact temp on the LED screen.
Start up auto-heat mode with two click of the power button. Lights will flash into the bubbler and the induction cup will start to heat-up.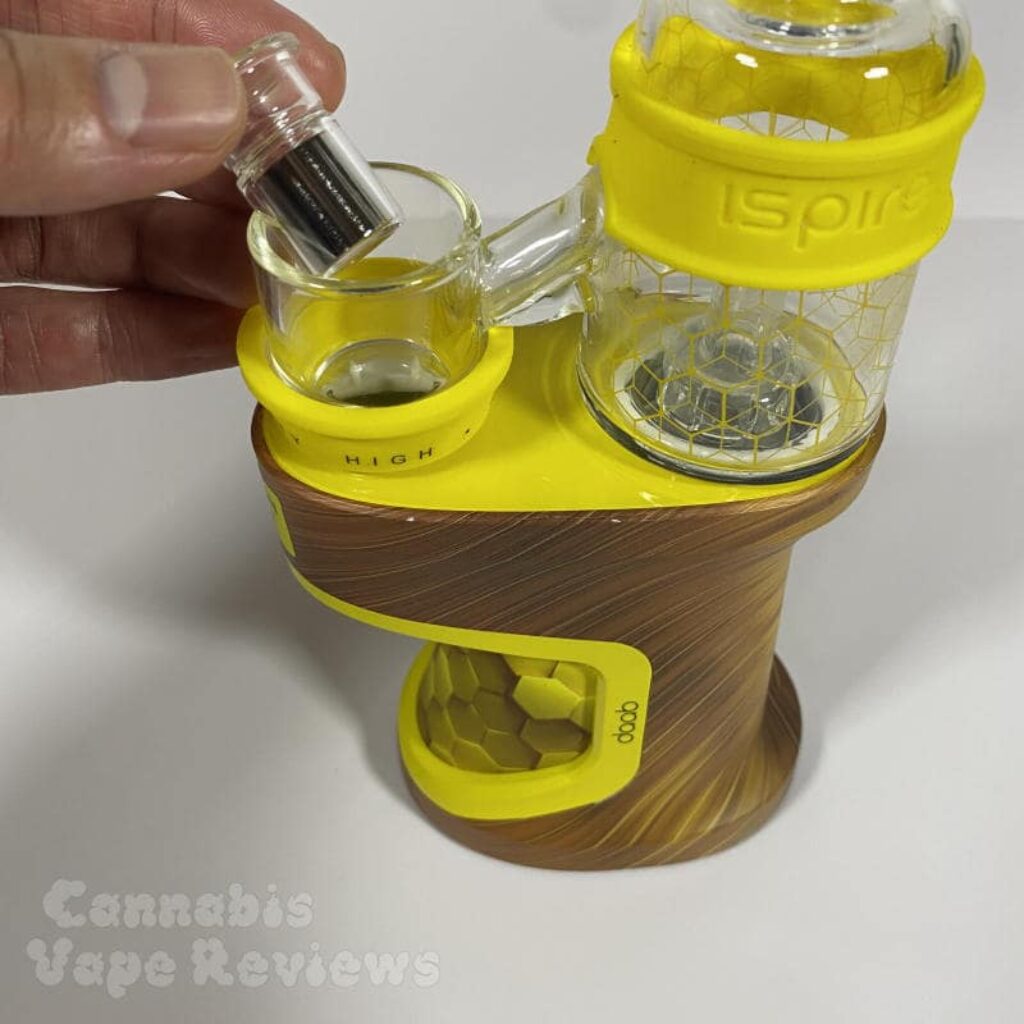 Cover it with the included carb cap and start puffing once you see vapor appear. This is my preferred "cold start" dabbing method.
At this point, you can hit the power button to turn off auto-heating. Otherwise, it will auto-shutoff after about 30 seconds. I forget the exact timing.
The device will begin cooling. For additional hits, use manual mode by holding down the power button for the length of each inhale.
Alternatively, you can heat up the induction cup first by either manual or auto-heat mode, then drop in your dab once the desired temperature has been reached. This is like taking a more traditional dab.
Our Experience
I'm becoming a huge fan of these small e-rigs. They are so damn convenient and clean.
While I'll admit that "daab" is a weird name for a rig that I'm not even sure how to pronounce, that doesn't take away anything from how awesome this vape is.
Electronic dab rigs are awesome for taking precisely controlled dabs without the inconveniences of having to use a butane torch as you do with traditional dabbing. It's a lot easier to get your timing and temp dialed in.
LCD screens are great
I love how the daab has an LCD screen. Most e-rigs and wax vapes in general use a color coded scheme, but no one can ever remember what color corresponds to what heat or voltage level. If you've used enough vapes, I'm sure you've experienced this issue.
Also, the screen displays remaining battery life so this thing won't just die on you by surprise. And even if it does, it has pass-through charging which means you can use the device while it's plugged in to charge.
After recently reviewing a similar e-rig in the Dabtech Duvo X e-rig, and loving it, I was excited to get my hands on the Ispire daab to see how it stacks up.
Check the Dabtech Duvo X versus Ispire daab e-rig review for a side-by-side comparison.
Induction heating and heating modes
While most e-rigs use conduction heating, the Ispire is somewhat unique in that it uses induction heating instead. Not many vapes use this method of heating.
Induction heats any metal inside the magnetic field. What's awesome about the daab is that having a digital display in combination with induction will give you exact degree control of your dabs. With the perfect temp dialed in and thanks to the all glass vapor path, you'll get some clean tasty vapors out of the daab.
I like that this vape has both a manual and automatic mode. You can set your desired temp, take you dab once the temp is reached, then use the manual mode for subsequent heat ups.
With manual mode, you can hold down the power button for the length of your hit just like you would with a standard vape pen for oils.
Angled carb cap design
The angled carb cap is an interesting design. It rests deep into the induction cup creating close contact to your melting dab. Because of the angled tip, there's no need to rotate the cap to agitate your wax. Air pulled through the cap will cause the air to swirl unlike with other dab rig set ups.
However, because the tip is so long, it sometimes gets stuck to the induction cup side walls and get sticky quickly. This is no biggie though.
Another thing that I don't like about this rig is that while you're inhaling from the mouthpiece, it's hard to see how much vapor is building up in the chamber. I like to look at the size of my dab hits, but again, not a big deal. Once you get the hang of taking your dabs, the tradeoff every dab is quality.
You can simply keep tapping the hole at the top of the carb cap to control your hits without having to pull the carb cap out to clear a hit. Although, do both the tapping and pulling out the cap for full hits.
Another reviewer's take
My buddy is reviewing the original edition Ispire daab e-rig as well, which is basically the same thing as the Honey edition, but with a low-key, black and carbon fiber design.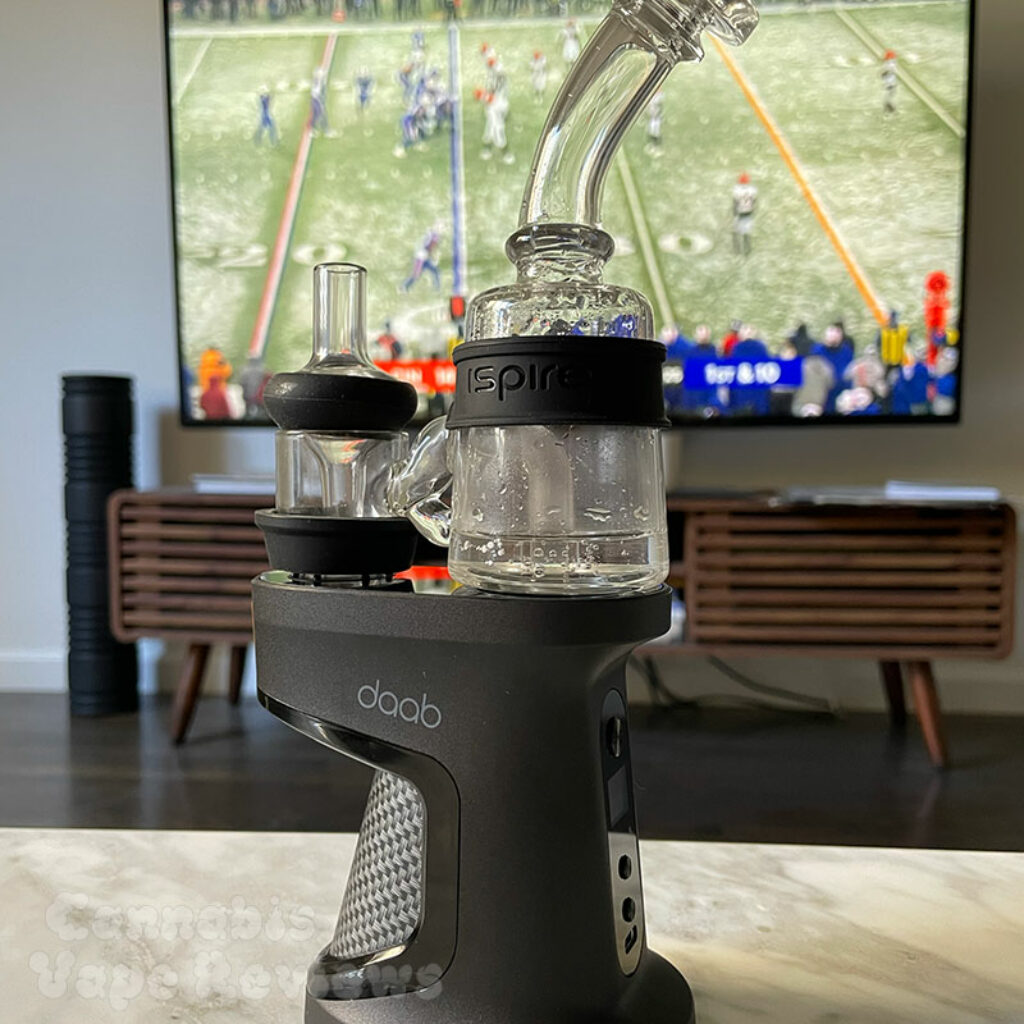 Here's how he gets the best use out of the daab rig with some rosin concentrates from 710 Labs:
I basically use the auto-heat mode just to warm it up and take the first small hit. Then I turn it off and go manual while I'm hitting it. I've slowly turned the temp up to 470F and it's ripping now. The first hit isn't that good, but when I manually heat it at that temp, it starts to rip!
Final Thoughts
Overall, the Ispire daab is a great e-rig. It comes with everything you need to dab including the added bonus of a legit hard case. Many devices come with simple cases that are quite flimsy or are just protected by the original box, the daab comes with a legit pelican-style case.
Furthermore, the fast heat-up times, convenience and transfer of flavor make this a great vape. Because the daab uses induction cups and doesn't rely on an atomizer, you won't have to worry about replacing parts. Take care of this rig and it should last a long time.
Price & Where to Buy
Ispire honey daab e-rig retails for $299 and is available at To The Cloud Vapor Store (TCVS).
You can get the original edition Ispire daab for $249 here.
TCVS offers a heavily discounted refurbished edition if you're looking to save some bucks! Use code CVR15 for 15% off.
Warranty Information – Backed by a one-year warranty.

15% off
Discount with code
Battery-powered Induction heating e-rig, that heats super fast. Features LED screen for precise temp control and battery life, as well as angled carb cap, and protective carrying case.

15% off
Discount with code
Battery-powered Induction heating e-rig, that heats super fast. Features LED screen for precise temp control and battery life, as well as angled carb cap, and protective carrying case.
Additional Product Photos
Verified Customer Reviews
Don't just take our word for it. At the time of writing this, the Ispire daab currently has 4.5 stars out of 93 reviews.
Here are some recent reviews from verified customers straight from Ispire's website:
Excellent Concentrate Vaporizer

I have been through a lot of vaporizers over the years. The Ispire Dabb is one of my favorites. It is nice looking and well designed. I like the the LED lights shining in the water bubbler, it looks really cool and is a nice visual indicator of how it is doing warming up. The vaporizer is easy to clean, which is a high priority for me. I really like that there is not an atomizer than needs to be cleaned and replaced. That should save some money. Having the vapor go through water is a big deal for me. It results in very smooth hits and it is not near as harsh on my lungs.

The bubbler attaches with a magnet. I love when Manufacturers use magnets.

The only downside is that if you fire it up and forget about it when it is warming up, you will waste some concentrate.

I highly recommend the Ispire Daab.
James C.
Best dab device ever, every extra detail from magnetic holding bubbler in place, easy to use and clean and love the case.


Charles C
Ispire daab
Pros
Manual and auto-heat modes
Precise temp control
Angled carb cap
Heats fast
No torch needed
LCD display
Wide temp range
Heating element separated from product
Magnetic attachments
Smooth hits and good flavor transfer
Cons
Hard to see vapor in chamber while using