Affiliate Disclosure: Cannabis Vape Reviews is supported by readers like you. We may earn commissions for purchases made through our links. Learn More
The Volcano from Storz & Bickel is probably one of the most iconic vaporizers to ever hit the market. This vape has long been considered a heavy hitter and one of the most recognizable desktop vapes in the industry because of its signature balloon filled vapor bags.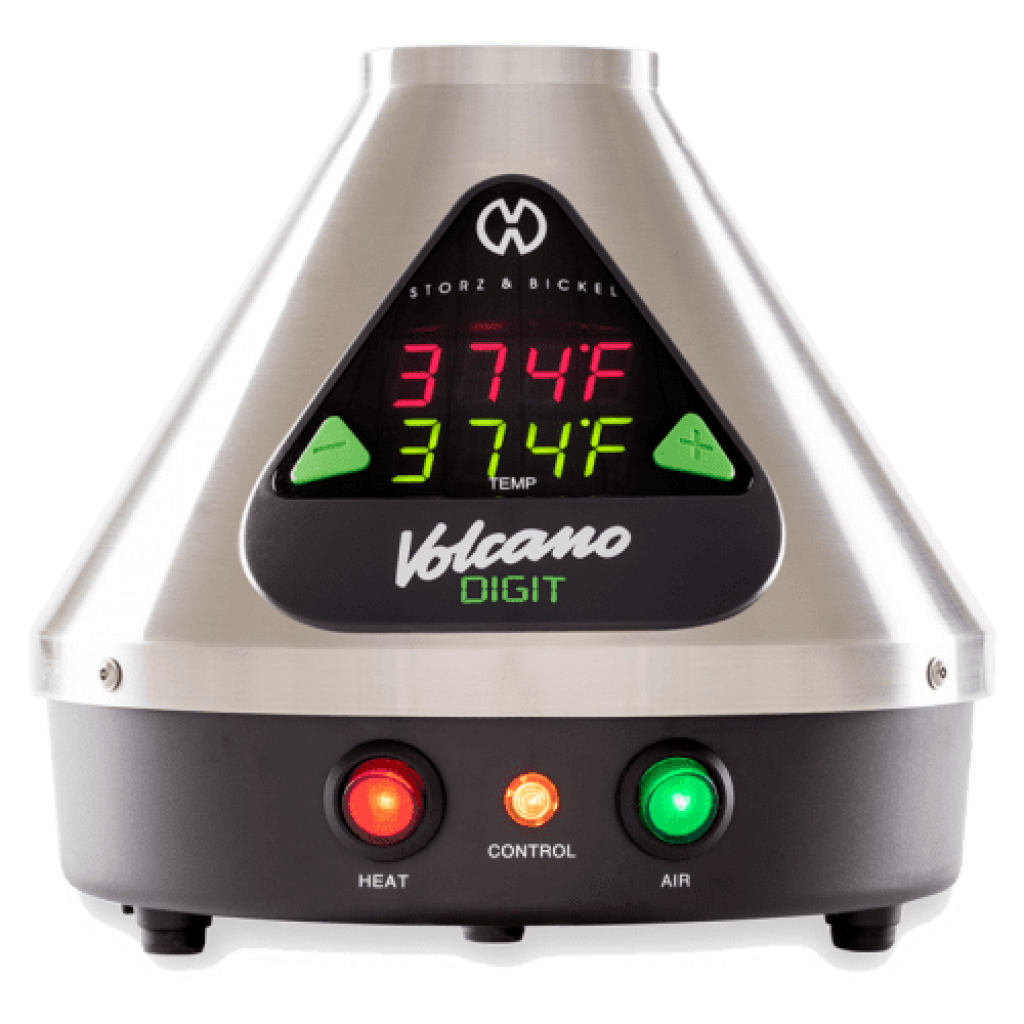 Storz & Bickel Volcano Hybrid (Onyx Edition)
Long-considered one of the top desktop vaporizers for dry herb. Features digital display with precise temperature control. Puff from a balloon or hose just like a hookah.
Discount with code at Puff it Up
In fact, the Volcano has been around for over a decade. But more recently, Storz & Bickel gave the Volcano a huge overhaul as with the release of the Volcano Hybrid.
The Volcano Hybrid has a few notable upgrades including an improved heating system, touch-activated digital display for exact temperature control, and the ability to inhale with two different options: using a tube or valve balloon.
In this review, we'll be taking a look at the all-black Onyx edition Volcano Hybrid.
What's Included
The Volcano Hybrid Onyx edition comes standard with the following items:
1x Volcano Hybrid device
1x power cord
3x easy valve balloons with mouthpieces
1x easy valves balloon with adapter
1x tube system
1x grinder
1x filling chamber
1x filling chamber cap ring
1x screen set
1x drip pad
1x cleaning brush
1x air filter set
1x user manual
1x quick start guide
Design & Features
The Volcano Hybrid is an updated version of the Volcano Classic. It includes the following list of features with most notable changes being touch activated display, faster heat-up time, and bluetooth capability to pair with mobile app for further customization.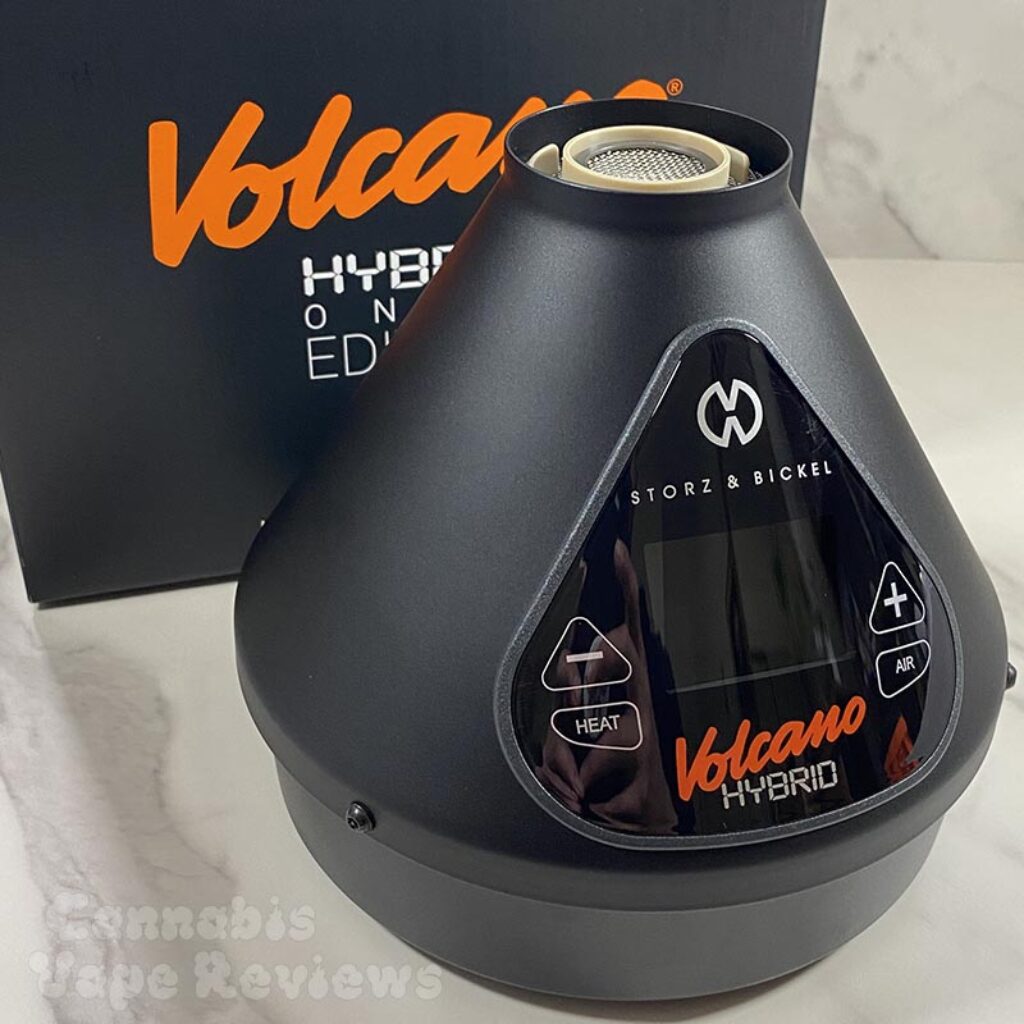 Standard features include:
Updated ceramic filling chamber design prevents dust entry into the airpath
Heat-up times of 1-2 minutes
Touch-activated display that's large and clear
Bluetooth enabled to pair with mobile app for customization (screen brightness, temperature, shutoff timer and more)
Stainless-steel body
Easy valve system with bags included
Included tube system (allows you to puff like a hookah)
American style plug
Storz & Bickel provides a three-year warranty
Tech Specs
| | |
| --- | --- |
| Dimensions | 7.1″ x 7.9″ |
| Weight | 6.5 pounds |
| Materials | Stainless-steel body, aluminum; high-quality thermoplastic |
| Battery | n/a |
| Charging Time | n/a |
| Heating Time | 1-2 minutes |
| Oven Capacity | – |
| Sessions | – |
| Heating Method | Hybrid convection and conduction |
| Temperature Settings | 104°F – 446°F |
How to Use the Volcano
The Volcano Hybrid might seem intimating at first, but it's actually quite easy to operate intuitively.
Once you plug in the power cord, the device will turn on immediately.
Pack the filling chamber up with your fresh ground up herb. Then attach the filling chamber to the base of the volcano.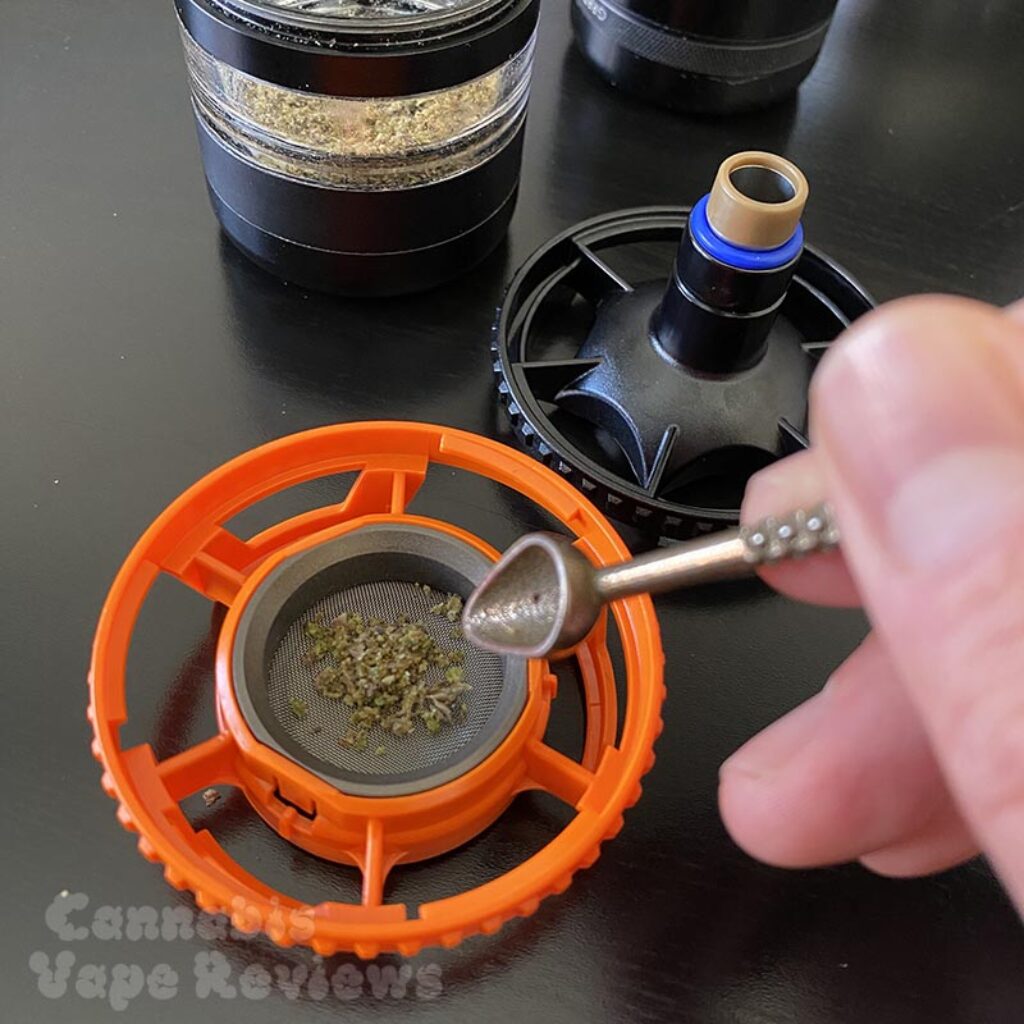 Using the clear to read digital display and 4-button interface, you simply select your desired temp, and activate the heat. Once the desired temperature is reached, connect either the hose or balloon.
If you're using the balloon attachment, you simply hit the "AIR" button and the balloon will start to fill up with vapor. Cut off the air once the balloon is filled up. Remove the balloon and start puffing. Otherwise, attached the hose and puff away until herb is used up and the flavor starts to turn.
It's self-explanatory to get going with the Volcano.
The only real learning curve is perhaps finding your desired temperature, deciding how much weed to pack into the chamber, and deciding if you like the hose/tube or puffing from a ballon bag.
Our Experience
Well designed and constructed
The Volcano is a well-designed vaporizer. It feels quite sturdy, it's built using quality materials like stainless steel that will last forever, and is overall well-constructed. The digital screen is very sharp and bright, and all the fittings quality-made. Nothing about this device feels flimsy or cheap.
Although well-designed, I wish the Volcano had a battery-powered option. You have to keep the device plugged into a power outlet to use it. Because it lacks a battery and is quite large, this vaporizer is best kept in one spot and is not very mobile. That being said, it's a fantastic desktop vape. When plugged in, the device is powered on by default. I found it kind of odd that there's no power button to turn off the device, but instead, you just have to unplug it.
Display and heating
The digital display makes is crystal clear and useful for dialing in the exact temp in one degree increments. The display shows the current temp as the device is heating up. Since the buttons are touch-activated, you barely even need to press down so it couldn't be easier to use.
While the 4-button interface is easy to use, it would be nice if the buttons were backlit. Seems odd that you can read the digital display, but not the buttons when you're in the dark. This seems like a design oversight, but not a big deal.
The Volcano heats up relatively quickly. In just about 40 seconds to a minute, you'll basically reach your target temperature. When your session is over though, it may take a while for the device to fully cool off before you put it away.
Excellent vapor quality
On my first try with the Volcano, I set the temp to 350F and decided to test out the hose attachment first. This produces flavor-packed hits and a very comfortable, mildly heated vapor that's easy on the throat and lungs. At this low-temp, the vapor clouds are very light which suits my taste as I like to vape comfortably. Because the hits are so light and smooth, you can get super high without realizing it. Puff with caution as this thing rips. It's extremely efficient at vaporizing the THC right off your freshly ground cannabis.
For dense clouds and a slightly more roasted weed flavor, go north of 375F.
The chamber can hold a large amount of ground up herb. You'll want a medium size grind, not too coarse, but also not too fine where herb falls through the screen.
You can use the included grinder or find a quality grinder here. If you pack a huge bowl of fresh weed, you'll immediately notice just how yummy the flavor transfer is. When grinding, using medium-fine to somewhat coarse ground up herb works best.
I even tested microdosing dry herb with some dosage pods from AirVape and DaVinci. This not only helps keep your device clean, but is also a convenient way to pre-pack your pods at controlled doses, and have them readily available to throw into the chamber when you're ready to sesh. You may have to wait longer for the pods to heat, but they do work!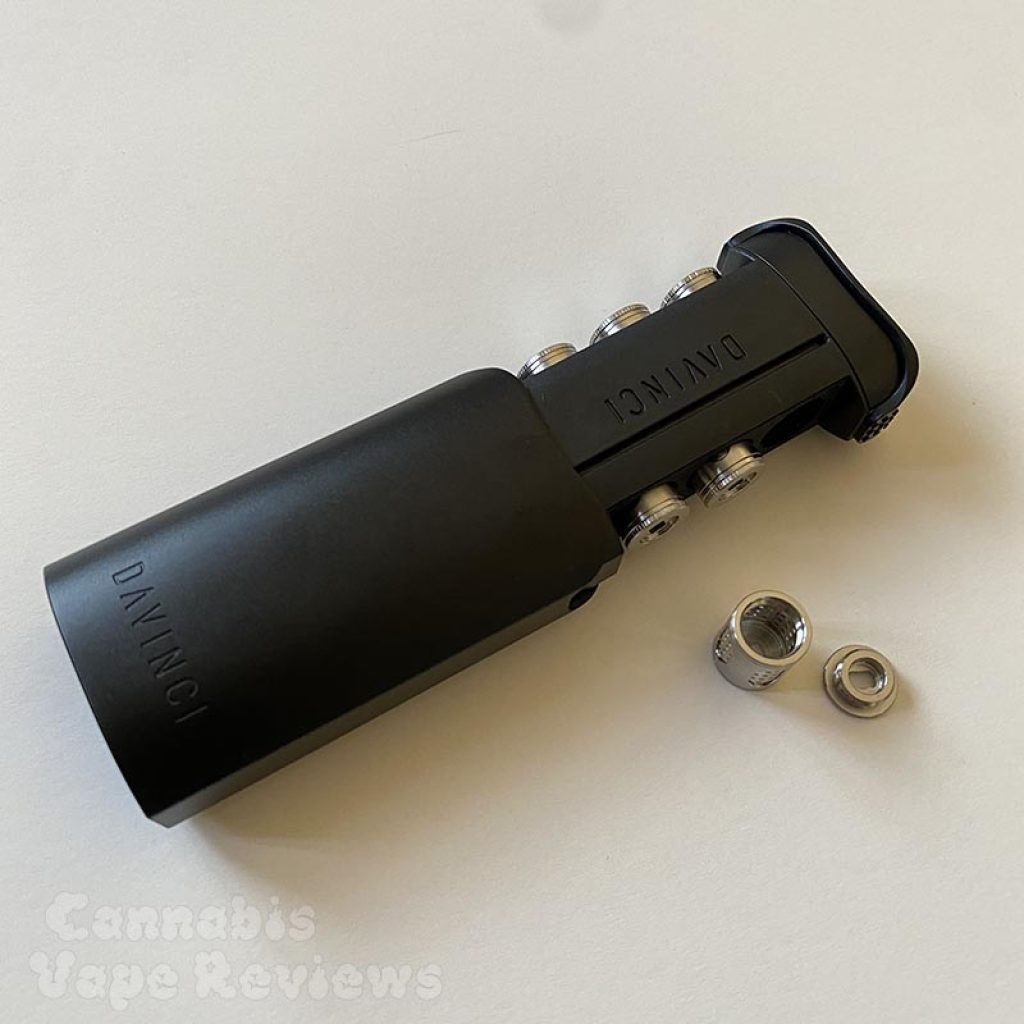 Next I tried the balloons. The balloons are great to use because they fill up easy by turning on the pump. Once they finish auto-filling, you can then walk away with a vapor-filled balloon that lasts several minutes.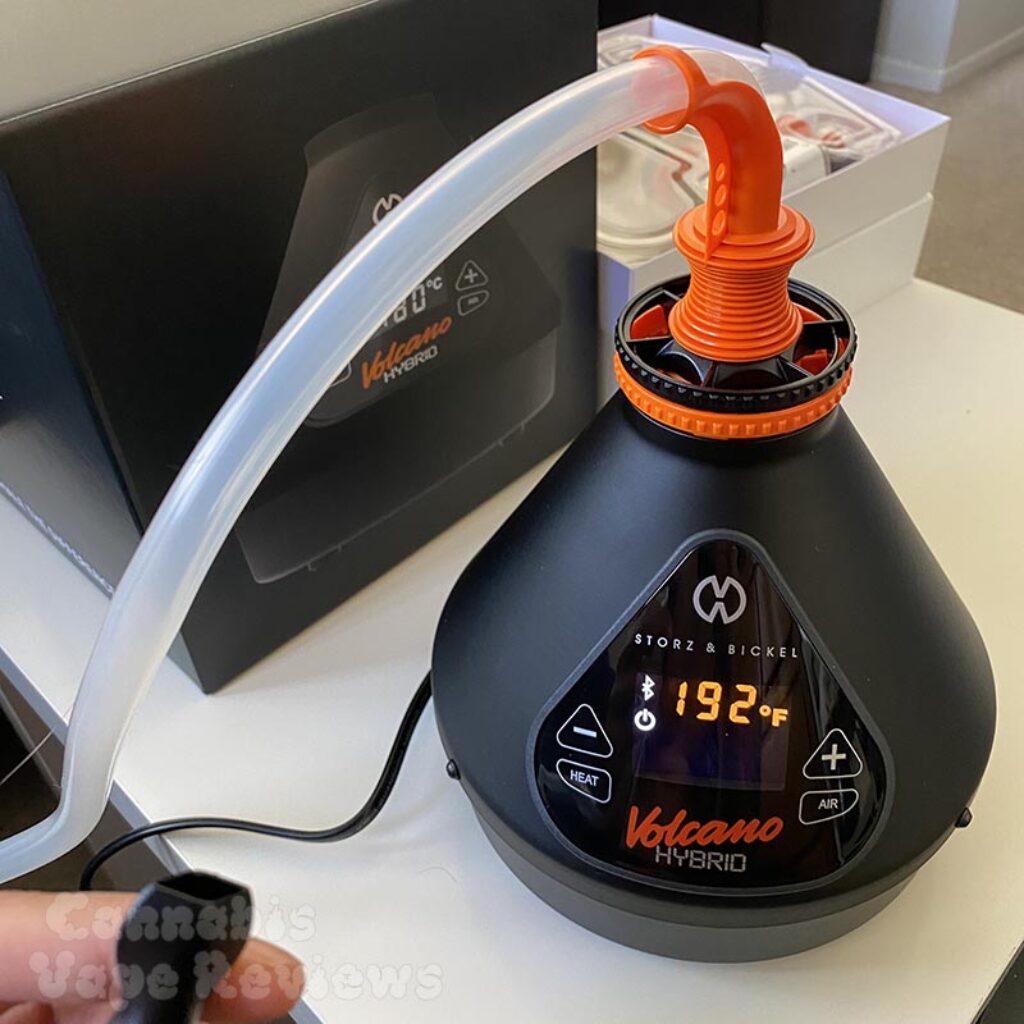 Storz & Bickel Volcano Hybrid (Onyx Edition)
Long-considered one of the top desktop vaporizers for dry herb. Features digital display with precise temperature control. Puff from a balloon or hose just like a hookah.
Discount with code at Puff it Up
I like to fill up a balloon, disconnect it, then puff on a bag as I chill or walk around the house. The first few puffs from a fresh back are absolutely amazing. Puffing from a bag of vapor has to be one of the most relaxed ways to get high. The bags will eventually turn color from weed residue so make sure you save these things for top-shelf flower!
You'll want to monitor how much vapor fills the bags. Once heated properly, the pump fills the balloon pretty fast. Cut off the pump once you see that a light mist has fully inflated the balloon. Be sure to avoid harsh vapor by cutting off the pump before the balloon becomes too densely packed with vapor.
Storz & Bickel mobile app
The Volcano is equipped with Bluetooth connectivity. This allows you to connect the Volcano to the Storz & Bickel web-based mobile app (native app not available for iOS).
Since this is not a native app, meaning you don't install it, you access it through web browser.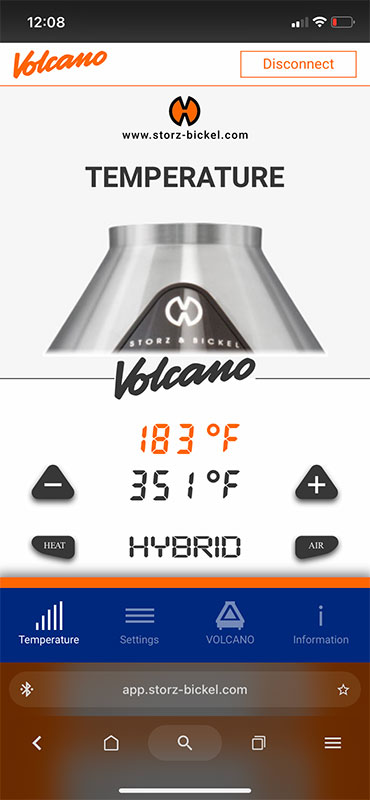 What can you do with the app?
It's useful for little things like toggling on/off the vibrating alert (haptic feedback) or adjusting screen brightness, and also adjusting the temperature. These are nice to haves, but obviously not necessary.
While it's nice to be able to control the Volcano remotely from my iPhone, the features are quite limited. I found myself not using the app a whole lot. You can get by with just using the manual interface since the display is nice anyways. You can also use the app to power on the heat and activate the air pump.
Changing the temperature in the app is frustrating. If you need to change the temp to 50F or more, for example, you'll have to tap the temp button 50x times. Since the app is web-based, I found that clicking and holding the temp buttons or pressing them rapidly caused my phone to zoom in on the browser. This is not the best user experience. I think S&B could make some improvements to changing the interface to use a slider or something easier to for adjusting the temperature.
Final Thoughts
The Volcano is a convenient, at home desktop dry herb vape that works really well. At $700 retail, this is one of the most expensive vapes on the market. This is for someone who cares a lot about getting the perfect temperature out of every session, and likes to vape frequently. This vape is perfect to leave out on a coffee table where you can easily sesh while you're chilling at home. It's great for a large session with friends as you can pass around the hose or fill up multiple balloons. The Volcano is too big to carry around so it's best for at home use. If it's within your budget, the Volcano Hyrbid is definitely one of the best vaporizers for flower.
Price & Where to Buy
Storz & Bickel Volcano Hybrid retails for $699 and is available at Puff it Up online vape shop.
Warranty Information – Backed by 3-year warranty (two years standard and an additional year after registering your device).

20% off
Discount with code at Puff it Up
Long-considered one of the top desktop vaporizers for dry herb. Features digital display with precise temperature control. Puff from a balloon or hose just like a hookah.

20% off
Discount with code at Puff it Up
Long-considered one of the top desktop vaporizers for dry herb. Features digital display with precise temperature control. Puff from a balloon or hose just like a hookah.
Note on accessories and compatibility – The Volcano is available in Classic and Hybrid editions. Both models of the Volcano are available in multiple colors including the Peace (white) edition, Onyx, and Silver. Additional accessories for the Volcano are sold separately. It's also important to note that some parts for the Classic model may not be compatible with the Hybrid model.
Additional Product Photos
Verified Customer Reviews
Hands down Best on the market (Rating 5/5)
If the price point is the only thing deterring you, save up for this product. I have been using the volcano for many years and it has noticeably helped my lungs…… this device will get your wrecked off just one bag. I HIGHLY recommend to anyone that smokes chronically and want the best healthy alternative available

Geoff Posted on 11/28/22 (Source: https://www.storz-bickel.com/en-us/volcanohybrid)
The Best Version of this Classic Vaporizer (Rating 5/5)
Hands down the best Volcano you can buy with digital display, super fast heating, compatibility with turkey bags (go for the LARGE size ????) or the Hookah attachment, and a steel pad for use with all forms of concentrate from Live Resin to Shatter to Oil to herb. The best smoking companion you can own, period. Wow. The Digital just got updated for 2022. If you've ever used one you know. If not, don't sleep. You'll rarely ever smoke using anything else again. No need to sort through your grind & pick out the stems. Just grind your herb and away you go. Goes a long way, but I like fresh vapor so I usually only run a single container full 2-4 times starting at 360-370-380 and occasionally to 400. Full flavor vapor. Not "good" for your lungs but a hell of a lot healthier than smoking. IMPORTANT: only use herbs. Do not mix with tobacco!

David Epochalypse 10/25/22 (Source: https://www.storz-bickel.com/en-us/volcanohybrid)
Storz & Bickel Volcano Hybrid
Pros
Excellent vapor quality
Quality materials
Well-designed
Heats fast
Precise temp control
Looks cool
Option to vape with hose or balloon bag
Easy to maintain
Cons
Takes up a lot of space
Takes a while to cool down
Pump is loud
Very pricy
No battery option
Shops for Dry Herb & Flower Vapes