Affiliate Disclosure: Cannabis Vape Reviews is supported by readers like you. We may earn commissions for purchases made through our links. Learn More
The DaVinci IQ2 vaporizer is one of DaVinci's flagship products and has long been considered one of the industry's top-tier cannabis vapes.
To celebrate their 10th anniversary, DaVinci Vapes just released a very exclusive, limited-edition, collector's only Carbon Fiber version of the IQ2 vaporizer. And this vape is fantastic.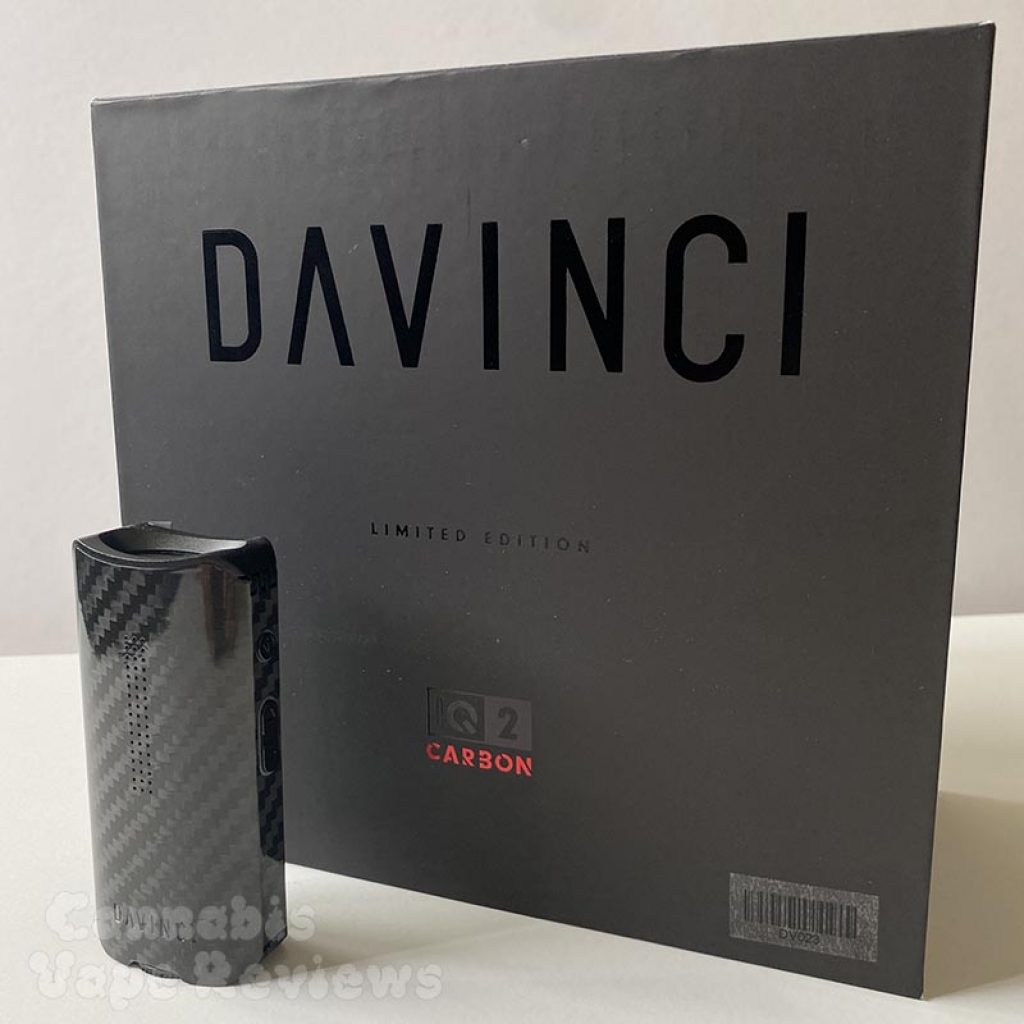 DaVinci IQ2 Carbon Fiber
Limited edition, carbon fiber DaVinci IQ2 vaporizer combo vape for dry herb and wax. Get it before it runs out!
Available only at DaVinciVaporizer.com
There will only be 1000 units released – EVER – for this super exclusive model.
As expected with all DaVinci vaporizers, the Carbon IQ2 is well-engineered, aesthetically pleasing, and is jam-packed with many awesome features for best-in-class, high-performance.
What's Included with IQ2 Carbon Fiber
1x DaVinci IQ2 Carbon vaporizer
1x 18650 battery
1x Hydrotube
1x Dosage grinder
1x Dosage pod holder
6x Stainless steel dosage pods
9x Organic cotton for extracts
1x Ceramic disc for extracts
1x Engraved keychain with built-in poker tool
1x Charging and storage box
1x Owners Manual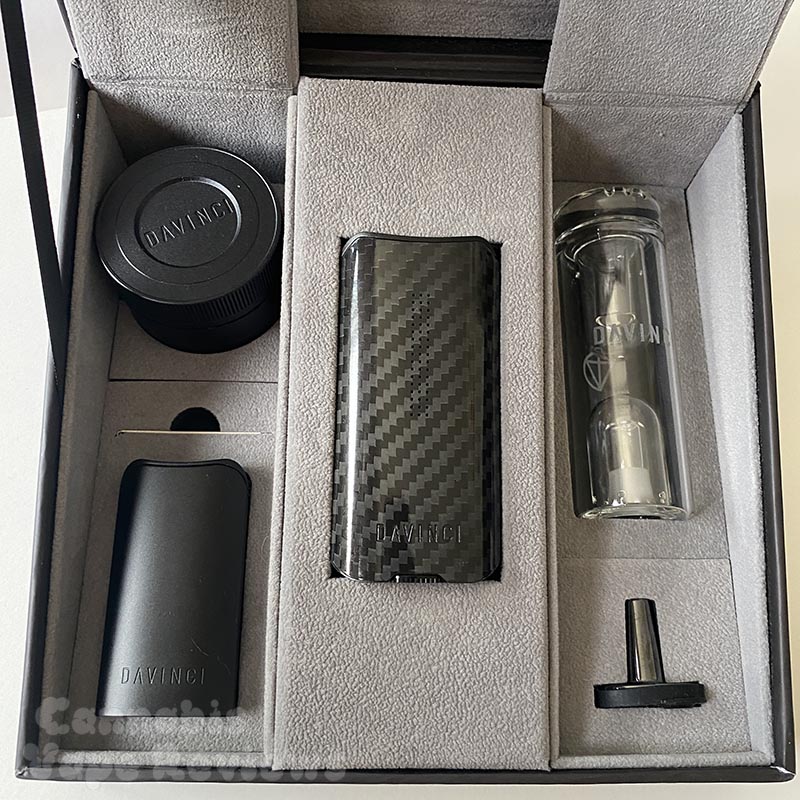 DaVinci IQ2 Carbon Fiber
Limited edition, carbon fiber DaVinci IQ2 vaporizer combo vape for dry herb and wax. Get it before it runs out!
Available only at DaVinciVaporizer.com
Design & Features
3k Weave carbon fiber body
Fast charging via USB-C
Pairs with DaVinci app via bluetooth for custom control
Precision temperature control and smart path presets
Heats-up to optimal temp within a minute
Removable 18650 battery for easy swapping
Oven holds up to about 0.5g of dry herb
Attaches to optional (and included) hydro-tube glass bubbler for cooler vapors
Uses optional (and included) dosage grinder and dosage pods for micro-dosing dry herb; the pods also work as an adapter for vaping extracts
Attaches to optional water pipe (10mm female joint) for superior filtration
Built-in AirDial for custom airflow control
Battery life indicator and temperature control displayed with cool LED lights
Designed for use with dry herb flower and extracts
Built-in and removable air path / flavor chamber which cools down and makes your vapors extra tasty
Adjustable "pearl" to reduce the size of the heating chamber for packing smaller bowls

DaVinci IQ2 Carbon Fiber
Limited edition, carbon fiber DaVinci IQ2 vaporizer combo vape for dry herb and wax. Get it before it runs out!
Available only at DaVinciVaporizer.com
Tech Specs
| | |
| --- | --- |
| Dimensions | 0.97″ x 1.75″ x 3.61″ |
| Weight | 5.6 oz |
| Materials | Zirconia and glass vapor path; Carbon fiber body |
| Battery | Removable 18650 battery; Rechargeable via USB-C |
| Charging Time | Less than 2 hours |
| Heating Time | 30 seconds |
| Oven Capacity | 0.5 grams of ground dry herb |
| Sessions | 1 hour of use on full charge |
| Heating Method | Conduction |
| Temperature Settings | 320℉ – 430℉; Smart path presets |
How to Use
For the most basic use of the DaVinci Carbon:
Powering on – Power the device on/off with 5x clicks.
Smart Path mode – The device will power on into "Smart Path" mode by default. Choose from one of the four temperature presets or "smart paths" by using the up/down arrow buttons.
Precise temp mode – To switch to "precise temperature" mode, simply click the power button once. You will see the LED lights change to numbers representing the current temperature in degrees. Use the arrow buttons to adjust up/down to your desired temperature.
Check battery life – Press both up/down buttons together to display battery life. Battery life also shows when you first power up the device.
My Experience
As soon as I opened the box for this limited-edition Carbon IQ2, I could tell I was in for a treat. This definitely looks and feels like something special.
I've never seen a carbon fiber vaporizer before. I've used other DaVinci vapes and have always appreciated their designs, so this particular model was icing on the cake.
The IQ2 Carbon vape is easily one of the most stunningly beautiful vaporizers I've ever reviewed. And it's not just good looking, it works very well. It's packed with feature that allow you to really personalize your vaping experience from precise temperature control to the exact degree, airflow control, dosage control, and more.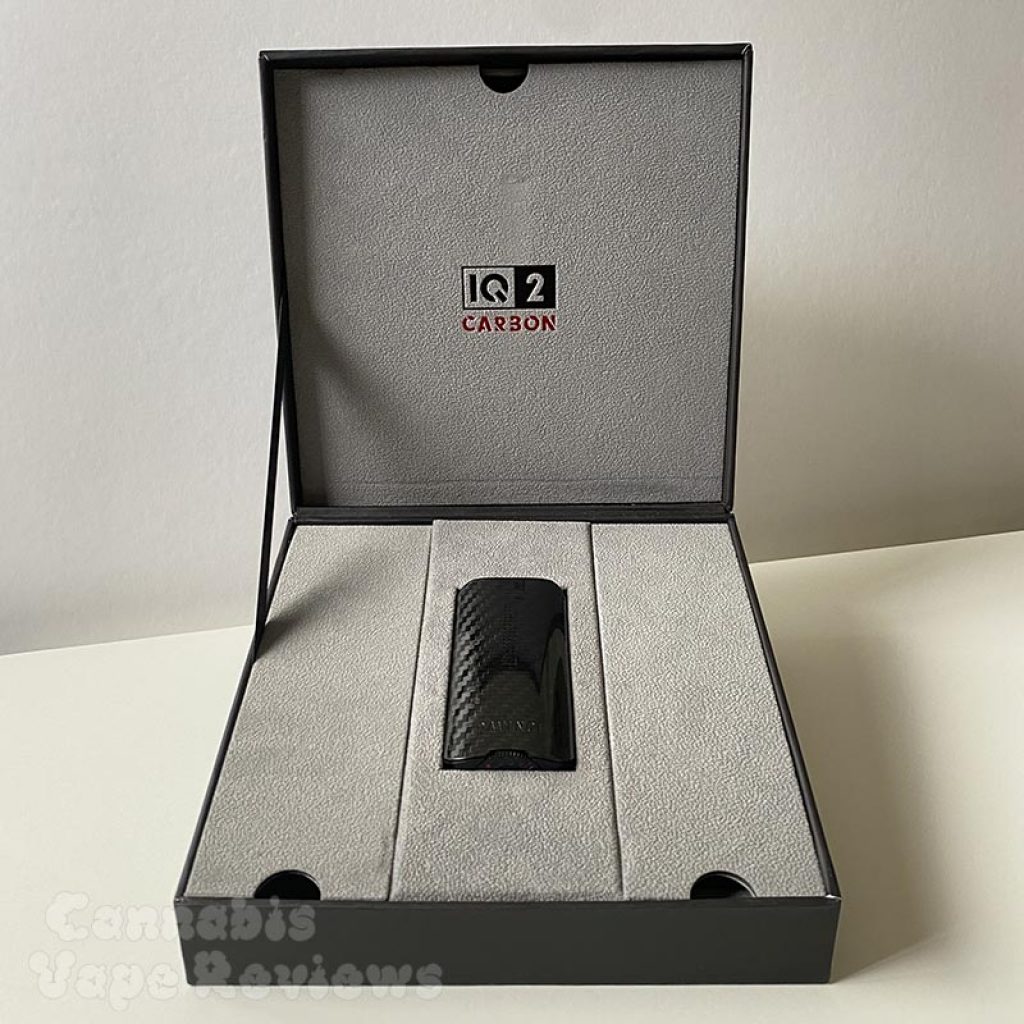 Each vape includes a carbon fiber keychain engraved with your exclusive model number to match your limited edition vape which is pretty cool.
You can see in the photos below that I received model 23 out of the 1000 models that will ever be produced. This vape is an instant collector's item for any lover of vaping cannabis.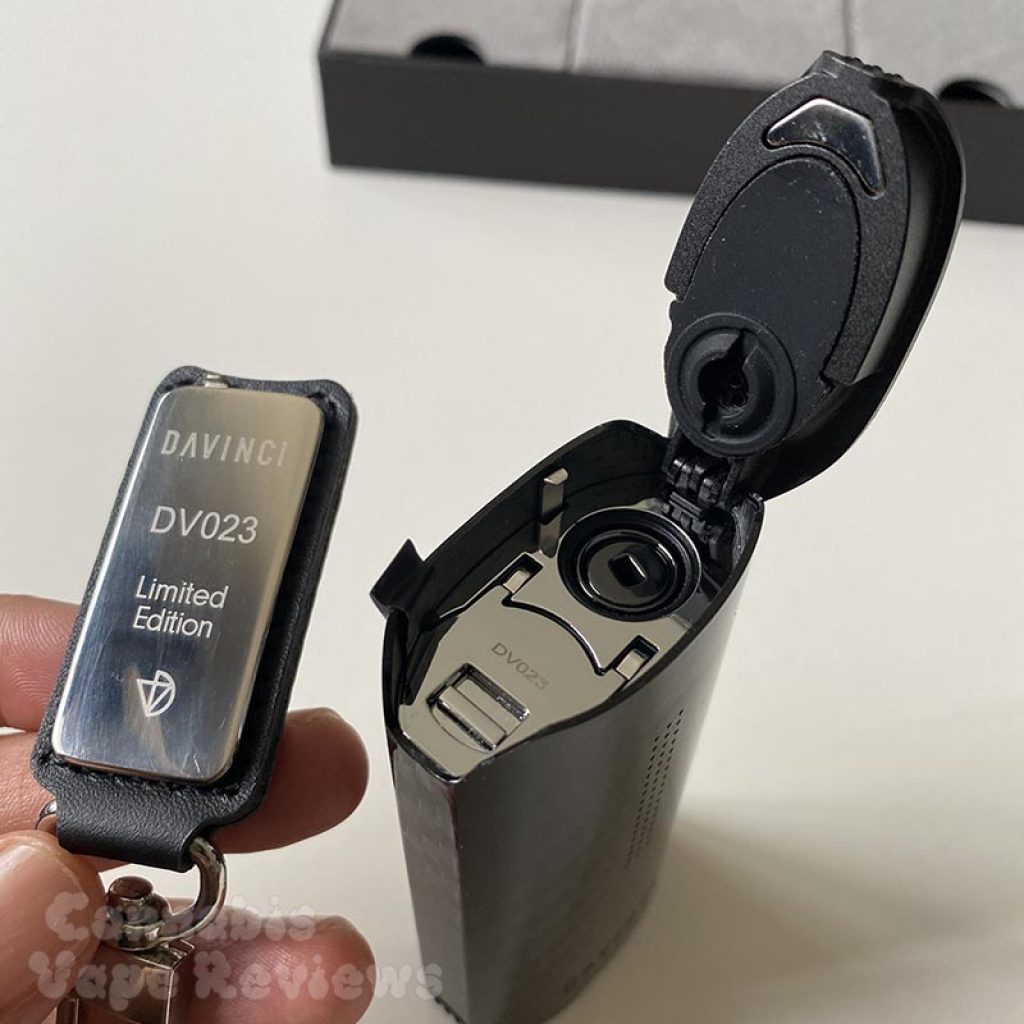 It's incredible to think how far we've come with vape tech since the early days of vaping out boxy shaped, pencil sharpener-looking vaporizers. All my OG vape enthusiast know what I'm talking about with the classic Vapor Brothers device.
Because this vaporizer is jam-packed with so many features and optional accessories, the Carbon IQ2 can be overwhelming at first.
For this review, I'm looking at the Carbon Fiber collector's kit, which is the exclusive version of Davinci's top-sellering IQ2 vape.
I'm testing just a few features at a time. I'll need to circle to updating this review when I've had a fair shot to test Carbon IQ2 to its full potential and all its accessories.
First impression
To kick things off, I tested the IQ2 with some delicious dry herb grown locally, here in Los Angeles. I wanted to see how this vape performs at the low end in terms of temp and bowl size.
I packed a small bowl (about 0.2g) and reduced the oven size as much as possible. The heating chamber is adjustable thanks to the built-in "pearl" attached to the oven lid.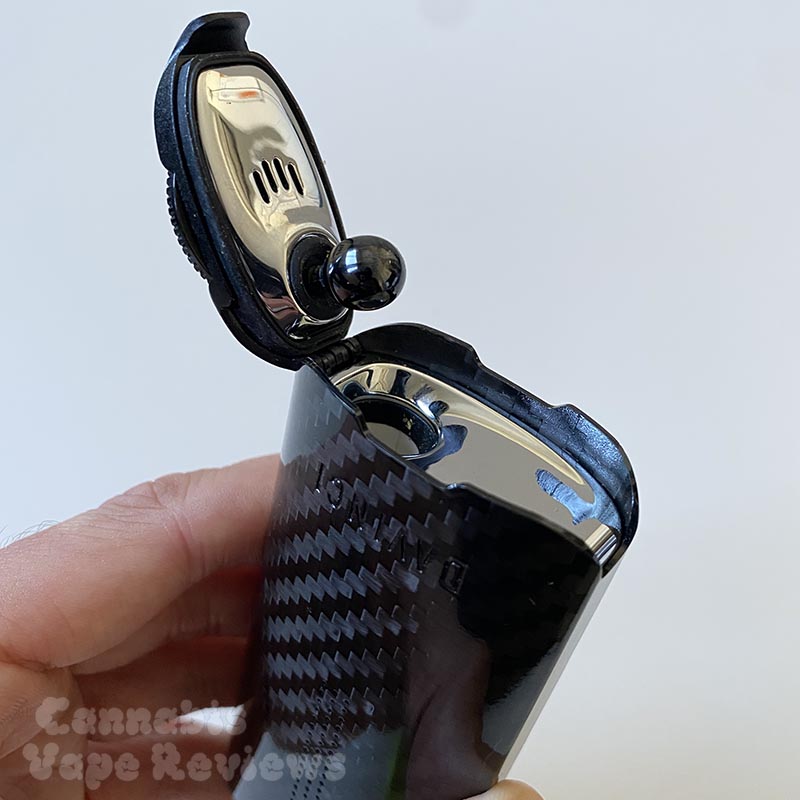 Because I care about a smooth toke and big flavor over massive hits, I tested this vape on the lowest vapor path preset. At this setting, the vape will reach around 360-370F by gradually increasing in temperature over an 8-minute session for a smooth and even burn all the way through.
The first few hits were absolutely amazing. The flavor transfer on the IQ2 vape is outstanding given its direct, zirconia air path and ceramic oven. There's no metals or plastics to tarnish the flavor from my fresh, tasty flower.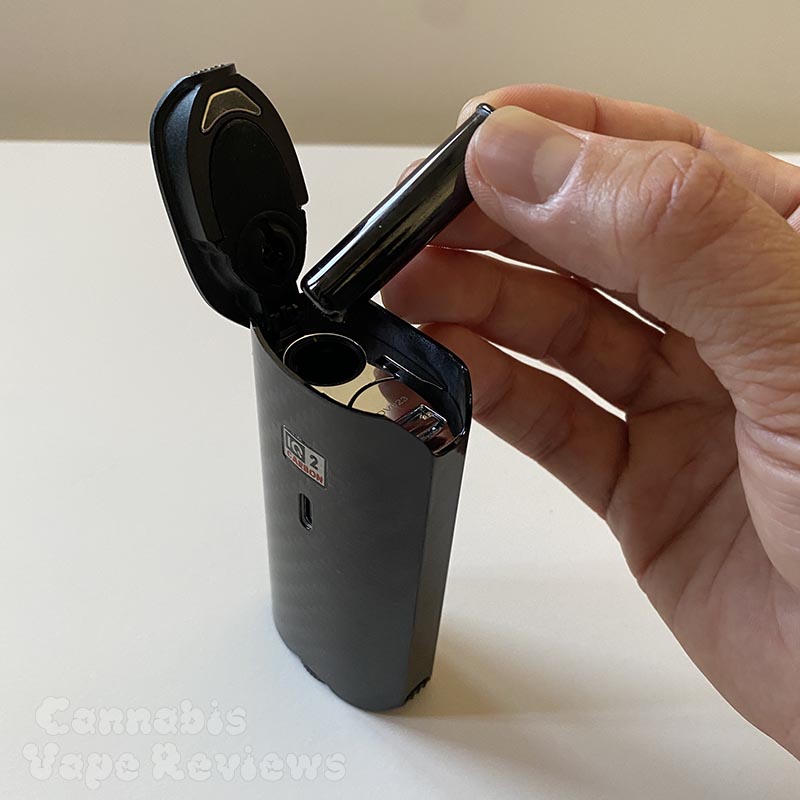 With precise temps and an airflow control dial at the bottom of the device, you'll have to experiment to find your perfect combination.
I found the vapor density desirable with the dial set to just one click before being completely closed off. At this dial setting, the airflow allows maximum flavor paired with the perfect vapor cloud density. It's nice and light – and super tasty!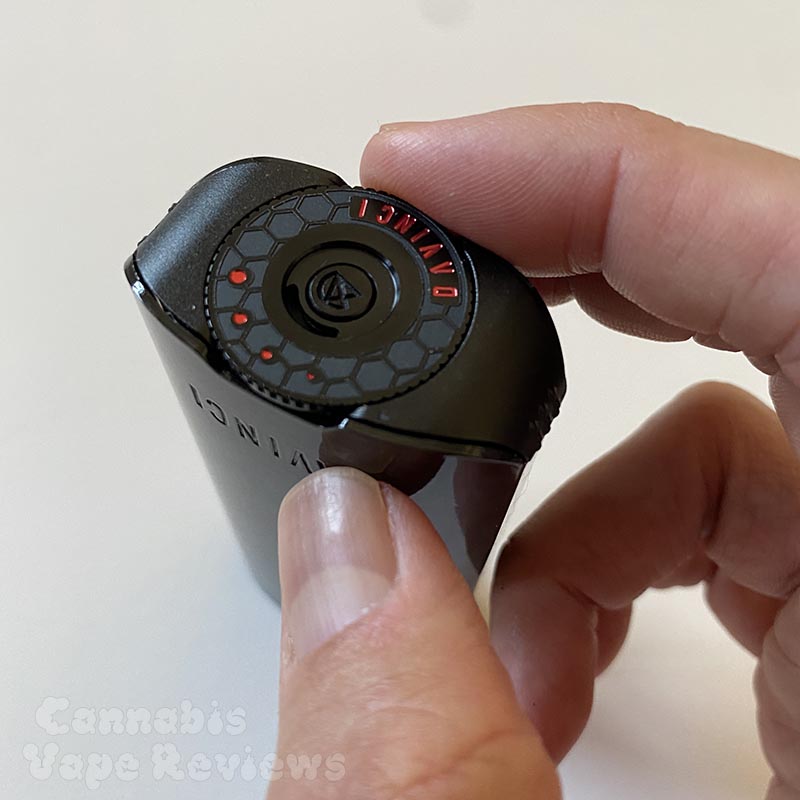 When you rotate the dial to let in more air, you'll sacrifice vapor density in exchange for cooler vapors. But this should be a lot easier on the throat and lungs.
Once you strike your perfect balance of airflow and temp, you'll be blown away by the vapor quality.

DaVinci IQ2 Carbon Fiber
Limited edition, carbon fiber DaVinci IQ2 vaporizer combo vape for dry herb and wax. Get it before it runs out!
Available only at DaVinciVaporizer.com
DaVinci app
I was excited to use the DaVinci app with the IQ2, but found it to be buggy and more trouble than its worth.
After installing the connect browser and creating an account, I was able to connect to my carbon vape once. Then, after turning it off, I wasn't able to reconnect again.
Eager to use the device, I said to hell with the app. I'll circle back to testing the app later.
Fortunately, you don't need the app to use this device and it works perfectly fine without it. You can access most of its features without the app. The app provides some additional goodies which I'll dive into when I update this review.
If you've used the DaVinci vape app before, please share your experience in the comments below. I want to hear about it.
Additional features
Next, I'll be trying out the spill-proof, hydrotube glass attachment. This works as a bubbler to filter and further cool down your vapors. Apparently, it's also spill-proof.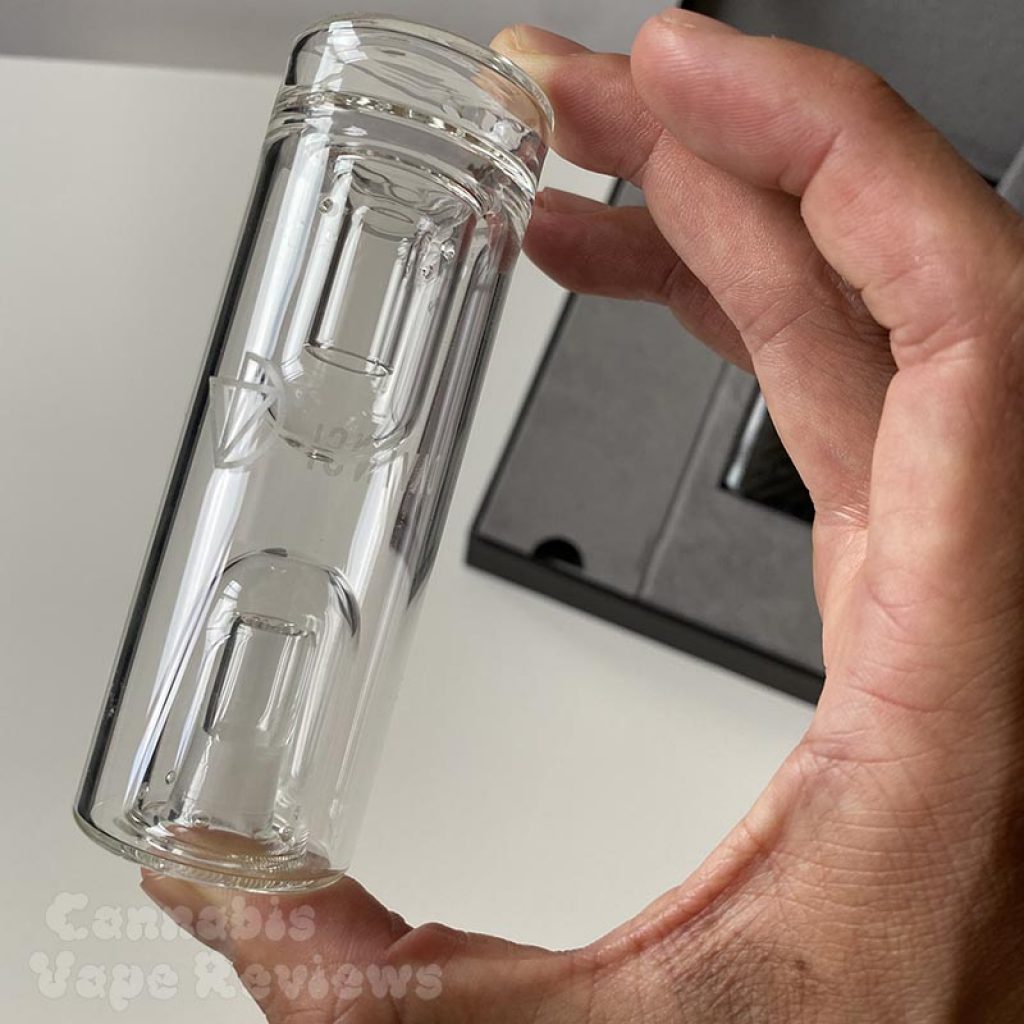 Then I'll test out how well the IQ2 vapes extracts using the included dosage pods.
The IQ2 seems it was primarily designed with dry herb vaping in mind. You can easily pack flower into the chamber and get going. But with concentrates, you'll need to use a few accessories like the dosage pod and cotton pads or a ceramic insert.
In addition to concentrates, these pods can also be used vape dry herb in small amounts. This is a great accessory using the IQ2 for micro-dosing.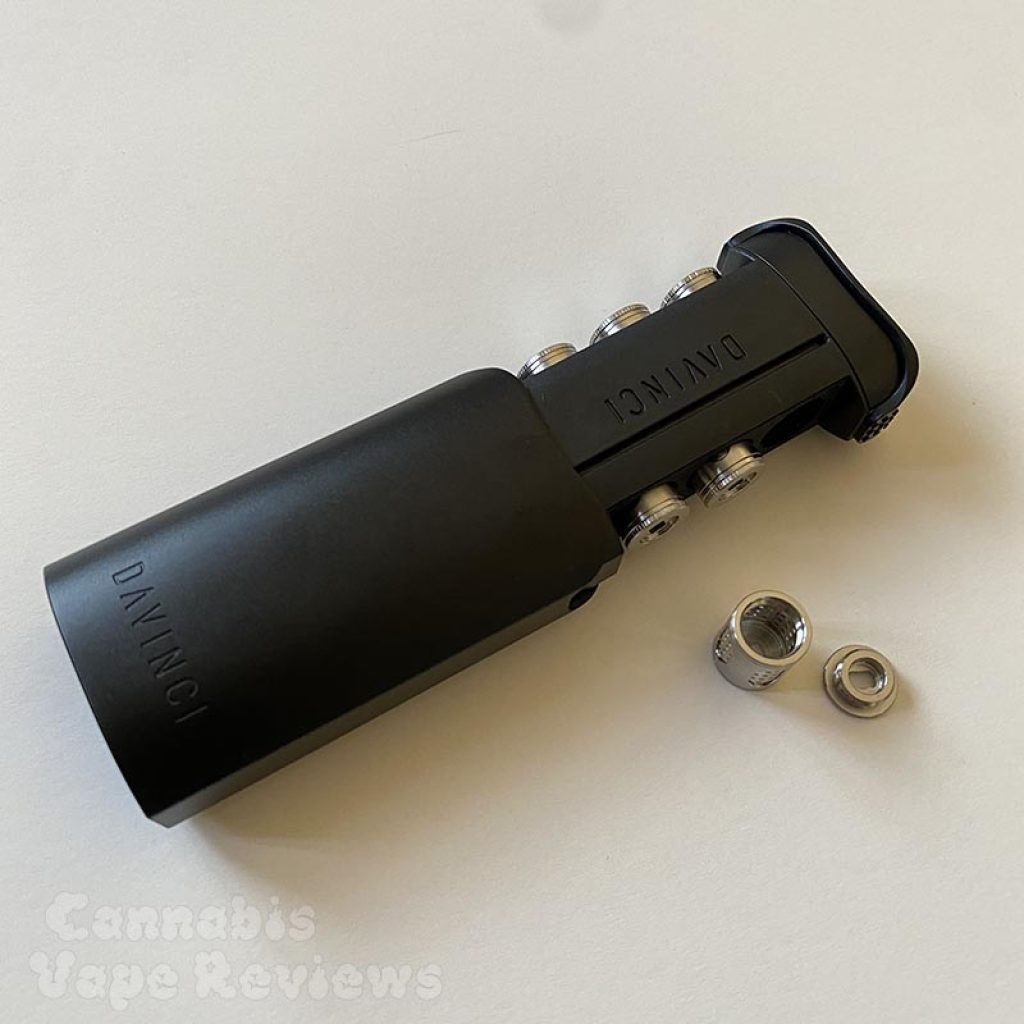 Final Thoughts
While this vape comes with a hefty price tag, it is a stellar, limited edition vaporizer to add to your arsenal. The IQ2 Carbon is unique, its beautiful to look at, and its an absolute pleasure to use.
This probably isn't the best vape for those just getting into vaping, but if you've been around the block and it fits your budget, you'll want to get your hands on this rare piece of vaporizer technology.
Price & Where to Buy
The limited edition DaVinci IQ2 Carbon Fiber kit retails for $499 and is available only through DaVinci Vaporizers while supplies last. Only 1000 models have been produced.
The classic model DaVinci IQ2 combo vape retails for $295 and is available at DaVinci Vaporizers.
Warranty Information – IQ2 Carbon Fiber model backed by 10-year warranty.

20% off
Available only at DaVinciVaporizer.com
Limited edition, carbon fiber DaVinci IQ2 vaporizer combo vape for dry herb and wax. Get it before it runs out!

20% off
Discount with code at DaVinciVaporizer.com
DaVinci IQ2 vaporizer combo vape for dry herb and wax. Quality vapor, precise temp control, and many other features.
Additional Product Photos
DaVinci IQ2
Pros
Aesthetically awesome
Excellent vapor quality
Packed with useful features
Includes many accessories
Highly customizable experience
Rare collector's edition
Airflow control
Bowl size control
Precise temp control
Cons
Very pricy
Requires accessories for extracts
App is buggy
Shops for Dry Herb & Flower Vapes