Affiliate Disclosure: Cannabis Vape Reviews is supported by readers like you. We may earn commissions for purchases made through our links. Learn More
The Atomic9 dry herb vape from Cloudious9 is an entry-level dry herb vaporizer that's highly functional at an affordable price.
This vape features six preset temperatures, a ceramic oven, and a built-in scoop tool for quickly and easily loading the oven with your ground dry herb.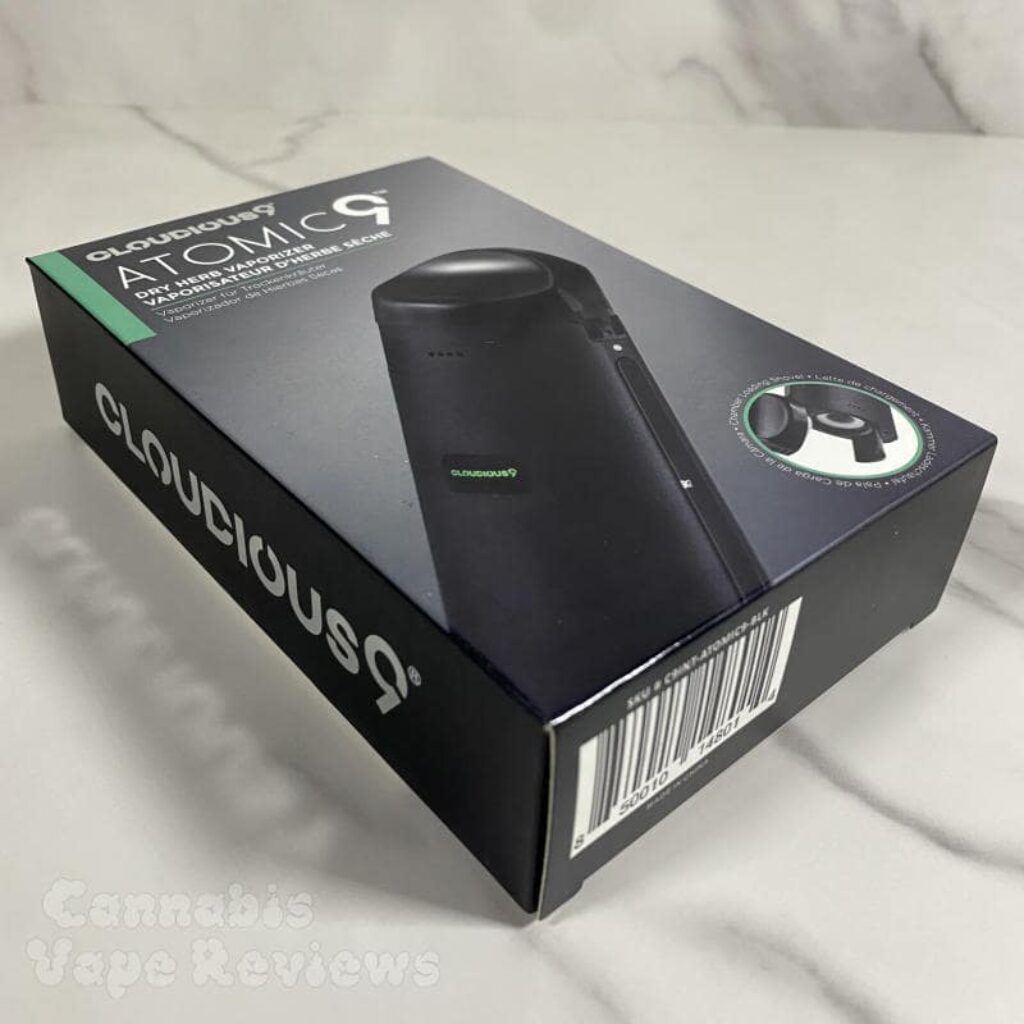 Cloudious9 Atomic9
Affordable dry herb vape with built-in weed scooper, 6 temp presets, and a ceramic oven. Simple vape that's easy to use and fits in your pocket.
Available at Cloudious9
What's Included
1x Atomic9 vape device
1x Charging cable
1x User manual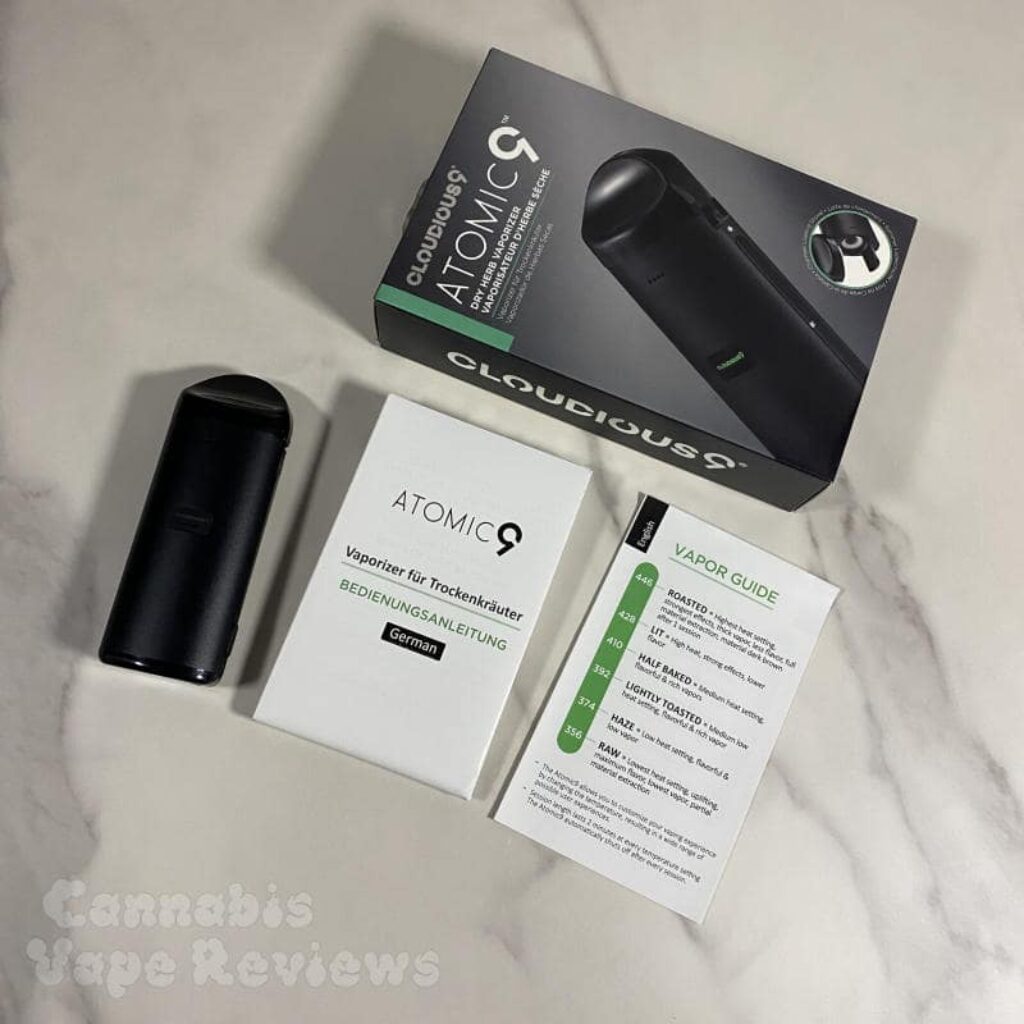 Design & Features
Patent pending "Dual Layer" heating technology
Hybrid convection and conduction heating
Six adjustable temperature presets ranging from 356F to 428F
Patent pending "Retractable Herb Loading Shovel"
Pocket-sized design
Rapid vapor cooling chamber
Simple, one-button user interface
Removable chamber for thorough cleaning
Aluminum alloy body with a matte finish
Flip magnetic mouthpiece
Heats quickly to over 350F in 30-45 seconds
Auto-shutoff after 2 minutes
Color coded battery life indicator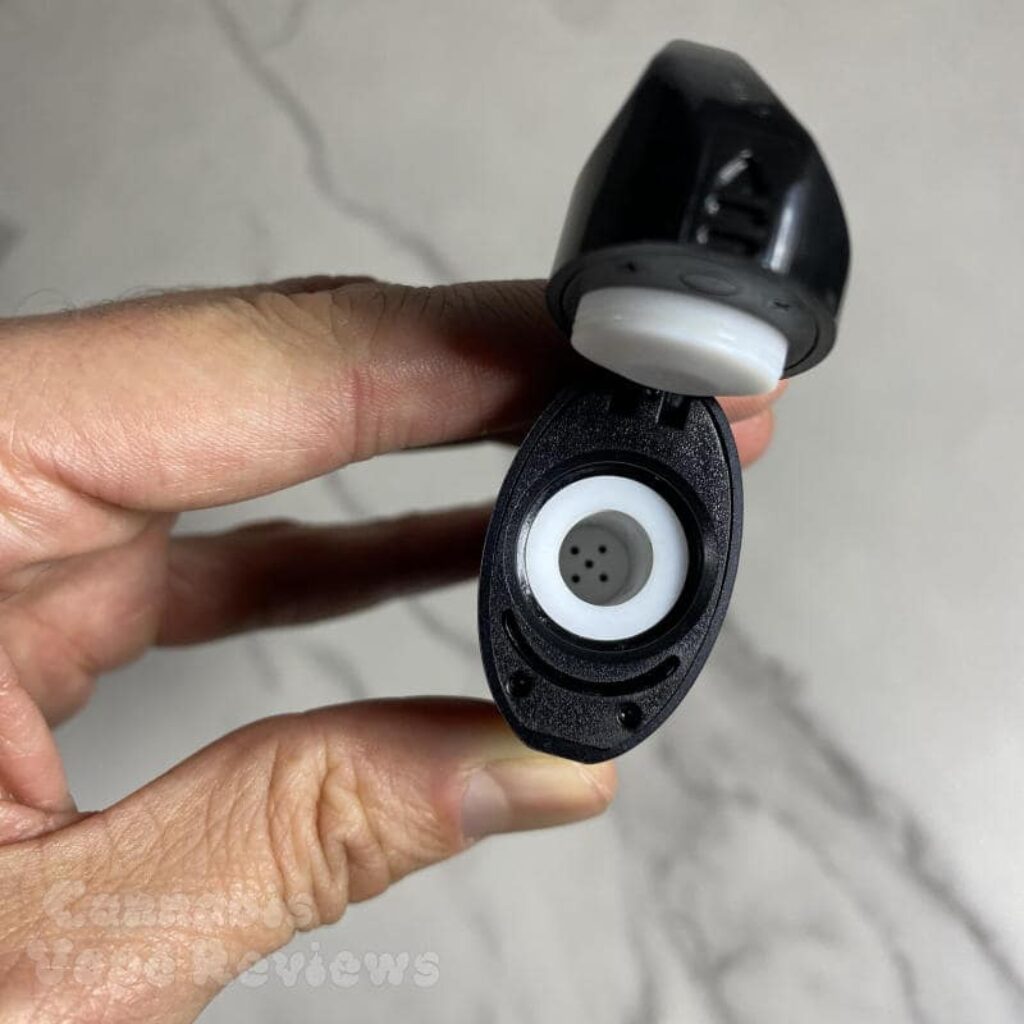 Tech Specs
| | |
| --- | --- |
| Dimensions | 1.45″ W x 3.85″ H x 0.88″ D |
| Weight | 2.6 oz |
| Materials | Anodized aluminum body |
| Battery | Rechargeable 900mah Lithium-Ion Battery |
| Charging Time | 2 – 2.5 hours |
| Heating Time | 30-45 seconds (to reach 356F) |
| Oven Capacity | 10mm (0.39″) Diameter x 18mm (0.71″) Depth |
| Sessions | 9-12 sessions |
| Heating Method | Hybrid convection and conduction |
| Temperature Settings | 6 temperature presets; temp ranges from 356-428 F |
How to Use
Flip the magnetic lid open and load it up with some medium-fine ground up herb.
Power on/off with 3x rapid clicks.
Enter temp control mode by holding the power button for 3-seconds. Each additional click will cycle through the 6 temp presets as indicated on the side of the device.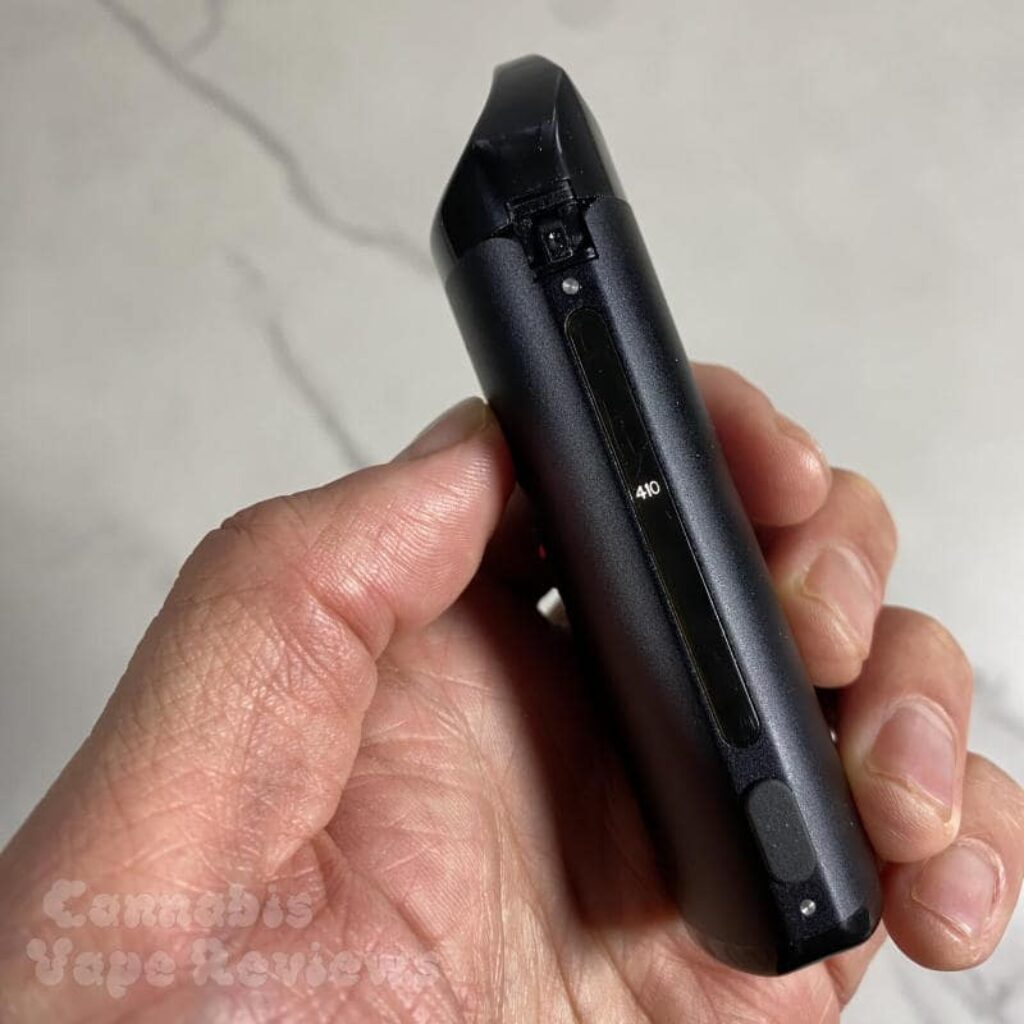 Hold for an additional 3-seconds to confirm the selected temp, or just wait a few seconds for the device to start heating automatically.
Check the battery life by holding the power button for 3 seconds when the device is power off. The green light on the front indicates full battery, yellow for low batter, and red for low battery.
Our Experience
If you're in the market for a cheap dry herb vape, the Cloudious9 Atomic9 is a decent choice.
It's compact size makes it great for easily carrying around in your pocket. It's easy to use as it only has one button to operate and a slim screen on the side to show the preset temp.
The Atomic9 uses a dual-heating system combing both conduction and convection heating for even vapor production. Most budget dry herb vapes usually just have one type of heating method such as conduction heating. You can find more expensive vapes, usually over $100, with hybrid heating such as the Auxo Calent dry herb vape.
While this vape doesn't have precisely controlled vape temperature, it has six adjustable preset temps. For most users, this is good enough to find the right vape temperature to suit your desired vape preference.
I found that I get good vapor clouds and vapor coming through at around the 410 degree mark. Rarely ever do I use the high end range of most vaporizers.
I'm a stickler for vapes that lack a battery life indicator as I think this should be standard with all vapes. While not the most accurate, this vape does have a color-coded battery life indicator. You'll have some idea when the battery is running low so this vape doesn't die on you mid-session.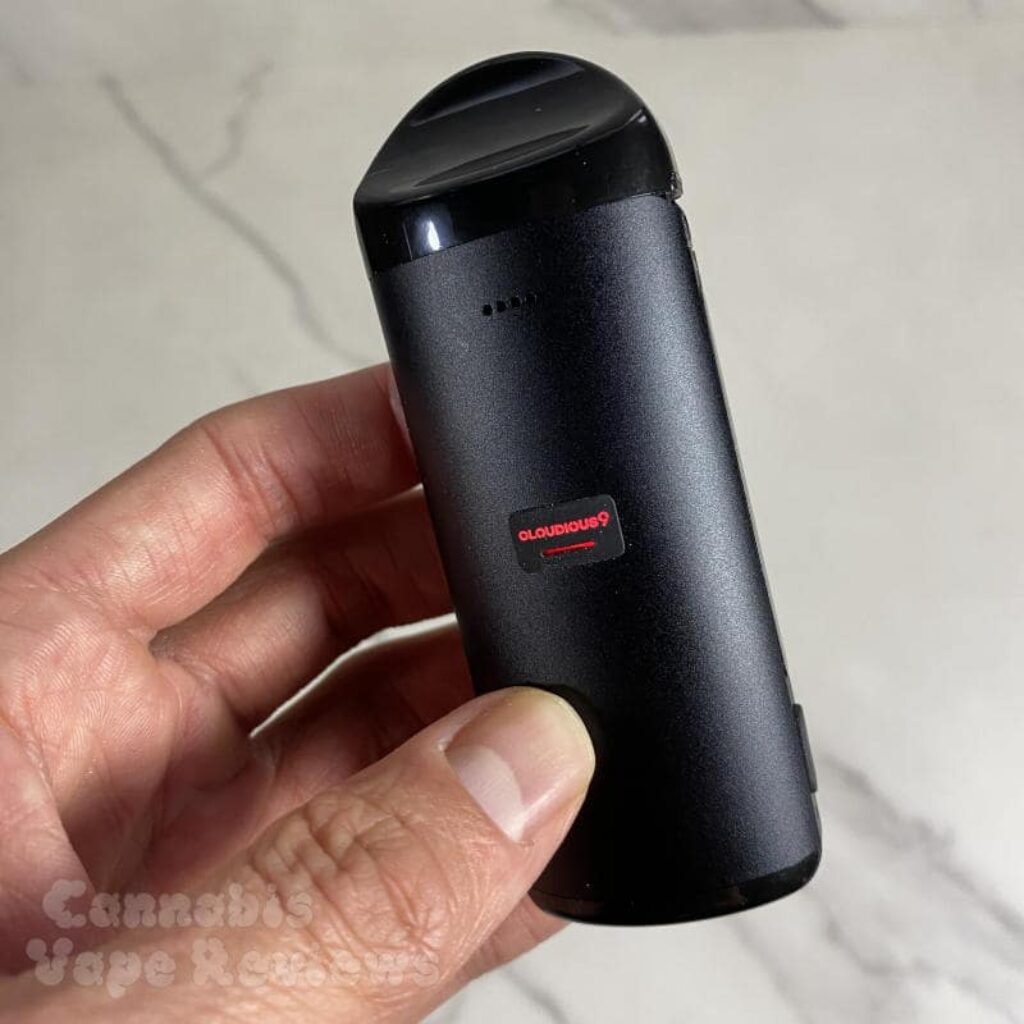 Another cool feature with this vape is the built-in shovel or scooper tool. This is the first time I've seen this built into a vape. This makes it easy to scoop your herb directly out of a grinder and into the loading chamber for a clean sesh with no sticky fingers or messes.
One thing that annoyed me with the shovel is that it seems to be controlled by a little switch on the side of the vape. However, the switch does not hold the shovel in place. For example, I flip the vape upside-down, the shovel slides out, even if I don't touch the switch. Not sure if this is a flaw in the design or if it was intended to work like this. In either case, it's not a deal breaker and still serves its purpose.
Cloudious9 also offers the Tectonic9 grinder which is great for loading vape's like this that have a narrow oven. It has a vibrating function for auto-dispensing as well as funnel to direct your ground dry herb right into the chamber.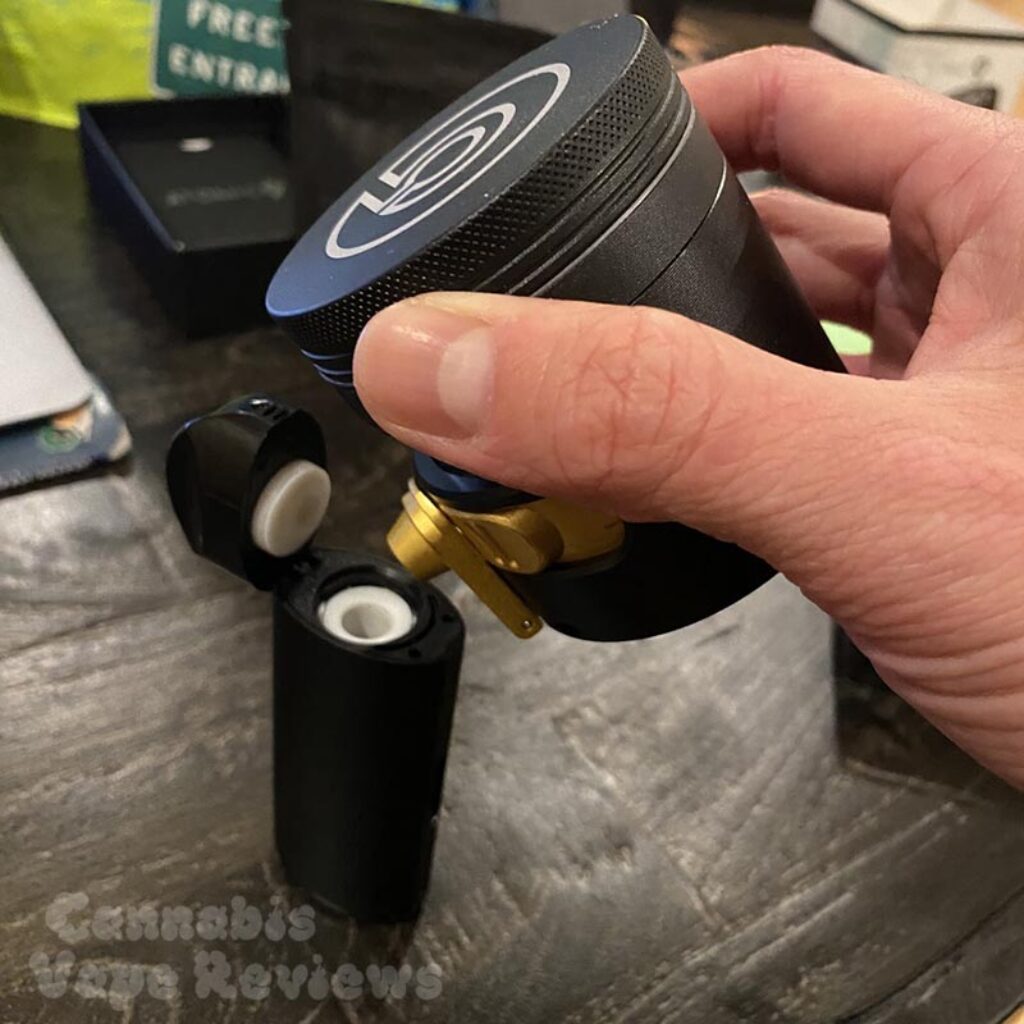 The top is fixed to the vape with a hinge and easily opens and closes with magnets. With this design, you won't have to worry about losing the lid. As with other designs that have a completely removable top such as the PAX dry herb vape or the G Pen Dash, the top cap or mouthpiece can become detached and is easy to lose. This isn't concern with the Atomic9.
This vape is also easy to clean and maintain. It has removable parts so that you can thoroughly clean it out to keep it running in tip-top shape.
Final Thoughts
The Cloudious9 Atomic9 is a decent entry-level vape for those looking for a dry herb vape on a budget. At under $70, this vape is packed with some unique features. Most vapes at this price point don't include an LCD screen or deliver this level of performance. With multiple temp presets, a ceramic oven, and dual, the Atomic9 is a good contender in the class of cheap dry herb vapes.
Price & Where to Buy
The Cloudious9 Atomic9 dry herb vape retails for $69.99 and is available at Cloudious9.
Warranty Information – Not Available

-15%
15% off
Available at Cloudious9
Affordable dry herb vape with built-in weed scooper, 6 temp presets, and a ceramic oven. Simple vape that's easy to use and fits in your pocket.
Additional Product Photos
Verified Customer Reviews
Don't just take our word on the Atomic9 vape. Here's what other verified Cloudiosu9 customers have to say about the Atomic9:
Wonderful product. It's pocket sized. Easy to use and multiple temperature settings. It also some how removed the harshness ( no coughing).I bought one as a gift and they love it too. I have each of the Cloudious products and they are all great and everyone that tried it is envious. Cloudious also has incredibly good customer support. I haven't needed it for this product but it's so good it's worthy of mention.

Stuart D. (Source: Cloudious9)
I use the Atomic9 daily! My SO and I switched from smoking to vaping completely during COVID (highly recommend) and before snagging an Atomic9 I was pocketing a Boundless CFC 2.0. Comparing the two together isn't even fair.

The Atomic9's build quality alone embarrasses the more expensive CFC 2.0, but the hit difference is insane. I think a lot of people who switch from smoking to vaporizing usually notice a lack of "a hit" when they vape, but not with the A9. Holy ****, it hits hard (if you want it) without burning the bud. Now my CFC just sits in my desk at work as a backup. I can't go back to that weak, weak hit after using the Atomic 9.

Unfortunately, I dropped my Atomic9 a week or so ago and the hinge snapped off. Bummer! It was on concrete though so damage was to be expected (it 100% still worked though if you held the cap in place). Cloudious9, however, REPLACED MINE FOR FREE! This on top of the other things they have done for me as a brand new customer (they replaced an entire atomizer for a Hydrology9 NX) made me a customer for life. I can't recommend anything from Cloudious9 enough. I never shill products or write reviews, but I definitely owe it to a company that actually cares.

JT (Source: Cloudious9)
Shops for Dry Herb & Flower Vapes