Affiliate Disclosure: Cannabis Vape Reviews is supported by readers like you. We may earn commissions for purchases made through our links. Learn More
AUXO is a new vaporizer brand that just emerged in the cannabis vaping space in 2021.
They launched their brand with a couple innovative vapes: the AUXO Calent and the AUXO Cenote.
AUXO also offers the Cira vape (a premium precision rig) and will soon be launching the Celsius vape (dual-use smart vaporizer).
The Calent is their dry herb vaporizer that we'll be covering in this review.
The Cenote vape is their concentrate and wax vape that we may cover in a future review.
As for the AUXO Calent, this is an advanced dry herb vape with high performance at a very affordable price.
It features 4-temp presets, haptic feedback, high-quality materials and quality vapor production due to its hybrid heating system.
To top it off, the Calent is a smart-vape in that it is bluetooth enabled to pair with the AUXO mobile app for additional controls and features.

AUXO Calent Vape
Well-designed and easy to operate dry herb vape from new vape brand Auxo. Features dual-heating system, haptic feedback, 4-temp presets, and pairs with mobile app.
Discount with code at Vapor.com
What's Included
1x AUXO Calent vaporizer
1x 3-foot USB-C charging cable
1x Bristled cleaning brush
1x User manual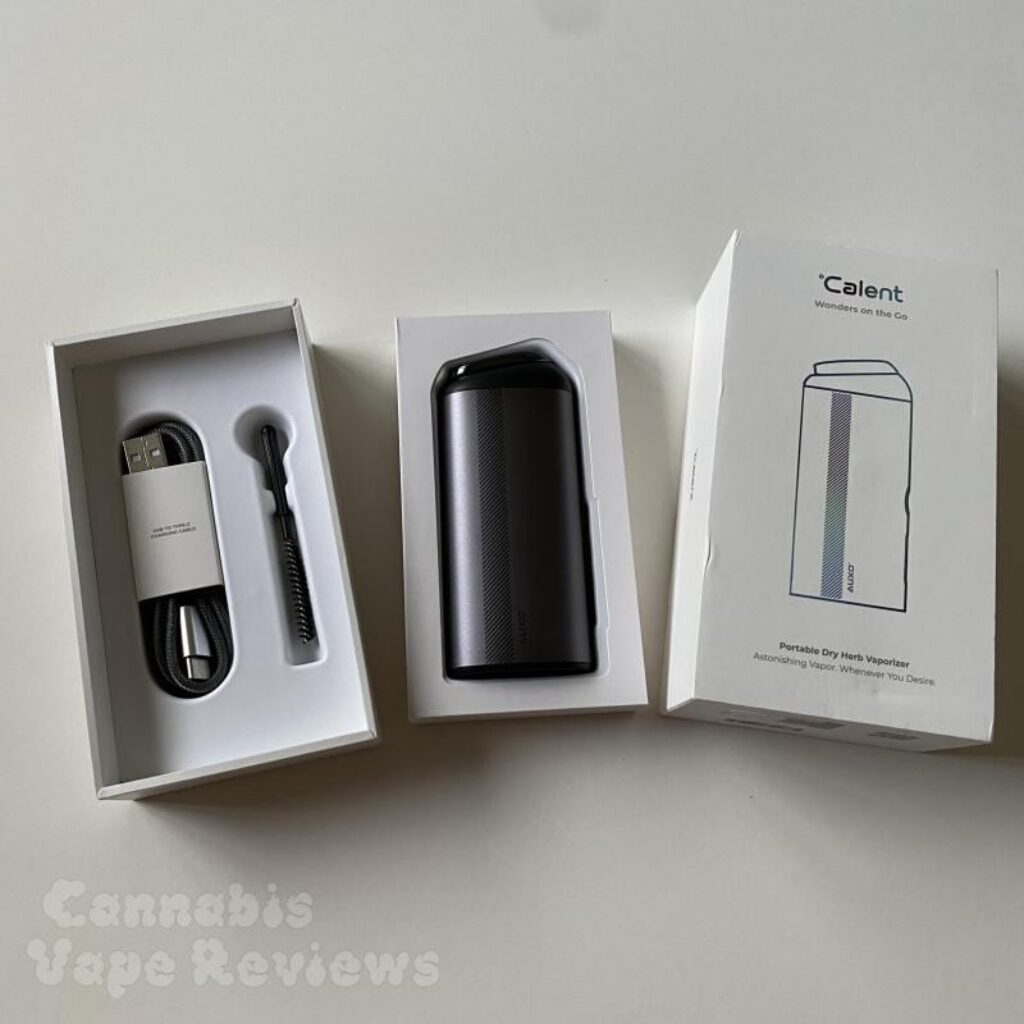 Design & Features
Standard features
Dual-heating technology using conduction and infrared heating
Specialized airflow system for better flavor and bigger vapor
4 pre-programmed heat settings for rapid heating and simple setup
Magnetic easy-lift lid with 360° rotatable zirconia ceramic mouthpiece
Small and compact design with stylish aluminum alloy casing
Pairs with bluetooth mobile app for additional features
Charges with Type-C USB cable
Integrated rechargeable 2900mAh battery
Stainless Steel Oven Construction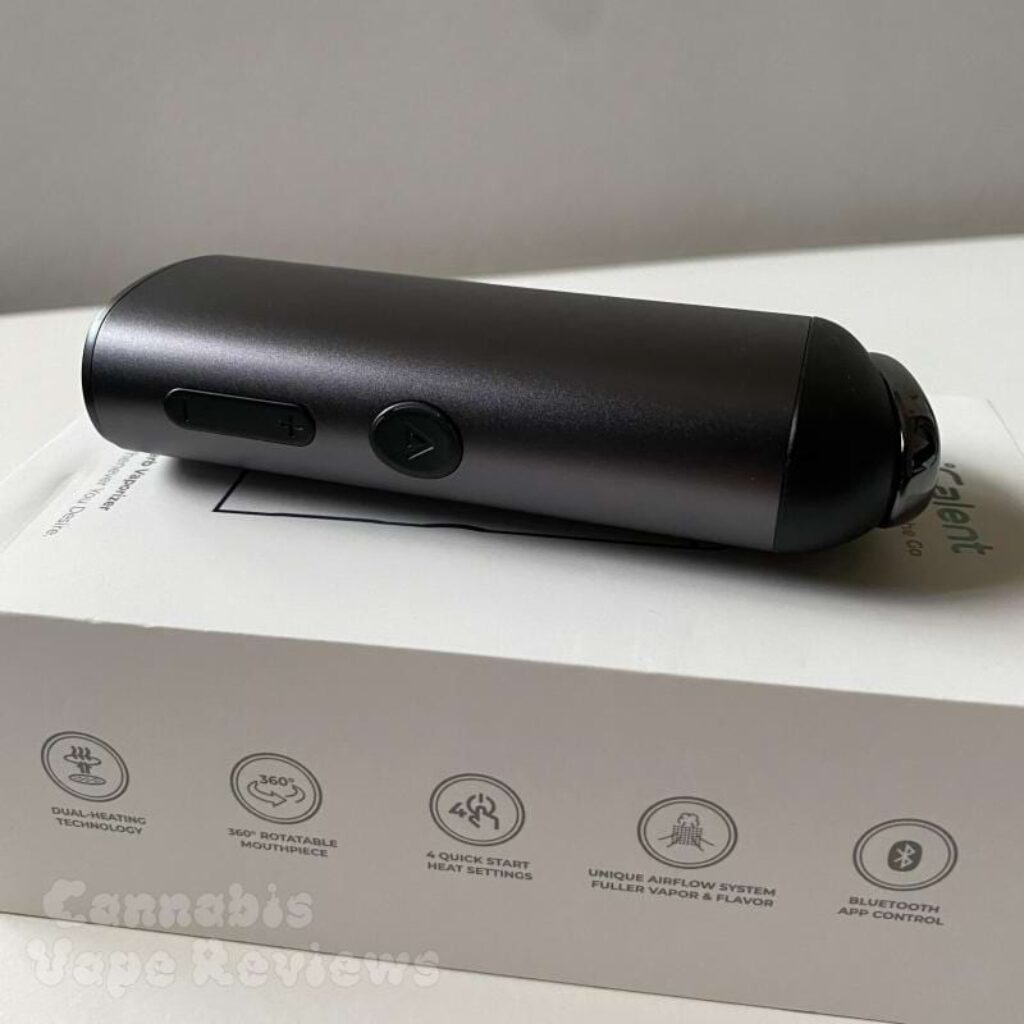 Dual heating technology
The Auxo Calent features a dual heating system which uses a combination of conduction heating and infrared. Conduction heats cannabis material that comes into contact with the heating element while infrared penetrates through the cannabis material for more thorough heating.
Here's a more detailed explanation on how infrared heating works according to Auxo:
Calent is powered by conduction and infrared dual-heating technology. Conduction technology heats through direct contact while infrared uses electromagnetic waves to reach further depths, assuring the heat is distributed throughout the oven uniformly. This allows the dry herb to heat even, completely and leaves no waste.
Auxo
Tech Specs
| | |
| --- | --- |
| Dimensions | 106.1 mm x 45 mm x 25 mm |
| Weight | 134.4 grams |
| Materials | Mouthpiece: Zirconium; Body: Aluminum Alloy; Heating Oven: Stainless Steel |
| Battery | 2900mAh 3.6V; Lithium Battery |
| Charging Time | 150 minutes |
| Heating Time | 20-30 seconds |
| Oven Capacity | 0.3 grams of dry herbs |
| Sessions | 20 sessions |
| Heating Method | Hybrid Conduction and infrared heating |
| Temperature Settings | 356℉ – 428℉ |

AUXO Calent Vape
Well-designed and easy to operate dry herb vape from new vape brand Auxo. Features dual-heating system, haptic feedback, 4-temp presets, and pairs with mobile app.
Discount with code at Vapor.com
How to Use the AUXO Calent
Basic use of the AUXO Calent
Press and hold the power button for 3-seconds to power on/off.
Use the + / – buttons to adjust the temperature presets.
With your preset selected, hold and press the "+" button for 3-seconds to activate heating mode.
The vaporizer will vibrate once it's reached the desired temp.
Check battery life
Press the power button 3x to check battery
The LED ring light will indicate status. Each bar indicates ~25% battery level.
The light blink red 3x times if battery is low at the start of your session.
The LED ring light will blink 10 times in red will vibrate when the battery dead. The device then power off automatically.
Our Experience
For being a new brand to the vape market, I'd say AUXO is off to a good start. They launched with two products, the Calent dry herb vape, which we're reviewing here, and also the Cenote, which is their concentrate vape.
They also have the Cira vape which a is a precision e-rig.
At first glance with AUXO Calent, I like the streamlined and smooth curves of this vape. It's not too fancy, but also not cheap. You can tell by the look and the feel that it's well designed and built with quality materials like its zirconia ceramic mouthpiece and aluminum body.
Mouthpiece
For starters, I found the mouthpiece positioning to be a bit awkward.
I wish the mouthpiece was designed to have an adjustable vertical angle. It would be cool if the mouthpiece could flip up and away from the lid so that it could be sipped more like a vertical straw.
However, I like that it's made out of zirconia ceramic. This materials looks great and leaves a clean taste versus vapes with plastic mouthpieces.
I've noticed a growing trend with more and more companies implementing zirconia like with all Davinci vapes.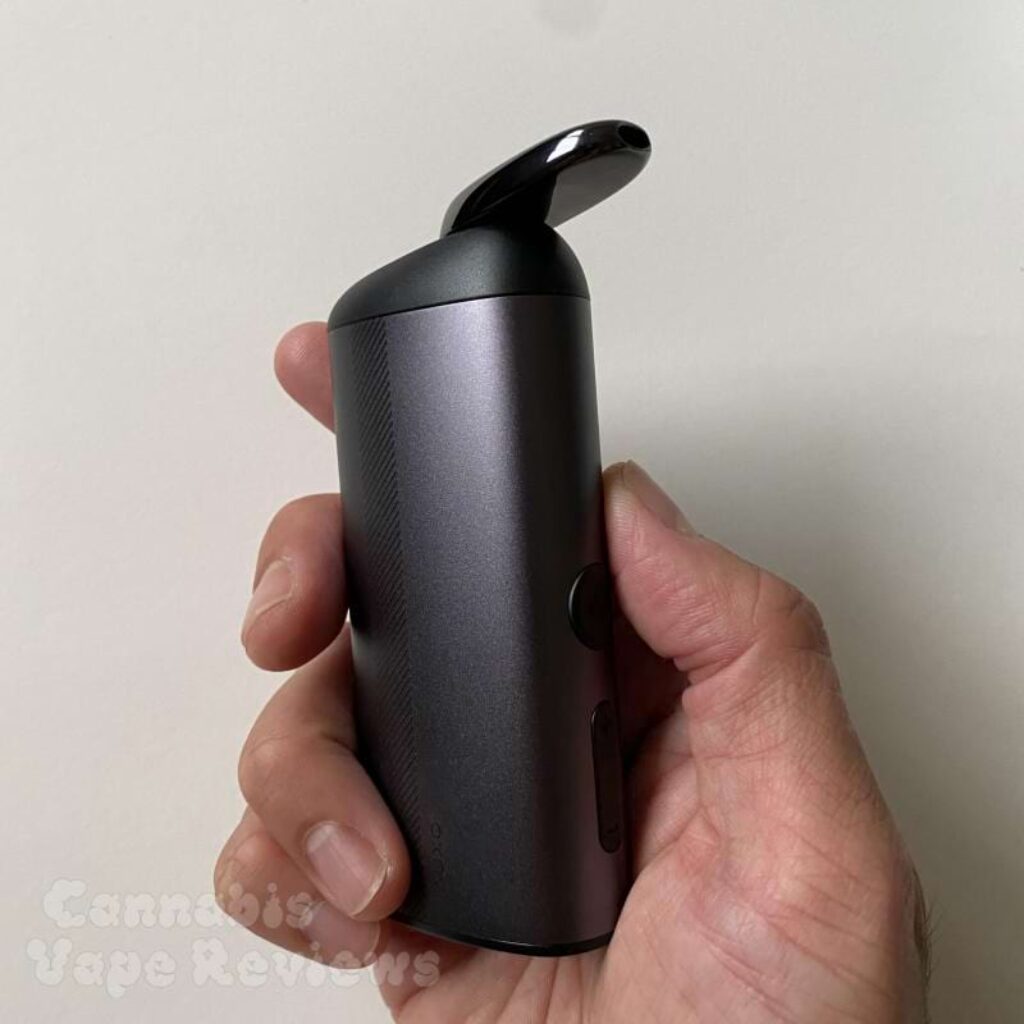 The magnetic lid is pretty strong and adds convenience so that you can easily remove it to pack a bowl.
With the mouthpiece flipped close, you also don't have to worry about losing the top cover.
Other vapes, such as the PAX dry herb vape, use weak magnetic lids that are barely strong enough to stay together. A magnetic lid that falls off is worriesome, especially with the PAX, given it's hefty price tag.
On the other hand, that's not a concern with the AUXO Calent vape.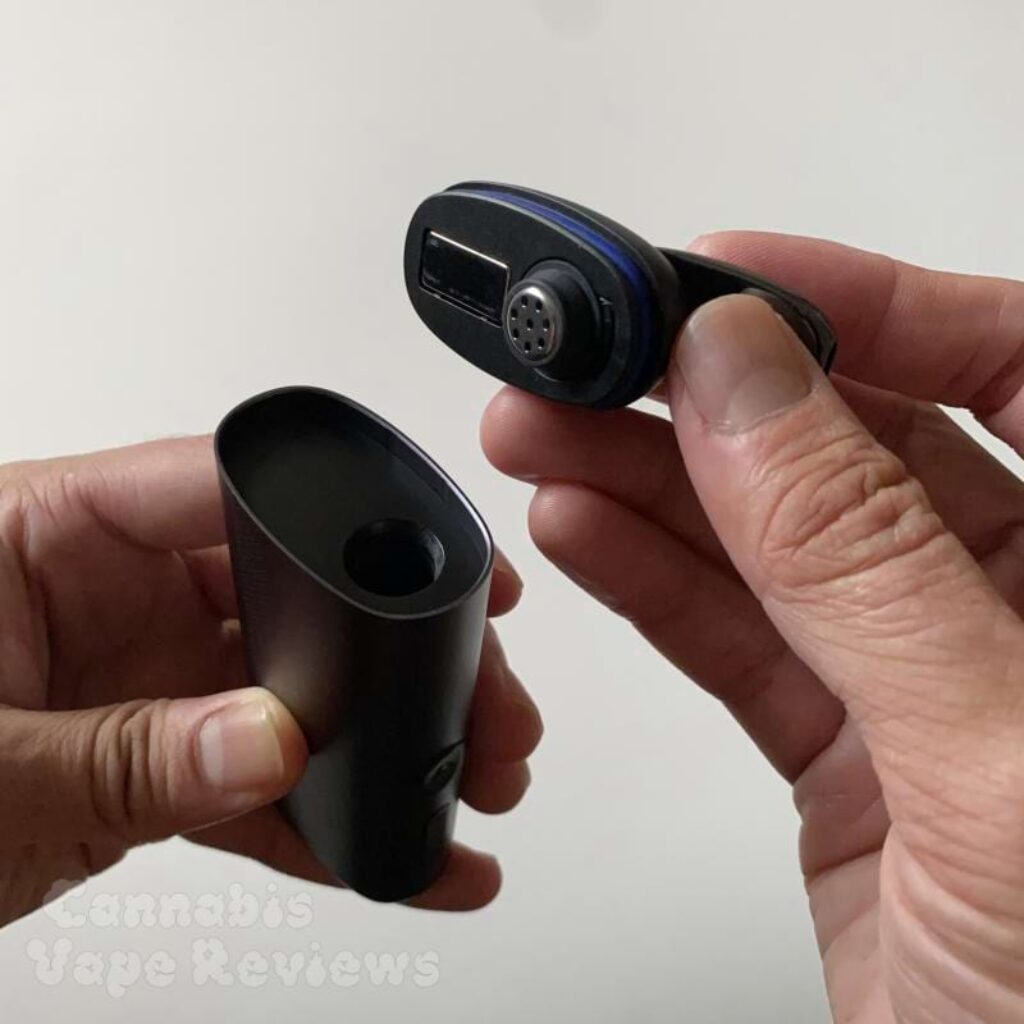 AUXO Calent Vape
Well-designed and easy to operate dry herb vape from new vape brand Auxo. Features dual-heating system, haptic feedback, 4-temp presets, and pairs with mobile app.
Discount with code at Vapor.com
Easy operation
The AUXO Calent is very easy to operate with virtually no learning curve. It's designed simple.
The side of the device has a two-button interface with one button for powering on/off and another set of buttons for adjusting the temperature preset either up or down.
One thing that was a bit unconventional for me is that once you choose your temp preset, you then have to hold down the "+" button to start the heating mode.
I would have expected the device to start heating automatically once the preset is selected, or perhaps, having to click the power button to begin heating rather than the "+" button.
There is also no way to stop heating or change to a standby mode as far as I could tell. I found no other way to "pause" the vape, other than to simply power off the device completely.
With that being said, it does have a built-in 3-minute auto-shutoff timer.
Airflow and heating
The AUXO Calent does produce good vapor quality in terms of airflow and flavor transfer when you're using some tasty buds.
The Calent features quite a deep chamber to pack larger bowls.
AUXO recommends packing around 0.3g of medium ground up herb. Make sure you use a quality grinder to maximize your vaping experience.
I tend to vape lightly, but for heavier smokers and those with higher weed tolerance, this can be appealing for you.
To test out the Calent, I packed the chamber about half full and packed down lightly with tamp tool (this thingy is incredibly useful, btw).
I used some fresh Jack Herer flower that I got from a buddy who runs a local grow op. Using some bomb weed, I'd know right away if this vape holds it down in the flavor transfer department.
After you choose your temp preset and enter heating mode, the device will take about 30-seconds to heat-up. You'll feel a vibration that lets you know it's time to rip.
Starting out at the lowest setting, I could start to taste the Jack Herer flavors coming through, but I wasn't getting much vapor. This felt mostly like pulling flavor from a dry hit.
Then I tried the 2nd lowest setting. At this setting, I took a slow and deep inhale, and got a surprisingly large vapor cloud. It was really smooth and tasty. No harshness on the throat and lungs!
I'm not completely sold on the hybrid heating which combines conduction and infrared. Although, to be fair, I will have to do a bit more testing to fully weigh out how effective this hybrid heating combination really is versus typical conduction vaping.
I've never seen infrared heating featured on a vape before, so I'll definitely have to play around some more and update this vape when I have more feedback.
Final Thoughts
Overall, the AUXO Calent is a fantastic dry herb vaporizer, especially for an emerging brand to the vape scene. The Calent is well-designed, it performs well, it's super easy to operate, and is very reasonably priced flower vaporizer. This is a great vape for any first-timer that wants to start vaping their flower.
Price & Where to Buy
AUXO Calent dry herb vape retails for $119.99 and is available at Vapor and Hamilton Devices.
Discount codes for Auxo Calent
Warranty Information – Backed by a 10-year warranty.

15% off
Discount with code at Vapor.com
Well-designed and easy to operate dry herb vape from new vape brand AUXO. Features dual-heating system, haptic feedback, 4-temp presets, and pairs with mobile app.
Additional Product Photos
Shops for Dry Herb & Flower Vapes