Affiliate Disclosure: Cannabis Vape Reviews is supported by readers like you. We may earn commissions for purchases made through our links. Learn More
The G Pen Dash is a slick, little pocket-vape for dry herb. It easily hides away in the palm of your hand and is a great balance between convenience, performance, and affordability.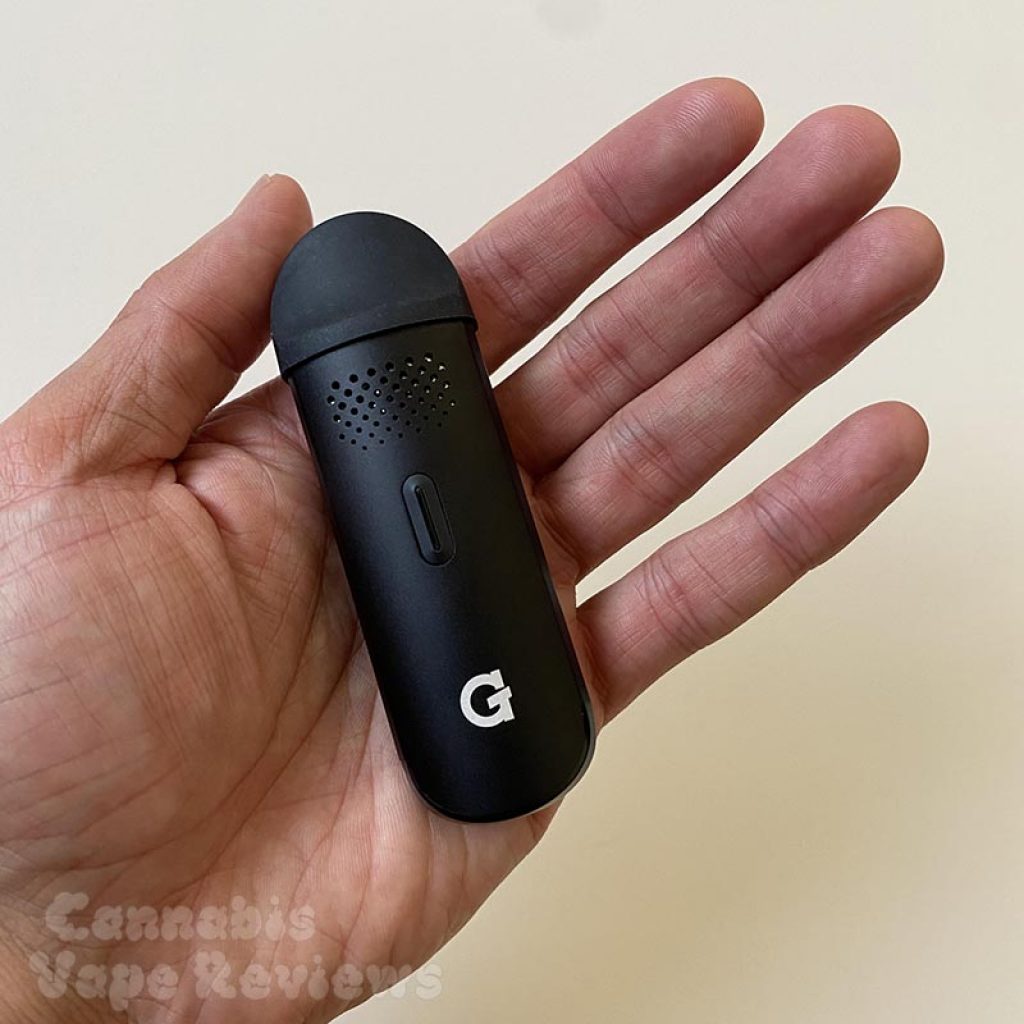 This vape is close to the size of a bic lighter and nearly as tiny as the Vessel Compass (one of the best oil cartridge vapes we've reviewed).
With its compact size, multiple heating presets, and simple operation at under $100, the G Pen Dash is a great for entry-level flower vaping.

G Pen Dash
G Pen Dash is one of the smallest dry herb flower vapes on the market. It's easy to use and and very affordable at just under $100.
Discount with code at GPen.com
What's Included with the G Pen Dash
1x G Pen Dash vaporizer
1x G Pen tool keychain
1x Micro-USB charging cable
1x silicone protector for mouthpiece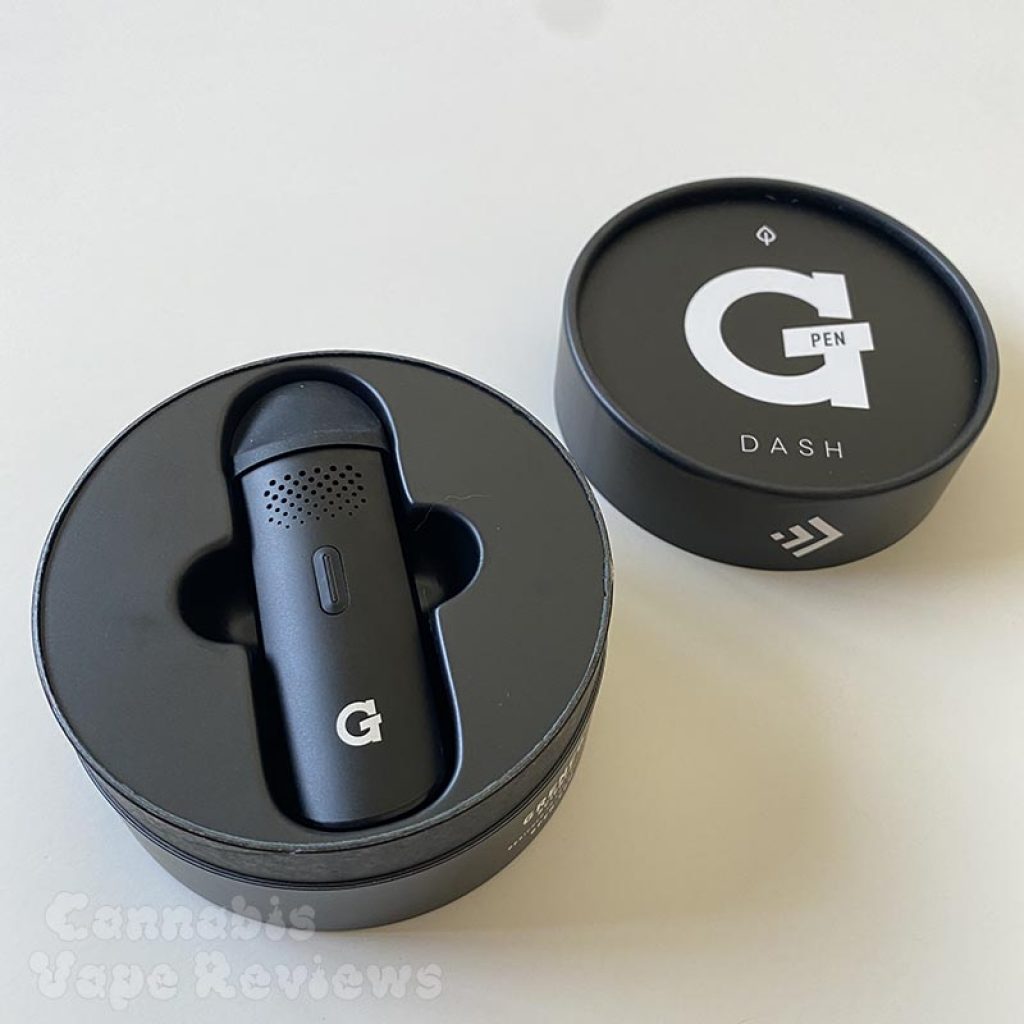 Design & Features of the Dash
The G Pen Dash is one of the tiniest, most compact dry herb vapes with simple one-button interface for easy operation. For such a small device, it's jam packed with many features.
Each G Pen Dash comes standard with the following features:
3 temperature presets
Micro-USB rechargeable battery
Conduction heating
Glass-glazed stainless steel chamber
Haptic feedback
Easy-to-use single-button operation
950mah battery
Magnetic mouthpiece with integrated air path
LED indicators for heat level and battery life
Easy-to-load chamber
Highly portable and durable
Pass-through charging (can use the vape recharging)
Automatic shut-off
1 Year Warranty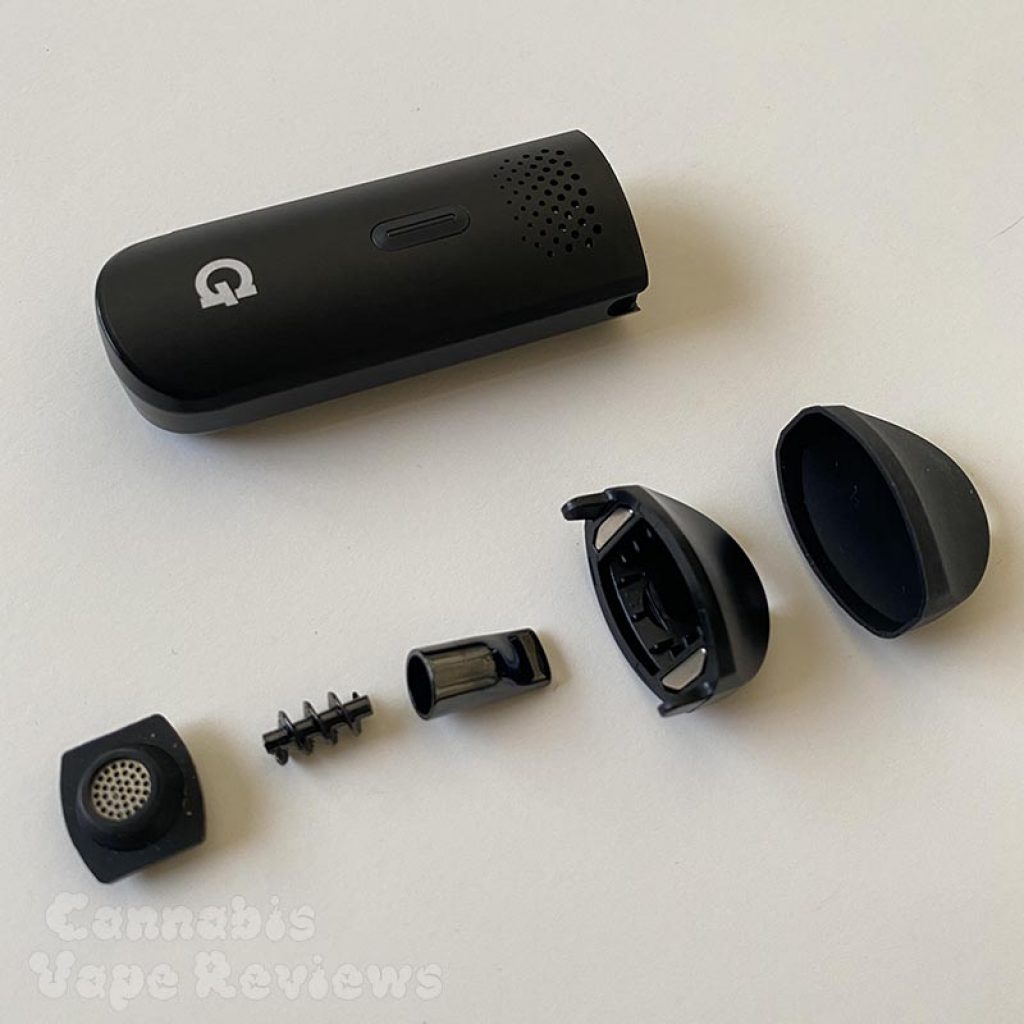 Tech Specs
| | |
| --- | --- |
| Dimensions | – |
| Weight | – |
| Materials | Glass-glazed stainless steel chamber; aluminum alloy body |
| Battery | 950 mAh capacity; micro-USB rechargeable; pass-through charging |
| Charging Time | 1-2 hours |
| Heating Time | 30-40 seconds |
| Oven Capacity | 0.2 grams |
| Sessions | – |
| Heating Method | Conduction heating |
| Temperature Settings | 3 temperature presets: 375ºF (190ºC), 401ºF (205ºC), 428ºF (220ºC) |

G Pen Dash
G Pen Dash is one of the smallest dry herb flower vapes on the market. It's easy to use and and very affordable at just under $100.
Discount with code at GPen.com
How to Use the G Pen Dash
The G Pen Dash is simple to operate. It uses a single-button interface that controls both power and temp presets. It functions like most 510-threaded vape pen batteries. The light display works as both a battery life indicator and displays your current temp preset.
For basic operation of the Dash:
Pull off the magnetic mouthpiece. Fill the chamber with some ground up dry herb. Then pop the mouthpiece back on.
Power the device on/off with 5x clicks.
Cycle between the three temperature presets with 3x clicks (Blue = low temp / Green = medium temp / Red = high temp).
The device will vibrate when it's reached the optimal temp for your chosen preset and it's time to start puffin' away.
Our Experience
The G Pen Dash is a nice, tiny pocket-size dry herb vape that fits easily in your hand. It feels of quality build with its aluminum body and sleek, stealthy profile.
The Dash couldn't be any easier to operate. It heats up relatively quickly and offers three different heat presets that span a good temp range.
Temp presets
Among the three presets, I find that I get the perfect amount of vapor at the green (middle) setting. Rarely do I feel the need to increase the temperature above that.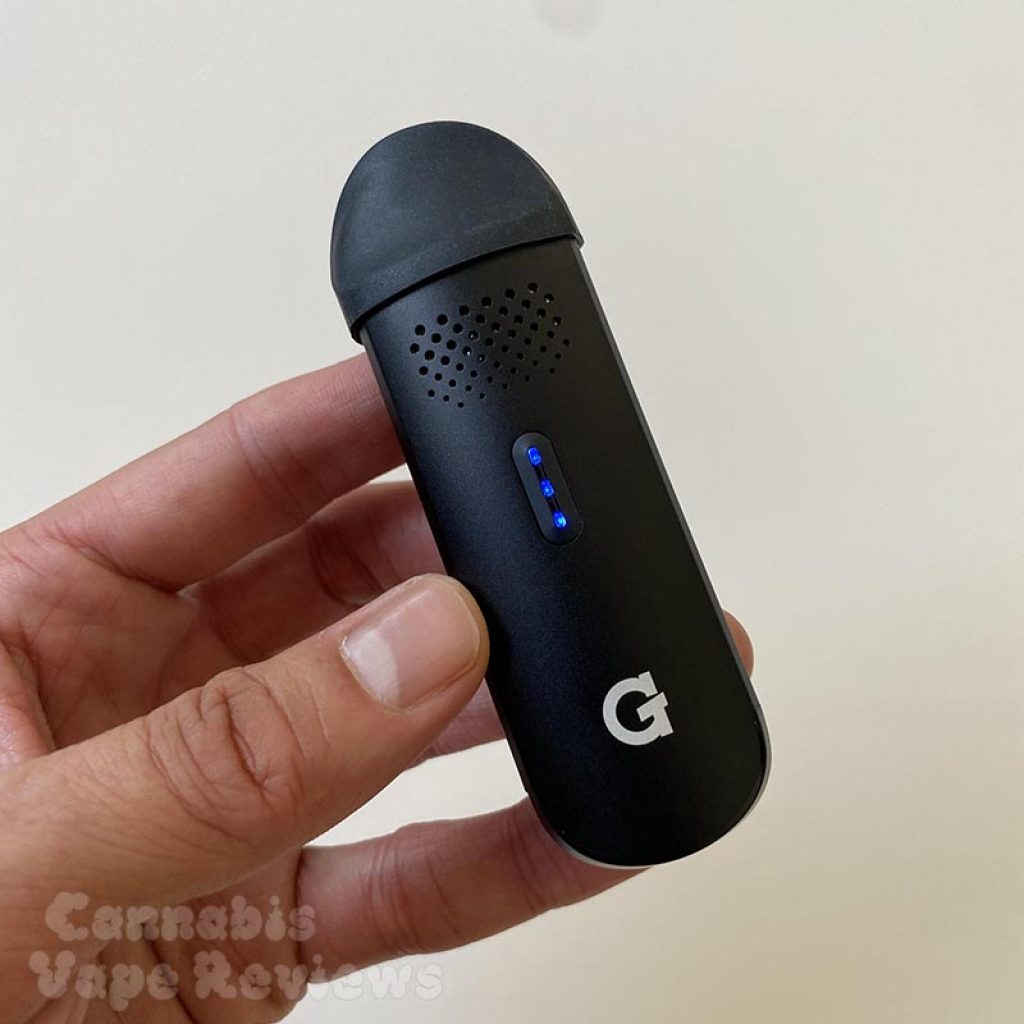 At the blue (lowest) setting you'll experience nice flavor, but thin vapor. At the green (medium) setting, you'll get a good balance of flavor and decent vape size.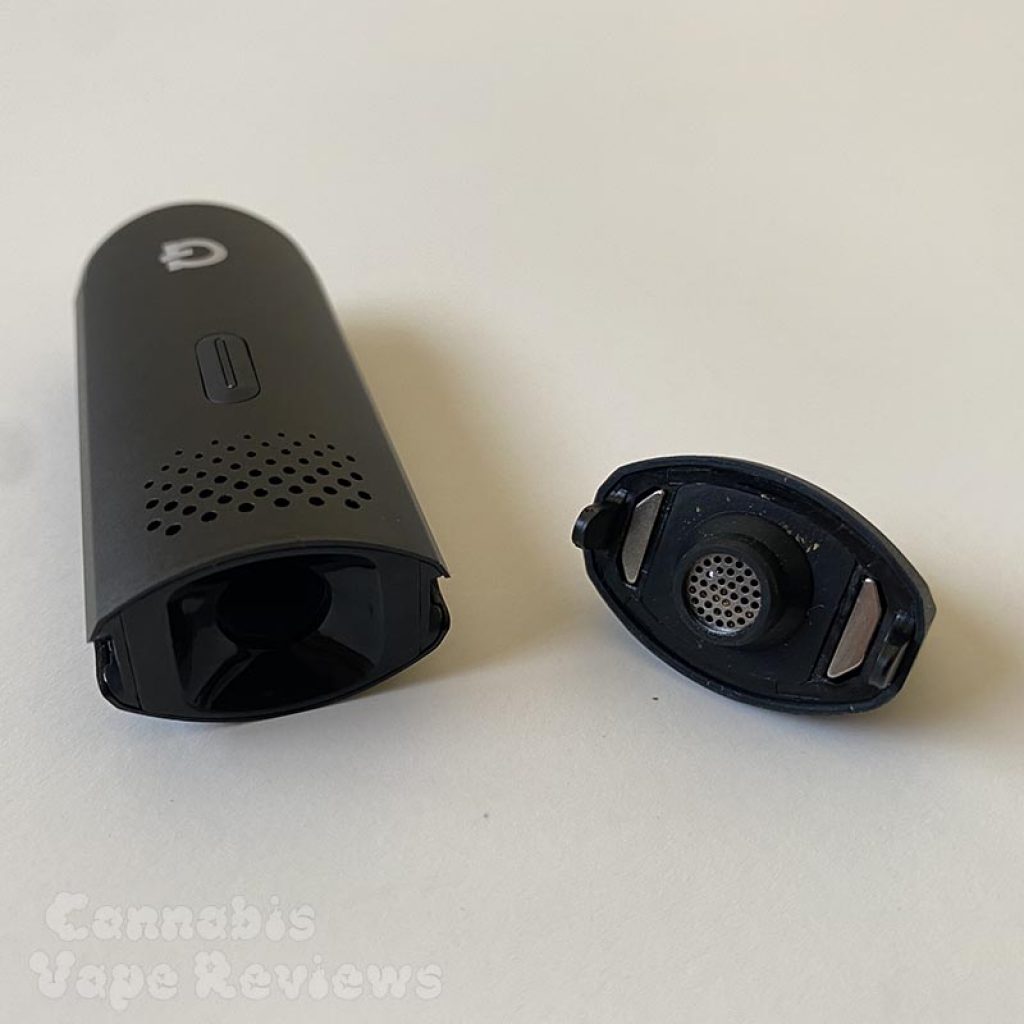 I tested out the Dash with some really high-quality weed so that I could fully test out its ability to transfer flavor. I found that this vape does a bang-up job transferring flavor, thanks to its aluminum body, nice airflow, and glass-glazed steel vapor path.
As with most vapes, it might taste a bit off on the first puff right out the box. But after a few puffs, and definitely after you pack a second or third bowl, you're getting all tasty terps from there and beyond.
I love how small and portable this device is. It's perfect to carry if you're on-the-go and need to sneak in a session here and there. Most dry herb flower vapes are quite bulky unless you're going with something high-end like the PAX vape or DynaVap.
Cool vapors
The Dash features a spiral design built into the mouthpiece along with silicone sleeve that covers the mouthpiece. Surprisingly, this actually works to help keep the mouthpiece cool and prevents it from getting too hot to the touch.
Additional features
To top it off, the Dash has good airflow and haptic feedback. Without looking, the device will vibrate to let you know when it's reached the optimal temperature to start puffing.
The Dash is feature packed and performs well given its affordable price. This vape would be great for any moderate cannabis user and services as a superb entry-level vape.
The magnetic lid makes it easy to quickly remove for packing a bowl into the oven. The opening of the oven has tapered edges so that your ground up weed neatly funnels down into the chamber.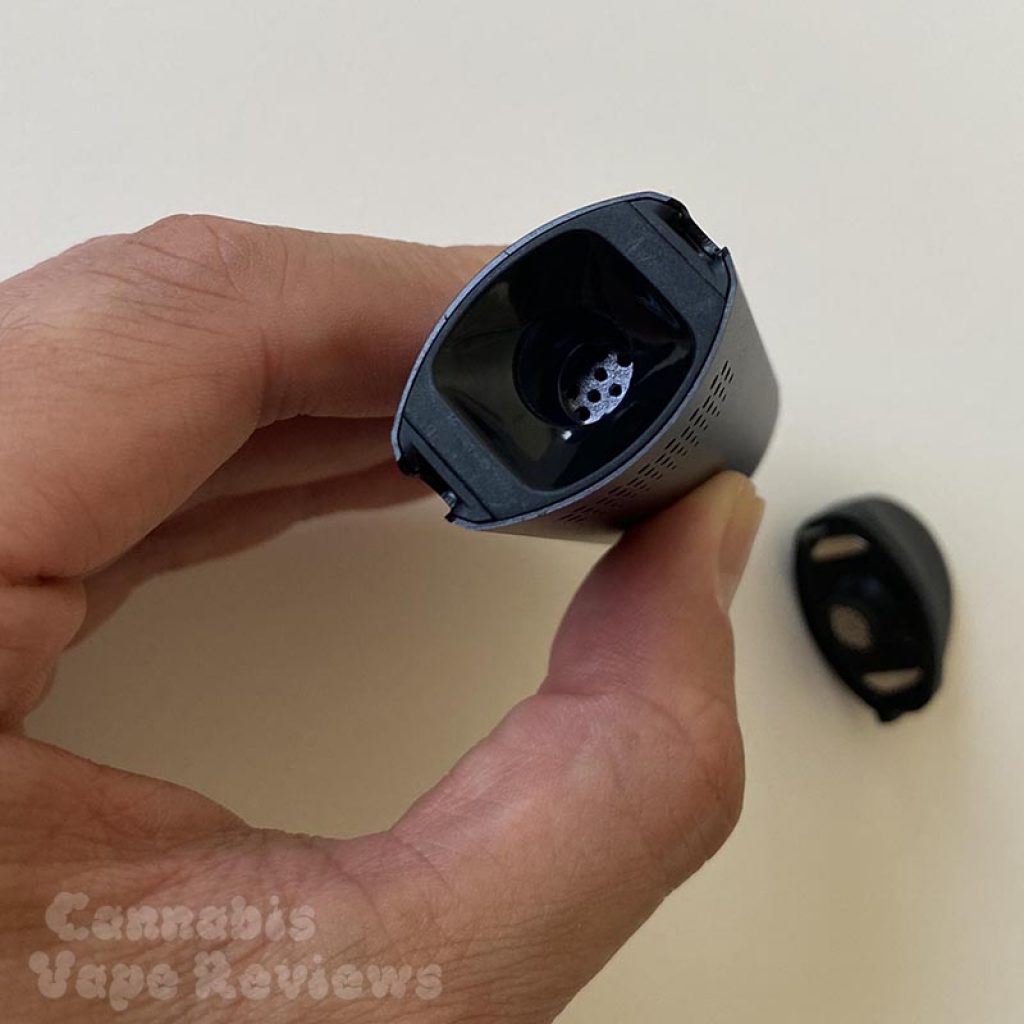 The downsides
The biggest downsides I found with the Dash is that the screen that lines the bottom of the mouthpiece is tiny and can get easily clogged. Be sure to puff lightly to prevent debris from being pulled through the mouthpiece. Also, you'll want to clean the screen often so the Dash continues to perform well.
As far as battery life, this vape packs a 950 mAh capacity battery which is small, but decent given how tiny the vape is. I haven't drained the battery fully, but I've managed to pull a couple sessions out of this thing to keep me satisfied. In case the battery does die on you, this vape features pass-through charging, allowing you to use it while it's plugged in.
The heating chamber is quite small as well and holds about 0.2 grams. This is fine if you're a light smoker or microdosing. If you're a heavy smoker and want fat rips, or have a high tolerance, this probably isn't going to cut it for you. You'll end up packing bowl after bowl after bowl to catch a buzz.
Final Thoughts
All-in-all, the G Pen Dash is a worthy dry herb vape if you're looking for a highly portable and budget-friendly vaporizer. It looks cool, it performs well, and it's under $100.
Price & Where to Buy
G Pen Dash retails for $69.95 and is available at G Pen and Vapor.
Warranty Information – Backed by one year warranty.

20% off
Discount with code at GPen.com
G Pen Dash is one of the smallest dry herb flower vapes on the market. It's easy to use and and very affordable at just under $100.
Additional Product Photos
Shops for Dry Herb & Flower Vapes