Affiliate Disclosure: Cannabis Vape Reviews is supported by readers like you. We may earn commissions for purchases made through our links. Learn More
The Dabtech Duvo X is a portable e-rig for your wax concentrates.
This dabbing vaporizer produces fantastic vapor quality, allows for easy control of your dab hits, and has some nifty features like a built-in carb cap, and 3D atomizer that heats on all sides.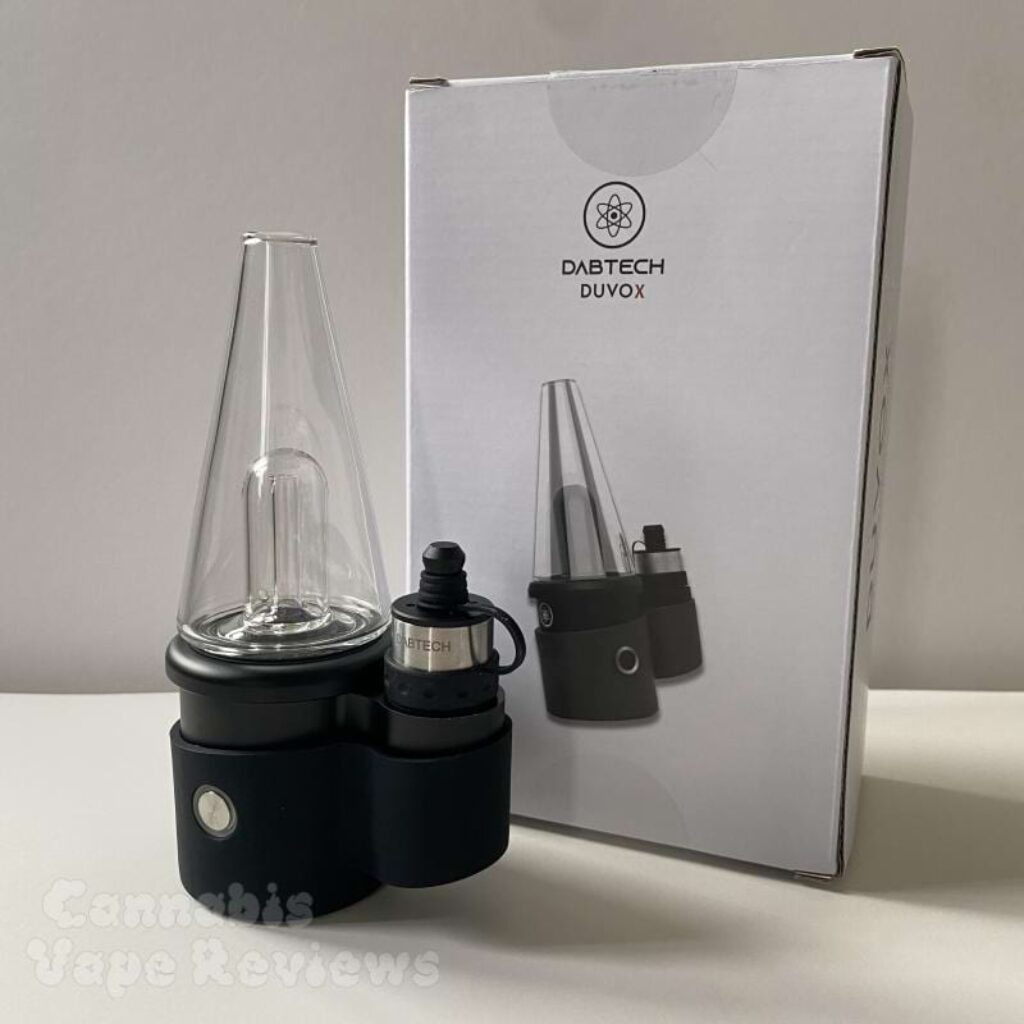 Dabtech is on a mission to create high-performing vapes at affordable prices. Unlike other big name brands in the industry, Dabtech sells directly to consumers. They have no middle man distributors, making their vapes very affordable.
The Duvo X uses rebuildable atomizers that can be easily replaced for just a few dollars. Contrast this with big brands that charge an arm and a leg for replacement atomizers and other parts.

DabTech Duvo X
Portable e-rig for wax concentrates. Uses 3D atomizer so there's no waste. Has 4-presets and built-in carb cap.
Discount with code at ShopDabtech.com
What's Included
Each Dabtech Duvo X order includes the following kit:
1x Duvo X dab rig
1x glass mouthpiece bubbler
1x aluminum spinner carb cap
1x carb cap tether (black)
1x silicone base cover/sleeve (black)
1x atomizer with 3d atomizer installed
1x dab tool
4x spare atomizer screws
1x screwdriver
2x spare carb cap tube o-rings
1x wall plug
1x USB-C charging cable
5x cotton buds/q-tips
2x alcohol wipes
1x carry case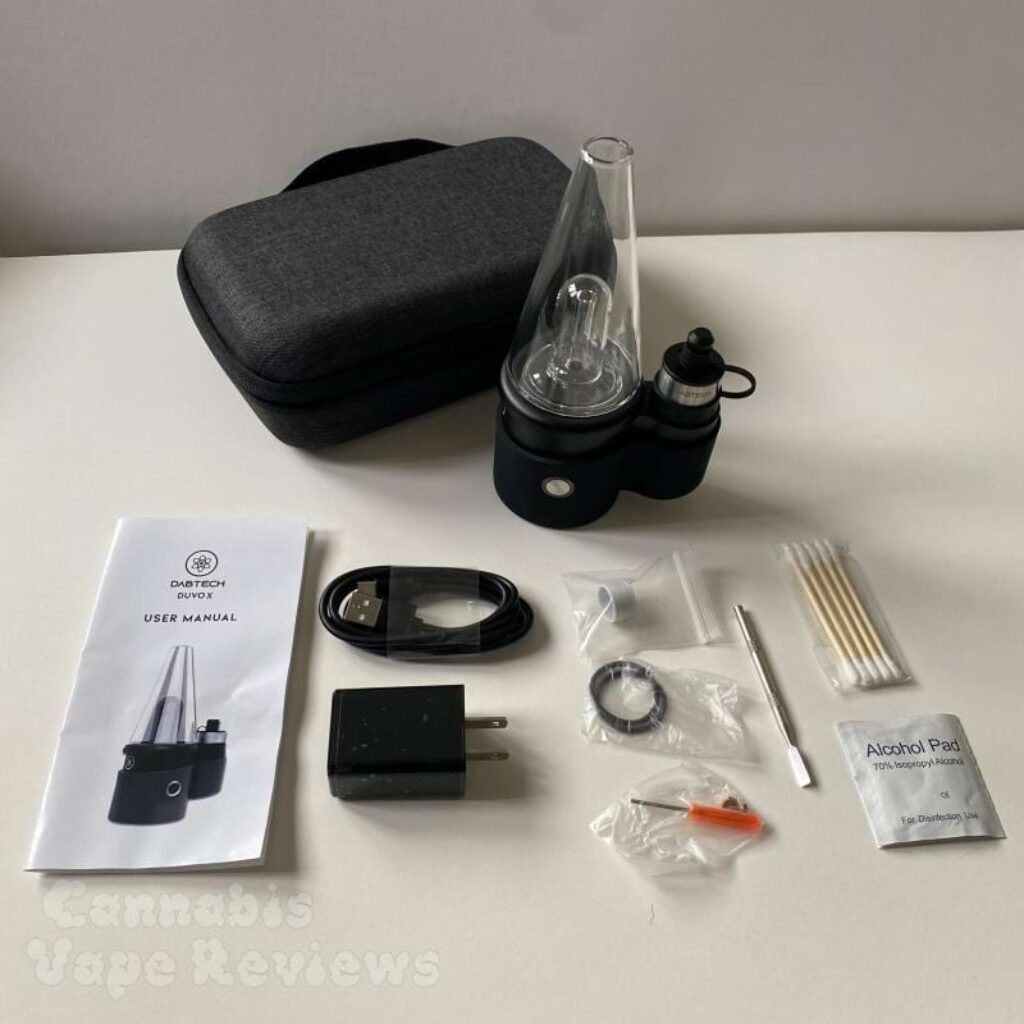 Design & Features
The Dabtech Duvo X is well-designed and built from quality materials. It feels sturdy and has many useful features to produce a solid dabbing experience.
Standard features of the Duvo X:
Easy-to-use, one-button interface
Atomizer heats the base and all walls
High-polished ceramic atomizer serves as the vaping surface
Rebuildable 3D atomizer
Vortex airflow control with built-in aluminum spinner carb cap
Includes bubbler made of borosilicate glass for cooler vapors
Removable stainless steel carb cap tube
4x temperature presets
Built-in 3150 mAh Li-ion battery rechargeable by USB-C
Pre-heat and manual mode
Easy to clean design
According to Dabtech, they're the only uses using a fully rebuildable 3D Atomizer in the entire industry and with breakthrough technology currently only seen in the Puffco Peak Pro and Carta 2.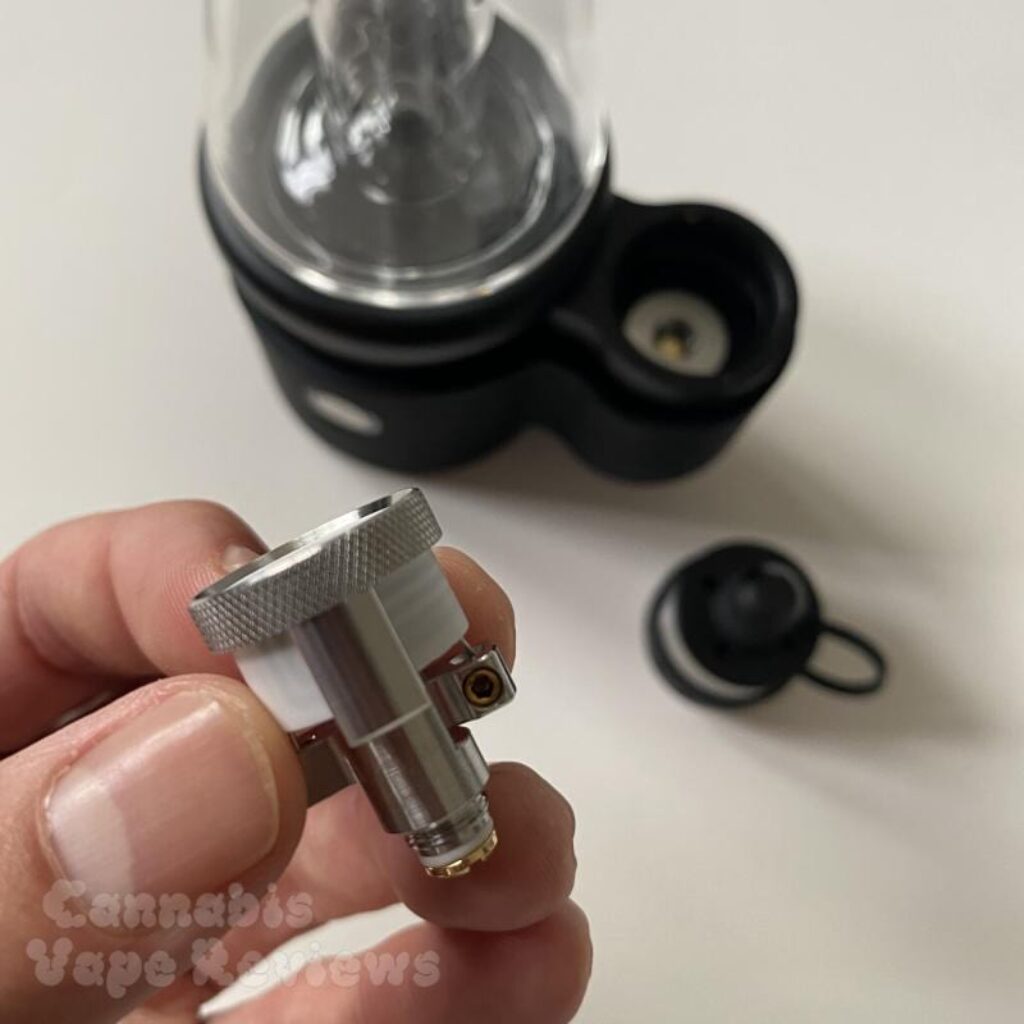 Tech Specs
| | |
| --- | --- |
| Dimensions | About 10″ tall |
| Weight | 2 lbs (34 oz) |
| Materials | Aluminum alloy body; Borosilicate glass bubbler; Stainless steel carb cap tube; Aluminum carb cap; Ceramic atomizer |
| Battery | USB-C fast charging 3150 mAh |
| Charging Time | 2 hours |
| Heating Time | – |
| Oven Capacity | – |
| Sessions | – |
| Heating Method | Conduction; 3D atomizer for heating all around |
| Temperature Settings | 280°F to 800°F |

DabTech Duvo X
Portable e-rig for wax concentrates. Uses 3D atomizer so there's no waste. Has 4-presets and built-in carb cap.
Discount with code at ShopDabtech.com
How to Use
The Duvo X is so easy to use and it works great using it's pre-heating mode or in manual mode so you have full control over the length and power of your dabs.
Basic use with pre-heating
Press the power button 5 times to run on the device
Load the atomizer with your cannabis concentrates
Press the power button 3 times to cycle through each of the 4 temperature presets
Press the power button 2 times to start heating to your desired temp setting
The device will vibrate when it reach the optimal temperature
You can press the power button at any time to end the session
Using manual mode
Power up the device and Load up the atomizer the same way
Press and hold the power button for the length of your hit (just like with most oil vape pens)
My Experience with the Duvo X
I was excited to try the Duvo X when I first discovered it. I've had positive experiences with similar e-rigs like the Dr. Dabber SWITCH as curious how similar electronic rigs stack up. The SWITCH became my go-to rig for a while because it performed well with handling both dry herb and wax, all-in-one device.
However, with the Duvo X, it reminds me of the Puffco Peak, another device I'm curious about but haven't tried yet. I wanted to test out the Duvo X so that at some point down the line, I could see how it stacks up against the Peak as well.
To test out the Duvo X, I had a sesh with the homie who had some ultra premium extracts from 710 Labs on hand (I hope to do a review on 710 Labs in the near future).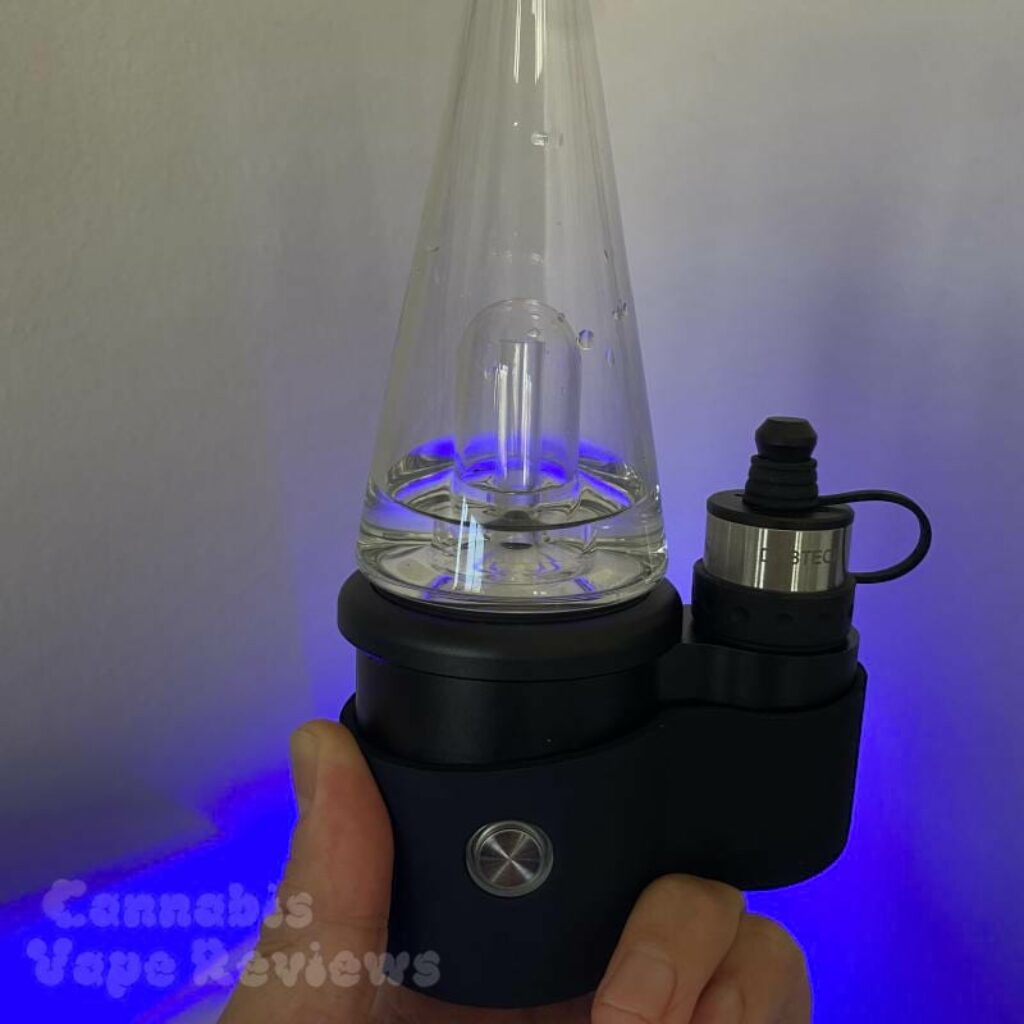 These concentrates are super tasty and really allowed me to test out the Duvo X's ability to transfer the flavor of these terpene-rich extracts.
First attempt fail
The first dab I took was a cold start dab (I prefer cold start dabbing) on what I thought was the lowest setting (blue) at 400F. It got way too hot and burned the dab. I don't do high temp dabs, too harsh on throat and lungs for me personally.
Right after that, I retried the dab with manual mode. Wow was that better.
This tasted way better, was super smooth, and allowed way more control. This really allowed me to enjoy the dab. Turns out, it was completely my fault, not the dab rig's.
After that, I found that it really didn't matter much what temp setting you use. Once you load up your dab, just hit it like a vape pen. Hold down the power button for the length of your hit. You can cut it off as soon as you see vapor start to fill the glass chamber. That you, you're guaranteed to get a light and tasty hit.
3D atomizer is great
I really appreciate the 3D atomizer on this thing. It works great.
The problem with many concentrates vapes that use atomizers is that only the bottom plate of the atomizer heats up which wastes a lot of wax stuck to the side walls.
As you probably know, neatly placing your dab at the bottom of a deep atomizer is not easy. You end up scrapping some wax on the edge walls to get it off your dab tool.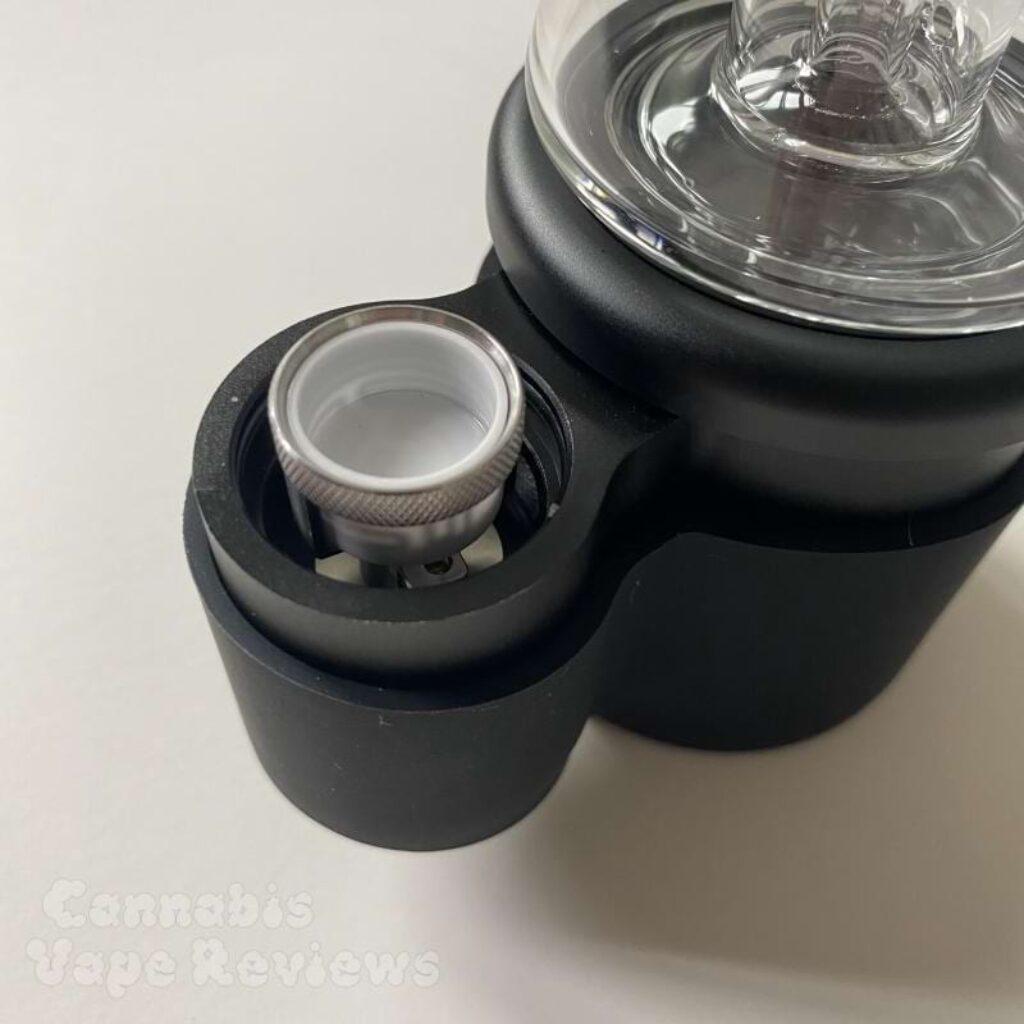 However, with the Duvo X, not only does it use a wide and shallow dish, but all sides of the atomizer heat up so none of dab gets wasted. This is must have feature on electronic dab rigs.
The Dr. Dabber SWITCH gets away with this by using induction heating (which is a rare feature on a cannabis vape) which heats anything inside the special induction cups that can be as expensive as $100 for their premium SiC cups.
Inconsistent directions
I noticed that the owner's manual instructions are a bit off. To power on the device takes 5 clicks, but the manual incorrectly states pressing and holding it for a few seconds.
Also, the manual's instructions for cold versus hot start dabbing are identical, so that offered no help. Fortunately, there's really not much difference between these two heating methods, except for the the timing of adding your dab.
Once you learn how to use the Duvo X, you'll never need to look at the manual again. It's so easy to use.
I think there was also an inconsistency between the instruction manual and the info on Dabtech's site for the preset color coding. They might of fixed it, I haven't checked.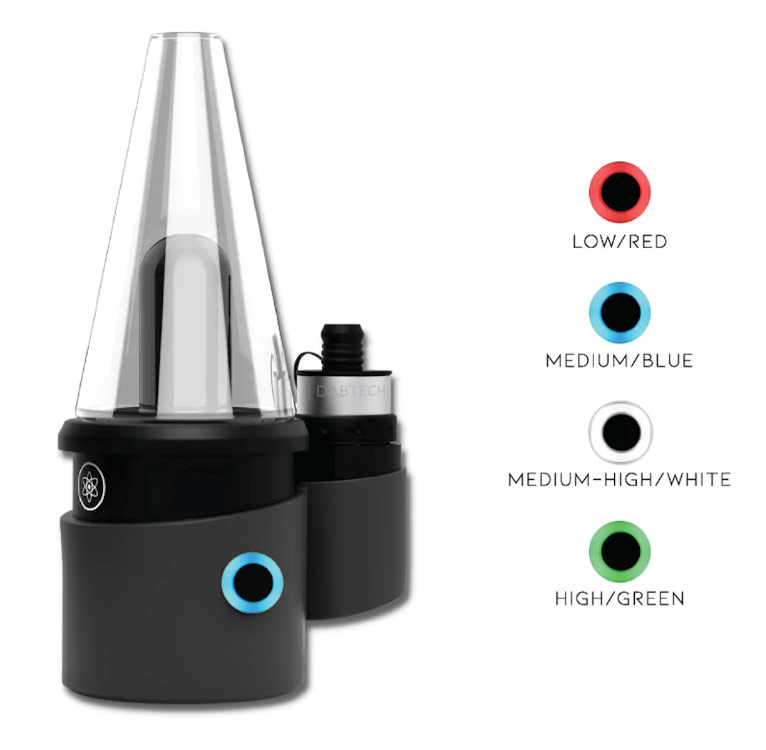 Pro tips
If using pre-heat mode, you might want to cut it off early if you're on the high settings. You'll get fine hits without needing to reach the full temp, unless you prefer dabs to run hot for the fullest vapor hits.
I personally prefer cold start dabbing too. If you place your dab ahead of time, you can kill the heat as soon as the concentrate starts to melt and gives off its first sign of vapors. This is the best way I've found to use the Dabtech Duvo X, especially if you're using high end concentrates and really want to enjoy the full flavor profile.
Cleaning
The Duvo X is a designed in a way that makes it super simple to clean. In manual mode, you can slowly heat up the atomizer just enough to loosen up any residual concentrate. Then you simply wipe it clean with a cotton swab. This makes it easy to do after every session or two to keep this thing in tip top shape.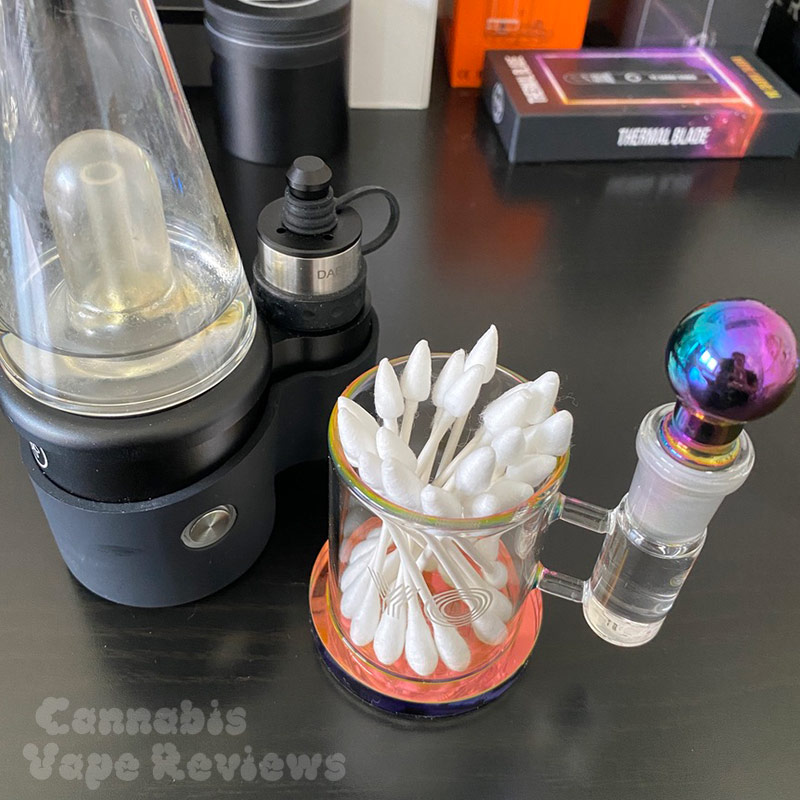 For the best experience in terms of clean and tasty vapor, you'll want to clean out the atomizer before every use. Dab stations with alcohol and cotton swabs are your best friend when it comes to getting fresh dabs. This is one of the most useful dab accessories that I use almost daily.
Recommendations for Improvement
The only real drawback for me with the Duvo X is that I wish it had battery life indicator and another heat setting indicator.
I'm not a fan of color coding presets. Not all vapes use the same color coding and I don't want to fetch a manual to know what setting I'm on.
The lights will flash when the battery is low, but I want to know ahead of time so the device doesn't die on me or I know to recharge ahead of time if I'm taking this thing with me.
Also, I wish this e-rig had pass-through charging. Other electronic dab rigs like the Dr. Dabber Switch and the Ispire daab have pass-through charging allows you to use the device while it's charging. Some times you just want to take that dab and don't wait to wait to charge up your device!
Final Thoughts
In the end, I highly recommend the Dabtech Duvo X to anyone that enjoys dabbing concentrates. It performs just as well as the big name brands, but at a fraction of the price. Using manual mode is fantastic and the 3D atomizer heats each vape to perfection. This e-rig is now reigning as my current go-to for dabbing.
Price & Where to Buy
Dabtech Duvo X retails for $159.99 and is available at DabTech.
Warranty Information – Backed by a one-year warranty.

15% off
Discount with code at ShopDabtech.com
Portable e-rig for wax concentrates. Uses 3D atomizer so there's no waste. Has 4-presets and built-in carb cap.
Additional Product Photos
DabTech Duvo X
Pros
Great vapor quality
Nice size
Quality build
Easy to use
Rebuildable atomizer
3D atomizer maximizes wax
Built-in carb cap
Manual and timed mode
Multiple temp presets
Easy to clean
Cons
No pass-through charging
No battery life indicator