Affiliate Disclosure: Cannabis Vape Reviews is supported by readers like you. We may earn commissions for purchases made through our links. Learn More
The Dr. Dabber SWITCH is a powerful, electronic dab rig designed to conveniently vape both your dry cannabis flower as well as oils and waxy concentrates with precise power.
It's battery-powered design makes it highly portable, capable of delivering fat vape clouds and consistently hard hitting sessions. Packed in a padded carrying case, you can easily take the SWITCH vape with you on-the-go.
This vape serves well as a desktop vaporizer too. And unlike conventional dabbing that requires torches, e-nails, and plug-in controllers, the SWITCH needs no external heat source. It's a complete e-rig kit.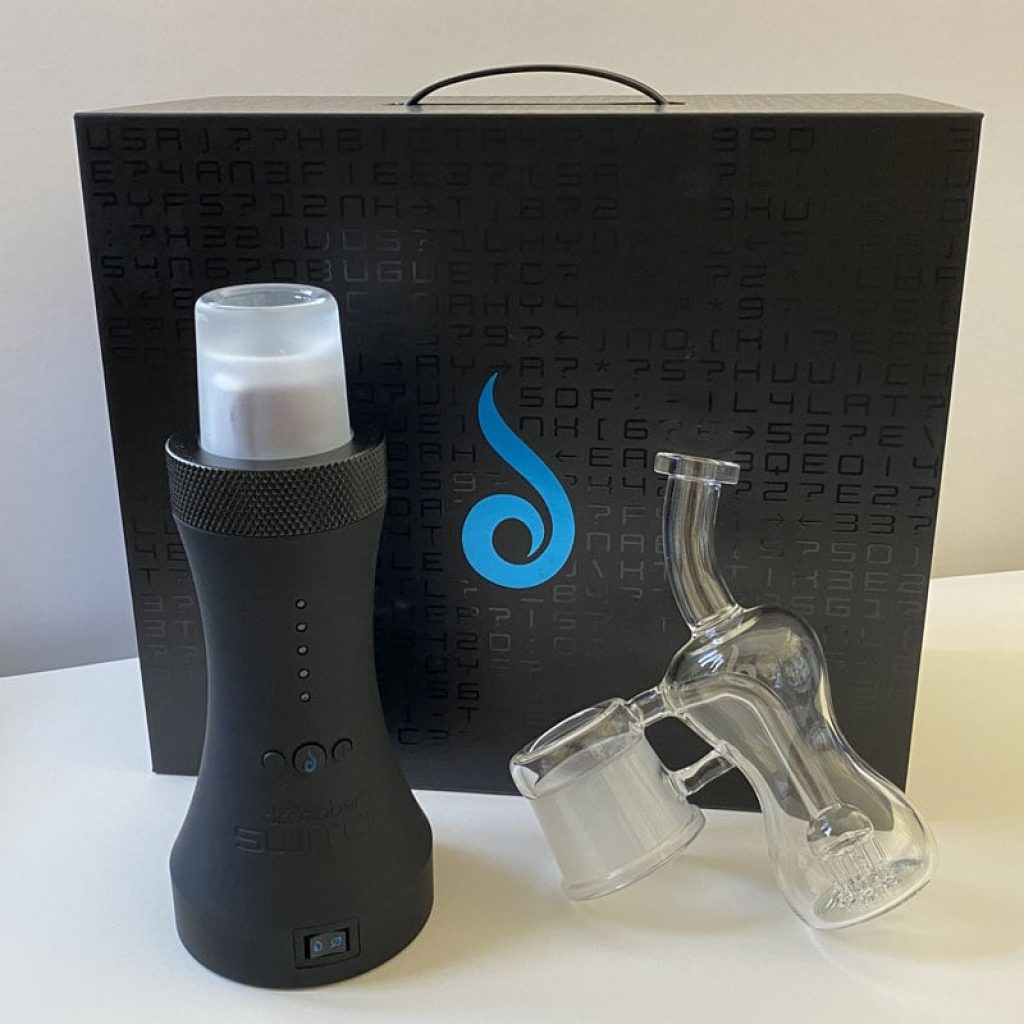 Dr. Dabber SWITCH e-rig
Fast induction-heating vaporizer for both concentrates and flowers. Precise temperature control and glass percolator for perfect vapor.
Available at DrDabber.com
Of the Dr. Dabber line of vaporizers, the SWITCH is the first vape to use induction heating.
Dr. Dabber SWITCH heats up incredibly fast, reaching temperatures beyond 500°F degrees in a matter of seconds with control, and is an extremely efficient method of vaping cannabis.
With precise temperature controls, an included glass percolator (water pipe), and a long-lasting battery, the SWITCH is a heavy-hitter dab rig that's sure to please.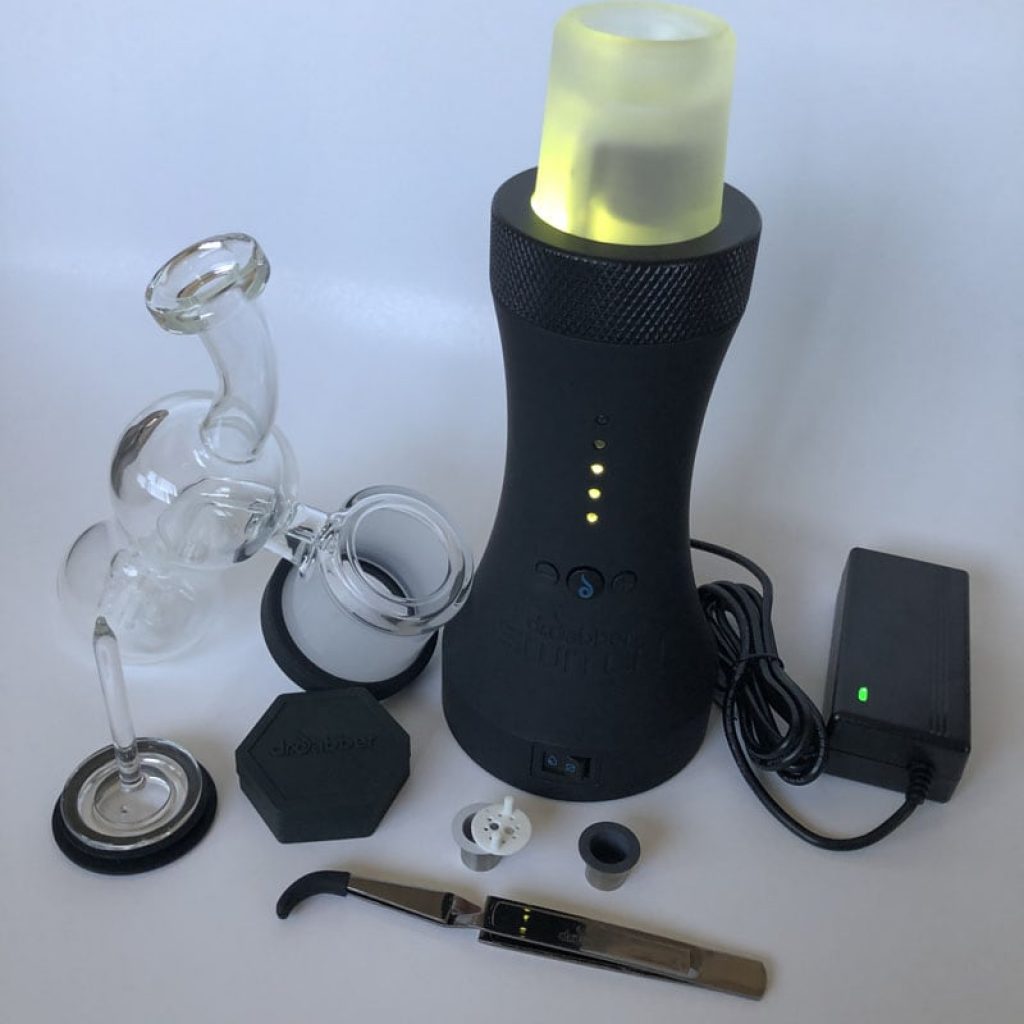 Design & Features of the Dr Dabber SWITCH
The SWITCH is one of the most precisely powered vaporizers because of its direct energy delivery system using electromagnetic energy. The device creates a magnetic field that is absorbed by removable induction cups which creates heat.
The SWITCH's induction design eliminates the need for replaceable atomizers. While many vape cartridges and wax pens contain atomizers with cheap coils that wear and eventually break, the switch is built to last.
With its most basic use, the SWITCH offers five preset temperatures that are tuned for vaping flower or cannabis. In advanced mode, you can choose from over 25 different heat settings. At the lowest ranges, you'll maximize terpene profiles, flavors and aromas. At the higher end ranges, you'll experience thick, hard hitting clouds of vapor.
Standard Features
Vapes both dry cannabis flower and extracts/oils
Precise temperature control (25 heat settings total with temperature range of 300-780° F)
Session length control (adjust by the second up to 30 second hold time)
LED light battery indicator and custom light show display (25 ambient light settings)
Auto cool down to prevent overheating
Pass through charging (use the vape while its charging)
Super fast heat-up time (average heat up time of 4 seconds)
Uses induction heating (all internals are sealed off and no malfunctions due to leakage)
Fast charging battery (full charge only takes one hour)
No atomizers to replace
Uses SWITCH induction cups that heat-up by the induction coils
Self-cleaning mode to vaporize off sticky residue
The Magic of Induction Heating
Induction heating is considered the fastest method of heating currently available. This form of heating creates even heating surface temperature, reducing hot-spots which means consistent flavor and optimal vaping.
Most dry herb or flower vaporizers use either conduction or convection heating. Some hybrid or combo vapes use a combination of the two. However, the SWITCH is unique in that it uses solely induction heating which is rarely implemented as a heating method in the vape market.
The induction design also eliminates the need for replaceable atomizers that wear and break. Many vape cartridges and wax pens, for example, contain tiny atomizers made of cheap coils that are designed for short-term use and will eventually burn out.
Designed with Safety in Mind
The SWITCH has a leak-proof design, effectively shielding the vaping environment from all electrical components. Because the heating elements are encapsulated and do not touch any cannabis materials directly, oxygen is eliminated in the chamber. This prevents combustion while maximizing vaporization of the active cannabinoids and terpenes in your cannabis. The result is a consistently smooth and clean vaping experience.
Powerful Battery
The SWITCH includes a removable battery pack located underneath the base-plate of the device. Designed with pass-through charging, you can use this vaporizer while it's actively charging. The battery charges very fast at about one hour to reach a full charge. On a full charge, the SWITCH will deliver around 100-150 sessions.

Dr. Dabber SWITCH e-rig
Fast induction-heating vaporizer for both concentrates and flowers. Precise temperature control and glass percolator for perfect vapor.
Available at DrDabber.com
What's Included with the Dr. Dabber SWITCH
Inside the padded protective box, the SWITCH includes everything you need to get going – loading tool and carb cap, induction cups, tweezers, and charging cable.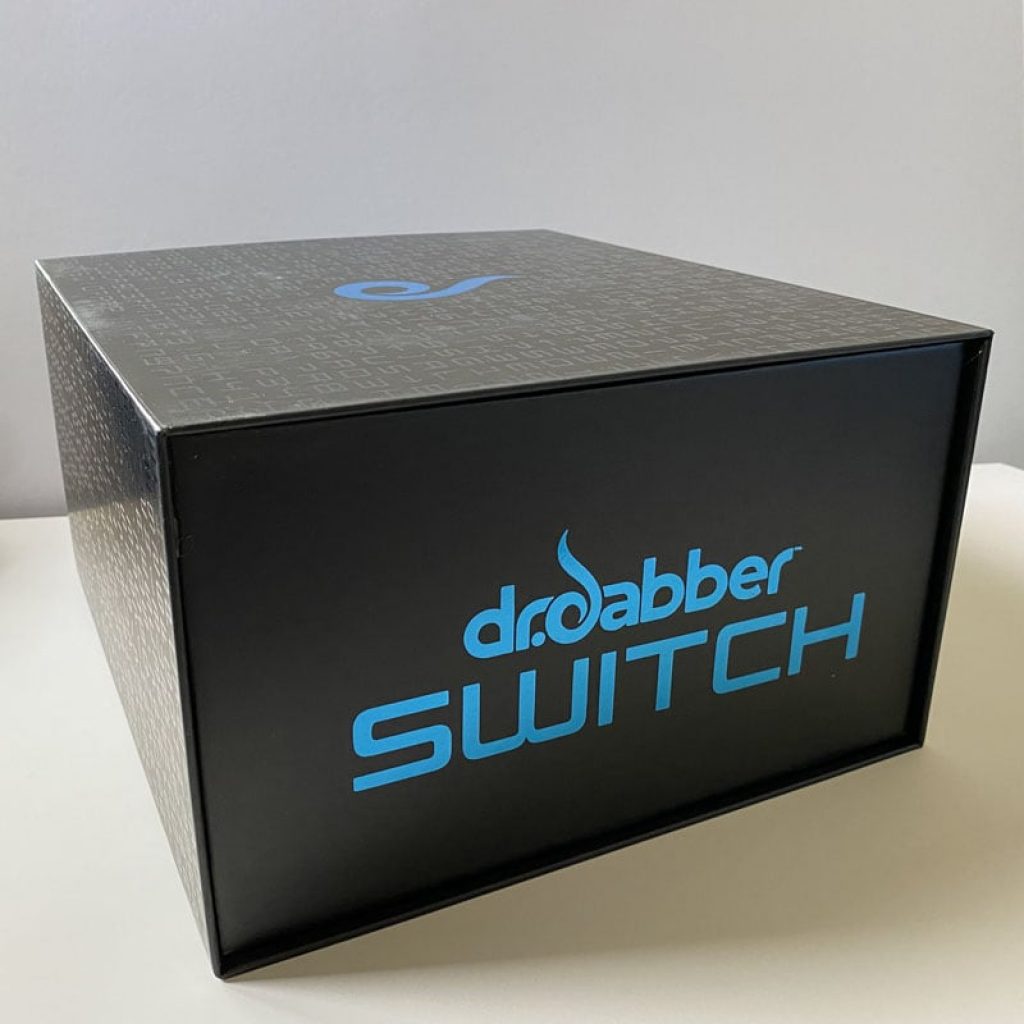 1x SWITCH vaporizer device
1x Battery pack
1x Glass percolator attachment and silicone seal
1x White ceramic induction cup (for oil)
1x Black ceramic induction cup (for dry herb)
1x Ceramic leaf filter cap
1x Glass loading tool/carb cap
1x Reverse action tweezers
1x Silicone storage container
1x Charging cable and adapter
1x User manual
Dr. Dabber offers a huge selection of premium accessory upgrades for the SWITCH including glass water pipes, induction cups, carb caps and more. Continue reading on for more details about these Dr. Dabber accessories.
Tech Specs
| | |
| --- | --- |
| Dimensions | – |
| Weight | – |
| Battery | LiFePO4 battery; Output Power up to 120 watts; Capacity of 33.3 watt-hour; Full charge lasts 100-150 sessions |
| Charging time | 60-90 minutes for full charge; pass through charging |
| Materials | Ceramic induction cup, borosilicate glass chamber and water pipe attachment |
| Temperature settings | Basic mode: 5 temperature presets; Advanced mode: 25 temperature presets; temperature range: 300-780°F |
| Heating Method | Induction heating |
How to Use the Dr. Dabber SWITCH
The Dr. Dabber SWITCH is packed with features and settings so there is a slight learning curve.
The SWITCH includes a user manual, but here's a recap of how to use the Dr. Dabber SWITCH with either form of cannabis so you can get an idea of how it works:
Fill the glass percolator with water
Load the induction cup with your dry herb or extract (white ceramic cup for oils OR black ceramic cup for leaf)
Use the included tweezers to insert the induction cup into the top of the SWITCH
Place the percolator on top of the SWITCH
Select the appropriate mode for either oil or dry herb
Select power
Press the GO button
Place carb cap and begin to inhale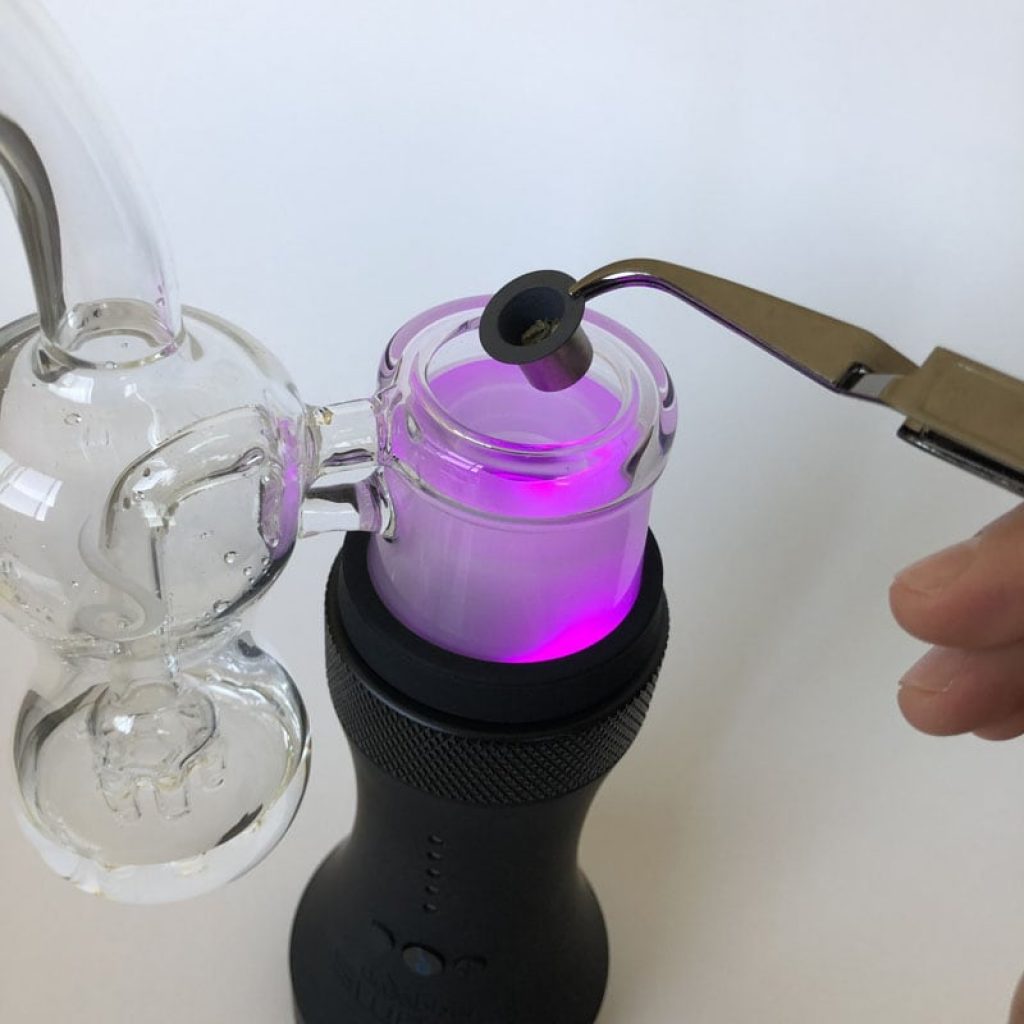 Along with the user manual, there's also a set quick start or easy reference instruction cards hidden inside the base plate of the device.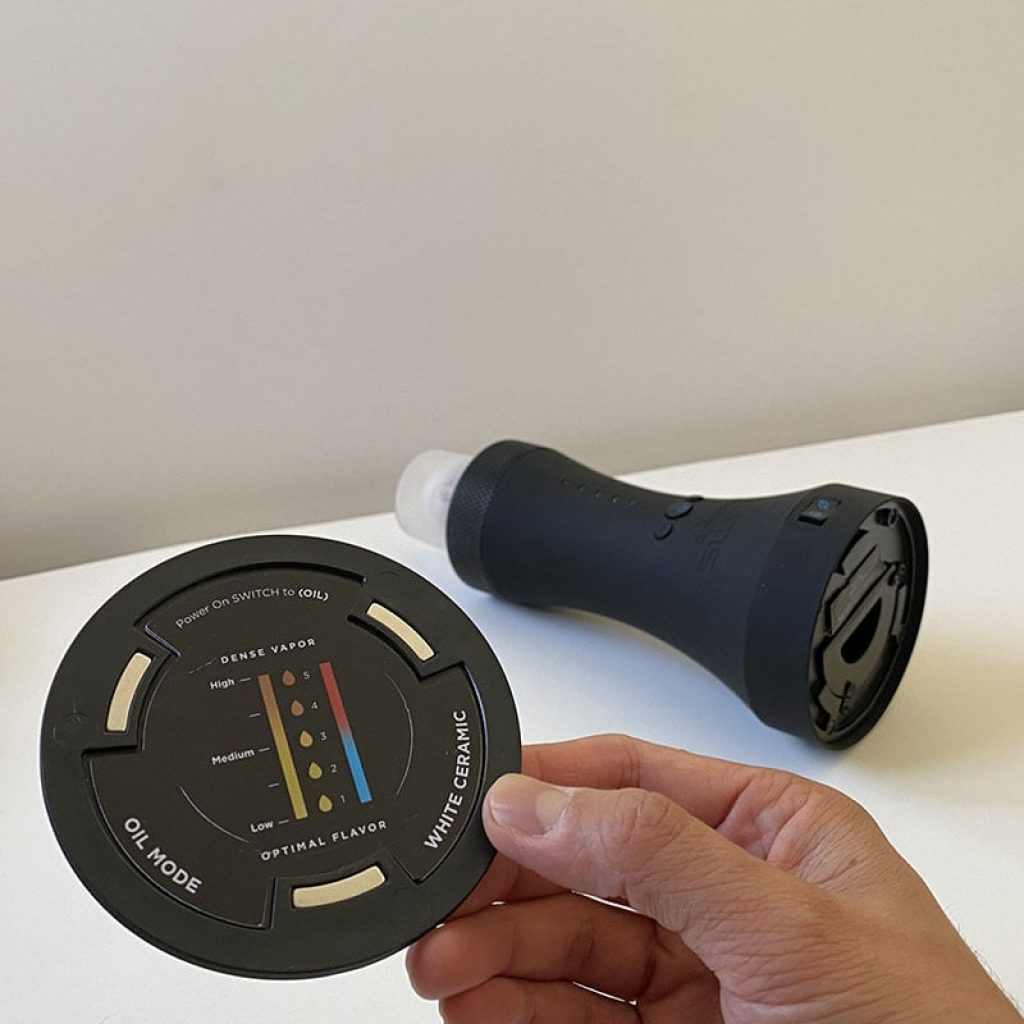 Power ON/OFF & Choosing Mode
Power on the SWITCH by flipping the switch at the base of the device to either OIL (yellow lights) or LEAF mode (green lights). The LEDs on the device will light up based on the chosen mode. Flip the switch back to the middle setting to power down.
Adjusting Vape Temperature
Once powered on in either leaf or concentrates mode, press the + or – button to display the current power setting. Press or hold the + or – buttons to increase/decrease the power. Press the GO button or wait 5 seconds to save the set power mode.
Check Battery Life
After the power mode is saved, the device will flash PINK LEDs to indicate battery level. Each individual light indicates 20% charge with one light being the lowest at 20% remaining battery up to 5 lights indicating 100% battery or a full charge. If you see flashing lights, this means there's less than 10% battery life left and it's time to recharge the battery.
Charging the Battery
Plug the wall charger into the adapter, then into the input on the base of the vaporizer. Fully charge the SWITCH battery in about 60-90 minutes. The LED light will display RED on the charging unit while the battery is charging. The LED will display GREEN once the battery is fully charged.
Self-Cleaning Cycle
Turn the SWITCH on to either oil or leaf modes, then press the + button once and release. Then press and hold the + button until cleaning mode is activated which is indicated by a pink light on top and red LEDs moving on the face of the vaporizer. This heats up the induction cup to the highest setting and burns off any residual wax inside the cup.
Our Experience
The first thing I noticed with the Dr. Dabber SWITCH is that it is a lot bigger in person than expected. This vape is able to pack a powerful bunch and is awesome for its ability to easily switch between vaping dry herbs and waxes.
SWITCH Vaping Performance
Most dry herb vapes take a painstakingly long time to heat up. Unlike most dry herb vapes, the induction heating element on the SWITCH heats up incredibly fast.
I first tested vaping some dry herb, packing about 0.3g into the black ceramic induction cup (this is the one designed to work with flower) at the lowest setting. There was some transfer of flavor and a tiny amount of vapor, but the lowest setting it too minimal.
The 2nd temp setting produced the right amount of heat to get some light, tasty vapor without too much density or harshness.
The 3rd or 4th setting seemed to hit the spot, producing just the right amount of vapor density for my taste.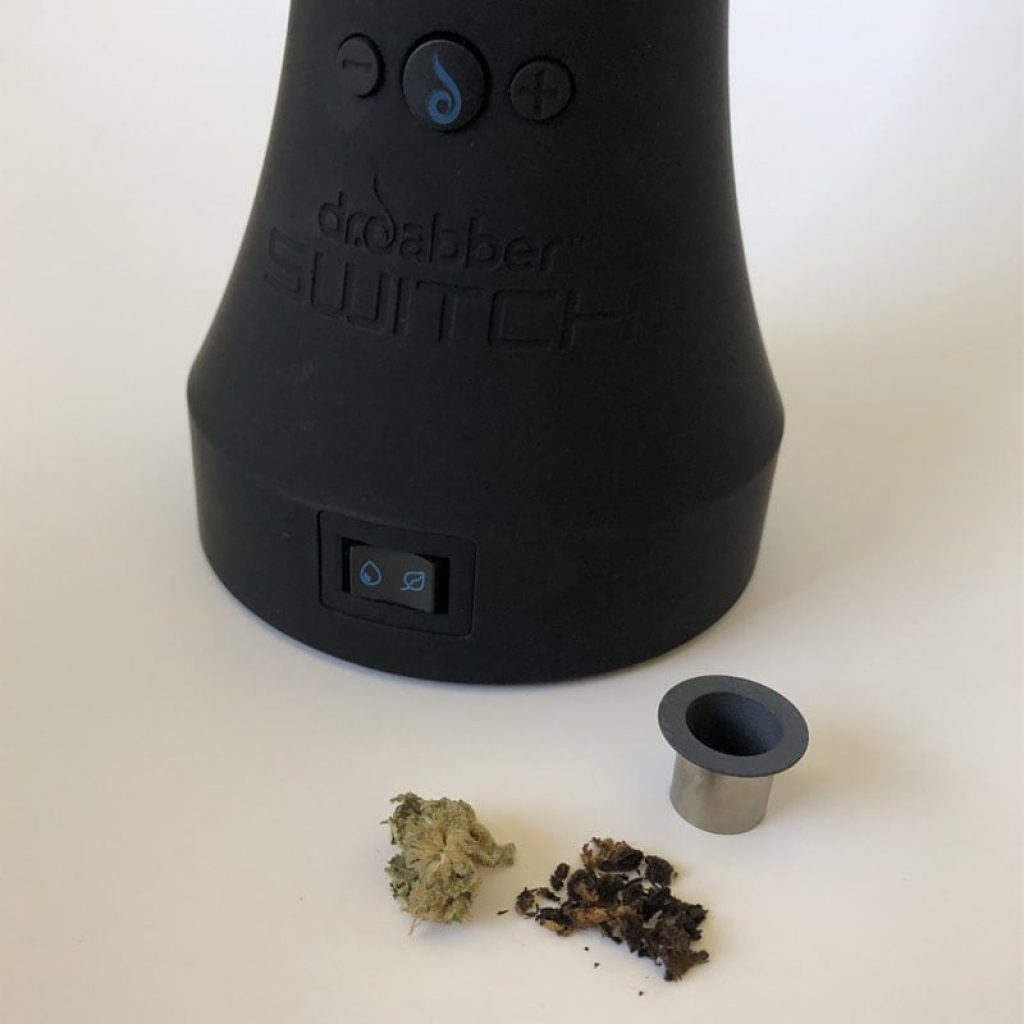 As you can see, I was able to thoroughly vape through dry flower, almost burning it to a crisp. It is possible to overdo the temps, so keep it just within range of your liking.
Sometimes I find that staying within a lower temp range works best. I prefer to power on for several cycles in one session rather than turning up the temperature presets.
For more fine tuned control, you can play around with additional presets in the advanced mode. Once you have your temperature dialed in, you can record the length of your session, "training" the SWITCH on the desired length for each vape hit.
To test out the SWITCH's ability to vape concentrates, I tried various thick, waxy extracts and also used some Gelato CBD DabTabs I picked up from the Levata brand.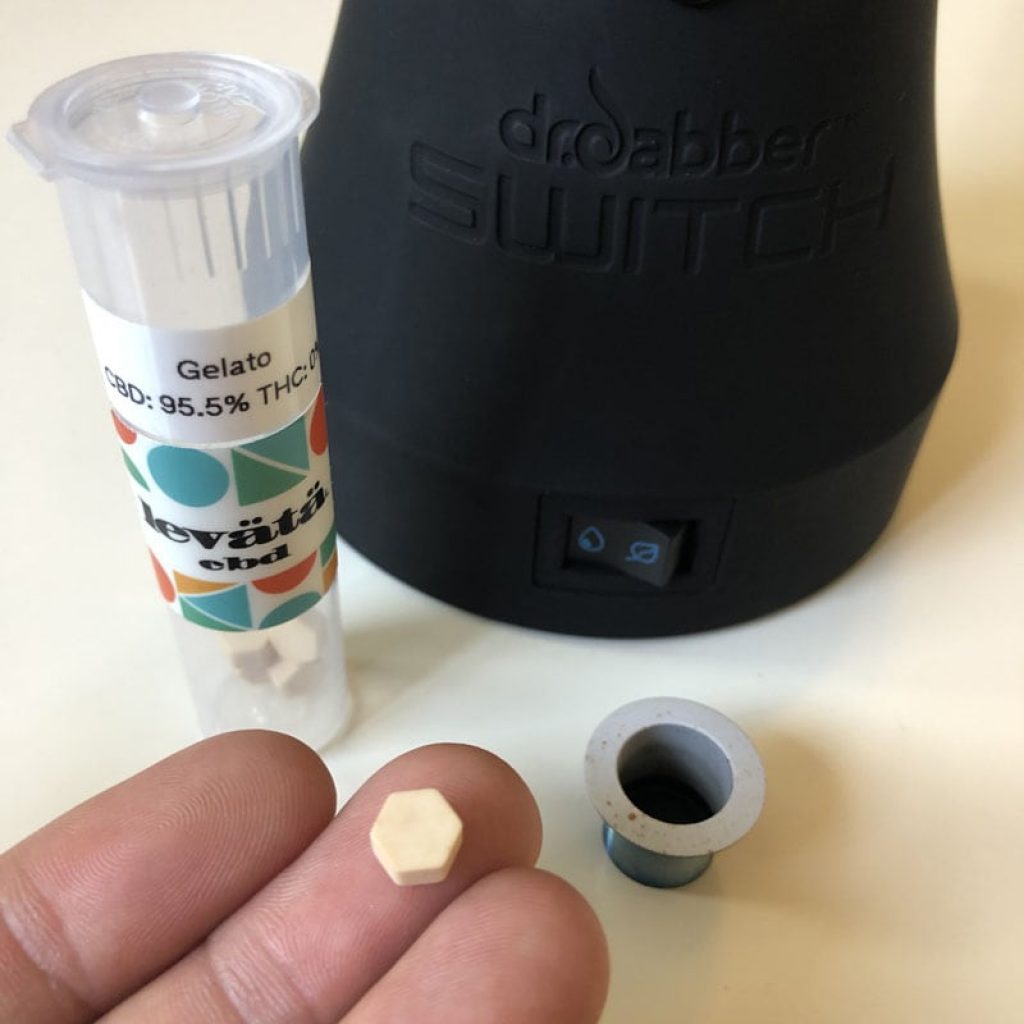 If you haven't heard of DabTabs, they're fairly new to the vape market. DabTabs are ceramic tabs pre-filled with concentrates. Once they're heated to dabbing temperatures, the CBD concentrate seeps out the pours and is vaporized. These worked great in in the SWITCH.
Simple to Clean
The Dr. Dabber is easy to clean thanks to its self-cleaning feature. Using the self-cleaning cycle, you can completely burn up all residual wax and residues that are caked onto the ceramic induction cup. I used this feature to clear out any residual THC from the induction cup before testing the DabTab. I wanted a clean slate so I could vape pure CBD with the DabTab.
SWITCH Vape Accessories & Upgrades
While the standard glass percolator attachment and carb cap that are included with the SWITCH work perfectly fine, Dr. Dabber offers a lot of cool upgrades to customize your vaporizer.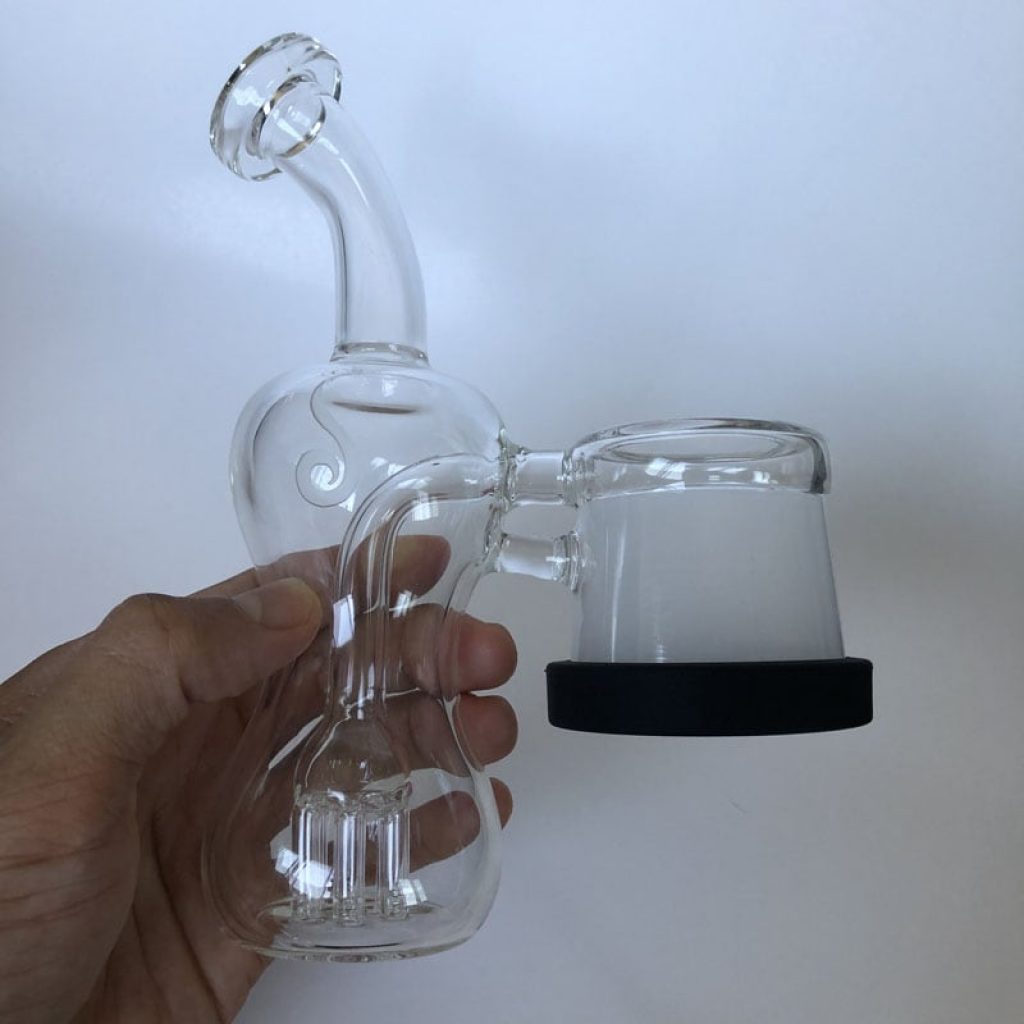 Here's the beautiful looking sunset colored, directional carb cap made from fumed glass and the ball glass attachment water pipe. The upgraded carb cap creates a heightened vape experience with a greater draw resistance for milking denser vapor clouds.
Check out Dr. Dabber's selection of upgraded glass here.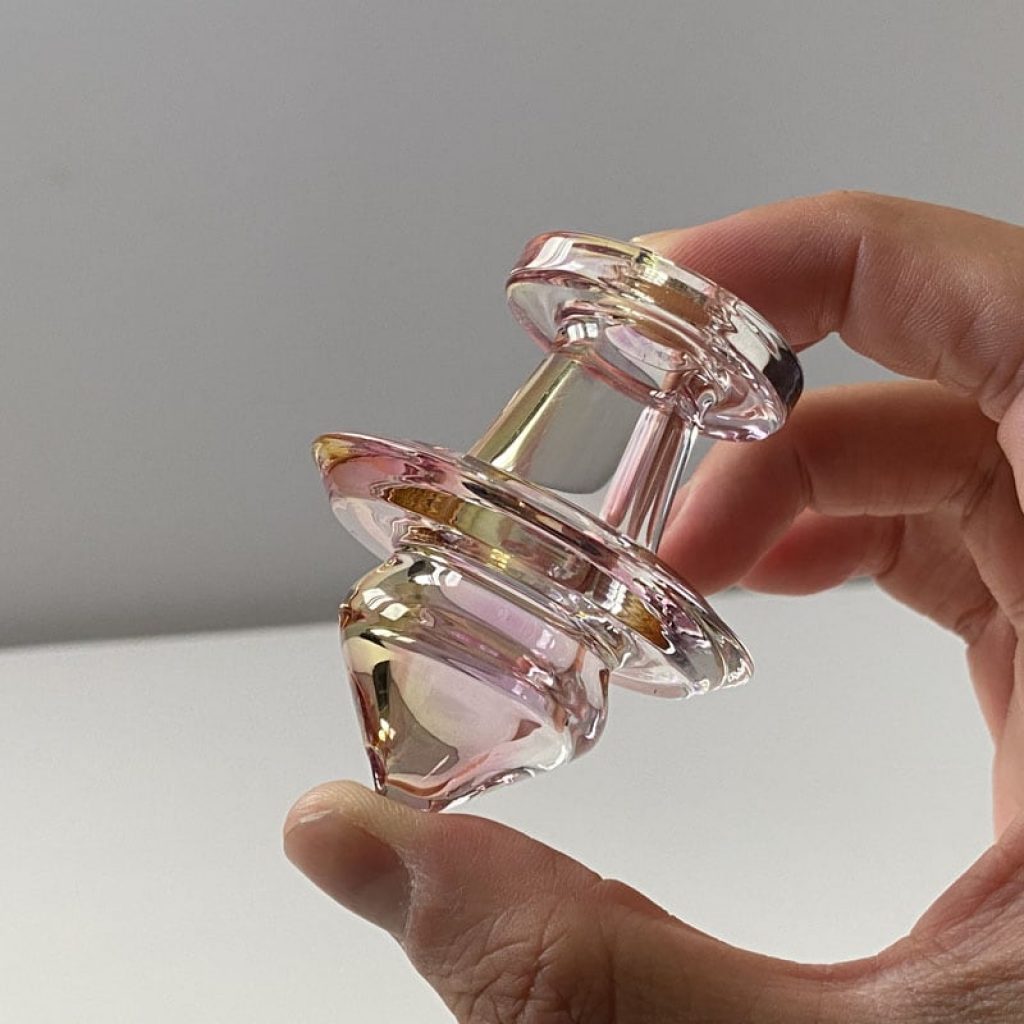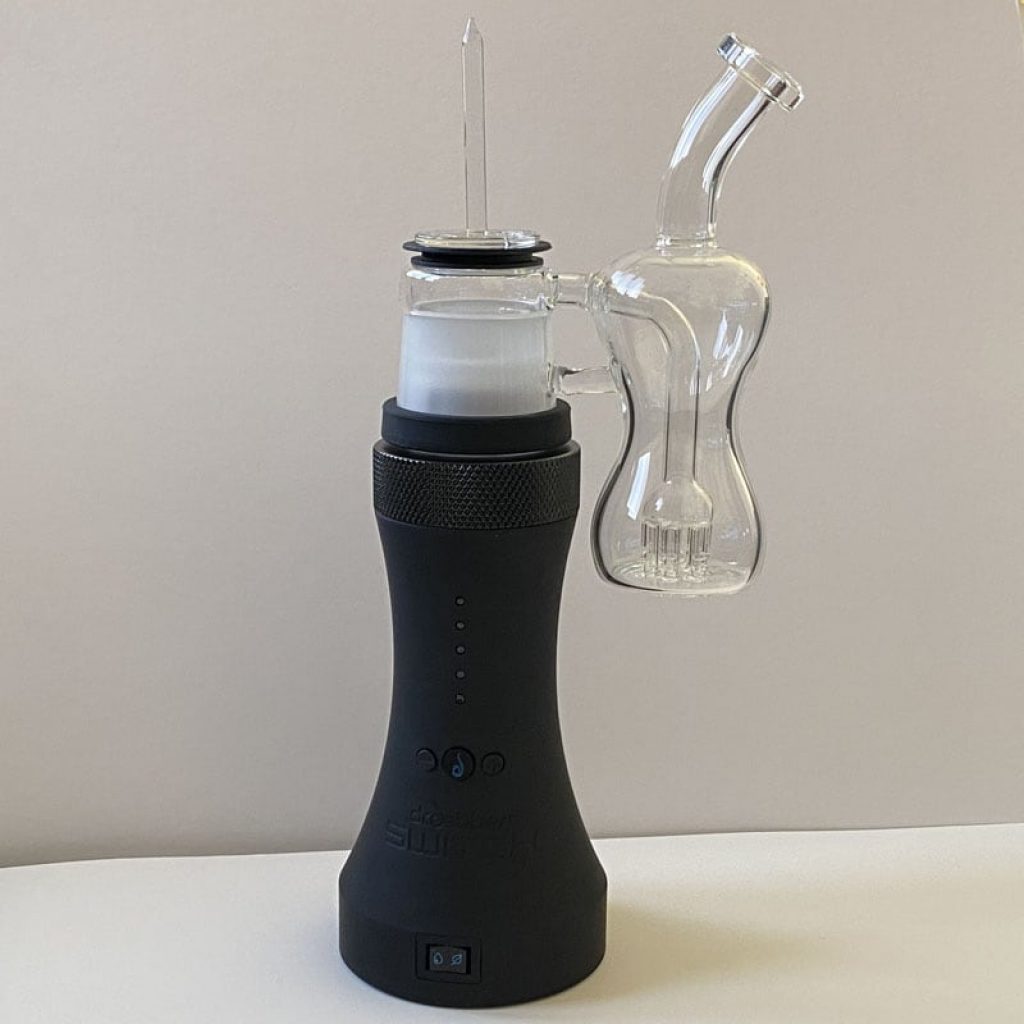 The glass transforms into gorgeous sunset hues with use and produces a cyclone effect as you inhale for a more cooled and flavorful experience.
Dr. Dabber offers a couple of premium induction cups to choose from for an enhanced vape experience. All of these premium cups must be used in the Switch's special "Crystal mode" which are designed for different materials and heat profiles. These special cups work as a pair, fitting inside the included titanium cups.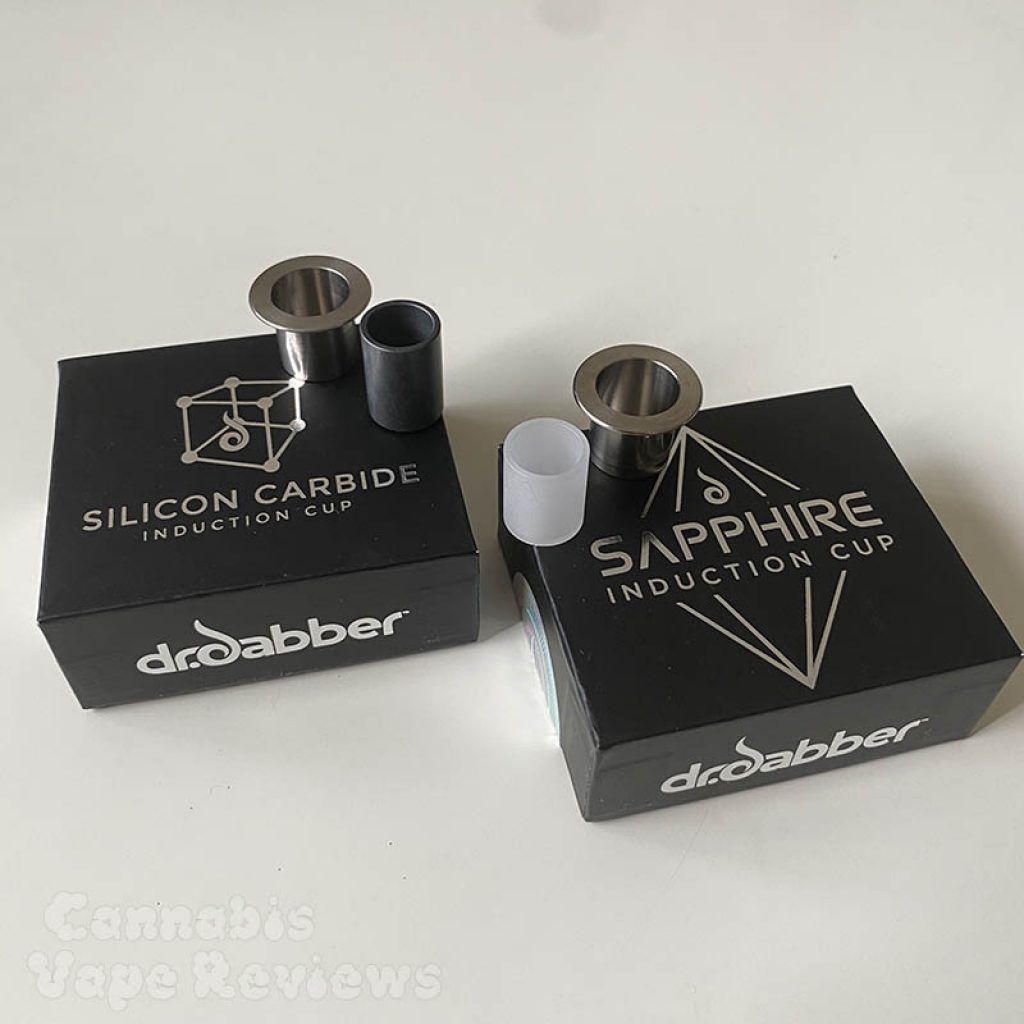 Upgraded premium Induction cups for the SWITCH vape:
Quartz crystal induction cup – The Quartz Induction Cup is the cheapest of all the upgraded cups. It is versatile in that it can can be used with both cannabis concentrates oil and for low heat flower vaping.
SiC induction cup – The SiC (Silicon Carbide) Induction Cup is a premium accessory designed for use with oil for the SWITCH. The Cup can withstand high temperatures and is lightweight and durable. It also has a higher thermal conductivity, so you can achieve your desired heat at a much lower temperature for more flavor.
Sapphire induction cup – The Sapphire Induction Cup is Dr. Dabber's other ultra-premium cup upgrade. It's designed specifically for using cannabis concentrates and oils. The Sapphire crystal provides the cleanest and smoothest surface possible for cannabis concentrate vaping.
Final Thoughts
If you want the hard hitting effects of dabbing cannabis concentrates while also being able to vape your flowers in a single device, the Dr. Dabber SWITCH is a great choice. With fully customizable temperature settings and session length control, you'll get perfect vape sessions once you're all dialed in. Packed with a long-lasting battery and a cool LED light show, this is an excellent performing vaporizer as well as a show stopper.
Price & Where to Buy the Dr. Dabber SWITCH
The Dr. Dabber SWITCH is available for $399.99 directly through Dr. Dabber's website or via authorized vape retailer Vapor.

Available at DrDabber.com
Fast induction-heating vaporizer for both concentrates and flowers. Precise temperature control and glass percolator for perfect vapor.
Warranty Information – Dr. Dabber products are backed by a 2-year warranty on electronic components, battery pack, charging cable, and adapter. Warranty issues are handled through Dr. Dabber directly.
Additional Product Photos
Common Questions About the Dr. Dabber SWITCH
How many temperature settings does the SWITCH have?
The switch e-rig has 25 different temperature settings ranging from 300 to 780°F. For more information, check out Dr. Dabber's article on
finding the best setting for yourself
. It is important to note that all temperatures are close approximate ranges and can vary depending on the type of induction cup used.
What is induction heating?
According to Dr. Dabber, induction heating is a precise energy delivery system: "The SWITCH is our first induction heating unit capable of vaporizing oil or leaf materials with precise power & carefully calibrated temperature profiles. In technical terms, induction heating is a precision directed energy delivery system using electromagnetic coupling to transmit energy in the form of an oscillating magnetic field into the induction cups. Advanced electronics are employed to create a high frequency alternating magnetic field. The magnetic field is absorbed by the induction cups."
What can be vaporized with the SWITCH?
The SWITCH is capable of vaping any time of cannabis extract or ground dry herb flower. This includes cannabis concentrates such as oils, flower, hash, moon rocks, CBD, THC, etc.
What are the best accessories for the SWITCH?
Dr. Dabber offers a large selection of Induction Cups,
Glass Attachments
, and Carb Caps to personal your vaping experience. The
Bubble Carb Cap
, Sidewinder Glass Attachment, and the
SiC Induction Cup
are fan favorites. Each product page includes a description of the accessory's functionality, if you want to know more about a particular product.
How often do the cups need to be replaced? 
As long as you take care of your Induction cups, they can last forever. Clean both your induction cups and heating chamber regularly with isopropyl alcohol and cotton swabs.
Can I use a metal dab tool? Why is a glass tool recommended? 
Metal dab tools are fine to use with the SWITCH, but metal tools placed inside the heating chamber can heat up during the heating cycle. Glass is not affected by the heating cycle. Preload the cups with your cannabis material for the best results.
How is the SWITCH different from the Boost EVO vaporizer?
The SWITCH uses an induction coil instead of traditional atomizers that need to be replaced over time.
The
Boost EVO
uses quartz atomizers that will need to be replaced after about 4-12 months. The SWITCH has a total of 25 heat settings, while the Boost EVO has six. The SWITCH's heat up time is 3-5 seconds, where the Boost EVO is 11 seconds.
The SWITCH also has tons of more features like customizable hold times, self cleaning mode, and additional accessories and cups, etc, but the Boost EVO is much smaller device, making it a more portable option with its own unique features such as a stealth mode, a magnetic quick connect adapter, and an airflow release button that eliminates the need for a carb cap.
The SWITCH is covered for two years under our industry-leading warranty, while the Boost EVO is covered for one year.
Check here for a direct
comparison of the SWITCH versus EVO
.
What other e-rig vaporizers are similar to the Dr. Dabber SWITCH?
Dr. Dabber SWITCH
Pros
Fastest heat-up time
Precise temperature control
Session length control
Custom LED light show
Self-cleaning mode
Huge vapor production
Excellent transfer of flavor
Uses both flower and extract
Cons
On the pricy end
Huge vaporizer device
Shops for Dry Herb & Flower Vapes