Affiliate Disclosure: Cannabis Vape Reviews is supported by readers like you. We may earn commissions for purchases made through our links. Learn More
The Boost EVO is the latest premium vaporizer from Dr. Dabber. In pursuit of the perfect dab, Dr. Dabber designed the Boost EVO as a portable concentrate rig delivering exceptional hits.
Following in the wake of its big brother, the Dr. Dabber SWITCH vaporizer, the Boost EVO is the next line of spectacular e-rigs for vaping your cannabis concentrates.
This dabbing vaporizer is packed with many useful features like multiple temperature presets, reverse-airflow release to do away with carb caps, a magnetic attachment to easily connect the included glass bubbler and a couple other nifty features.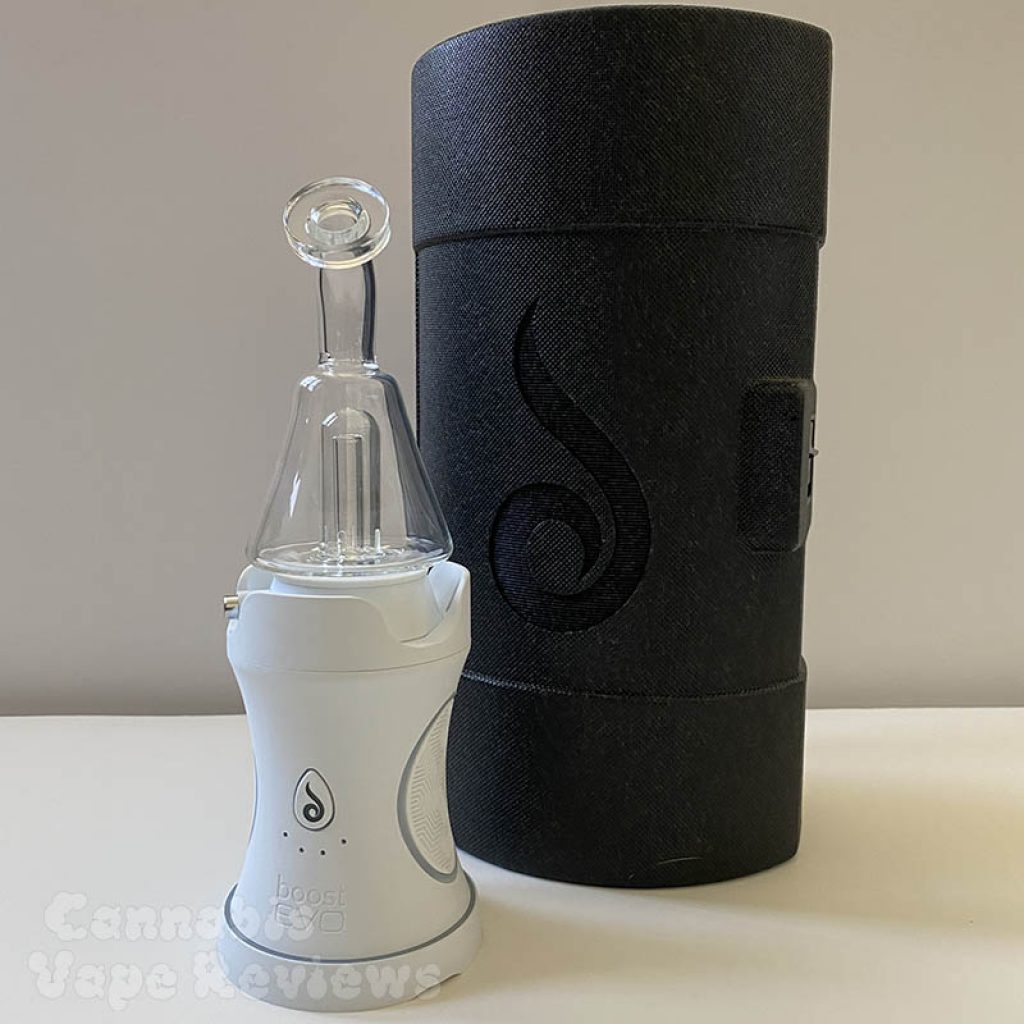 Dr. Dabber Boost EVO e-rig
Tiny, but powerful e-rig vaporizer for dabbing concentrates. Six temperature presets, cool RGB lights, and quartz atomizer for incredible vapors.
Available at DrDabber.com
Design & Features of the Dr Dabber EVO
The Boost EVO is a standout vape as its loaded with many useful features and cool aesthetics.
This e-rig is quite tiny compared to its older brother, the Dr. Dabber SWTICH. Unlike the SWITCH, the Boost EVO was designed for vaping concentrates only, while the SWITCH handles both concentrates and dry herb.
Here's a list of the Boost EVO's standard features, then we'll dive into the specifics of what really makes this vape stand out.
Boost EVO's Standard Features
Designed to vape cannabis concentrates
Battery life indicator
Adjustable colorful LED display
6 temperature presets (ranges from 500 – 750°F)
Reverse-airflow release
USB-C rechargeable battery
Quick-connect adapter
Glass attachment for water filtration
11-second heat-up time
Magnetic Quartz Atomizer with built-in temperature sensor
Straight quartz to glass vapor pathway
Enhanced ergonomics with grip pads
Five RGB light modes plus Stealth Mode for discrete dabbing
Long battery life
Built-in protection against over voltage and short circuits
Up to 60 hits on a single charge
20 or 40 second hold time
Pass through USB-C charging
Auto shut-off after 15 minutes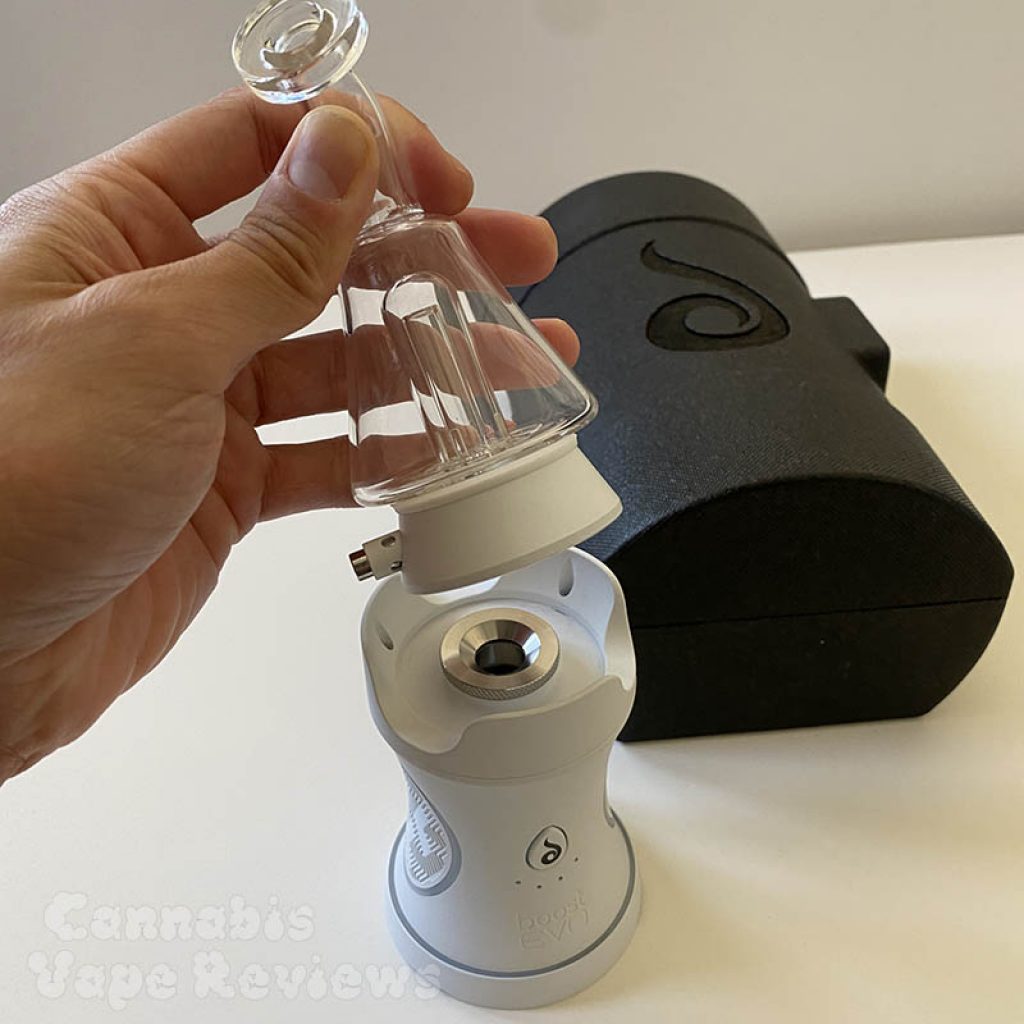 This vape includes a tiny bubbler glass attachment to filter and cool your hits. The glass piece easily attaches to the base of the device thanks to the magnetic quick-connect attachment. The attachment ring is also fitted with a reverse-airflow release valve (similar to the G Pen Connect bong adapter vape) that allows the chamber of the bubbler to fill up with vapor hands-free and without the need for a separate carb cap.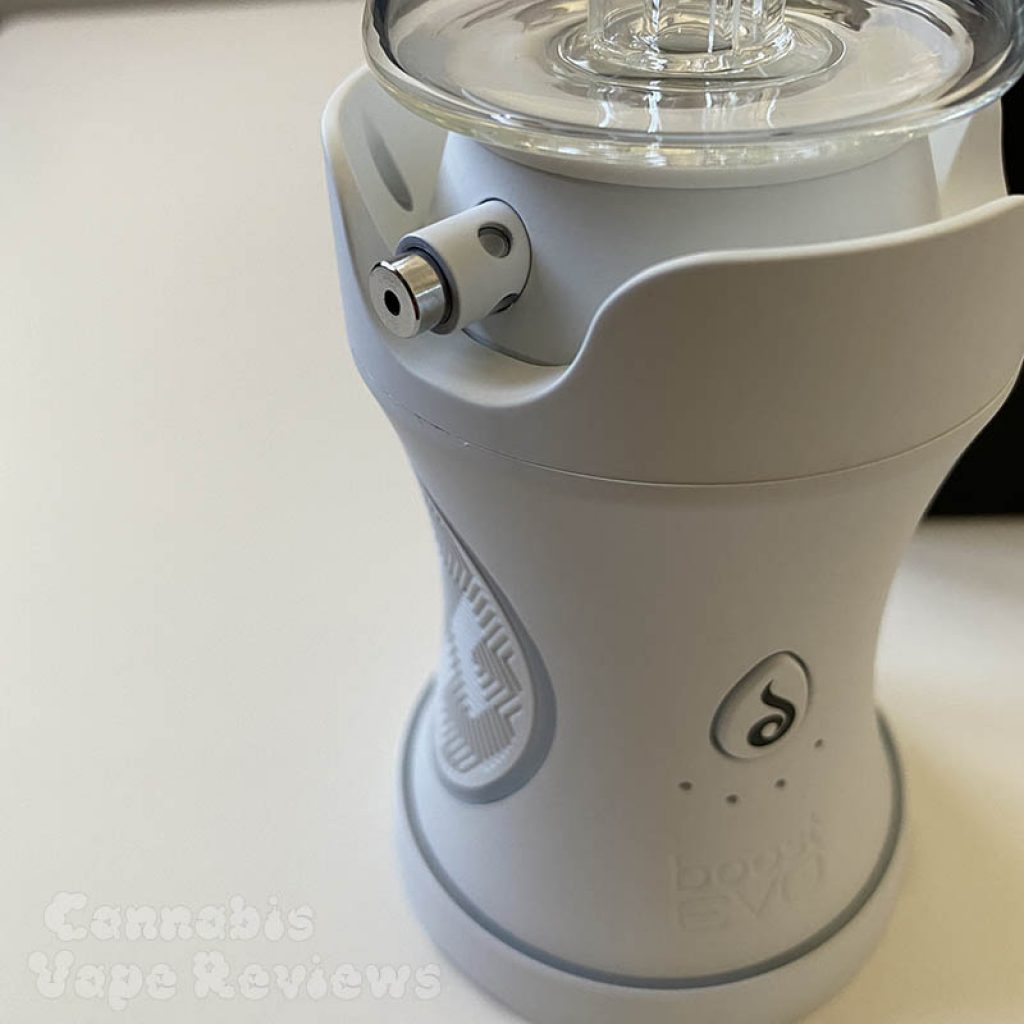 Directly below the glass attachment sits a large capacity quartz atomizer. Vapors from your dabs go directly from atomizer straight up through the bubbler for a clean and clear airpath. Dabs are controlled by six temperature presets ranging from 500-750 F so that you can dial in your desired temperature. You can increase the temp in increments of 50.
On top of that, the Boost EVO uses pass-through charging, meaning you can use the device while its plugged in. No worries if your battery dies on you mid-session. However, the device clearly displays the battery life on the face of the device and will automatically shut-off after 15 minutes of inactivity to conserve power.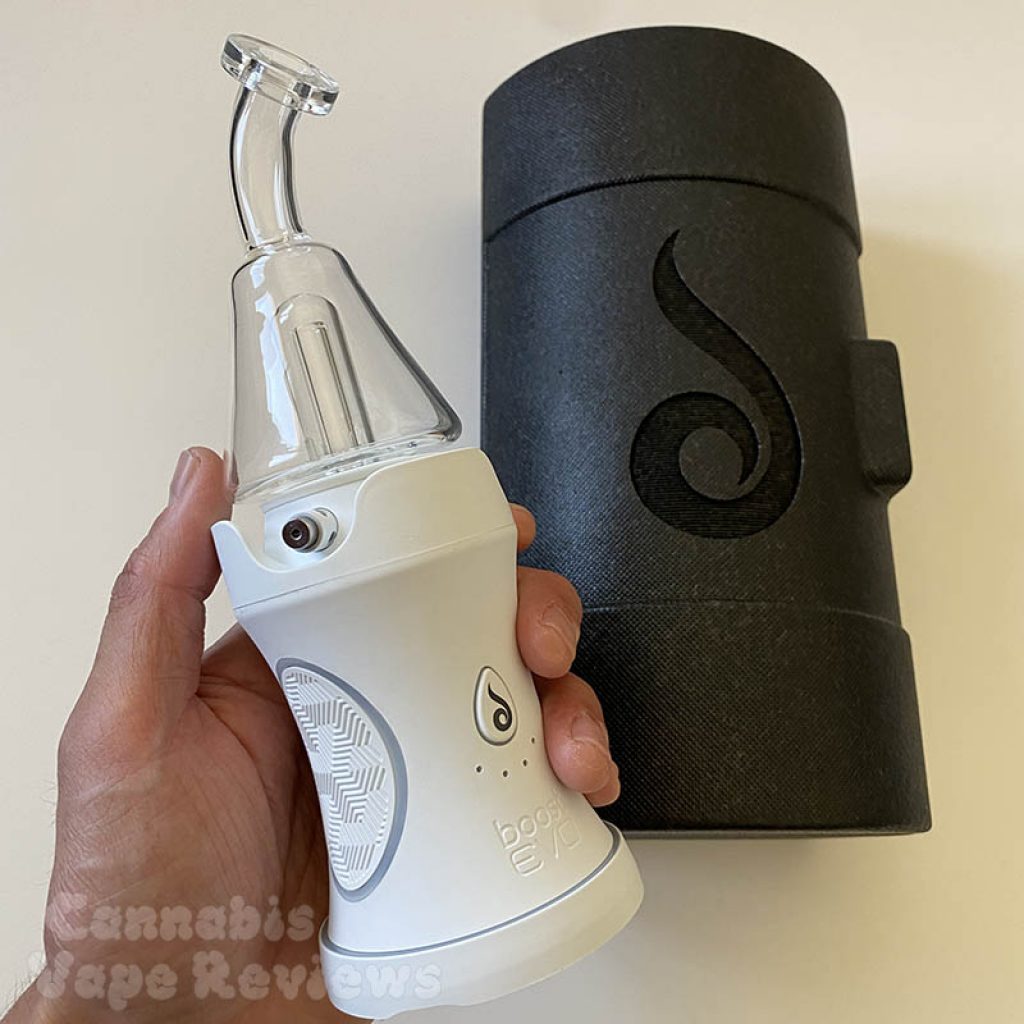 The Boost EVO looks and feels cool with its ergonomic design shaped to fit well in your hand. Two no-slip grip pads built into the sides of the body of the vape helps prevent accidental drops. The built-in RGB light display is mesmerizing and customizable with five modes. If that's too flashy for you, the lights can be disabled in stealth mode.
What's Included with the Dr. Dabber EVO
EVO vaporizer device
Quick-connect magnetic adapter
Glass attachment
1x Quartz Atomizer
Dab tool
Instruction manual
Protective carrying case
USB-C charging cable
Backed 1-year warranty
Tech Specs
| | |
| --- | --- |
| Dimensions | Height: 4″ (without glass), 7.75″ (with glass); Diameter: 2.83″ |
| Weight | – |
| Battery | – |
| Charging time | – |
| Materials | Quartz atomizer |
| Temperature settings | 6 temperature presets ranging from (500-750°F) |
| Heating Method | – |

Dr. Dabber Boost EVO e-rig
Tiny, but powerful e-rig vaporizer for dabbing concentrates. Six temperature presets, cool RGB lights, and quartz atomizer for incredible vapors.
Available at DrDabber.com
How to Use the Dr. Dabber EVO
Basic Operation
Press the power button quickly 5-times to turn on/off.
Press and hold the power button for 3-seconds to start heating. Start to draw from the mouthpiece to fill the glass chamber. Once the chamber is full, press and hold the airflow release button to clear the chamber.
Adjusting Vape Temperature
To adjust the vape temp on the Boost EVO, press the power button 3-times. Every 3-clicks will cycle through to the next temp setting. Press the power button at any time to check the current temp setting. The EVO will lock in your set temp for future sessions.
Boost EVO's temperature presets are colored coded as follows:
Purple: 500°F (lowest temp setting)
Blue: 550°F (lowest setting)
Cyan: 600°F
Green: 650°F
Orange: 700°F
White: 750°F (highest temp setting)
To check your current vape setting, click the power button once.
Charging the Battery
Use the included USB-C cable to recharge the battery on the Boost EVO. The battery life is clrealy displayed by the tiny light dots on the face of the device, near the power button.
My Experience
Since reviewing the Dr. Dabber SWITCH, it's become my go-to for dabbing at home. Because it's such an awesome vaporizer, I was really curious to try the Boost EVO when I heard Dr. Dabber was releasing a new dabbing vape.
The Boost EVO rips hard for such a tiny vaporizer, more than you might expect. For my first session, I loaded up a tiny dab of some Alien Bubba live sugar from Cresco Labs (available through Emjay Delivery). I set the vape to its lowest preset of 500°F to see what kind of vapor and flavor this little thing could produce.
I let the chamber fill up before using the carb release and drawing out all the vapor. The vapor was hot and not as smooth as I had hoped.
But after several sessions, I learned that the hits are a lot smoother with the EVO if you constantly let the chamber fill, then clear, fill, then clear. This works better than trying to fill the chamber and clear it in one long hit since the glass chamber is so small and because the device heats up so fast. Now that I've learned to vape with the EVO this way, every session is amazing.
The flavor of good cannabis concentrate passes through nicely as it travels directly from the quartz atomizer, straight up and through the glass attachment. That direct airpath is nice and clean. I got pretty high off just one tiny dab – and at the lowest temp setting. The Boost EVO definitely packs quite a punch and is very efficient.
The most annoying thing about the EVO is that you can only cycle through the temp presets in one direction. So if you accidentally skip past your desired setting, you have to cycle through all the presets to get back to your target preset. It would be more convenient if you could control temp settings in either direction as with the Dr. Dabber SWITCH vape. The presets are also color coded, but some of the colors similar, so it can be difficult to tell your current setting.
The giant atomizer on the EVO is great. It's deep and has a large capacity bowl to hold a decent size dab of concentrate. Just be sure to keep the atomizer full. If you don't put enough concentrate into the atomizer, it can easily burn off and cause somee harshness.
Price & Where to Buy the Dr. Dabber Boost EVO
The Dr. Dabbber Boost EVO is available for $329.95 directly through Dr. Dabber's website.
You can also get the Boost EVO through authorized vape retailers like Vapor.com.
Replacement atomizers are available for $49.95 directly through Dr. Dabber.
Warranty Information – Dr.Dabber Boost EVO has a 1-year warranty on electronic components, battery pack, charging cable, and adapter. Warranty issues are handled through Dr. Dabber directly.

Available at DrDabber.com
Tiny, but powerful e-rig vaporizer for dabbing concentrates. Six temperature presets, cool RGB lights, and quartz atomizer for incredible vapors.
Dr. Dabber Boost EVO
Pros
Great vapor production
Great flavor transfer
Long battery life
Looks cool
Heats fast
Magnetic attachments
Small and portable
Airflow-release valve
Cons
Does not vape dry herb
Atomizer will need replacement
Not many accessories available