Affiliate Disclosure: Cannabis Vape Reviews is supported by readers like you. We may earn commissions for purchases made through our links. Learn More
The G Pen Connect is a portable vaporizer that allows you to vape concentrates through any glass rig. Its adapter fits on any glass dab rig or other compatible waterpipes with a glass-to-glass connection.
The device consists of a quick-heating ceramic atomizer, powered by a quick-connect battery that attaches with magnets.
This vape-to-rig system is perfect for on-the-go travel. The Connect can be assembled in seconds and is stored away in an included protective case. Dab anywhere with ease and without the need for a torch.

G Pen Connect Wax Vape
Vape-to-rig vaporizer that connects to your water pipe for the best hits from your cannabis concentrates.
Discount with code at GPen.com
What's Included
The G Pen Connect is a complete vape-to-rig vape kit. It includes the following items:
1x G PEN Connect Battery
1x G PEN Connect Tank (ceramic atomizer)
1x G PEN Connect Housing
1x G PEN Connect male glass adapter (14 MM)
1x G PEN Connect male glass adapter connector
1x Micro-USB charging cable
3x replacement O-rings
The G Pen does not include a glass rig/waterpipe. Additional glass adapter connections are sold separately as male or female adapters in these sizes: 10mm, 14mm, and 18mm.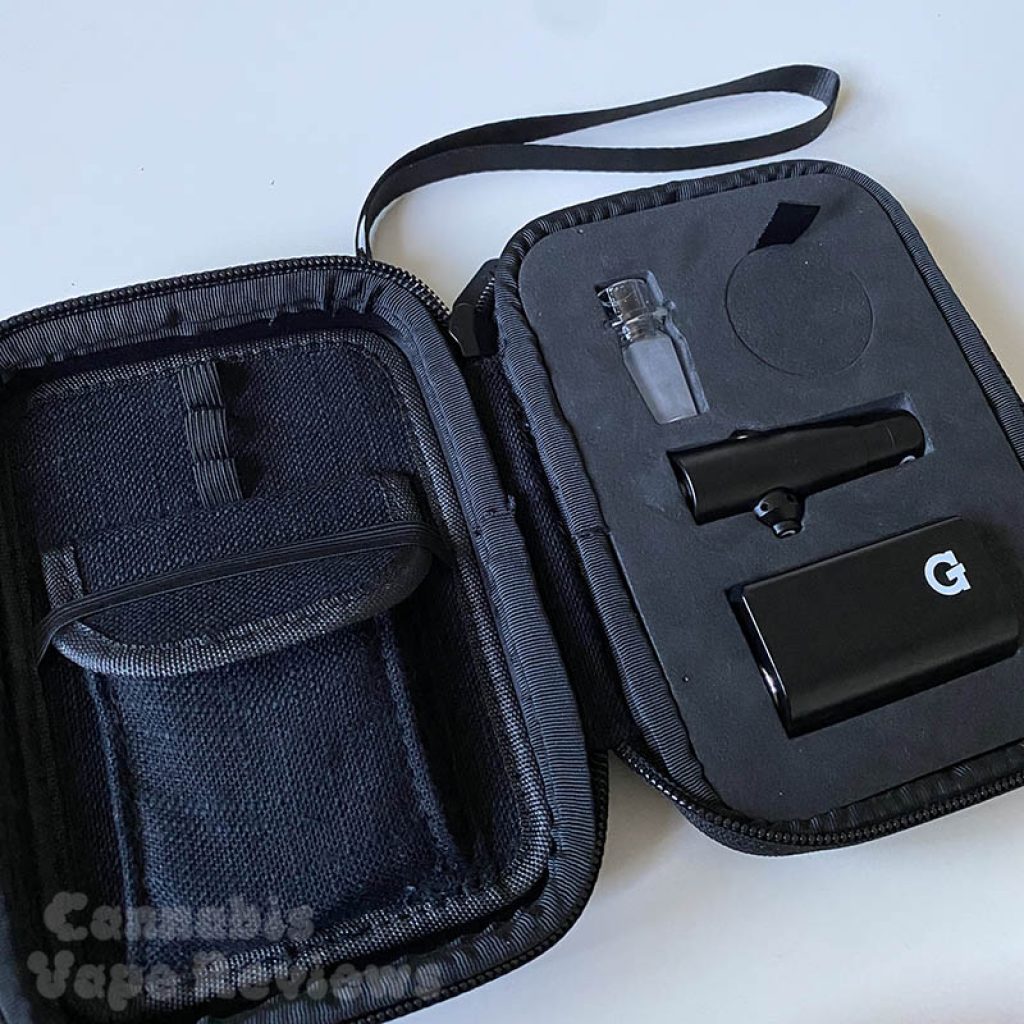 Design & Features of the G Pen Connect
The G Pen Connect is designed to easily assemble in seconds. The unique battery snaps into place with a convenient magnetic connection. Pop it into any dab rig and you're ready to rock.
The Connect can be adapted to fit any size water pipe with a glass-to-glass connection. Its simple one-button interface makes it extremely intuitive to use. When you use a battery-powered wax vape like the Connect, you'll experience huge bong-like rips without the use of a dabbing torch and exposed nail.
The Connect uses a convenient reverse airflow design. If you were using a pipe, you'd typically have to cover the carb hole to draw in your hit and release the carb to allow airflow to clear the hit. With the Connect, it does this in reverse. It automatically restricts airflow so that you draw dense vapor to fill your rig's chamber, then you use the spring-loaded carb release button when you're ready to fully clear the hit.
The modular design of the Connect allows for you to replace individual parts, including the atomizer (aka the G Pen Connect Tank).
The standard features of the G Pen Connect include:
Magnetic tank cap
Ceramic heating element
Reverse airflow technology
Spring-loaded carb release
Variable volt settings
Extended draw mode
Pass-through charging (you can use the device while it's charging)
Glass to glass adapter connection (14 mm male adapter included)
Tech Specs
| | |
| --- | --- |
| Dimensions | – |
| Weight | – |
| Materials | ceramic atomizer |
| Battery | 850 mAh storage capacity, rechargeable via micro-USB |
| Temperature Settings | 3 voltage presets |
| Compatibility | fits any water pipe with a glass-to-glass connection; includes 14mm male adapter |

G Pen Connect Wax Vape
Vape-to-rig vaporizer that connects to your water pipe for the best hits from your cannabis concentrates.
Discount with code at GPen.com
How to Use the G Pen Connect
The G Pen Connect consists of several components that are easily assembled. Once the Connect is put together, it functions just like a typical vape pen that you would use for oil cartridges. With its large, one-button interface, the Connect is simple to use.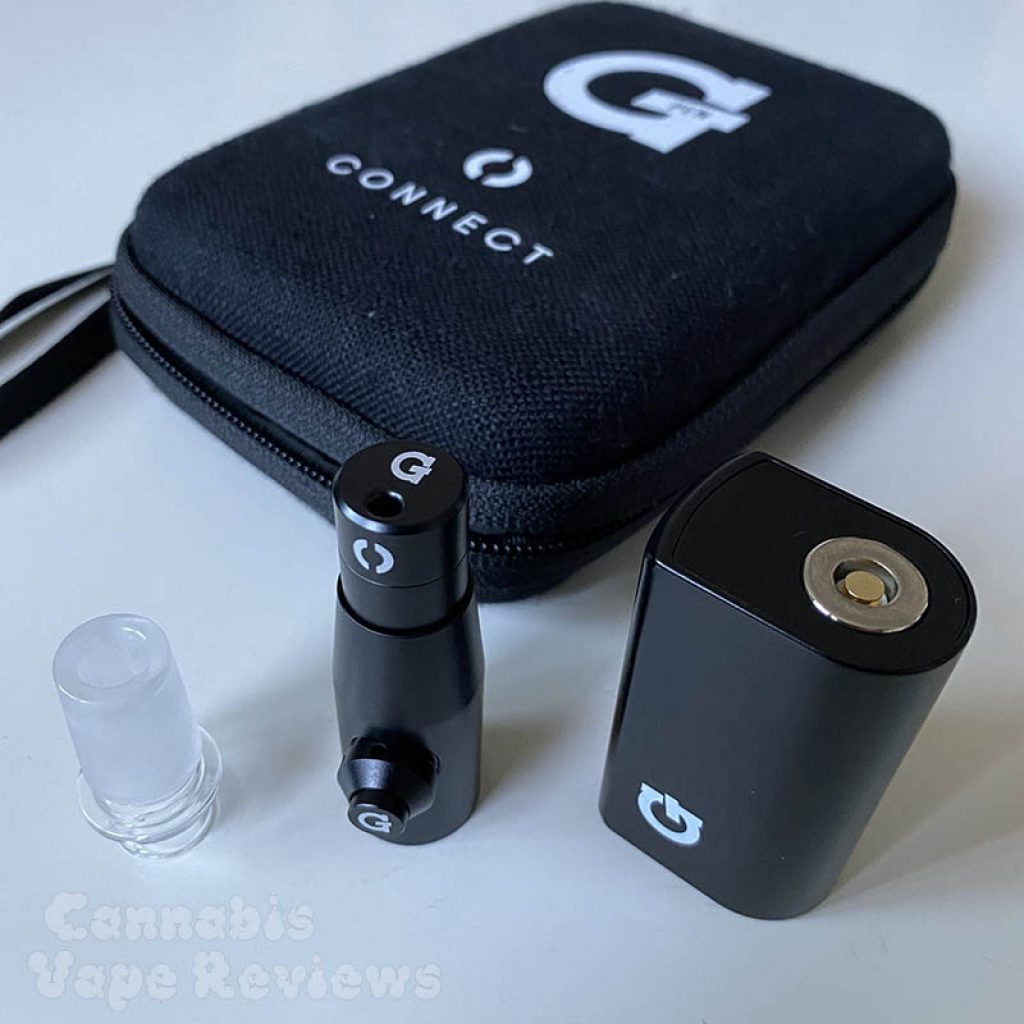 Setting up the G Pen Connect
First, screw the atomizer (G Pen Connect Tank) into the main housing of the vape and attach the glass adapter at the opposite end. Then attach the battery using the magnetic connection. Everything should snap into place.
Remove the atomizer cap to load the oven with your concentrates then put the cap back on.
Once loaded up, pop the Connect into your glass rig.
Operating the G Pen Connect
Five clicks will power the battery on/off. Three clicks will cycle you through the volt settings.
Hold down the button for the length of your draw to heat up the chamber. You can also enable the extended draw mode by clicking twice. With extended mode, the device will automatically heat for 10-15 seconds without you having to hold down the button.
Once the chamber of your rig is filled with your desired amount of vapors, press and hold the carb release to clear the hit.
Our Experience
I love the convenience and performance of vape-to-rig adapters. It's like using a vape pen and hitting a bong all at once. The big upside is that you get to use your own concentrates and you have fine control over the size and length of every hit.
The G Pen Connect is super easy to use. Without the manual, all the pieces are easily and intuitively assembled. Once the battery snaps into place, thanks to the strong magnet attachment, it operates just like any other vape pen with variable voltage settings.
I find that I get great hits in terms of size and flavor at the lowest voltage setting (green light). Sometimes I'll hold down the power button for few seconds, giving the atomizer some time to heat before I begin to take a draw. Other times, it's nice to use the extended draw mode so I can go hands free while I milk the chamber.
Taste & Flavor
I tried the G Pen Connect with some Alien OG Live Sugar extract from Cresco Labs and also some clean pressed wax from a friend.
At first, I felt that the flavor of these concentrates was being distorted by the coil-less atomizer. Apparently, the dabs I was loading up into the atomizer for the first few runs were way too small, causing a burnt taste.
Once I started loading more generous amounts of wax into the atomizer, transfer of flavor dramatically improved. With just enough wax in the chamber, I started getting dense, flavorful vapor clouds.
Powerful Battery
At 850 mAh, the Connect battery has excellent storage capacity despite its tiny size. The Connect is powerful as it heats up your concentrates in about 5 seconds. The battery also holds enough energy to last countless sessions. I've used the G Pen Connect at least 20 times while reviewing it. I haven't had to charge it yet.
There were a few instances where the vape wouldn't work and I'd see a blinking light. If this happens, make sure the battery is fully charged. Next check that the atomizer is fully screwed into place. Whenever the vape stopped working, it was usually a quick fix by tightening the atomizer.
Final Thoughts
I had a great experience with the G Pen Connect all around. The Connect vape is simple to use, it works on any rig, and it comes complete with everything you need in a travel carrying case. The Connect delivers dense hits and great flavor with the ease of hitting a vape pen.
The only thing I'm wondering at this point is how many uses can I get out of the atomizer before it has to be replaced.
Price & Where to Buy
Buy the Pen Connect from GPen.com for $179.95 – $199.95. G Pen is currently selling limited edition Connect devices in collaboration with Cookies and Lemmonnade brands.
You can buy replacement tanks for the G Pen Connect here for $34.95 – $39.95.
Warranty Information – Backed by a one-year warranty through G Pen.

-10%
Discount with code at GPen.com
Vape-to-rig vaporizer that connects to your water pipe for the best hits from your cannabis concentrates.
Frequently Asked Questions
What is the blinking red light on the Connect battery?
When the red light blinks, the Connect battery might be running low and needs to re-charged. If the battery is charged, there may be an issue with the connection to the atomizer. Check to see that the atomizer is screwed all the way into the housing unit.
Will the G Pen Connect fit my rig?
The Connect includes a 14 mm glass male adapter. Check the size and shape of the glass connection on your glass rig to see what is compatible. G Pen offers additional male and female connections in other sizes which are sold separately.
G Pen Connect Vape
Pros
Simple to use
Magnetic snap-in battery
Extended draw mode
Variable volt settings
Great flavor transfer
Long lasting battery
Reverse airflow carb release
Controlled hits from any rig
Take huge dabs without a torch
Includes protective case
Cons
Needs replacement atomizer
Only includes one size male adapter
Only vapes extracts
No battery-life indicator
Shops to Buy Dab Rigs


Large selection of glass rigs, upgraded carb cap, terp slurps, and dabbing accessories.