Affiliate Disclosure: Cannabis Vape Reviews is supported by readers like you. We may earn commissions for purchases made through our links. Learn More
Yes, vape pens are nice. And so is dabbing and taking a fat bong rip.
We can all agree that sometimes though, hitting a vape pen is just not satisfying enough.
But, have you tried vaping through a bong?
Many vaporizers can be easily adapted to connect to your favorite bong, dab rig, or other water pipe. These vape-to-bong attachments are nifty vape accessories, designed to significantly enhance your vaping experience.
In this article, we're going to cover why you would want to vape with a bong, the best vape accessory options currently available, and exactly how to vape with your bong.
Why Vape with a Bong?
Any time you toke up through a water pipe, filter or cooling system, the result is always smoother and more desirable hits. While we're diehard vape enthusiasts, nothing compares to the satisfaction of an occasional, full bong rip. As to avoid taking a beating to the lungs and throat, it's best to avoid smoking as a habit, however.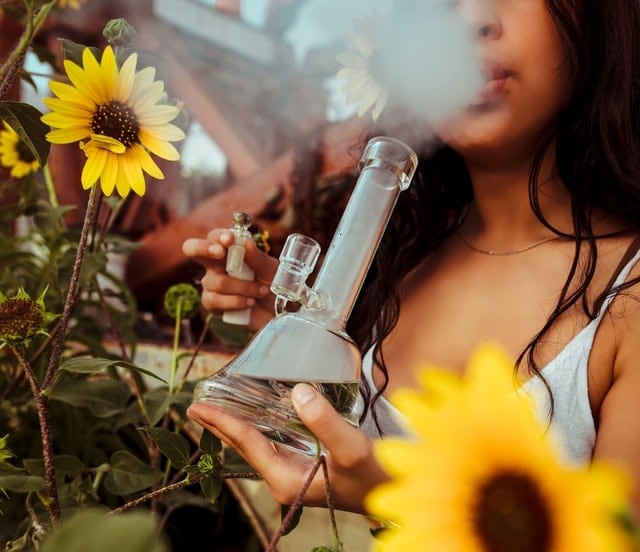 Now, if you're able to consistently produce clean and smooth, cooled vapors, you're going to have the most awesome vaping experience possible.
You can easily and affordably do this with a vape-to-bong adapter.
Typically, when you're vaping cannabis oils or dabbing extracts for example (usually with a dabbing torch and a piping hot banger or nail), it's easy to accidentally overdo it.
Just one poorly-timed, high-temp dab and you're toast. You scorch your throat and lungs. You're coughing up a lung. Now you're squinting through watery eyes wondering where you put your Visine.
Powerful vaporizers and vape pens tend to run hot. Not only can vapors be harsh on the inhale, but mouthpieces can get too hot for comfort and may also burn your lips. The harshness can stifle the size your hits as well.
While there are vaporizer bongs with built-in bubblers and water-filtration, choosing an attachment or vape that you can use with your glassware may be a more affordable option. Especially, if you already have a nice bong that you want to start vaping with.
By attaching your vaporizer to a water pipe, you're able to filter those hot vapors, significantly cooling them down. And with a bong, you can draw huge, thick plumes of vapor into the chamber for a fuller hit. As a result, you'll get satisfyingly dense clouds, the smoothest vape possible, and a more desirable high.
Vaporizer and Water Pipe Adapters
So what vaporizers are compatible to hook up to your rig?
Let's start with the most basic and affordable solutions, then move on to the more sophisticated.
Available at VapePartsMart.com
Discount with code at Rokin
Discount with code at AirVape.com
Available at VaporSlide.com
Discount with code at Gpen.com
Discount with code at Gpen.com
Discount with code at ShopDabtech.com
How to Vape through a Bong?
While water pipe attachments can have vastly different designs, they essentially all work the same way.
The vape attachment usually connects to the mouthpiece of the vaporizer or vape cartridge at one end. The other end connects directly to the down-stem or female piece of your rig at the other end.
Instead of inhaling through the mouthpiece of your vape, you'll instead take a draw through the mouthpiece of your bong. If you're using a push-button vape, press and hold as for the length of your inhale.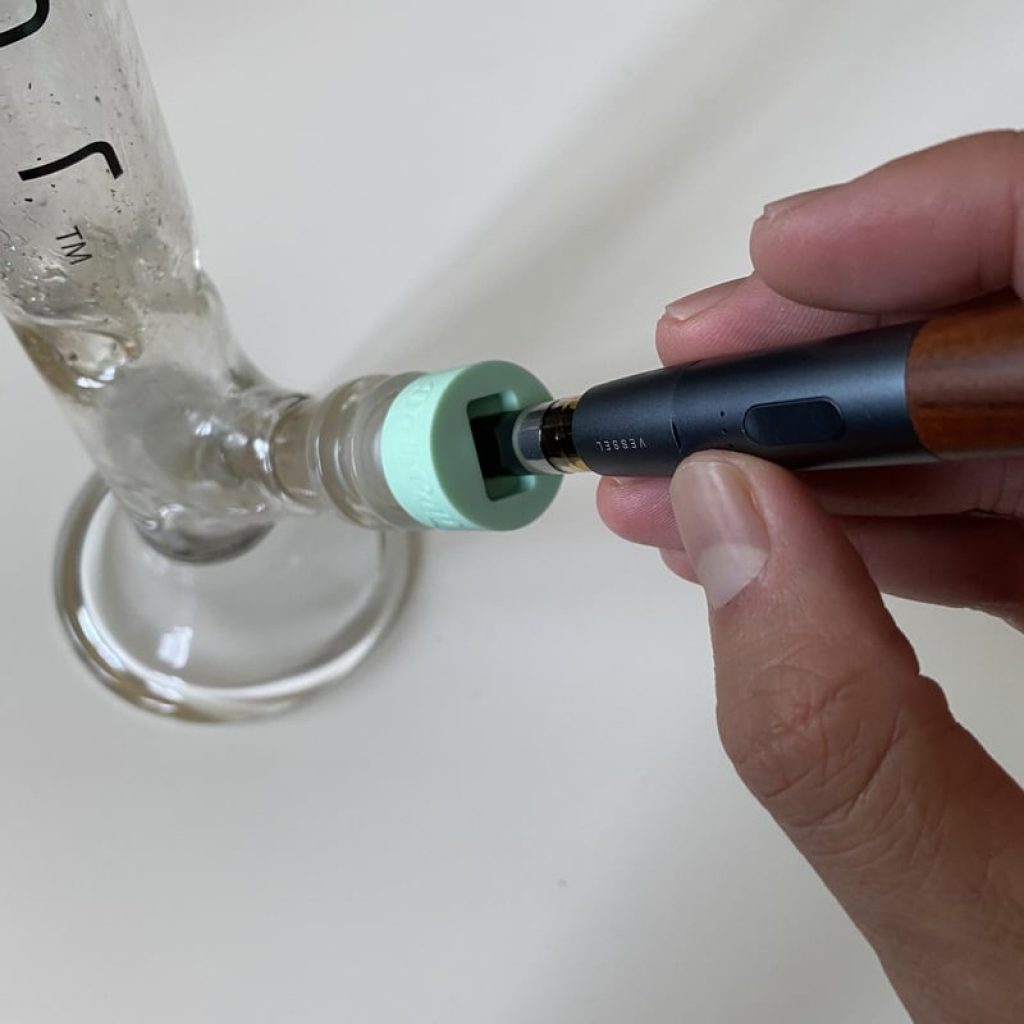 While some attachments are simply adapters to hook up your vape to your glass, some of the other vape-to-rig options include full vaporizer kits (meaning they include a battery or heating element).
For example, the Vapor Slide is an actual vape battery that adapts your vape oil cartridges to be used with your bong.
The G Pen Connect Vape-to-Rig system is also battery-powered and uses a ceramic heating chamber for vaping your waxy extracts through your bong or any other glass rig.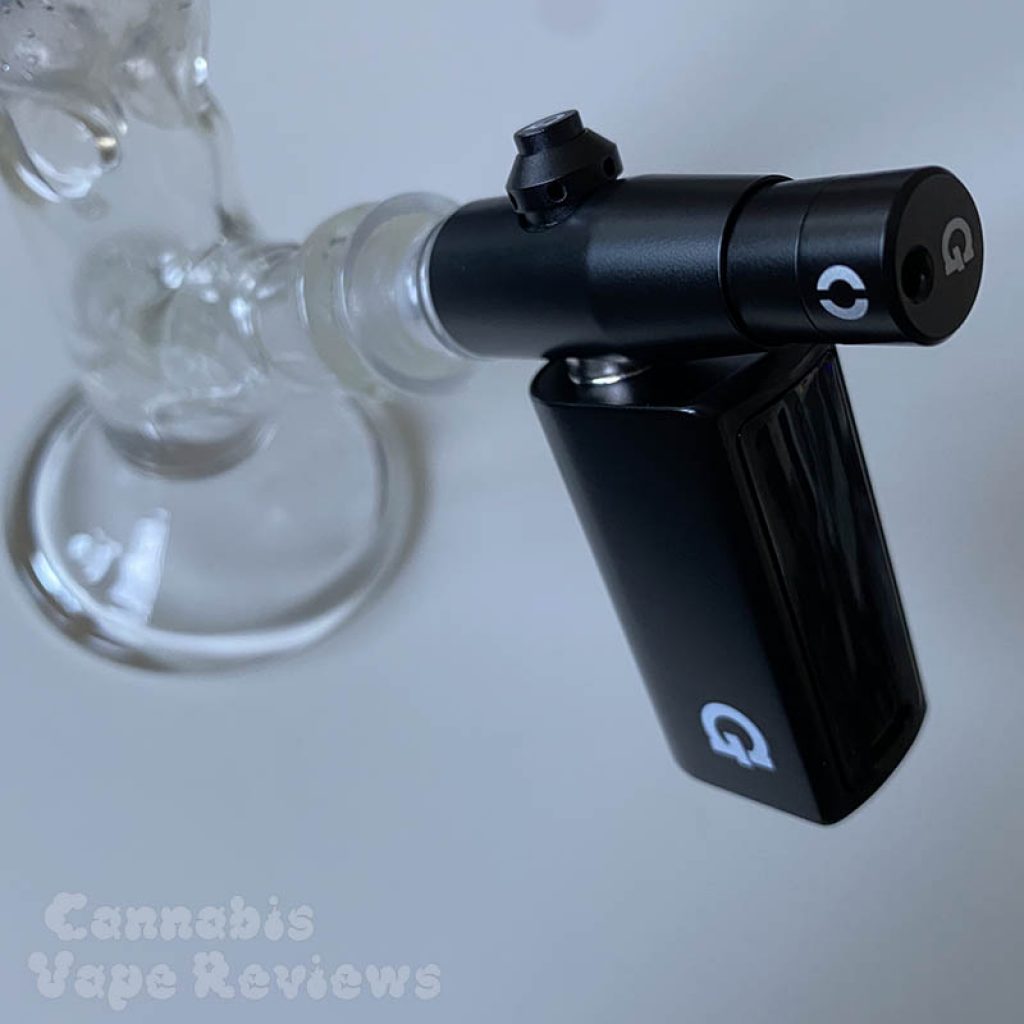 The G Pen Connect gives a torch-less dabbing experience while allowing you to precisely control the size of your hits. It uses replaceable atomizers and works as adapter that can attach to virtually any bong or water pipe.
The G Pen Hyer e-nail is a more powerful option to the G Pen's Connect device, but works in a similar way. The Hyer e-nail is controlled by a huge battery power that will last many dab sessions, but it's still portable and comes with a carrying case as well.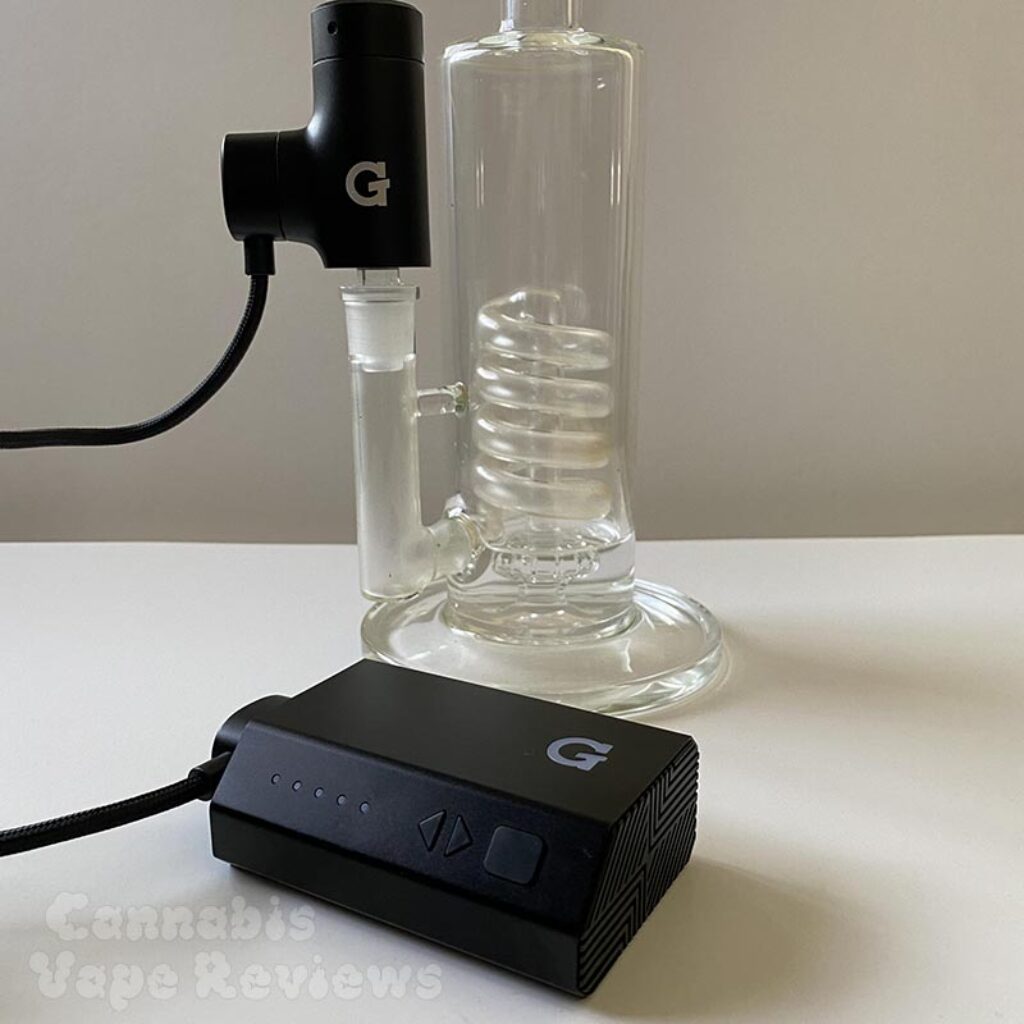 It comes standard for wax concentrates and fits any water pipe with a 14mm female joint. Other joint sizes are available and sold separately. A dry herb tank is also sold separately if you want to use this e-nail for flower. Check out all accessories for the G Pen Hyer here for more options.
Read our comparison review of the G Pen Hyer and Connect for more info on these e-nails.
AirVape offers both a compact glass bong and an attachment that are compatible with their AirVape X and AirVape Legacy dry herb vapes. The AirVape adapter allows you to use AirVape vaporizers with other glass water pipes as well.
On the other hand, a cheap solution like the DabCap is just an adapter that pairs with your vape cartridges or other narrow-mouthpiece vape. The DabCap itself is not actually a vaporizer. The DabCap isn't just for 510-threaded cartridges though – it's also compatible with popular pod vapes like the PAX Era.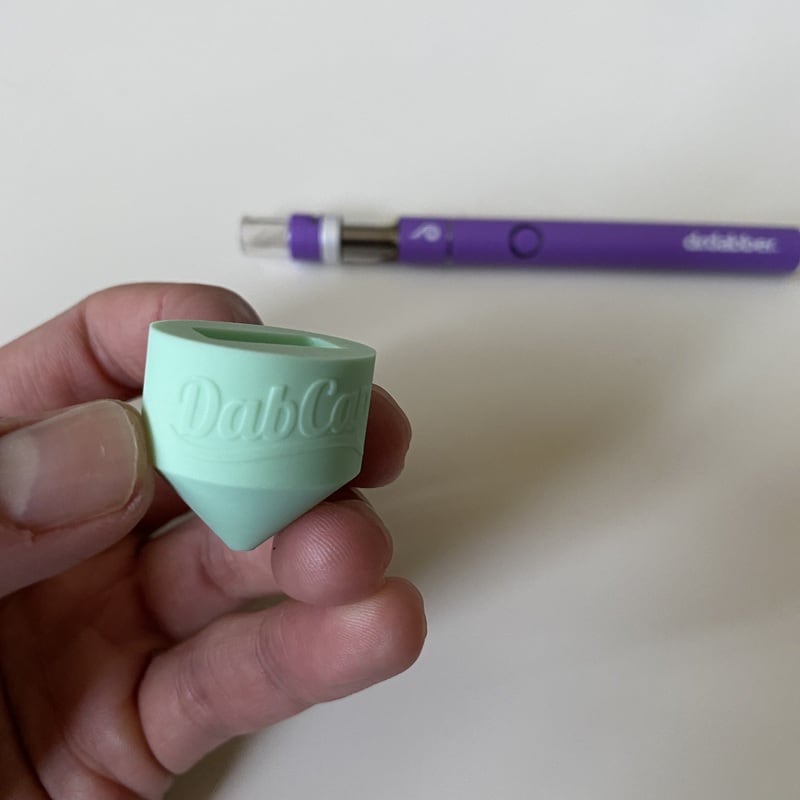 Available at VapePartsMart.com
The first ever vape-to-rig adapter. Made with 100% pure medical-grade silicone, this revolutionary tool solves dabbing on glass. DabCap makes smoking concentrates as seamless as smoking dry herb. Pop the cap on any vape cartridge.
And if you want to get really creative with vaping dry herb through a bong, you can use a vape like the DynaVap paired with a DabCap. The DynaVap is made to vape dry herb by heating the metal cap with a butane torch. That DynaVap fits snuggly into the rubber DabCap. Because the DynaVap does such an excellent job at transferring flavor, this is one of the cleanest ways to enjoy vaporizing your weed with a bong.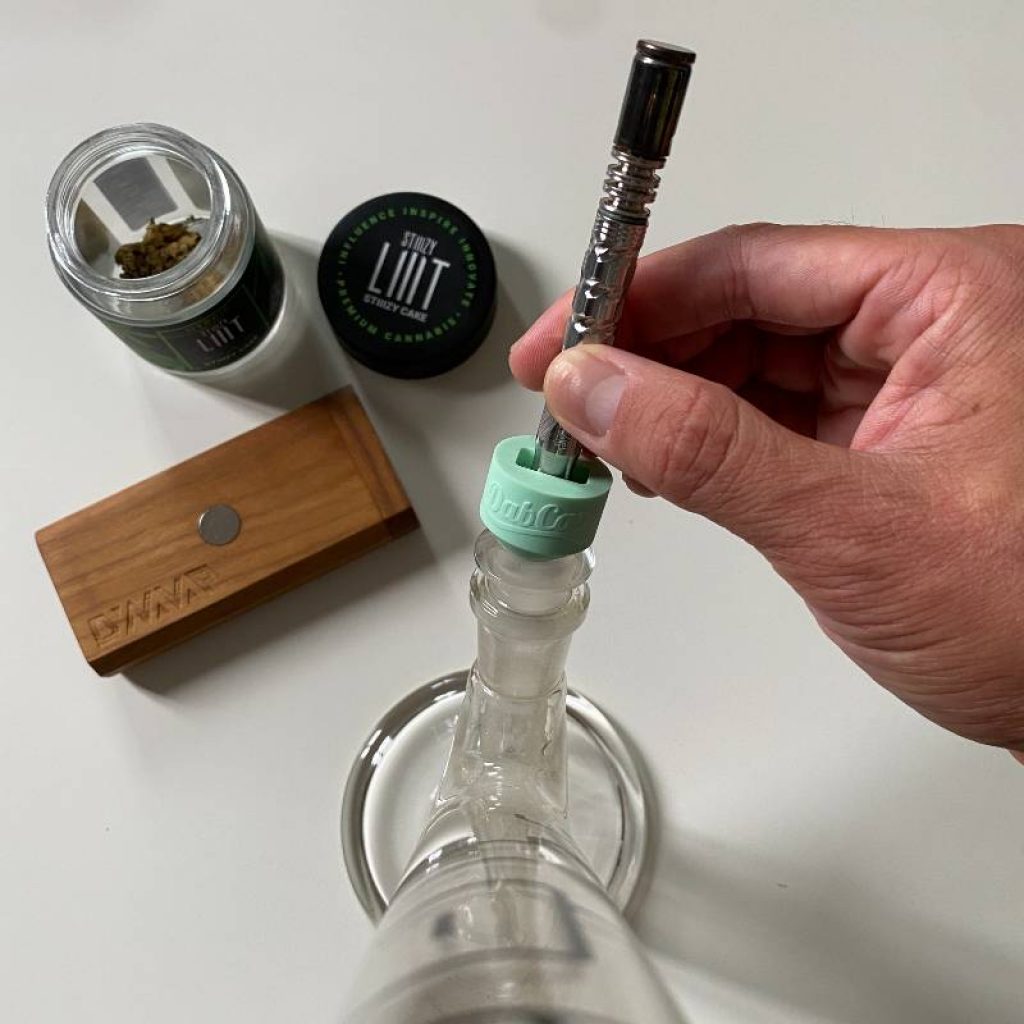 Rokin just released the Mini Tank 2.0 variable voltage vape battery. The 2.0 version is redesigned version of the popular Mink Tank 510-threaded vape cartridge battery with a new rig adapter feature.
The Rokin Mini Tank 2.0 can plug directly into any water pipe with a 10mm or 14mm fitting. With this setup, you don't need any additional parts. You can start ripping your cannabis oil carts through your favorite glass rig.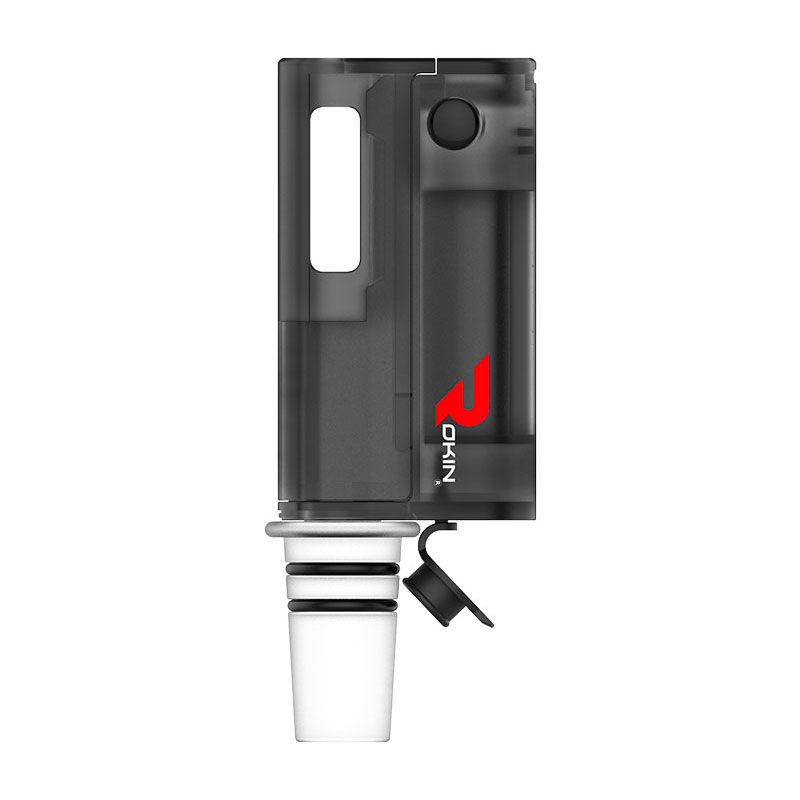 Rokin Mini Tank 2.0
Redesign of popular 510 threaded vape battery from Rokin. Includes adapter to connect to any glass rig or water pipe.
Discount with code at Rokin Vapes
While there's no substitute for dabbing or a fat bong rip, these vape-to-bong options provide the best vaping experience from your cannabis waxes, oil cartridges, and flower than ever before.
And at such low costs, just one of these vape accessories will provide years of enjoyment and a great addition to your vaping arsenal.
For additional water pipe attachment options, check out Vapor's article on best vaporizers with water pipe attachments which includes some of the products mentioned here and more.