Vessel Vape Pen Battery
Posted on:
July 24, 2019
/
Many vape batteries promise great performance but deliver average results, or look cool but aren't worth the price.
Then I discovered Vessel, a sophisticated brand of vape pen that has elevated the cannabis vape cartridge experience to a whole new level of elegance.
From the beautifully packaged box, to the substantial weight of the vape in my hand, the Vessel vape pen looks and feels to be the complete package. But what sets it apart is the innovative design which improves the quality of your draws exponentially, proving Vessel has both form and function nailed.
Design & Features
I received two Vessel pens, one in wood/slate and the other in a rose gold finish. I was immediately impressed by the beauty of both of them.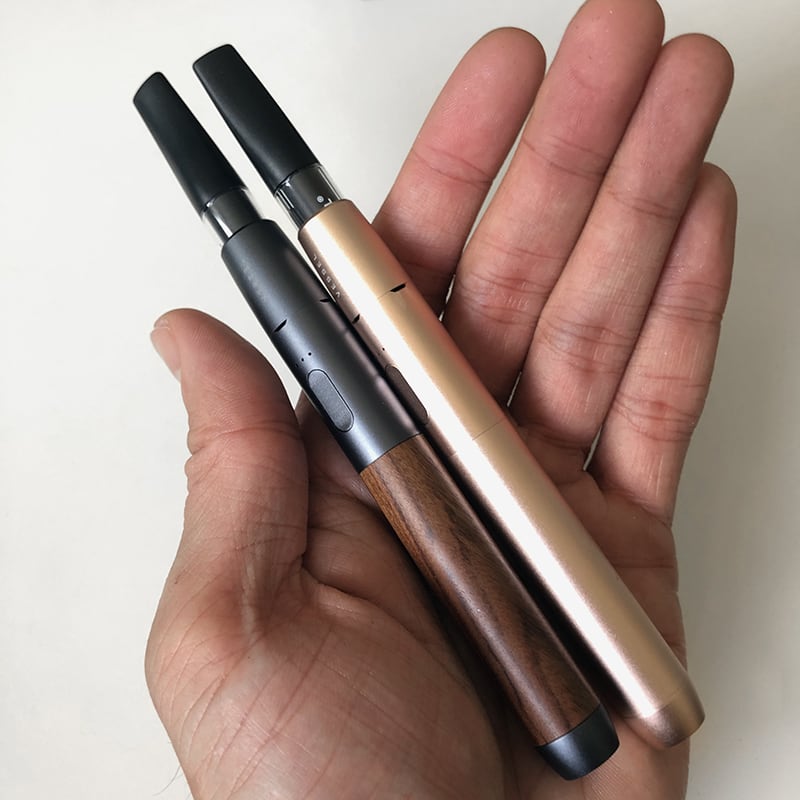 I loved the smoothness of the aluminum body and the intelligence of the 3 LED indicator light, which not only reflects the selected temperature setting, but also communicates the remaining battery life. While seemingly pricey for a vape pen battery, the Vessel vape pen is a step above the rest. Smart, beautiful and brilliantly designed.
Standard Features
3 temperature settings
LED light indicator
15 Minute auto shut-off
Protected cartridge drop in design
Magnetic charging port
Maximum airflow design
Removable transition module
Substantial battery life
Cartridge Compatibility
The removable top section of the device AKA the "Transition Module", was designed by Vessel not only to protect your 510-threaded oil cartridge (as well as the connection point), but also to promote improved airflow for impressive draws.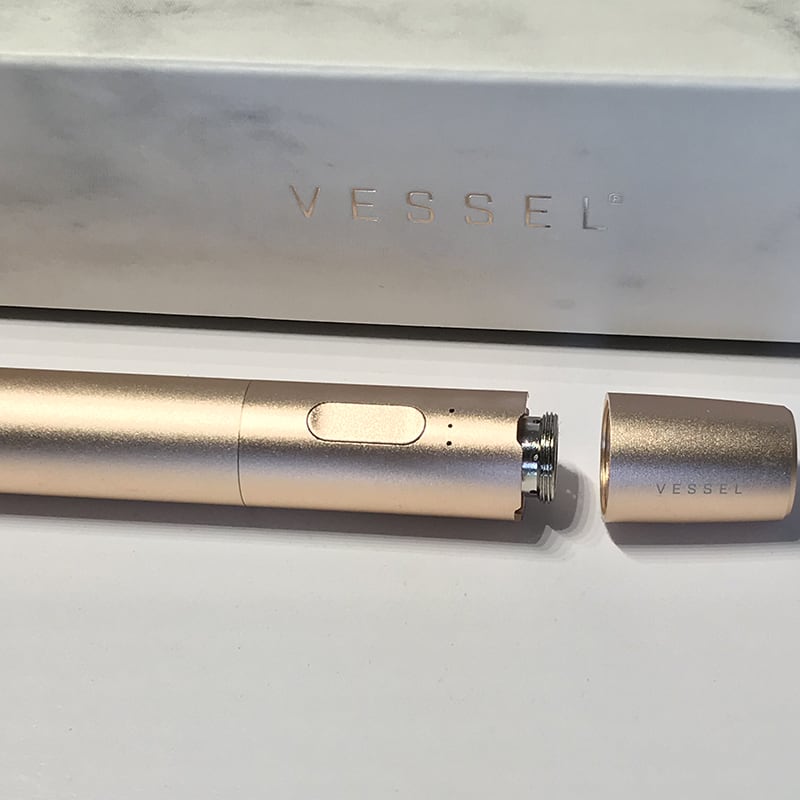 Vessel recommends 0.5 gram cartridges to preserve the smooth lines and aesthetics of the pen, but one gram cartridges perform just as well. Make sure your selected cartridges are less than 10.8mm in diameter. They also recommend using only certified, reputable brands that use quality hardware like CCELL cartridges (TH2 or M6T models). However, If you unscrew the transition module, some wider cartridges will work just fine, but they kill the Vessel's sleek look.
Some cartridges, like the Kurvana ASCND may not seem compatible at first.
If cartridges have a protruding connection pin at the bottom of the atomizer, you can resolve the issue by pushing the cartridge into the battery a bit harder so the threads will catch.
This may seem counterintuitive, but this vape pen is designed to accommodate most cartridges. Don't worry, you won't damage the Vessel.
Recharging the Vessel
The Vessel features an energy efficient battery with a proprietary magnetic connector. Not your typical threaded charger, the easy magnetic connection ensures no accidentally damaged batteries from over-tightening.
The downside of the proprietary magnetic connection is that the Vessel will not be compatible with the spare USB threaded chargers that most vape enthusiasts have lying around.
Additionally, the cap covering the charging port can also be unscrewed to clean any dust or debris that may build up over the life of your Vessel.
While charging, the LED Indicator turns red, pulsing the lights until it reaches its full charge, then it will power off on its own in order to prevent overcharging. Recharging a depleted battery takes a little over an hour and a full charge lasts well over 48 hours with moderate use.
What's Included
1x vape battery
1x magnetic USB power cord
1-year limited warranty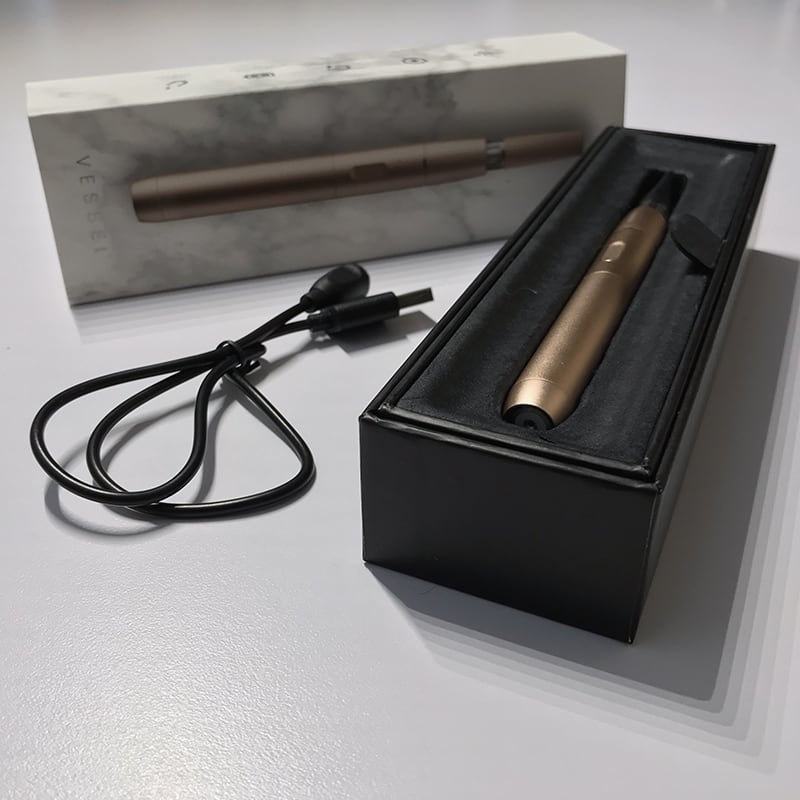 Tech Specs
Dimensions: 4.3″L x 0.5″D
Weight: 1.25oz
Battery: 240mAh lithium-ion
Materials: Anodized aluminum body (real wood grain for select styles)
Temperature settings: Low 2.8v/Med 3.2v/High 3.6v
How to Use
The Vessel is so simple to use and includes basic instructions neatly printed inside the box. For more detailed information, check out Vessel's site to read their FAQ and additional details.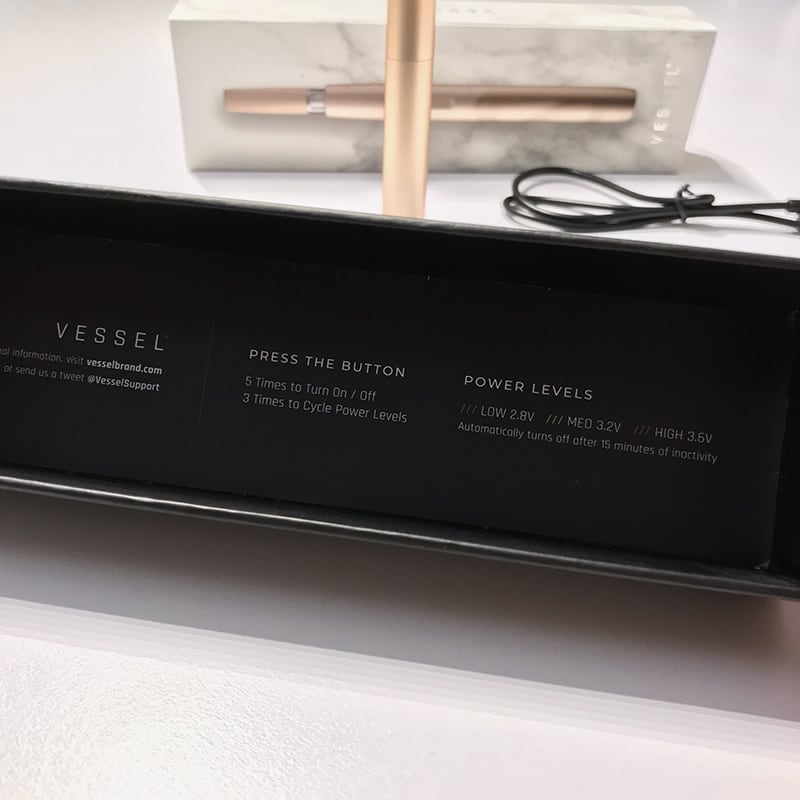 Press the button 5x to power on and off.
Drop your 510-threaded cannabis vape cartridge into the battery and gently screw in.
Press the button 3x to cycle through the temperature settings. The LED light indicator will turn blue for low, yellow for medium and purple for high. Once your temperature is selected, simply press and hold button for the duration of your inhale.
Note that after 15 minutes of discontinued use, the Vessel will automatically power off.
My Experience
I've tried a lot of different vape pens and the Vessel is next level in both elegance and performance. I love the balanced weight of it in my hand and the feel of this pen is so nice. It almost doesn't feel right carrying it around in my purse or pocket as I want to avoid scratching the beautiful finish, but so far, it has been scratch resistant, which really reflects the quality of the materials.
Every draw is smooth as silk. I didn't realize how clean the vaping experience would be until I used my Vessel with a Select cannabis cartridge. I tried one of Select's hybrid Strawberry Banana oils and using the lowest setting (Blue). I pulled thick clouds of vapor while feeling smoothness on my throat with each puff.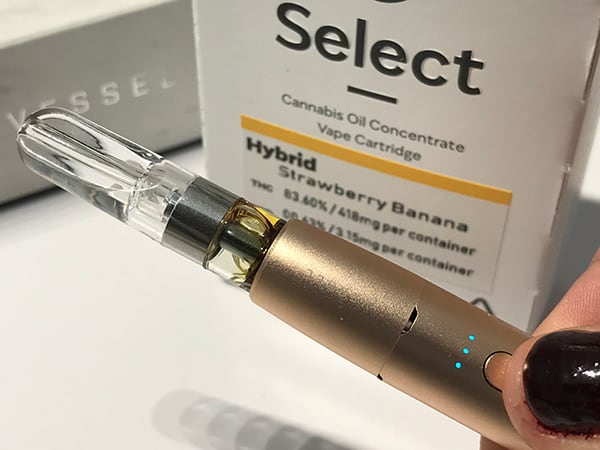 This vape is almost perfect. For thicker oils, it usually helps to have a pre-heat function.
While the Vessel lacks a pre-heat function, something I would expect to be baked into the design of such a well engineered vaporizer, I found an alternative solution.
I found that doing this works pretty well: use the Vessel on its highest temp setting (purple LED), then press and hold the button for a few seconds to preheat – then switch back to the lowest (blue) setting to vape.
The battery life on the Vessel is substantial considering a relatively low capacity of 240mAh. The battery uses energy quite efficiently, however, as I was able to vape for over 48 hours with moderate to heavy use before needing to recharge it.

Final Thoughts
The Vessel brand has raised the bar with this vape pen delivering elegance and quality. The Vessel's clean draws and thick vapor make it an outstanding vaporizer. The battery life is fantastic and the smart LED indicator takes the guesswork out of the remaining life of your vape pen, making it both smart and sexy. While the Vessel comes at a hefty price tag, it's an excellent vape battery for enjoying your favorite cannabis oils.
Price & Where to Buy
Vessel retails for $100.00 at Vessel's website. They have a large selection of stunningly beautiful styles, colors and finishes.

For limited time, Vessel is offering a buy one, get the second one 30% off deal!
Deal run out? No sweat! Use discount code CVR20 any time to save 20% OFF your entire order.
Every Vessel device is backed by a 1-year warranty.
You may also be interested in keeping your Vessel looking fresh with a CTZN vape stand.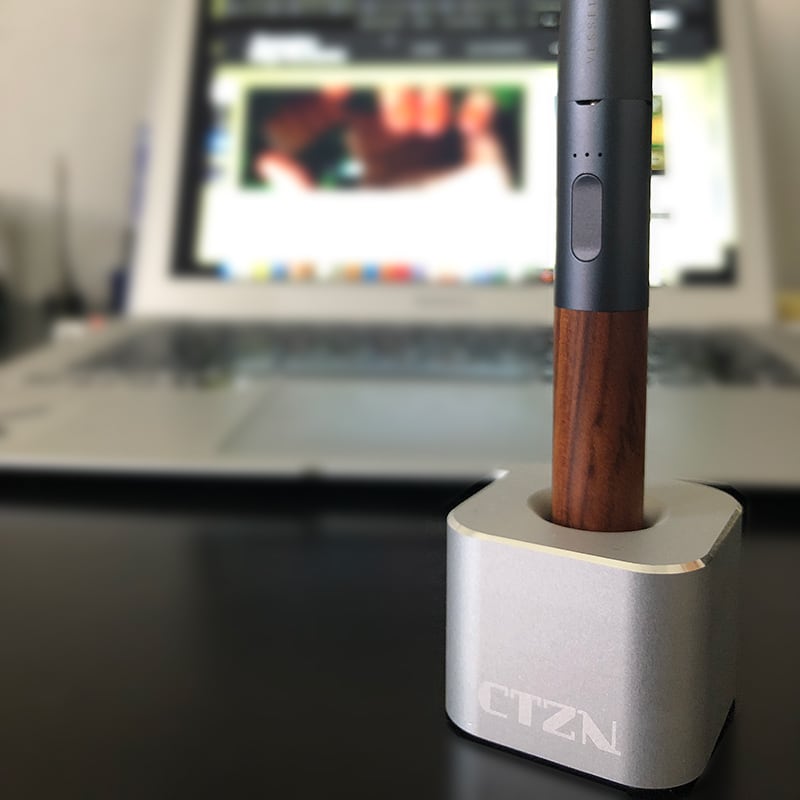 Vessel Vape Pen Battery
$100
Pros
Beautifully designed
Feels great in hand
Well engineered
Adjustable voltage control
Smart LED multi indicator
Silky smooth draws
Long battery life
Works with most vape carts
Cons
Doesn't work with all vape carts
No preheat function