Dabado Bolt: The Portable Electronic Dab Rig
Posted on:
August 24, 2016
/
Are you familiar with dabbing? If you've paid any attention to the cannabis industry lately, you're probably aware of how wildly popular dabbing has become. Traditionally, dabbing included the use of a glass rig, a nail and a blow torch – yes, a blow torch. It's dangerous and looks like you're conducting some sort of weird science experiment.
Thankfully, Dabado came out with the innovative Bolt, the first portable and electronic rig for dabbing concentrates. We noticed e-nails and other electronic dab rigs creeping into the market so we figured it's time we get our hands on one of these bad boys. With the vape review team being fairly new to dabbing, we grew anxious with much anticipation to try out the Dabado Bolt.
Basic Features
Charges by USB cable in under two hours
Variable temperature settings
Ceramic heating element
40-50 dabs on fully charged battery
Heats up in less than 30 seconds
Glass bubbler attachment for smooth hits
All in one kit and easily portable
What's Included
Protective carrying case (made of metal)
USB charging cable (flat tangle-less cord)
Wax container
Magnetic carb cap & dab tool
Three nail attachments (quartz, titanium, ceramic)
Magnetic stand
Replacement rubber o-rings
Our Experience
The Dabado Bolt is definitely one of the most convenient ways to enjoy dabbing. This mini-sized rig with included carrying case make transporting it a breeze. Having a battery powered e-nail and ditching the torch is nothing short of amazing (we're not into the whole butane torch deal). Although, we were somewhat concerned at first, with the limitations of how hot the nails were able to get (great for conservatively sized, low to medium temp dabs).
We tested out the rig by dabbing several high-quality cannabis concentrates from different brands. We had the opportunity to fully tease out the Bolt's ability to deliver the potency and rich flavors that we expect from these premium concentrates: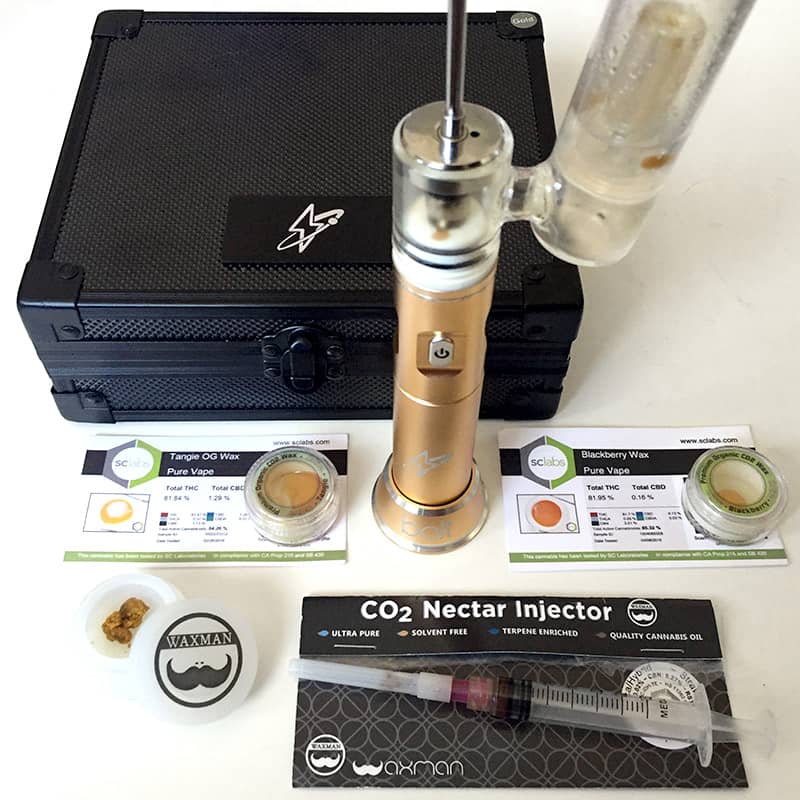 For our dab sessions, we weren't able to produce those insanely huge and dense clouds that you might expect from the videos dabbers post on Insatgram, but that's not the look we were going for anyways. There's no denying that we certainly pulled some great dabs: potency and full-flavored delivered as expected. The Bolt definitely gets the job done!
Nails & Quality Dabs
Between the included nails, it was difficult to narrow down a preference for one over the other. All nails seemed to deliver equal performance, but we give a slight edge to the ceramic nail. The ceramic nail seemed to produce the cleanest tasting hits and does not require seasoning as with the titanium nail, which needs to be seasoned like a good 'ol cast iron skillet.
As a word of caution, be very gentle with the quartz nail as it is extremely delicate. The quartz nail unfortunately cracked on us after just a few uses when we unscrewed to swap for testing another nail. The ceramic base/heat source is also prone to chipping or cracking, so be careful. Hopefully we will see Dabado use higher quality materials or make design improvements in the near future.
The Bolt also seems to struggle reaching the optimal temp to completely vaporize large dabs. This may leave behind concentrate residuals in the nail. However, this isn't really a big deal as you can simply reheat the Bolt which will run a bit hotter the second time around and should produce a great follow up hit. Despite its flaws, the Bolt works surprisingly well and is now one of our favorite ways to vape.
Glass Bubbler Attachment
The included glass bubbler attachment is a nice way to get cooled and filtered hits. The bubbler is really tiny and requires just a few drops of water. Put too much water and you will likely end up with some splash back against your lips as you inhale (not a deal breaker).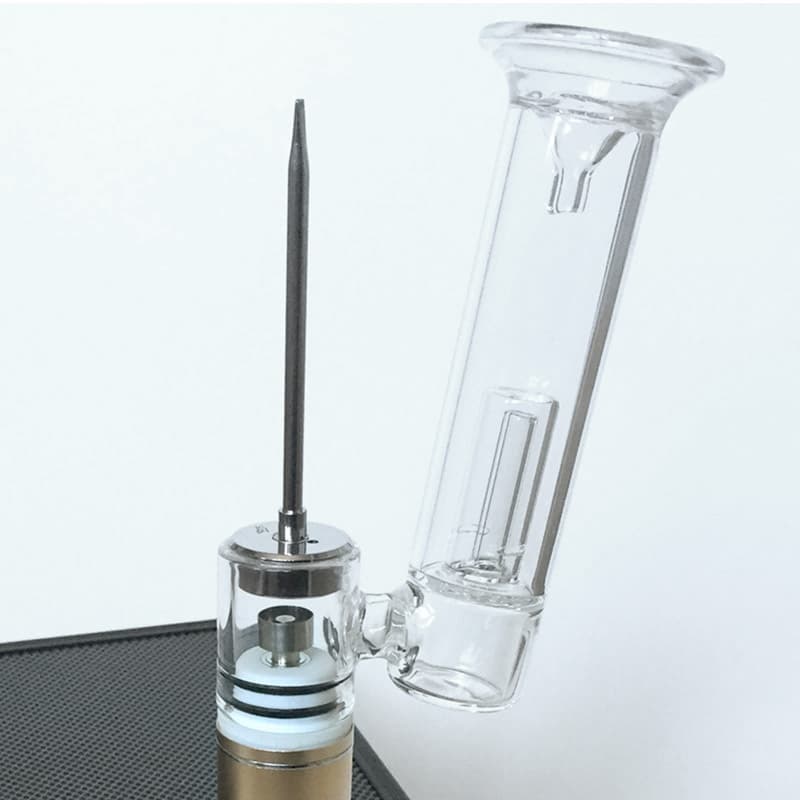 The bubbler is also designed to be spill-proof. It's actually quite difficult to get the water out so we recommend only dumping out as necessary and cleaning frequently to keep it fresh.
Dabado also offers some pretty sweet recycler glass attachments upgrades which are designed exclusively for the Bolt vaporizer.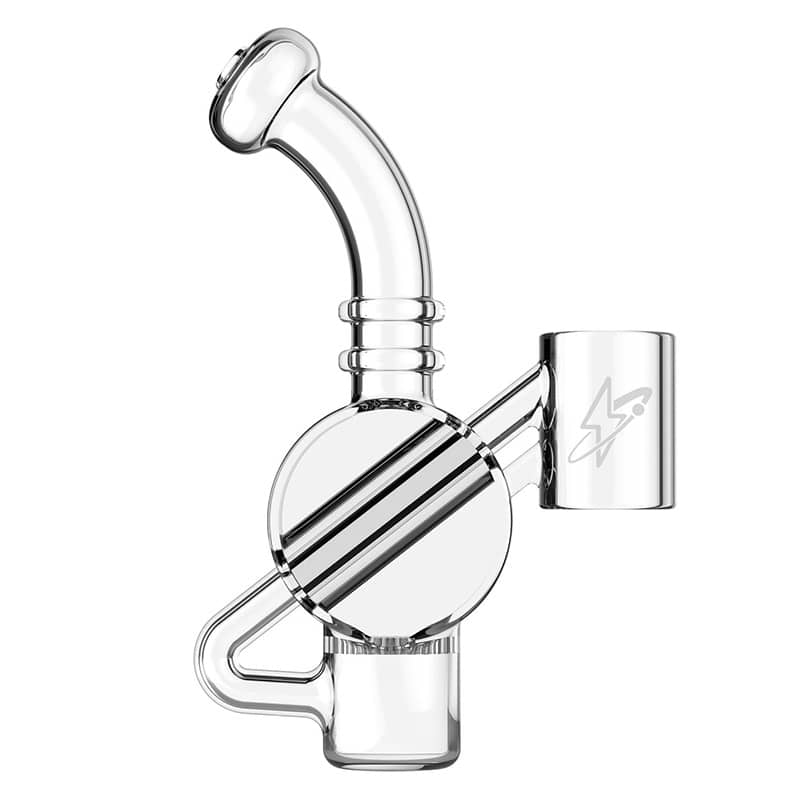 Ease of Use
The Bolt is easy to use and is an all-inclusive kit which makes it a great starter dab rig for dabbing newbies. Pop on the glass bubbler attachment so it fits snuggly against the o-rings that wrap the white ceramic heating element. Screw in one of the 510-threaded nails. Turn on the device to low-temp or high-temp setting by tapping the button on the side of the device rapidly several times (3 taps for low OR 5 taps for high). The light will turn from white to green (low temp) or green to white (high temp) after about 30-seconds once it reaches the max temp.
Customer Service & Warranty
Each Dabado Bolt kit is backed by a 1-year warranty. Dabado has an in-house service repair team to quickly fix any possible defects.
Price & Where to Purchase
The Dabado Bolt vaporizer is available in several colors including the limited edition Gold which we used for the review.
The Bolt retails for $130-$140 (depending on color).

You can purchase the Dabado Bolt electronic dab rig directly through the Dabado website. Shipping is FREE anywhere in the U.S. for orders over $75.
** PRODUCT UPDATE **
Dabado has released a new version of the Bolt vape since the original Dabado Bolt Launch.
Check out the new Dabado Bolt 2 PRO which features an LCD screen displaying vape temperature and battery life as well as a larger, interchangeable heating rod for even more powerful dabs.
Dabado Bolt Dab Rig
Pros
Small and portable
USB rechargeable
Looks futuristic
Includes carrying case
Works incredibly well
Heats up fast
Cons
No temperature indicator
No battery level indicator
USB charging cord is too short