Affiliate Disclosure: Cannabis Vape Reviews is supported by readers like you. We may earn commissions for purchases made through our links. Learn More
The AirVape Legacy PRO is a hybrid or combo vaporizer that vapes both flower and wax concentrates.
This 2022 version of the AirVape Legacy PRO is the latest edition to the original Legacy combo vaporizer with many improvements and new features.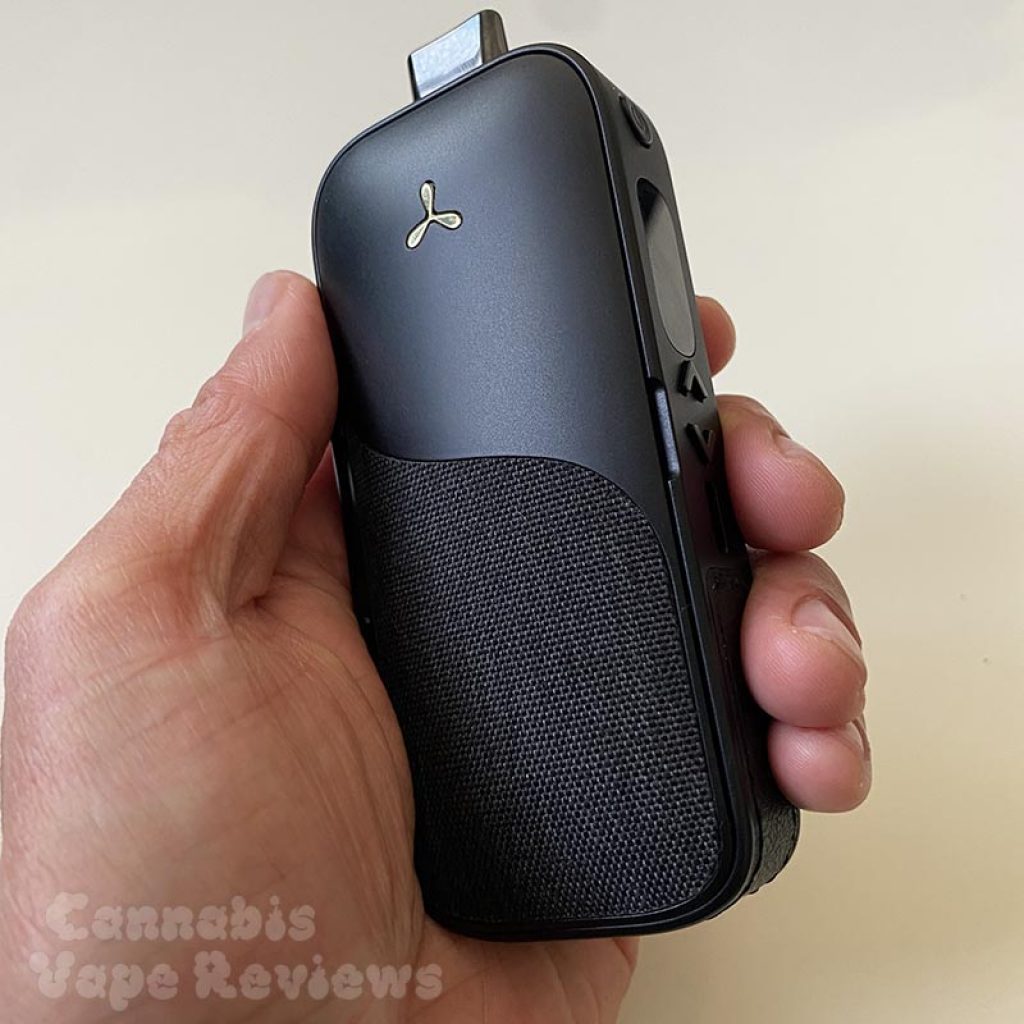 This upgraded Legacy PRO edition has a couple major improvements including a larger battery and chamber, and a sleeker shape that's lighter and feels better in your hand. The Legacy PRO also features more efficient heating, improved airflow, and several other new features.

AirVape Legacy PRO
Sexiest and most advanced hybrid vaporizer for dry herb flower and cannabis concentrates. Wireless charging, precise temp control, and excellent flavor transfer.
Discount with code at AirVape
What's Included with the AirVape Legacy PRO
AirVape Legacy PRO
18650 Legacy Removable Battery
Concentrates Pad Insert, Gold Plated Basket for Microdosing
USB-C Charger Cable
Cleaning, Loading Tools
Replacement Filter Screens
User Manual
Limited Lifetime Warranty
Design & Features of the Legacy PRO
Here's the standard features of the AirVape Legacy PRO:
Vapes both flower and concentrates
Haptic feedback (vibrates when reaching optimal temperature)
Fast heat-up time
Adjustable auto-shut off timer (3, 5 or 10 minutes)
In-activity auto-shut off timer (60 seconds of no use)
Precise temperature control (200F to 440F)
Simple 3 button interface with LCD screen
Ceramic Mouthpiece
Removable glass airpath
Removable large capacity battery
Gold plated heating Chamber
Built-in adjustable micro-dosing disc
USB-C and wireless charging
On-demand temp boost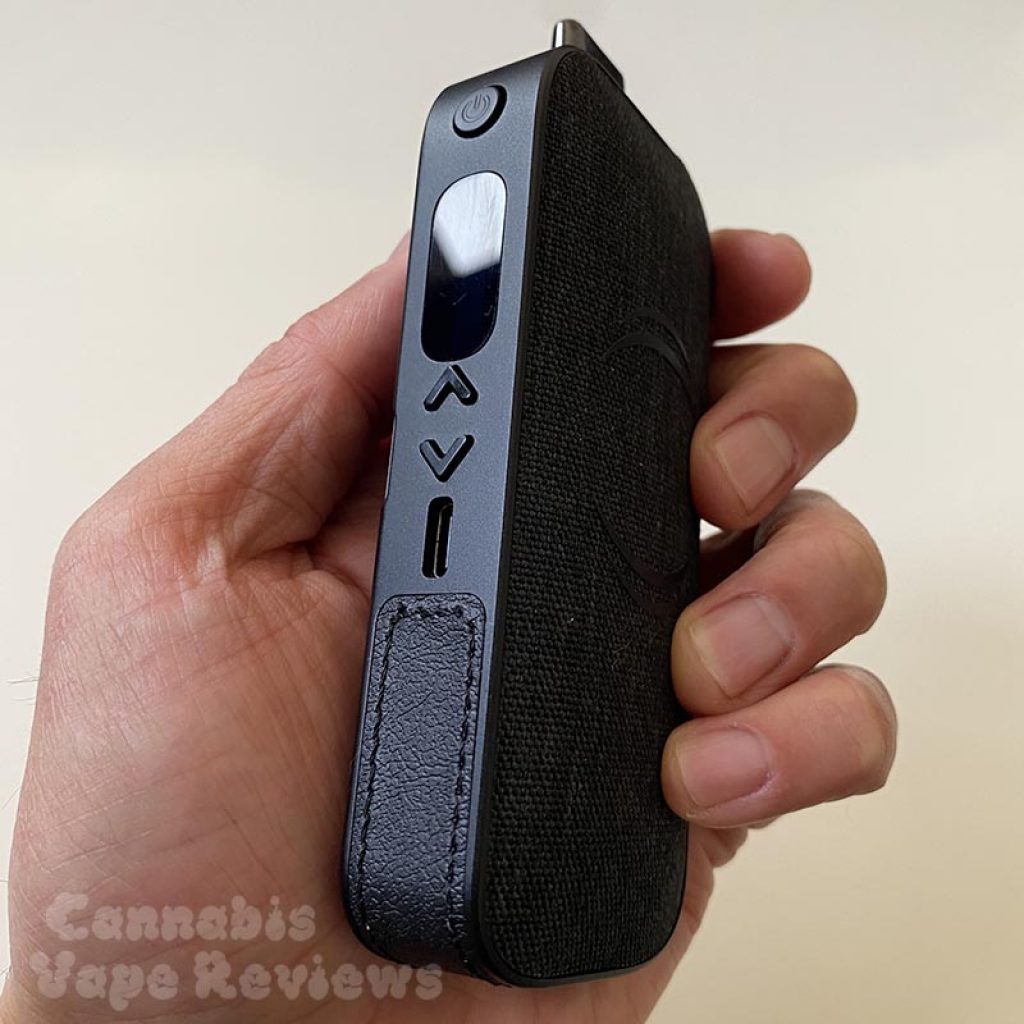 Notable improvements on the AirVape Legacy
Hybrid heating – more flavor and efficiency
Bigger chamber – increased size by 20%
Improved airflow
Easier to clean – eliminated tiny parts
Structural improvements like hinges and seals
Wax mode with higher temperature range
Built-in adjustable microdosing disc – no more need for separate insert
Shape and weight – aesthetically pleasing curves and lighter weight
More powerful battery – 3200 mAh
All matte black finish with gold plated accent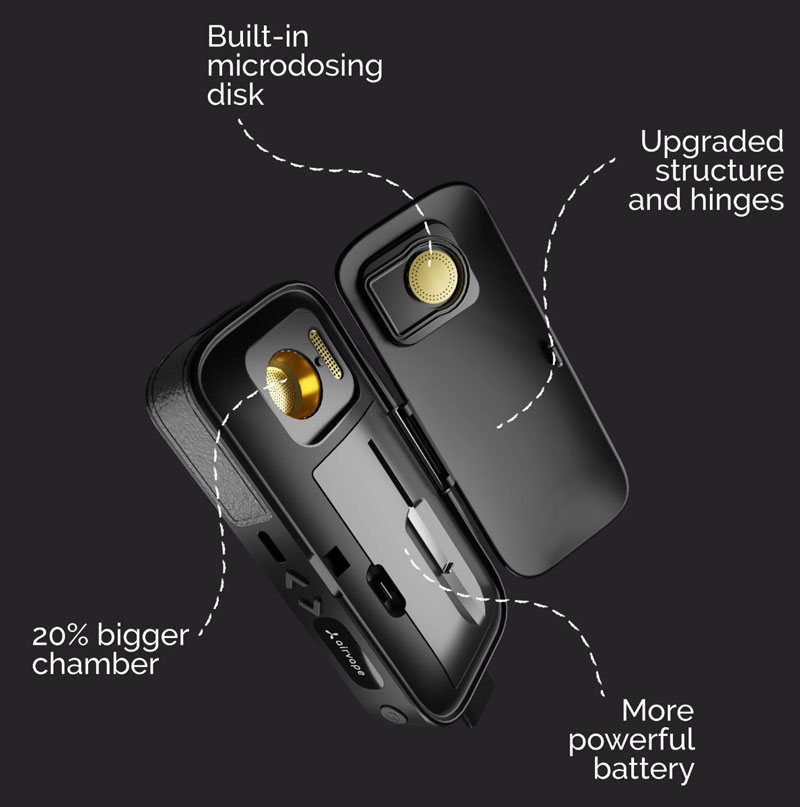 Tech Specs
| | |
| --- | --- |
| Dimensions | 119 mm x 52 mm x 21 |
| Weight | – |
| Materials | Hemp-based textile, Vegan leather, Black ceramic, 24K gold plating, Glass airpath |
| Battery | 18650 rechargeable li-ion battery; 3200 mAh capacity; USB-C rechargeable |
| Charging Time | – |
| Heating Time | Reaches optimal vaping temperature in 15 seconds |
| Oven Capacity | – |
| Sessions | – |
| Heating Method | Hybrid conduction + convection |
| Temperature Settings | precise control from 200°F to 440°F |

AirVape Legacy PRO
Sexiest and most advanced hybrid vaporizer for dry herb flower and cannabis concentrates. Wireless charging, precise temp control, and excellent flavor transfer.
Discount with code at AirVape
How to Use the Legacy PRO Vape
Here's the basic use of the AirVape Legacy PRO:
Loading the vape – Open the lid to pack a bowl of evenly ground up dry herb flower.
Power on/off – 3x clicks of the power button to turn on the device.
Adjusting temperature – When powered on, use the up/down arrows to set the temperature; device will automatically start heating up and will vibrate when the target temperature is reached.
Start puffing away.
For more advanced use and additional information, check out the AirVape Legacy PRO user manual here.
My Experience with the Legacy PRO
My first run with the Legacy PRO was fantastic.
In testing the Legacy PRO, I packed a bowl of some super fire flower that I got from a local grow op. This is some top shelf herb that is packed with flavor and figured it would be a good way to test how well this vape transfers flavor.
I tend to vape small bowls so I loosened up the micro-dosing disc to compact the size of the bowl. I set the temp to 320F.
I'm a big fan of vapes with exact temperature control displayed on a screen. This makes it convenient to dial in your temps as vape temperature is important for getting the best experience.
Great vapor performance
As soon as my targeted temp was reached, I noticed I wasn't getting much vapor. I waited about another minute (as displayed on the shutoff countdown timer) – then that's when I really started to notice great vapor clouds and an extremely tasty creamy flavor that transferred over from my buds like I've never experienced before.
This vape does such a fantastic job of delivering taste and flavor. So delicious.
Although the vape reached a temp of 320 quickly, it might still take about a full minute or so for the bud to really start releasing full vapors.
Make sure to use a quality grinder that will shred up your buds well. With a convection vape, you want to maximize surface area for hot air to pass through evenly and for more dense vapors.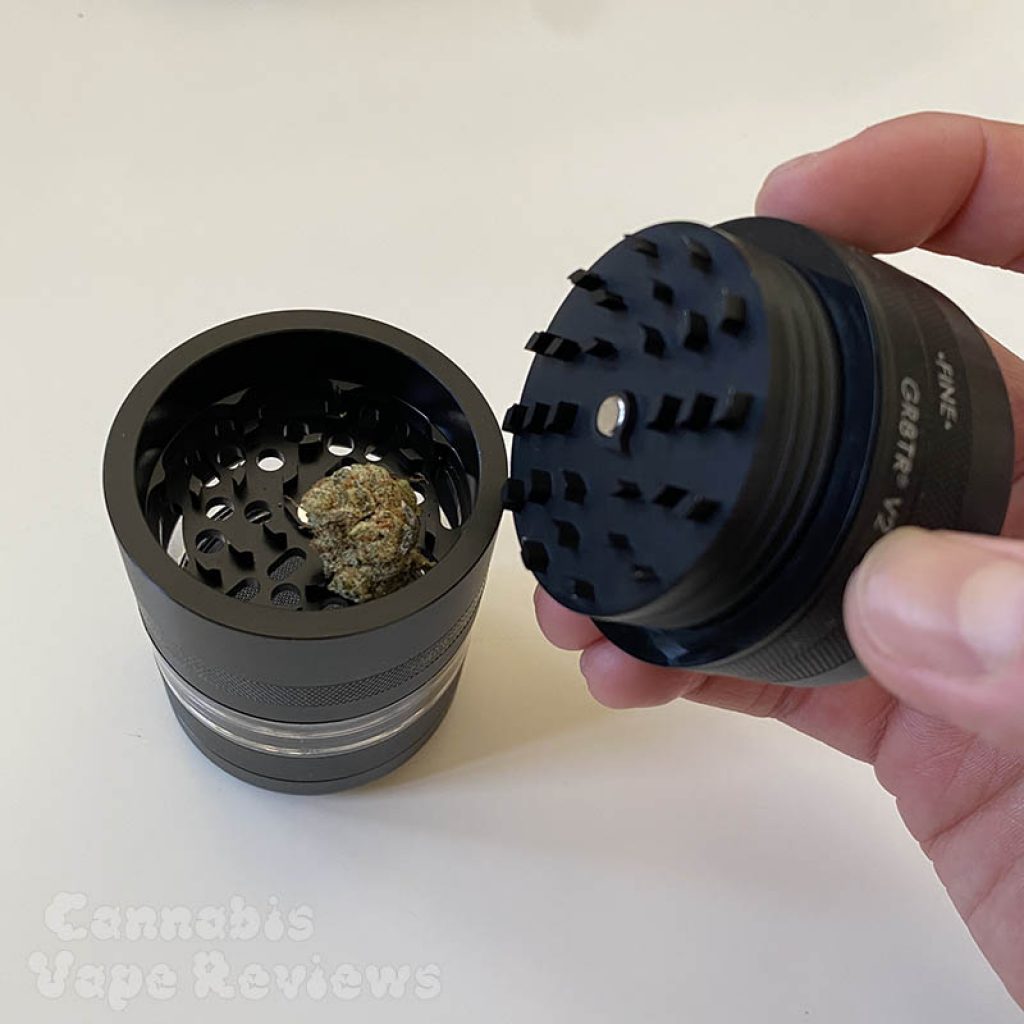 Whether you're smoking some dank, sticky buds or vaping flowers, you'll benefit big time from having a good grinder. …
Discount with code at Ryot.com.
Lately, I've been using the GR8TR grinder from Kannastor. This high end grinder uses interchangeable grind plates, allowing you to do either a fine or coarse grind. Read this article for must have dry herb vape accessories.
In the end, the Legacy PRO produced a sizable amount of vapor that was very enjoyable and induced a nice buzz.
Legacy PRO drawbacks
One of the drawbacks, which is a pet peeve of mine with vapes, is that little pieces of weed come out of the chamber and get stuck around the air vent screens and the micro-dosing disc. Fortunately, this is less of a problem with the PRO model versus the original Legacy vape. As long as you keep it clean, the vape should continue to perform well.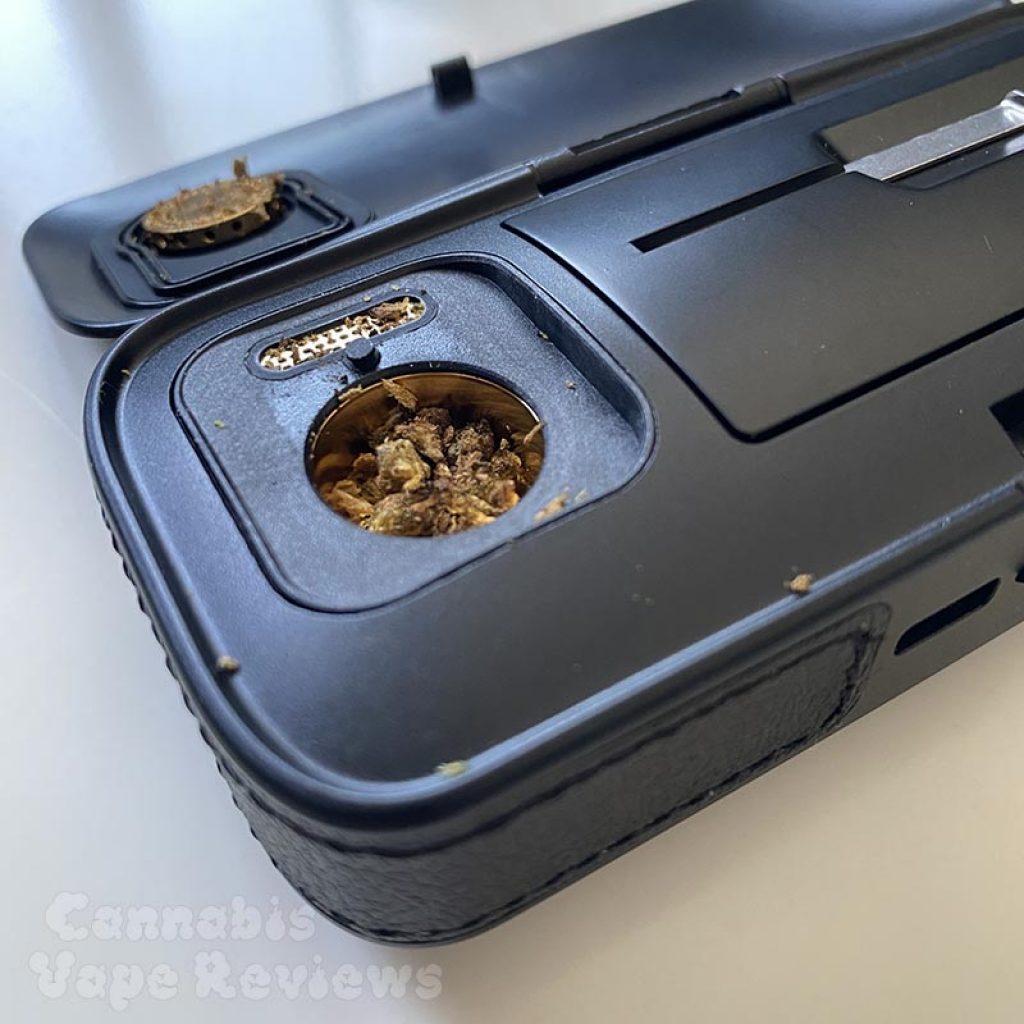 Built-in micro-dosing disc
I like the fact that the micro-dosing disc is built into the device, rather than requiring a separate micro-dose insert to carry around. However, the disc can be difficult to rotate as you can't tell how far it can spin before unscrewing from the device completely. It's also difficult to tell how much of the chamber volume size is actually reduced from loosening up the disc. It is a great idea though and I will have to experiment with this more.
I still need to test out using the concentrate pad for vaping wax and playing around with different temperature settings. I'll be sure to update this review when I do so.
So far though, I love the look, feel, and performance of this all new Legacy PRO. It's solid as a dry herb vape.
Price & Where to Buy the AirVape Legacy PRO
AirVape Legacy PRO retails for $270 and is available at AirVape.
Warranty Information – Backed by a lifetime limited warranty.
Upgrade Program – AirVape gives discounts if you already own one of their vaporizers. Learn more about the AirVape upgrade program here.

-15%
20% off
Discount with code at AirVape
Sexiest and most advanced hybrid vaporizer for dry herb flower and cannabis concentrates. Wireless charging, precise temp control, and excellent flavor transfer.
Additional Product Photos
Shops for Dry Herb & Flower Vapes