Affiliate Disclosure: Cannabis Vape Reviews is supported by readers like you. We may earn commissions for purchases made through our links. Learn More
The G Pen Hyer is a portable e-nail that allows you to take precisely controlled dabs out of any bong, water pipe or other dab rig.
Featuring a powerful, high-capacity battery, the Hyer uses a controller with 5x temperature presets, and magnetically attaches to a large atomizer for taking precisely controlled dabs.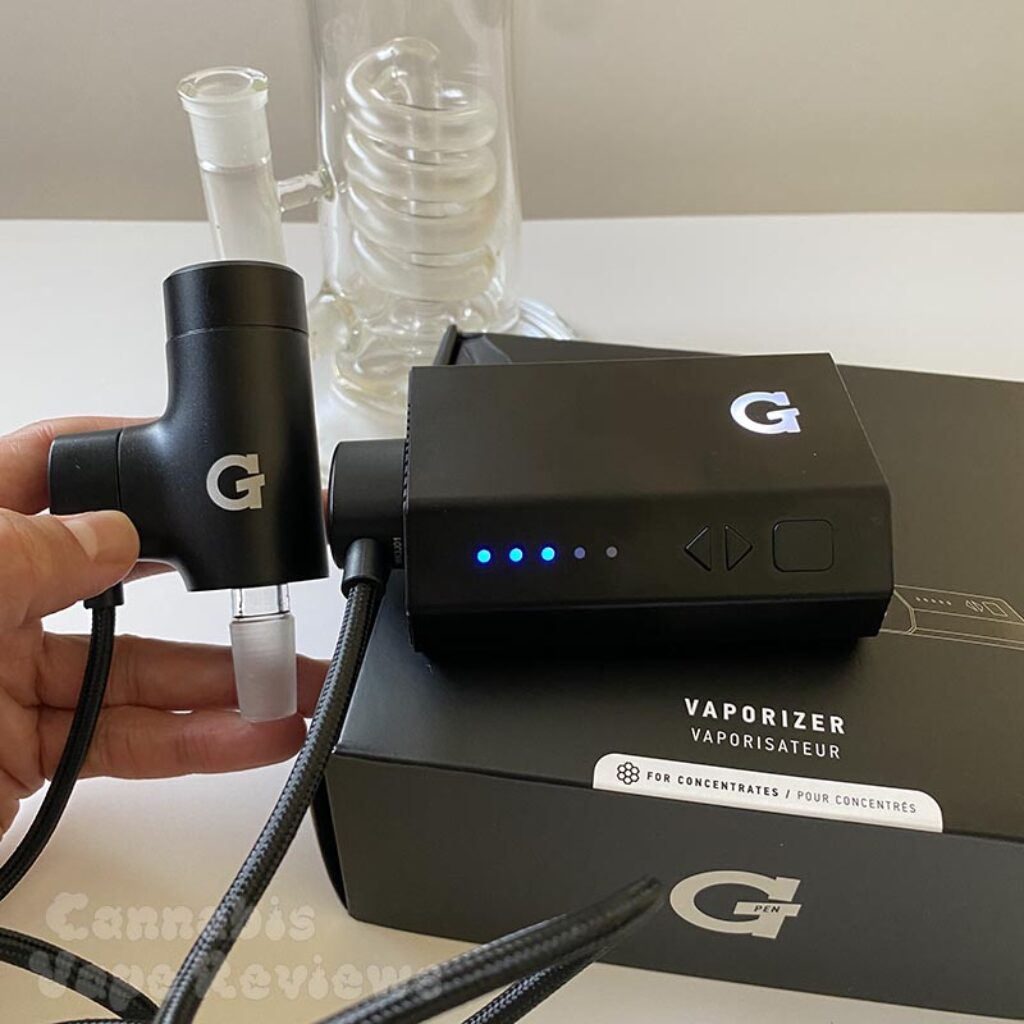 It's like the bigger, stronger, more powerful version of the G Pen Connect, which we've reviewed previously.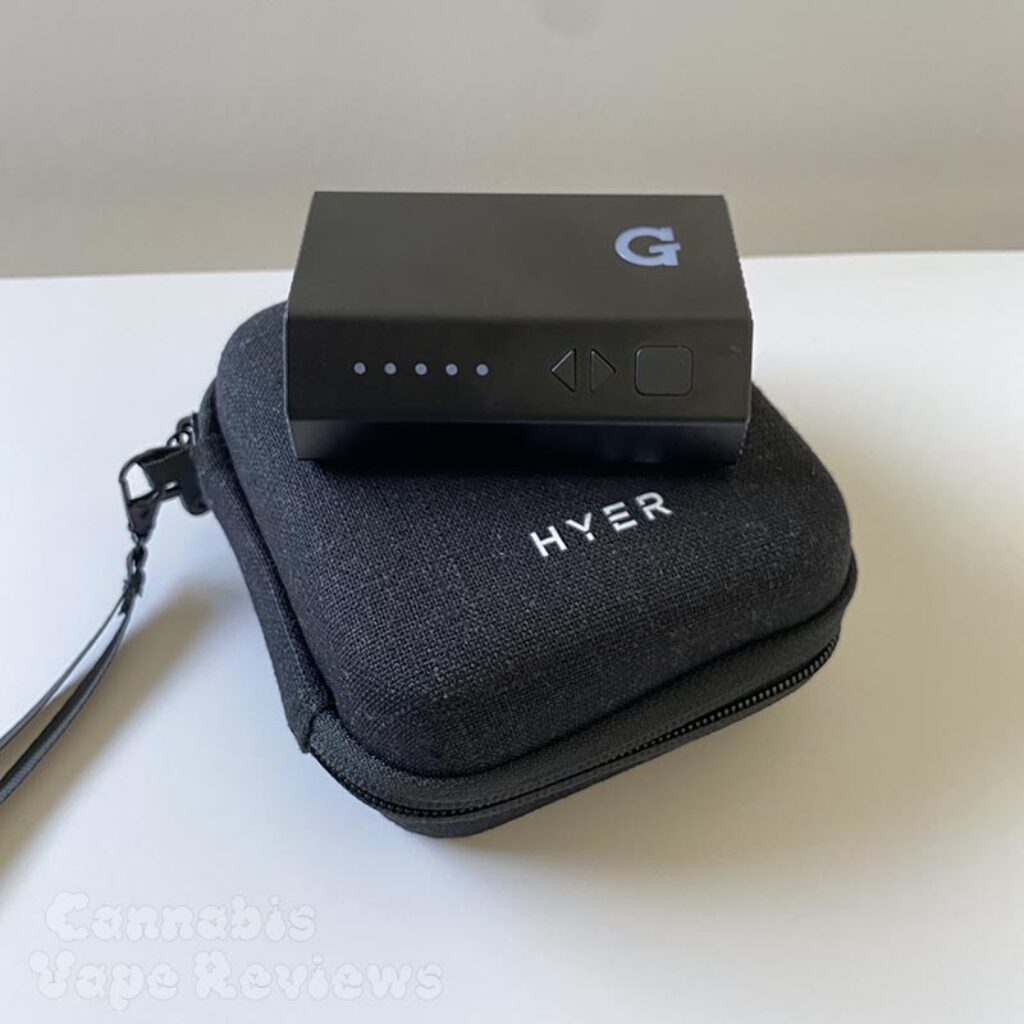 It also has an adjustable auto-shutoff timer to control the length of your sessions.
Right out of the box, the Hyer is designed for dabbing cannabis concentrates, but it can also be adapted to vaporize flower using a separate atomizer for dry herb.

G Pen Hyer
G Pen Hyer is an e-nail for your wax concentrates. It uses an easily attachable, magnetic connection to a high capacity battery for ultimate control of your dabs.
Discount with code at GPen.com
What's Included
Each Hyer order is a full e-rig kit that comes with a hemp travel case. Each order includes the following:
1 G Pen Hyer battery
1 G Pen Hyer quartz tank for concentrates
1 G Pen Hyer concentrates tank cap
1 G Pen Hyer tank housing
1 G Pen Hyer 14mm male glass adapter
1 G Pen hyer power cable
1 USB to USB-C charging cable
1 dab tool
1 hemp travel case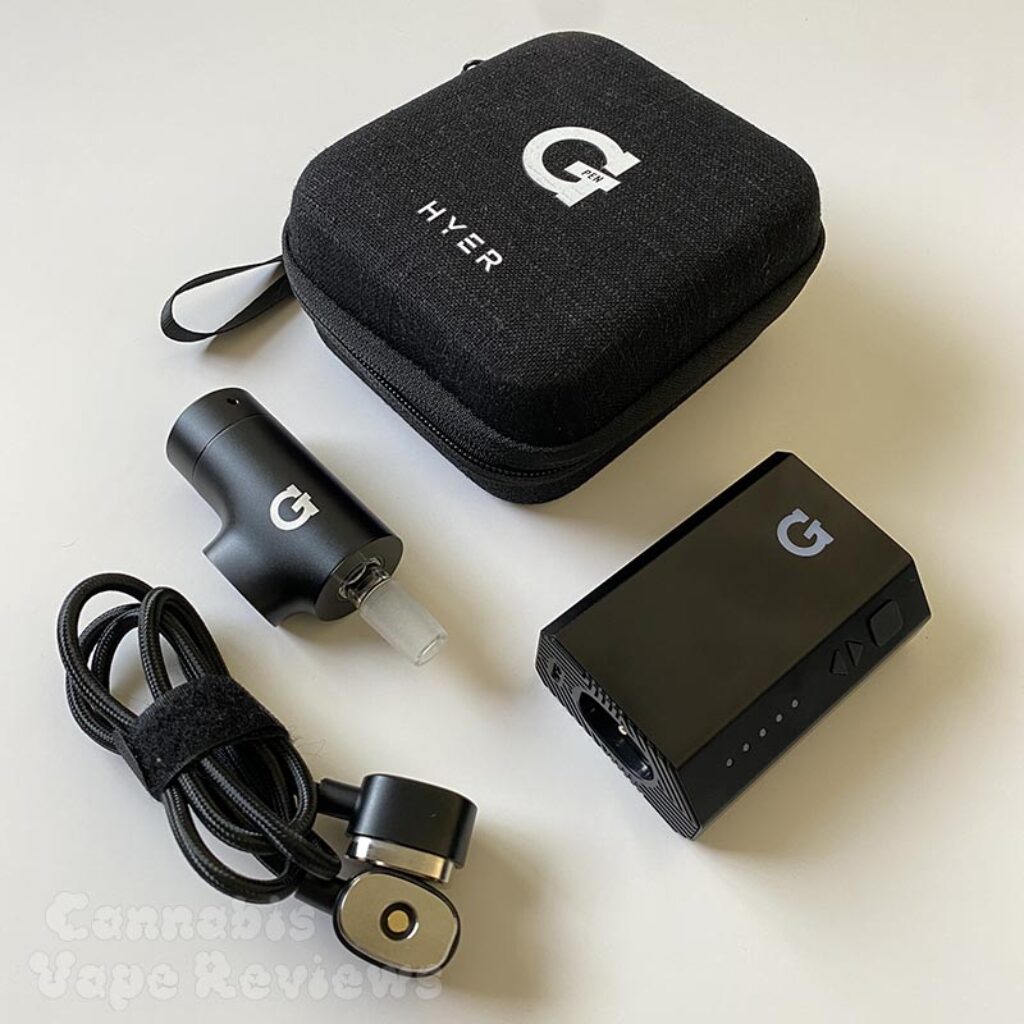 Design & Features
The G Pen Hyer has many awesome features. Here we'll cover what comes standard right out the box. Then we'll also cover some details about some additional accessories that are available for the Hyer.
Standard features of G Pen Hyer
Here's the standard features of the G Pen Hyer:
Dual-use functionality
Quartz concentrate tank
Ceramic herb oven
G Pen LED interface to indicate battery life, heat setting, and timer
5 temperature presets
Standard kit fits 14mm female joint
Modular to all glass fittings (10mm/14mm/18mm)
Long lasting, fast charging battery
Modular magnetic fittings on caps and power cables
Audible notifications for power and temperature
Braided power cable with easy, snap-in magnetic connections
Fast and pass-through charging (you can use it while plugged in)
Safe design (insulated tank housing, separate battery and heating element, no exposed coils)
Concentrates tank features
Here's some details specifically for the included concentrate tank:
Full Quartz chamber with custom-stamped stainless-steel heating element
5 temperature settings between 482℉ (250℃) to 842℉ (450℃)
Magnetic and anodized aluminum carb cap with dual ceramic airflow insert
Integrated stainless steel wax tool with two placement settings
No exposed coil
Heat up time between 15 to 45 seconds for wax
Additional accessories are available and can be purchased separately.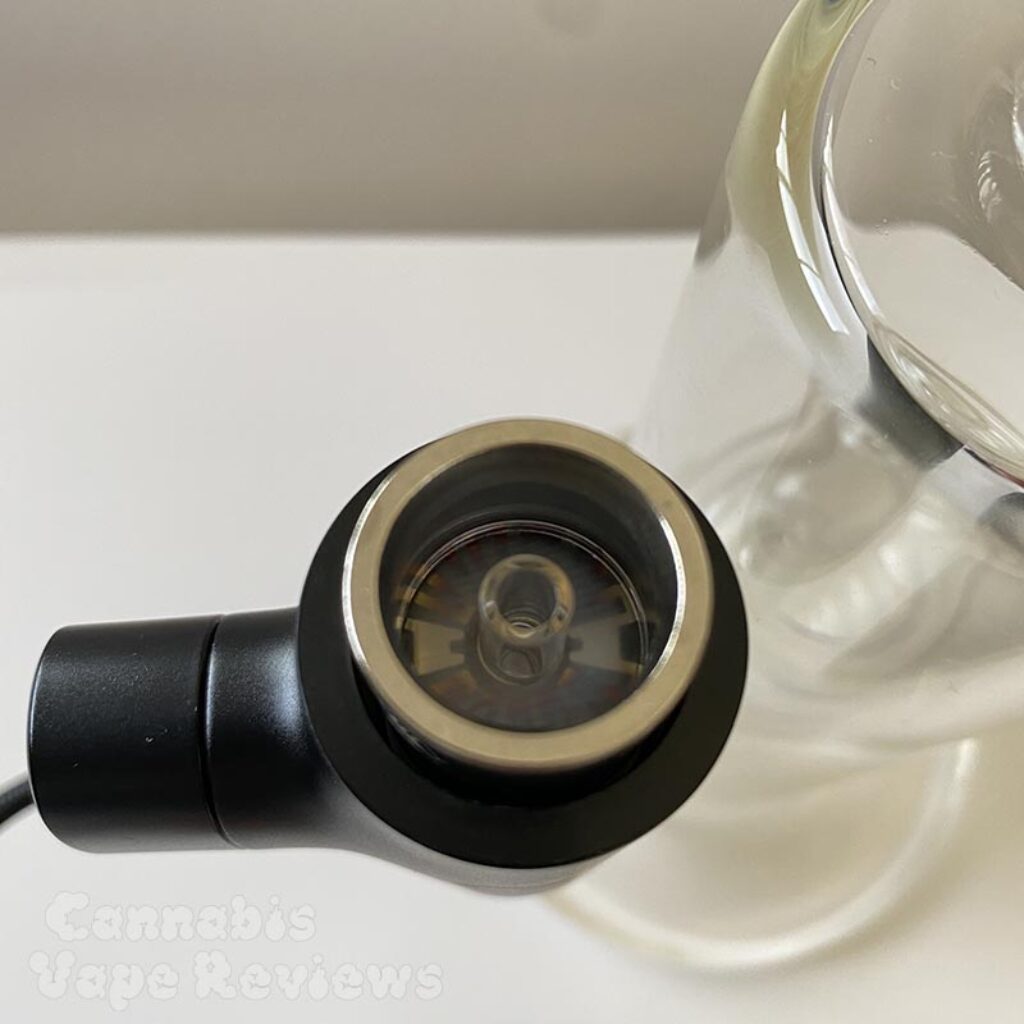 Hyer dry herb tank
If you want to use the Hyer for vaporizing dry herb, you will need the Hyer dry herb tank.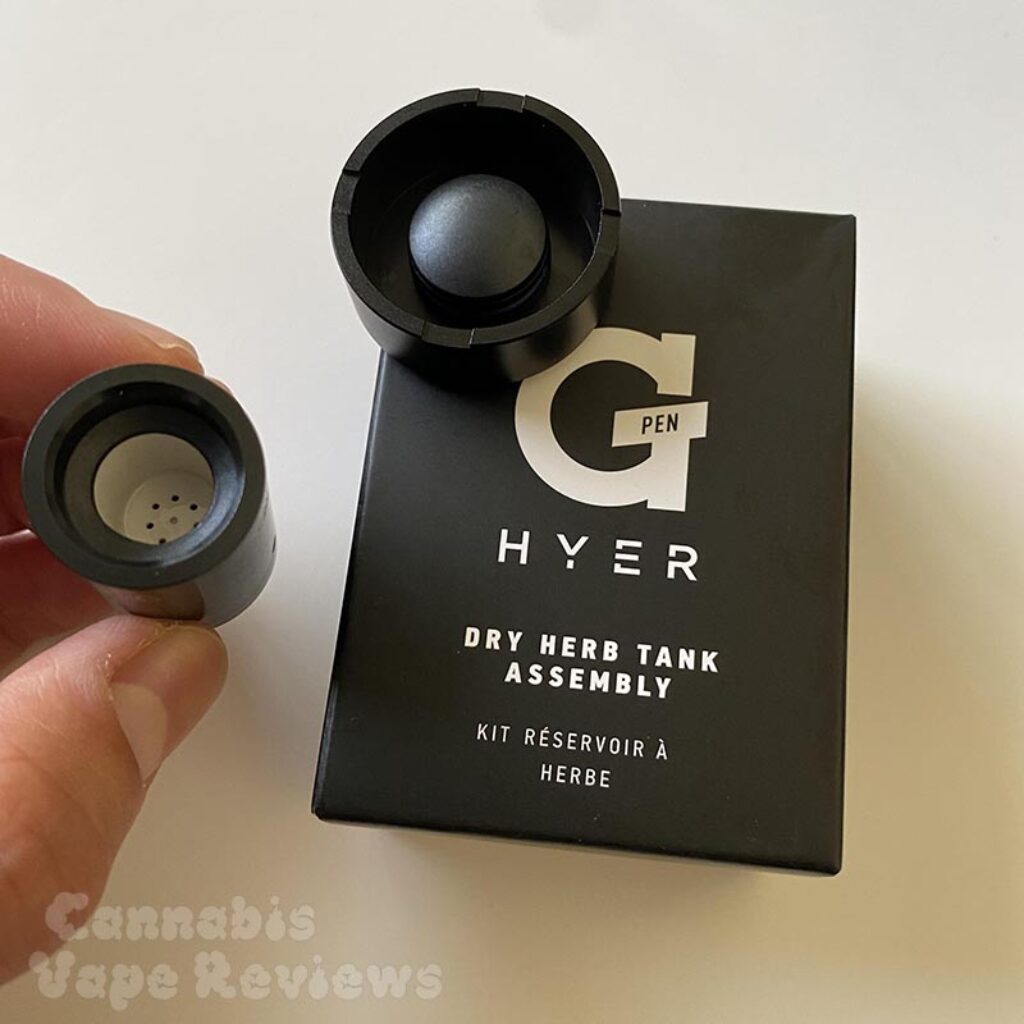 Here's some info on the dry herb tank for the Hyer:
Full ceramic oven with 0.5g capacity
5 temperature settings between 356℉ (180℃) to 428℉ (220℃)
Pre-heated recirculating air intake system
Anodized aluminum carb cap with integrated airflow
Heat up time between 16 to 25 seconds for dry herb
Dry herb tank retails for $49.95

G Pen Hyer
G Pen Hyer is an e-nail for your wax concentrates. It uses an easily attachable, magnetic connection to a high capacity battery for ultimate control of your dabs.
Discount with code at GPen.com
Tech Specs
| | |
| --- | --- |
| Dimensions | – |
| Weight | – |
| Materials | Battery and controller: anodized aluminum casing; Dry herb tank: Quartz chamber with stainless-steel heating element; Carb cap: Anodized aluminum with ceramic airflow insert |
| Battery | 6000 mAh lithium-ion rechargeable battery; pass-through and fast USB-C charging (150 minutes to fully charge) |
| Charging Time | 2 hours to reach full charge |
| Heating Time | 15-45 seconds |
| Oven Capacity | 0.5g |
| Sessions | ~30 cycles for wax and up to 50 cycles for herb |
| Heating Method | Conduction |
| Temperature Settings | 356℉ – 842℉ |
How to Use the G Pen Hyer
The G Pen Hyer works for concentrates right out of the box. A dry herb tank and glass adapters to fit the joints of various sized rigs are available though.
Here is the most basic use of the Hyer right out of the box:
Attach the controller/battery to the atomizer housing using the snap-on magnetic attachments.
Plug the glass fitting on atomizer housing into any water pipe with a 14mm female joint.
Load the atomizer up with your cannabis concentrates.
Hold the power button for 3-seconds to power on/off.
Select your desired temperature using the < and > buttons (blue is the lowest temp setting at 482F and red is the highest setting 824F).
Press the power button 2x to start heating and once more to end your session.
Our Experience
I've used other e-nails in the past. They're usually clunky with sloppy, exposed coils, ill-fitting bangers, and cheap controller batteries. The exposed coils make these designs dangerous and the temperature is often hard to regulate.
Well-designed e-nail
The G Pen Hyer, on the other hand, is beautifully designed and keeps everything nicely organized.
The magnetic attachments are great. It's a breeze to snap-on the attachments to connect the controller battery to the atomizer housing. Same goes for the carb cap on the concentrate tank.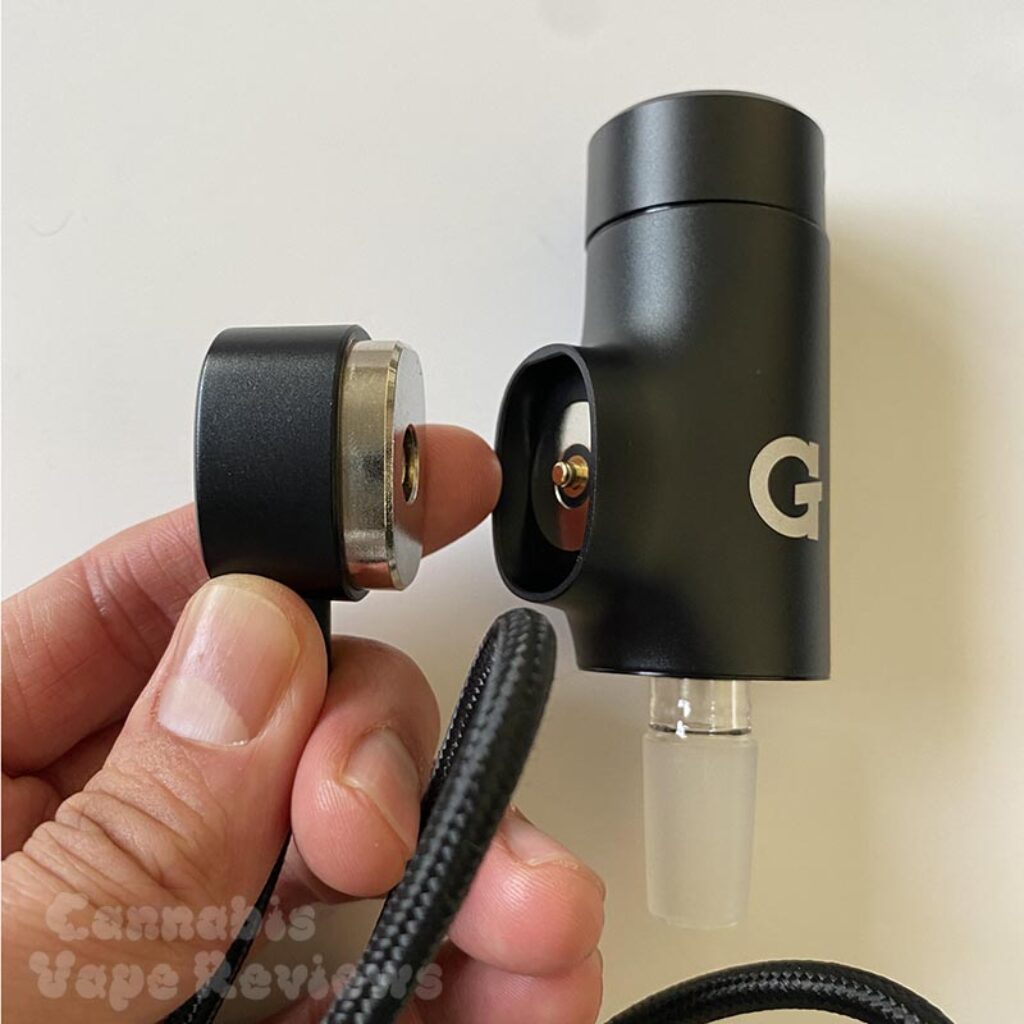 If you like taking fat dabs, the included atomizer has a huge quartz dish that's heated by a steel heating element hidden underneath. No exposed coils means you avoid any risk of burning yourself.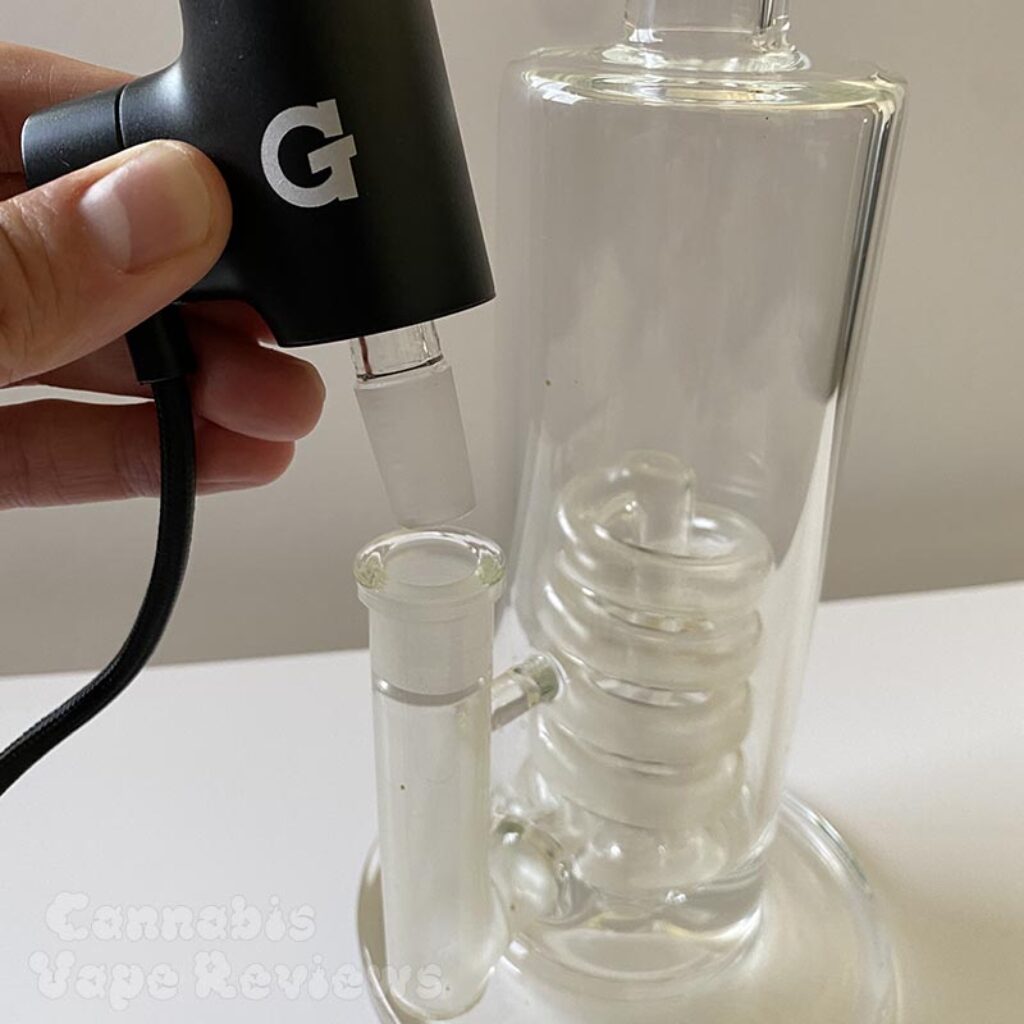 The housing has is fitted with a magnetically attached carb cap. The included dab tools can be screwed into the carb cap for hands free lifting. Again, well thought out so you avoid any danger of getting burnt.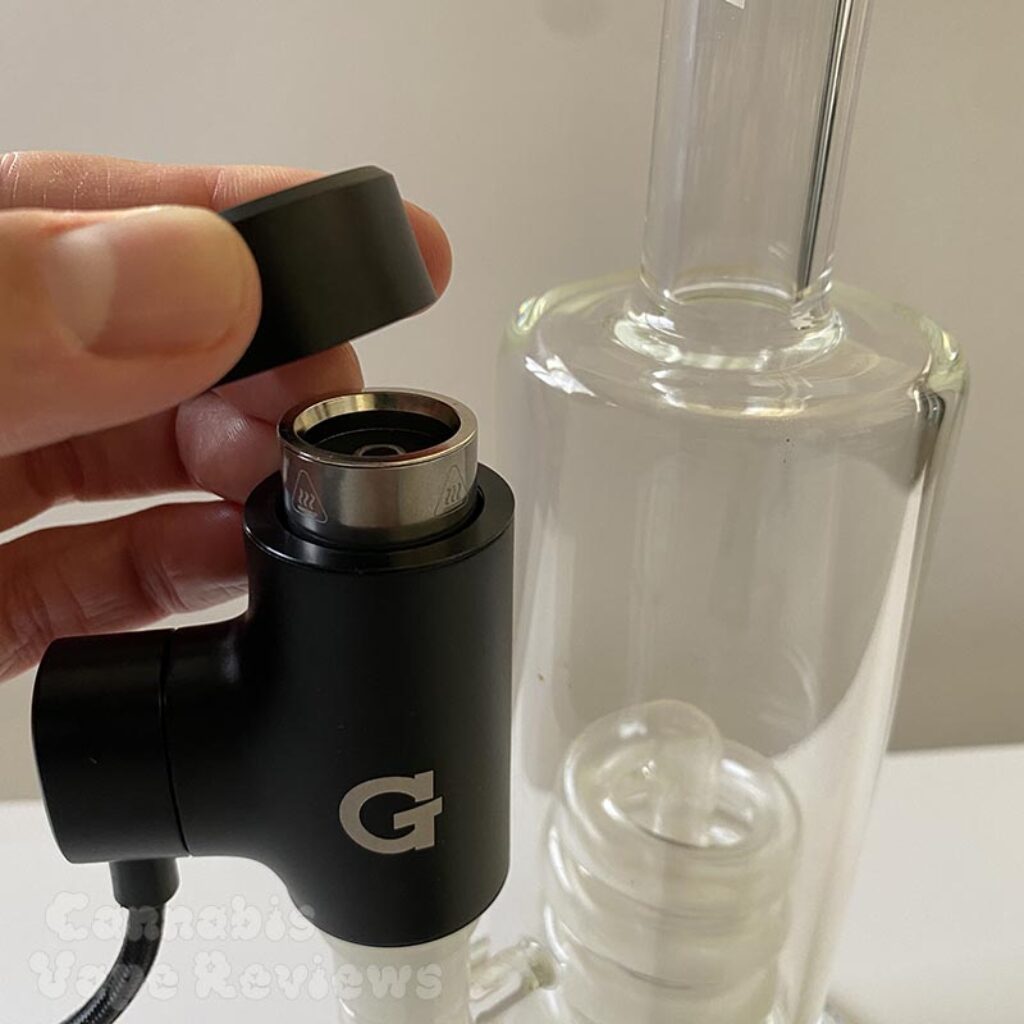 This thing has 5 presets that can take you from baby dabs with super tasty terps to high temps that will rip a lung.
Testing out some dabs
In testing the Hyer, I'm taking some dabs out of a sick Grav Labs shower-head coil dab rig that I got from Cannabox. Check out all of their dab rigs here.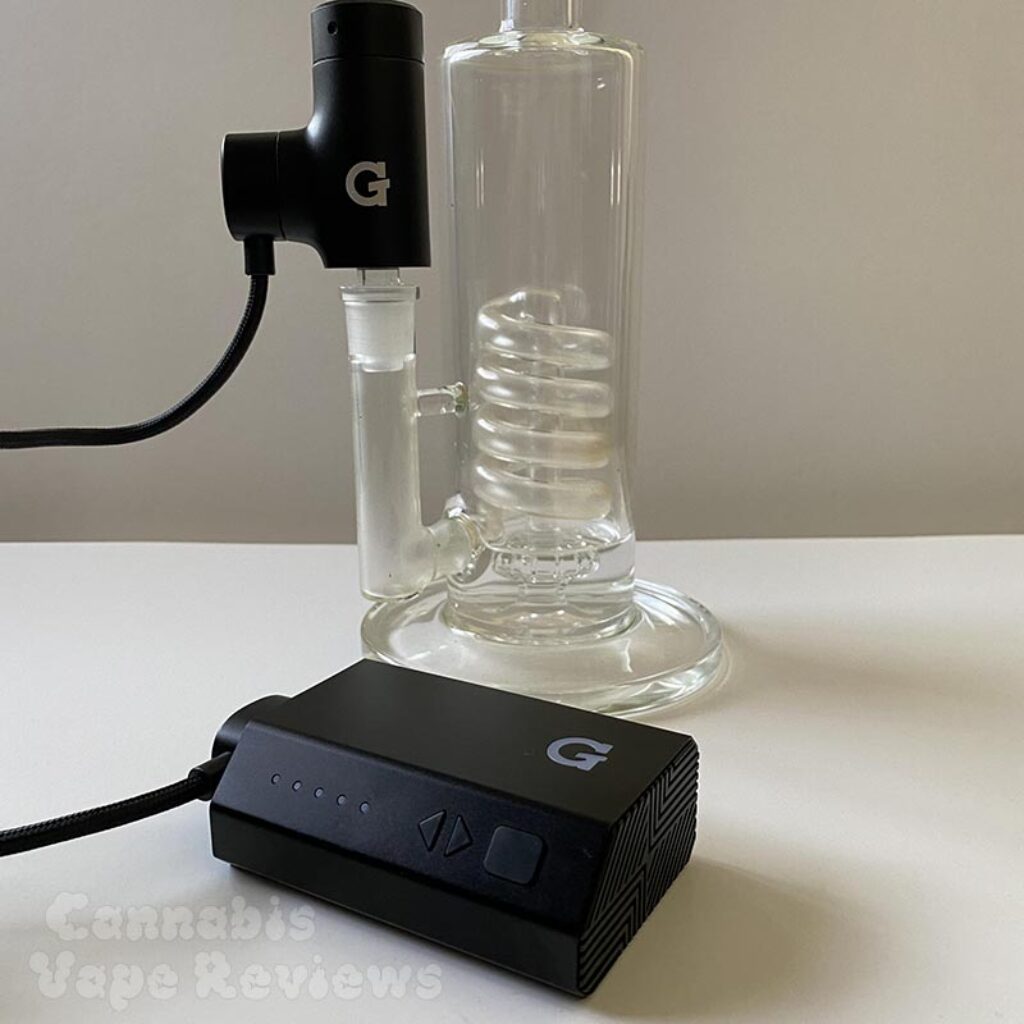 I tend to take tiny dabs because I enjoy a smooth toke and flavor from my concentrates. I find the middle settings, either the 2nd or the 3rd, works well for me.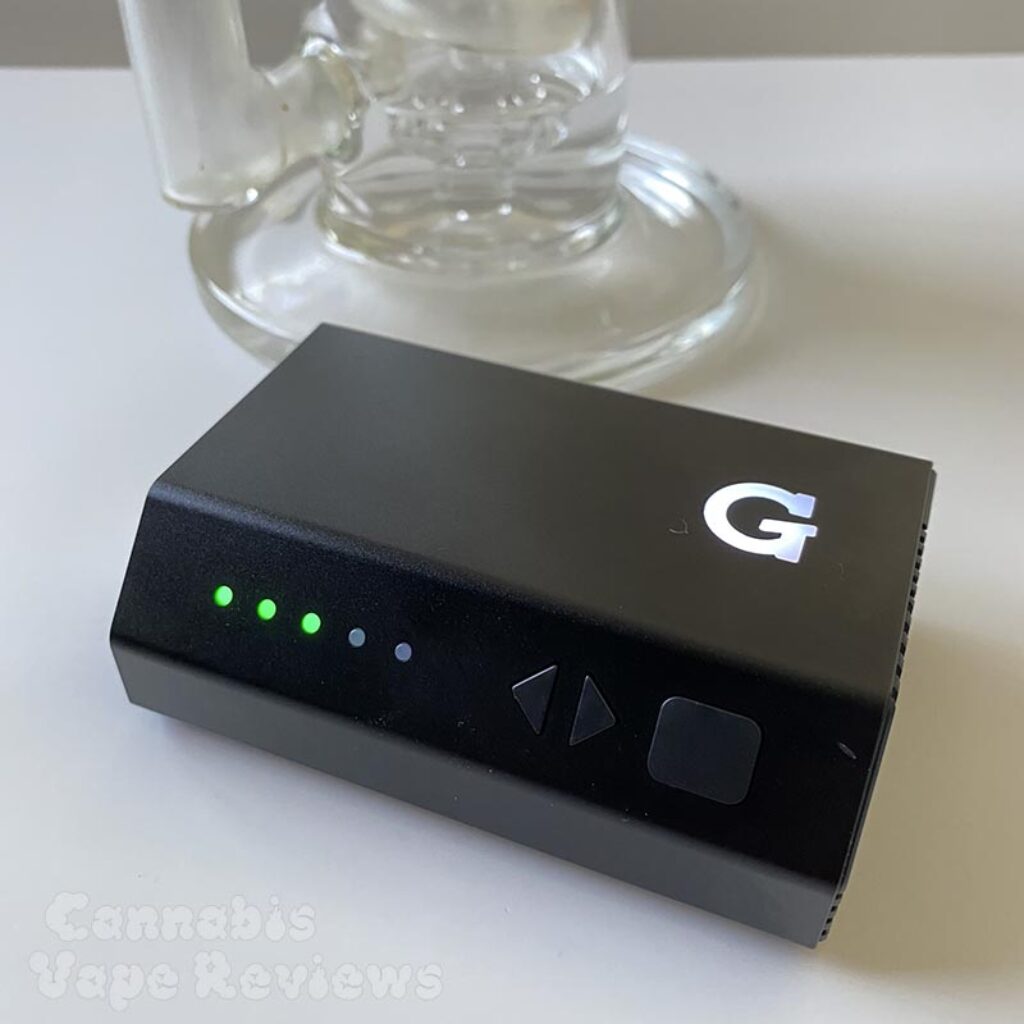 You can use an adjustable timer to auto-shutoff too. I keep my sessions short, so the lowest setting for for me as well.
Testing dry herb
I think it's so cool that you can switch from dabbing wax to vaping flower all in the same e-nail. This is the first device of this kind of that I've come across. Other vape-to-rig adapters I've used are typically just for dabbing wax.
I found that the dry herb tank works best when you pack it full of well-ground up flower. Pack it down down tight. I like to use a scoop and tamp tool which is a super handy smoking accessory.

Convenient double-sided tool for scooping ground up dry herb and packing it down. Handy smoking and vaping accessory for loading up a bowl.
Available at VPM.com
With the 2nd setting, it heats up the flower enough where I can see the chamber in my rig start to fill with light vape. It actually hits pretty hard without getting so dense and hot that it becomes uncomfortable.
For those with an iron lung or high tolerance, you will probably want to go north of the 2nd lowest setting. The 3rd and up will probably be your best bet.
Pro tip: When using the dry herb tank, don't remove the carb cap to clear your hit.
It's better to pull the entire housing out of the female join rather than remove the carb cap. Depending on your type of rig, inhaling from the chamber can causes a suction that adds back pressure. This build up of pressure can blow your herb right out of the oven if you remove the carb cap.
Trust me, I've learned this the hardware.
I'm not sure what the recommended way is to use the carb cap. I'll have to dig around.
Since this device just came out, I'll need more time to spend using both the concentrates and dry herb tanks. I'll report back and update this review I've given it a fair assessment.
But so far, this thing rips and I love the design.
UPDATE: I'm now convinced that I get the best pulls when vaping dry herb on the 4th setting (yellow). I activate the device and let it heat for about 45 seconds. Then I start milking the chamber and pulling the Hyer our of the rig to clear it. I'll do this about 4-5 times before the bowl is nuked. If you pop off the lid, you can give it a stir. This will give you another good hit or two, but it won't taste as good as the first round of nice rips.
Final Thoughts
I'll have to revisit this review for a final assessment, but it's no doubt a great e-nail for dabbing concentrates. The added bonus that it vapes dry herb as well is really cool too.
Price & Where to Buy
G Pen Hyer retails for $249.95 and is available at G Pen.
Additional glass adapters and accessories sold separately (adapter sizes: 10mm, 14mm, and 18mm male and female).
You may also be interested in the G Pen Connect, which is the smaller and cheaper alternative to the Hyer.
Warranty Information – Backed by a 2-year warranty.

20% off
Discount with code at GPen.com
G Pen Hyer is an e-nail for your wax concentrates. It uses an easily attachable, magnetic connection to a high capacity battery for ultimate control of your dabs.
Additional Product Photos
G Pen Hyer
Pros
Well-designed
Quality materials
Adjustable temp and timer
Magentic attachments
Vapes both extracts and flower
Large capacity battery
No exposed heating coil
Cons
Requires separate tank for flower
No exact temp control
Only includes 14mm joint
Shops for Dry Herb & Flower Vapes