Affiliate Disclosure: Cannabis Vape Reviews is supported by readers like you. We may earn commissions for purchases made through our links. Learn More
DabCap is the original adapter that allows you to connect your vapes to your favorite dab rig, bong, or other waterpipe.
Such a simple but amazingly useful design. This little silicone adapter attaches to the end of your vape cartridge mouthpiece or other vape and plugs right into the down stem or bowl piece of your rig.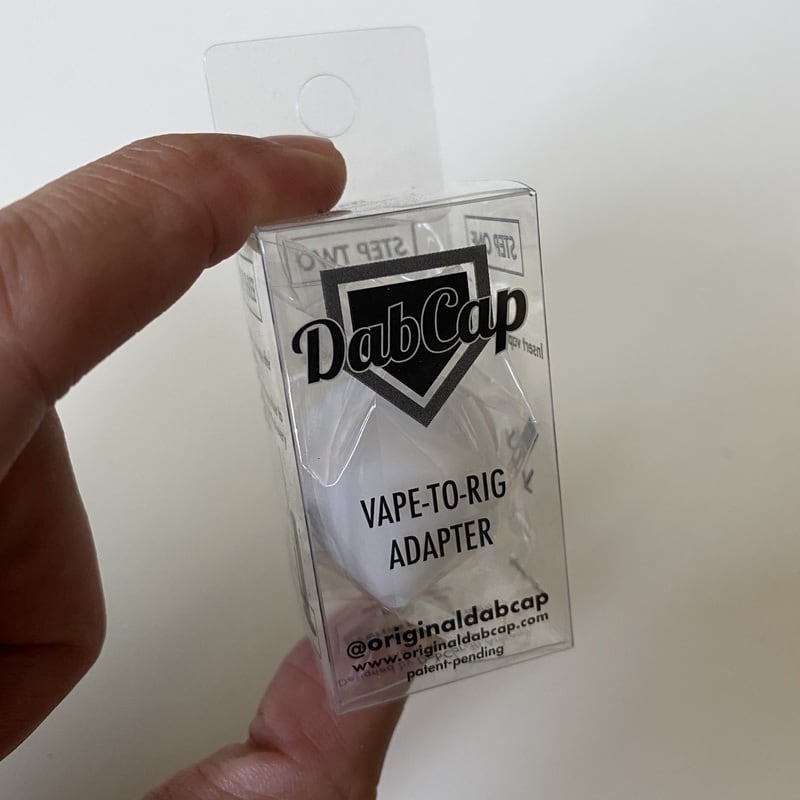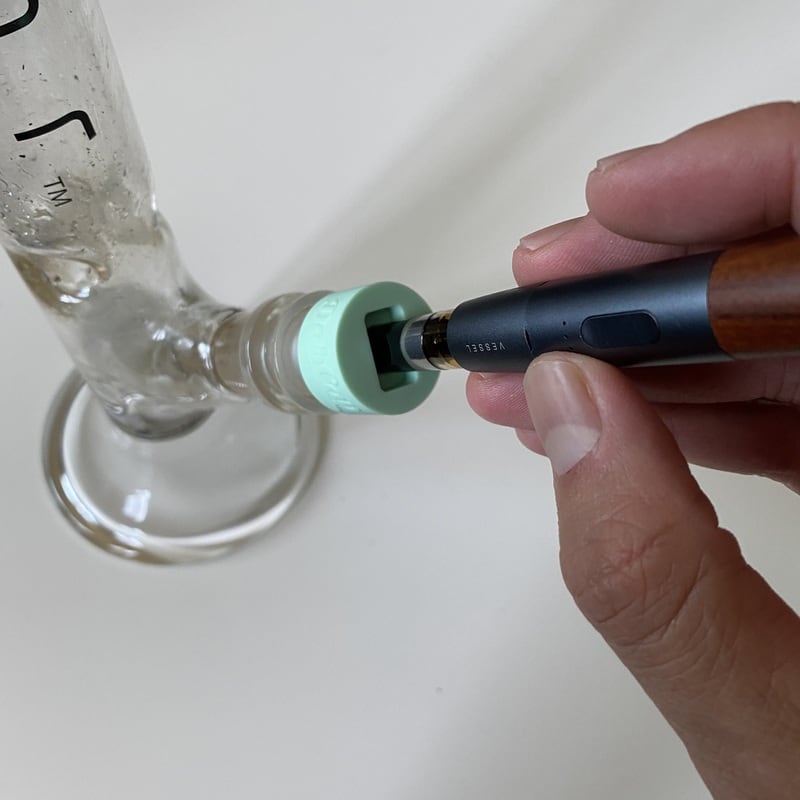 DabCap Design
The DabCap is designed to fit a wide range of vape cartridge mouthpieces. Its tapered design also allows it to fit any size down stems or bowl pieces of any waterpipe or dab rig.
The DabCap even fits irregular-shaped mouthpieces like those of the pods of the PAX Era vape.
DabCap Features & Materials
Wide compatibility – works with nearly any vape pen, pod system, flower vape, and water-pipe. Works with popular vapes: CCELL Cartridges, Stiiizy Pods, Pax Pods, and most flower vapes
Anti-Static Coating – repels dust and hair to remain clean
Durable & heat resistant – DabCaps are made from heat resistant food-grade silicone and is extremely durable with ability to withstand temperatures of up to 550*F
How to Use DabCaps
Simply attach the DabCap to the mouthpiece end on your vape or vape cartridge. Press the DabCap firmly against your waterpipe. Be sure to apply enough pressure to ensure a tight seal. Then press and hold the button on your vape battery or just begin to inhale if using an auto-draw vape pen.
Our Experience with DabCaps
We tested DabCaps with several different vapes which allowed us to take enormous rips every time.
Watch the video below to see how pairing the CCELL Silo vape battery with the KromeDome Microscope glass rig produced amazing rips.
The DabCap also works incredibly well with other vape pens like the extremely popular Vessel vape pen. We've also been using the DabCap for vaping some of the new CBD oils from Dr. Dabber.
The Dab Cap is one of the best ways we've found to take fat rips from any vape pen. We've even tried using vapes like the DynaVap M with the DabCap to pull vapors through the bong. This method is awesome.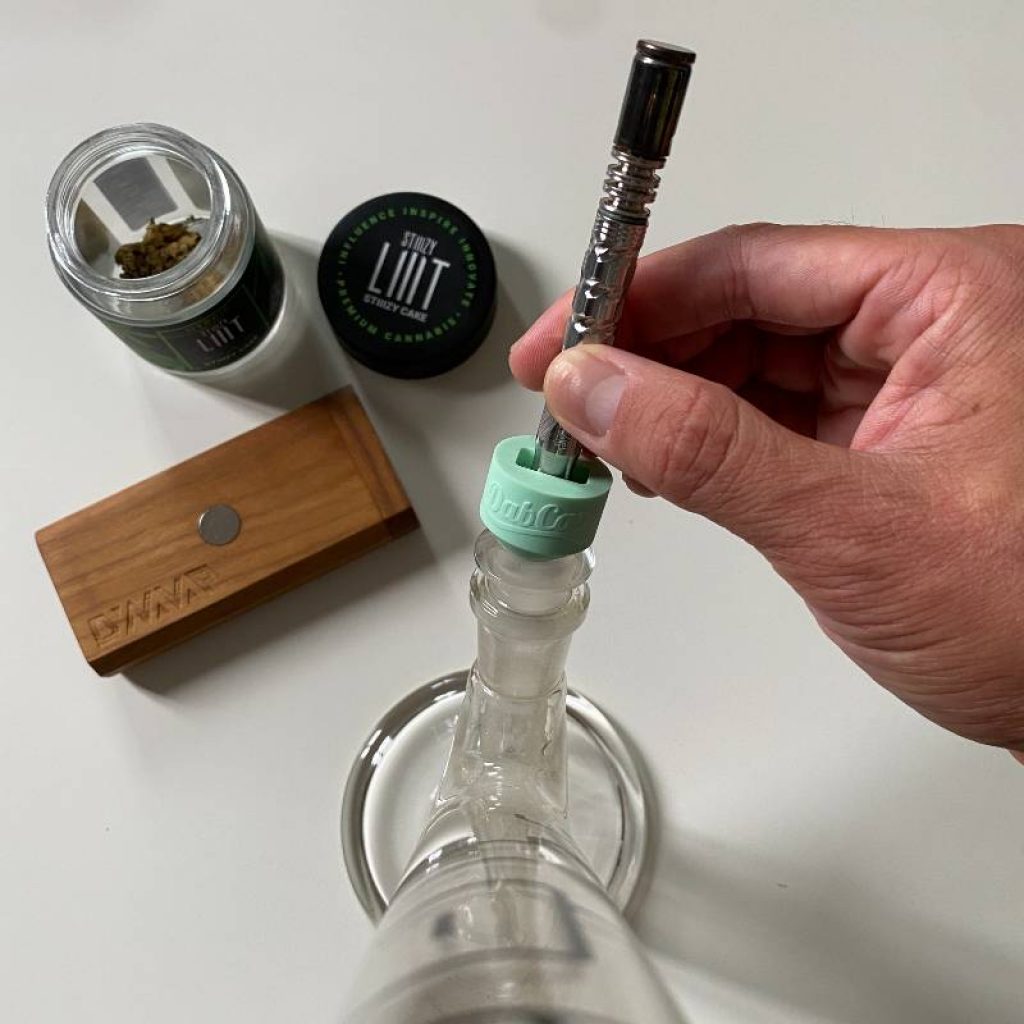 Water filtrated and air cooled vaping gives some of the best vaping experiences. The added benefit of vaping cannabis oil or flower through water filtration produces the thickest and smoothest hits of vapor possible, while significantly reducing irritation to the throat and lungs.
This method allows you to take much larger hits than you ever could from using just a vape pen by itself. It's so simple to use and extremely affordable that you can't go wrong. Buy a huge bundle of these little adapters so you'll always have one handy.
Price & Where to Buy DabCaps
DabCaps typically retail for around $10.
You can buy DabCaps online through Vape Parts Mart. Vape Parts Mart carries a superb line of vape batteries, cartridges, and vaping accessories.

$10
Available at VapePartsMart.com
The first ever vape-to-rig adapter. Made with 100% pure medical-grade silicone, this revolutionary tool solves dabbing on glass. DabCap makes smoking concentrates as seamless as smoking dry herb. Pop the cap on any vape cartridge.
Rokin Vaporizers also carries some DabCaps that pair perfectly with their line of vaporizers. Check out some of our Rokin Vape reviews if you're looking for a battery or vape pen to pair with it.