Affiliate Disclosure: Cannabis Vape Reviews is supported by readers like you. We may earn commissions for purchases made through our links. Learn More
The EYCE Spark glass rig is the perfect entry-level rig for dabbing and smoking flower.
This small glass rig is unique in that it's fitted with a removable silicone sleeve which adds protection and has slots to conveniently holds your dab tools.
The Spark is part the EYCE ProTeck line which includes glass with silicone vape and smoking accessories.
Another cool thing about the Spark rig is that it features a battery-powered LED light that sits underneath the glass. This looks really when the water inside the chamber is bubbling and adds a fun visual effect.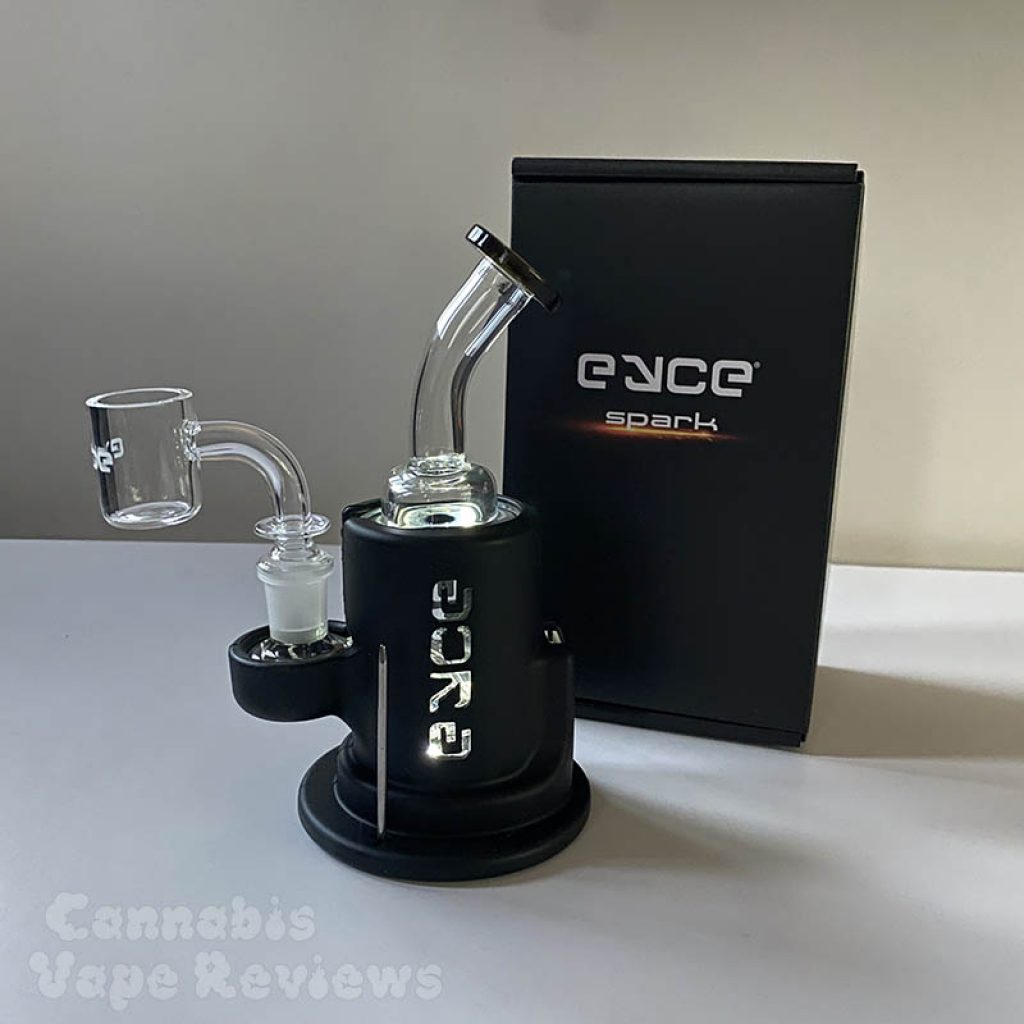 EYCE Spark Dab Rig
EYCE Spark glass rigs are protected by a silicone sleeve and feature battery-powered LED lights for cool visual effects.
Discount with code at EYCE Molds
What's Included with the Spark Rig
1x Borosilicate Glass Rig
1x Platinum Cured Silicone Sleeve
1x white LED light (with battery)
1x storage compartment
1x dab tool
1x 14mm Quartz banger (for concentrates)
1x 14mm Borosilicate bowl (for flower)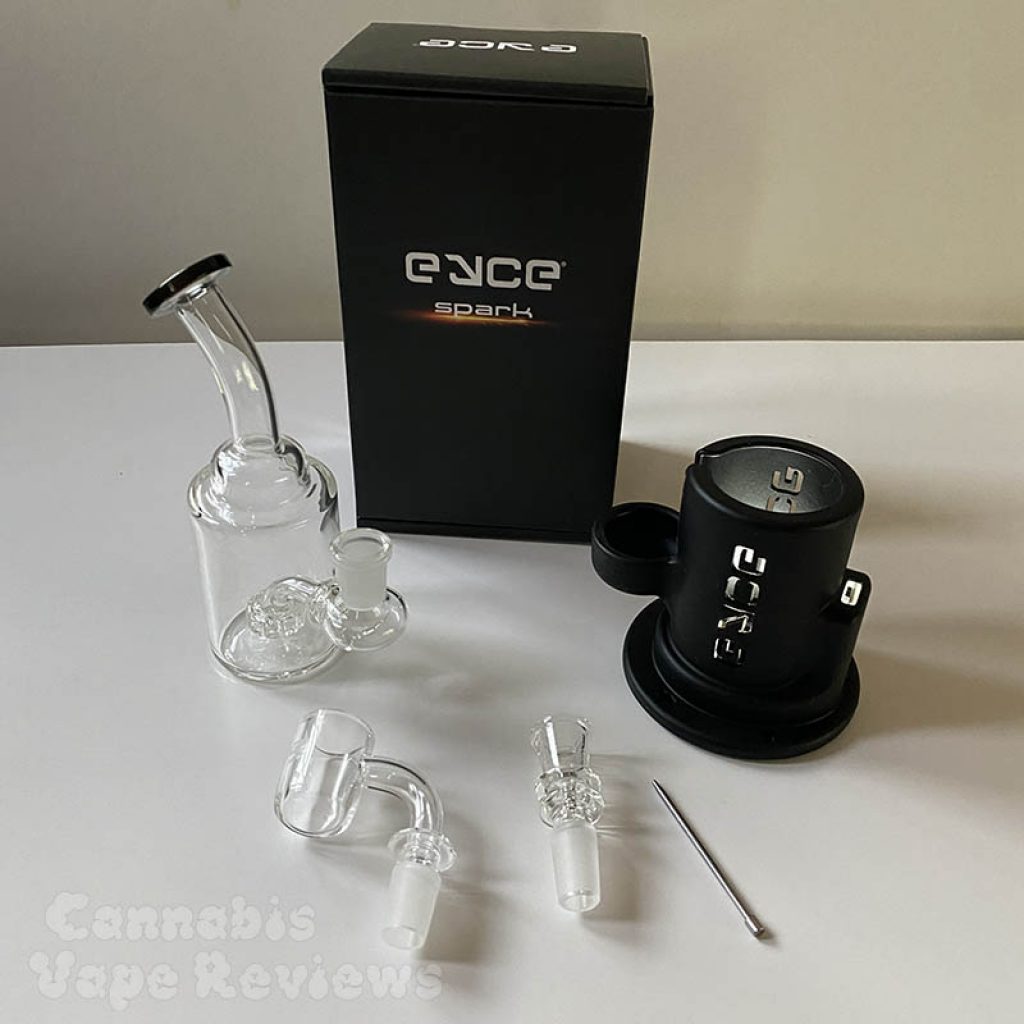 Design & Features
Works with both flower and concentrates
Made from quality borosilicate glass and quartz
Platinum-cured silicone sleeve protects glass and adds grip
LED lighting adds cool visual effects
Hidden storage compartment to hold your cannabis
Portable design for easy travel
Silicone sleeve has holes to conveniently store dab tools
Tech Specs
| | |
| --- | --- |
| Dimensions | 6.5″ tall x 3.5″ wide |
| Weight | – |
| Materials | borosilicate glass rig and bowl piece; quartz banger; silicone sleeve |
| Heating Method | requires butane torch or other external heat source |

EYCE Spark Dab Rig
EYCE Spark glass rigs are protected by a silicone sleeve and feature battery-powered LED lights for cool visual effects.
Discount with code at EYCE Molds
How to Use the EYCE Spark Rig
For use with flower, use the Spark glass rig as you would any other bong or water pipe. Fill the rig with water, insert the glass bowl piece into the female joint of the rig, pack a bowl of ground flower, and spark up.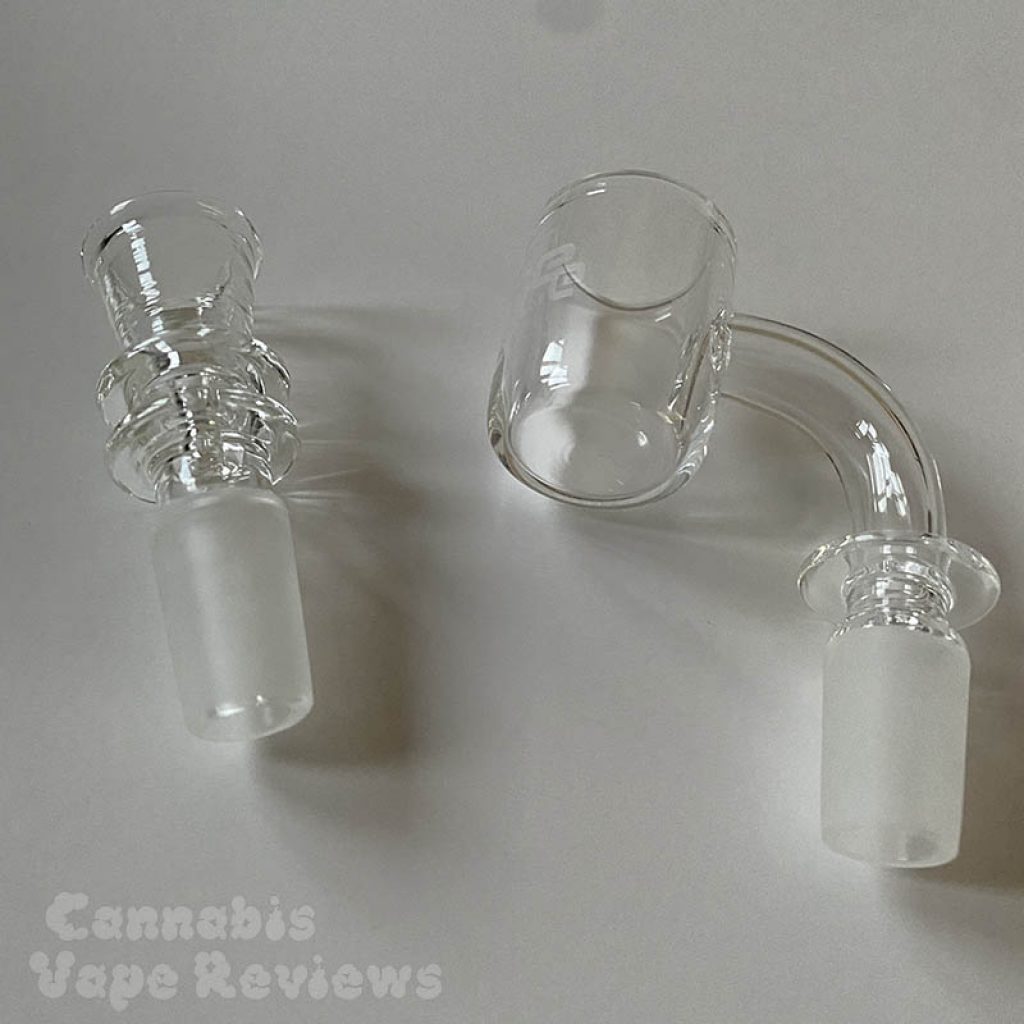 For use with concentrates, insert the quartz banger into the female joint of the rig. Heat the banger with a butane torch until it reaches your desired temperature. Use the included dab tool to drop a dab of wax concentrate into the banger, then start puffing.
TIP: For better hits, use a carb cap (not included).
For a fun and cool looking experience, flip on the LED light switch to add visual effects.
Our Experience with the EYCE Spark Rig
The EYCE Spark is a cool little dab rig that I've been using quite often lately for dabbing wax. It also includes a glass bowl piece if you want to switch to smoking flower instead.
Because I'm not a heavy dabber, the size of this mini rig is perfect for me. The rig holds just enough water and has a enough percolator to enjoy cool vapors of my low-temp dabs.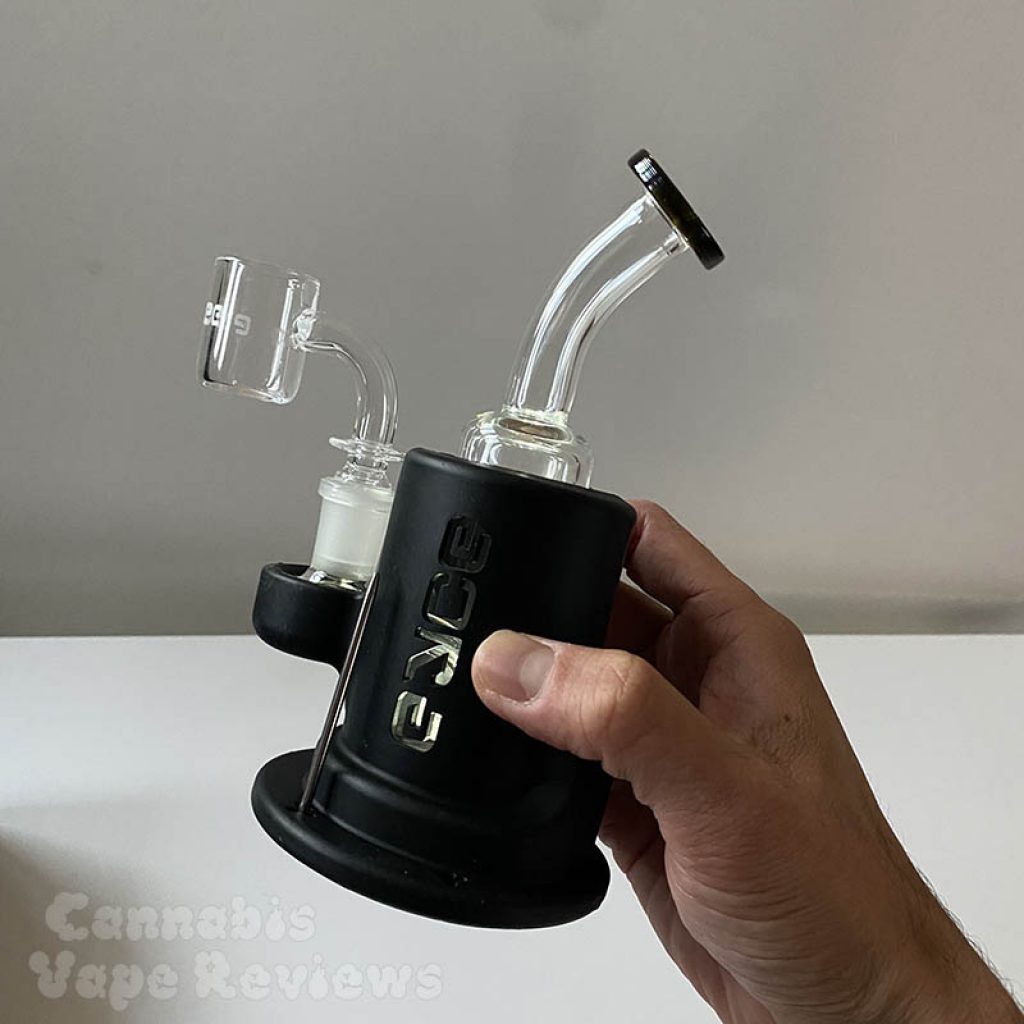 The most noticeable thing about this glass rig is that it's wrapped in a silicone sleeve. This makes the glass very grippy so it feels safe in my hand and I don't worry about dropping it – which is important, especially when the banger's glass is piping hot from being heated by a blow torch!
The sleeve seems effective at protecting from the glass from scratches, bangs, and falling over. Additionally, the sleeve holds an LED light neatly tucked underneath the glass. The base of the sleeve has multiple holes to store your dab tools and also holds a hidden stash compartment.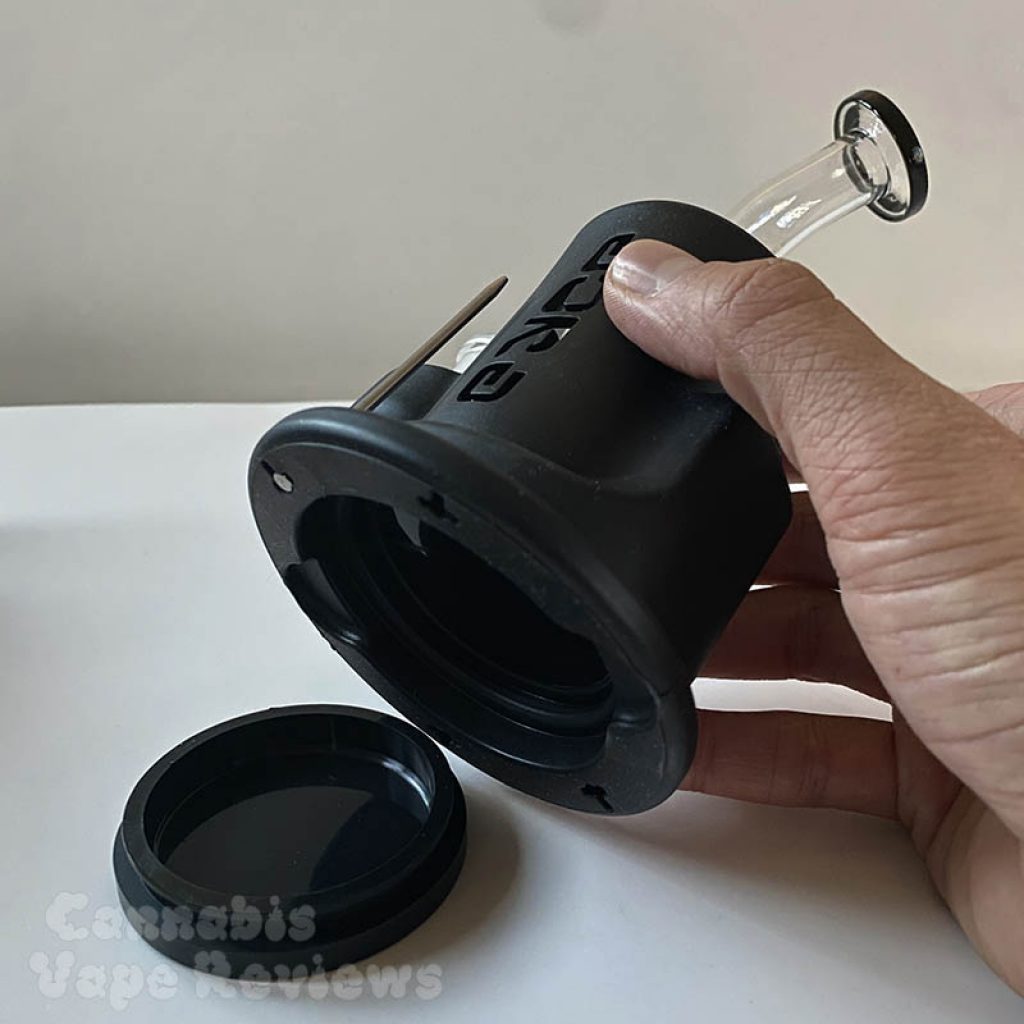 Because the silicone sleeves stores your dab tool upright, you'll always have a dab tool conveniently with in reach. And with the dab tool sticking straight up, there's no sticky messes from the residual wax that always accumulates on the tip. I actually found this feature way more useful that I thought.
When I'm smoking in the dark, I like to flip on the LED light for fun. It looks pretty cool, especially when the water is bubbling in the chamber as you draw in a hit. Now I just have a habit of turning on the LED every time I use this rig.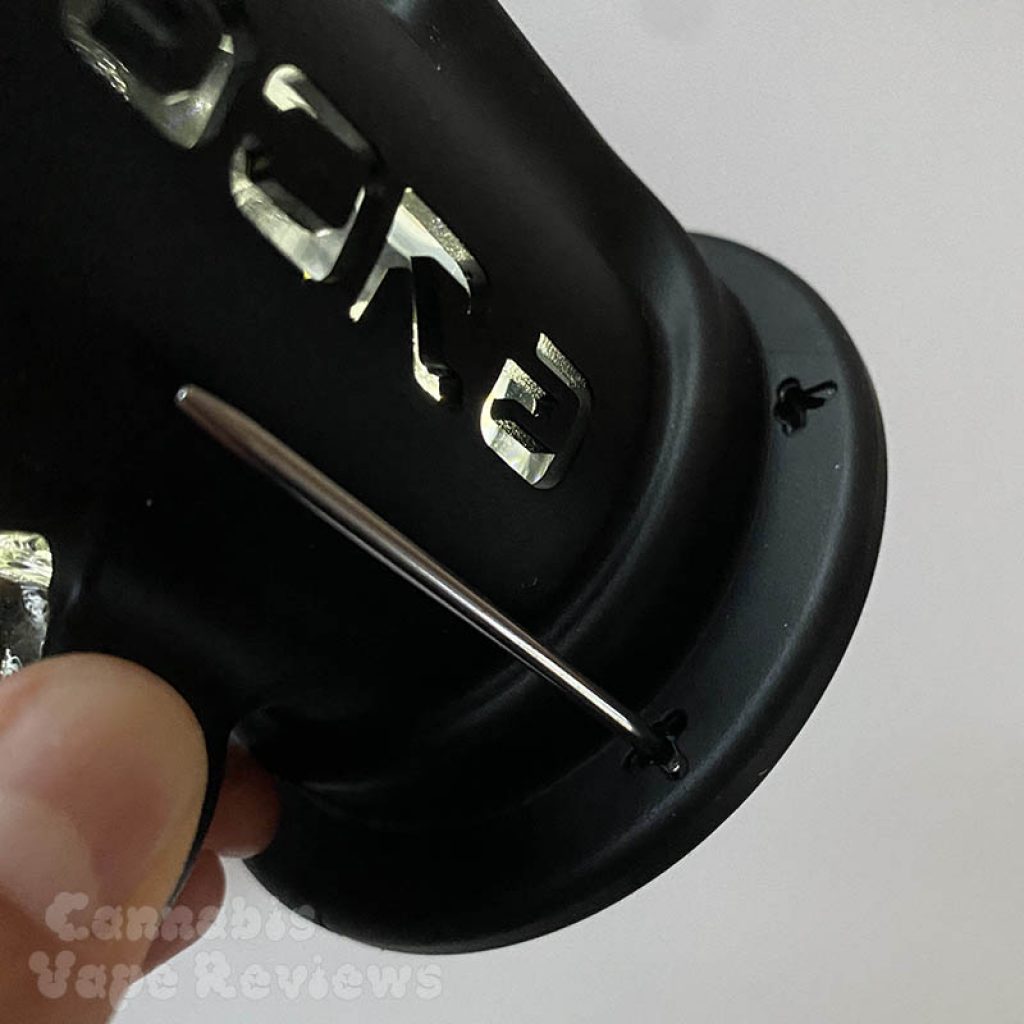 Although small in size, this portable rig is awesome and really fun to use. If you get your quartz banger temp dialed in just right, the transfer of flavor with this rig is fantastic, so use a quality concentrate. I tested out this vape plenty of times with some delicious Live Sugar from Cresco Labs and some homemade wax.
Just be sure to keep the banger clean so you don't bake residual wax onto the glass. Ideally, you should wipe it out with a q-tip after every use while the banger is still warm. You can also use some rubbing alcohol to clean it out.
Otherwise, you can degrade the flavor and the quartz banger's ability to retain heat.
All-in-all, the EYCE Spark comes highly recommended. It's cool, it's super convenient, and retails at a very affordable price point. If you're a heavy dabber with a high tolerance, you might want a larger rig or you can pickup up one of these as a backup.
Price & Where to Buy the EYCE Spark
The EYCE Spark rig retails for around $80 through.
You can also find this rig at Vapor and Puff it Up.
Warranty Information – Limited life-time warranty available directly through the manufacturer.

-20%
20% off
Discount with code at EYCE Molds
EYCE Spark glass rigs are protected by a silicone sleeve and feature battery-powered LED lights for cool visual effects.
EYCE rigs are available in a variety of colors and silicone sleeve styles. For this review, we used the plain black style.
Additional Product Photos