Affiliate Disclosure: Cannabis Vape Reviews is supported by readers like you. We may earn commissions for purchases made through our links. Learn More
Dabbing is a whole sub-culture of vaping that comes with a learning curve. It also comes with its own set of rigs, tools, and accessories to take a proper dab.
For the dabbing enthusiast, there's lots of accessories to tailor your experience in pursuit of the perfect dab.
In this article we'll cover the best dabbing accessories and explore different types of bangers, dabbing inserts, carb caps, and other useful dabbing tools.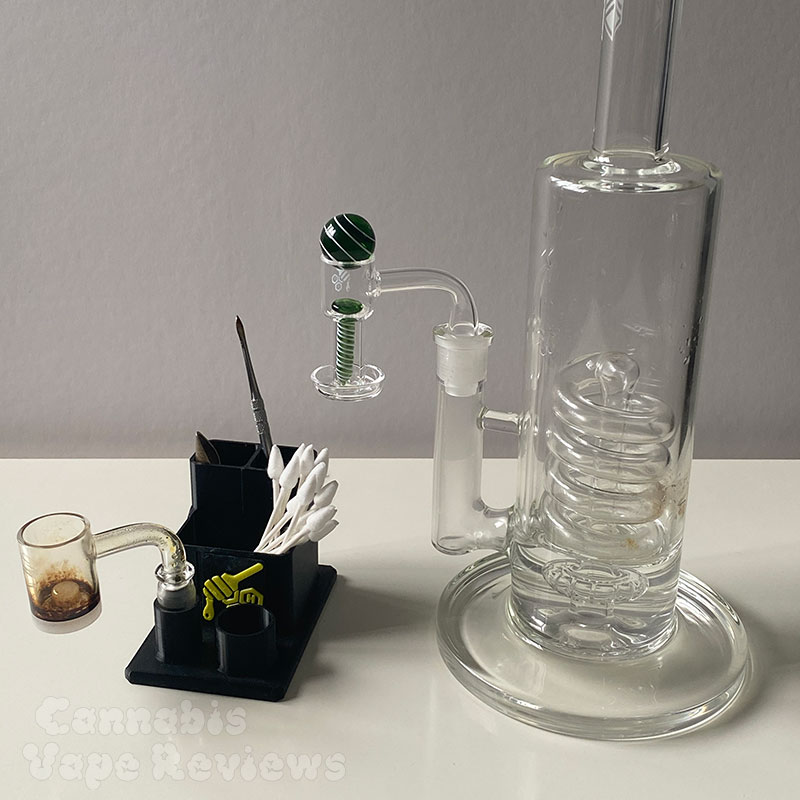 Quartz Bangers, Nails, and Terp Slurps
Unless you're using an electronic dab rig (also known as an e-rig), you'll need some type of nail or banger to heat your wax.
This is the part of your dab rig setup that you heat up, usually with a torch, then you apply your dab or wax concentrate.
Think of the banger as a bowl piece is to your bong. Just as the bowl piece holds your flower, the banger or nail holds your concentrate.
There's many different styles of bangers and nails. And each style comes in a range of materials like quartz, titanium (also referred to as TI nails), and ceramic.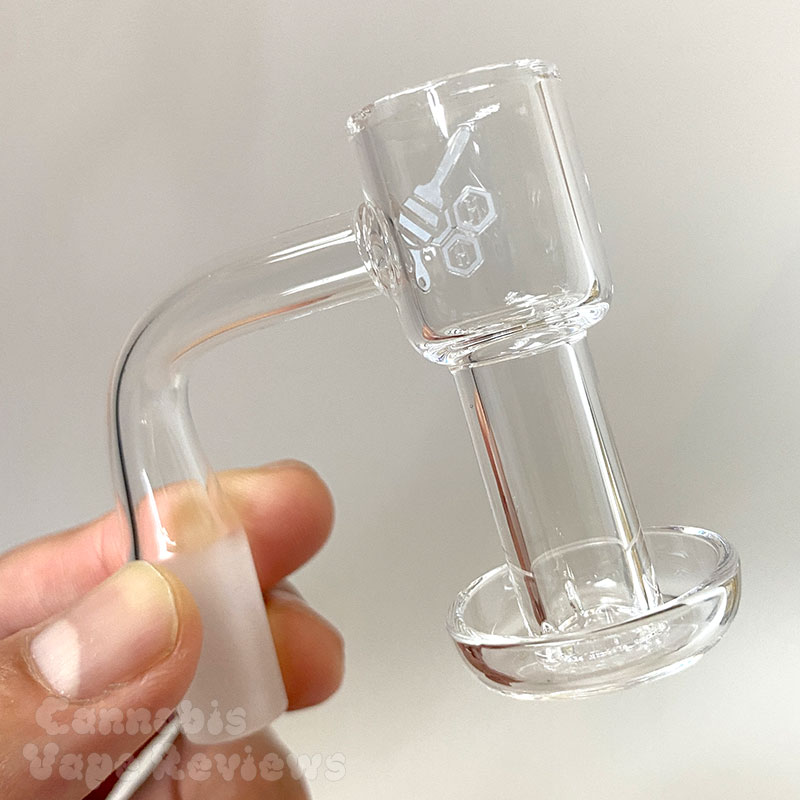 Honeybee Herb
Get the best in quartz bangers, terp slurps, dabbing inserts and dab stations to upgrade your dabbing experience.
Discount with code at Honeybee Herb
A very popular trend in dabbing right now is using terp slurp style bangers.
As opposed to the common quartz bucket, a terp slurp is designed so that your melting concentrate is inhaled upwards through a glass stem, then drips back down into a collecting dish.
With the addition of banger inserts, you can enhance your dabbing experience and extend the life of your banger. The inserts agitate the melting concentrate, creating fuller dabs and a more efficient vaping experience.
You can shop a large selection of terp slurps and other bangers at Honeybee Herb here.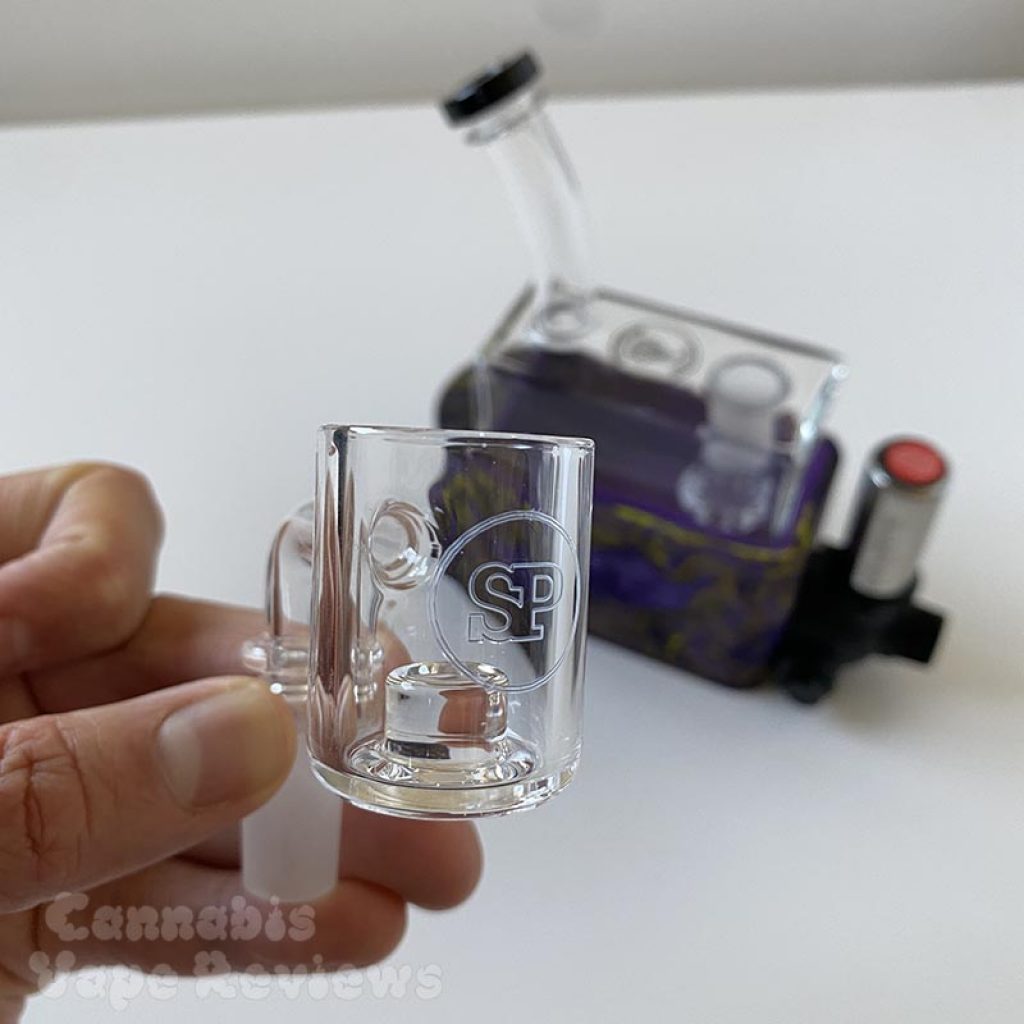 Another awesome type of banger is one with a thermal core. The core increases heated surface area to maintain better consistency in melting your cannabis extract.
Thermal core bangers are available for the Stache Rio dab kit.
Using Terp Slurp banger and Inserts
To use the Honey Suckle Terp Slurp banger, you'll need to decide which inserts to use. Usually with this setup, you'll need some type of marble or similar piece that works as a valve or carb cap, and another insert to agitate the melting wax.
Honeybee Herb offers dabbing inserts and accessory kits with lots of options to complete your dab rig setup.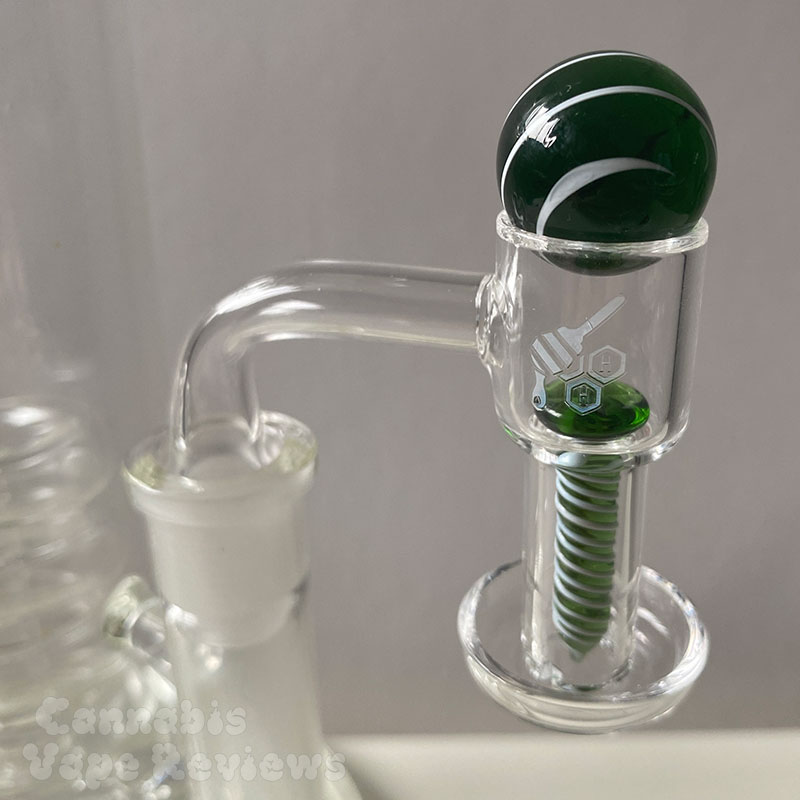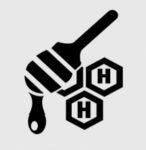 Bangers, terp slurps, dabbing inserts and more.
Discount with code at Honeybee Herb
Once your banger is heating to the optimal temperature, you'll drop your cannabis extract onto the dish of the banger and begin to inhale.
Your product will be pulled in through the air holes or slits around the bottom of the terp slurper and up into the stem where it gets agitated by the spinning screw. This creates a nice little vortex and enhances the quality of your dab.
Other dab rig setups include using terp pearls or pills that spin around inside a bucket style quartz banger. Marbles in small and large sizes may also be used as valves and carb caps to further customize air flow control. You may need a special carb cap that forces airflow in one direction to cause the inserts to spin inside the banger.
There's many other combinations of inserts and bangers. You'll need to experiment with different combinations of carb caps, inserts and bangers to find one that suits your taste.
The Honeybee Herb dab accessories kit has so many pieces you can test out lots of combinations and fine tune your dabbing experience.
Dabbing Inserts and Terp Pearls
Dabbing inserts and terp pearls are both accessories used with dab rigs to enhance vaporizing and inhaling cannabis concentrates.
Common types of dabbing inserts include:
Agitators such as marbles, pills, screws
Insert cups and dishes
Induction cups
Dabbing inserts are used in combination with bangers or nails.
A growing trend in dabbing is to use inserts like terp pearls or dab pearls. These are small, round beads made of heat-resistant materials such as quartz, ceramic, or glass.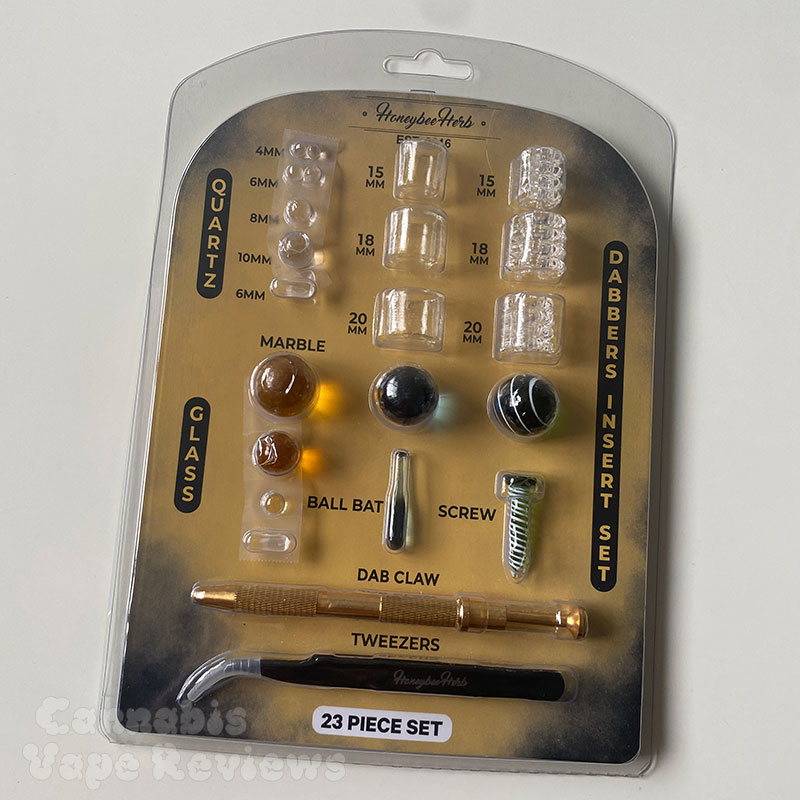 Honeybee Herb
Get the best in quartz bangers, terp slurps, dabbing inserts and dab stations to upgrade your dabbing experience.
Discount with code at Honeybee Herb
These small pearls are placed inside the banger and are designed to spin and agitate the concentrate as it vaporizes. This motion helps to evenly distribute the concentrate and increase the surface area of the vapor, resulting in a smoother and more flavorful hit.
Together, dabbing inserts such as terp pearls with bangers, enhance the dabbing experience by allowing for better vaporization and flavor extraction. Additionally, they help to preserve your banger by reducing the amount of residue left behind after each use.
There's also little cups, dishes or bucket inserts that hold your dab. These inserts are then placed into a heated banger or within an induction coil. This inserts prevent your wax from making direct contact with your banger so there's minimal residue left behind.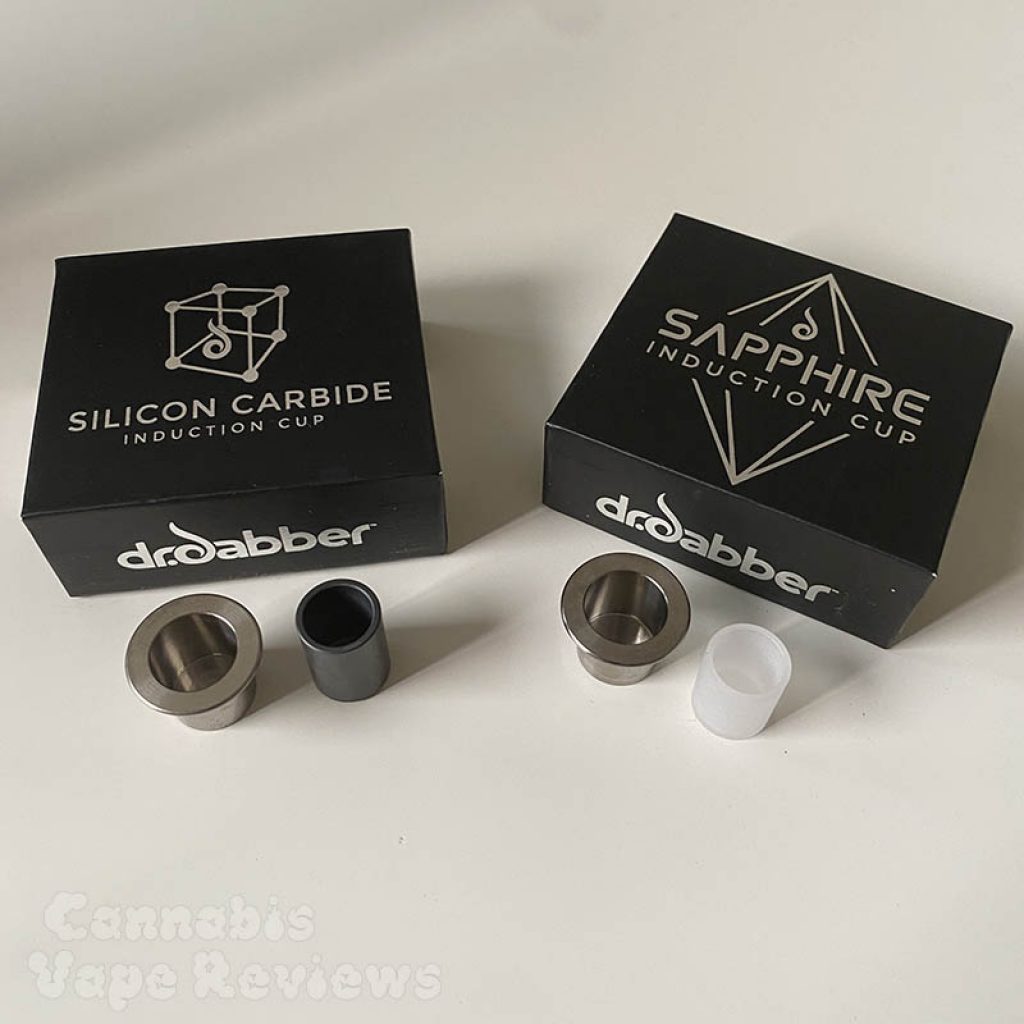 The Dr. Dabber SWITCH is a powerful, electronic dab rig designed to conveniently vape both your dry cannabis flower as …
Available at DrDabber.com
E-rigs like the Dr. Dabber Switch come standard with titanium induction cups that house a pair of ceramic and quartz inserts. Concentrate is placed neatly into these cups, then heated by the vaporizer.
Dr. Dabber offers a ton of options for premium dabbing insert upgrades.
For an ultra-premium vaping experience, check out the SiC (silicone carbide) and Sapphire crystal induction cups. These vape at different temperatures and enhance the vaping experience by really bringing out the best in terpene flavor profiles, producing the tastiest vapors from your concentrates.
These premium dabbing accessories can get quite expensive, so these are probably best left to the vaping connoisseurs and collectors.
The Ispire daab e-rig uses induction cups as well, but there's not as many options available.
Dab tools and Carb Caps
Dab tools
A dabber or dab tool is a small instrument that is used to handle cannabis concentrates during the dabbing process.
Some dabbing devices, such as e-rigs that use induction heating, are better suited with ceramic or other non-metal dab tool. Dab tools are also available as glass.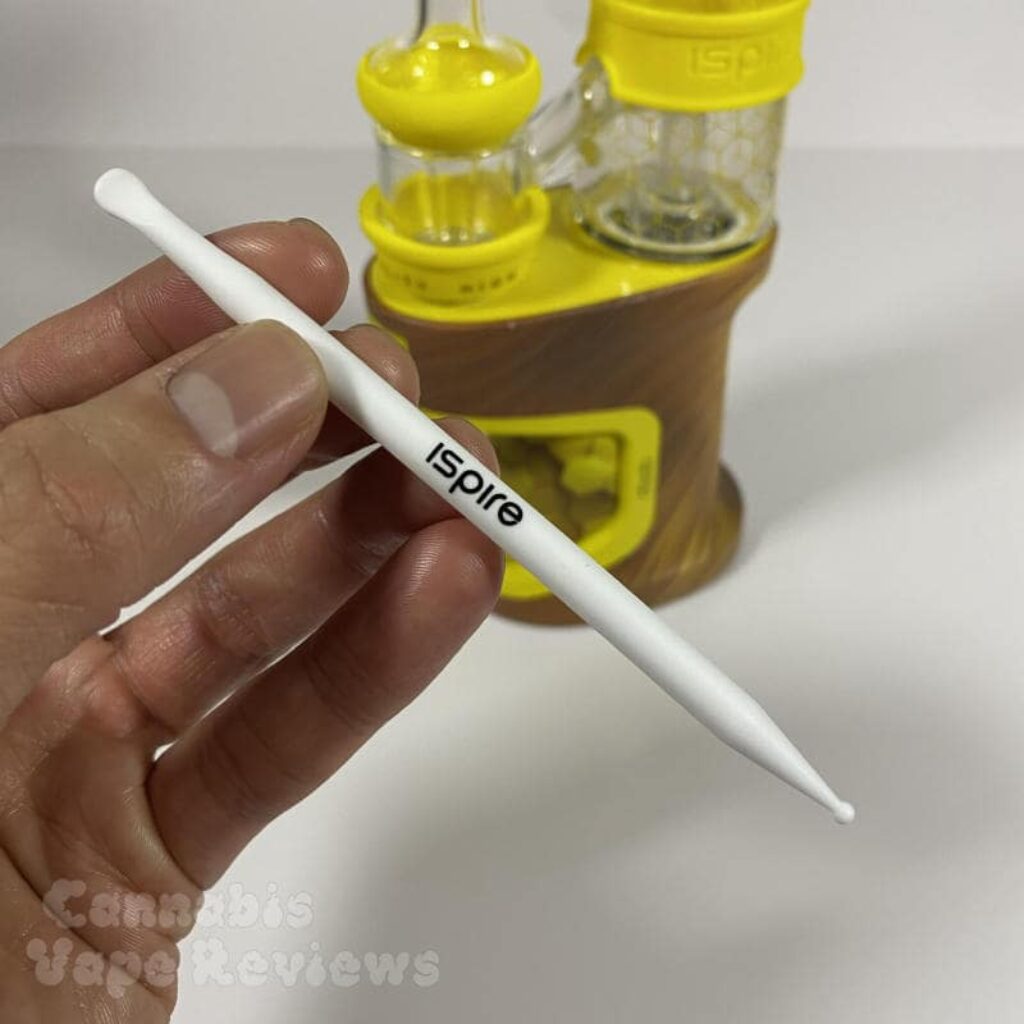 Dab tools are designed to help users handle the sticky and often difficult-to-manage concentrates. They are usually long and thin, with a pointed end for scooping up the concentrate and a flattened end for spreading it out on the dabbing surface.
Other designs have a small ball-point. It's up to your personal preference and the type of concentrate you're dealing with that will determine what type of dab tool to use. Many e-rig dabbing kits include a dab tool.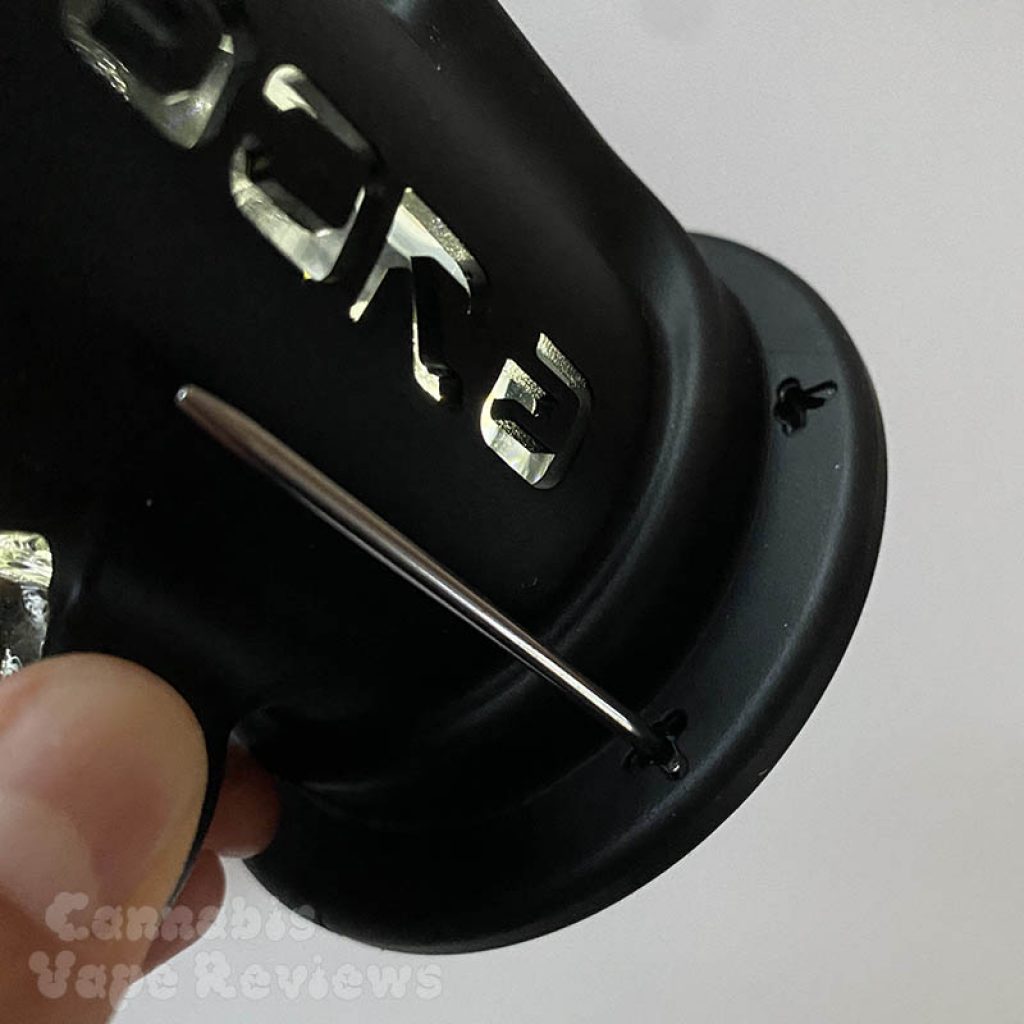 The EYCE Spark glass rig is the perfect entry-level rig for dabbing and smoking flower. This small glass rig is …
Discount with code at EYCE Molds
The pointed end of the dab tool is used to pick up a small amount of concentrate, which is then placed on a heated dabbing surface, such as a dabbing nail or banger. The flattened end of the dab tool is then used to spread the concentrate out evenly on the surface to ensure it vaporizes efficiently.
Cheap glass rigs like the Eyce Spark come with a dab tool and a banger (as well as a bowl for flower as added bonus).
Depending on how thick your cannabis extract, you might also benefit from using a dab tool that heats up. This can help cut up your concentrate into more manageable pieces or doses and help you manipulate your product to apply it to your banger.
Yo Dabba Dabba offers the Thermal Blade which is a hot knife dabber for your concentrates. The Dr. Dabber brand offers similar dab tools and their hot knife kit the Dr. Dabber Budder Cutter.
Dab tools can come in a variety of shapes and sizes, and some may even include additional features such as a carb cap or a dabber for stirring the concentrate.
Overall, dab tools are an essential accessory for anyone looking to dab cannabis concentrates, as they make the process much easier and more precise.
Want to take dabs for microdosing?
Get precise dosing for your dabs with the Stache DigiTul dab tool. This is the first-ever dab tool with a built-in digital scale to measure your dabs on the spot.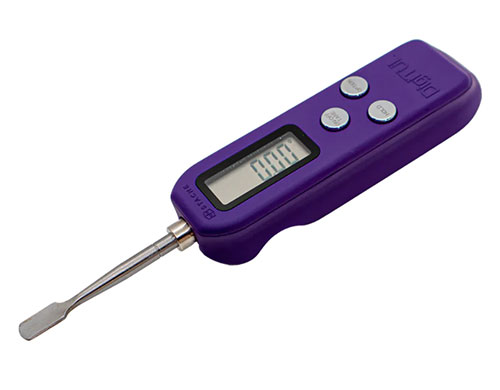 Stache DigiTUL Scale Tool
First ever scooper dab tool with built-in scale for precise dosing.
Available at Stache Products
This is perfect for measuring out your DMT doses or weighing out other medicines that require precise dosage amounts.
Carb Caps and Airflow Control
A carb cap is a small accessory used with your dab rig. It's placed on top of the banger to restrict and control airflow.
By covering the top of the nail or banger, the carb cap helps to trap the vapor and regulate the air pressure and heat inside the dabbing chamber. This causes the concentrate to vaporize at a lower temperature, and allows the vapor to condense, resulting in a thicker and more flavorful hit.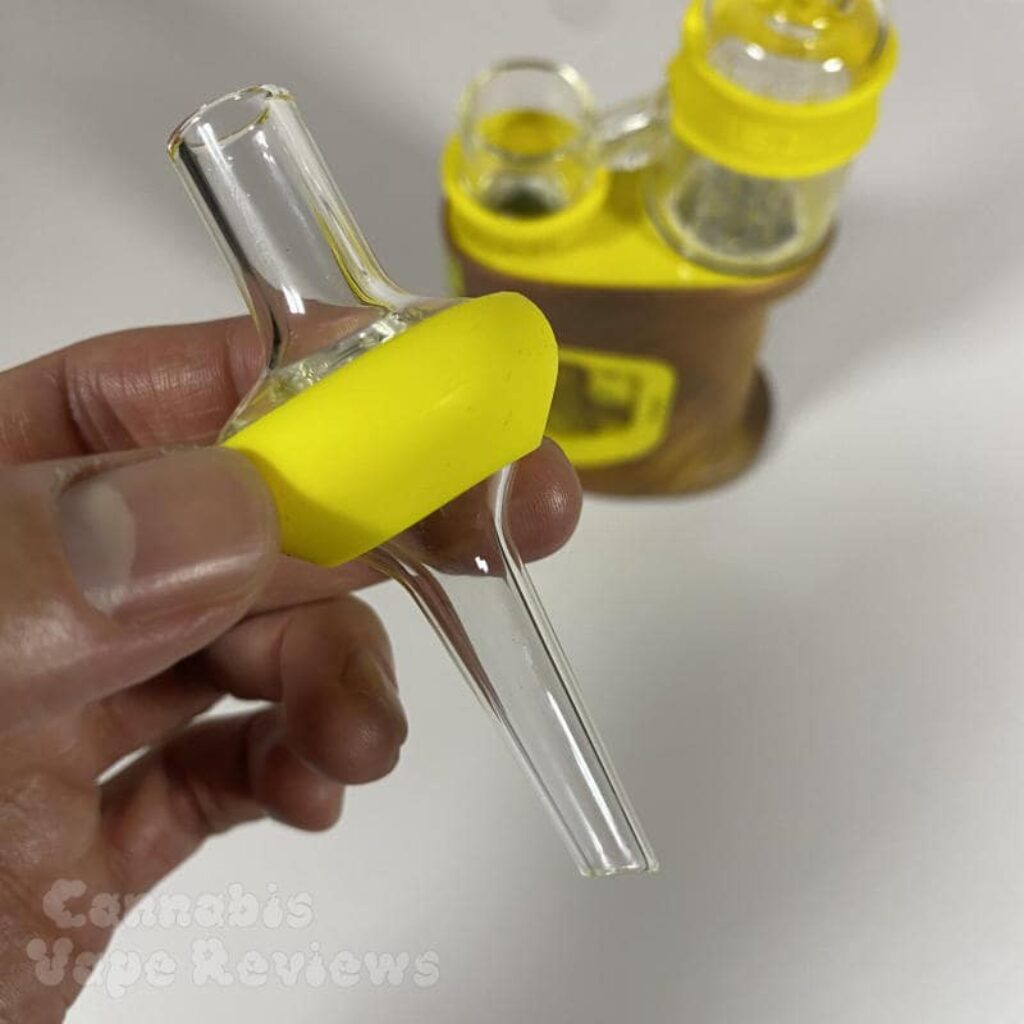 Carb cap for the Ispire daab e-rig
Additionally, the carb cap can be used to control the airflow within the dabbing chamber, allowing users to adjust the amount of air that is drawn into the rig and ensuring that the vapor is distributed evenly.
Carb caps are typically made of glass or metal and is placed over the top of the dabbing nail or banger once your concentrate has been applied.
Carb caps come in a huge range of styles depending on your dab rig setup and preferences.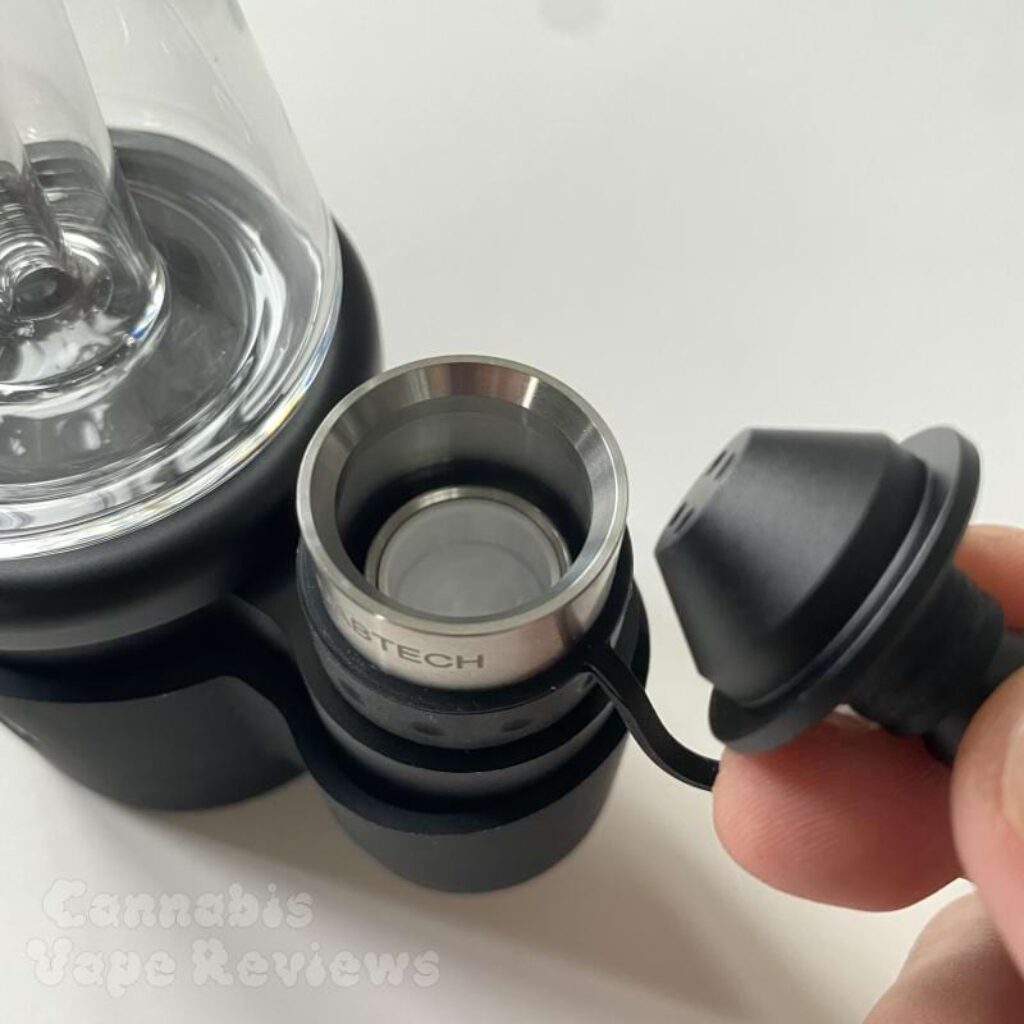 Some dab rigs like the Duvo X e-rig from Dabtech include a built-in carb cap that stays attached to your rig for ultimate convenience.
Popular e-rigs like the Dr. Dabber Switch have a large selection of dope carb caps available. Here's an awesome upgraded sunset carb cap that goes with the switch.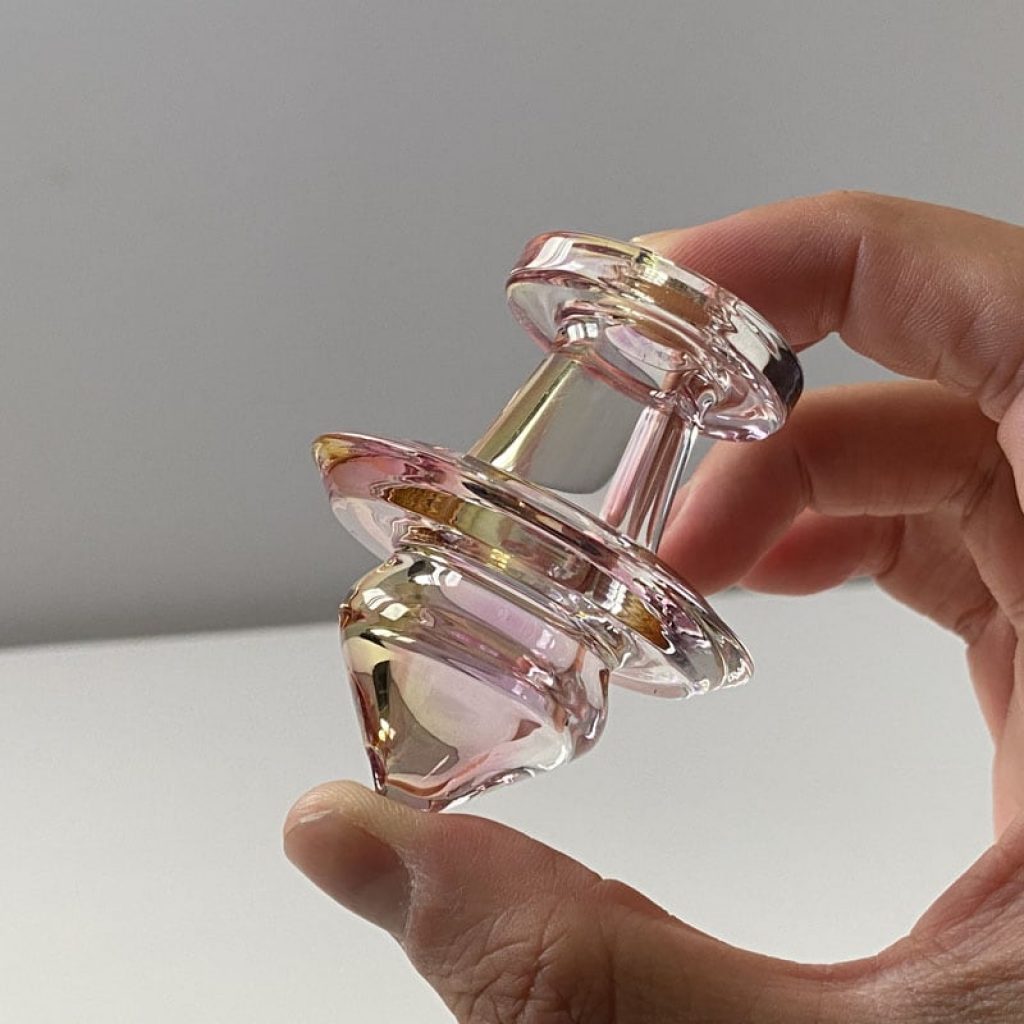 Dab Rigs and Water Pipe Glassware
If you're looking for a glass dab rig or water pipe, there's lots of options that range in size and price.
You'll want to find a dab rig that matches your budget and is also compatible with the banger you want to use.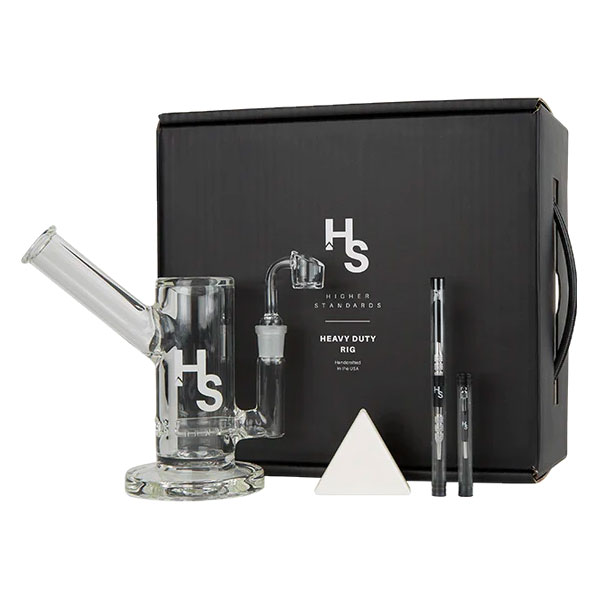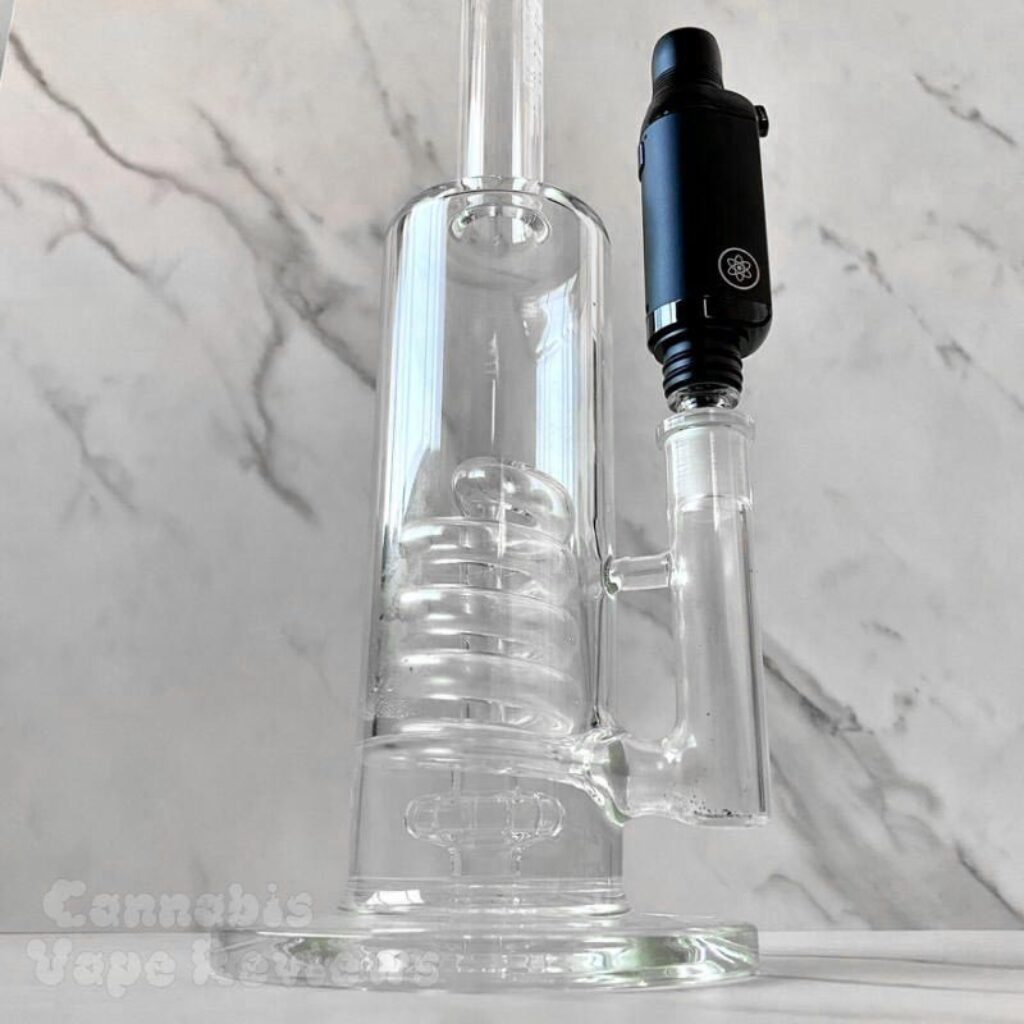 This section needs work – stay tuned!
More dab rig options will be added here soon from online retailers like:
We'll also list some of our favorite, hand-picked glass pieces.
Dab Stations, Staying Organized and Clean
Dabbing requires lots of moving pieces and accessories.
You'll need a way to keep your rig clean and organize your glass water pipe, bangers, inserts, and cleaning supplies.
Dab stations are useful in keeping all your dabbing accessories organized and in one place. Keep all your carb caps and bangers together, along with common cleaning supplies like cotton swabs and alcohol.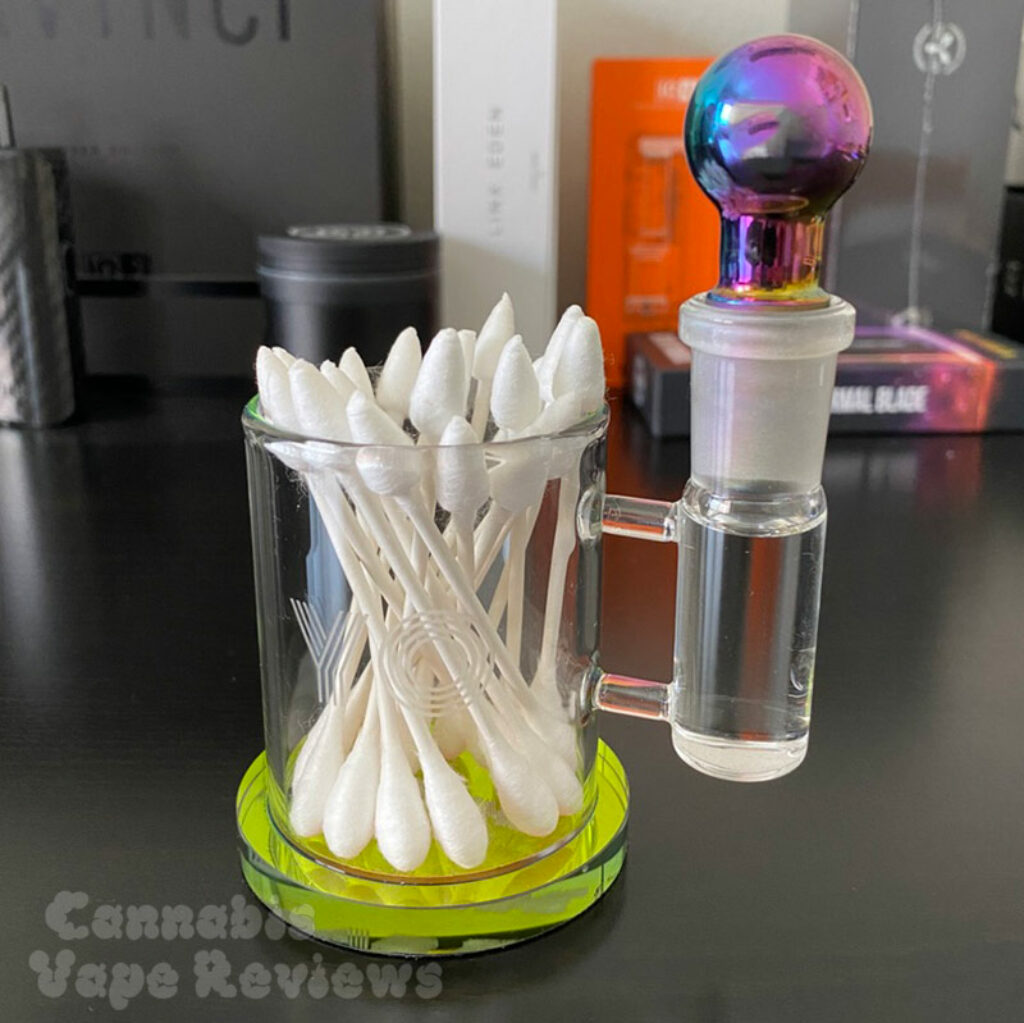 You find dab stations from online retailers including:
Now that we're staying organized with a dab station, let's look into cleaning kits and cleaning supplies for keep our dab rigs fresh.
Dr. Dabber offers some nifty iso-snaps which are glorified q-tips filled with pre-dosed alcohol.
If you want a full-on cleaning kit, peep the Higher Standards Cleaning Kit that comes complete with cleaning rag, 99% rubbing alcohol, salt, pipe cleaners, and more.

Conveniently clean your dabbing tools with iso-snaps which are cotton swabs filled with alcohol. Snap the swap to release alcohol into the cotton tips.
Available at Dr. Dabber
The Supreme Clean Kit from Higher Standards includes everything you need to keep your glass rigs, vaporizers, and …
Discount with code at Vapor.com
Protecting and Transporting
Protect your dab rig and store all your dabbing accessories with a protective carrying case.
Ryot offers a great selection of well-designed, smell-proof protective cases for all your dabbing and smoking accessories.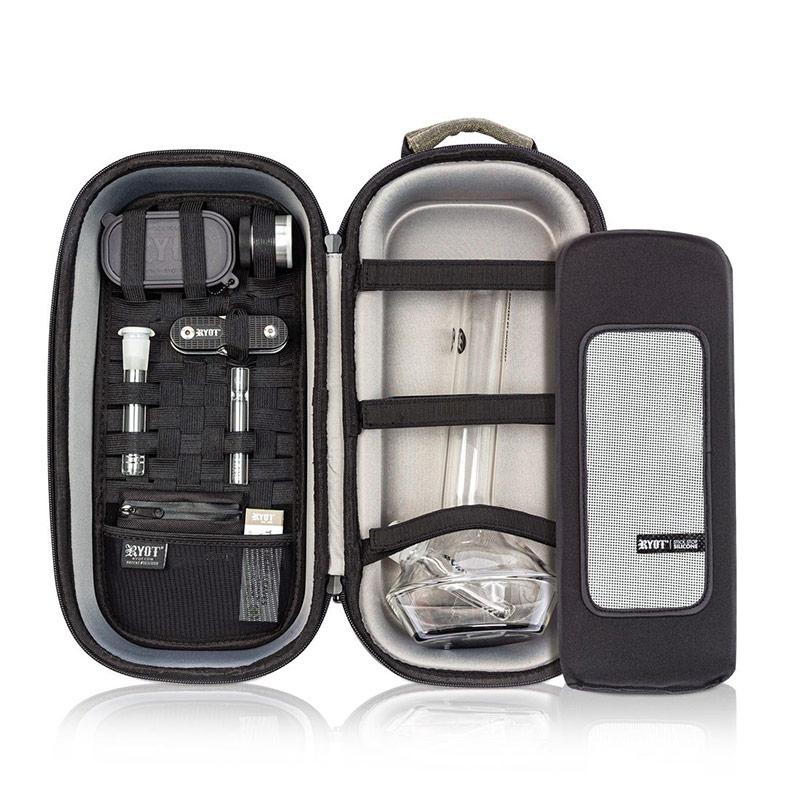 Ryot Axe Pack Case
Pack and protect your large dab rigs, water pipes, and glassware with this highly functional, smell-proof protective case.
Discount with code at Ryot.com
The AXE Pack is one of my favorite choices for protective large rigs and water pipe bongs. It features a sticky pad that safely holds any glass piece securely in place. It also features a grid of elastic straps that can be customized to store virtually all to of accessories including lighters, containers, grinders, dab tools and bangers.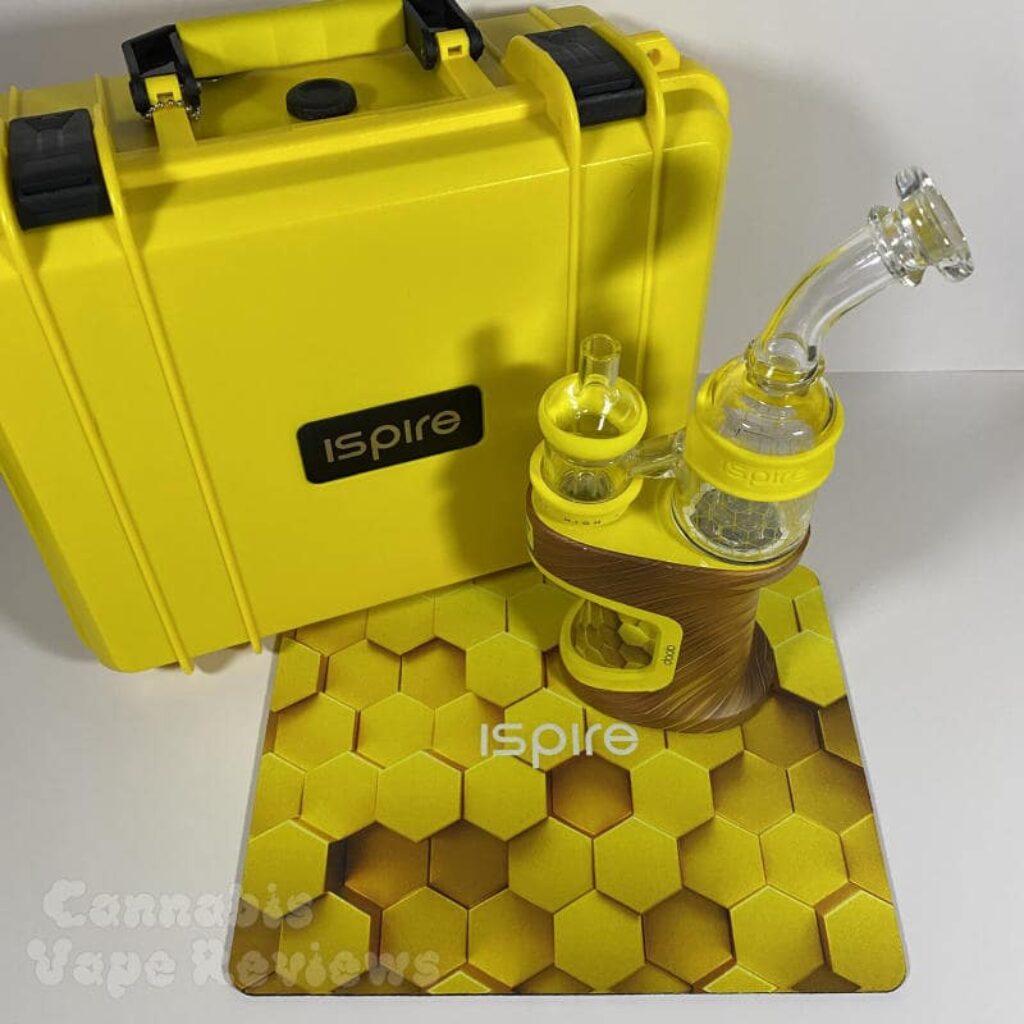 Some e-rigs like the Ispire daab come with a legit hard case for protecting your dab gear.
Other Useful Accessories for Dabbing
This section needs work – stay tuned!
Torches
Wax jars
Thermometers
Dab mats
Know any cool dabbing accessories that deserve to make this list?
Leave a comment below or tag us on instagram @CannabisVapes.