Affiliate Disclosure: Cannabis Vape Reviews is supported by readers like you. We may earn commissions for purchases made through our links. Learn More
The Stache RIO, also known as the rig-in-one, is an all-inclusive dab rig kit for vaping your cannabis concentrates.
Unique to the RIO vape, it features a dazzling resin base that houses a refillable butane torch. The torch slides right into the base and lines up perfectly with the bottom of the included quartz banger.
The Stache RIO design allows you to go hands free when taking your dabs and also allows for the perfect cold start dab.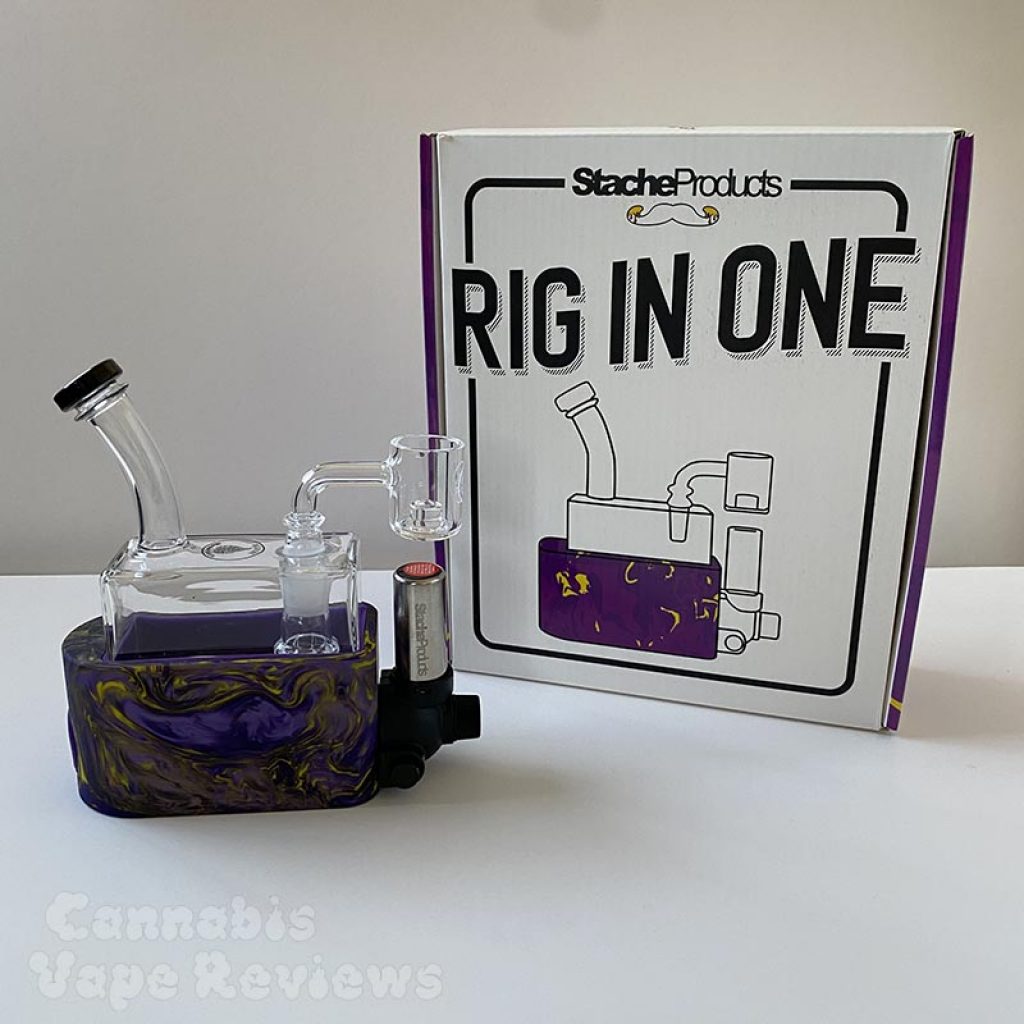 I've never seen a dab rig like this, so when I first spotted it, I was super excited to try it.
I met the friendly folks over at Stache products a few years back at a vape trade show in Las Vegas. Their team is genuinely passionate about building quality vaporizers and design innovation for the cannabis market. Stache is based in the U.S. and all their products are designed in-house by the owner of the company.
In this review, we'll be taking a look at the Stache RIO Makeover kit in purple. Being a Los Angeles native, I had to go with the Purple and Gold style to rep my Lakers! Let's goooo!

Stach RIO Dab Rig
RIO is an all-inclusive dab rig with a built-in torch design for dabbing cannabis concentrates.
Discount with code at PuffITup.com
What's Included
Each Stache RIO kit includes the following:
1x RIO Base
1x Refillable butane torch
1x Male core quartz banger (14mm male joint)
1x borosilicate glass micro bubbler (14mm female joint)
1x Glass Carb Cap
1x Loading dab tool
1x Carrying case
1x User manual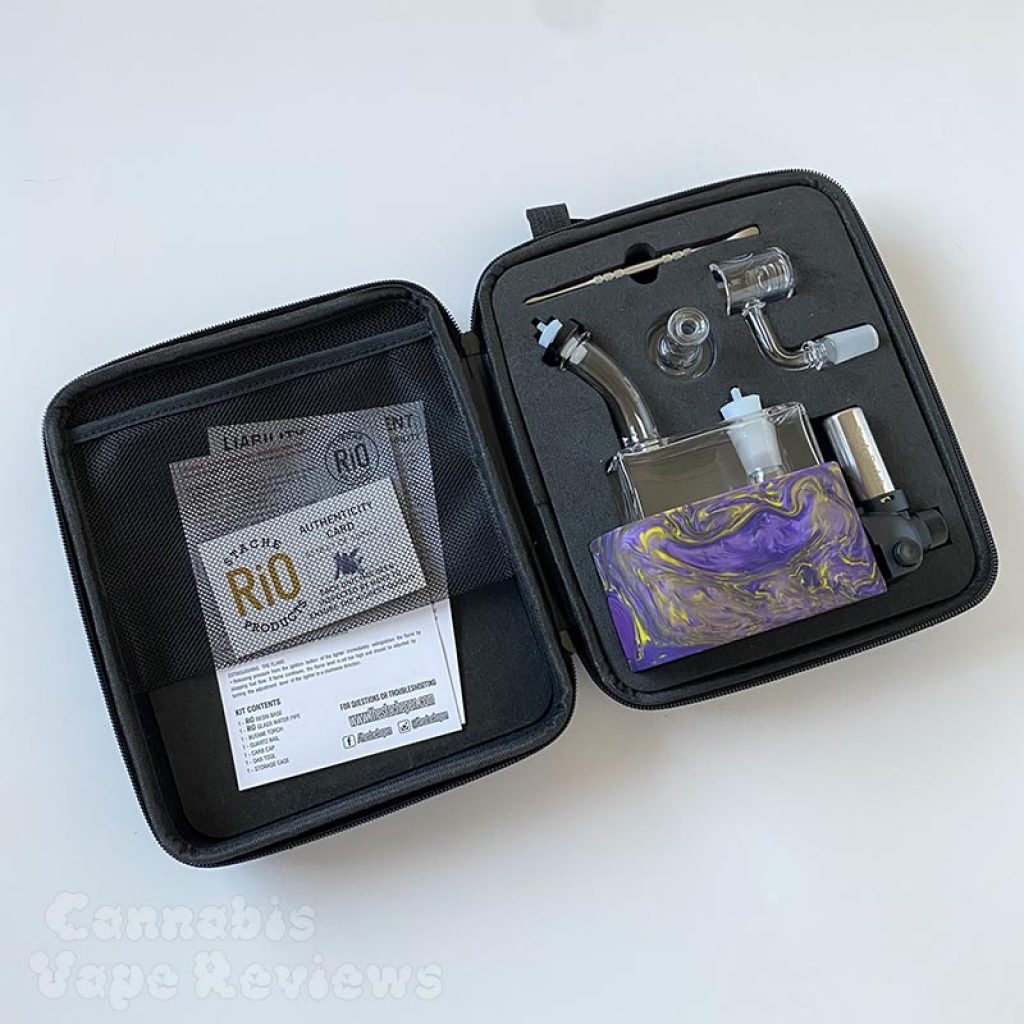 Design & Features
Every Stache RIO comes standard with the following features:
Protective carrying case for easy travel
Uses refillable butane torch (no batteries or coils required)
Glass bubbler water pipe with percolator for cool and filtered vapors
Unique design with torch built into the base of the vaporizer
Placement and control of torch allows for easy cold start dabbing
Quartz banger with male thermal core for more efficient heating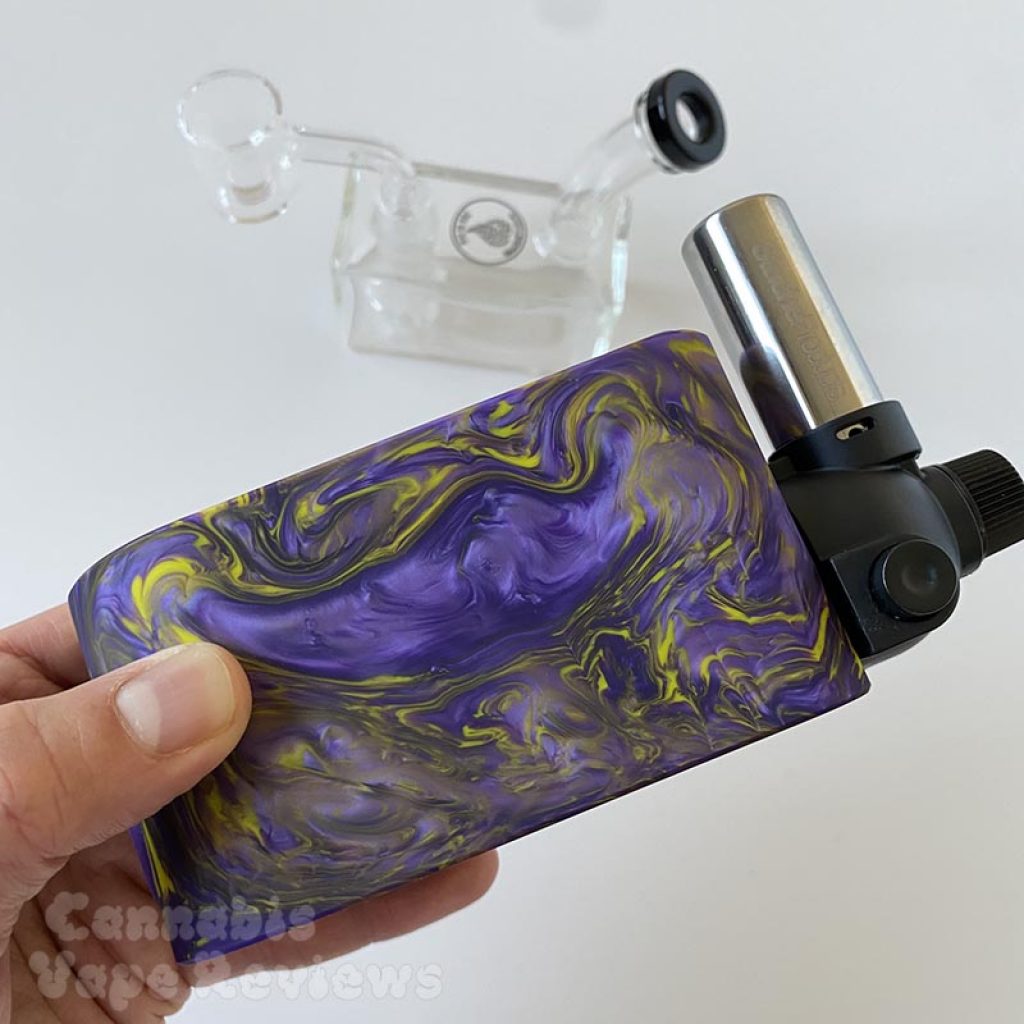 Stach RIO Dab Rig
RIO is an all-inclusive dab rig with a built-in torch design for dabbing cannabis concentrates.
Discount with code at PuffITup.com
Tech Specs
| | |
| --- | --- |
| Dimensions | 6″ W x 6.5″ H |
| Weight | – |
| Materials | quartz banger; borosilicate glass waterpipe |
| Battery | n/a |
| Charging Time | n/a |
| Heating Time | banger heats around 10-20 seconds |
| Oven Capacity | n/a |
| Sessions | n/a |
| Heating Method | butane torch or other external heat source |
| Temperature Settings | n/a |
How to Use the Stache RIO Vape
Basic Use of the RIO
To use the RIO dab rig, fill up the the glass bubbler with water so that the slits of the percolator are below the water line. Then place the bubbler into the resin base.
Next, fill the butane torch with fuel and insert it into the resin base. Then pop the quartz banger into the bubbler.
When you're ready to start dabbing, turn on the torch to heat the bottom of the glass banger. When the glass reaches your desired temperature, use the included loading dab tool to transfer a dab of wax concentrate into the bottom of the banger.
Turn off the torch, place the carb cap over the banger, then start inhaling through the mouthpiece.
PRO TIP: Cold Start Dabbing
For taking a cold start dab, add you dab of concentrate into the banger before you start to heat it with the torch. With the concentrate pre-loaded, click on the torch and wait until you see the wax start to bubble and melt. At this point, your dab is the prefect temp. Click off the torch and start inhaling.
Learn more about cold start dabbing in our beginner's guide to dabbing here.

Stach RIO Dab Rig
RIO is an all-inclusive dab rig with a built-in torch design for dabbing cannabis concentrates.
Discount with code at PuffITup.com
Our Experience
First of all, the design of the RIO is so unique. Have you ever seen a vape that looks like this? You can't peep a RIO and not be curious about it.
I love how the design of the RIO incorporates the butane torch right into the base of the device. When I think of an all-inclusive dab rig, I usually think of a battery powered e-rig, not a dab rig setup with a butane torch. This is genius and the first of its kind that I've ever come across.
The swirling pattern on the resin base looks really cool. The RIO is available in many different colors and styles with each unit being slightly different.
Cold Start Dabs and Reclaim
With the flame positioned directly below the quartz banger, you're able to inhale your dab as it's heating up. This allows for superb vapor quality, as opposed to waiting until you think the banger is completely heated, then dropping in your dab and clearing it. The may be easy for the experienced dabber, but the RIO makes it a no-brainer for those that aren't huge dabbers like myself.
I tested some live sugar from Cresco Labs to do some cold start dabs. By heating the banger to just the right temp and not a tad more than necessary, I was able to get some delicious rips at a very comfortable temp. At just the right temps, the flavor transfer and vapor quality is outstanding.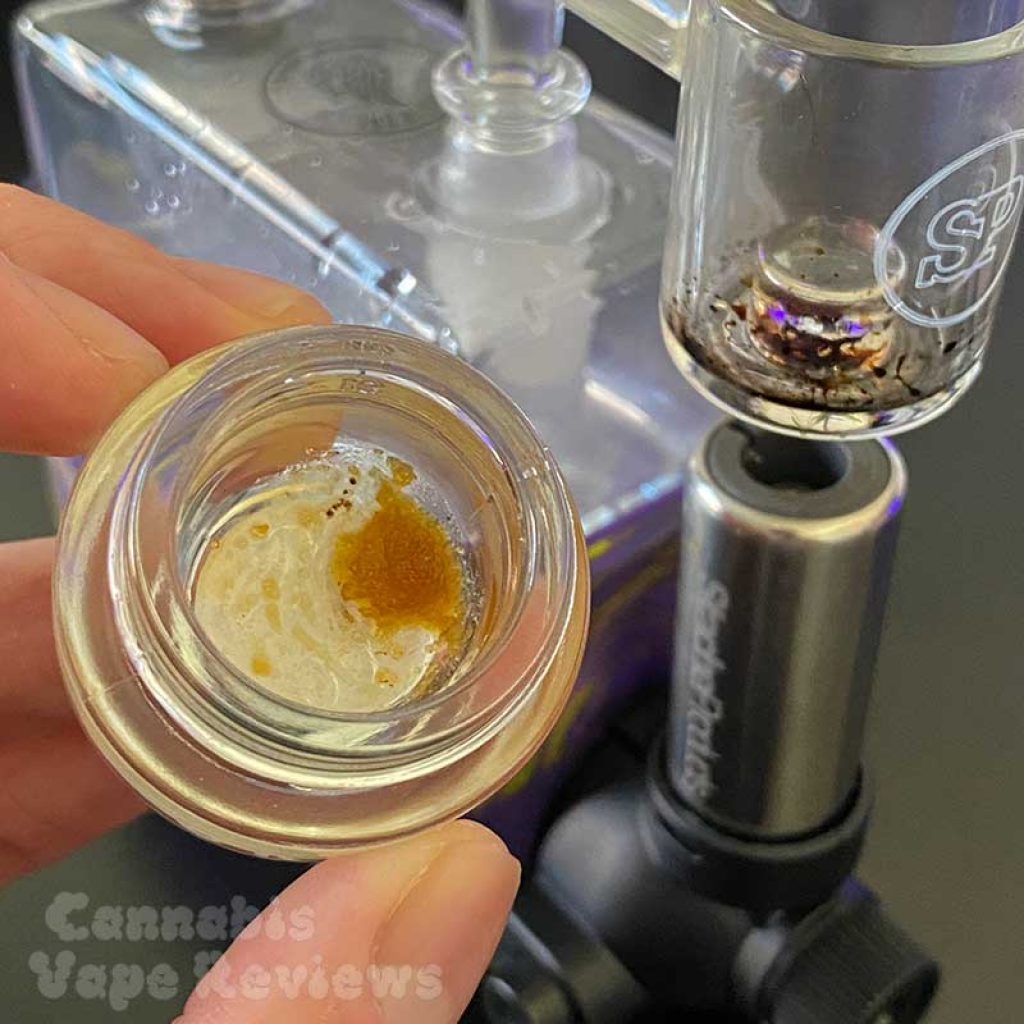 Need some dabs to go with your RIO? I picked up some Cresco Labs extract from Emjay Delivery. If you're in California, check them out for getting your hands on some high quality cannabis concentrates delivered to your door.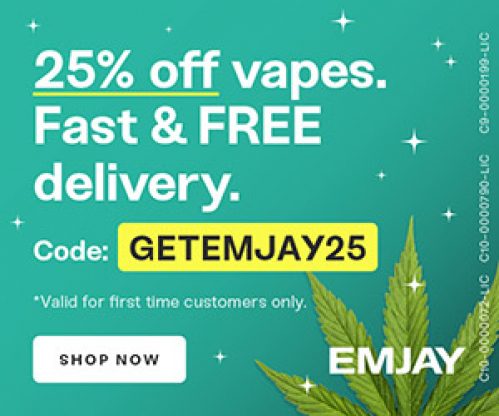 25% off
Discount with code at HeyEmjay.com.
NEW delivery service for Los Angeles, San Diego, and San Francisco. Fair prices, $0 delivery fees – Get 25% off your 1st order.
If you have residual wax or reclaim still sitting in the bottom of your banger, simply crack the torch back on to finish up the dab. Super easy.
Compact Bubbler Provides Cool Vapors
Although the glass bubbler is quite compact, it's rectangular shape actually holds enough water to feel like I'm getting well-cooled and filtered hits.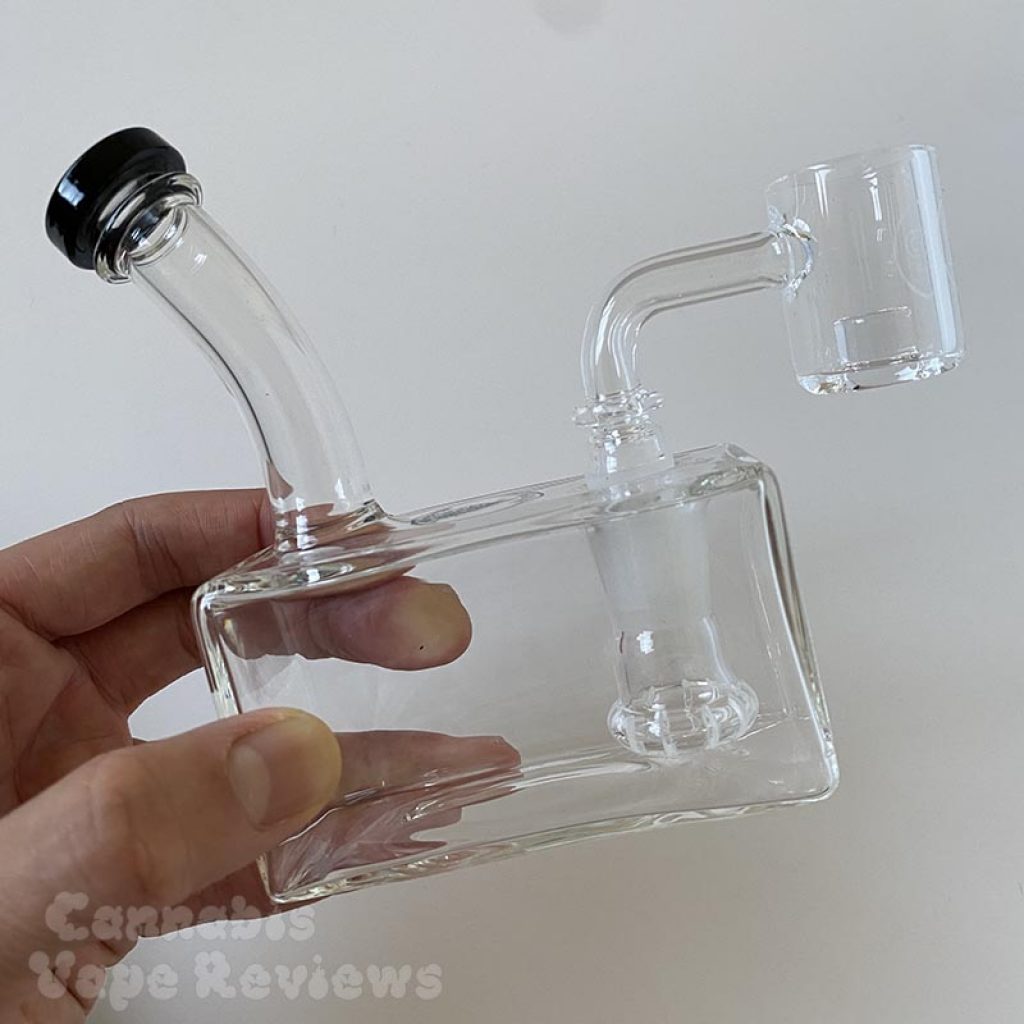 If you don't want to take the time and effort to piece together an entire dab rig setup, then the RIO is the perfect vape to get you dabbing right away.
Quartz Banger with Male Thermal Core
I don't have a ton of experience with dabbing as I've never used a thermal core quartz banger before. I've only heated traditional quartz bangers from the bottom and all sides. I'm not sure if it's ideal to place dabs on the top of the core or along the side walls. I'll have to play around with this and take several dabs to report back and update this review.
So far, this vape has been all around awesome.
UPDATE: I learned that it's best to place the dab around the sides of the core. Do not place the dab on top of the core. With the dab in between the core and the side walls of the banger, the wax is able to remain heated as it comes into contact by more heated surface area.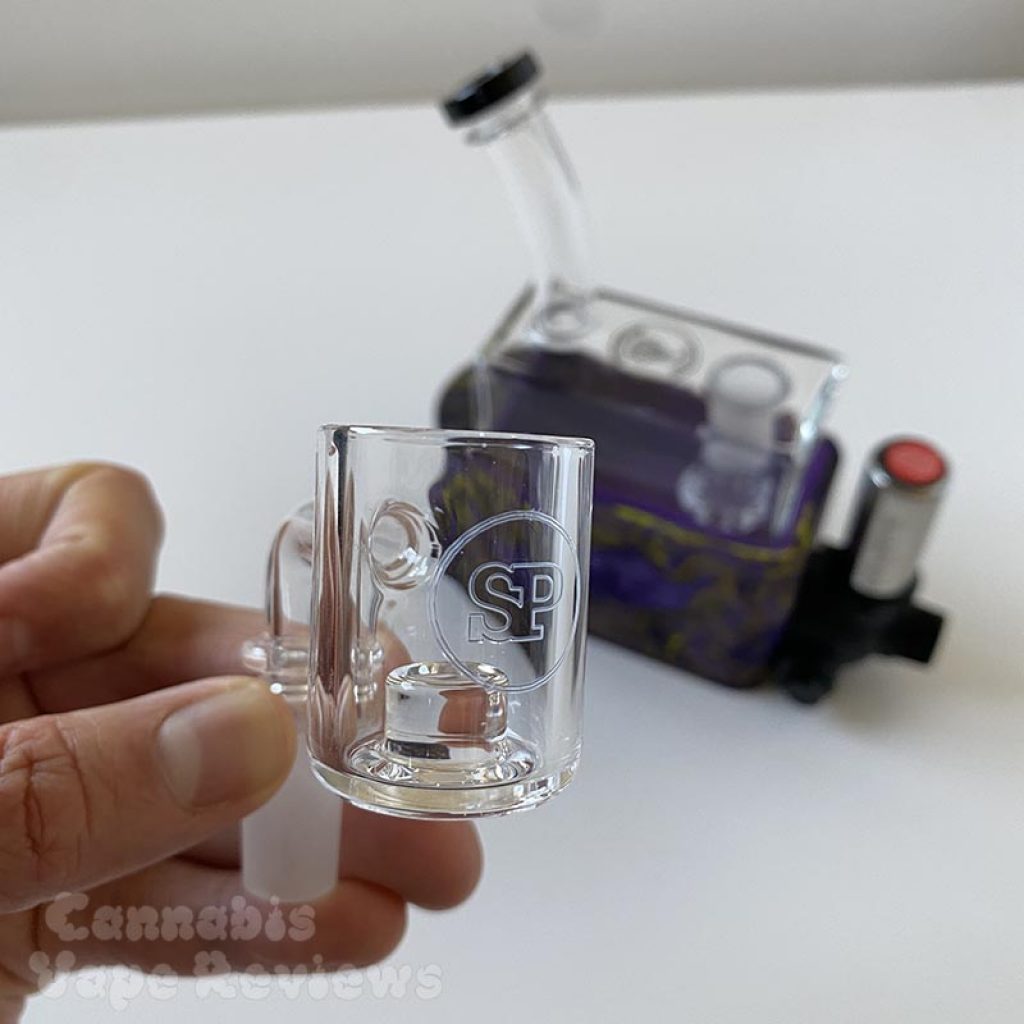 Room for Improvement
The one thing that would make this vape completely awesome is if it incorporated some type of dab tool storage like the EYCE Spark glass rig.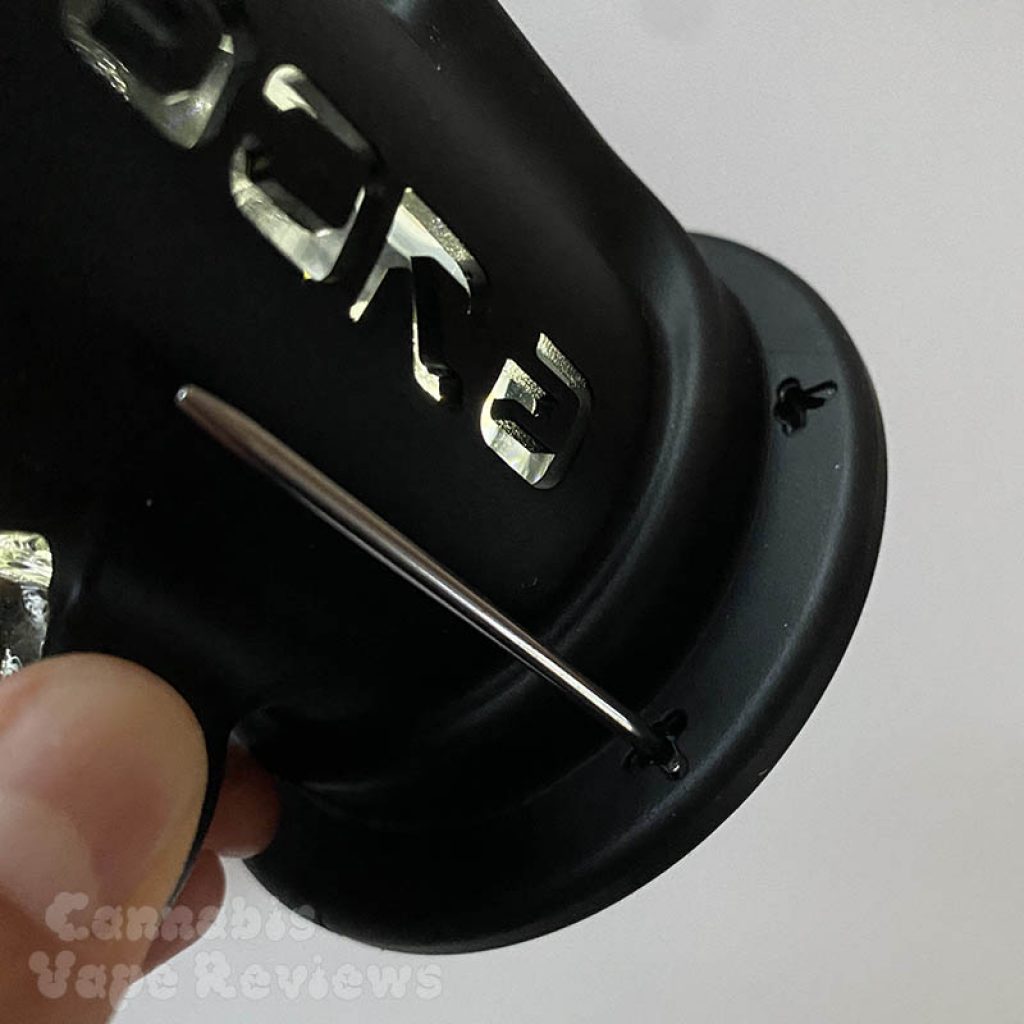 This feature is convenient for keeping your sticky dab tools standing up right. I mean, the RIO incorporates a friggin' torch into the base after all. Why not simply add a hole as a dab tool stand? That would complete this device.
Final Thoughts
Overall, the Stache RIO is a great dab rig for vaping your cannabis concentrates. It's easy to use, includes everything you need, and it's unique design both looks and performs amazingly well.
Price & Where to Buy
Stache Rio retails for $199 and is available at Puffitup.com. The RIO is also available at Vapor.com.
Warranty Information – RIO is backed by a one year limited warranty with 30-days on glass parts.

-15%
15% off
Discount with code at PuffITup.com
RIO is an all-inclusive dab rig with a built-in torch design for dabbing cannabis concentrates.
Stache RIO is available in many different colors and styles. Upgraded glass available as well.
Additional Product Photos