Affiliate Disclosure: Cannabis Vape Reviews is supported by readers like you. We may earn commissions for purchases made through our links. Learn More
The cannabidiol (CBD) and the cannabis vaping industry continues to grow every year. Vaping has become a common method of consuming CBD for therapeutic purposes.
Vaping is the process of inhaling a vaporized liquid through an electronic device or without combustion. The active compounds in high CBD flowers or CBD e-liquid and extracts are heated and then inhaled for desired effects.
Maybe you're wondering, should I vape CBD? There is a lot of confusion around vaping as a method of administering CBD. Continue reading on to learn more about the potential benefits and risks of vaping CBD and understanding if vaping is a good idea for you.
How to Vape CBD
The most common way of taking CBD is orally or sublingually, usually with products like CBD gummies or tinctures. Vaping offers a convenient, alternative method of CBD delivery. Vaping CBD is considered one of the quickest and most effective methods.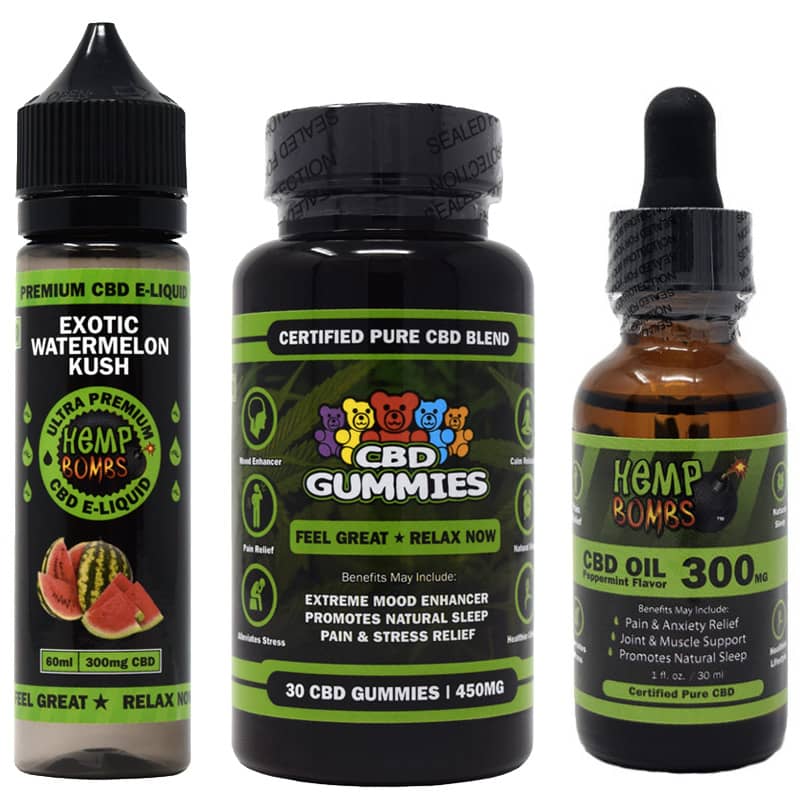 You can vape CBD by using a vaporizer that's compatible with the various forms that CBD is available. CBD is available in a wide range of products from waxy extracts, vape juices and e-liquids, and oils, which are commonly available as pre-filled vape cartridges for use with a standard 510 threaded vape pen.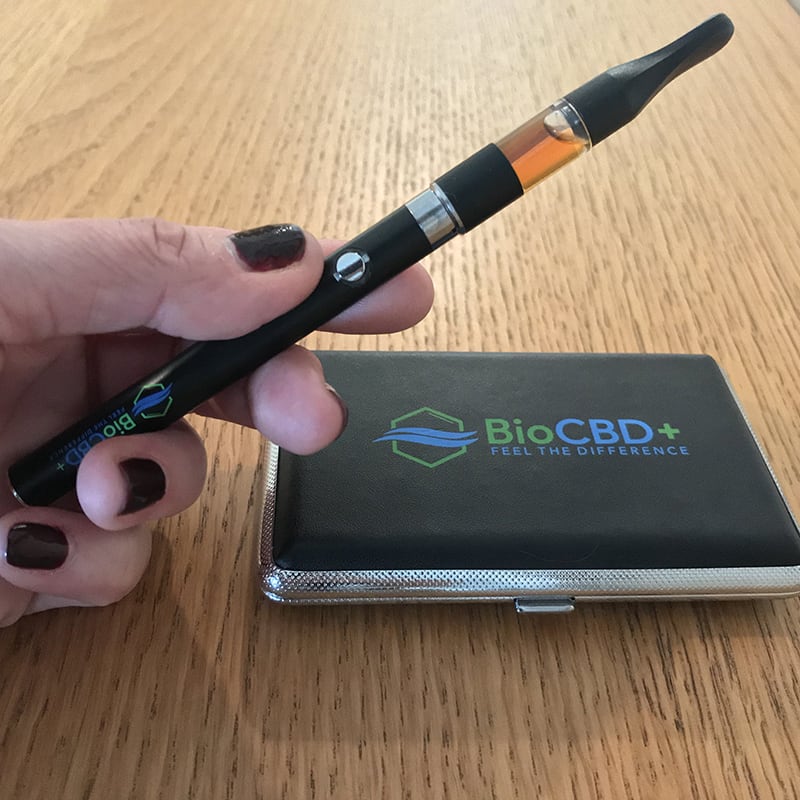 While CBD is used to treat a wide variety symptoms, many find relief in ingesting or vaping CBD oil to reduce pain and for reducing anxiety. When you vape CBD, it is easily absorbed into the bloodstream and allows the user to experience desired effects immediately. This makes vaping a preferred choice for consuming CBD.
Alternative methods such as ingesting CBD gummies, for example, can take longer for your body to process. Since the CBD has to pass through your digestive system, it will take more time to feel the desired effects as opposed to when you vape.
Is Vaping CBD Better than Other Methods?
Vaping CBD is considered a better and safer alternative to smoking. However, it is debatable whether vaping CBD is better than ingesting CBD in an edible form.
Inhaling is considered potentially dangerous as it can be irritating to the throat and lungs. However, for those with digestive issues or difficulty swallowing, vaping may be an easier alternative.
According to Vaping Medical Marijuana, a 2017 article published in the Postgraduate Medicine journal, vaping is more efficient than smoking:
"Vaping leads to a release of a higher concentration of active ingredients and less carcinogens, in comparison to smoking, since the temperatures utilized by vaping are lower".

Postgraduate Medicine Journal
So not only is vaping more efficient at maximizing the release active compounds, but it also prevents inhalation of some potentially harmful pollutants.
Vaping requires lower temperatures of heat in contrast to smoking a joint or puffing on a pipe. The boiling point of CBD ranges between 320 to 356°F (160 to 180 °C). With the right vaporizer, you can stay within this temperature range and avoid combustion of your cannabis.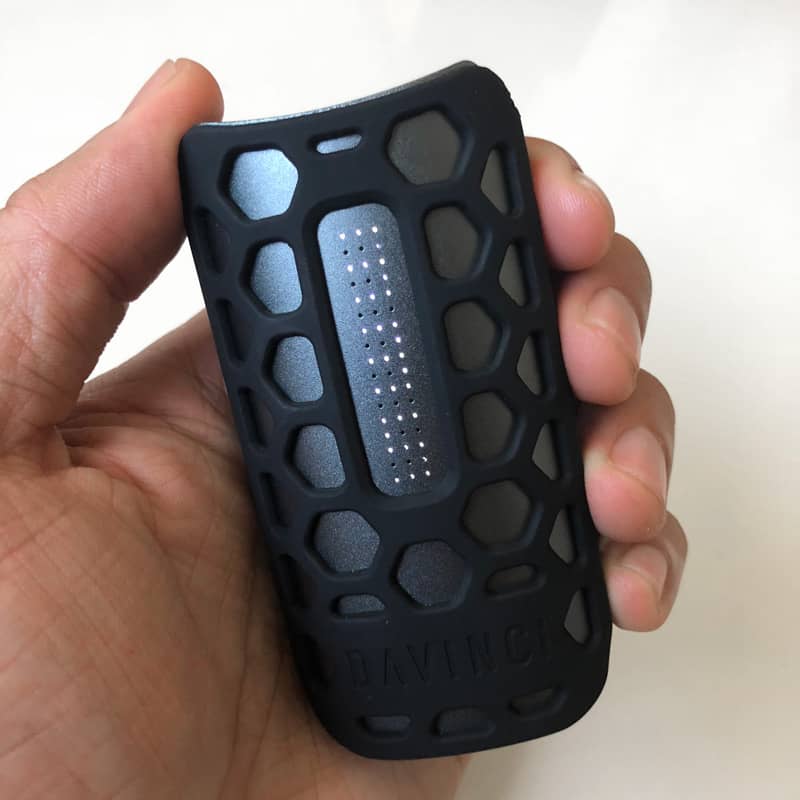 Sophisticated vaporizers, such as the PAX ERA and PAX dry herb vape or the DaVinci IQ, allow precise temperature control. Controlling your temps can improve the smoothness of your vape as well as the taste and flavor profile of your cannabis as well.
A 2007 study by the National Institutes of Health revealed that vaporized cannabis creates fewer respiratory problems than smoked cannabis. It decreases the amount of negative compounds that induce negative respiratory symptoms in the user.
Why Vape CBD instead of THC?
Tetrahydrocannabinol or THC is the primary psychoactive compound in cannabis. It binds to cannabinoid receptors to produce the feeling of a 'high'.
While the THC compound itself isn't harmful, you may be looking to receive the benefits of vaping cannabis without the desire to feel high or intoxicated.
CBD is a non-euphoric compound of Cannabis. It is used for therapeutic purposes like treating anxiety, insomnia, inflammation, pain, etc. Vaping CBD cannot get you high.
Excessive use of CBD may cause very mild side-effects on your body like dry mouth, diarrhea, drowsiness and fatigue. This is easy to keep in check by experimenting and making note of your CBD intake, starting a low dose and tapering up.
There are also blended options in the form of different THC:CBD ratio products. For example, you may benefit from a balanced cartridge that has 1 part THC to 3 parts CBD. Many claim that tiny bit of THC maximizes the effect of CBD. This is widely known as the entourage effect.
Avoiding Blackmarket THC Vape Products
There have been recent reports of potentially dangerous, blackmarket THC-filled cartridges flooding the streets.
Some of these THC-filled cartridges are being produced and sold by unlicensed retailers on the blackmarket. These shady brands cut corners by diluting vape cartridges with harmful filler chemicals such as vitamin E acetate.
This has ignited a vaping crisis in the country and has led to the outbreak of severe lung ailments. In April 2019, the Food and Drug Administration (FDA) issued a warning against using THC-containing vaping products because of the lung injuries caused by it.
You can avoid the dangers of tainted THC-cartridges by only purchasing lab-tested vape products from reputable cannabis brands and licensed retailers.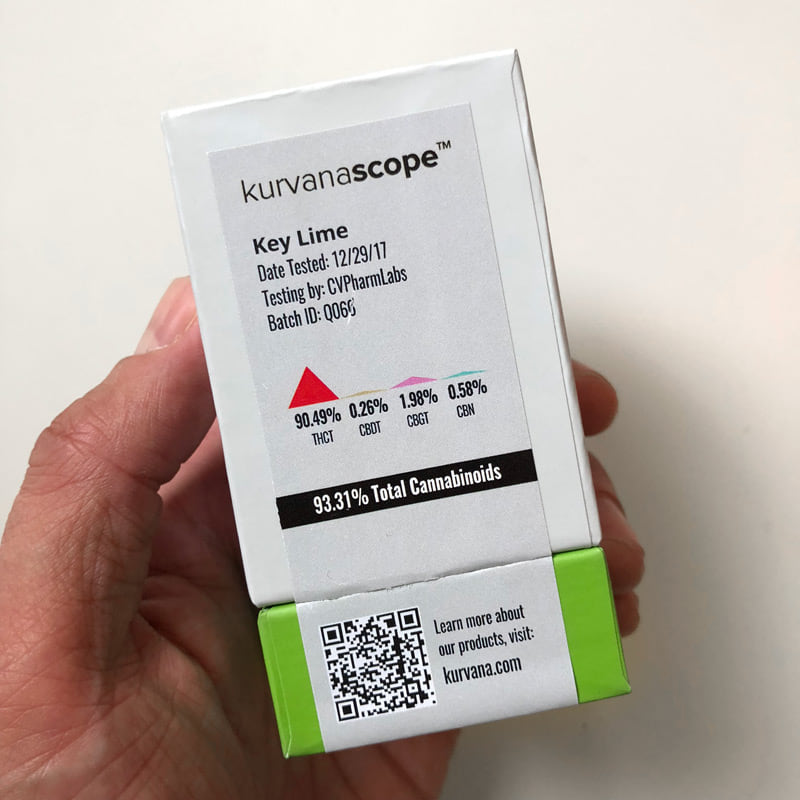 What Happens When You Vape THC & Nicotine?
Vaping THC and nicotine can put you at the risk of various health ailments including electronic cigarettes or vaping product use-associated lung injury (EVALI).
It is a lung ailment that's induced by inhaled substances via vaping. These substances damage the tiny air sacs in the lungs known as alveoli to cause pneumonia. This may further lead to an inflammatory reaction called fibrinous pneumonitis.
According to the Centre for Disease Control and Prevention (CDC), as of February 18, 2020, a total of 2087 hospitalized cases of EVALI have been reported, including 68 deaths in the United States.
The outbreak is linked to Vitamin E acetate that was found in bronchoalveolar lavage (BAL) fluid samples of the patients. It is a thickening agent that is often used in illegal, blackmarket THC-containing cartridges and flavored e-cigarettes.
Benefits of Vaping CBD
Although the effect of vaping CBD on the lungs is still debatable, here are a few benefits of CBD that you should know about:
Bioavailability: Vape oils have a higher absorption rate than other CBD products and methods of delivery. It reaches your bloodstream through the lungs rather than passing through the digestive tract. As a result, the effects of vaping are experienced quickly.
High-quality CBD: There are many reputable CBD brands available that offer high quality CBD in its purest form. Many of these CBD options are available as vape oils or e-liquids. Other than the CBD extract, they often contain few ingredients such as vegetable glycerin and propylene glycol or MCT oil. There's also a wide variety of CBD extracts that range from CBD isolate, to full and broad spectrum.
Reduces nicotine consumption: CBD vapes can help you quit smoking. According to a study published by the National Institute of Health (NIH), "those treated with CBD significantly reduced the number of cigarettes smoked by ~40% during treatment." The research concludes that CBD works as a potential treatment for reducing nicotine consumption.
Produces a relaxing effect: Vaping CBD has anxiolytic properties and creates a feeling of relaxation. Because vaping is quickly absorbed into the bloodstream, inhaling a few breaths of CBD vapors into the lungs can induce an immediate calming sensation.
Safety Precautions for Vaping CBD
Vaping CBD oils and e-liquids are effective ways of consuming CBD. With growing concerns of potential health ailments associated with vaping, it's important to consider how you can vape safely:
Know your vaping device
A vaporizer typically has four components: a heating element, a battery or power source, a mouthpiece, and a chamber to hold your CBD or other cannabis extract.
When the cannabis material in the chamber comes into contact with the heating element, vapors are produced and inhaled through the mouthpiece.

For getting started, you can opt for a basic vape pen that uses cartridges. Also, check out this list of affordable vapes for under $100.
Invest in high-quality CBD products
You should only buy CBD vapes and CBD products from reputable and reliable manufacturers. Always read the product labels carefully. Be on the lookout for information such as potency and other ingredients. Legit brands will often include lab results or links to lab reports. This information shows if the product contains harmful compounds like diacetyl, vitamin E acetate, heavy metals or other potentially harmful bacteria and pollutants. This list has some of the top ready-filled CBD vape pens.
Control your vape temperature
If the temperature of your vaporizer gets too high (446°F or more), thinning agents present in oil cartridges start to break down into harmful carcinogens (cancer-causing toxic compounds). Rarely do you ever need to vape at temperatures above 400°F. You can maintain desirable vaping temps with a variable voltage vaporizer or a precise temperature controlled vape.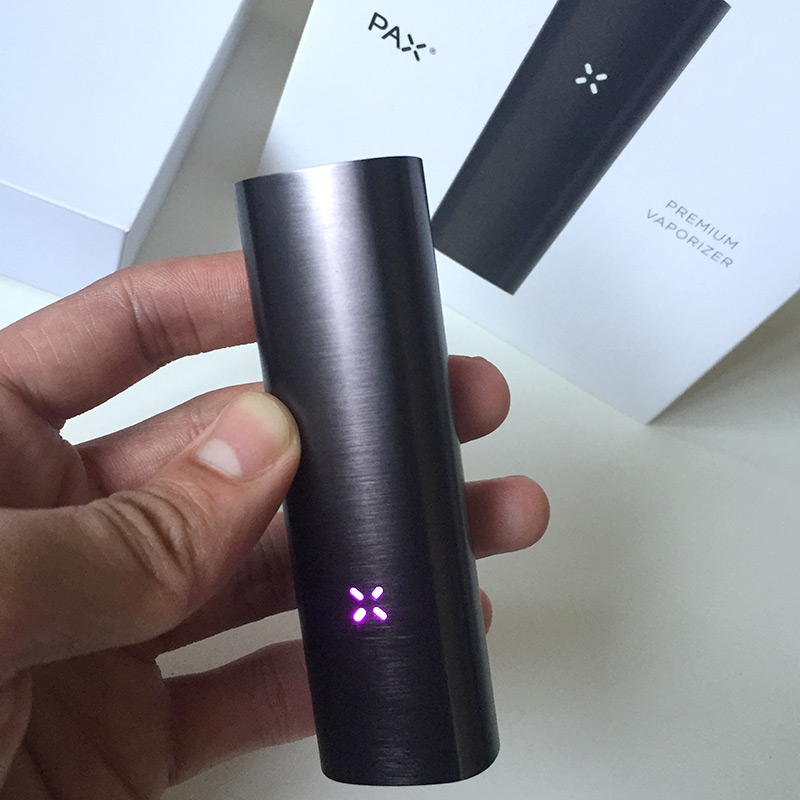 A 2018 study revealed that precautionary measures on vaping devices may reduce the health risks caused due to exposure to toxic carbonyl emissions associated with overheating of the coil.
Monitor your CBD doses
Your CBD dosage depends on your weight, severity of symptoms, and tolerance for CBD. A CBD cartridge usually contains 100mg of CBD.
You inhale about 1-2mg of CBD with each puff. You should start with the lowest dosage and then work your way up. If you wish to take a higher dosage for severe pain, we recommend that you consult with your doctor beforehand.
Conclusion
There is a lot of confusion around the benefits and potential dangers of vaping CBD. While many people are experiencing positive benefits from vaping CBD and it is widely considered safe, many unknown factors still remain.
Although more research needs to be conducted, many positive benefits of using CBD continue to be reported.
Vaping CBD is a great alternative to smoking and vaporizer technology continues to improve. With many licensed brands widely available, licensed retailers, and the industry's push for more lab testing, vaping CBD will continue to grow in popularity. We recommend that you always follow safety measures to reduce potential health risks.