Affiliate Disclosure: Cannabis Vape Reviews is supported by readers like you. We may earn commissions for purchases made through our links. Learn More
Even though adult-use recreational marijuana is now legal in many states, medical marijuana cards may still be helpful.
When it comes to buying cannabis, people with medical cards have several advantages. Card holders can buy premium products that are not available to those without cards, they can avoid hefty cannabis taxes, have a layer of legal protection, and many other benefits.
In this article, we'll cover some of the benefits of having a medical card as well as some common misconceptions, and where to get a cannabis card.
What is a medical cannabis card?
A medical cannabis card is a document that proves that a person has a medical condition that qualifies them for the use of cannabis.
Medical cards are typically issued by state medical cannabis program or come as a written recommendation from a licensed medical doctor.
Medical cards are sometimes referred to as a medical cannabis license, marijuana card, MMJ card, or a medical cannabis doctor's recommendation. In essence, they are all the same thing.
What are the benefits of a medical marijuana card? Do I need one?
Many individuals believe that because marijuana is now legal in many U.S. states, there's no need for becoming a legal medicinal cannabis card holder.
However, becoming a cardholder comes with many perks.
Here's some of the main reasons to get a cannabis card:
Saving Money
In the United States, recreational cannabis is subject to several taxes:
state sales tax
excise tax
local tax
All of this adds up to around a hefty 20-25% additional tax. That's an extra $20-25 that you'll pay on top of $100 for every single legal cannabis purchase from a licensed dispensary.
In California, for example, you can expect to pay up to an additional 25% in taxes. Cannabis taxes include an excise tax of 15% that both medical and recreational users have to pay, as well as local taxes around 0-12%, depending on your city.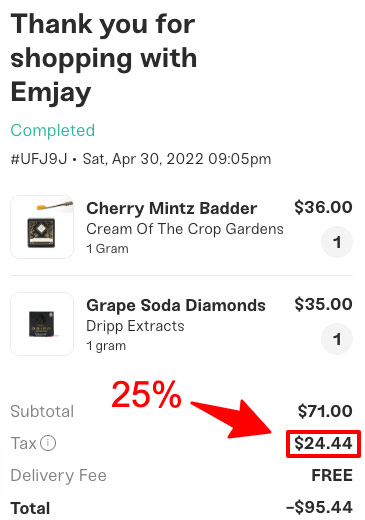 These taxes, however, are exempt if you have a medicinal marijuana recommendation from a doctor. If you are making a "medical cannabis" purchase with proof of medical recommendation, you'll be able to dodge some of these extra fees.
Making an appointment with a doctor to obtain a cannabis card can run around $50 on average, depending on your state and the service you are using.
Even if you have to pay an annual fee for the MMJ card, that's a very small expense to pay.
The cost of acquiring a cannabis card is negligible when compared to the savings you'll enjoy by avoiding outrageous taxes on every legal cannabis purchase you make from a licensed dispensary.
Legitimate Legal Defense
Despite the fact that consuming cannabis may be legal in your state, cannabis is still considered a controlled substance under federal government regulation.
Marijuana legalization is a topical issue in many states, with some continuing to oppose it, while others have legalized it for recreational and medicinal use.
This means that marijuana recommendations can be important legal protection.
In states where marijuana is legalized and regulated, having a medical cannabis recommendation will at least protect you legally within the state that your recommendation was issued.
Consider this: if you are pulled over while driving, what would be the first item you grab to prove you have the legal right to be behind the wheel? Your driver's license.
Your cannabis recommendation works similarly. This provides legal documentation to lawfully possess marijuana according to your state's medicinal cannabis rules.
Easy Access to High Quality Cannabis
In California, recreational adult-use cannabis is only available to individuals 21 and over. However, if you have a medical card, you can purchase legal cannabis as young as age 18.
In some states, being a medical cannabis patient allows you access to buy premium cannabis products that may not be available to recreational consumers. This includes products that have higher concentrations of THC.
As a medical cannabis consumer, you're not restricted to the same limitations of a recreational user. You may also be allowed to make larger purchases per visit, carry larger amounts with you, and grow a larger number of plants.
For example, with California-based delivery service Emjay, you're limited to purchasing up to one ounce of dry herb flower and up to 8 grams of extracts/concentrates as a recreational consumer. However, if you have a valid medical cannabis recommendation or ID card, you can buy up to eight ounces flower (about a 6-month supply for the average user).
Medical cannabis from a licensed dispensary is also safer. States that regulate cannabis enforce laws to ensure that products are 3rd party lab-tested for your safety.
In some states, like Massachusetts, consumers can order cannabis from either medical or recreational menus. Furthermore, the law requires dispensaries to reserve 35% of their total inventory for medicinal patients. This reserved supply ensures that medical cannabis patients will have access to cannabis that may not be available to a recreational consumer.
How do you get a medical card?
Many services are available online to help you obtain a medical cannabis recommendation.
In 2016, Veriheal was formed in order to help with the uncertainty surrounding medical marijuana. The company has made it their mission to connect people with qualified doctors who can provide them with quick, painless recommendations.
Online Medical Card is another service that offers quick and affordable medical cards.

Get your medical card online in California for $39.99 – 100% online and same day processing for qualifying patients.
Misconceptions Regarding Getting a Cannabis Card
There are several misconceptions regarding the process of obtaining a legitimate medical marijuana card.
Don't allow these common misconceptions to prevent you from becoming a cardholder.
It is important to consider the advantages that outweigh the hassles of getting a legal recommendation.
The following are some of the most often cited reasons for not obtaining a recommendation:
Misconception #1: The process is too difficult
Obtaining an OMC (Online Medical card) is not as difficult as most people believe.
The most difficult part of the process is finding a doctor that makes medical recommendations and scheduling an appointment.
However, the entire process can take just a few minutes and be done online from the comfort of your home.
The typical process requires registering an account online, uploading some documents to prove your identity, and doing a short video conference call with the doctor.
Most services nowadays are offered via tele-health.
The doctor will ask you some standard questions about your health. After the meeting, they'll either mail your ID card or email you a medical card to print out immediately.
The process is very quick and convenient.
Misconception #2: I don't have a qualifying medical condition
You might be worried that you don't have a qualifying medical condition to get a cannabis card.
However, there's a wide range of reasons that may qualify you for a medical recommendation.
Depending on your state, the qualifying conditions can very, but here's a list of some qualifications that are typically accepted:
Insomnia
Anxiety
Hepatitis
Cancer
Parkinson's disease
Crohn's disease
Glaucoma
Multiple Sclerosis
HIV/AIDS
Amyotrophic Lateral Sclerosis (ALS)
There are a few disabling conditions that may also qualify you for therapy. A qualified care professional will go over what the condition is and what it entails.
Where is Cannabis Legal in the U.S.?
California was the first state to legalize cannabis for medical use in 1996 under Proposition 215.
Since then, over 30 U.S. states have legalized the medical use of cannabis to varying degrees. While cannabis in these states is considered legal, it may not be fully-legal for recreational adult-use.
These states include: Alaska, Alabama, Arizona, Arkansas, California, Colorado, Connecticut, Delaware, Florida, Hawaii, Illinois, Louisiana, Maine, Maryland, Massachusetts, Michigan, Minnesota, Mississippi, Missouri, Montana, Nevada, New Hampshire, New Jersey, New Mexico, New York, North Dakota, Ohio, Oklahoma, Oregon, Pennsylvania, Rhode Island, South Dakota, Utah, Vermont, Virginia, Washington, and West Virginia.
Since then, Alaska, Oregon, and Washington have passed their own measures allowing for the legal use of medical marijuana.
Many states have continued to follow suit.
States with Legalized Recreational Cannabis Use
Since 2012, there have been a total of 21 states, and the District of Columbia, that have legalized the adult-use of marijuana for recreational purposes.
These states include: Alaska, Arizona, California, Colorado, Connecticut, Illinois, Maine, Maryland, Massachusetts, Michigan, Missouri, Montana, New Jersey, New Mexico, New York, Nevada, Oregon, Rhode Island, Vermont, Virginia, and Washington.
These 21 states and the District of Columbia were able to legalize the use of marijuana through ballot measures or through their state legislatures.The momentum has been shifting in the U.S. to legalize cannabis on a state-by-state, and now even at the federal level. Here's an example of a bill that is moving through the U.S. legislative process (SB 2023 (PA 101-0363) and shows the tide is shifting for legalized marijuana. However, until cannabis is fully legalized, the benefits of having a medical cannabis card are still worth it.