Rokin Nitro Wax Vape Pen
Posted on:
March 27, 2017
/
With three different temperature settings and a dual quartz rod atomizer to suit every dab-on-the-go situation, the Rokin Nitro Vaporizer hits like a champ. Not to mention its cool design, which although it resembles quite a few other concentrate vaporizers, has an overall element of sleekness and is made of quality materials. The Nitro pen's chrome-like rose gold exterior is quite classy, giving it that "Ferrari of vaporizers" type of look and feel.
Design & Features
The Nitro pen vaporizer was made with the highest standards in mind. Its all-metal construction not only is a treat for the eyes, but makes it feel sturdy and far from fragile. The Nitro boasts a deep glass chamber with dual quartz rods and titanium coils and excellent airflow. The vaporizer also features a 10-second auto-shutoff to prevent overheating.
Deep Chamber & Great Airflow
While the deep chamber holds a large amount of wax, the depth also makes it a challenge to get wax inside neatly, even given the included stainless steel dab tool. However, once the vape is loaded, the two rods and titanium coils in the atomizer chamber make for large and consistent pulls. The Rokin Nitro pen offers two strategically placed air holes at the top of the chamber for optimal airflow.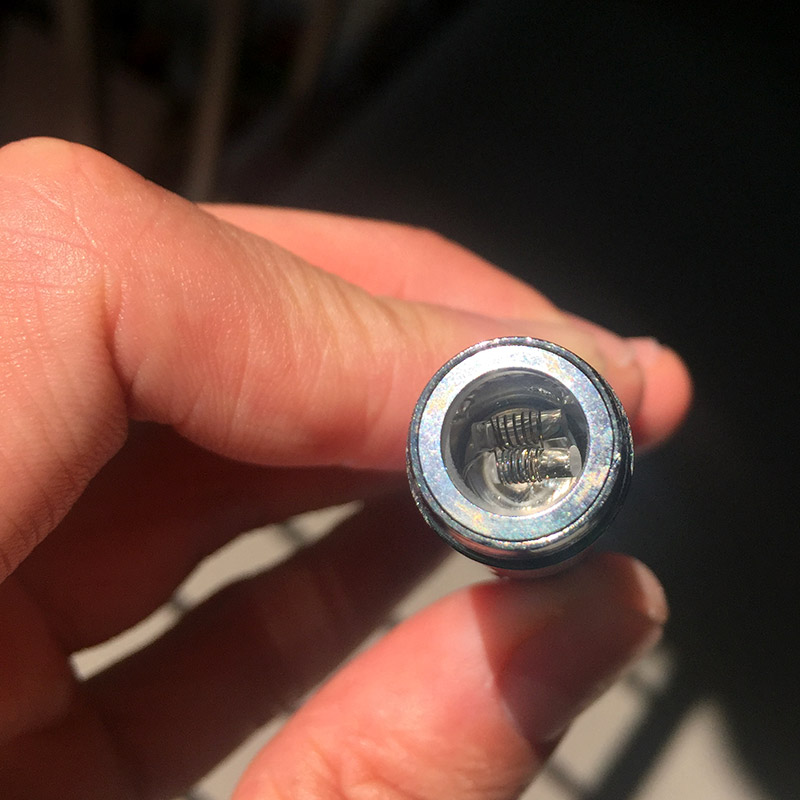 Quality Materials & High Standards
Like mentioned before, the Nitro Pen closely resembles other vaporizers on the market, yet Rokin prides itself on the fact that their atomizers contain no plastics, wicks, or dyes. Rokin says that what sets them apart from other devices is their willingness to go above and beyond to certify their vaping products to the latest RoHS standard. The brand is particularly proud to say that their vapes are RoHS certified, which means they ensure that their products are lead-free and restrict the use of 6 hazardous materials commonly found in electronic products and equipment. The Rokin Nitro is additionally upheld to the latest standards of the FCC and CE. These quality standards undoubtedly set them apart from their direct competition.
Easy Operation
The Nitro Pen has only one button on the shaft, which is clicked fives times in order to turn on and off, and three times in order to change between temperature levels. The button is designed in the form of the letter "R" and fits well with the device aesthetic. To customize your pull even more, there are three temperature settings – green (low), blue (medium), or red (high) – that you can distinctly tell the difference between. We like how the Nitro Pen is easily controlled with one button and is not difficult at all to use.
Tech Specs
Weight: 16 oz.
Dimensions: 8″ (length) x ~0.5″ (diameter)
Atomizer: Dual quartz rod with titanium coils
Battery size: 650 mAh
Colors: Matte Black, Gunmetal, Rose Gold
What's Included
Extra Dual Quartz Atomizer
Silicone Mouthpiece Cap
Stainless Steel Dab Tool
Silicone Container
USB Ego Charger
USB Wall Charger
Rokin Sticker
How to Use
The Nitro Pen's design allows you to assemble the device with ease. Just unscrew the top part of the vape from the atomizer, load the wax on in the deep coil chamber with the provided dab tool, attach the two parts and you are good to go. To turn on the pen, just press the start button five times and the devices come to life with the first temperature setting automatically selected.

Our Experience
This was the first portable, concentrate vaporizer experience for one of our reviewers. They only had experience using vaporizers that come with preloaded cartridges, so the Nitro vape pen was a first for loading them self. Loading the vape was self-explanatory and kind of a hassle to get the wax inside the deep chamber, but was seriously enjoyable to use.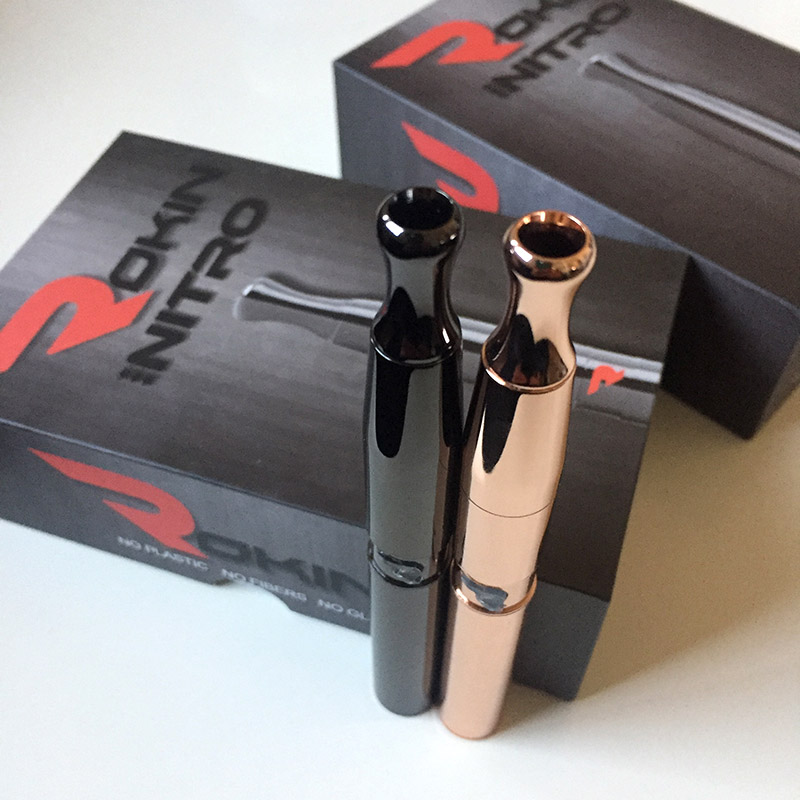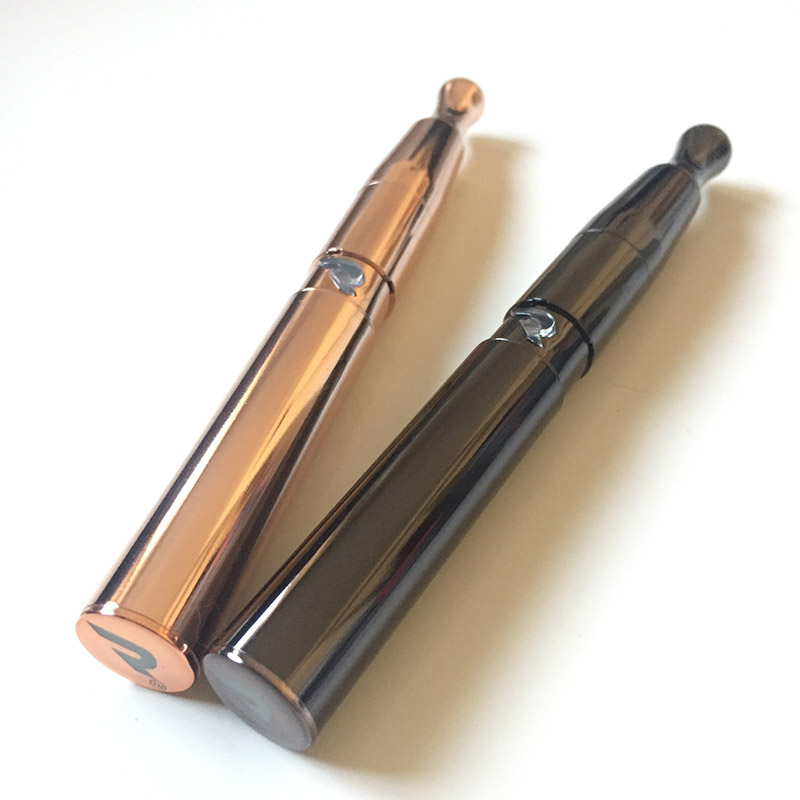 It's compact, discreet, portable, and produces consistent pulls. The experience of being able to change the temperature settings accordingly, based on how big of a pull is desired, is quite enjoyable. We tested the Nitro using some Pure Vape Wax and Sour Diesel wax from Angel City THC, and with each pull, we were able to taste the delicious flavors, aromas and clean highs.
Final Thoughts
The Nitro Pen is compact, discreet, and produces a really nice and smooth vapor. What we like about this unit is its simple usability and low price point. The price point makes this an ideal starter wax pen and a good occasional use pen for more experienced vapor enthusiasts.

Price and Where to Buy
The Rokin Nitro vape pen is available in several colors starting at $39.95 (originally $69.95 – $79.95):
Gun Metal
Matte Black
Rose Gold
All Rokin batteries are backed by a 12-month warranty and include free shipping. You can purchase the Rokin Nitro and replacement parts directly through the Rokin online store.
Use code "CVR20" at checkout for 20% OFF your order!
You may also be interested in the Rokin Mini Tank Oil kit designed to be used with vape cartridges.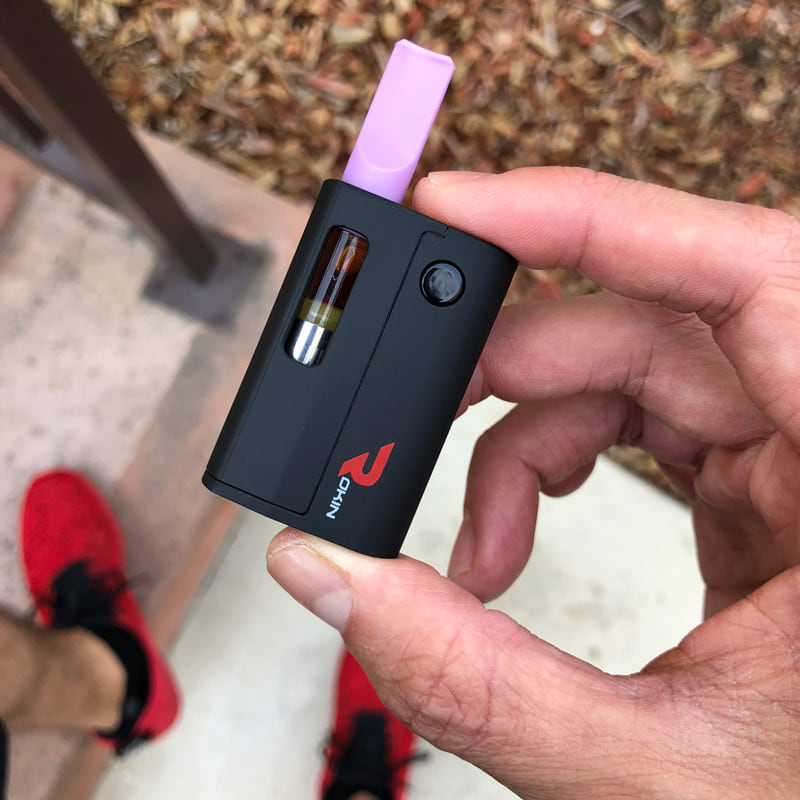 Rokin Nitro Vape Pen
$39.95
Pros
Economical price makes it a great budget vape
Simple operation that's geared toward beginners
Above average vapor quality in terms of flavor and smoothness
Easy to carry and relatively discreet
Cons
Can be a little hard to load