BioCBD Plus Vape Pen Kit Review
Posted on:
August 30, 2019
/
CBD has entered the mainstream as a popular alternative medicine. Many consumers are turning to vaping CBD to help with a variety of ailments.
Some use CBD for pain management, anxiety or insomnia, while others utilize it to help them quit tobacco. Vaping CBD can be used to both satisfy the craving to inhale while also chilling out the withdrawal effects from Nicotine.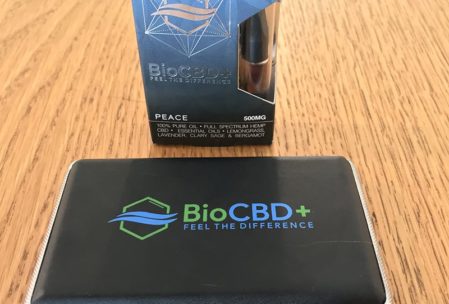 BioCBD+ (aka BioCBD Plus) offers a line of concentrated, hemp-derived CBD vapes, topicals and other CBD products. Their line of Peace CBD vape cartridges offers all natural, extra-strength hemp CBD infused with a unique blend of essential oils.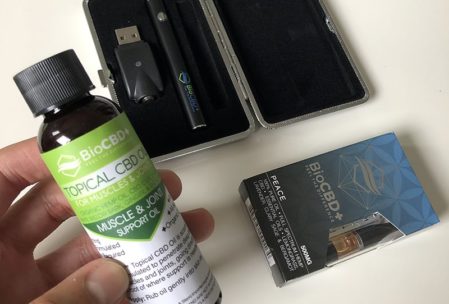 Their proprietary, plant-based formula boasts a higher concentration of CBD than most products on the market. Over 50% of the formulation is CBD, terpenes and other cannabinoids. That is over 250mg of active ingredients in each 500mg vape cartridge.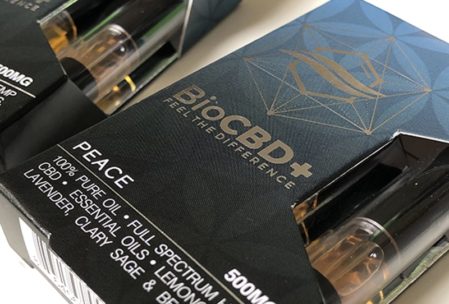 The doctor behind the BioCBD Plus formulation wants to provide a potent CBD oil for vaporizing, but with with no additives, propylene glycol, or vegetable glycerin. In fact, BioCBD Plus uses only natural terpenes for flavor and no cutting agents.
BioCBD Plus' hybrid nano-engineering process ensures their CBD is more bio-available. This means you'll absorb more CBD with each puff and experience the therapeutic benefits more rapidly.
Design & Features
BioCBD+ offers a CBD Vape Combo Kit which includes everything you need to begin benefitting from the calming, gentle effects from vaping CBD.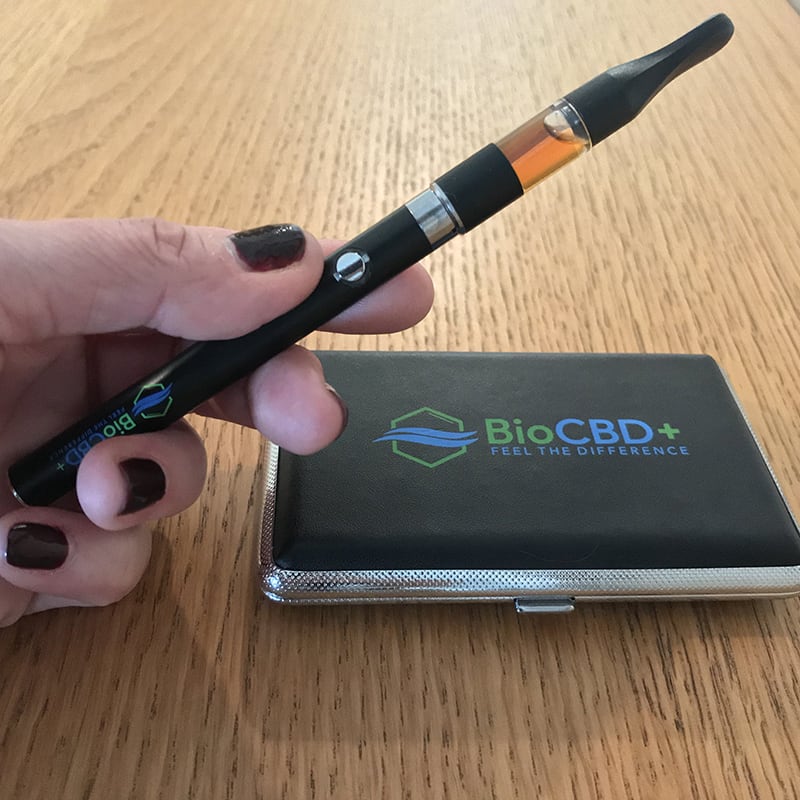 The 500mg CBD vape cartridge is aptly named Peace and arrives snugly packed in a protective carrying case containing a pre-charged, 510-threaded vape pen battery and USB-charger.
Although the BioCBD+ Peace vape cartridge is a universal 510-threaded vape cartridge and will fit most vape batteries, BioCBD+ recommends using their BioCBD+ vape battery kit. This vape battery burns at a low voltage  specifically designed to be used with their CBD oil vape cartridges.
What's Included
The BioCBD+ Vape Combo Pack includes the following:
1x Battery
1x USB charger
1x Carrying case
1x Disposable cartridge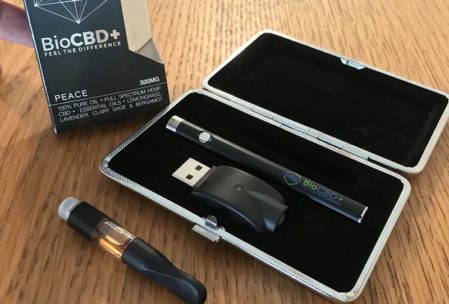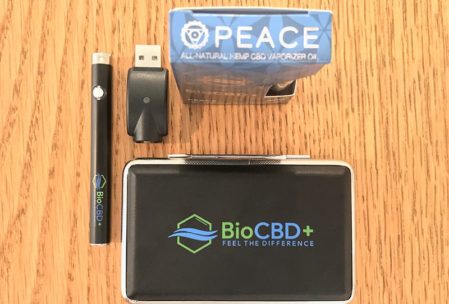 Tech Specs
Battery Weight: 0.50 oz
Battery Dimensions: 9.6mm diameter
Battery Capacity: 280 mAh
Battery: USB-rechargeable lithium ion battery, 3.2 volts, push-button operation
Battery Materials: Aluminum body
Vape Cartridge: Plastic mouthpiece, borosilicate glass tank
How to Use
Simply screw the 510-threaded cartridge into the included BioCBD+ battery. Press the button 5x rapidly to power on/off. Then press and hold the power button for the duration of your inhale.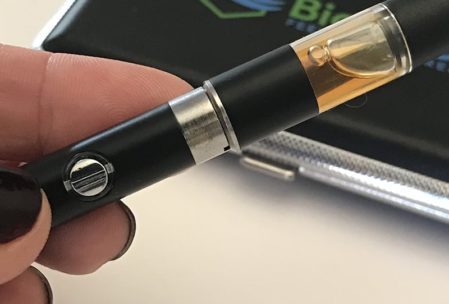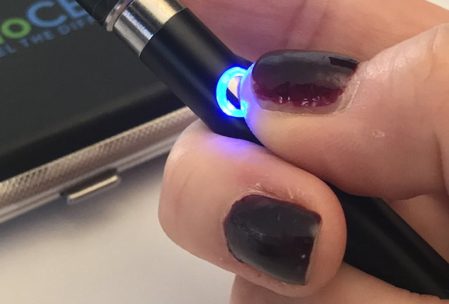 At only 3.2 volts, the battery arrives fully charged and is efficient enough to last for days with moderate use. Use the included USB-charger to quickly recharge the battery within 30-minutes.
Potency & Lab Facts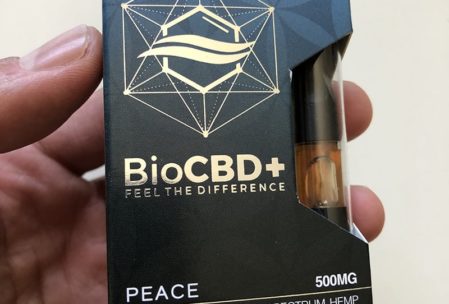 500mg BioCBD+ Peace Vape Cartridge:
200mg of full spectrum hemp CBD
300mg of proprietary blend of hemp oil, terpenes, and essential oils
Essential oils: lemongrass, lavender, clary sage, and bergamot
BioCBD+ Lab Results
Dosing
Each inhale provides 1-2mg of CBD. If you follow the basic dosing guidelines to cannabis products, about 5 draws should get the desired effects.
200mg (2mg per puff) of CBD will be absorbed by your body more quickly than with topical CBD products absorbed through the stomach or skin.
In fact, vaping 10mg of BioCBD+ is the equivalent of taking at least 100mg of oil-based CBD.
Taste & Flavor
BioCBD+ Peace CBD oil tastes like clean lemongrass with a hint of floral lavender which softens the notes of citrus. Traces of bergamot play with the notes in the exhale with an overall piney aftertaste.
My Experience
Some vape companies use only small amounts of CBD then mix the remainder of their cartridges with fillers like MCT or PG/VG along with artificial flavors. BioCBD+ uses mostly hemp CBD, real plant terpenes – and I love that their vape oil is all natural.
In vaping BioCBD Plus, I felt a calm sense of well-being while maintaining sharp, mental clarity. The CBD softened the effects of my anxiety and helped with insomnia without any side effects, like grogginess.
When I vaped during the daytime, the oils in Peace, like Lavender which naturally induces calmness, worked with the CBD to softly bring me to a place of centered peace. If I felt I was over-thinking or worrying, about 5-7 draws would help me focus more on my breathing, which helps slow the heart rate.
With the pleasant lemongrass flavor and a deep exhale, it truly felt some of the worries melted away into a manageable state of mind. Especially at nighttime, when I wanted to turn my brain off and concentrate on falling asleep, rather than all the things I needed to get done the next day.
I was able to pull a lot of vapor with each puff without clogging the mouthpiece. However, I found that after 5-6 puffs, the oil started tasting a bit burnt. I resolved this by letting the cartridge rest for a few minutes before taking another draw.
As with any hemp-derived CBD product, it should not contain any THC, so you will not experience any "high effect" from this type of product.
Final Thoughts
BioCBD Plus is effective at providing relief from anxiety and helped me relax at night for a restful sleep. As with any sort of treatment, results will vary depending on things like tolerance, potency and how your body reacts based on your individual brain chemistry.
The very act of deeply inhaling, holding for 2 seconds, then deeply exhaling naturally assisted the herbs and CBD in bringing me to a calm and more present state.
As with most CBD products, the feeling can be quite subtle. It's not always about what you feel, but what you don't feel. Anxiety melts to serenity thus ensuring daytime relaxation and a good night's sleep.
If the oil begins to taste "burnt", wait a few minutes to allow the oil to cool, and you're good to go!
Price & Where to Buy
BioCBD Plus vape cartridges are available  in 500mg (half grams) directly through the BioCBD+ website.
You can order single cartridges for $50 or get cartridges at a discounted rate of $34 per cartridge (savings of $16 per cartridge!) with a monthly subscription.
BioCBD+ offers combo packs or individual products at the following prices:
BioCBD+ offers topicals and capsules as well and all of their products are backed by a money back guarantee.
As hemp-derived CBD is legal throughout all U.S. states, you can order BioCBD+ products online to have them shipped directly to you. BioCBD Plus will also ship internationally to most countries.
You may also be interested in reading about other Hemp CBD oils and high CBD vape oil reviews.