Affiliate Disclosure: Cannabis Vape Reviews is supported by readers like you. We may earn commissions for purchases made through our links. Learn More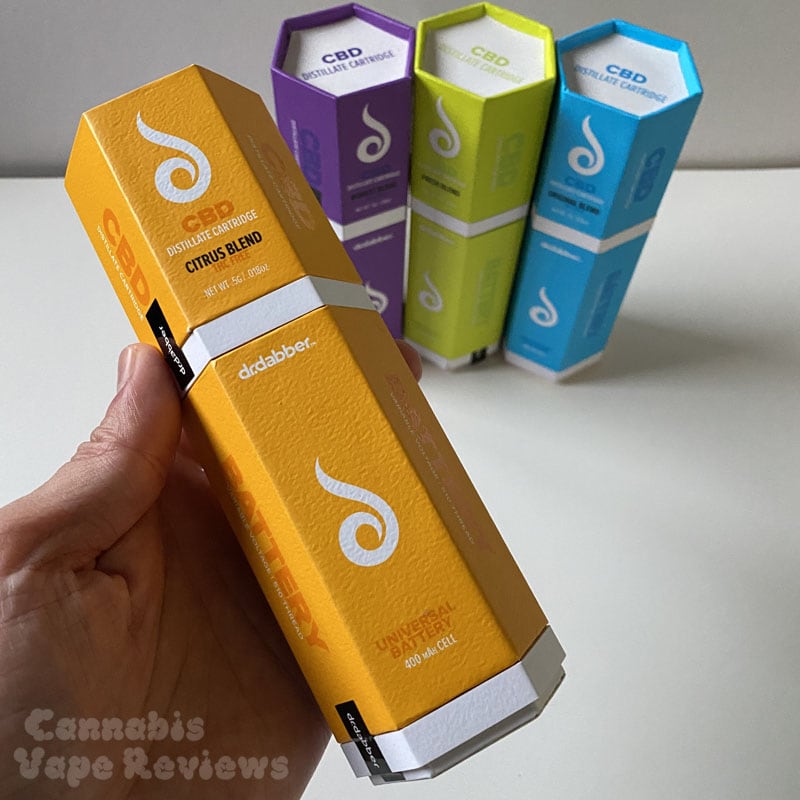 Dr. Dabber, a major household brandname in vaping, known for their innovative vaporizers, now offers CBD oil cartridges and matching vape pens.
Each one of their CBD vape cartridges is pre-filled with a half gram (0.5g) of distillate cannabis oil with a potency of approximately 250mg of broad spectrum cannabinoids (potent in CBD, CBC, CBG & CBN). The distillate oil is flavored using a custom blend of terpenes and is free of additives (no PG, PEG, VG, or MCT).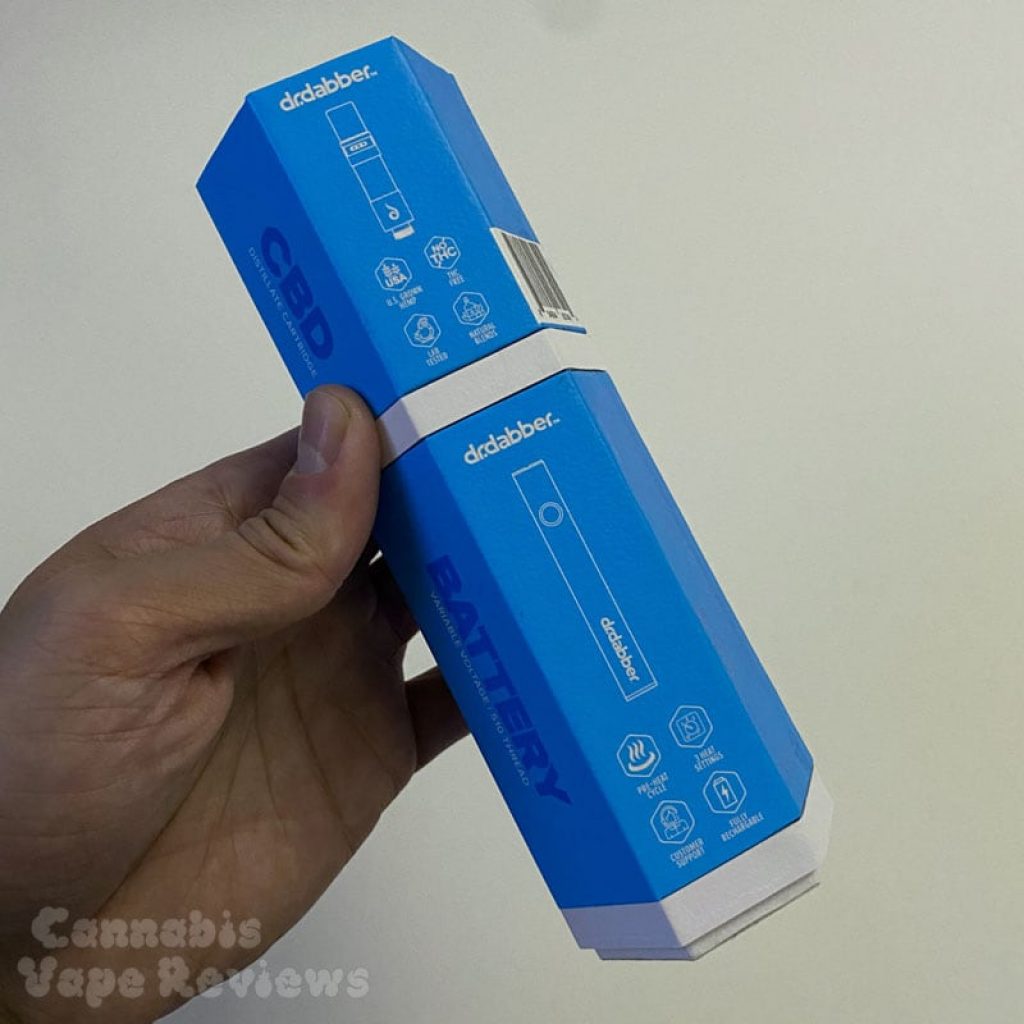 Dr. Dabber CBD distillate cartridges come in the following flavored blends:
Original Blend
Citrus Blend
Robust Blend
Fresh Blend

Dr. Dabber CBD Oil
Broad-spectrum CBD oil vape cartridges with delicious tasting, custom terpene blends.
Order directly from DrDabber.com
Potency & Lab Facts
Every cartridge includes a QR code on the packing that conveniently takes you right to the certificate of analysis so you know exactly what you're vaping. See cannabinoid and terpene content as well as pass/fail safety screenings for pesticides, additives, and microbial content.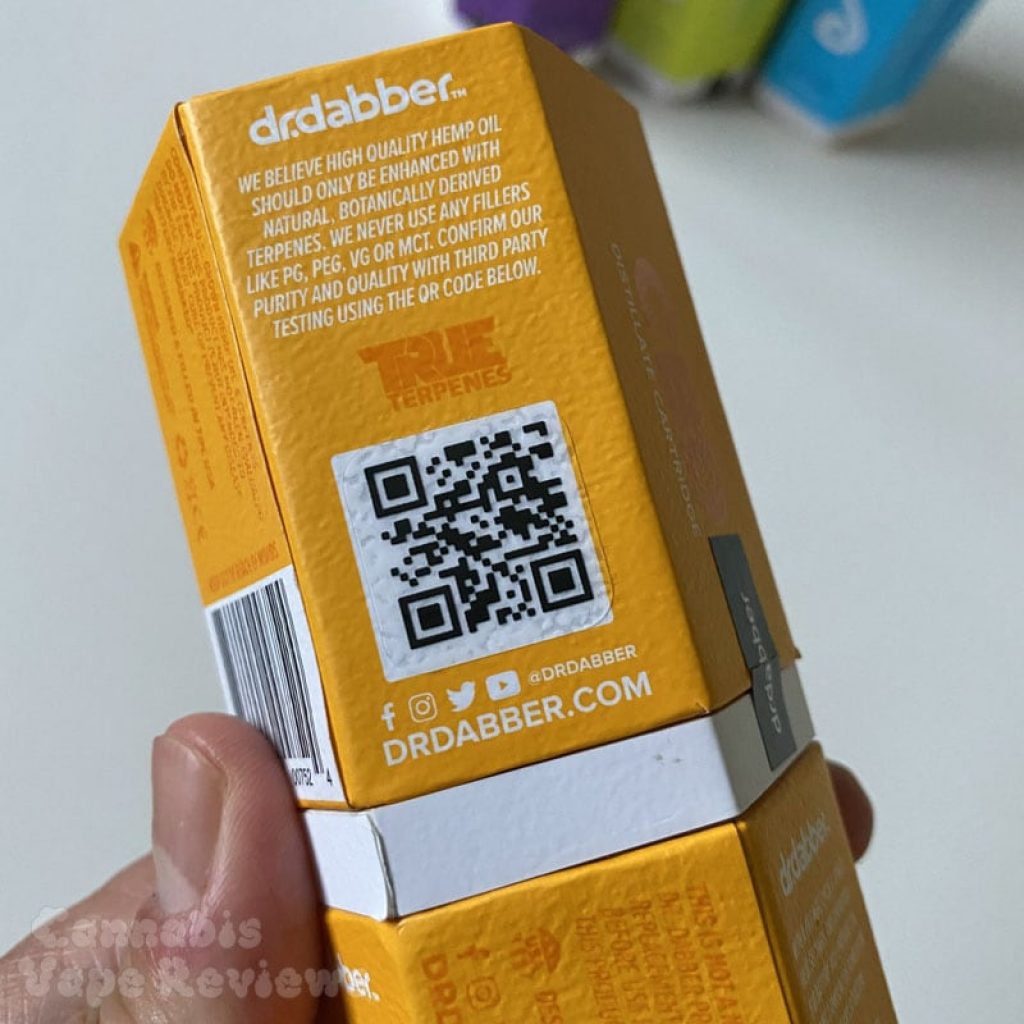 Every cartridge is pre-filled with distillate oil that's derived from hemp CBD. Each cartridge is guaranteed to contain at least 250mg of broad-spectrum CBD.
What's Included
Dr. Dabber cannabis oil cartridges are available as single cartridges, sampler packs, or as a battery + vape combo pack. We'll focus on the combo pack for this review.
The Dr. Dabber CBD oil combo pack includes:
1x Dr. Dabber branded variable volt vape pen
1x USB battery charger
1x CBD oil cartridge (500 mg)
Dr. Dabber branded stickers
Quick-start instructions
QR code scanner for True Terpenes test results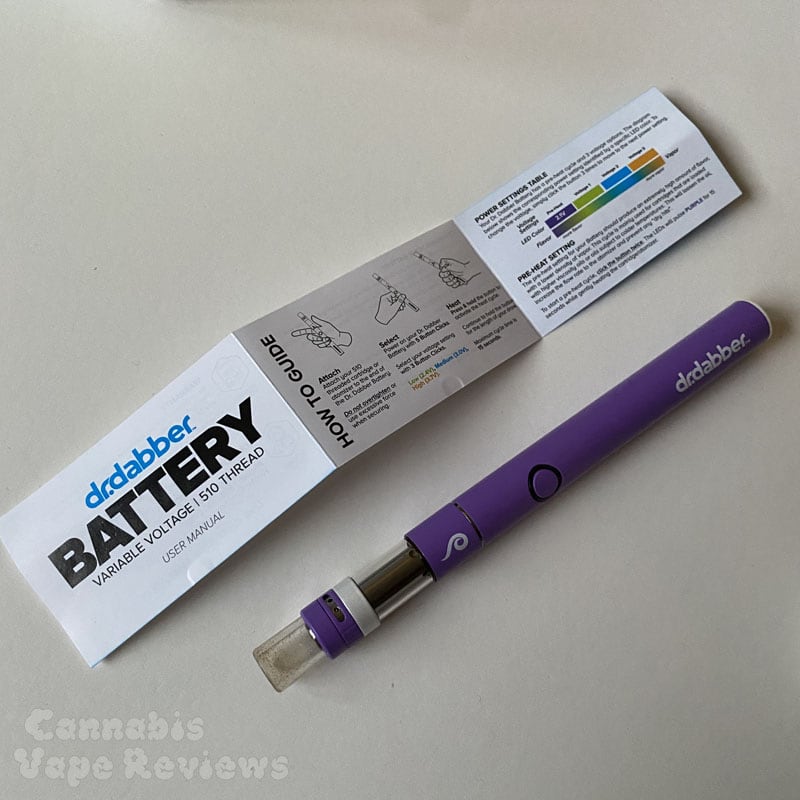 Our Experience
We tried all four flavors of Dr. Dabber CBD oil. They all tasted fantastic and vaped smoothly. Of all the flavors, I enjoyed the the original flavor (blue cartridge) which tastes a lot like bubble gum candy.
Because CBD does not get you high, can't speak to potency in terms of a high effect. Any effects from CBD are also quite subtle so it's hard to judge. However, after vaping these carts alongside some THC, I can say that I do feel super chilled out.
We've previously reviewed the Dr. Dabber SWITCH vaporizer which is an absolutely fantastic vape. With that being our first review of a Dr. Dabber product, I had high expectations (see what I did there!?) for these carts.
All the flavors were great and worked well with the paired battery.
Vaping with the Dr. Dabber Universal Battery
Dr. Dabber's universal vape pen batteries pack a 400 mAh energy storage capacity which is decent for a variable volt vape pen. These pens feature a 15-second pre-heat function (at 2.1 volts), which is great if your oil is cold or thick, and three color-coded volt preset options (2.4, 3.0, and 3.7 volts).
At the lowest setting (green color), you'll experience maximum flavor without any throat or lung irritation. At the medium volt setting, you'll find a good balance between flavor and vapor size. I'm very careful not to burn my carts and ruin the flavor, so I didn't feel the need to vape at a higher voltage beyond that.
However, we've been reviewing lots of pocket vapes for 510-threaded cartridges lately so we tested out these Dr. Dabber CBD oils with various batteries.
Vape Pen Options for Dr. Dabber CBD Oils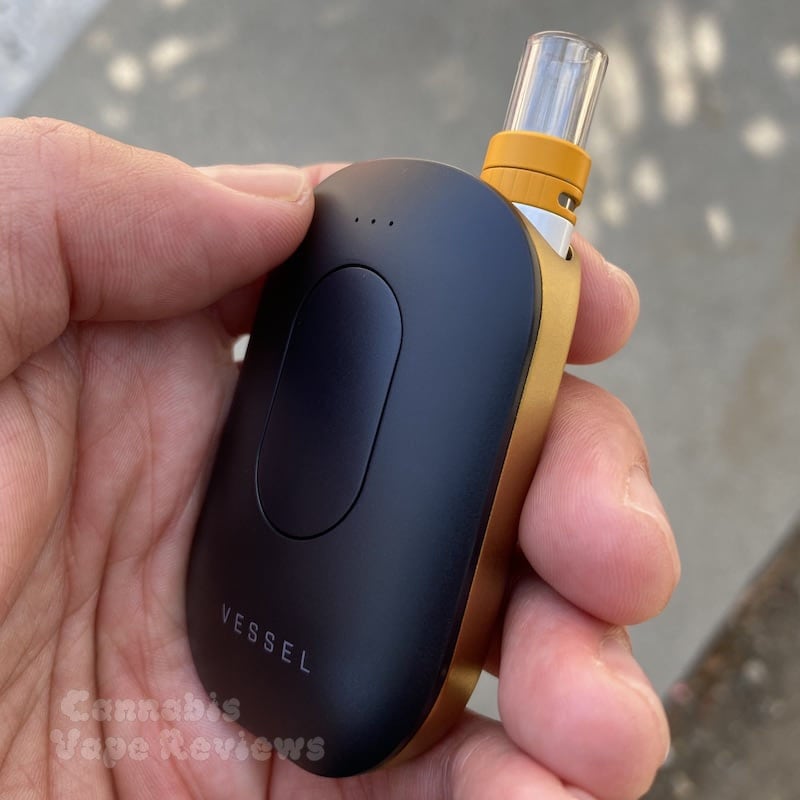 I'm still experimenting with CBD to find out how it best works with my mind and body. While I'm not the biggest fan of CBD, I definitely enjoyed the taste and flavor of Dr. Dabber CBD oils and found some enjoyment vaping them.
I really enjoyed vaping Dr. Dabber CBD cartridges with the Vessel Compass vape and re-designed Rokin Mini Tank. The Compass vape is great for its compact size vape and four pre-heat settings, while the Rokin Mini Tank uses Rokin's Power Wave technology to automatically fine-tune the optimal voltage for your oil cart. The Dr. Dabber cartridges used with the vapes produced some tasty, milky vapors.
Price & Where to Buy
You can buy Dr. Dabber CBD Oil in half gram (0.5g) cartridges directly from Dr. Dabber's website or through Vapor, authorized retailer of Dr. Dabber products.

Order directly from DrDabber.com
Broad-spectrum CBD oil vape cartridges with delicious tasting, custom terpene blends.
CBD cartridges are available as bundles or sold separate. Here's how the prices break down:
Dr. Dabber vape pen battery – $19.95
CBD oil cartridge and battery combo – $49.95
CBD oil cartridge (0.5gram) – $34.95
CBD test pack – $104.95 (about $26.23 per cartridge – save $8 per cartridge)
Where to Order Weed Delivery in California