Affiliate Disclosure: Cannabis Vape Reviews is supported by readers like you. We may earn commissions for purchases made through our links. Learn More
11/18/2020 Update
UPDATE: The Mini Tank has been recently updated to feature Power Wave Technology, which varies the voltage from 3.6V to 2.2V allowing a more smooth vaping experience.
If you're a fan of vape cartridges and vape pens, you know you can always use an extra vape battery.
The Rokin Mini Tank Vape is a miniature sized battery that works with any 510 threaded vape cartridge. It's ridiculously tiny and has a large battery storage capacity considering its size.
The Mini Tank battery is not your traditional vape pen style battery, but rather a tiny box mod vape battery. These box mod vapes for cannabis oils seem to be gaining popularity as we've seen a couple brands offering their own versions.
What's Included
Mini tank battery
USB charging cable
Lanyard
Standard Features
Works with any 510 threaded cartridge
Compact for easy carry
Matte black finish
Large battery capacity
Preheat function (15 seconds)
Rechargeable by micro USB
Certified to the latest FCC, CE, and RoHS standards
Power Wave Technology (auto-adjusting volt range)
Rokin recently updated the design of this battery to work even better. It now includes an auto-adjusting voltage feature using Power Wave Technology.
Here's a quick explanation from Rokin on how the technology works:
Power Wave Technology varies the voltage amplitude across a given frequency. The peak-to-peak amplitude is 1.4 V (3.6 – 2.2 = 1.4 V) and changes in a classic sine wave form.

Rokin Vapes
"Instead of a normal variable voltage battery where you set the voltage, Power Wave Technology automatically varies the voltage between 3.6 V and 2.2 V. Since most cartridges don't need a full 3.6 V to keep the product hot enough to vape, the drop in voltage allows the product to not overheat and increases taste at the same time!"

Rokin Vapes
Tech Specs
| | |
| --- | --- |
| Dimensions | 2" tall x 1" wide |
| Weight | – |
| Battery | 500 mAh rechargeable lithium ion battery |
| Cartridge | 510-threaded top airflow cartridges |
| Voltage | 2.2-3.6v (auto-adjusting using Power Wave Technology) |

Rokin Mini Tank Kit
Super tiny, vape cartridge battery for 510-threaded cannabis oil vape cartridges.
20% off with discount code at RokinVapes.com
How to Use
The Rokin Mini Tank battery comes pre-charged and ready to go right out of the box. Just screw in any 510 threaded vape cartridge, press the power button five times to turn the battery on/off. Hold down the button for the length of each inhale.
For thick oils, use the 15-second preheat mode by pressing the power button three times while the battery is powered on.
For convenient recharging, connect the charging cable to any USB port. The button on the battery will flash red when the battery is low and needs a recharge.
Rokin sells empty top fill cartridges to fill with your own cannabis oils. To fill an empty cartridge for this vape, remove the mouthpiece and top fill the empty tank.
Our Experience
Vape cartridges are our usual go-to because they are so convenient and widely available at all dispensaries. We've gone through a lot of vape batteries, yet we keep managing to discover smaller, lighter and more efficient batteries.
The Rokin Mini Tank battery is a great every day carry vape battery. It's a lot smaller than we expected. At about 2" tall, it fits easily into your hand and has a surprisingly long lasting battery.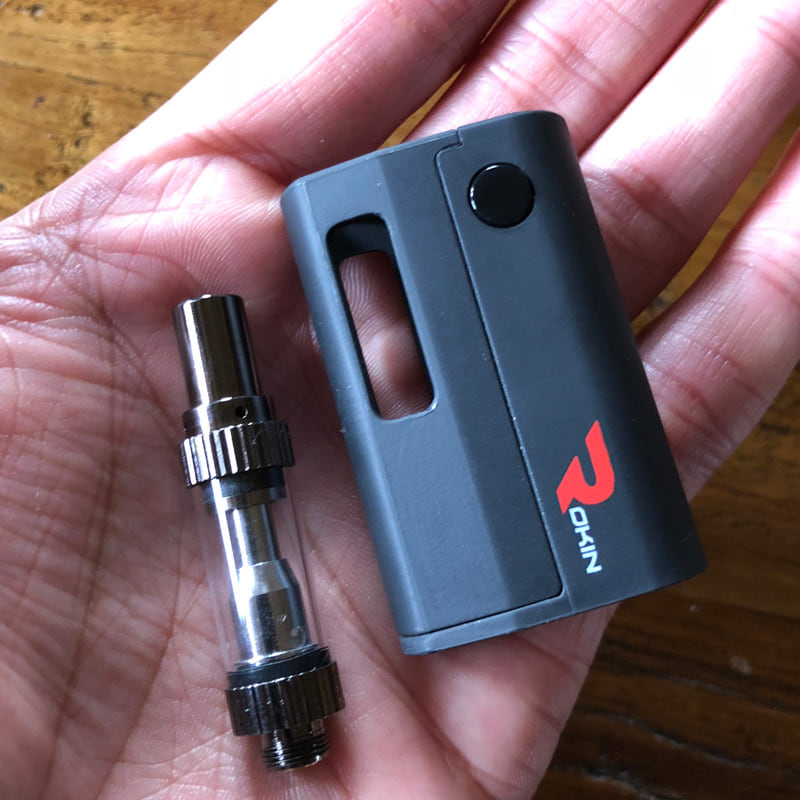 We tested the Rokin Mini Tank battery with several vape cartridges including Magic Pipe, Heylo and Bloom Farms cartridges, but it will do fine with almost any vape cartridge filled with cannabis oil. The included vape cartridge also works well when filled with syringe refill.
The Rokin Mini Tank also worked great when testing out some CBD cartridges in our recent review of Dr. Dabber CBD distillate oil.
Final Thoughts
The Rokin Mini Tank is a great battery for everyday use with cannabis oil vape cartridges or keep it around as a backup. You'll love how tiny this battery is and you'll get many sessions on a full charge. If you buy refill syringes for dabbing, you can also fill the included refill cartridge with your favorite oils. At Rokin's excellent price-point and 1-year warranty, you can't go wrong with the Rokin Mini tank kit.
Price and Where to Buy

-20%
20% off with discount code at RokinVapes.com
Super tiny, vape cartridge battery for 510-threaded cannabis oil vape cartridges.
The Rokin Mini Tank Vape Oil Kit is available for $28 directly through Rokin.
Warranty Information – Each Mini Tank battery is backed by a 1-year warranty.
Available in several colors: purple, green, blue and titanium.

Check out the full line of Rokin's cannabis oil vaporizers here.
For a list of other cheap and affordable vapes, check out our blog post on the best pocket vaporizers under $100.