Davinci IQ – Dry Herb Vaporizer
Posted on:
August 23, 2018
/
For the traditional cannabis lover, it's often hard to find a vaporizer that matches the satisfaction found with smoking flower.
We often hear complaints that dry herb vapes just don't cut it – that they don't hit as hard, get you as high or have the same taste and flavor.
While this may be the case with most dry herb vaporizers, the Davinci IQ makes vaping flower quite pleasurable.
The IQ vape produces the same great effects and transfer of flavor that you'd expect from smoking your top shelf herbs.
The IQ is a classy vape with its eye-catching 51 LED light display, all ceramic zirconia vapor path and precise temperature control capabilities.
The Davinci IQ packs quite a punch thanks to its powerful, interchangeable battery. It's a solid performer with the ability to produce thick, tasty vapors. Because of the IQ vaporizer's quality materials and clear air path, it does an excellent job at transferring flavors without any off-putting plastic or other displeasing tastes.
Despite it's somewhat hefty price tag, the IQ vape is a worthy  contender among popular top shelf dry herb vapes like the FireFly, PAX 3, and the Mighty vaporizer. The $200-400 range of portable vaporizers has some pretty stiff competition and the Davinci IQ proves it can hold its own.
Design & Features
Davinci vaporizers boasts their IQ vape as having the most precise heating technology and producing the purest flavor available. Can't say for sure that the IQ is the only vape out there hitting these marks, but you can't argue with its top-notch performance either.
Because of the Davinci IQ's quality materials, using an all-ceramic heating chamber and zirconia airpath, the IQ does a bang up job of transferring terpene-rich flavors from your top shelf buds. You'll definitely want to save your best flower for vaping with the IQ.
It's elegant, compact design makes the IQ vape highly portable, fitting comfortably in the palm of your hand. While other portable vapes in the same class are able to vape different types of cannabis like oils and thicker wax concentrates, the Davinci IQ is designed to vape flower only.
Standard Features
51 LED light grid display
All ceramic airpath
Smart Path heating mode
Precise heating control
Boost/Standy-by heating
Large, removable battery
Micro-USB and pass-through charging (can use vape while charging)
Bluetooth app enabled
Smart Path & Heating Methods
The IQ vaporizer is unique in that it offers the ability to adjust temperature in not just one, but three separate methods.
If you know your preferred vaping temperature, the IQ allows you to adjust temperature to the exact degree. It's also equipped with a "smart path" mode (really just a fancy way of saying temperature presets). Finally, there's a nifty "boost mode" which instantly powers the device up or down a few degrees on-demand.
Press and hold the boost button while inhaling to increase vapor production. Upon release of the boost button, temps will begin cooling down, also conserving power.
Boosting is great as it actually does give you more precise control over your vape temp. Most dry herb vapes are designed to reach your set temperature, then begin cooling down immediately. The boost feature allows you to stay right in that goldilocks zone for a perfect vape sesh.
Different modes for heating:
Precision temperature mode – for adjusting the desired temperature to exact degree.
Smart Path mode – includes four preset temperature ranges.
Boost mode – for on-demand heating and cooling at the push of a button.
These options allows for a truly unique vaping experiences. Many vapes aim to achieve what the Davinci IQ successfully provides – the right temps to match the intensity of flavor and vapor production you desire.
LED Display & Airpath
Two other features of this vape worth pointing out are the distinctive LED light display and removable ceramic airpath or "flavor chamber" as Davinci refers to it.
While most dry herb vaporizers with temperature control typically use the same black/white LED screen display,  Davinci made an intriguing design choice using a beautiful 51 LED light interface.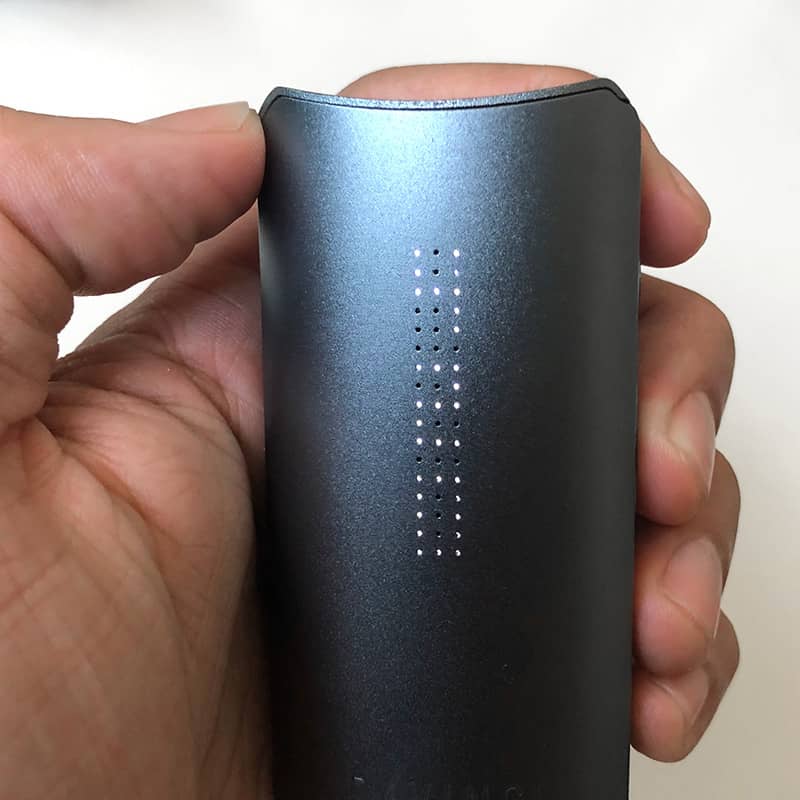 These LEDS display information such as battery life, vape temp and boosting activity. The LED display gives the Davinci IQ a refreshingly sophisticated look and feel that's also fun to tinker with.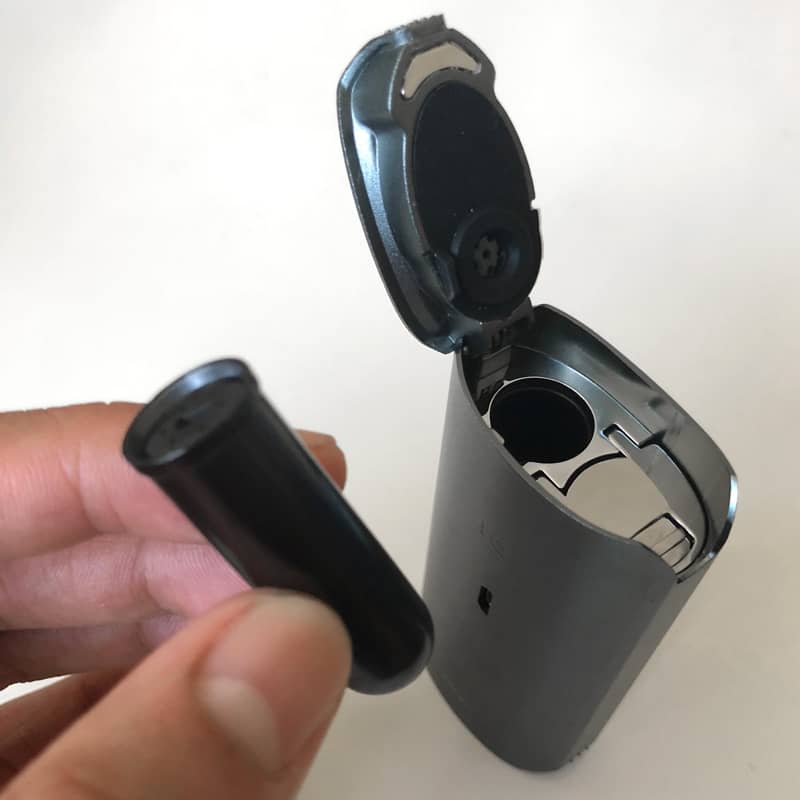 With little information available on how the Davinci IQ's removable flavor chamber works, we reached out to Davinci directly.
According to Davinci, the flavor chamber can be used in a variety of ways. The flavor path compartment is primarily left empty and simply used as the vapor or airpath straight from the heating chamber. The materials and design of this pathway effectively allows heated vapors to expand and cool before being drawn through the mouthpiece. This allows for a more enjoyable experience in terms of smoothness and taste of each draw.
It's also possible to add flavors to the chamber by mixing in fresh herbs like rosemary which can notably alter the taste of the vapor when combined with fresh cannabis. There's no officially suggested way to use this feature.
Bluetooth-enabled Mobile App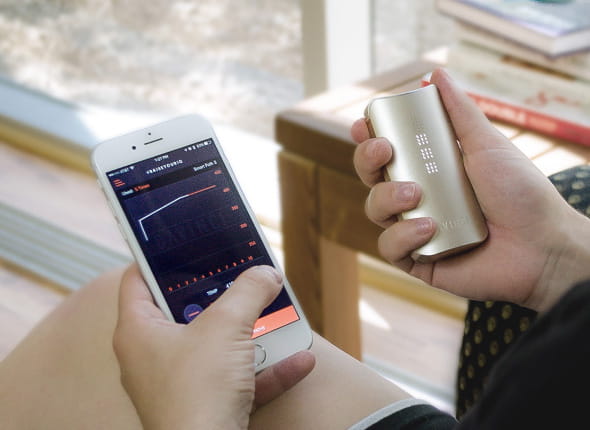 As with many advanced vaporizers such as the FireFly and PAX which pair with bluetooth-enabled mobile apps, Davinci also offers a mobile app which pairs with the IQ vaporizer. The Davinci Vaporizer app was designed to allow further customization of smart path temperature presets and other options.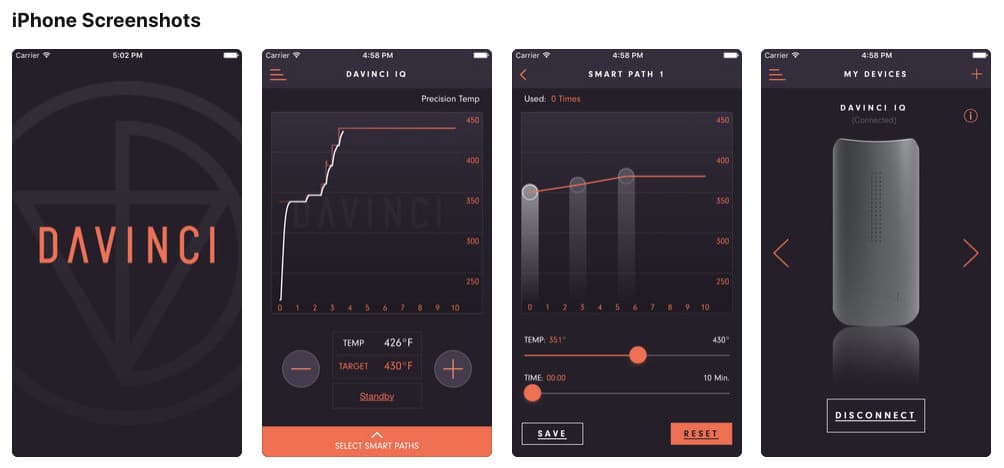 Although well intentioned, the app has not been well received.
Countless users on app stores have complained about the Davinci Vaporizer app killing the IQ's functionality and rendering the device useless. This tends to happen once the IQ vape is paired with the app on your mobile phone. And it looks like this is a software bug that's persisted and still needs to be worked out.

After reading a few reviews on the app store, we were skeptical about installing installing the app. In fear of suffering a similar fate to those before us, we contacted Davinci about the issue and received this response:
"We've had less than optimal experiences with our app company… Back in the first batches of IQ's, there were a few that had a faulty chip that caused the vaporizer to overheat. That, has since been rectified. In addition, we are about to push an update that should solve any and all app connectivity issues. It's always worked fine on iOS, Android has been our problem child."
Download the DaVinci Vaporizer app here. Install at your own risk!
What's Included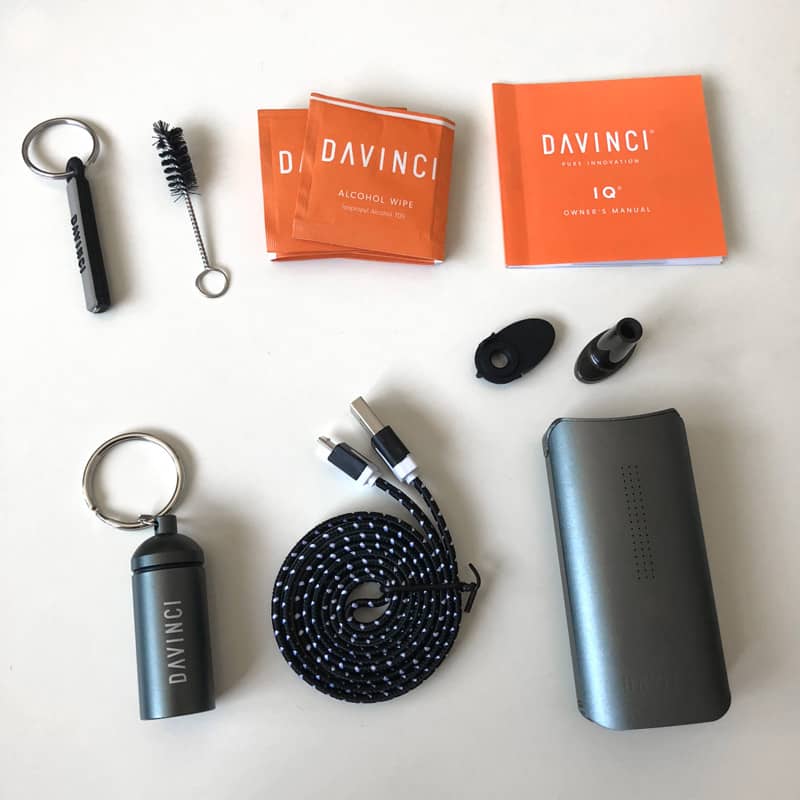 1x USB Charging Cable
1x pack of Alcohol Wipes
1x Chimney Brush
1x Keychain Tool (with poker tool)
1x 10mm Adapter
1x Carry Can
1x poker tool
Tech Specs
Dimensions: 1.65″ W x 3.54″ H x 0.94″ D
Weight: 5 oz
Battery: Micro-USB rechargeable 18650 battery (1.5 hour battery life); battery is removable
Charging time: 3 hours
Heat-up Time: 16 Sec (to 230° F)
Heating style: Convection heating
Materials: Ceramic zirconia (mouthpiece and airpath)
Temperature settings: Precise temp range (250-430° F), 3x Smart Path presets
How to Use
The Davinci IQ vaporizer is a cinch to use with its simple 3-button design.
Open the lid at the bottom of the device to expose the heating chamber. Loosely pack the chamber with some ground up cannabis, then gently pack down the bowl and close the lid.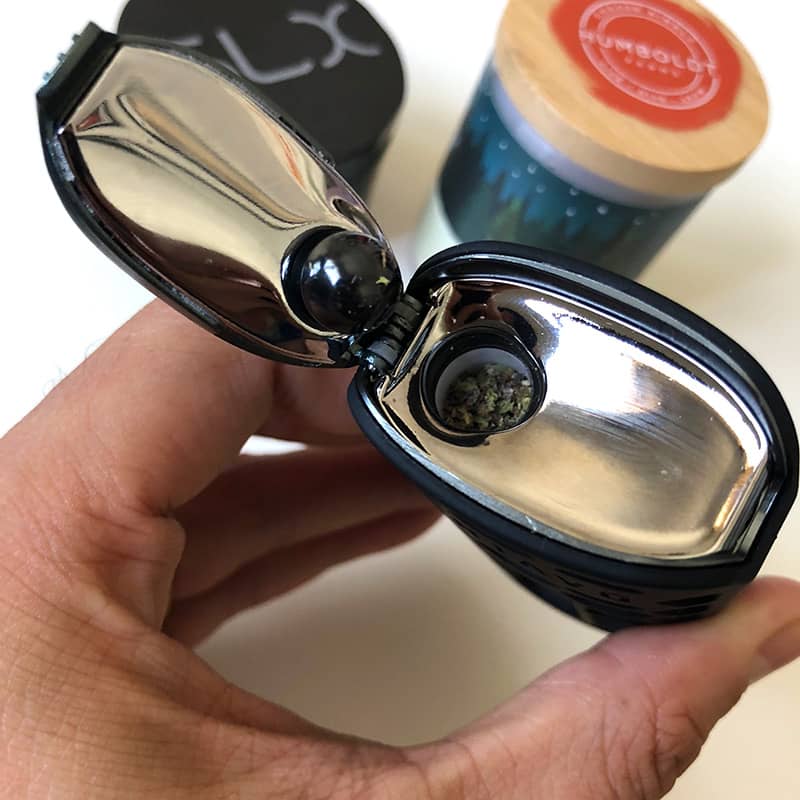 Power on the device by quickly pressing the power button five times.
The device will power up in Smart Path mode initially. Simply select one of four presets by using the up/down buttons on the side of the device.
To adjust exact temp instead, press the power button which will show the current temp in degrees then press up/down buttons accordingly to set your desired temp.
In either mode, the device will vibrate once it reaches the optimal temp. That's your green light to start puffing away.
At any point, press and hold down the power button to enable boost heating. You'll see the LED lights flash animated arrows moving upwards or downwards to indicating powering up or down.
To check the battery life, press both up/down buttons together. Battery life is also displayed whenever you power on the device. Battery life indicators are a simple feature which we think should be standard on all vapes.
If you've ever had a vape battery unsuspectingly die on you because you thought it had some juice left, you'll can appreciate this.
Our Experience
After trying countless dry herb vapes and seeing the Davinci IQ at a few conventions like CHAMPS and Buyers Industry Guide (the BIG show), we finally got to give this vape a go.
In testing the IQ, we grabbed some delicious Humboldt Farms Cookie Punch flower from Eaze delivery (they service most of California).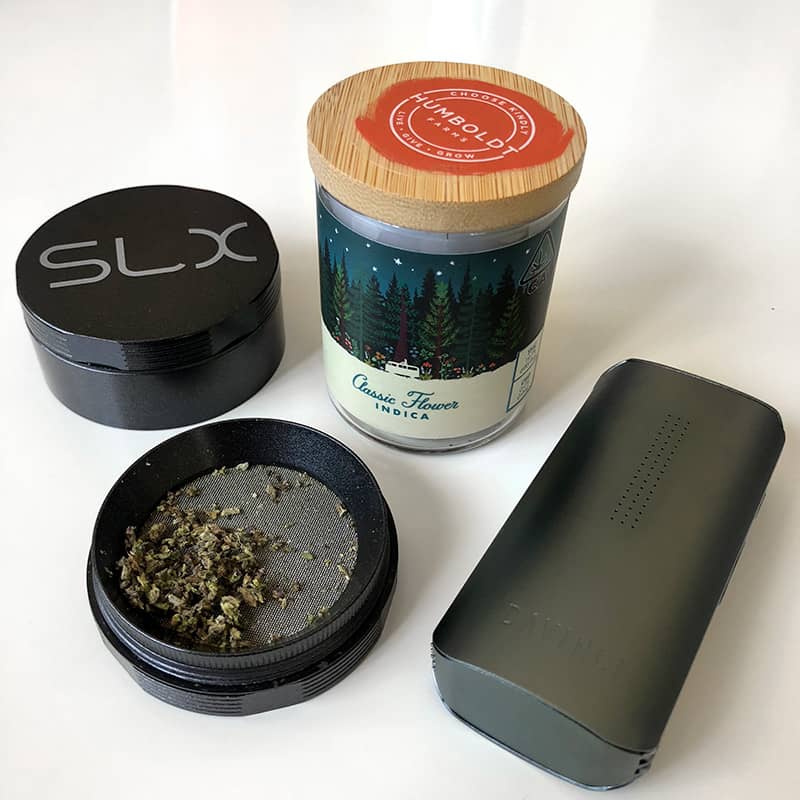 We ground up our fresh cannabis in one of these dope non-stick SLX grinders which creates a medium grind. Not too coarse, not too fine. We packed the bowl down slightly with the included tool that's found underneath the lid at the bottom of the device.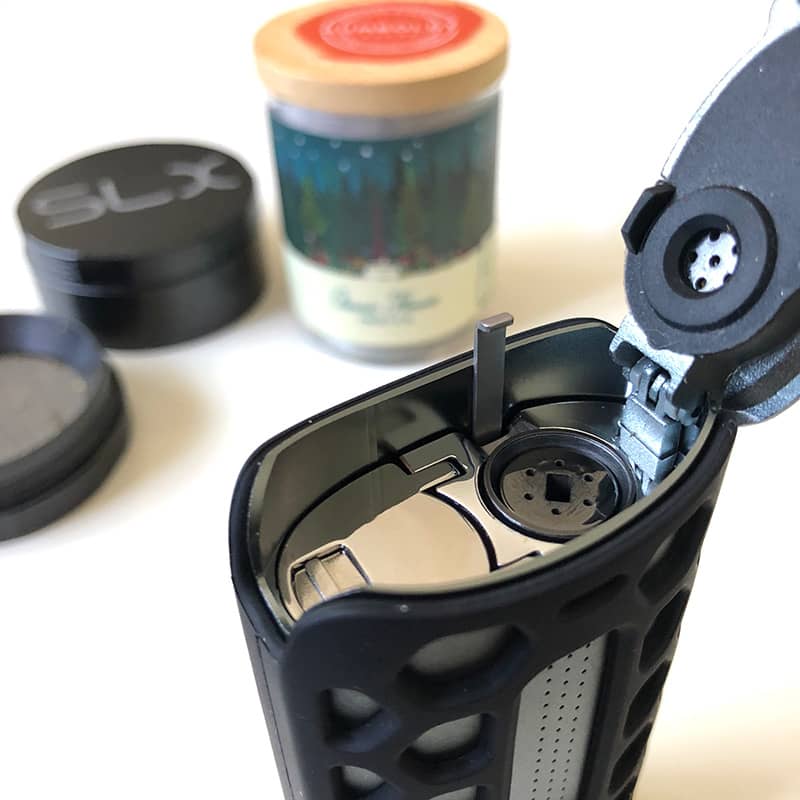 First we tested the 2nd "smart path" and found that it produced some absolutely amazing flavor from the Cookie Punch flower, but the amount of vapor was lacking. After using the "boost" feature for a few draws, we were able to bring the temp up enough for an enjoyable session.
Next we tried vaping directly at 390ºF. The first few hits were tasty with satisfyingly full vapor clouds. After holding down the boost button, we found the draws to improve with each consecutive puff.
Generally, the Davinci IQ seems to perform better toward the higher end ranges of both the smart path and exact degree modes. If the vapor becomes too hot and harsh, simply back down the temps a bit, or avoid boosting.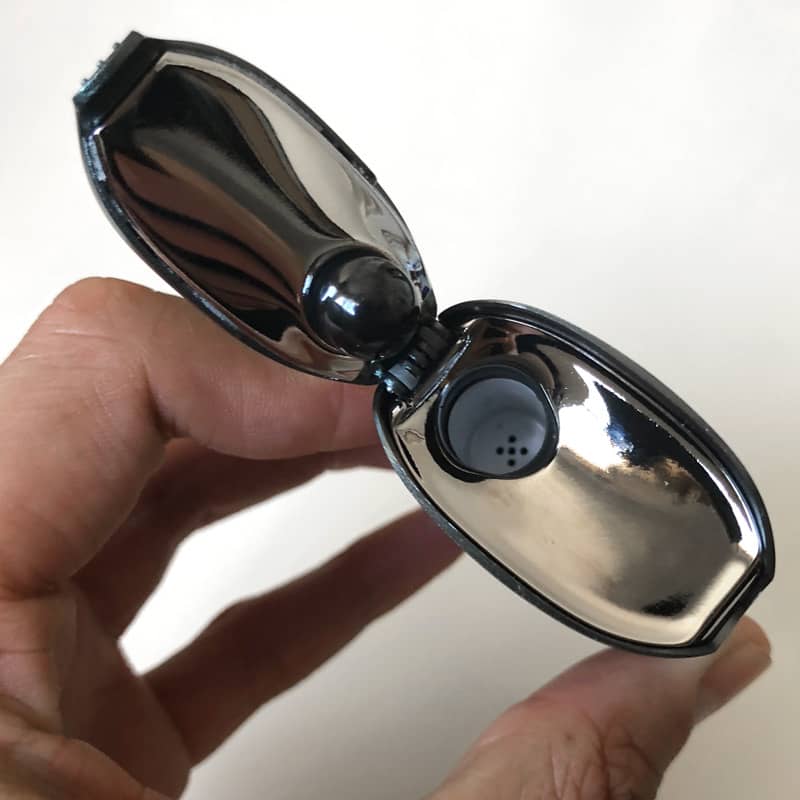 The zirconia pearl at the opening of the heating chamber is supposed to heat up, and in theory, create this reflective heating effect on both sides of the oven. While it does feel hot to the touch after a few minutes of vaping, can't definitively say that it does much more than sit their looking pretty. Great idea to incorporate reflective heating though. Maybe with some improvement, that pearl could be more effective.
The ceramic oven and vapor path truly helps maintain the integrity and transfer of flavor from cannabis rich in tasty terpenes. The flavor you get from your dry herbs when vaping with the IQ at just the right temp is outstanding.
The device heats up to our preferred temps, which fall in the medium-high temp range, in about 45-seconds. This is average heat-up time for dry herb vapes in the same class. The exterior of the device will also start to feel hot when used for over 1-2 minutes straight without time to cool down. After countless sessions in a row though, we never experienced any overheating issues.

Final Thoughts
Overall, the Davinci IQ is a remarkable dry herb vaporizer. It's aesthetically pleasing with its unique LED lights and metal finish. Its compact design feels good in small hands and travels well. This vape is incredibly intuitive to use and the performance in terms of vapor production and flavor is superb.
While we're not stoked on the $250+ price tag, given other vapes in the same class that can vape different types of cannabis, the Davinci IQ is a well engineered, quality vaporizer that you'll surely enjoy vaping flower with.
Price & Where to Buy
The DaVinci IQ dry herb vape is available for $274.99 directly through Davinci Vaporizers and VapeWorld.
If you buy the Davinci IQ from VaporWorld, you'll also get a FREE Aerospaced 4-piece grinder and free shipping.
Backed by a 10-year warranty, rest assured DaVinci has your back.
Available colors: Stealth, Copper. Gun Metal, Blue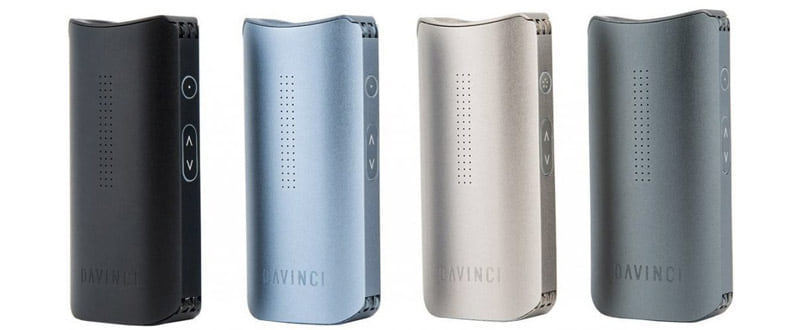 Davinci offers additional accessories such as protective carrying case, IQ Glove protective sleeve, and water attachment for extra filtration and cooling. They will be launching an even smaller version of this superb dry herb vape, Davinci Miqro vaporizer, this summer.
Get 10% off all Davinci accessories using discount code: SMILE10.
Davinci IQ Vaporizer
$274.99