Best Vape Pens for Cannabis Oils and Wax Concentrates

Best Vape Pens for Vape Cartridges
If you're looking to vape cannabis oils or vape cartridges, here's a list of great vape pen and vape cartridge batteries.
All of these vapes are compatible with your standard size 510-threaded vape cartridge.
Most vape cartridge will screw right into the battery, while other vape batteries, like the CCELL Palm use magnetic connection adapters that you screw onto the cartridge first.
Don't forget to take advantage of the discounts offered below for vaiours retailers.
See all 510-threaded vape cartridge batteries from Rokin.
Discount with code at RokinVapes.com
Order directly from VesselBrand.com
Order directly from VesselBrand.com
Discount code at RokinVapes.com
Available through VapePartsMart.com
Available at VesselBrand.com
Best Vape Pens for Wax and Concentrates
If you enjoy concentrates and cartridge vapes, the Linx Hypnos Zero is your new best friend. The Hypnos Zero …
Since 2013, Puffco has prided themselves on designing intuitive, elegant, and innovative vape pens. All Puffco vapes …
Discount applied with code at PuffitUp.com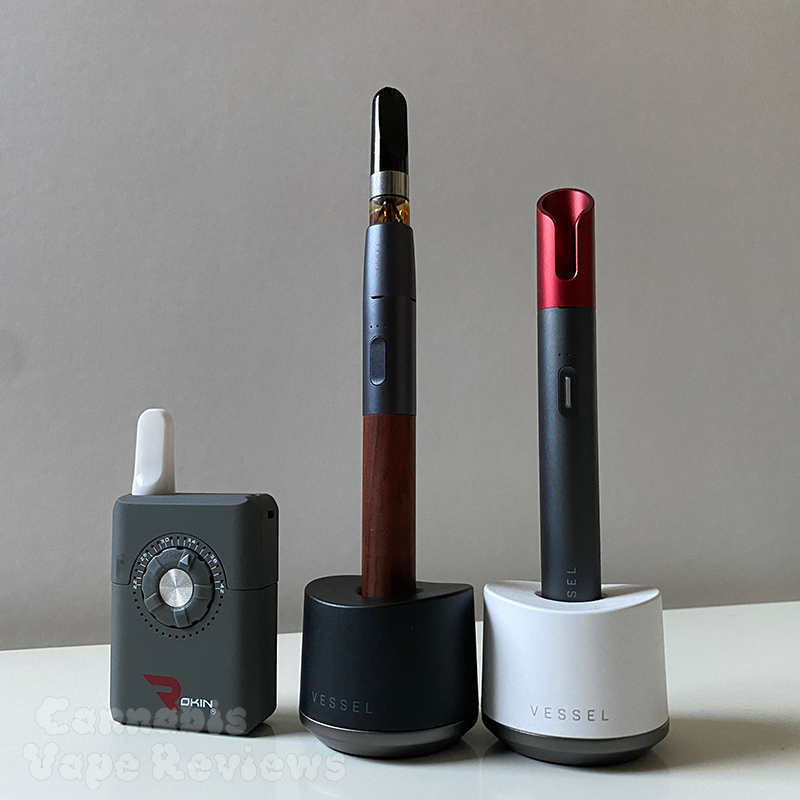 Vape Pen FAQ
What is a vape pen?
The term "vape pen" can refer to different types of vapes. Typically, we when say vape pen, we're referring to a vaporizer battery that resembles the shape, look and feel of a pen that you'd write with.

Vape pens may be designed to use vape cartridges, wax concentrates, or pre-filled with cannabis oil as in a disposable vape pen.
What is a wax pen?
A wax pen is vape battery that is desigend specifically to vape thick and waxy cannabis concentrates such as live resin, shatter, or other cannabis concentrate.
What is a vape battery?
All vape pens are powered by a battery, but not all batteries are necessarily vape pens. Cannabis oil cartridges, for example, can be used with vape batteries that have more of a blocky shape as opposed to a slim style as in a vape pen.
What makes a great vape pen?
A quality vape pen will typically have 510-threading that does not easily get stripped or cross-threaded. It will also have a long battery-life greater than 200 mAh, a battery-life indicator so you know when it's time to re-charge, and multiple temperature or voltage settings.

Some vape pens may have a power button interface or auto-draw feature that is activated simply by inhaling. Other features to look for in a good vape pen are modern USB-C fast charging, pass through charging (you can use the vape while it's charging) or has other charging options such as a charging dock.