Affiliate Disclosure: Cannabis Vape Reviews is supported by readers like you. We may earn a commission if you make a purchase through our affiliate links. Learn More
The Rokin Dial is a portable vape battery for cannabis oils and vape cartridges. This vape features a dial for fine-tuned voltage control. It has the widest voltage range of any pocket-sized vape for cartridges.
We're a big fan of Rokin Vapes, having reviewed many of their vaporizers. Rokin continues to offer high-quality vaporizers that are reliable and well-designed at very affordable prices.
What's Included
The Rokin Dial arrives in small, simple packaging which clearly lists all of the vape's features along with easy-follow instructions. The Dial includes everything you need to get started.
Rokin Dial Vape battery
Micro USB charging cable included
Lanyard included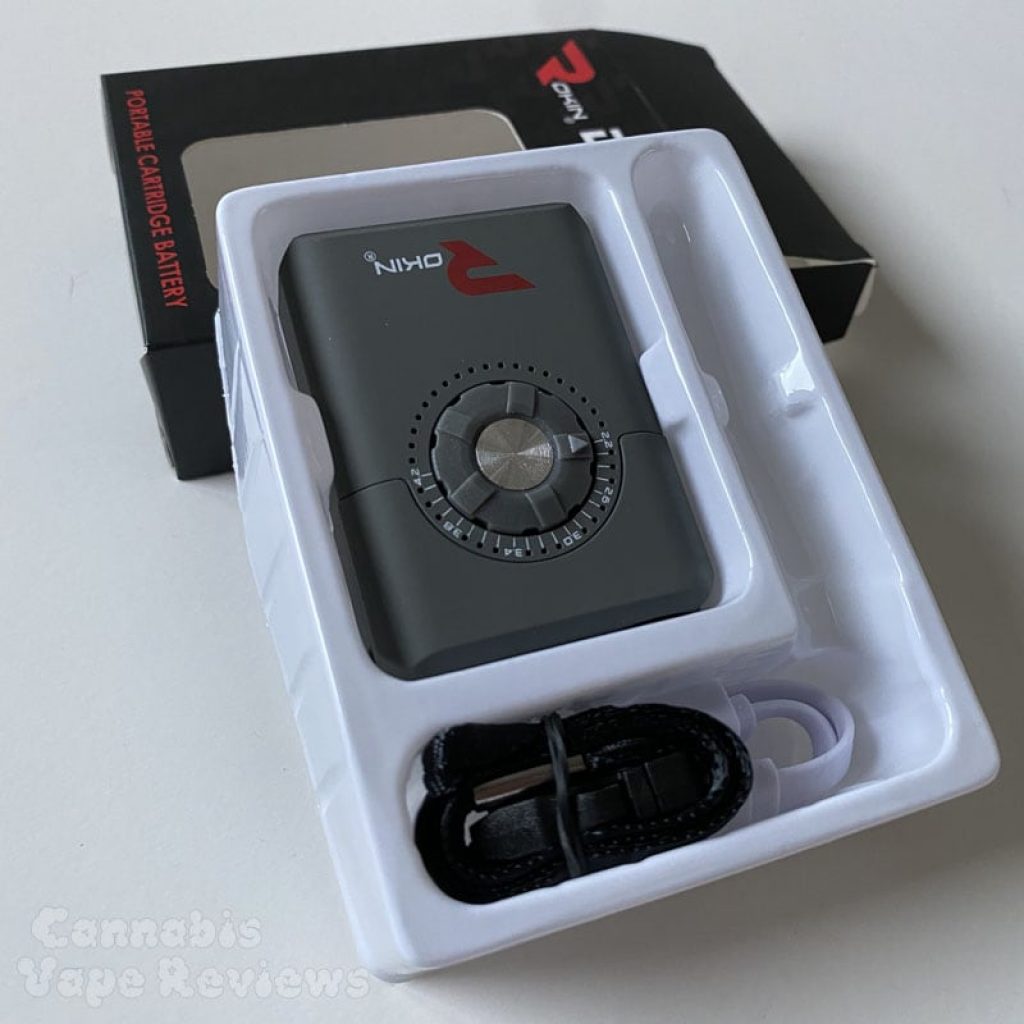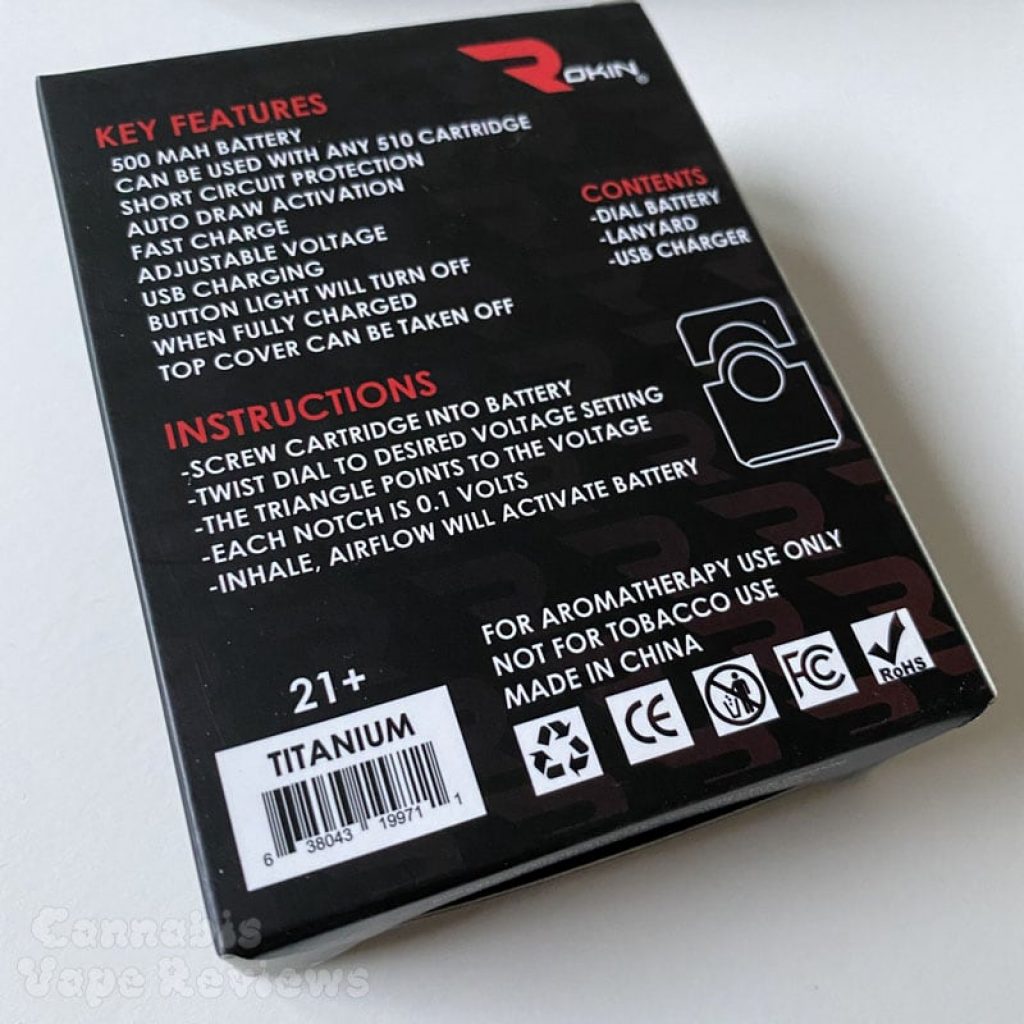 Design & Features
Rokin vapes are some of the safest designed vapes, certified to the latest FCC, CE, and RoHS standards. Aside from simple and reliable operation, the Rokin Dial is built with the following standard features:
Rokin Dial Standard Features
Designed for use with cannabis oils and 510-threaded vape cartridges
Adjustable voltage (21 voltage settings)
Portable pocket-sized vaporizer
500 mAh rechargeable lithium ion battery
Short circuit protection
Button-less interface with auto-draw activation
Secure cartridge connection technology
Fast charging battery
Spring loaded connection
Micro USB charging connection

510 threaded connection
Rokin Dial Vape Cartridge Compatibility
Please note that the Rokin Dial vape is not compatible with Rokin Easy Fill cartridges because of their top airflow design. The Dial is only compatible with bottom airflow cartridges.
Tech Specs
| | |
| --- | --- |
| Dimensions | Under 2.5″ tall |
| Weight | – |
| Materials | – |
| Battery | 500 mAh lithium ion battery; micro USB rechargeable |
| Temperature Settings | 21 voltage settings ranging (2.2 – 4.2 volts) |
How to Use the Rokin Dial
Screw a 510-threaded vape cartridge into the Dial battery. When the cartridge makes a solid connection, it will blink once to confirm.
Set the control dial to your desired voltage setting. Then, simply inhale to power on the battery. Adjust the voltage as necessary, but we recommend starting with the lowest setting and slowly tapering up the voltage until you hit the sweet spot of smooth vapor production.
Our Experience
The compact size of the Rokin Dial is great for easy carry and vaping discreetly. It feels really tiny, fitting nicely in the palm of your hand just like the highly rated Rokin Mini Tank. The design is pretty simple with a Matte grey finish on the exterior and a rotating control dial in the center. Since the Dial is an auto-draw battery, all of you have to do to use it is inhale – there are no buttons so using it couldn't be simpler.
In testing out the Dial, I tried a couple vape cartridges of varying oil viscosities to see how adjusting the Dial's volt setting would affect the vaping experience.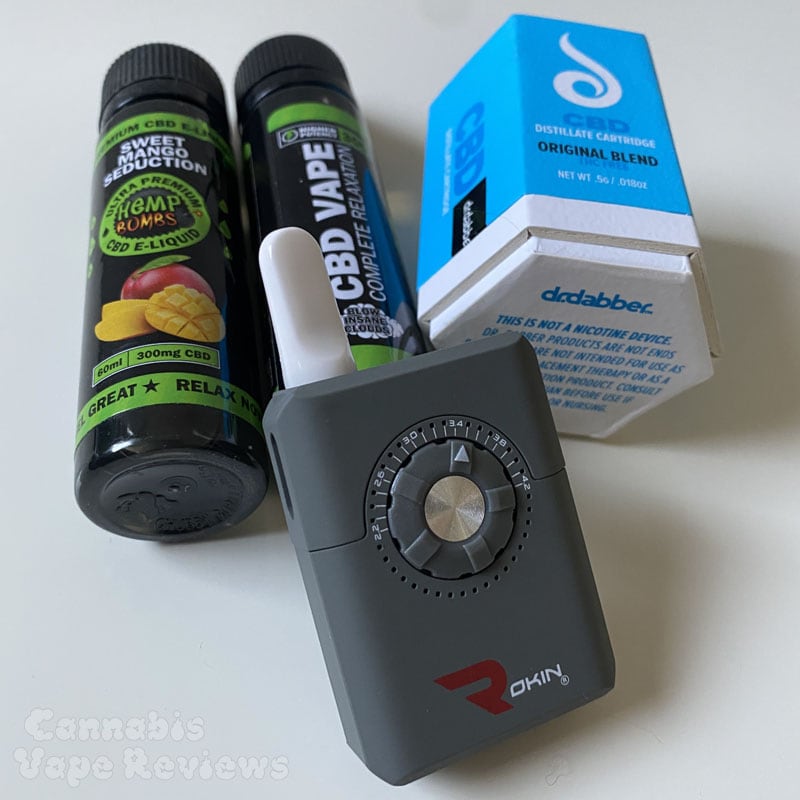 First used was an empty CCELL cartridge that I filled with a very thin HempBombs CBD e-liquid. Then I tried a thicker THC oil cartridge, and finally, a Dr. Dabber CBD oil cartridge.
The Rokin Dial is great for its ability to allow fine-tuning of the voltage to best match your concentrates – this provides the best vape experience.
The thin CBD oil had the best vapor production at the lowest possible volt setting while the THC cart barely produced an vapors at that same volt setting.
With thick, viscous oils, you'll want to turn up the voltage. The THC cart started to work better around the 3.4v mark and that's when we started to blow fatter clouds of vapor. The Dr. Dabber CBD cartridge oil is on the thicker side as well so it worked best at voltages above 3v.
Since the viscosity of cannabis oils can vary depending on extraction methods, having a battery with adjustable voltage is crucial.
The Rokin Dial is great for its ability to allow fine-tuning of the voltage to best match your concentrates – this provides the best vape experience.
It was easy to just start at the lowest setting and turn up the dial slowly as you take puffs to find the right volt setting. Don't get locked in too a cheap vape pen that has limited voltage presets if you use a range of oils, e-liquids, and vape juices.
Despite the Dial vape's tiny size, it packs a nice size battery at 500 mAh, and given its low price point, the Rokin Dial is unmatched.
Price & Where to Buy
Rokin Dial is available directly through Rokin's website for $39.95 with free shipping on all orders over $50.
Warranty Information – Rokin Dial is backed by a 1-year warranty that covers the battery.
Available in multiple colors including purple, matte black, red, and light blue.

-20%
$32 $40
20% off with discount code at RokinVapes.com
Tiny, compact vape with the widest of range adjustable voltage control. Designed for use with 510-threaded cannabis oil cartridges.