Affiliate Disclosure: Cannabis Vape Reviews is supported by readers like you. We may earn commissions for purchases made through our links. Learn More
If you're a cannabis user, you know that the smell of weed can have a strong odor.
Whether you're trying to keep your cannabis use private or you're simply trying to avoid offending non-smokers, there are a few things you can do to hide the weed smell.
For fresh buds, you'll want to use a tightly sealed stash jar. For carrying around your used pipes and vaporizers, you'll want to use protective cases lined with activated charcoal. If you're trying to hide the smell from actual weed smoke, there's things you can try like air filters and purifiers, or masking the smell with fragrant, fresh cut flowers and essential oils or a scented candle.
In this article, we'll dive into a few useful tips on hiding the smell of cannabis and dealing with weed smoke.
Purify the Air and Mask the Smell
One of the best and most economical ways to hide the smell of weed is to invest in some good quality air fresheners, fresh cut flowers, or something fragrant to mask the smell.
You can burn an incense stick or use essential oils. A good oil diffuser with an adjustable airflow that's set on a timer can keep a room smelling fresh for hours.
If you use fresh cut flowers, go for something sweet and pungent like Stargazer Lillies. These particular lilies are known for their intensely fragrant perfume.
Back in the underground days of the cannabis industry, I had a supplier who had a florist client. Every time I'd come by to re-up, he'd always have a fresh bouquet of lilies in his room.
Good Ventilation and Trapping Smoke
Another way to help mask the smell of weed is to smoke it in a well-ventilated area or in a room where smoke and odors will stay put.
The OG method many of us used as teens, trying to hide a sesh from parents, is by opening a window and putting a rolled up towel under the door.
Using one fan to stir the air in your room and another fan to suck fresh air from outside, this circulates clean air into the room.
It's not a sure proof method to hide the smell, but it should help it flush it out quicker – and it's as cheap as can be. You probably have this stuff laying around the house already.
The move is really to prevent as much smoke smell as you can to begin with. Try getting a used toilet paper roll and stuffing a few dryer sheets in there. The next time to you take a bong rip, don't exhale until you can blow the smoke through the roll. It should help filter out some of that smell.
Better yet, try cutting down on smoking all together by switching to a vape when you have to be discreet.
Smoke Less and Vape More
You can also try smoking weed without papers or switching to vaping entirely.
Rolling blunts and sparking a jay is nice to smoke marijuana, but smoking them leaves behind offensive odors for quite some time. Smoking this way produces the most weed smoke and leaves behind the most odor.
If you're looking to switch to vaping your weed, we've reviewed countless dry herb vapes – and there's so many more out there. A trusty vape pen is super convenient as it does not produce marijuana smoke and leaves behind no lingering smell.
Surely you'll find a dry herb vaporizer that fits your budget and lifestyle.
Need a pocket vape for on the go? Yep.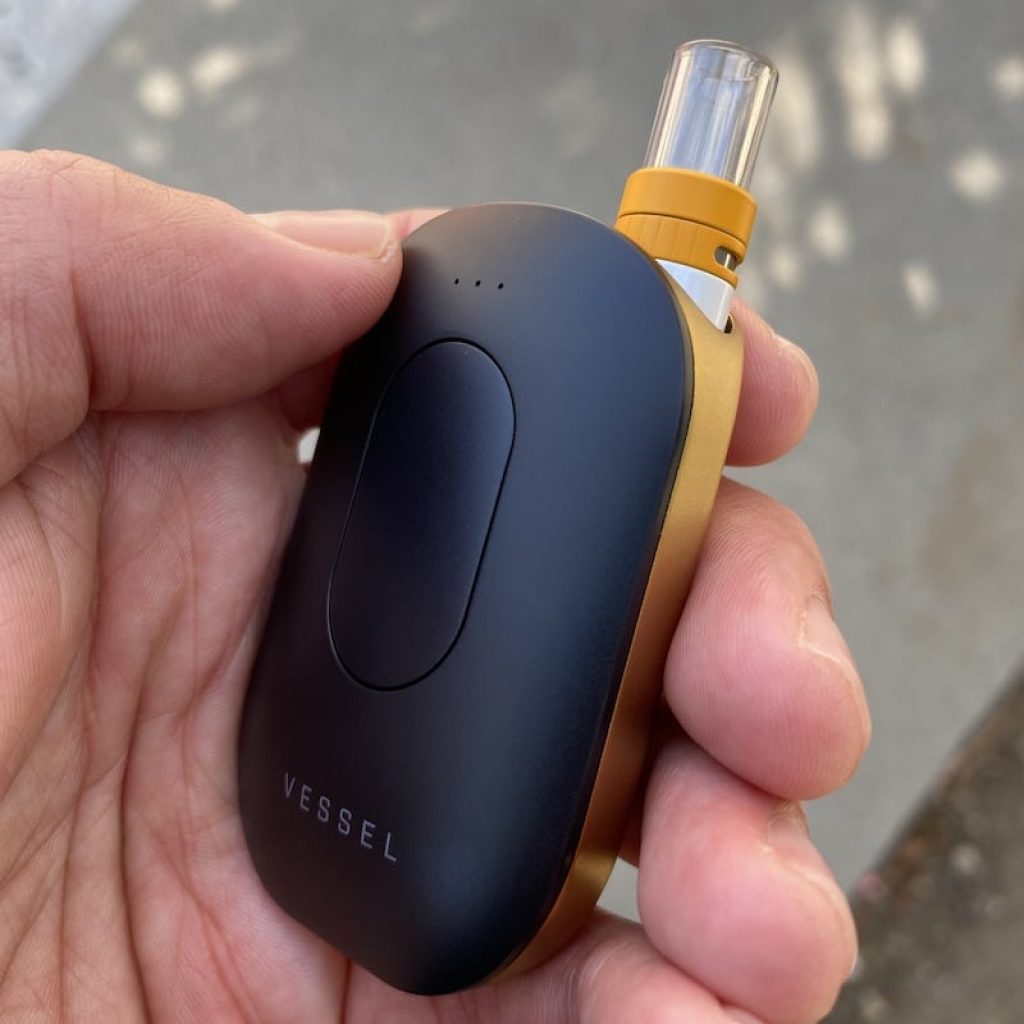 Vessel also offers lots of travel kit and case options that pair nicely with their vapes.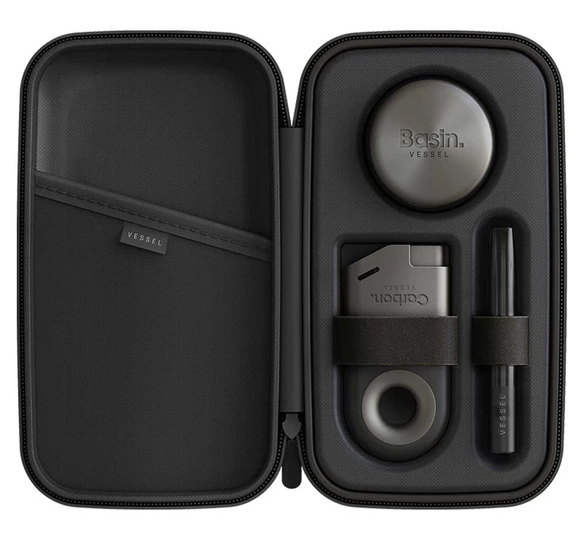 The Eclipse Kit is Vessel's first product line for smoking dry herb cannabis flowers. While the Vessel brand is …
Available from VesselBrand.com.
High tolerance and need something to get ripped before bed? Yep.
Check out reviews of dab pens and e-rigs too. Since dabs are often pure THC and no plant material, they leave behind a clean vapor with little to no smoke or weed smell.
In general, vaping leaves hardly any smell. Vape pens with cartridges are especially clean. And even if there is some smell left behind, it'll dissipate in less than a few hours. Vapor is not the same as smoke!
Air Purifiers for Weed Smell and Carbon Cases
If you're really worried about the smell of your weed, you can step it up with an air purifier or other type of filters for weed smoke.
The Molekule is a super cool looking air filter and it's available on Amazon. It's kind of pricy and it's not the best bang for your buck, but it is by far one of the sleekest looking filters out.
It's also very quiet and looks like an Apple product and a Dyson fan had a baby.
Some filters are so effective that they can clear up to 99.9% of airborne particles down to 0.3 μm, including allergens, pet dander, pollen, and of course, smoke!
This DREO air purifier, for example, uses a 3-stage HEPA filter and automatically detects when there's at least 2.5 PPM in the air – that includes things like dust and smoke particles.
You can simply leave that sucker in the center of your room in "auto" detect mode. It'll fire up the filter's fan adjusted to the particles in detects in the air.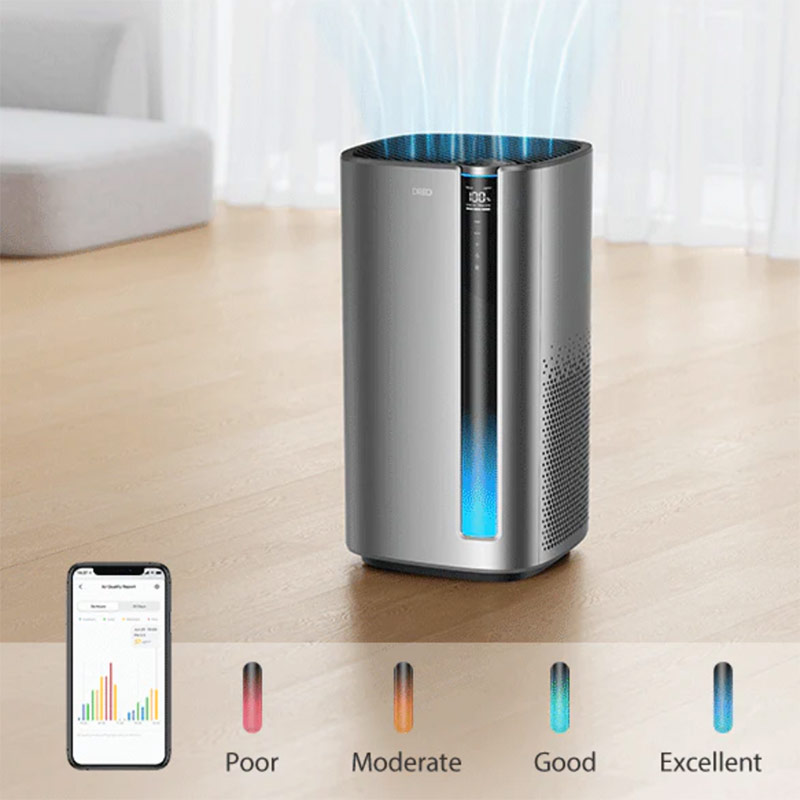 DREO Air Purifier
Quiet and efficient smart air purifier. Features true HEPA-filter with custom controls via mobile app. Can auto-detect pollution and smoke in the air.
Discount with code at Dreo.com
This is a high-tech, set it and forget it method. If it's within your budget, you're paying for enjoyable convenience.
As a reviewer that's constantly testing out new cannabis and vaping products, this is a must for my home office.
Another option – and possibly a much cheaper one – is to use one of those air scrubbers that you'll typically see in an indoor grow room.
It looks like a huge cylindrical drum that has a fuzzy pre-filter on the outside. You just hook up a huge inline fan to the carbon filter and let it run. These can move large volumes of air quite nicely depending on the size.
I might write a future article testing different air filters to see how effective air purifiers actually work for weed smoke.
If you're already using an air filter to cut down on weed smell, let us know in the comments! I'm curious what brands and models work best.
Smell-Proof Cases and Stash Boxes
If you're out and about, moving your stash around, you might need a protective carrying case lined with active carbon.
Companies like HappyKits sell full-on smoking kits with everything you need including grinders, lighters, glassware, and other goodies – all this packed in a smell-proof, shock-proof case (you can drop this down the stairs and not break it) that also has a built-in combination lock to protect your stash!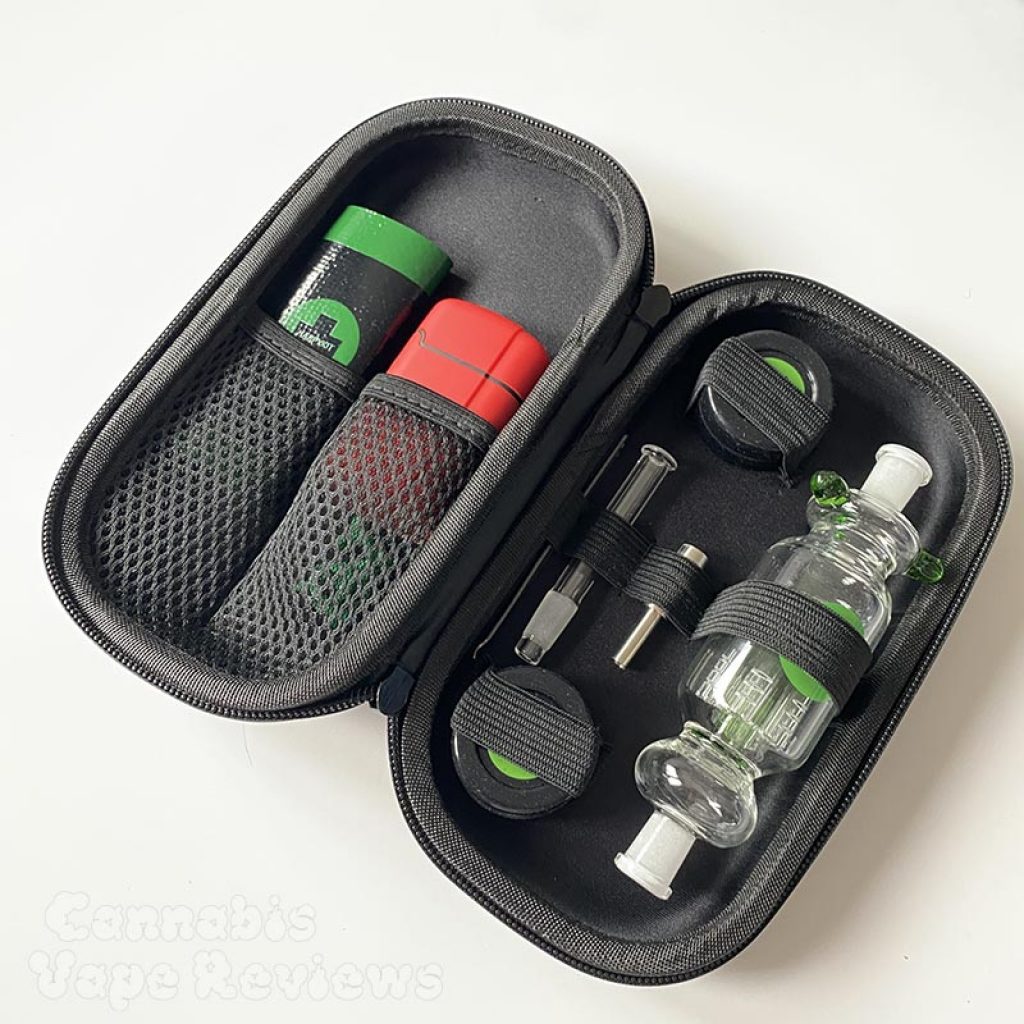 Happy Kit makes complete stash kits for vaping and smoking. Each kit includes everything you need for a session on the …
Discount with code at HappyKit.com
For more options on cases, Ryot makes some of the most well-designed, protective smell-proof cases I've ever seen and owned.
All Ryot cases are made with super high-quality materials and have very practical and useful features. They also look great and come in a massive variety of sizes, shapes, and colors to suit whatever smoking device you're rocking.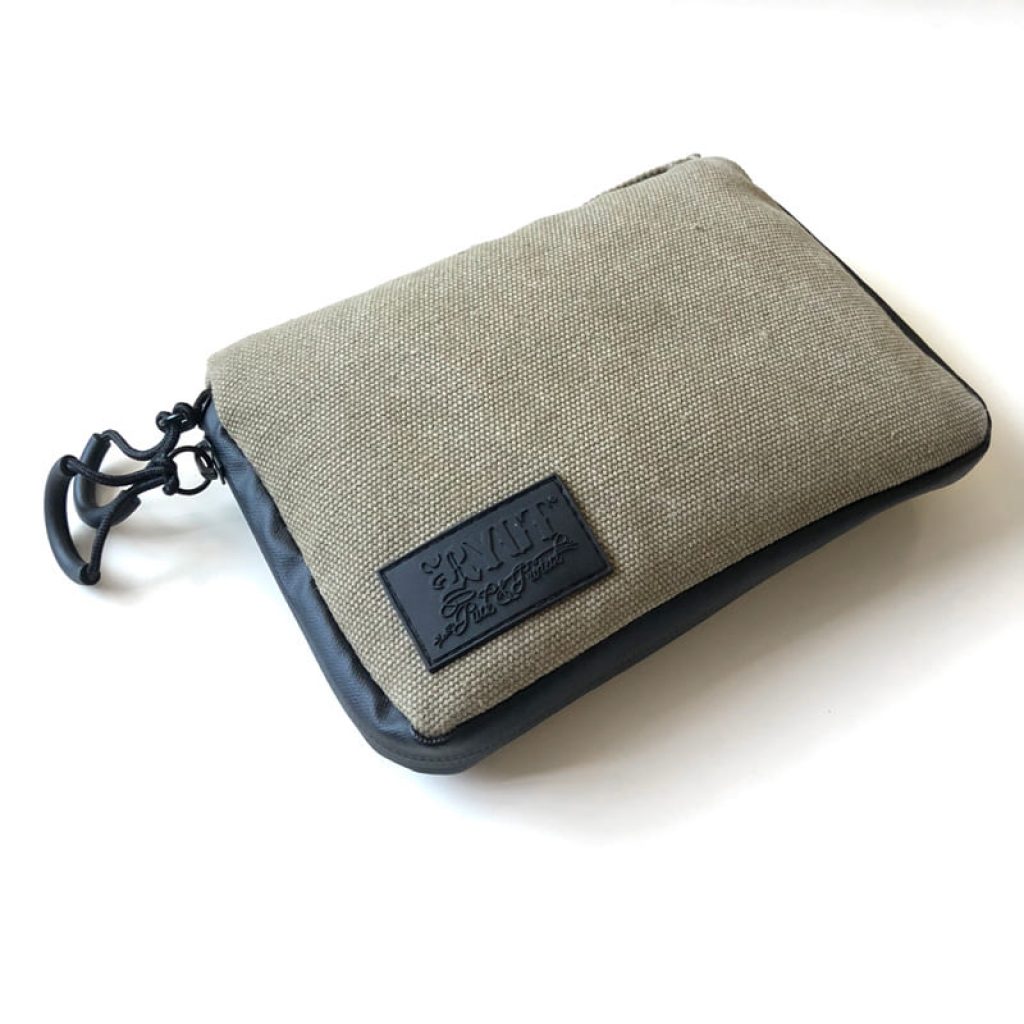 Vaping on the go? Pack and carry your vaporizer and smoking accessories with a RYOT protective case. RYOT offers …
Discount with code at at Ryot.com
The AXE pack, for example, is a smell proof weed bag that's designed to carry and protect your largest, most expensive dab rigs and glassware.
One of its coolest features is the large grid of criss-crossing elastic straps that can secure almost any type of smoking device or accessory. Use it for your bangers, carb caps, tools – you name it.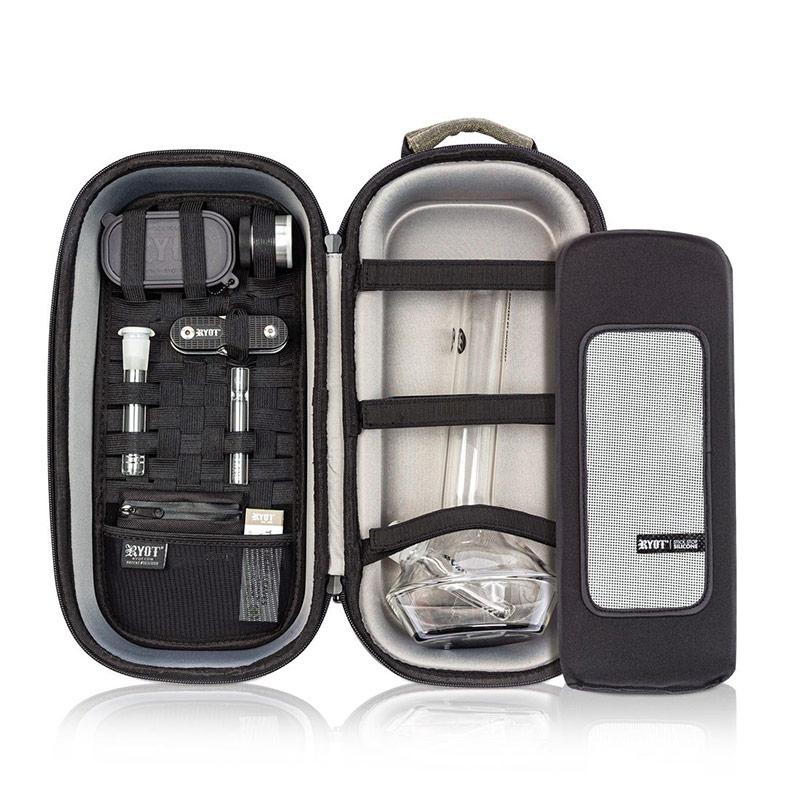 On top of that, the AXE pack has a removable carbon liner with a grippy, sticky pad that ensures your rig stays put. You can throw the carbon liner in the dryer to re-activate it for strong protection against cannabis odors. It's available as a smoking kit bundle (includes bong, grinder, and more) or you can even build your own kit.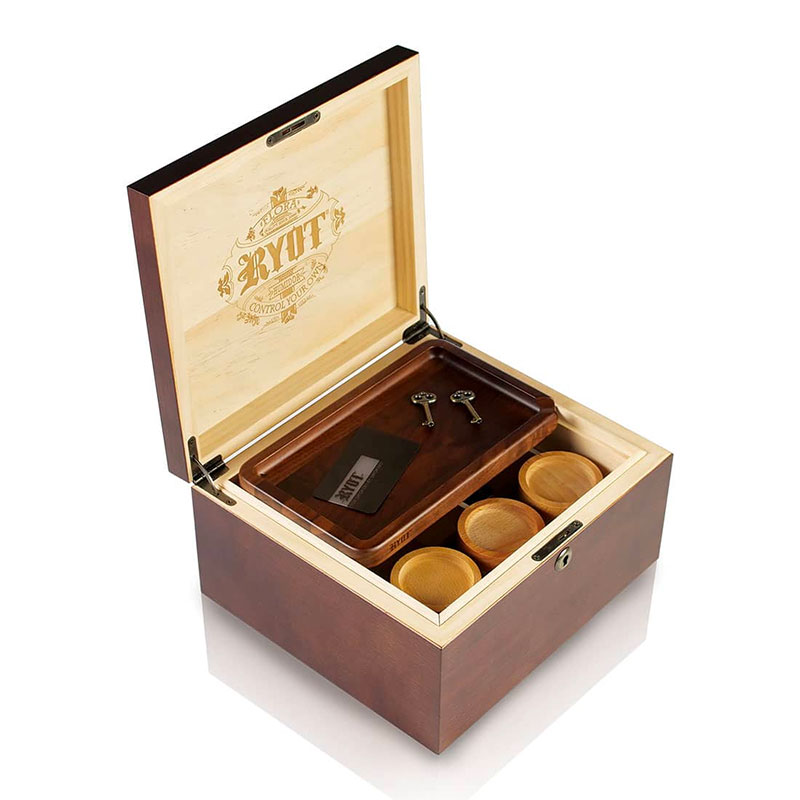 Ryot Lockr Box
Premium stash box for your cannabis flower. Includes rolling tray, glass stash jars, and lock protection.
Discount with code at Ryot.com
Ryot has seriously thought of everything for the modern cannabis user with an active lifestyle. Their grinders and other accessories are worth checking out too.
What methods have you tried to cut down on weed smoke and deal with cannabis odors?
Leave a comment below or tag us on instagram @CannabisVapes.