Affiliate Disclosure: Cannabis Vape Reviews is supported by readers like you. We may earn commissions for purchases made through our links. Learn More
In the past few years, complete kits for vaping and smoking have hit the market.
Kits are designed for carrying all of your smoking accessories. Not only are they light and compact for easy travel, but they also pack and protect your vaporizers and smoking accessories. This provides the most convenient way to session on the road.
If you're looking for a quick and effective way to smoke your weed, whether in public or out on your next adventure, nothing beats the convenience of a one-hitter dugout pipe or a vape pen kit.
If you're more into dabbing, you'll enjoy a battery-powered vaporizer like an e-rig, preferably a torch-less vaping option. Something that's compact and comes with a carrying case to store all your dab tools is ideal.
Not all smoking devices are made for travel. So, if you're looking for a compact device to keep in your bag or pocket, or an entire smoking kit, which accessories fit the bill?
In this article, we'll be reviewing some of the best vape and smoking kits for travel.
These vape kit picks are organized by the type of vaping or smoking method like using dry herb versus vaping concentrates or oils.
Table of content
Best Vaping and Smoking Kits for Flower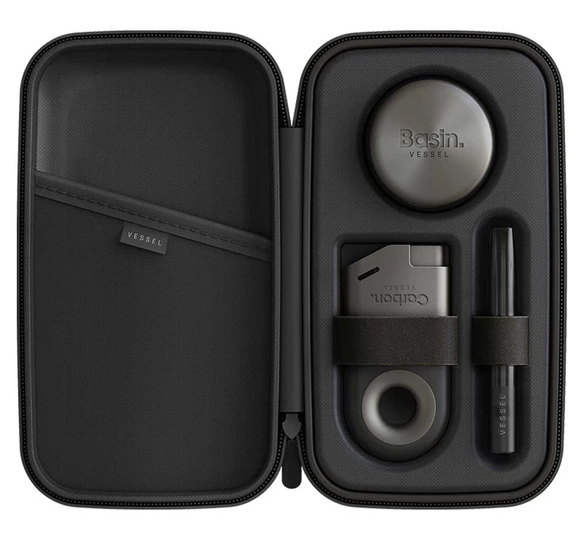 Keep it old school and stick to the basics with with chillum pipes, dugouts, and one-hitters. These kits come standard with a protective carrying case and weed storage. Some options include refillable butane torches and lighters.
If you want to keep it light with a smoke-less option, go with these easy-travel vape kits for portable dry herb vaping.
Discount with code at Ryot.com.
Available from VesselBrand.com.
Available from VapePartsMart.com.
Discount with code at DavinciVaporizers.com
RYOT Dugout Pipe
The RYOT dugout is a super convenient smoking kit made of a hard, acrylic container that holds a tiny sneak-a-toke style pipe, weed storage compartment, and poker tool all-in-one. Easily pop open the magnetic lid to expose the spring-loaded pipe. Pack a bowl in two seconds by dipping the pipe into the storage compartment.
I've personally been using the RYOT dugout a lot. I love the convenience it provides. It keeps my ground up weed and pipe together and is small enough to carry in my pocket.
Packing bowls with this thing is so quick and easy. Even after you've roasted a bowl, you can stash it away until you're able to dispose of the cashed bowl and blow out the ash.
Sometimes I carry this kit in my pocket or stashed in my RYOT case along with some papers and a lighter.
Vessel Eclipse Dry Herb Smoker's Kit
The Eclipse kit from Vessel is for the modern, sophisticated smoker. This kit is complete with the Basin storage case for your dry herb, a sweet, inverted design lighter, and a chillum-style one-hitter tasting pipe for simplicity.
Vessel recently launched the Helix, an awesome new style of one-hitter pipe. You can customize your Eclipse kit to include the Helix or the Air pipe.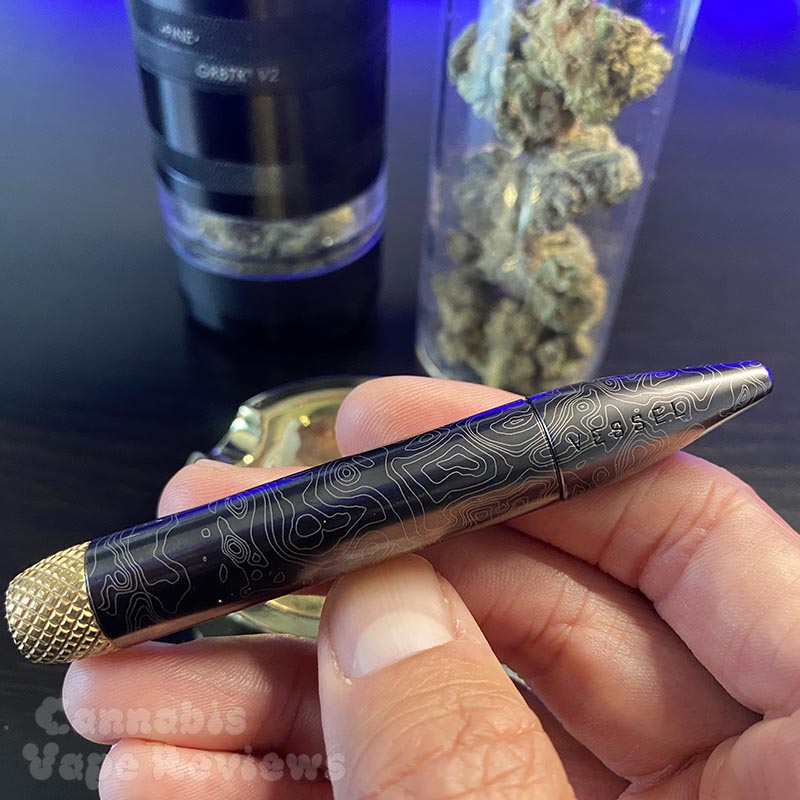 Vessel's pipes pair perfectly with their new line of stylish Vessel ashtrays too.
DynaVap M Starter Pack
The DynaVap M is a very interesting way of vaping flower. It's the size of a one hitter and used in a similar way. The difference is that the bowl is covered with a metal cap. Instead of lighting the weed inside, you heat the metal cap which heats up to the point of vaporizing the weed without burning it.
This comes in a wooden stash box just a like a dugout. It holds both the DynaVap M device and has a separate compartment for holding ground up herb. Packing bowls is easy with this device. Just dip the bowl piece into the weed compartment and pop on the cap.
DaVinci MIQRO Explorers Kit
The Explorers Kit from DaVinci Vaporizers includes the MIQRO dry herb vape, carrying case, extra battery, grinder coin, flower/battery storage key chain, and other useful accessories. The MIQRO is great for small sessions and microdosing cannabis. This vape features clean materials and has precise temperature control.
Best e-Rig and Dabbing Kits for Concentrates
The traditional dab rig with a killer glass water pipe and torch lighter is awesome for dabbing at home, but not that practical when you need to hit the road. No one wants to carry a butane torch with them.
That's why we like these battery-powered e-rig dabbing kits that are highly portable – take them with you on any adventure. Each kit comes complete with everything you need to dab while on the move including a protective case for easy travel.
The Boost EVO is the latest premium vaporizer from Dr. Dabber. In pursuit of the perfect dab, Dr. Dabber designed the …
Available at DrDabber.com
The G Pen Connect is a portable vaporizer that allows you to vape concentrates through any glass rig. Its adapter fits …
Discount with code at GPen.com
The Stache RIO, also known as the rig-in-one, is an all-inclusive dab rig kit for vaping your cannabis concentrates. …
Discount with code at PuffITup.com
Dr. Dabber Boost EVO E-Rig
The Boost EVO from Dr. Dabber is a fantastic e-rig for dabbing. It features multiple temperature settings, a large atomizer that can hold a bunch of wax concentrate, a glass bubbler attachment for cool vapors, and a reserve-carb airflow release valve. It also has gives off really cool lighting effects and comes in a hard carrying case.
G Pen Connect E-Rig Adapter
G Pen Connect instantly turns any water pipe into a dab rig. It's the most convenient way to vape with your bong. All the pieces snap together in seconds with magnetic attachments. Dab with this battery-powered atomizer for smooth, controlled hits. It comes with all necessary pieces, neatly laid out in a convenient carrying case.
Best Vape Pen Kits for Cannabis oils and Cartridges
The Vessel brand makes some of the dopest vape pens, complete with functional, smell and water-proof cases that are custom-designed to protect your vape. Vessel makes custom-designed cases and charging dock accessories for each of their vapes.
You can buy each of these accessory products separately or at a discount as complete kits through Vessel's website.
First, we'll list some of Vessel's vape pen and battery options. Next will follow a list of their accessory products that pair with those vapes.
Vessel Vape Pens and Batteries
The Compass, by the Vessel brand, is a luxurious palm-sized cannabis oil vaporizer. Vessel vapes are well known for …
Order directly from VesselBrand.com
Many vape batteries promise great performance but deliver average results, or look cool but aren't worth the price. …
Order directly from VesselBrand.com
Premium Accessories for Vessel Vapes


Leather wallet for holding the Vessel Compass battery and one extra vape cartridge.

Compact case for holding the Vessel Compass and two extra vape cartridges.

This case holds the two slim batteries and two extra vape cartridges.
Protective Carrying Cases & Other Kits
If you already have your own smoking accessories including a pipe or vape, perhaps you just need a case to carry all of your smoking equipment.
Take a look at these options from the RYOT brand. In addition to dugouts and grinders, wooden stash boxes, they also offer premium smell-proof cases with quality zippers to keep out moisture. RYOT cases are available in both soft or hard shells in variety of sizes, styles, and colors.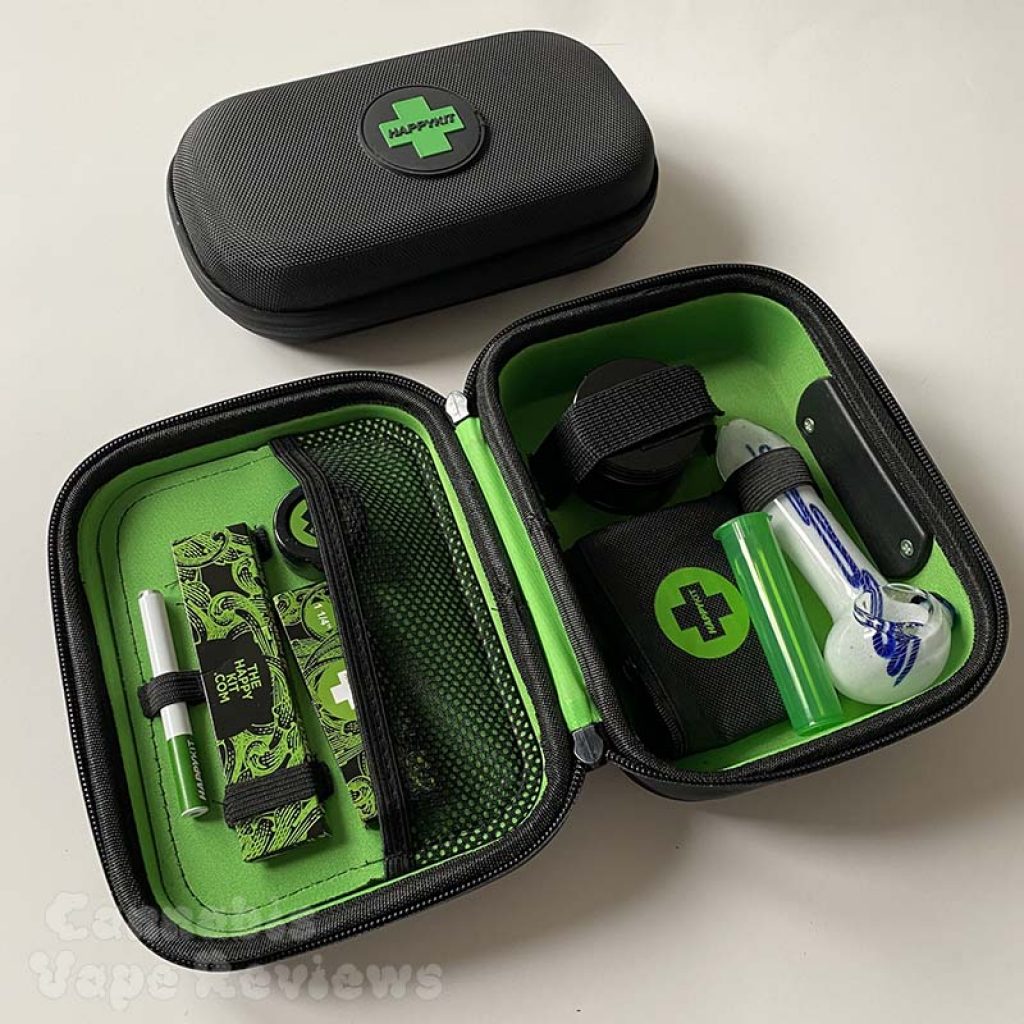 If you're without a case and a pipe, and you're in need of the whole sha-bang, retailers like Happy Kit offer a selection of different kits for smokers or dabbers.
Happy Kits include everything you need for the road and are available with protective locked box protective cases that are smell and water-proof.
Vaping on the go? Pack and carry your vaporizer and smoking accessories with a RYOT protective case. RYOT offers …
Discount with code at at Ryot.com

Wide selection of VERY affordable, all-inclusive smoking and dabbing kits. Complete with grinders, lighters, rolling papers in shock-proof, smell-proof, water-proof, and lock-protected cases.
Discount with code at HappyKit.com