Affiliate Disclosure: Cannabis Vape Reviews is supported by readers like you. We may earn commissions for purchases made through our links. Learn More
4/30/2021 Update
UPDATE: Review updated to include 15% off discount.
The Furna vape is a hybrid vaporizer that's designed to vape both your cannabis flower and extracts, all in one device.
What makes the Furna vaporizer unique from all other 2-in-1 combo vapes is that it's designed to use easily swappable oven cartridges. This makes switching between different types of cannabis seamless.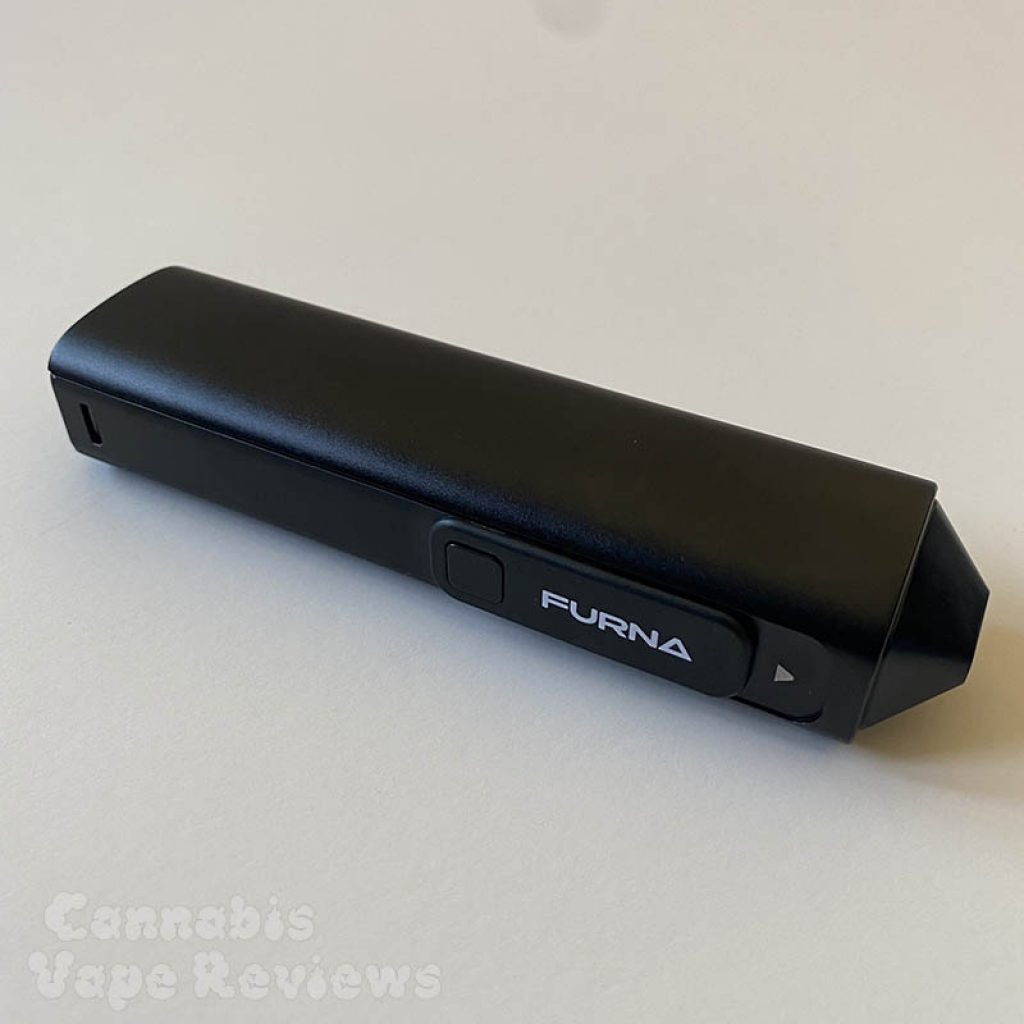 The oven cartridges are pre-loaded with your cannabis for convenient on-the-go use. Load one cartridge with your wax concentrates and another cartridge with your dry herbs. Then, you can easily switch between the two and vape as you please.
On top of that, the Furna vape has many other useful features. This vape is easy to operate with its simple two-button interface and built-in LED screen. Easily control functions like setting precise temperatures and on-demand heat boosting for speedy warm-up times.
Furna vape is also fully customizable. The device support several languages, allows you to switch between Fahrenheit or Celsius displays, and the LED screen will automatically flip to suit the orientation for left or right-handed users.

Furna Vape
Flower and wax combo vape using, pre-fillable and easily swappable ovens, LED screen and exact temperature control.
Discount with code at FurnaVaporizer.com
What's Included with the Furna Vape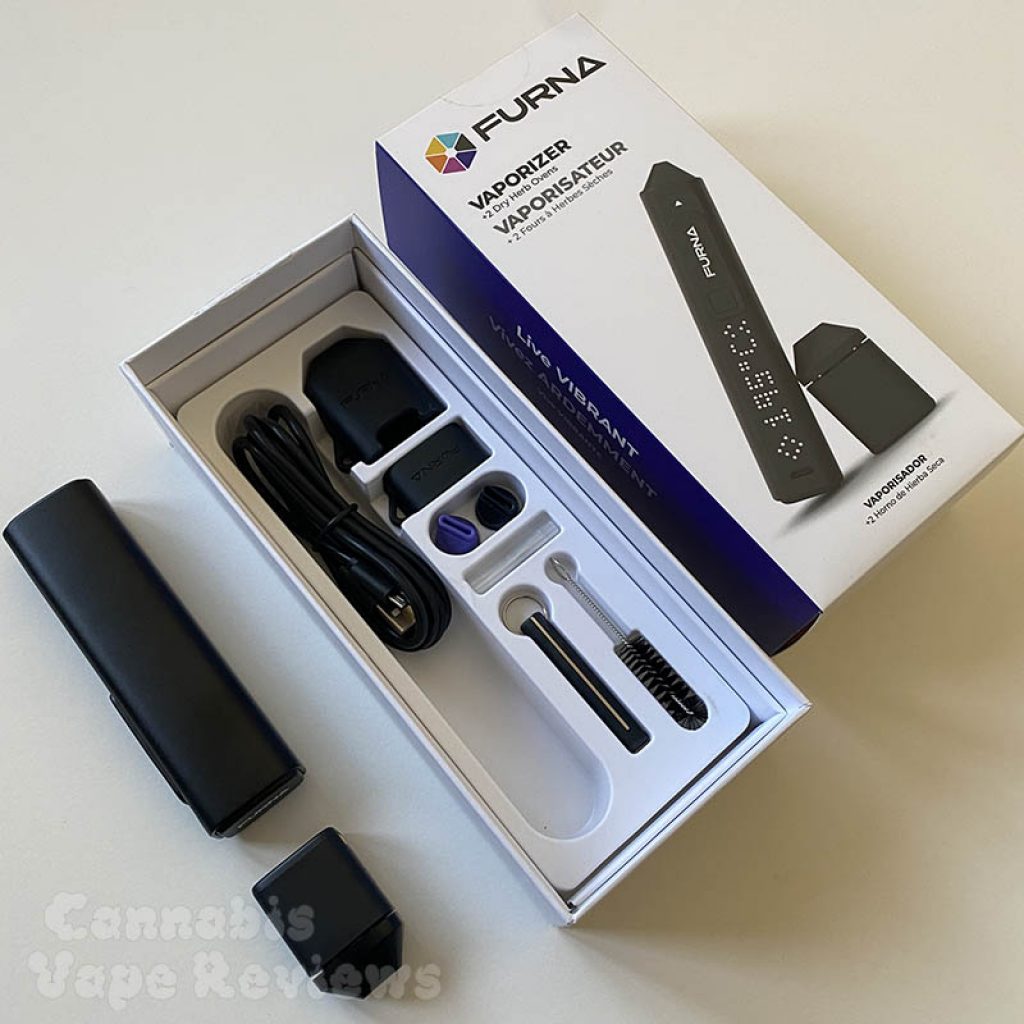 The Furna vaporizer includes a full vaping kit, complete with a cleaning brush, replacement screens, and a few other helpful accessories:
Furna Vaporizer
2x Dry Herb Ovens
2x Nibs (Purple / Black)
3x Nib Screens
3x Oven Screens
Funnel
Silicone Cover
Multi-tool for packing and cleaning
Cleaning brush
Micro-USB Charging Cable
Quick Start Guide
Manual
Design & Features of Furna Vape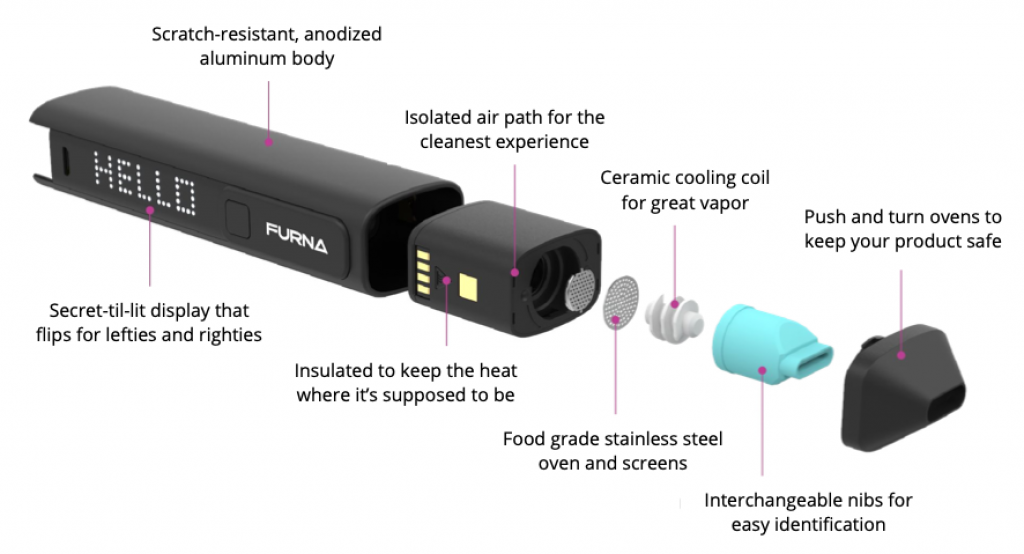 The Furna vaporizer is well-constructed and uses quality materials. It's very discreet with a hidden screen and a streamlined, low-profile design. The body of the Furna is a bit longer than competitor portable hybrid vaporizers like the PAX vape, but it's still pretty damn slick and fits in your pocket.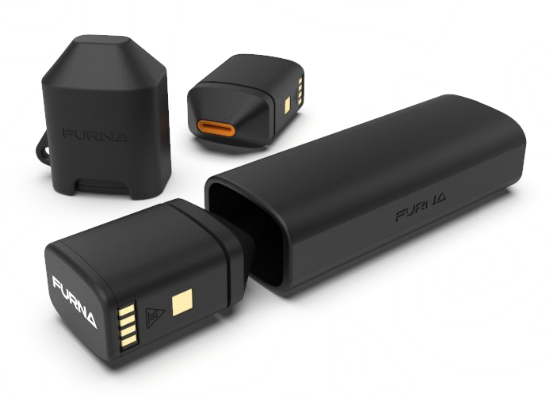 Here's some of the best features of the Furna Vaporizer:
Easily switch between flower or concentrates
Heats up rather quickly
Vape temp range of 320-420 °F
Loading the cartridge into the device enables auto-heating
Unloading the cartridge puts the device in idle mode
Large and easy to read digital LED display
LED screen auto-adjusts to accommodate either right or left-handed orientations
Haptic feedback (vibrates when heated to your set temperature)
Sanitary and lint-free storage of the cartridge inside the device
Oven cartridges fully disassemble for thorough cleaning
Simple, two-button operation
Precise temperature control
Micro-USB rechargeable
Tech Specs
| | |
| --- | --- |
| Dimensions | – |
| Weight | – |
| Materials | Anodized aluminum body; ceramic cooling coil inside the oven |
| Battery | Rechargeable LG 18650 Li-Ion via USB-C; 3500 mAh capacity |
| Charging Time | – |
| Heating Time | 20 seconds |
| Oven capacity | 0.25 grams of dry herb |
| Sessions | 15-20 sessions on a full charge |
| Heating Method | Conduction |
| Temperature Settings | 320-420 °F (160-215 °C) |

Furna Vape
Flower and wax combo vape using, pre-fillable and easily swappable ovens, LED screen and exact temperature control.
Discount with code at FurnaVaporizer.com
How to Use the Furna Vape
The Furna is simple to operate. The device includes both a user manual and a quick start guide, but here's the basic use of the Furna to get you started:
For vaping dry herb flower, load up the oven cartridge (two flower cartridges are included) with a small nug of cannabis that's finely ground-up.
Power on the device by quickly clicking the button near the screen 5 times.
Set your desired temperature by pressing the button on the bottom of the device until you get to the temperature option.
Place the cartridge into the device with the mouthpiece facing outward.
With the cartridge in place, the device will automatically start heating up. Once the desired temperature is reached, you'll feel a vibration which is your green light to start puffing.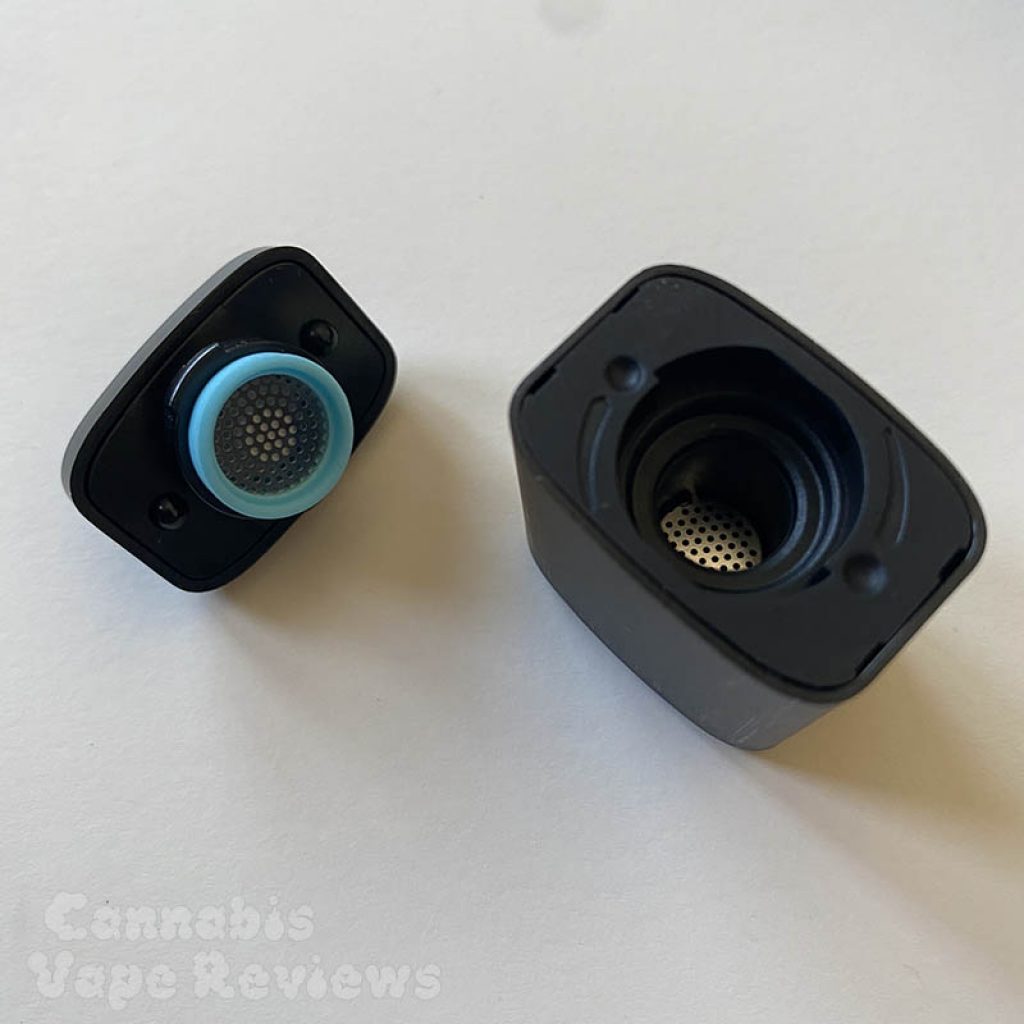 When you need to take a session break, just pop out the cartridge. You can also flip the cartridge around to store it away and protect the mouthpiece. This will put the vape into idle mode so it stops heating. If you are completely finished, power off the device by clicking 5 times once more.
Vaping concentrates works in a similar way, but you will need to use the concentrates cartridge (sold separately). Instead of setting the temperature, you will instead set the wattage level. Once the cartridge is in place, you hold down the power button to boost the vape to the set amount of watts.
My Experience
Right out the box, you can tell that the Furna is a quality vaporizer that's well designed. It's straightforward to use as you will be able to master all of its major functions in minutes.
While the Furna is marketed as the first vape with swappable ovens, this is not entirely true. A few years back, we reviewed a similar 3-in-1 hybrid vaporizer in the V2 PRO Series 7, which also uses swappable, pre-loaded cartridge ovens.
However, the PRO series 7 vape is no longer in production as V2 is out of business. The Furna is a far more superior vape and is currently the most advanced combo vaporizer with swappable ovens.
Vaping Flower with the Furna
I first tested the Furna with some bomb Cake strain flower from STIIIZY, one of the most popular Los Angeles cannabis brands. I ground up a tiny nug and packed it down into the oven of the flower cartridge.
At first, I started at the lowest temp of 320F. At this temp, I wasn't getting any vapors so I just decided to shoot higher. The device quickly heated to my desired temp of 390F in about 10 seconds. Around 380-390F, this temp seemed to produce some nice vapors while transferring the taste and flavor of my herb without burning it.
You'll get better hits with some well-ground herb that's also packed down a bit. If you've upped the temperature and notice that the vapor starts to thin out, give the bowl a stir and re-pack it down. If you keep the temps low enough, you will vape all the herb without burning. This makes for some smooth and tasty vapors.
Vaping Wax with the Furna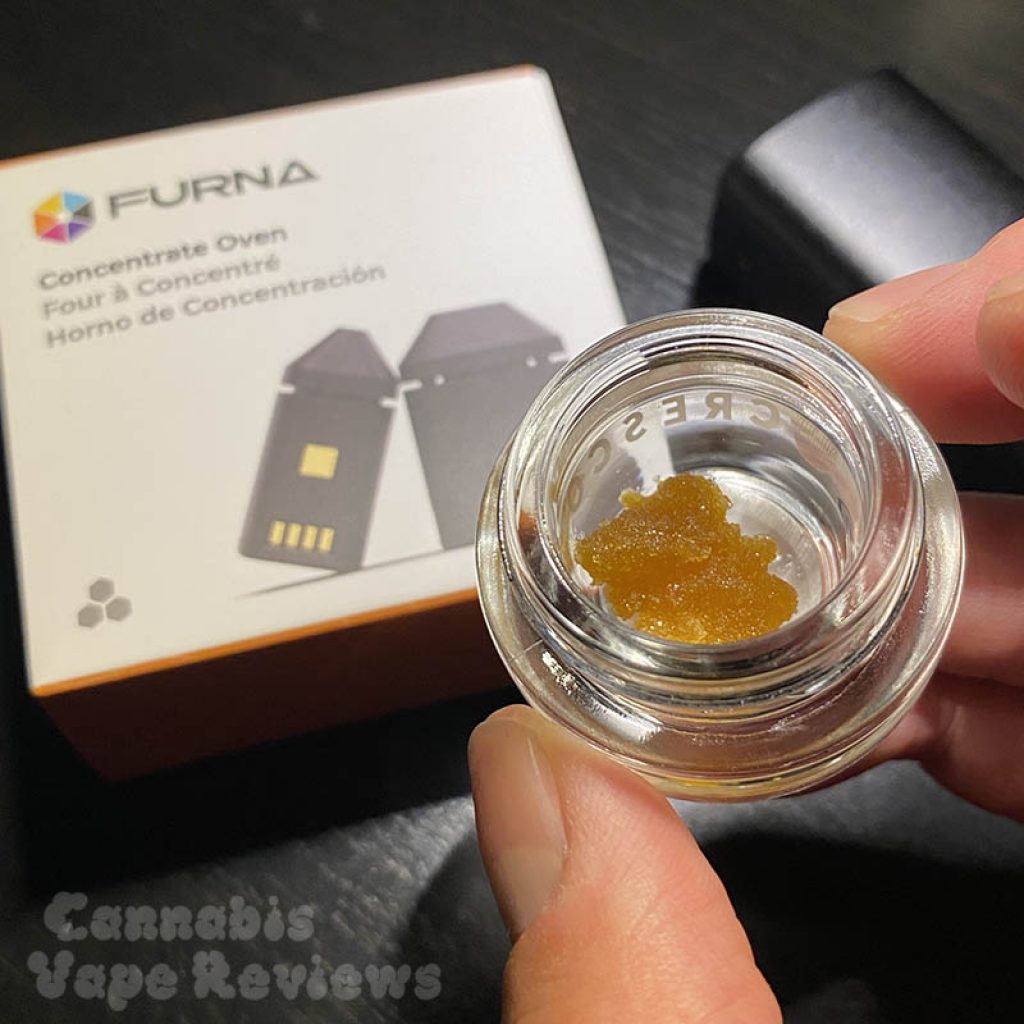 As for vaping concentrates with the Furna vape, I tested out some new Cresco Live Sugar extract that I picked up from Los Angeles delivery service Emjay.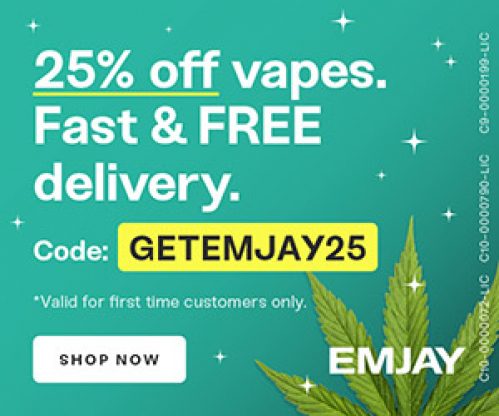 25% off
Discount with code at HeyEmjay.com.
NEW delivery service for Los Angeles, San Diego, and San Francisco. Fair prices, $0 delivery fees – Get 25% off your 1st order.
I prefer vaping extracts in a dabbing style where you apply cannabis extract to a pre-heated surface like a hot nail or banger. Something like the Dr. Dabber SWITCH e-rig seems to provide the best experience for vaping extracts.
I'm not typically a fan of wax vaporizers that require pre-loading into narrow chambers or on coils because loading wax and sticky extracts can be messy. It's hard to avoid touching the walls of the oven and getting the wax to properly lay directly onto the heating element which sits deep down at the bottom of the oven. It's best if you freeze your extracts and drop them into the chamber before they get soft and gooey.
Once you get past the issue of loading your extract, the Furna actually produces some satisfying vapors. It's interesting that the Furna uses wattage settings instead of temperature, which I'm not used to. Most wax vapes that I've reviewed are usually controlled by voltage or temperature. In fact, I don't think I've ever used a watt-controlled vaporizer for cannabis.
The Furna seemed to produce a good amount of wax vapors at the 10 watt setting. At 5 watts, I wasn't getting much and I don't really feel the need to go above 10 watt as I prefer the terpy flavors of low temp dabs.
Easy to Clean & Lint-free
I dig how the oven cartridges can be completely disassembled for thorough cleaning. When not in use, you can also flip the cartridge around and insert it back into the device so the mouthpiece remains covered. This will keep it clean and lint-free when you're carrying it in your pocket.
Adjusting Temperature
The biggest downside for me with the Furna is how the temperature is controlled. I found it odd that you can only increase the temperature in increments of 5 degrees at a time and in one direction. If you accidentally skip past your desired temp, for example, you have to cycle all the way through the temp settings until you circle back to the lower range. It would be nice if the Furna could control the temperature in either direction.
However, having precise temperature control displayed on a screen is great for dialing your perfect temperature to get consistent sessions every time. Packing small bowls in the oven and low-temp vaping is a great way to microdose. Sometimes you just want a small buzz and not a hard-stoned high effect.
The ability to boost the temperature is a great feature. If the oven is heated to 380F but you need a little more firepower for thicker vapor, you can hold down the power button which will instantly boost the temp by increasing it 20 degrees.
Final Thoughts
Overall, I love the simplicity of the Furna. It's easy to use, it looks slick and it performs well. The use of interchangeable cartridges makes it a great vape for someone who's into different types of cannabis but doesn't want to buy multiple vapes.
While the Furna vapes multiple types of cannabis and does a pretty decent job at both, I think it's more geared towards vaping dry herb flowers. The Furna includes two ovens for dry herb so you'll be good to go right out the box. The wax oven is sold separately. If you care most about vaping cannabis extracts, you might want to consider a heavy hitter like the Dr. Dabber SWITCH e-rig for dabbing.
Price & Where to Buy the Furna Vaporizer
The Furna vape is available for $239 USD directly through the Furna website.
You can buy the concentrates oven separate here.
Warranty Information – Furna vape is backed by a two-year warranty.

-15%
15% off
Discount with code at FurnaVaporizer.com
Flower and wax combo vape using, pre-fillable and easily swappable ovens, LED screen and exact temperature control.
Furna Combo Vaporizer
Pros
Quality build
Precise temperature control
LED display
Vapes both wax and flower
Heat boosting function
Intuitive and easy to operate
Easy to clean
Lint-free cartridge storage
Haptic feedback
Cons
Temp adjusts as 5 degree increments
Not able to conveniently decrease temp
Shops for Dry Herb & Flower Vapes