G Pen Gio Cannabis Oil Vape
Posted on:
July 23, 2018
/
If you're paying any attention to the cannabis oil vape market, you might have noticed that vape pod systems are on the rise. Many vape companies are moving towards producing pod vaporizers like the G Pen Gio.
The G Pen Gio was first unveiled to us last Summer at the Champs trade show in Las Vegas. After almost a year of anticipation, the G Pen Gio has fully launched and is rolling out in multiple states.
We were so excited to finally get our hands on the Gio to take it out for a spin and we enjoyed every minute with it!
While 510 threaded vape cartridges are still the standard in vaping cannabis oils, vaporizers that use pod-style cartridges are paving the way for more sophisticated user experiences.
Any cannabis oil lover who's gone through their share of vape pens and threaded cartridges knows they can be hit or miss. Although pods tend to be pricier than standard cartridges, pod vapes are consistently reliable and provide better performance overall.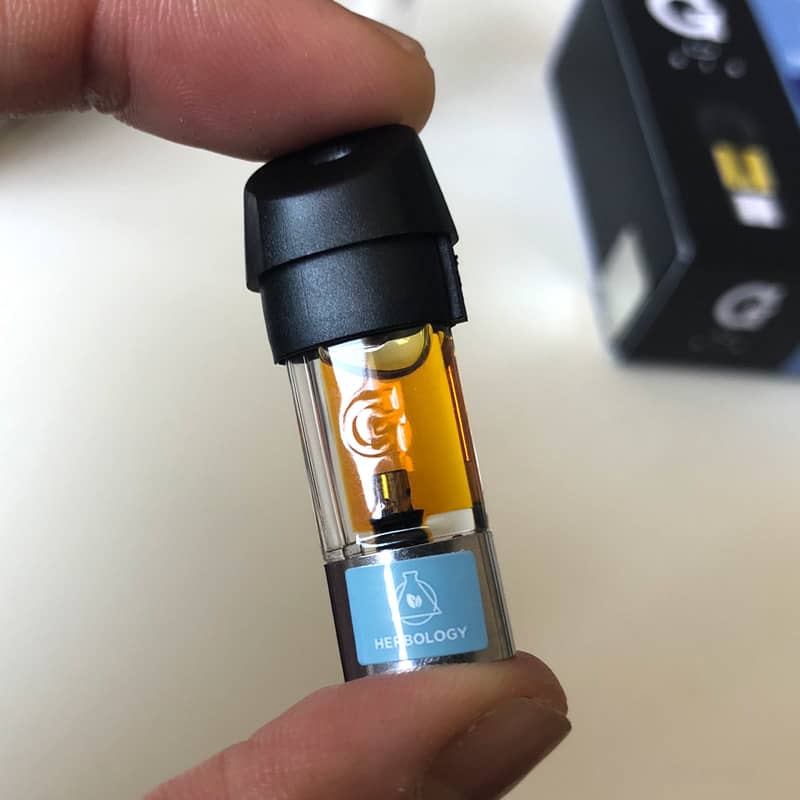 Unlike 510-threaded cartridges which are prone to leaking and clogging, vape pod systems produce consistent, satisfyingly dense vapors every time. Not to mention, they're extremely efficient, portable and look super slick. They're definitely one of the best ways to vape cannabis oil if you're willing to fork over the few extra bucks on the pods.
The G Pen fam was kind enough to hook us up with a sweet, custom Gio battery engraved with our logo. The Gio battery doesn't normally have our logo on it (if you were wondering).
We thoroughly tested this baby along with some fantastic, Herbology cannabis oil Gio pods.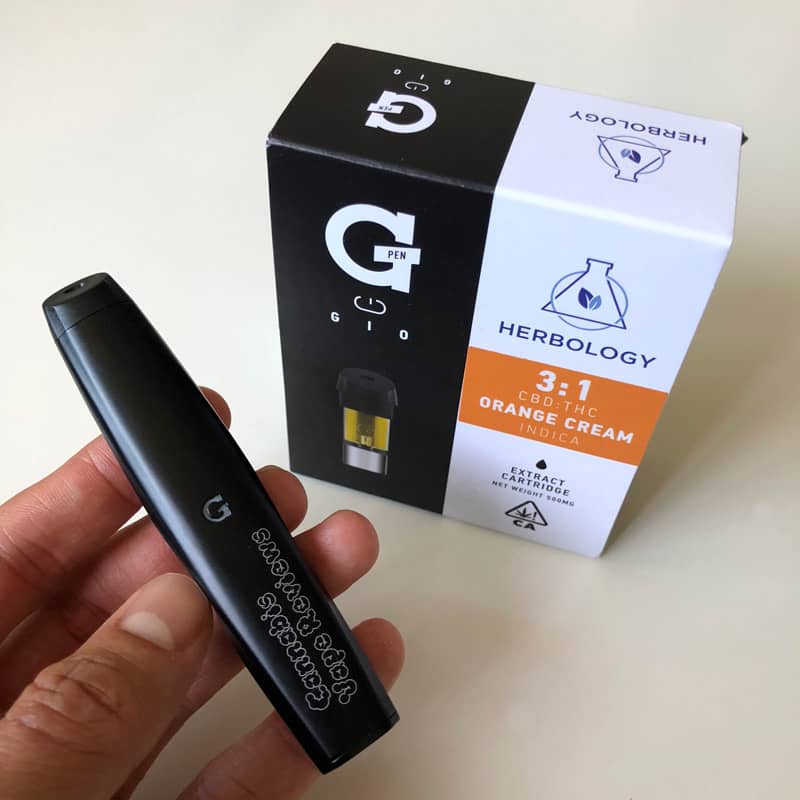 Our first run in with a pod vape was with the PAX Era which we've previously reviewed. After being thoroughly impressed with the PAX Era, we see what all the pod-style vaping fuss is about (read more on why pod delivery systems are amazing). The PAX Era also happens to be one of the most popular vape pod systems so we were curious to see how the G Pen Gio stacks up.
We've previously reviewed several G Pen vapes with positive experiences, so we came into this G Pen Gio review with high hopes.
What's Included
1 x G Pen Gio battery
1 x USB charging cable
Design & Features
The G Pen Gio is a super slick, portable vape system, designed for vaping liquid cannabis oils. The Gio is comprised of a vape battery that uses proprietary Gio pods which come pre-filled as half grams (500 mg) of cannabis oil. With one, fixed temperature setting and a button-less interface, the Gio is simple to use.
The Gio is rechargeable by micro-USB and charges up lightning fast. Reach a full charge in about an hour. If you can't wait that long, rest assured as the battery is designed with pass-through charging so you can vape while the Gio is charging.
Instead of using the industry standard 510 threading, the Gio battery is compatible with Gio pods. The pods are designed with a two pin connection that easily pops in and out of the Gio battery. No more over or under tightening and damaging batteries (we've seen this countless times with vaping newbies). These pods are much more reliable than your standard 510 threaded cartridge which can leak, become sticky, lose connection and fail.
Furthermore, G Pen has exclusive partnerships with top-notch cannabis oil extractors in multiple states. Because the Gio has only one preset temperature, all cannabis oil partners must use G Pen's proprietary Gio pod filling system. Each batch of oil must also meet high standards to ensure consistency with each Gio pod. There's no need for adjustable temperatures with the Gio as everything is fine tuned for flawless performance every time.
Standard Feataures
Simple use, button-less interface
Breath activated
Ergonomic design that feels great in your hand
Uses proprietary G Pen Gio pods
Micro-USB rechargeable battery
Quick recharging battery
Pass-through charging (can use the vape while charging)
Tech Specs
Dimensions: 4" tall x ~0.75 wide" x ~0.5" thick
Weight: 42 grams
Battery: 180 mAh capacity
Battery charging: charges by micro USB in under 2 hours
Materials: Zinc-alloy
Vape temp: 600-800 °F (depending on draw length)
How to Use
The G Pen Gio comes partially charged and ready to go right out of the box.
To start vaping, simply pop in a pre-filled Gio pod cartridge into the Gio battery. Make sure to insert the cartridge with both the embossed 'G' on the cartridge and battery facing upward.
To recharge the Gio battery, insert the included micro-USB charging cable into the bottom of the battery. The 'G' on the front of the battery will light up when it's charging and turn off when it's all set. The Gio battery charges quickly, reaching a full charge well inside of two hours.
G Pen also offers a nifty little charging dock (sold separately) which you can keep plugged in for added convenience.
The G Pen works best with short quick draws. Each draw activates the battery and atomizer, instantly heating the cannabis concentrate, producing fluffy clouds of vapor.
Our Experience
During our review of the G Pen GIO battery, we tested out the full line of Gio pods from Herbology. The second we laid our eyes on the Gio pod packaging and cracked open the box, we knew we were in for a treat!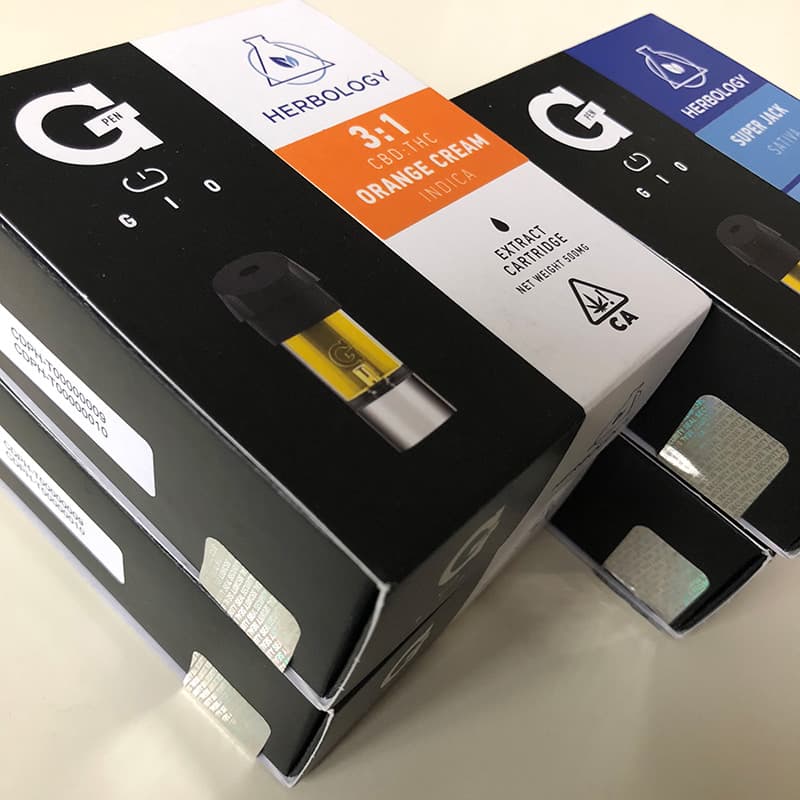 The full line of Herbology Gio pods includes three types of cannabis oils:
Natural Terpenes
Balanced CBD
Cannabis-Derived Terpenes
Herbology G Pen Gio Pods
Natural – Forbidden Fruit (Hybrid)
The first pod we tried was Herbology Forbidden Fruit (hybrid strain) cannabis oil. Testing at over 70%+ THC and using natural terpenes for bold flavor, this oil was spectacular. After taking just four drags from the GIO at 5-seconds each, we held onto a stimulating buzz that lasted for several hours. The flavor on the Forbidden Fruit is very similar to a freshly brewed pot of Earl Grey tea with some light floral notes on the exhale.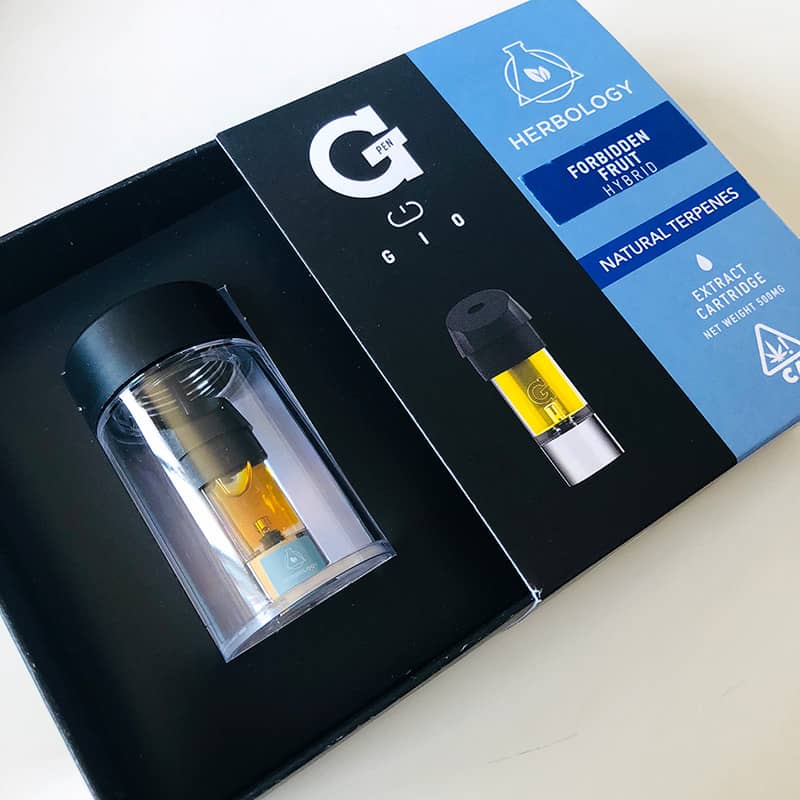 Balanced CBD Blends – Orange Cream (Indica)
Orange Creamsicle just sounds amazing doesn't it? This cannabis oil is one of Herbology's balanced, 3:1 CBD:THC oils. Although the taste is not quite consistent with what we'd expect from a real sweet treat creamsicle, it is pleasant.
From our experience, High CBD oils tend to taste stale and flavorless, almost like cardboard. The Orange Cream, on the other hand, is quite enjoyable. This oil induces a very mild cerebral high from the low THC (around 14% THC) that's perfectly balanced with the mind/body calm, relaxing vibes induced from the high CBD content (about 40% CBD) – great for a day time high when you still need to get shit done.
Cannabis Terpenes – Super Jack (Sativa)
The Super Jack sativa is one of Herbology's oils that is packed full of real cannabis terpenes. This oil tastes just like the real deal. With a moderate amount of THC, testing at 63% THC, the Super Jack Gio pod will give you a nicely controlled, stimulating buzz.
Balanced CBD Blends – Strawberry Mint (Sativa)
The Strawberry Mint Gio pod was the most unique of the Herbology oils we tried. Intensely mentholated, with bold, exaggerated strawberry flavors, this oil produces a unique experience leaving a slight tingling sensation on the throat. This may feel weird at first if you've never smoked a menthol, but we surely enjoyed it. This oil is also uniquely blended with a dominating ratio of high CBD to THC, testing at 15:1 CBD/THC. If you know that you benefit from CBD, especially if you take CBD for stress or anxiety, give this one a try.
G Pen GIO vs. PAX Era
Similar to the PAX Era, we absolutely love how stealthy, sleek and sexy the Gio looks and feels… and of course, how it performs.
Quality Materials
The Gio is classy, modern and performs flawlessly. Its sturdy, metal housing gives the battery a nice weight to it and feels solid in your hand. In contrast, the PAX Era is a nice featherweight, but seems almost too delicate like it would break if you dropped it.
Mouthpiece
The mouthpiece on the G Pen Gio is kind of weird. We weren't quite sure how to apply our lips to the mouthpiece to get the best hits. The mouthpiece is angled, similar to the G Pen Elite, one of the best selling dry herb vapes.  After fiddling with the Gio for a while, we decided we like hitting it best with the glowing "G" logo faced down, but to each their own. The PAX Era has a symmetrical, straight forward mouthpiece. There's really only one way to use it.
Fixed vs. Adjustable Temps
The G Pen Gio uses only one fixed temperature. We assumed this would be a drawback compared to the PAX Era. Although the PAX Era vape has adjustable temps, the Gio seems to work just fine with only one temp. This actually simplifies the vaping experience as you avoid the guessing game of stumbling across the perfect vape temp. The Gio seems to be calibrated just right for excellent hits every time. Simply adjust the length of your inhales to get the right amount of vapor and that buzz you're looking for.
It's cool that the PAX Era has the ability to adjust temperatures to the exact degree (which may be necessary depending on the brand of PAX Era pod or viscosity of the oil), but as the Gio has demonstrated, it's not all that necessary.
All of the Herbology oils that we used during this review produced consistently dense and deliciously flavored vape clouds. We blew through these pods too fast because the Herbology oils were so enjoyable and the Gio is just so damn convenient!
Natural Airflow
The airflow on the Gio is also remarkable. The Gio has a natural feeling draw resistance that sits at a perfect medium. You don't have to puff too hard or too little to enjoy some sizable clouds. The Gio vaporizes oil very quickly without giving off much heat. So take it slow the first few tries as you might inhale more vapor than you expect.
Price of Gio & Era Pods
You'll find an average retail price tag of around $50-60 for a half gram for either Gio or PAX Era pods. But, whether you decide to go with a Gio or PAX Era, it's going to be hard switching back to your typical 510-threaded vape pen.
Final Thoughts
Without question, pod vaporizers are one of our favorite methods for vaping cannabis oils. With the G Pen Gio emerging on the scene, it's now one of our favorite daily carry vapes. We'll definitely be keeping a G Pen Gio in our pocket at all times.
We appreciate the simplicity of the Gio as it's an excellent vaporizer for both cannabis connoisseurs and those new to the world of vaping cannabis. There's no learning curve and you can trust that it works.
Before buying a G Pen Gio though, you will want to check the availability of Gio pods in your area.
Price & Where to Buy
The G Pen Gio battery is available online directly through Grenco Science for just under $30 and is backed by a one-year warranty.
Use discount code "CannabisVapes" at checkout for 10% off.
You can find both G Pen Gio pods at local dispensaries in California and these states: Oregon, Nevada, Colorado, Washington, Florida, Maryland, Illinois. G Pen plans to launch soon in these states as well: Pennsylvania, Arizona, Ohio, Canada, Michigan, and Hawaii.
For a full list of where pre-filled cannabis oil Gio pods are available, check this store locator.
Currently, Gio pods are widely available in California through the Eaze Delivery service and at MedMen shops.

Click here to shop Gio products, then enter your address to check for local delivery in your area.
G Pen Gio Oil Vaporizer
$29.95
Pros
Beautiful design
Feels great in hand
Produces dense vapors
Very discreet
No leaks
Heats fast
Charges fast
Portable size
Easy to use
Natural feeling draw
Cons
Uses proprietary pods only
Pods can be pricy
Small battery
Weird mouthpiece
No battery level indicator