Affiliate Disclosure: Cannabis Vape Reviews is supported by readers like you. We may earn commissions for purchases made through our links. Learn More
PAX Era PRO is a super sleek and compact, smart pod vaporizer that's designed to vape cannabis oil extracts.
The ERA Pro vape's tiny size makes it discreet and its bluetooth-enabled functionality allows you to pair with the PAX mobile app for custom control and detailed session info.
PAX Era vape works great for providing full and consistent vapor.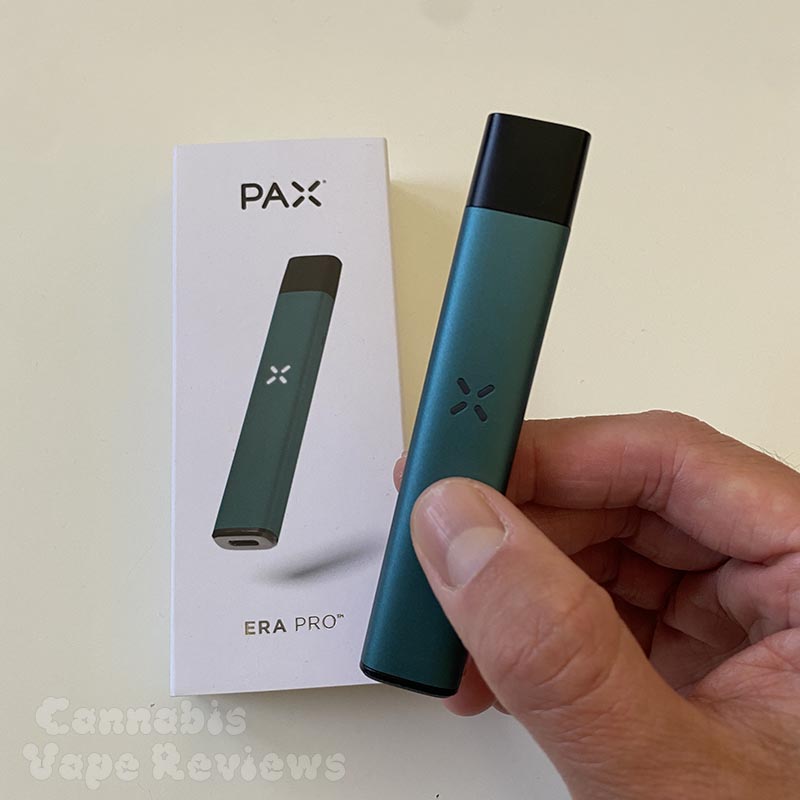 Compatible with its own proprietary smart cartridges, the PAX's vape pods give you information about your session and the strain of the oil you are vaping.
The new PAX Era Pro is the upgraded version of the previous generation of the PAX Era pod vape. The improved designed has over 60% more battery life, along with haptic feedback, and a few other improvements.

PAX Era PRO
Handheld pod vaporizer for cannabis oils. Pairs with PAX mobile app via bluetooth for custom settings like precise temperature and dosage control.
What's Included
The PAX Era Pro is a simple device with minimal parts. Each purchase comes with just two items to get you going:
1x PAX Era Pro battery
1x USB-C charging cable
Design & Features
PAX Era has a super-slim profile, making it the perfect handheld device to be tucked away discreetly into the palm of your hand or pants pocket.
PAX devices include many features that make their vapes some of the most advanced vapes on the market.
The PAX ERA Pro features:
Slim, handheld & discreet design
Designed to use PAX pods
Button-less interface
Heats up fast for instant draw
Colorful LED display (battery life indicator & temp preset)
Bluetooth-enabled to pair with mobile app for more control and info
Precise temp control
Haptic feedback
250 puffs per charge
USB-C rechargeable
Tech Specs
| | |
| --- | --- |
| Dimensions | About 4″ tall x 1/2″ wide (with pod inserted) |
| Weight | – |
| Materials | – |
| Battery | – |
| Charging Time | Under one hour |
| Heating Time | Instant |
| Oven Capacity | Half and full gram vape pods |
| Sessions | 250 puffs (70-80 sessions) on full charge |
| Heating Method | – |
| Temperature Settings | 4 heat presets or exact temp using paired app |
How to Use
Here's the basics of how to use the PAX Era Pro:
Getting started
With the PAX Era Pro battery charged, simply pop in a pod cartridge and start puffing.
Check battery life
Shake the device until the LEDs light up. The more pedals, the more battery life is left.
Change heat setting
To change the temp preset, pull out the pod half way, then press it back in gently. The LEDs will light up to show the current temp. Continue doing this to cycle through all of the four temp presets.
My Experience
Sleek and compact vaporizers are my personal go-to.
Dry herb and wax vapes are nice, but they're usually bulky and burdensome to carry around. When I'm out and about, I prefer carrying a small vape that looks and feels super slick – and of course works well.
While the PAX Era PRO has some cool bells and whistles, like smart pods that provide strain info and session count, I don't really need these things.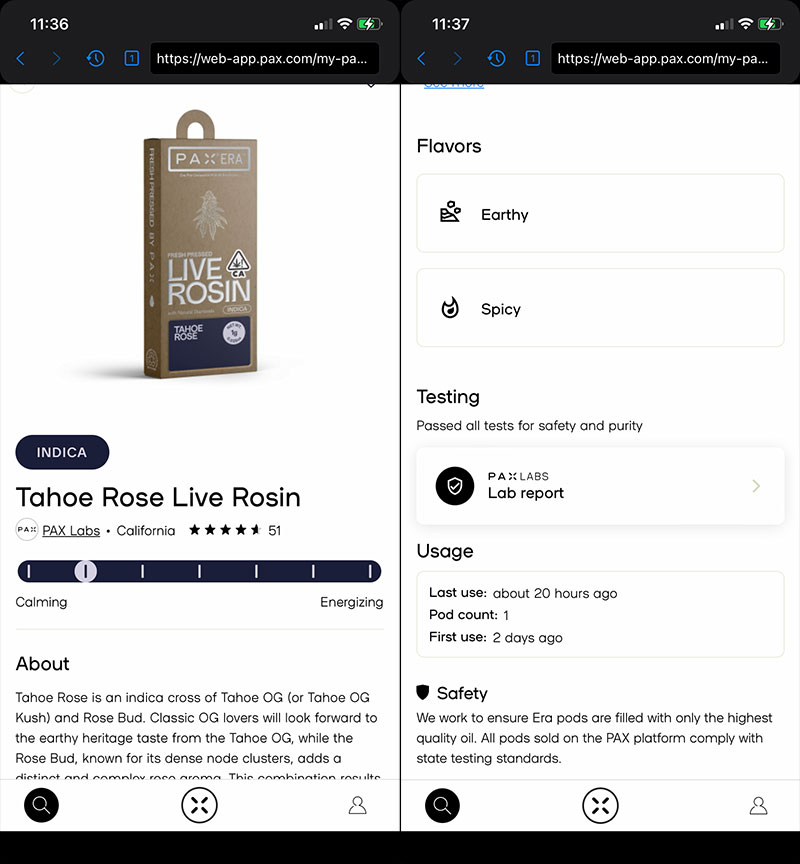 I like the PAX Era Pro because it looks cool, it's fun to use, and it just works. It's compact size makes it discreet and since it travels well, I take it with me everywhere.
The temp presets are easy to adjust and I like playing around with the settings. I'll switch to low settings depending on if I'm microdosing throughout the day, or need turn up the temps if I want to catch a good buzz. I like enjoy higher temps when I'm going for jog or stretching, doing creative work and being active.
The major drawback that I find with the PAX Era Pro is that the pods can get clogged occasionally (see PAX Era PRO FAQ on how to resolve this issue).
The pods are also relatively expensive when compared to a regular 510-threaded vape cartridge.
With that being said, PAX partners with some of the top brands so the oil that's filled in their pods is top-notch.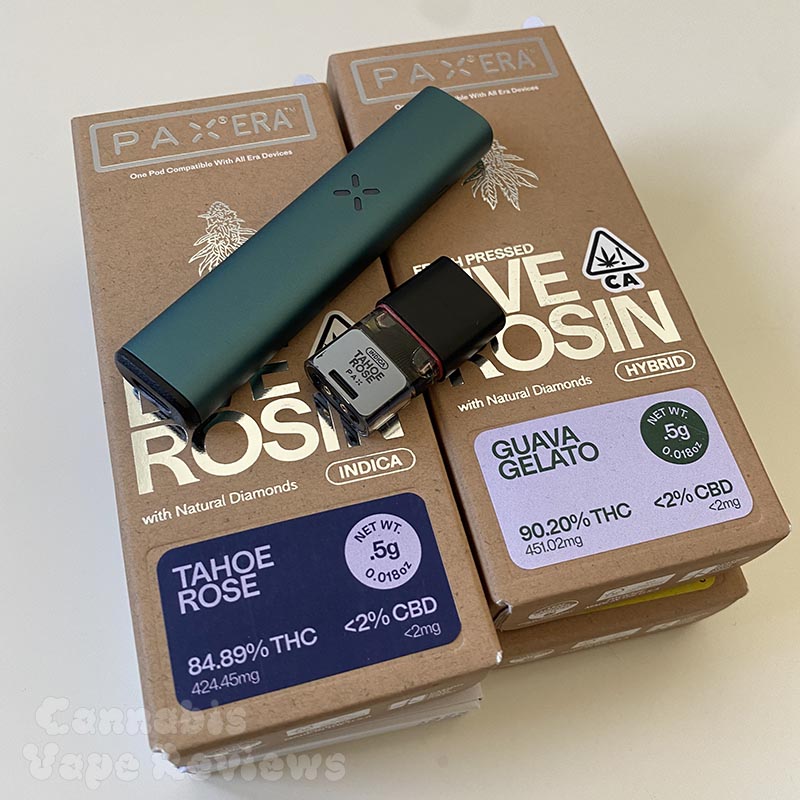 In reviewing the Era Pro, I was given some samples of PAX's very own line of Rosin oil pods. These cannabis oils are delicious. I'll be writing a separate review on PAX's Rosin line soon.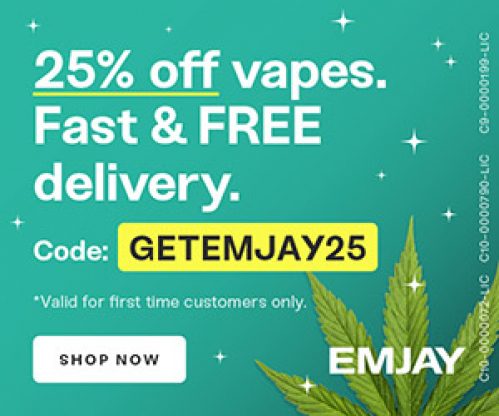 25% off
Discount with code at HeyEmjay.com.
NEW delivery service for Los Angeles, San Diego, and San Francisco. Fair prices, $0 delivery fees – Get 25% off your 1st order.
In the the end, I've been enjoying the PAX Era PRO daily and will be carrying one around long after I'm done reviewing it. If it's within your budget and you enjoy cannabis oils, the PAX Era PRO is an awesome vape for daily use.
Make sure to check that PAX pods are available in your local area before you purchase.
Price & Where to Buy
PAX ERA Pro retails for $70 and is available at the official PAX website.
Warranty Information – Backed by a one year warranty.

Handheld pod vaporizer for cannabis oils. Pairs with PAX mobile app via bluetooth for custom settings like precise temperature and dosage control.
Where to buy PAX Era pods in Los Angeles
Here's a list of some shops around Los Angeles to buy PAX Live Rosin pods:
Artist Tree (West Hollywood, Korea Town, Beverly Hills)
Sweet Flower (Culver City, Westwood, Melrose, Studio City, Arts District)
Project Cannabis (North Hollywood and Studio City)
Trees of Echo Park
You can buy also find PAX Live Rosin pods on Weedmaps here.
Additional Product Photos
PAX Era PRO Vape FAQ
Do PAX live resin pods work with the old PAX Era classic vape?
Yes – all of our pods are compatible with all era devices. 
What's the best way to vape these PAX pods?
The best way to smoke the pod is to "sip it to rip it". Slow long pulls will produce large clouds.  
What to do when your PAX pod gets clogged?
First blow into the cartridge by itself. Next, try plugging the cartridge into the battery and try vaping at the highest temp setting. If that doesn't clear the airway, you can leave the pod out in the sun standing upright for a few minutes. Once the oil becomes heated enough, the airway will usually clear up.