Affiliate Disclosure: Cannabis Vape Reviews is supported by readers like you. We may earn commissions for purchases made through our links. Learn More
AirVape is company based in Venice, CA that manufactures all different types of awesome vapes from premium to the pocket-sized and affordable. But for some, classic flower is the preferred method for cannabis consumption.
AirVape's newest offering, the AirVape Xs GO, ups the dry flower vaping game with their dual convection and conduction heat process.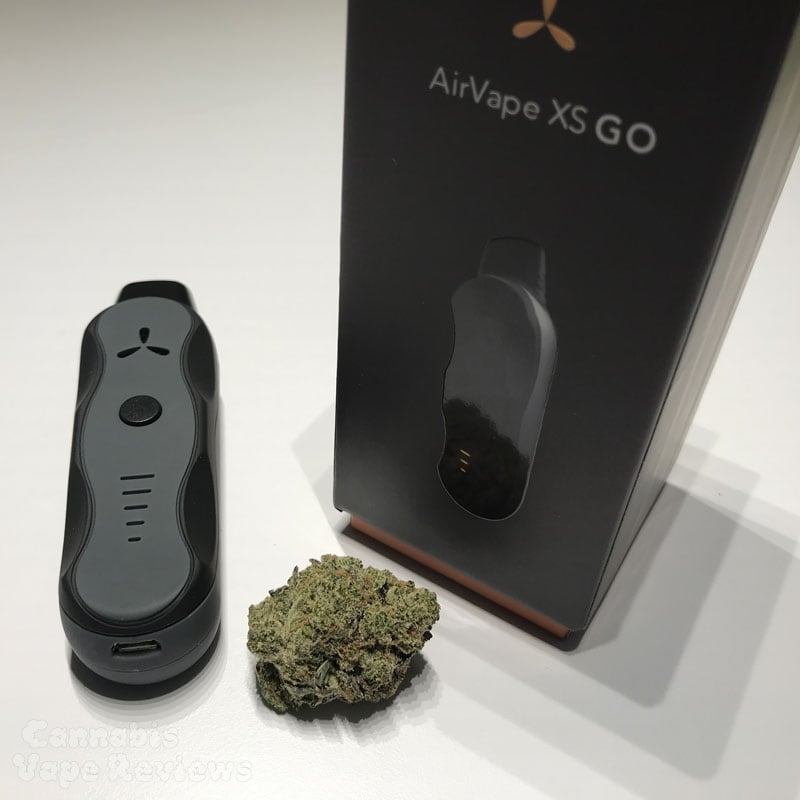 By combining dual heat with a ceramic chamber, the AirVape XS GO provides vapors from evenly toasted buds with great flavor on each inhale.

AirVape Xs GO
AirVape GO is a pocket-sized dry herb flower vape with multiple temperature presets. Features ceramic heating chamber and ergonomic design.
Discount with code at AirVape
Design and Features
Using both convection and conduction heating means that as the oven heats the bud from contact with the heat source (conduction) and by hot air which circulates (convection) through the ground cannabis. This ensures an even heating to all of your flower, rather than over-heating one part, which then requires stirring.
This dual heating method produces better vapor and ensures you're properly heating and activating the cannabinoids to provide a potent vape experience. This also maximizes vaping each bowl so you don't waste your precious flower.
Standard features included with the AirVape XS Go:
5-temperature presets
Battery life and temperature indicator light
Hybrid conduction and convection heating
Oval-shaped ceramic oven
20-second heat-up time
3-min auto shut-off
The AirVape XS GO includes everything you need for a successful flower vape experience, including some extra tools that don't always come standard with portable dry herb vapes.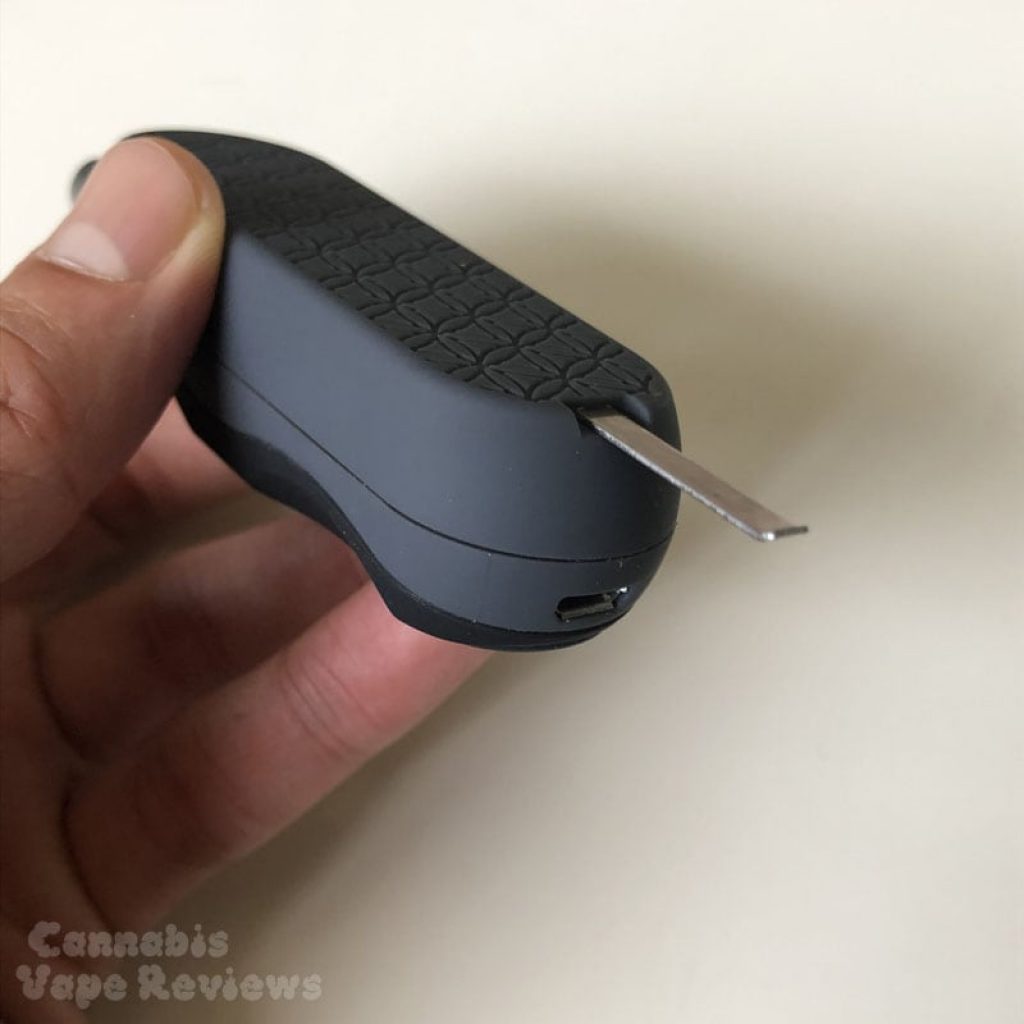 What's Included
1x AirVape GO Battery
1x USB charging cable
1x Built-in packing tool
1x Packing tweezers
1x Cleaning brush
1x Replacement filter screens
1X User manual
1x Limited lifetime warranty
Tech Specs
| | |
| --- | --- |
| Dimensions | 3.8″ L x 1″ W x 1.3″ H |
| Weight | 2 oz. |
| Materials | Ceramic oven, rubber grip and body, plastic mouthpiece |
| Battery | 1200 mAh |
| Charging Time | 45 minutes to full charge |
| Heating Time | 20 seconds |
| Oven Capacity | – |
| Sessions | ~1 hour |
| Heating Method | Hybrid convection and conduction heating |
| Temperature Settings | 5 temp presets (355, 375, 390, 405 & 420°F) |

AirVape Xs GO
AirVape GO is a pocket-sized dry herb flower vape with multiple temperature presets. Features ceramic heating chamber and ergonomic design.
Discount with code at AirVape
How to Use the AirVape Xs Go
The AirVape Xs Go is a basic dry herb vape that's very simple to use.
Getting started
Finely grind your flower and remove the magnetic mouthpiece to reveal the ceramic oven.
Pack your ground weed into the oven using the provided tweezers or built-in packing tool, located on the bottom of the textured side.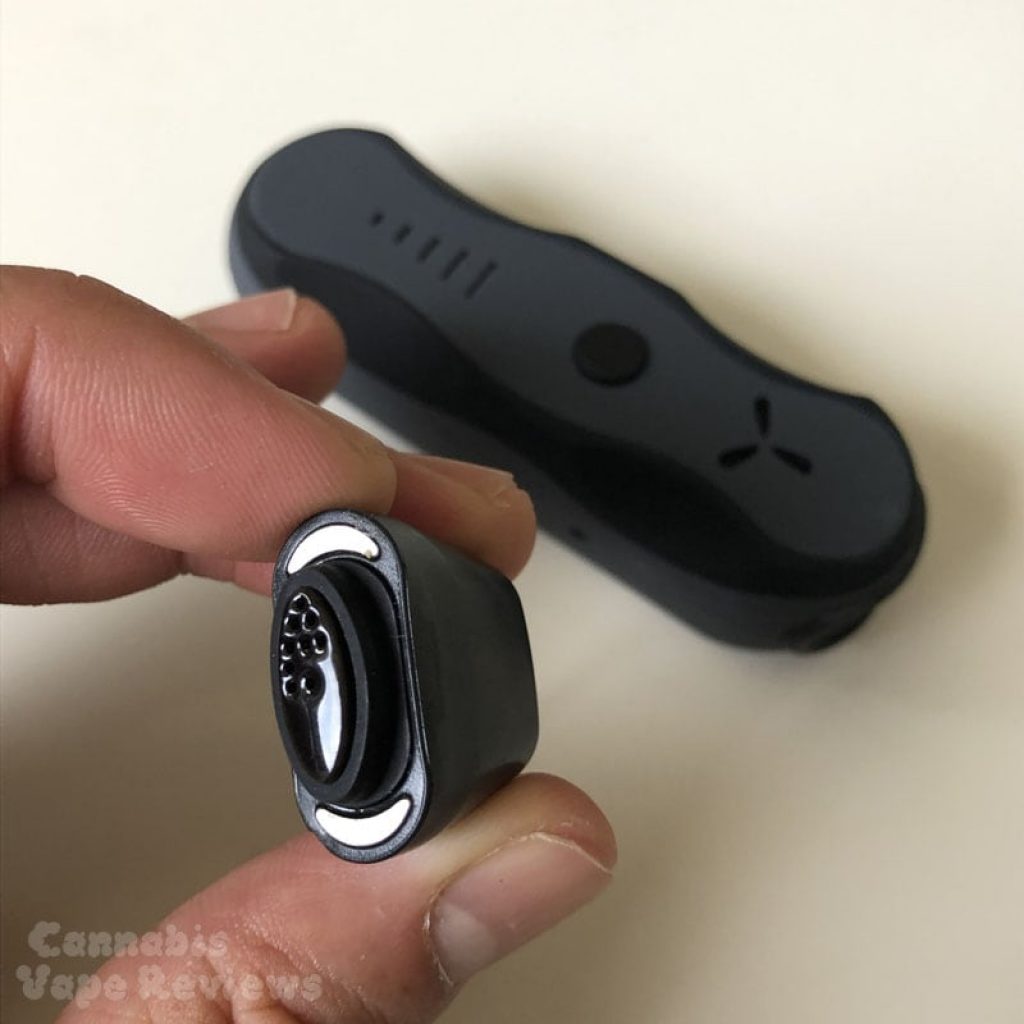 I love that the tool is built in and slides right out, which makes it convenient to pack the chamber on the go, without having to use your fingers, as the trichomes on the flower can make a sticky mess.
Replace the magnetic mouthpiece and press the button 3x to power on.
Hold the button down to cycle through temperature settings. Once you've selected the desired temperature, the light will pulse until it's ready.
When the light stops pulsing, just inhale and enjoy.
Remember, your herb is being heated while on, so when not in use, press the button again 3x to power off. Just incase you forget, there is a built-in automated 3-minute shut-off timer.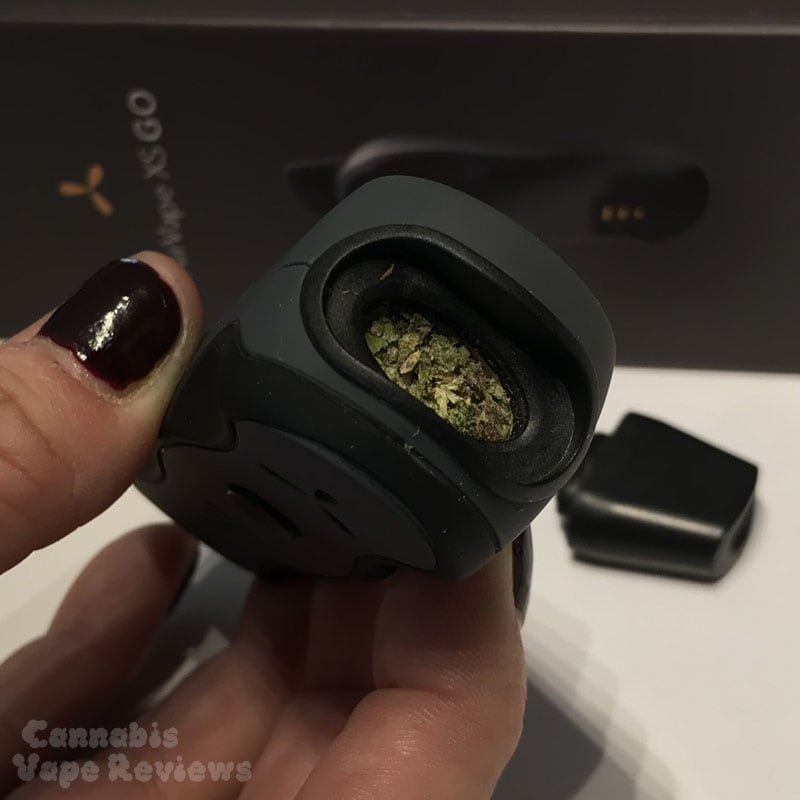 When the bowl is fully cashed, your vaped flower will look browned with no green left, and won't produce much vapor.
Cleaning the Chamber
The oval shape of the ceramic chamber aids in cleaning because there are no hard to reach, right-angle corners.
Making sure the device is powered off, remove the magnetic mouthpiece and use the included brush to clean out your depleted cannabis and any remaining debris or residue to prevent build up.
If heavy build up occurs over time, gently use a Q-tip dipped in alcohol to deep clean.
My Experience
Overall, the AirVape XS GO is an effective vape for those who prefer the high from flower, but crave the convenience and discretion of vaping dry herb.
I love how this vape evenly toasts and produces full clouds even at the lowest setting (355 degrees).
At 1200 mAh, the battery is powerful, but expends a lot of energy. Powering dual heating reduces battery life to about an hour with steady use, but it quickly recharges in about 45 mins.
The device will automatically shut-off after 3 minutes, but remember to power it off once you're finished, so your product isn't being unnecessarily heated. This will also help conserve battery.
If constantly heating for multiple sessions in a row, the vapor can grow uncomfortably warm, so use with caution. Once you feel the inhale is too warm against your lips, allow the device to cool down for about a minute before resuming use.
Final Thoughts
The AirVape XS Go does a pretty good job of giving me the high of flower with a distinctive and pleasing taste. It's great for on-the-go dry herb vaping with the added discretion of its compact size versus other dry herb vapes. At under $100 for a dry herb vape that heats with both conduction and convection heating – and has a built-in poker tool – this vape is a great buy.
Price & Where to Buy
The AirVape Xs GO is available for $69.00 directly through AirVape.
Looking for AirVape's top of the line combo vape that does both flower and wax? Check out the NEW AirVape Legacy PRO review here.

20% off
Discount with code at AirVape
AirVape GO is a pocket-sized dry herb flower vape with multiple temperature presets. Features ceramic heating chamber and ergonomic design.
Additional Product Photos
Shops for Dry Herb & Flower Vapes