Affiliate Disclosure: Cannabis Vape Reviews is supported by readers like you. We may earn commissions for purchases made through our links. Learn More
The Vapman is an exquisite, Italian handmade and Swiss-designed dry herb vaporizer. This is one of the most beautifully crafted vapes for cannabis flower that I've ever seen.
The attention to detail that goes into the craftsmanship and selection of sustainably sourced, high-performance materials is second to none.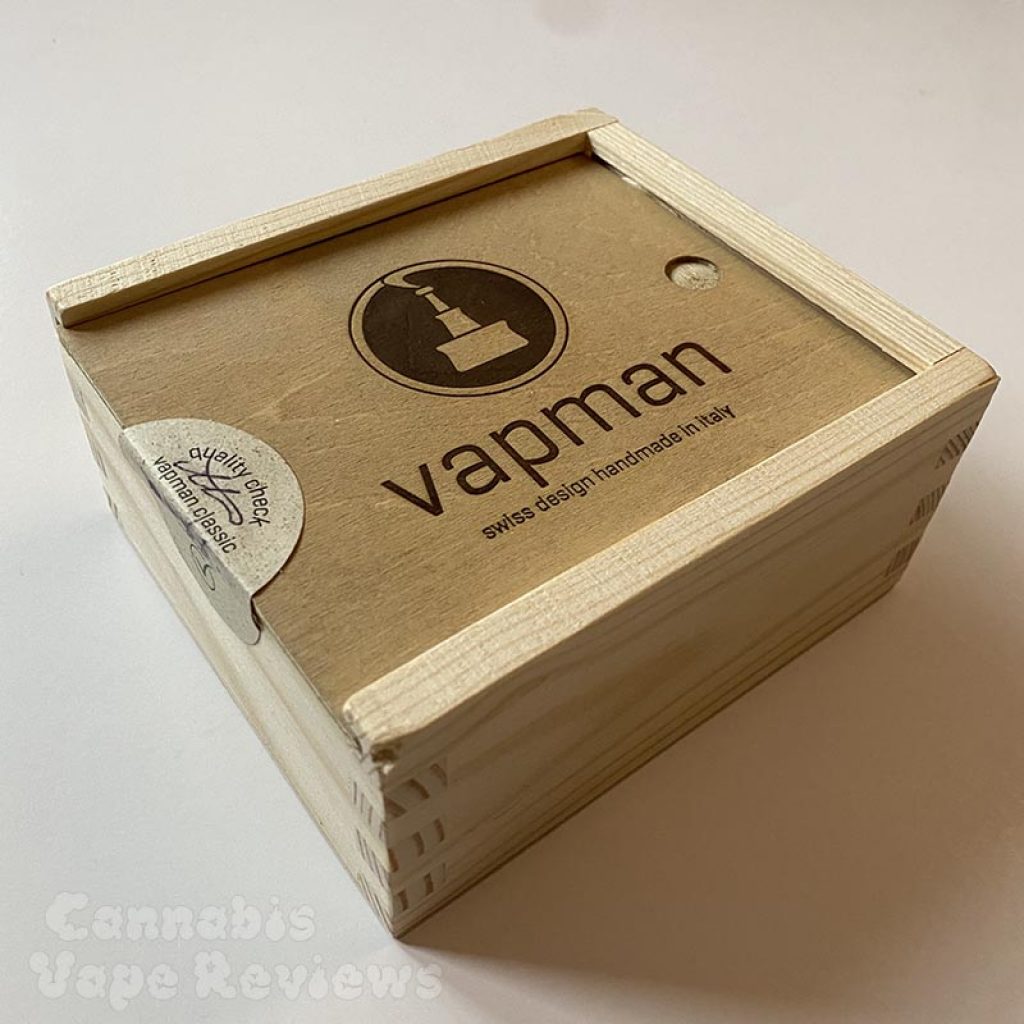 Using the Vapman is similar to the popular DynaVap dry herb vape. Both styles of vaporizer require an external heat source. As with both vapes, a torch or jet lighter is used to indirectly heat the cannabis loaded inside the vape's chamber, while avoiding direct contact and combustion.
In this review, we'll be taking a look at the Vapman Classic set in the olive wood style.

Vapman Classic Vape
Unique Swiss-designed dry herb vape handmade in Italy. Made out of real Olive wood and quality materials. Great taste and flavor.
Discount with code at Vapman.com
What's Included
Each Vapman kit includes:
Vapman Olive wood device
Protective hemp egg shaped container
Jet lighter (butane refillable)
Cleaning brush
Screw driver
Instruction manual
Wood box
Filling funnel
Metal screen for extracts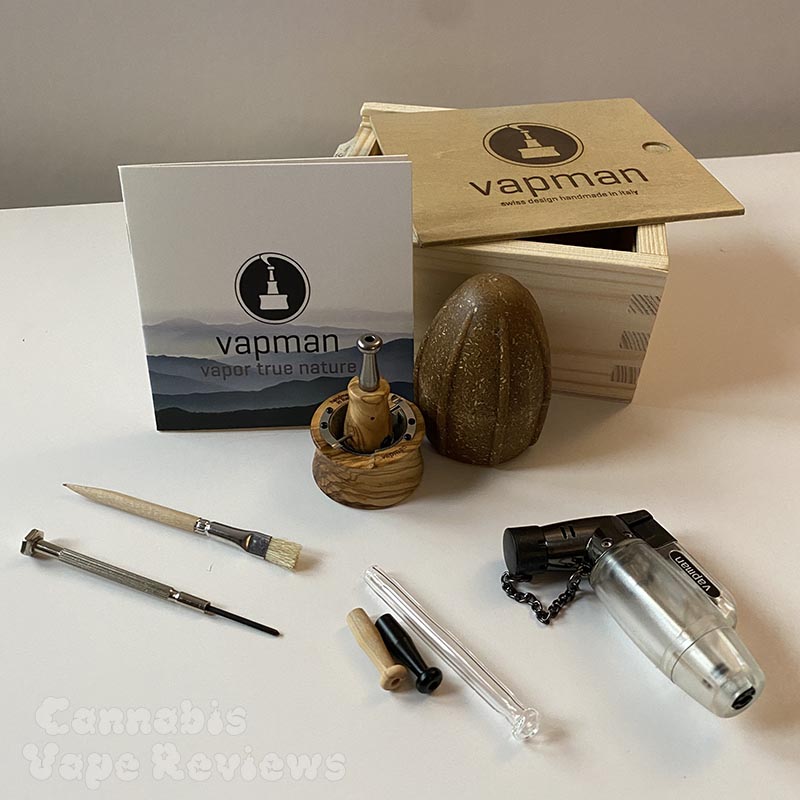 Design & Features
The Vapman has lots of subtle details that add to its beauty and vape performance.
Here are some of its main features:
Designed to vape dry herb
Swiss-designed and handmade in Italy
Made of olive wood and sustainably sourced materials
Heated with butane torch or jet lighter
Uses optional funnel for easily filling chamber with dry herb
Superb heat conduction using 24k gold plated copper heating chamber
Completely disassembles for thorough cleaning
Wood is protected by a layer of thermal-insulating Mica crystal
Air holes for custom airflow control
Top mouthpiece easily attaches and detaches with tension spring
Can be fully disassembled for deep cleaning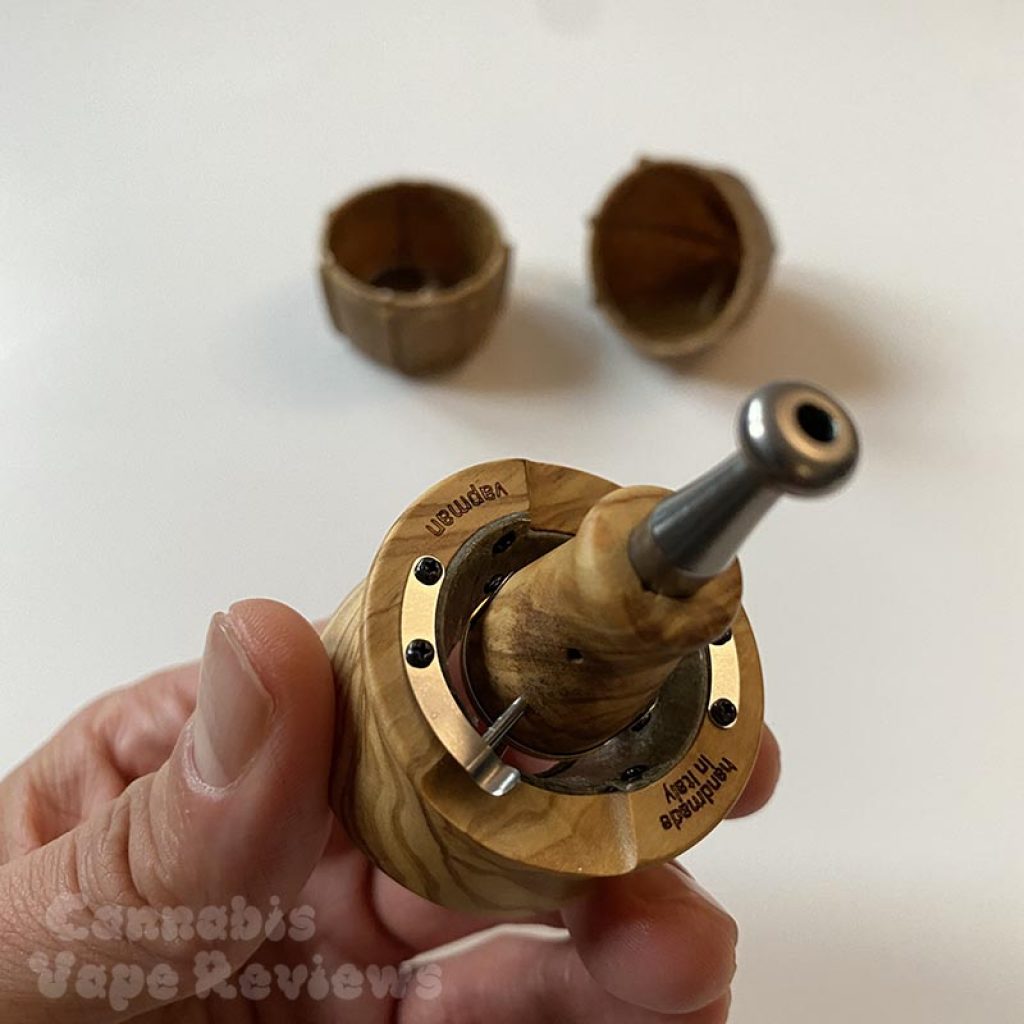 Vapman Classic Vape
Unique Swiss-designed dry herb vape handmade in Italy. Made out of real Olive wood and quality materials. Great taste and flavor.
Discount with code at Vapman.com
Tech Specs
| | |
| --- | --- |
| Dimensions | 1.5″ wide x 2.25″ tall |
| Weight | – |
| Materials | 24k gold plated copper heating chamber; brass nozzles; olive wood grip ring and centerpiece; mica heat-protection and heat-reflection lining; POM plastic, Inox stainless steel, and glass mouthpieces |
| Battery | n/a |
| Charging Time | n/a |
| Heating Time | Heat with flame for 3-5 seconds |
| Oven Capacity | Around 0.3 grams of ground dry herb |
| Sessions | – |
| Heating Method | Requires external heating by butane torch or jet lighter |
| Temperature Settings | n/a |
How to Use
Using the Vapman dry herb vape is very straight forward.
Twist the top piece counter-clockwise to remove it and expose the chamber underneath. Load the gold chamber with a small pinch of finely-ground up dry herb.
Use a good grinder like the Kannastor GR8TR to break up your herb really well. You'll want a fine and even grind to get the smoothest vapors.
Whether you're smoking some dank, sticky buds or vaping flowers, you'll benefit big time from having a good grinder. …
Discount with code at Ryot.com.
You can use the included funnel ring that sits inside the chamber to reduce spills and keep all the herb in place.
Replace the top by turning it clock-wise back into place. Hold on to the vape by grabbing the outside of the wood ring with your thumb and index finger. Light the bottom of the gold chamber with the a torch for a few seconds. 3-5 seconds will usually do the trick.
Take a puff. If you're not getting enough vapor, heat the chamber for another 2-seconds or so. Take another puff to taste. Repeat as necessary until you've reached the right amount of heat.
Our Experience
The Vapman is such a beautifully designed vape. It's interesting to look at and it feels good in your hand. It's a very fun vape to use. Looking at this device up close, you can tell a lot of thought and craftsmanship went into the design.
Shape and size of the bowl
The bowl or chamber size on this vape is quite small. Don't expect to pack huge bowls in this thing. The Vapman is more of a hobbyist' s vaporizer and would serve well if you're more of a light cannabis user that really enjoys the taste and flavor. This is also a great vape for microdosing.
I actually like its compact size and that you can only vape small amounts of weed at a time, but it's also awkwardly shaped and a bit too bulky to fit in your pocket comfortably. Because it doesn't have a thin, streamlined designed, like a pod vape for example, it won't fit easily in your pocket unless you disassemble it.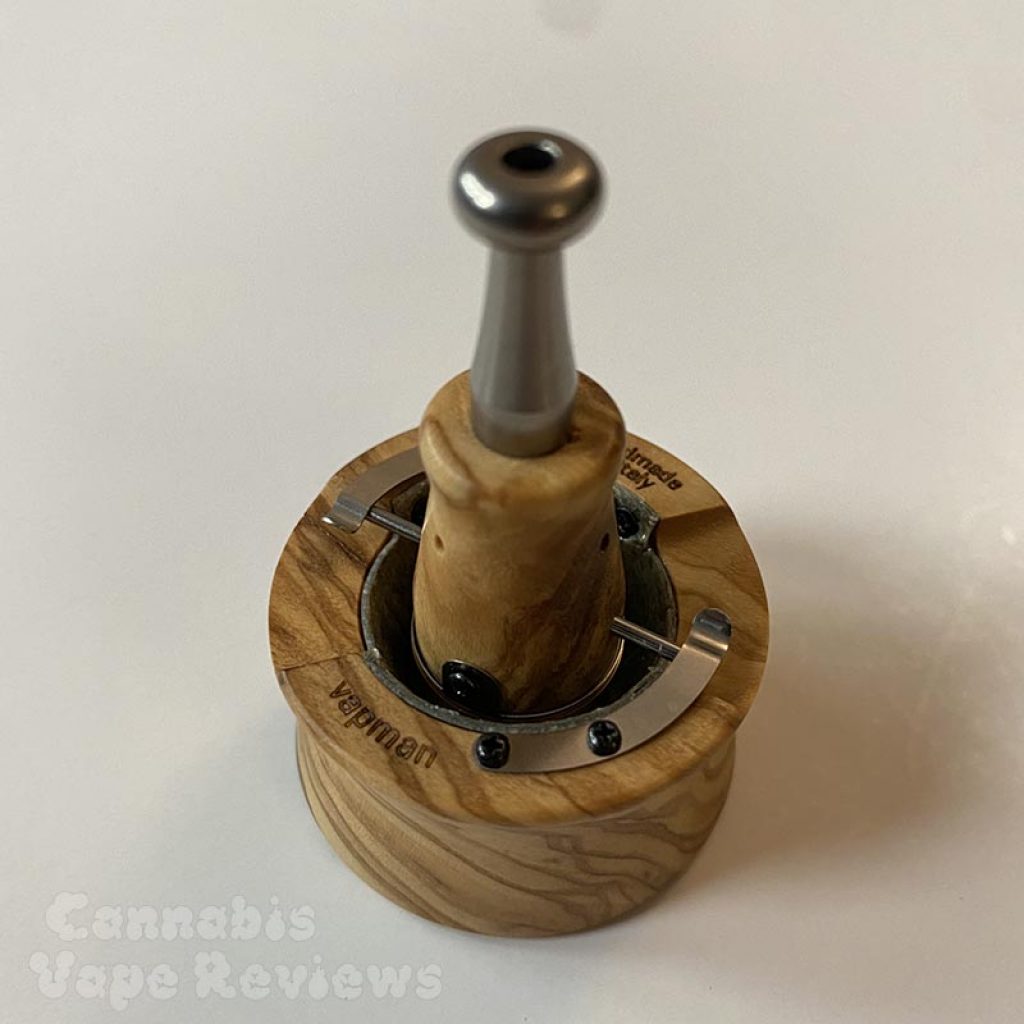 Something like the Dynvap vape, on the other hand, is designed like a thin vape pen that will slide right into your pockets. The Dynavap also comes with a thin carrying case that stores some herb as well like the Ryot Dugout pipe for easy smoking on the go.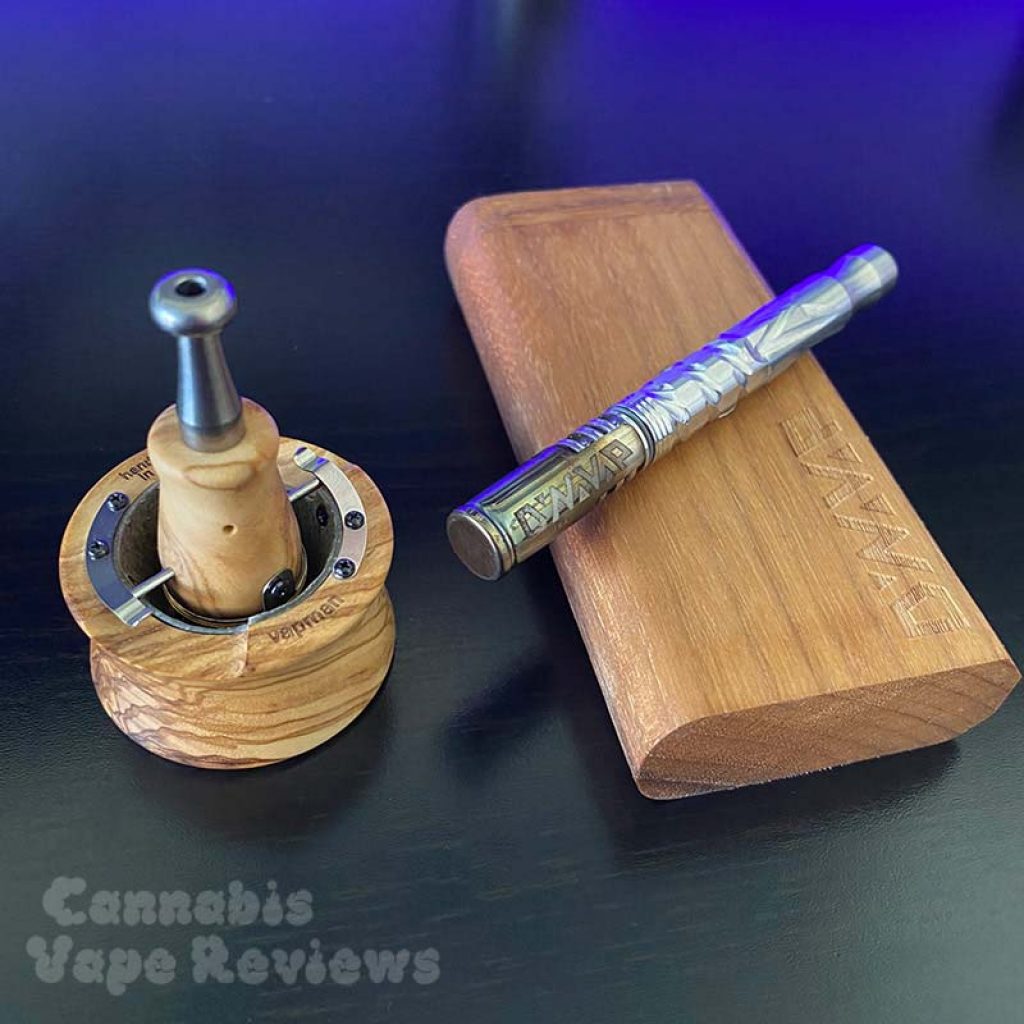 While the DynaVap is comparable in performance, it's design is all metal and requires tiny rubber washers to hold everything in place. Something about smoking or vaping from metal feels too cold and mechanical. I much prefer the more natural and organic look, feel, and taste that comes with the Vapman.
Heating the device
Using the Vapman will take you a few tries to get the heat just right. At first it might seem kind of scary to hold the vape while you aim a jet flame towards the open center of the ring. As long as you're holding the outside of the wood ring, you'll be just fine.
You light the bottom with a torch for a few seconds until you feel it might be hot enough. You have to take a few puffs to test if you're getting enough vapor. Then, repeat the process until it feels right. After repeated use, you'll get the hang of how long to heat it.
Vapor quality
Once you get the temp dialed in, you'll notice it does a fantastic job of transferring the tasty terps from quality cannabis flower.
The airflow is also great. You can cover some of the holds in the wood of the top piece if you want to restrict some air and increase the density of the vapors.
Tips on loading the chamber
When you load up the chamber, you pinch some ground herb into the center of the gold bowl. It's easy to spill crumbs of weed all over.
You can use the included funnel ring that's included to make this easier. The ring is placed inside the device and sits perfectly flush around the chamber. Once you load it up with your ground up herb, simply pop the ring back out before you reattach the top piece.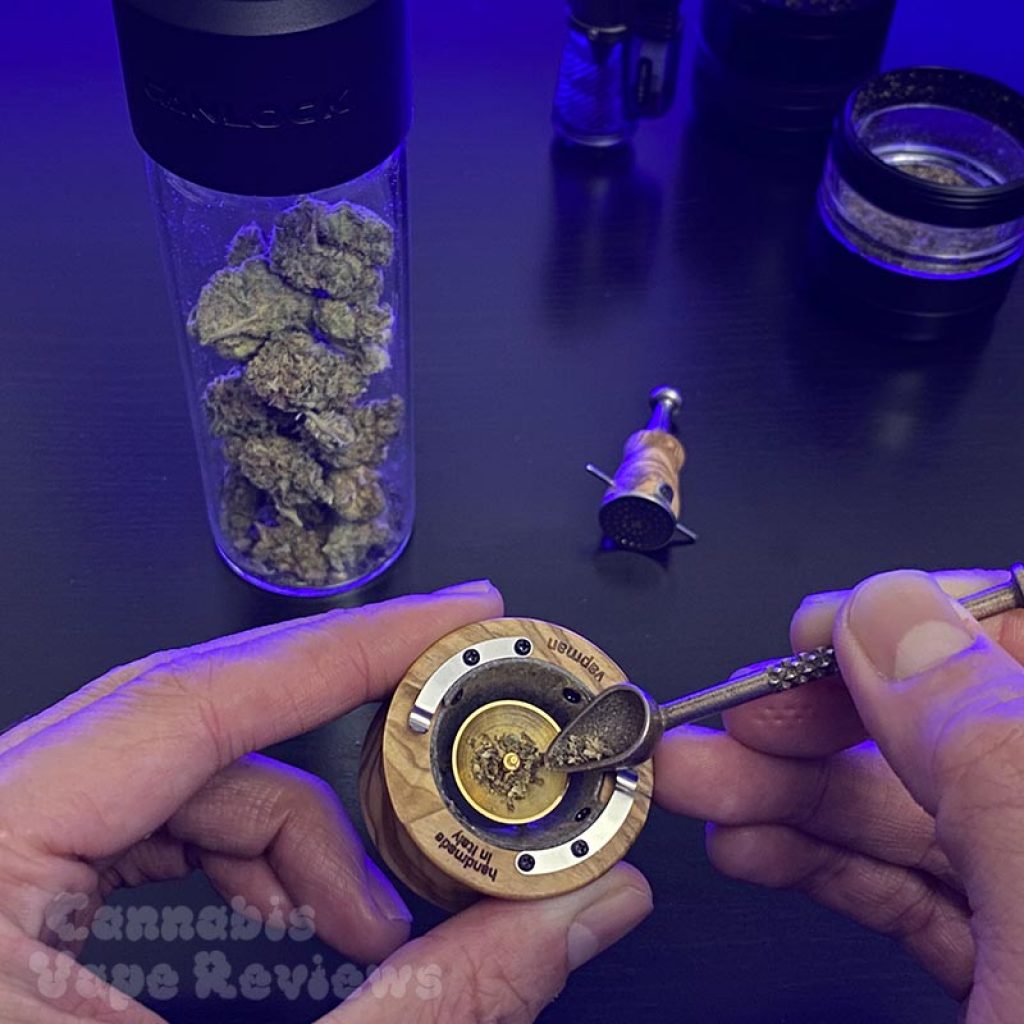 For loading the chamber, I like to use a scoop and tamp tool. I find it much easier and cleaner to load my herb this way. You can buy this tool online here. It's incredibly useful.

Convenient double-sided tool for scooping ground up dry herb and packing it down. Handy smoking and vaping accessory for loading up a bowl.
Available at VPM.com
Final Thoughts
Overall, the Vapman is a fantastic vape and I really enjoy using it. It's beautiful and unique design make it a great addition to any hobbyist vaporizer collection. It's fun to use and performs well. However, the bowl size is quite small, so if you are a heavy cannabis user, you may opt for something bigger. Otherwise, you'll find yourself constantly packing bowl after bowl.
Price & Where to Buy
Vapman Classic vape retails for around $180 USD (or $160 EUR) and is available at Vapman.com.
Warranty Information – n/a

-10%
10% off
Discount with code at Vapman.com
Unique Swiss-designed dry herb vape handmade in Italy. Made out of real Olive wood and quality materials. Great taste and flavor.
Additional Product Photos
Shops for Dry Herb & Flower Vapes