Affiliate Disclosure: Cannabis Vape Reviews is supported by readers like you. We may earn commissions for purchases made through our links. Learn More
Are you tired of smoking out of a mini pipe when you're on the go? Ditto.
The EYCE Molds company strives to create the finest, portable silicone smoking accessories on the market. EYCE products are indestructible, giving you peace of mind your pipe will never break or fail.
Shaped like a traditional hammer bubbler, this silicone bubbler is truly spectacular. Not only is it unbreakable, but because it's made out of silicone, it can fit in the tiniest of places. You can even roll it up to stash in your pocket if you had to.
What's Included
Platinum Cured Silicone Body and Stem Cap
Hidden Jar
Inlaid Borosilicate Glass Bowl
Poker tool
Standard Features
To be used with dry herb
Easy to clean and maintain
Tech Specs
Dimensions: 7.25″ long x 2.25″ wide x 3.75″ tall
Materials: platinum cured silicone body, borosilicate glass bowl
How to Use
First, remove the stem cap from the bubbler and pour in some water. Then put the stem cap back on.
Then, use as you would with a typical pipe. Fill the bowl with your ground up herb. Light the herb while your finger covers the carb hole as you inhale.
Our Experience
At first glance, the EYCE Bubbler is an immediate eye catcher. From the bubbler's hammer-like shape to its wild colors and silky, soft silicone texture, EYCE bubblers sure make for a unique experience.
While giving the EYCE Bubbler a test run, we picked up a nice hybrid strain called Banana Bread.
The setup process was easy but be sure not to overfill the bubbler with water. Keep the water level well below the side-carb hole. Avoid those Scooby snacks!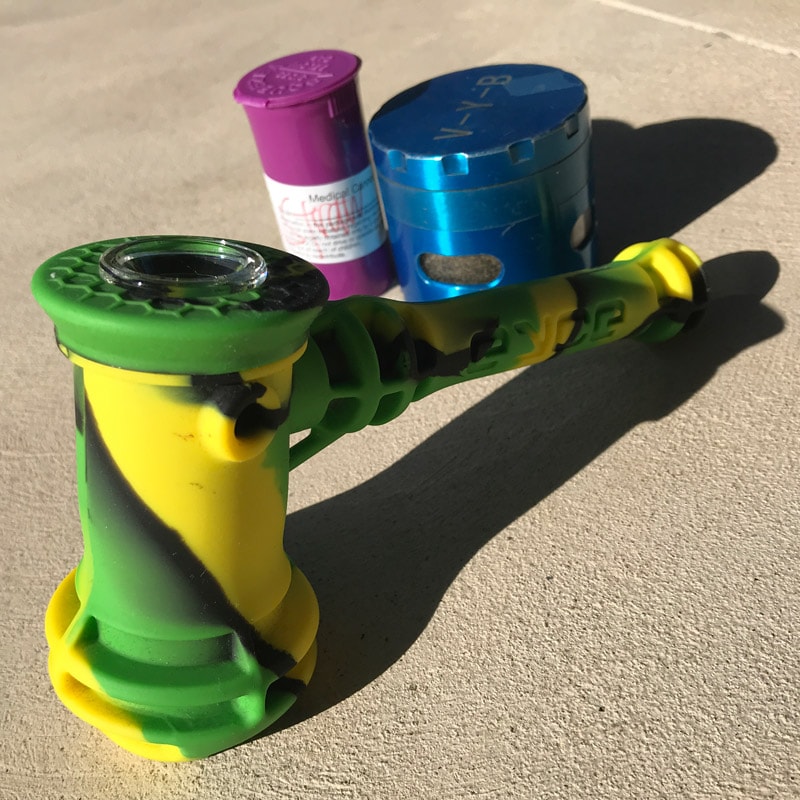 Although this is a portable, silicone bubbler, do not be fooled. It hits hard. Just like a bong, the EYCE Bubbler is capable of delivering powerful rips. For such a portable device, the airflow and smoke draw is incredible.
You can bend, twist, and drop this bubbler without any worry of it breaking. It's incredibly sturdy. Despite its amazing qualities, removing the stem cap can be difficult and you'll have to fiddle with it.
When comparing the taste of smoking herbs out of the EYCE Bubbler versus joints and other smoking accessories, we experience the same great taste. The silicone bubbler doesn't alter or distort the flavor of your cannabis in any way.
The EYCE bubbler is designed with a removable, hidden jar tucked away in the bottom of the device. The jar conveniently stores a bowl or two of herbs.
Finals Thoughts
We are very happy with the EYCE silicone bubbler. It's incredibly easy to use and clean. By far, its biggest appeal is its durability. You'll never have to worry about breaking this thing.
Although the EYCE Bubbler is not something that we'd typically prefer to smoke out of, it does makes for a fantastic, portable option to take with you anywhere.
Price & Where to Buy
The EYCE Hammer Bubbler is available for $44.99 through VapeWorld.
This bubbler comes in a large selection of colors to choose from.

EYCE also offers several other silicone pipes, dab rigs, water pipes, and adapters. Check out all Eyce Mold products.
For more info, check with the manufacturer.