Clout Oozi Clip Vape Pen
Posted on:
November 14, 2016
/
We've always been curious about vaping concentrates with the use of a glass globe attachment vape. Fortunately, we met the friendly folks of Clout and were introduced to their product line at the CHAMPS tradeshow in Las Vegas this past Summer. We were so excited to get our hands on the Clout Oozi Clip, a portable concentrate vape pen kit which includes a variable temperature controlled battery and a heavy duty,  glass dome (some prefer to call it a globe) attachment.
At first glance, their packaging appears fun and inviting, giving off some good vibes. We could tell we were in for a treat. Right when you open the box, all of the parts are readily displayed for easy assembly. The battery arrived pre-charged and ready to go right out the box.
Our Experience
With much anticipation, we immediately assembled the vape and popped on the glass globe. Then we realized, the glass had to be removed to actually load the chamber with some product. Be careful about the rubber washers that hold the globe in place as they are delicate suckers made out of thin rubber. Upon removing the globe from the atomizer (heating chamber), one of the rubber o-rings snapped, rendering it useless. Luckily, the Oozi Clip kit includes an extra pack of washers with every unit.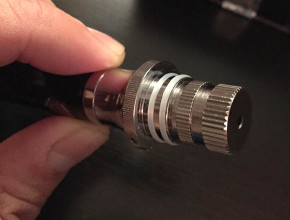 We had the opportunity to test out the Oozi vape with a range of quality concentrates including some Jetty Rosin, Waxman Elf's Bread crumble and another wax brand that we can't mention as it's still being developed. We first dropped a tiny pinch of some naked Waxman Elf's Bread crumble into the chamber which is heated by two titanium coils wrapping dual quartz rods.
After powering on to the lowest heat setting (the first setting), we took a slow, shallow drag. A few seconds later, vapor began swirling around in the glass globe, quickly filling it up with a nice cloud. Quite a fun sight to experience for the first time! After clearing the globe with a full inhale, we could immediately tell that we got a full, compact hit – amazing!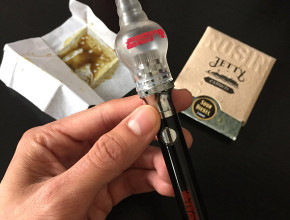 We carried the Clout Oozi clip around with us for a week and experimented with different temp settings for various concentrates. Next we tried the Jetty Rosin and some thick wax. We found that the thicker wax vaped best when setting the battery to the 3rd or 4th highest temp / volt setting. Depending on how viscous your cannabis concentrate product is, you may need to increase heat to allow the extract to vape completely. You don't really need to go higher than the 3rd setting though. The crumble was particularly nice to use with this pen as you can simply take a pinch of the extract product and drop it onto the coils without a mess. Less viscous waxes are bit more challenging to work neatly onto the coils with the included dab tool, but in the end, that's no biggie.
The glass globe attachment makes this vape pen feel a bit bulky to carry around in your pocket, but man does it hit surprisingly well. It's very easy to operate and surely provides a pleasant vape experience. The battery on this vape was also excellent, having lasted for countless vape sessions before we had to charge it for the first time. We would definitely recommend this product as a well-performing, portable concentrate vape.
If you prefer vaping dry herbs and flowers, check out the PAX Vaporizer or AirVape Xs Vape. Need something more hard hitting for dabbing concentrates?  Then you'll like something closer to the Dabado Bolt.
Using the Oozi Clip
To power on the Oozi battery, you simply click the power button 5 times quickly. Once the device powers on, click rapidly four times to cycle to the next temp. This is indicated by a flashing colored light which is different for every temp.
You have to remove the globe attachment from the battery base in order to unscrew the lid to the chamber where you load you concentrate product. Replace the lid and pop the globe back on and you're good to go!
One thing that's a bit annoying with the Oozi battery is that you have to cycle through all of the temperature settings (there's 4 settings) to power off the battery, but that's no deal breaker.
What's Included
Variable voltage battery (2.5 – 3.7 volts; 4 settings)
Beauty ring
Glass globe/dome attachment
Dual ceramic coil atomizer (includes one additional replacement)
Coil cap
USB charger
Dab tool
Extra o-ring replacements
Price & Where to Purchase
The complete Oozi Clip vape kit retails for $64.99 and is available directly through the Clout website.
Use code "VAPEREVIEW15" at checkout for 15% off your entire order.

More Clout product reviews to come!
Clout is a small vape and glass shop out of Pennsylvania. If you're in Pennsylvania, go look these guys up and support local business! They carry other vape products and custom glass pieces which are all available online.
Follow them on Instagram @cloutglass.
Clout Oozi Clip Vape Pen
$64.99
Pros
510 threaded
Arrives pre-charged
Globe fits other 510 thread batteries
Battery compatible with cartridges
Long battery life
Get amazing hits
Include replacement parts
Cons
Bulky dome
Flimsy rubber o-rings
Painted logo chips off easy