Best 3-in-1 Vaporizer: Blackout X Dry Herb+ 2.0
Posted on:
November 15, 2015
/
We had our first run in with Blackout X and were introduced to the Dry Herb+ 2.0 vaporizer pen at the Cannabis World Congress held in Downtown Los Angeles earlier this year. Their vape pens were being offered at a discounted price for the CWC that was too good to pass up – so we had to buy one on the spot. We purchased the Blackout X Dry Herb+ 2.0 vape for $60 (typically retails at $100) which isn't too shabby considering it's well-engineered design, ease of use and best of all: versatility.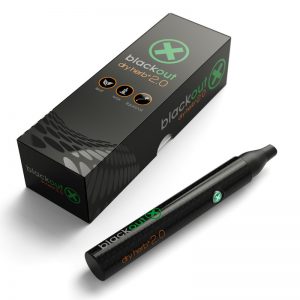 From our experience, the Dry Herb+ v2.0 is the best, portable, 3-in-1 vape pen currently on the market. Aside from its sleek-modern, carbon-fiber body design, this pen features a convection oven that automatically heats up to the perfect vape temperature, ensuring a smooth and consistent burn every time. Did we mention this is portable?
We tested the Dry Herb+ with several different products: Tangie CO2 Wax by Pure Vape, Waxman cannabis oil, some random crumbles and of course – dry herbs! Each product vaped well so we couldn't say one type of product was better than the other. The wax seems favorable, however, in that you can not pack the chamber too tight by accident. Just put a drop of wax in the chamber and you're good to go!
Easy to Use
The Dry Herb+ is very easy to use: simply unscrew the mouthpiece to load the chamber with your flower or concentrates, put the mouthpiece back on, and turn on the pen with the tap of a button. The button will light up in red as it's heating, then once the temperature reaches 390 degrees Fahrenheit, the button will turn green so you know it's the perfect temperature to vape!
TIP: This vape works best when your dry herb is ground up very well. Also, be sure not to pack the loading chamber too tight. Shop for quality dry herb grinders.
Versatility
The best feature of this pen is that it supports both flowers and concentrates (wax, shatter, and cannabis oils). Be sure to put high-quality and well ground up flowers for a quality smoke. Included with the pen is a metal adapter that you simply drop in the chamber to use concentrates instead of flower.
What's Included?
Each order comes with a beautifully designed package including:
One vape pen
Mouthpiece
Chamber adapter (used for concentrates)
Cleaning brush
Tweezers
Scooping/Packing tool for loading concentrates into chamber
Product Highlights & Features:
Battery Life: 80 minutes (1300 mAh)
Heating time: 40 seconds
Temperature: fix temperature of 390 F
Device weight: 1.9 oz
Price: $100
No matter what type of medical cannabis product you prefer to smoke, the Dry Herb+ vape pen has got you covered! Overall, one of the best personal and portable vape pens on the market!
As a side note, Blackout X also provides excellent customer service. Shortly after purchase, we lost the rubber tip that covers the mouth piece of the vape pen so we contacted their customer support by email. They responded within 24 hours and shipped out a brand new plastic mouth piece including a new rubber tip and metal screen attachment, free of charge! Blackout X is awesome!
Are you more of a connoisseur smoker? You may also be interested in the PREM31R Vape (2016), the top of the line Blackout X vaporizer. The PREM31R is a similar vape pen, but has a larger loading chamber and additional features like variable temperature settings.
Blackout X also carries high-quality grinders for shredding your nugs down to a fine grain – perfect for dry herb vaping. Check out the rest of their accessories for a complete vaping experience.

Blackout X Dry Herb+ 2.0 Vape
Pros
3-in-1 design (can smoke flowers or concentrates)
Very simple to use
Great value for the price
Carbon-fiber body/sleek design
Long-lasting battery
Cons
Over $50 (still very reasonable)
Rubber mouthpiece slips off
Loading chamber only holds about .3g
Can get extremely hot around mouthpiece