Source Vapes – Slim 4 Vaporizer
Posted on:
October 15, 2017
/
Source Vapes is a vape company that prides them self on innovative designs and constructing vaporizers out of the highest grade, lab-tested materials.
After having positive experiences with the Source Vapes Orb wax pen review, we were curious to see how Source's Slim 4 vaporizer would hold up.
The Slim 4 vape was designed to vaporize waxes and thick cannabis concentrates.
Its polished, gunmetal gray, stainless steel body make it one sexy, handheld vaporizer… and also a fingerprint magnet!
The Source Vapes Slim 4 does an excellent job of transferring flavor and has the best airflow control on any wax pen we've tried so far.
What's Included
The Source Vapes Slim 4 vape travel kit includes the following:
1x Slim 4 attachment
1x Volt mini battery
1x micro USB-charging cable
1x Dab tool
1x Cleaning cloth
1x Large travel case
1x 4 Series quartz double coil atomizer
1x 4 Series quartz coil-less atomizer
Design & Features
According to Source Vapes, they are the only company with USA Lab-Certified test for purity, displayed for each of their vapes and atomizers.
The Source Vape Slim 4 is designed to be cross-compatible with their larger vape, SOURCE orb XL as well as SOURCE nail Portable eNail. There are a whopping 9 different atomizers available to use across all the Source Vapes 4 series vaporizers.
Additional atomizers can be purchased separately. Find more atomizers directly through Source Vapes.
Standard Features:
Variable airflow system (5 settings)
Variable volt settings (3 settings)
Deep dish atomizers
Built-in silicone container stash compartment
Easily interchangeable threaded atomizers
Quartz coil-less atomizer with removable bucket
Compatible with over 9 different 4 Series atomizers
510 threaded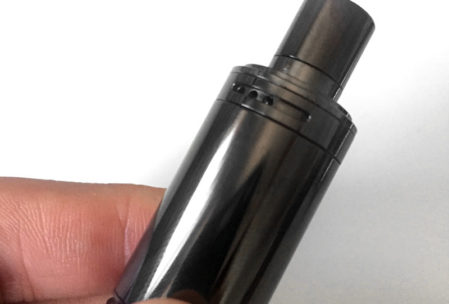 The Slim 4 has a hidden stash compartment that unscrews at the bottom of the vape battery. Keep your wax concentrates handy while you're on the run.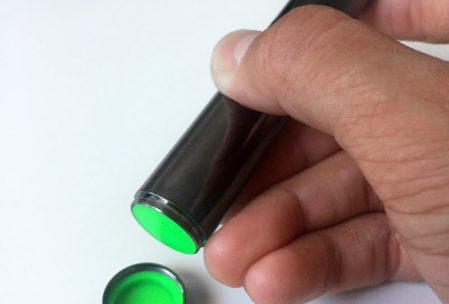 Tech Specs
Dimensions: 4.7″ tall
Weight: unknown
Battery capacity: 650 mAh
Materials: Stainless steel 303 body, Grade 1 titanium coil-less
Volts: uknown
How to Use
Operation of the Slim 4 is very straight forward.
Choose your desired atomizer and screw it into the Slim 4 attachment.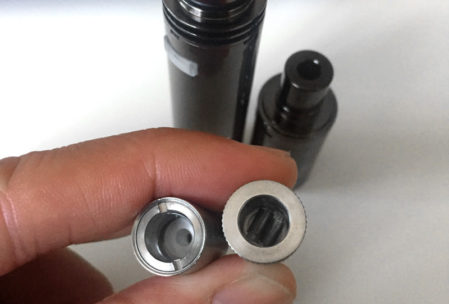 Then screw the attachment into the threaded base of the battery.
Drop in a small dab of your favorite wax onto the coils or into the quartz bucket. Then pop on the cap to create a tight seal.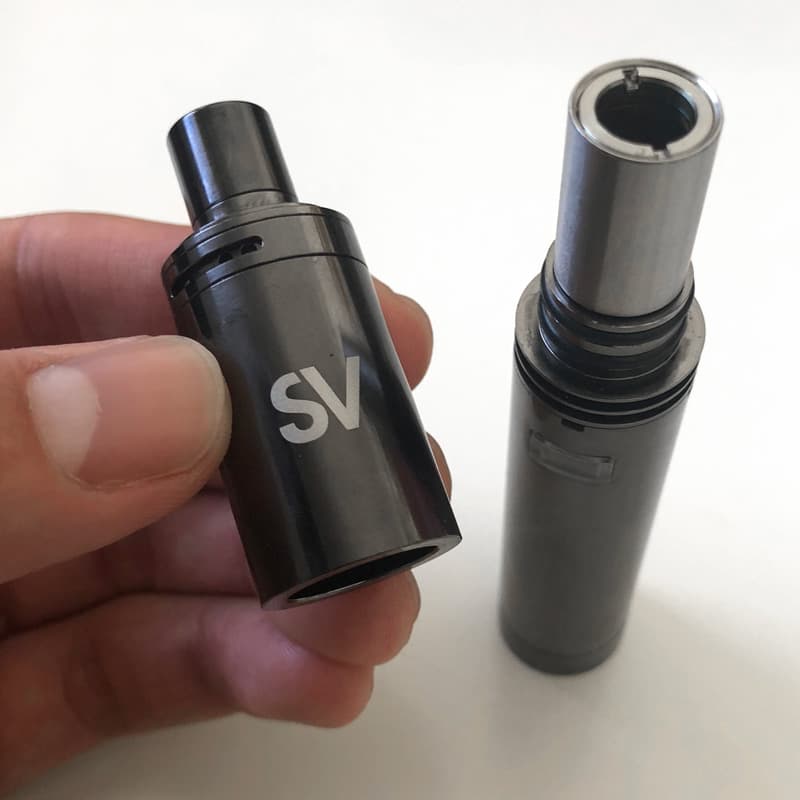 Use five rapid clicks of the button on the face of the battery to power on/off and three rapid clicks to cycle through each of the three volt settings.
Volt settings are indicated by the button's color coded light:
Low voltage = green
Medium voltage = blue
Red voltage = high
Press and hold down the power button for the duration of each inhale.
Our Experience
We first tested out the Slim 4 vape using the quartz coil-less atomizer and some tasty Legion of Bloom rosin.
The Slim 4 did an excellent job in transferring the clean crisp taste of that rosin.
While the quartz coil-less atomizer doesn't deliver the largest rips, it does produce a consistently clean taste. To get the best vapor draws, hold down the power button for a few seconds to pre-heat the quartz cup, then take several 3-5 second draws instead of one huge, long rip.
When using the dual titanium coil, we were able to get fatter rips. The issue we had with this pen is that it takes a while to pre-heat the coils. If you take too many rips in a row, you'll get large amounts of vapor but the wax concentrate can begin to lose its flavor and become somewhat harsh.
You will immediately notice that the Slim 4 has some of the most incredible airflow of any wax vape pen.
The only draw back is that the airflow control dial can be difficult to adjust. Because of its polished steel finish, the dial can be hard to grip, especially if you have moisturized or greasy hands. Fortunately, once you find the airflow you're happy with, you can set it and forget it.
Final Thoughts
At under $90, the Source Vapes Slim 4 Travel kit is good deal.
The Slim 4 for vaporizer offers two great atomizer options to suit your taste, one slick looking battery, and a handy hidden stash compartment built right into the vape, to hold your cannabis extracts.
The included hard case is also a nice touch. With a vape made of quality materials like the Slim 4 and backed by a life-time warranty, you can't go wrong.
Price & Where to Buy
Slim 4 Vaporizer Travel Kit is available for $89.95 directly through Vapor Nation.
Every Source Vapes battery and attachment product is backed by a Lifetime No-Hassle Warranty.
You can buy replacement atomizers separately, sold directly from Source Vapes.
Be sure to also check out our review on Source Orb 4 Vaporizer. Source Vapes has a great selection of quality built vape products and accessories. They come out with new atomizer designs quite often as they are constantly improving.
Source Vapes Slim 4 Wax Pen
$89.95