Affiliate Disclosure: Cannabis Vape Reviews is supported by readers like you. We may earn commissions for purchases made through our links. Learn More
The Rokin Stinger is an electronic dab straw designed for portable, hand-held dabbing. It combines the ability to dab cannabis wax concentrates straight out of a glass jar or other heat-resistant container – and without the need for a butane torch like with traditional dabbing.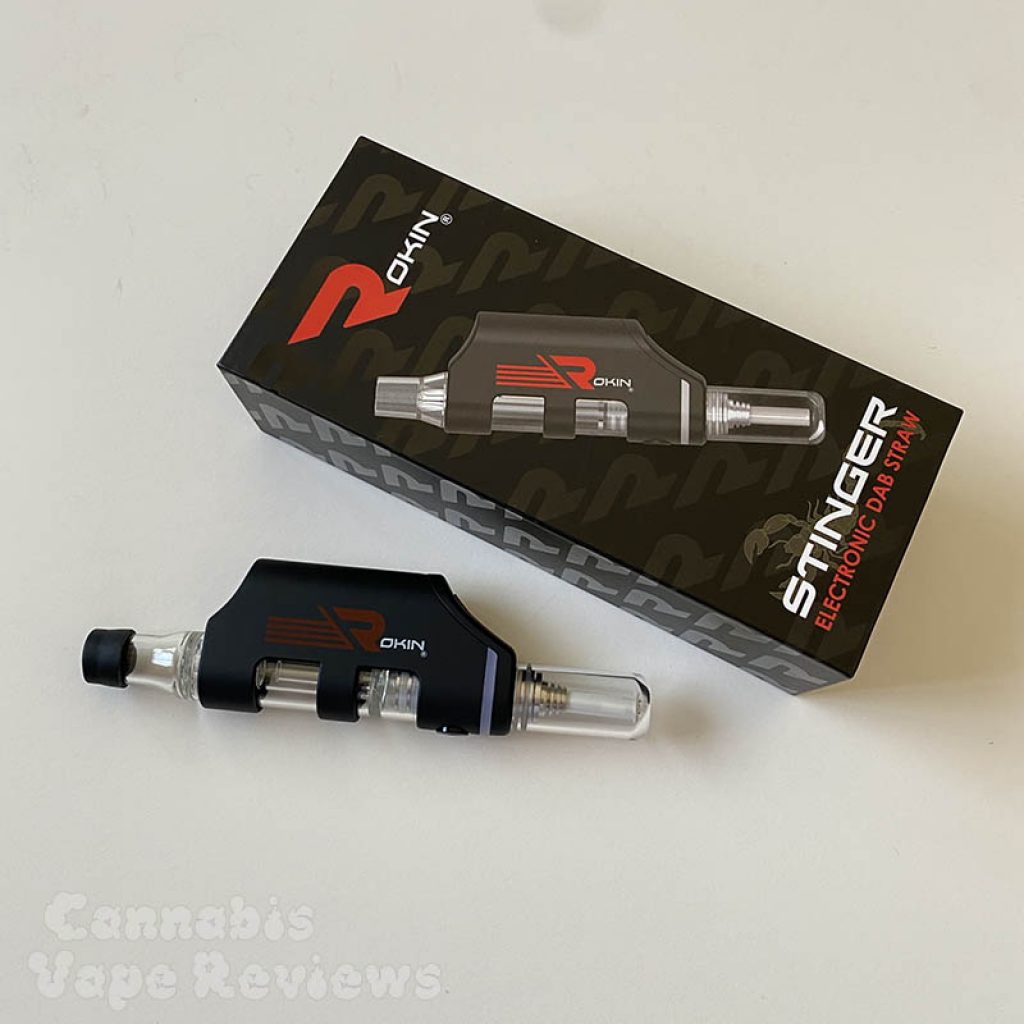 Packed with a removable glass bubbler for filtered vapor, the Stinger also has variable volt settings, and heats up quickly. This vape is well designed and built with quality materials made to last a long time.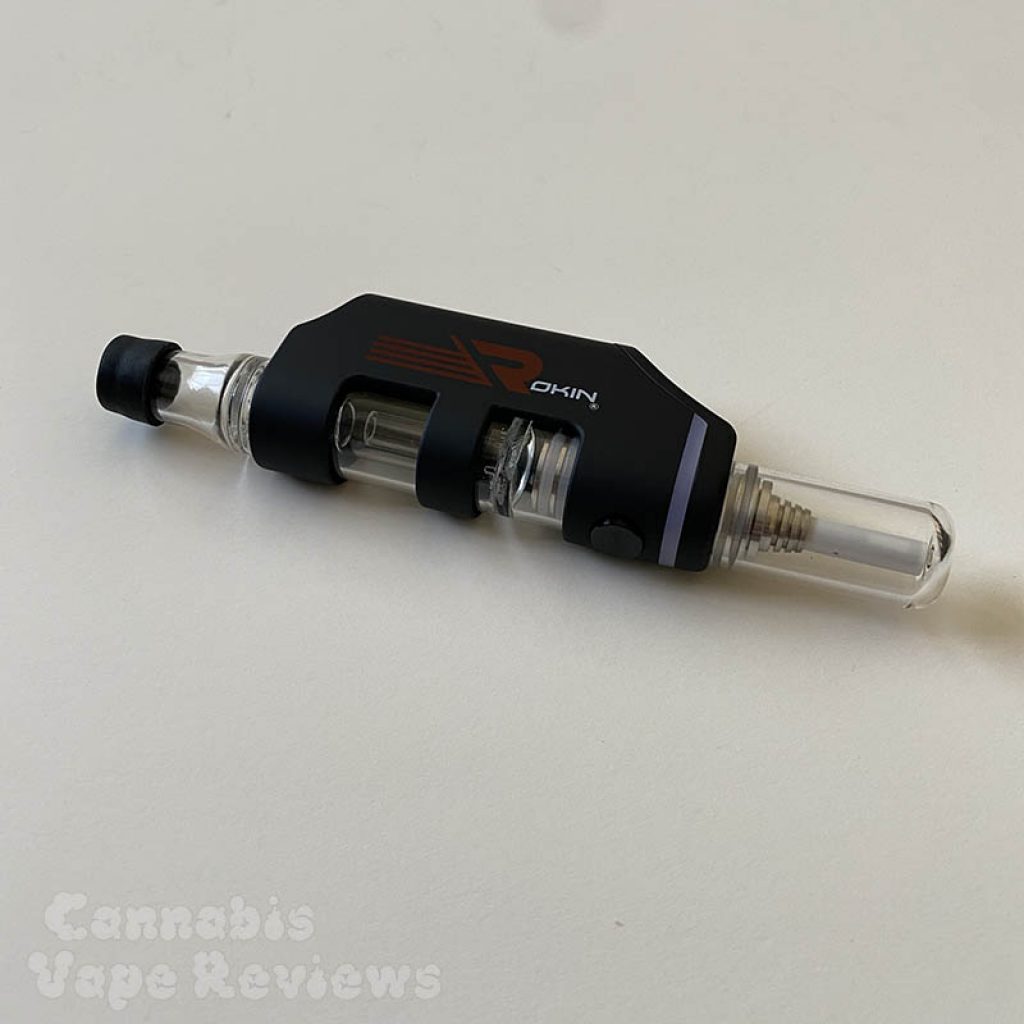 Rokin Stinger Dab Straw
Dab straw vape with built-in bubbler for vaping cannabis concentrates easily.
Discount with code at RokinVapes.com
What's Included
The Rokin Stinger dab straw kit comes with everything you need to get started in dabbing.
Each order of the Stinger includes:
1x Ceramic nail
Glass bubbler
Glass safety cap
Micro-USB charging cable
Cleaning brush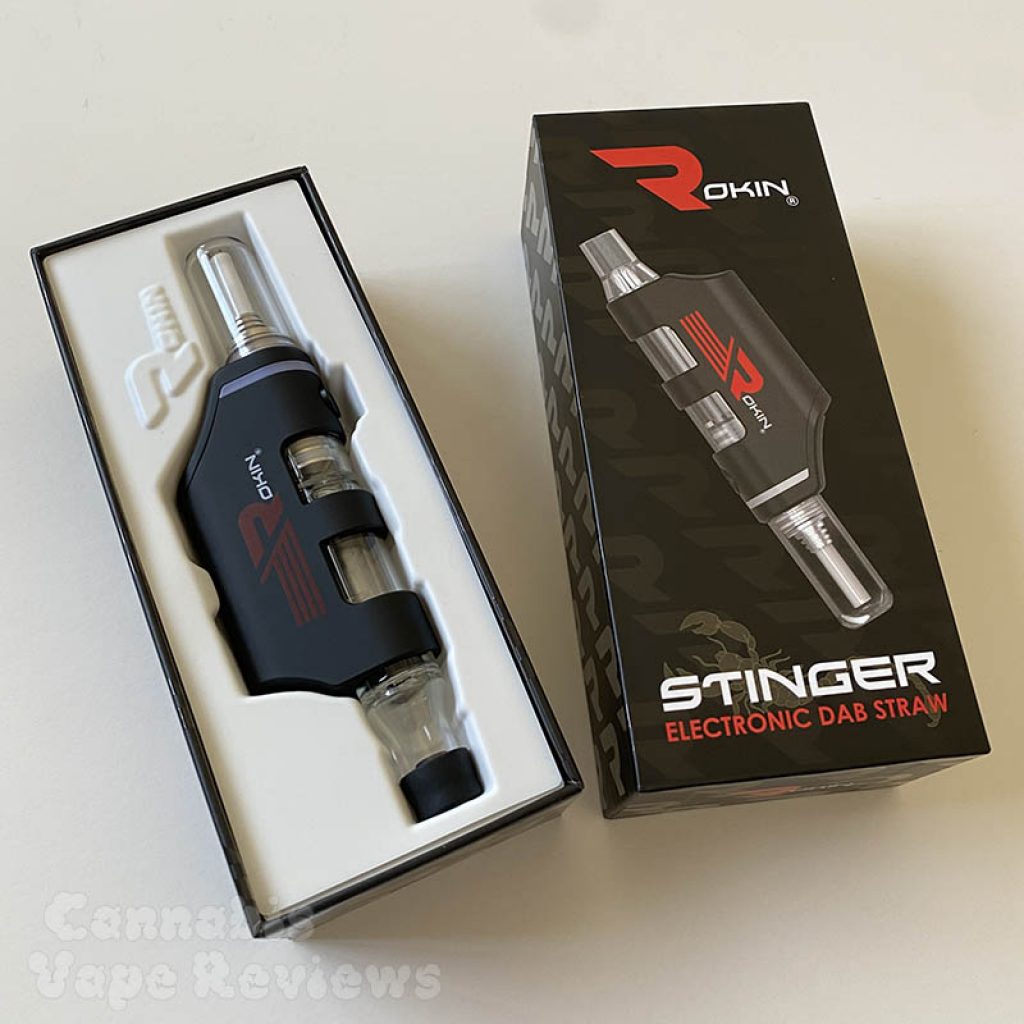 Please note that replacement ceramic tips are sold separately.
You can buy replacement tips from from Rokin here.
Design & Features
Designed for use with concentrates
Made with durable materials
Large and rechargeable lithium ion battery
Glass water bubbler
4 voltage settings
Pre-heat function
Auto shut-off after 15 seconds
Ceramic nail heating element
Micro USB charging connection
Low power indicator
Connection indicator
Certified to the latest FCC, CE, and RoHS standards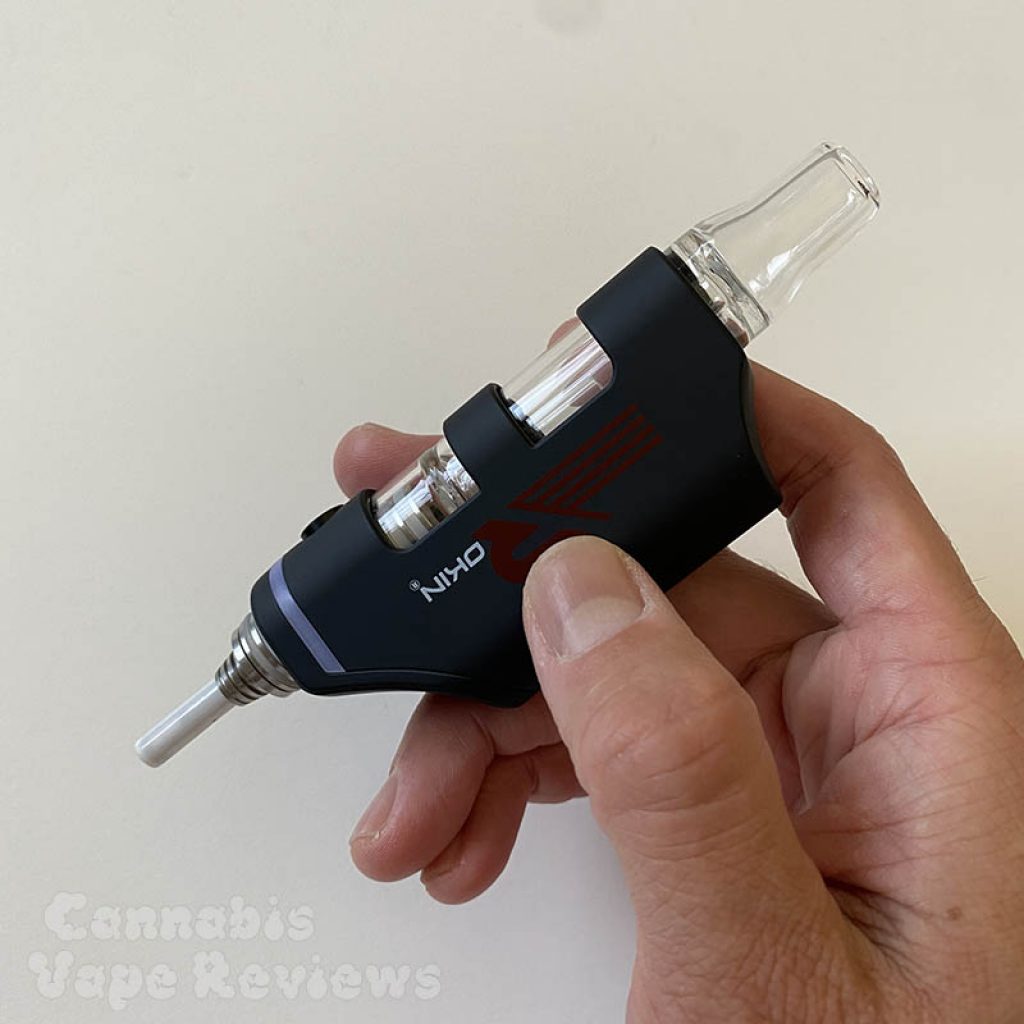 Rokin Stinger Dab Straw
Dab straw vape with built-in bubbler for vaping cannabis concentrates easily.
Discount with code at RokinVapes.com
Tech Specs
| | |
| --- | --- |
| Dimensions | – |
| Weight | – |
| Materials | Ceramic nail; Glass water filter; metal body |
| Battery | 1100 mAh rechargeable lithium ion battery; uses micro-USB |
| Charging Time | – |
| Heating Time | 15 second preheat function (1.8v) |
| Oven Capacity | – |
| Sessions | < 20 sessions |
| Heating Method | Conduction heating |
| Temperature Settings | 4 voltage settings: 3.4V (blue), 3.6V (green), 3.8V, (yellow) and 4.0V (red) |
How to Use the Rokin Stinger
When using the Stinger, you can vape your concentrates straight out of a glass container, silicone dab mat, or other heat-resistant surface.
Fill Bubbler and Powering On
The first thing you'll want to do is remove and fill the water chamber to the fill line. Then pop it back into place.
Next, power on the vape by clicking the power button 5 times. Set your temperature with 3 clicks to cycle through to the next voltage setting.
Preheat the ceramic tip with two clicks or hold down the power button for the duration of your inhale.
Apply the ceramic tip to gently touch your cannabis concentrate material as you inhale through the mouthpiece of the Stinger vape.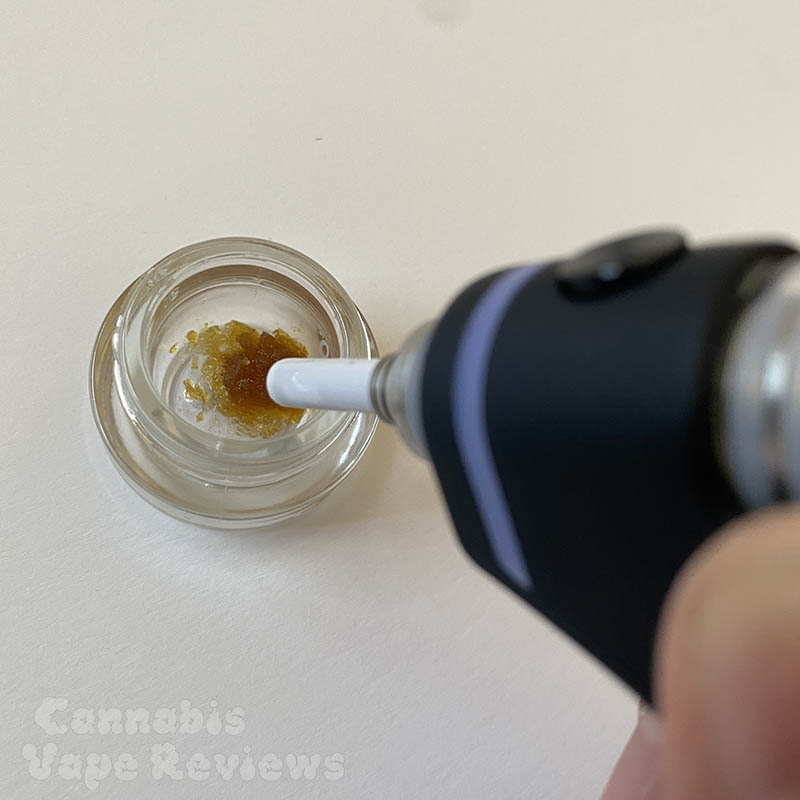 Low Battery and Recharging
When the battery life on the Rokin Stinger is running low, a red light will blink several times to indicate it's time for a recharge.
Use the included micro-USB charging cable to recharge the Stinger's battery. The device will display a red light while it is charging. Once the light changes to green, the battery is fully charged and ready to vape.

Rokin Stinger Dab Straw
Dab straw vape with built-in bubbler for vaping cannabis concentrates easily.
Discount with code at RokinVapes.com
My Experience
If you're a dabber and you want the portability of an on-the-go dab pen, the Stinger is a great option.
I've seen a couple of similar electronic dab straws on the market which are all slightly different. Dab straws have been around in the cannabis concentrate vaporizer market for a while. We've even reviewed Linx Vapor's version of the dab straw many years ago. It's nice to see improvements to the heating elements, functionality, and performance.
Dab Straw Vaping
I'm not a huge fan of the dab straw style of vaping as it feels a bit weird to me personally. It kind of reminds me of other naughty activities you might partake in when using a straw – and I'm not talking about drinking soda. So I find this style of dabbing to be a little suspicious as far as optics.
I also don't like staring down my nose towards the end of the straw to check that I'm dipping the hot tip in the right place against my wax. However, some find smoking in itself to be taboo and in the end, this doesn't take away from the Rokin Stringer's performance. You may also find that you get better control of your dosage by directly controlling how heat is applied to your wax.
Mixed Convenience
What I enjoy about the Stinger is the convenience it can provide. As most concentrates are sold packaged in a glass jar, this makes dabbing really easy. You simply dip the ceramic tip into your wax container, just barely touching the tip's edge to your wax concentrate.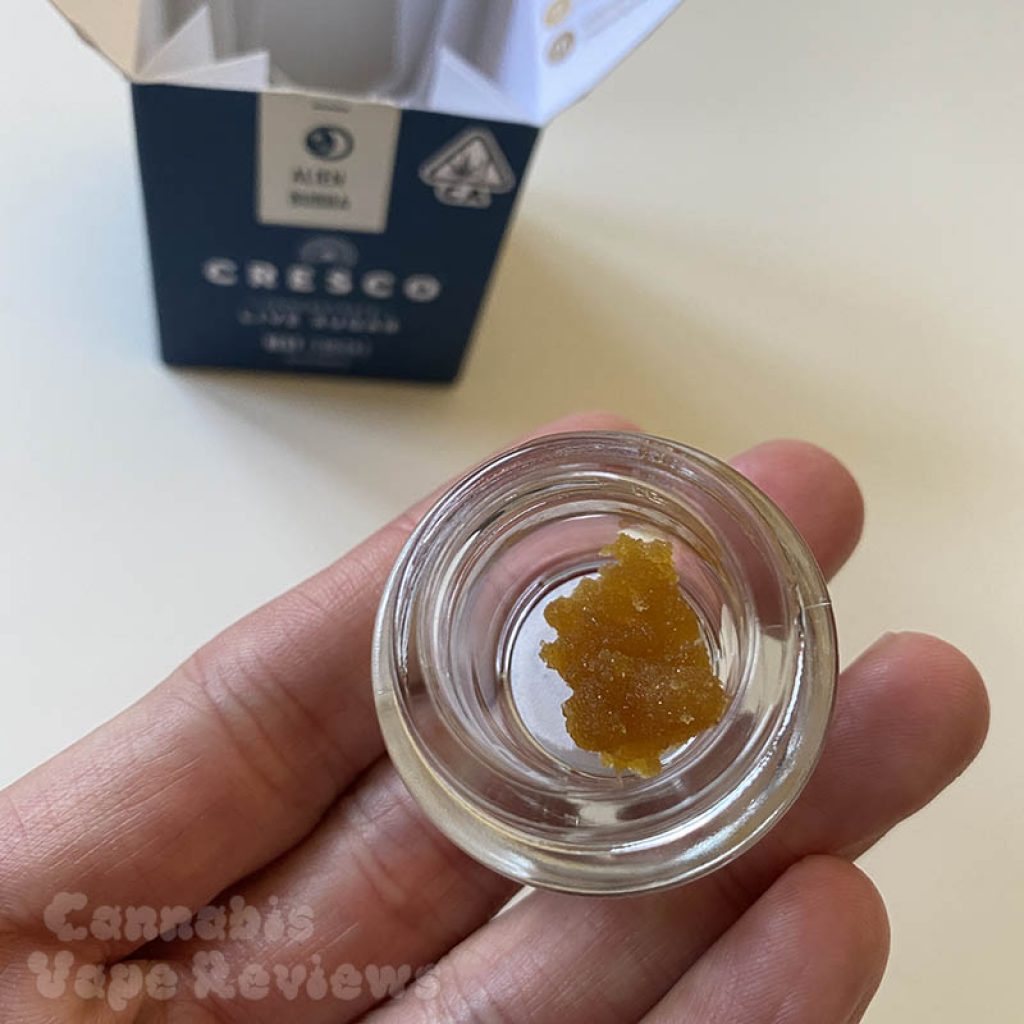 On the flip side, if your concentrate doesn't come in a glass or silicone container, you'll have to find some other heat-resistant surface to vape your wax on. I've had some concentrates packaged in wax paper so I had to transfer it into a silicone container to vape with the Stinger. Fortunately, I have tons of these laying around and other vapes often include these containers.
Volt Settings and Vapor
I like the fact that the Stinger has four different voltage settings which are color coded. There's also a pre-heat function that will get the ceramic tip nice and hot so the second you dip the tip into your wax, you'll start getting some vapors right away.
I find that I can get a decent pull of vapors from the 1st and 2nd lowest settings. Mind you, I'm taking small dabs at low heat. For my personal needs, I don't need to go beyond this.
As long as you preheat the tip, either using the pre-heat function or holding down the power button for a few seconds, this should do the trick. As soon as you touch the edge of the tip to the edge of your wax (don't dip it straight into the middle of your wax), you can start inhaling and drawing in vapor immediately.
Design Quirks
There is also a low battery life indicator that lets you know when it's time to recharge. It would be cool if there was a way to check battery life at any time instead, rather than right before the vape needs a recharge, but no biggie.
The bubbler is nice to have, but I found it awkwardly small. Fill it too much and you can accidently pull water into your mouth with a hard inhale. Fill it too little, then it doesn't filter much. I suppose having vapor pass through water is better than a straight airpath as the water prevents reclaim concentrate wax from directly getting into your mouth. It's also easy to overfill the chamber, so just make sure you dump out some water as necessary to keep the waterline just above the intake slots.
Final Thoughts
All-in-all though, the Stinger works well once you get the hang of it. It's a quality built vaporizer that provides an interesting style for dabbing. It's great for dabbing on-the-go as it's battery powered and fits in your pocket.
While not my preferable type of vaping, it was easy to use and it worked well. The ceramic tip does a good job transfering flavor and you can control how much heat is applied to the wax. This really brings out the tasty terpene profile in good concentrate .
On-the-go, I prefer vape pens for cartridges, but when I'm home, I enjoy my desktop e-rigs (the Dr. Dabber SWITCH as of lately). But you may find that the Stinger works as a happy medium between the two when you're out and about and desiring that dabbing-style of vaping.
Price & Where to Buy
Rokin Stinger retails for $99 directly through Rokinvapes.com.
Warranty Information – Battery is covered by a 1-year warranty.

-20%
20% off
Discount with code at RokinVapes.com
Dab straw vape with built-in bubbler for vaping cannabis concentrates easily.
Available in styles: matte black, red, and multi-color.
Accessories for the Stinger Vape
Replacement ceramic tips available in 2-packs for $34 at RokinVapes.com.
Get the official stand to hold your Stinger vape upright.
Rokin Stinger Dab Straw
Pros
Great flavor transfer
Heats fast
Easy to use
Quality materials
Portable dabbing
Includes glass bubbler
Adjustable voltage
Disassembles for deep cleaning
Convenient vaping out of jar
Pre-heat function
Cons
Weird style of vaping
Requires heat-resistant surface