Haze Dual V3 Combo Vaporizer
Posted on:
June 27, 2017
/
We were first introduced to the Haze Dual V3 vaporizer at the CHAMPS trade show in Las Vegas earlier this year. It's a unique looking vape, taking on the shape and feel of a liquor flask from the future, more so than a vaporizer.
The Haze Dual has some nifty, functional tech built in. The Haze Dual vape is extremely versatile as it was engineered to vape your loose-leaf cannabis flowers as well as cannabis concentrates like wax and oils.
But, it also has two separate heating chambers that can be pre-loaded and heated independently.
Intrigued? Yeah, us too!
We've reviewed several combo vapes previously (sometimes called 3-in-1 vapes). Combination vapes have the ability to vape more than one type of cannabis material. Combo vapes like the Blackout X PREM13R and V2 PRO Series 7 have the ability vape dry herb, thick concentrates like wax, and liquid oils.
Most vapes usually do a great job of vaping either loose leaf cannabis or thick concentrates, but usually not both materials. Haze Dual works well with both.
Haze Technologies first launched back in 2014. They continue to improve their combo vape with each revision. Haze technologies was kind enough to provide us with their latest, 3rd generation Haze Dual V3 vaporizer.
Design & Features
Features Summary
The Haze Dual V3 is one of the most versatile vaporizers on the market. It's the first vape we've seen that features two independent chambers. Pre-load one chamber with your favorite wax concentrate and the other chamber with your top shelf flower. The power switch on the top of the vaporizer also doubles as the oven/heating chamber selector, so you can easily move between two different vape experiences.
The device heats quickly and uses a patented heat-exchange system for efficient vaping. The mouthpiece is retractable and easily tucked away, hidden behind the chamber switch when not in use. There's a power button on top of the switch to easily cycle through the four preset temperatures.
Features Overview
LED temperature setting indicator
Heats up fast (30-60 seconds)
Excellent airflow
Variable heat settings
Dual chambers that heat independently
Multiple heating styles (flower/wax can, convection screen, conduction screen)
Can use dry herbs and/or oil and wax interchangeably.
Patented heat-exchange mechanism, for cool vapor output
Tech Specs
Temperature settings: 365F, 380F, 390F and 415F (all four for herb, highest two for oil/wax)
Battery: Rechargeable Lithium Ion (2600 mAh)
Heating style: Convection/Conduction
Materials: stainless steel screens, glass/metal mouthpiece
What's Included
1 x Haze Dual V3 Vaporizer
1 x Stainless Steel Mouthpiece
1 x Glass Mouthpiece
2 x Conduction Stainless Steel Screens
2 x Convection Stainless Steel Screens
1 x Concentrate Can
1 x Dry Material Can
1 x Cotton wick
2 x 2600 mAh Rechargeable Li-Ion Batteries
1 x Wall Charger
1 x Cleaning tool
1 x Material tool
1 x User Manual
How to Use
The Haze Dual vape includes two large, rechargeable lithium-ion batteries (2600 mAh). You only need to use one battery at a time, so it's cool Haze includes a backup. Use the included wall charger to charge the batteries.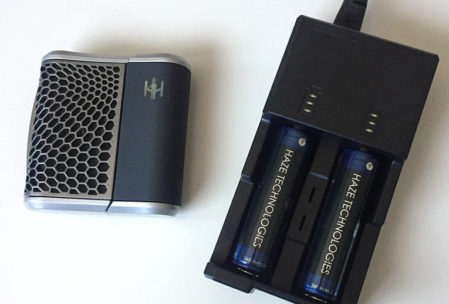 For basic use, pop open the vape's cover to expose the two heating chambers. Use the included metal screens and cans to load either chamber with dry herb or oil/wax.
For dry herb, you can choose between the convection or conduction screens, or go for the metal can. If you're vaping a cannabis wax/oil concentrate, you will need to use the wax/oil can. With liquid concentrates, use the included cotton wick.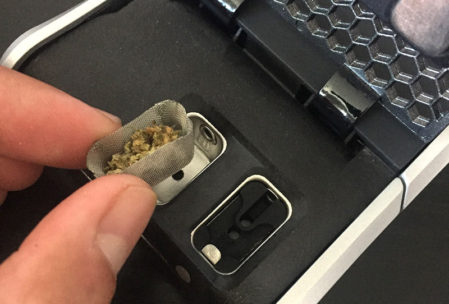 Next, close the heating chamber cover. Then flip the top switch in the direction of the corresponding heating chamber. The vape will power on and immediately start heating the chosen chamber. Flipping the switch also exposes the mouthpiece. Pull the mouthpiece out, extending it to the desired length.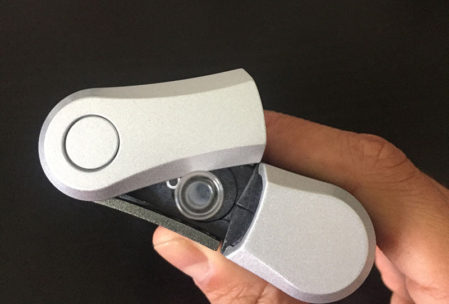 Finally, push the temperature control button to cycle through the four heat settings. A yellow-orange LED light will blink as the device heats up. Once heated to the desired temp, the LED light will stop blinking and you're good to start puffing away.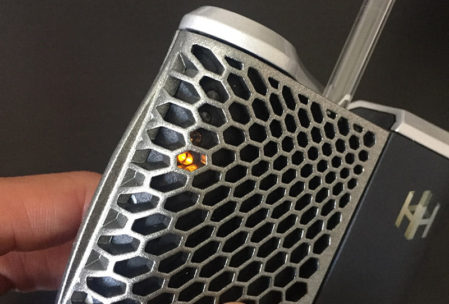 Need more details? See the official user guide.
Our Experience
We have to admit, at first glance, we weren't too impressed with the Dual Haze aesthetically. It lacks that slick, streamlined body that we've grown accustomed to with other vape pens and vaporizers like the PAX 2 and G Pen Elite. On the flip side, it has this exotic, futuristic aesthetic if you're into that.
Looks aside, the Haze Dual does a great job of vaping anything you throw at it. Quality dry herb vapes are hard to come by. A single vaporizer that does it all is even harder to find. The Haze Dual does an awesome job with vaping loose leaf. It heats up fast, transfers flavor well, and will most certainly get you lifted. We found the Haze Dual to do an exceptional job at vaping concentrates as well.
The vaporizer can be overwhelming at first. There's lots of little parts and vaping options. Using the device is not that intuitive. However, taking a few minutes to read through the included manual, we quickly familiarized ourself with the vape and moved forward no problem.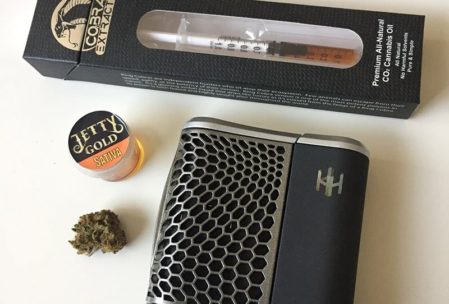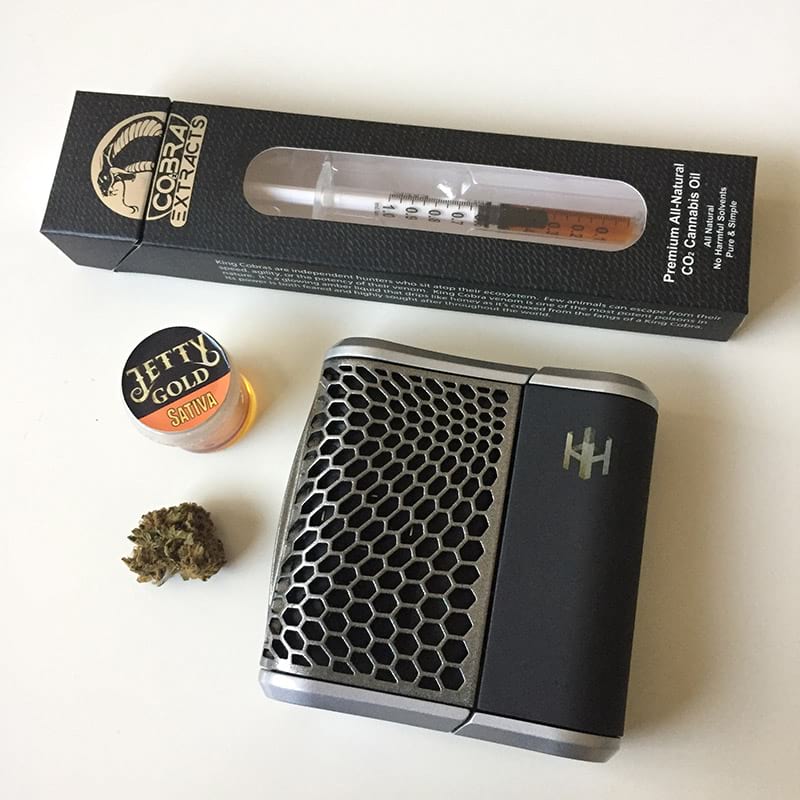 We had the opportunity to test out a few goodies with our Haze vape. We vaped a couple nugs of Grand Daddy Purp from FlowKana, Jack Herer oil from Cobra Extracts, and some Jetty Sativa Gold Wax. The herb produced some tasty clouds and was sufficient at lower heat settings. The concentrates vaped well at both the 3rd and 4th highest temperature presets. Overall, the sessions were clean tasting and easy on the the throat and lungs.
Final Thoughts
The Haze Dual does an exceptional job at vaping whatever you throw at it. It easily ranks among the top contenders in the combo vape category.
The ability to pre-load the device for traveling and when on-the-go is convenient. Use your top shelf cannabis so you can experience how well the Haze transfers your flavors and high effect.
Price and Where to Buy
The Haze Dual V3 vaporizer is available for $249.99 directly through Haze Technologies with FREE shipping. You can also order the Haze vape through VapeWorld. Each Haze vape is backed by a 10-year warranty.
Available in several awesome colors:
Stealth
Orchid
Absinthe
Graphite
Midnight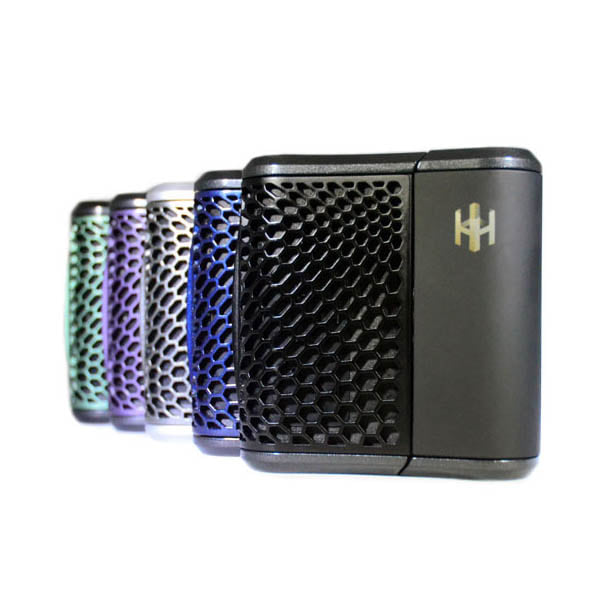 Looking for another high end dry herb vape? You may also be interested in the Hydrology9 vape.