CCELL DART Vaporizer
Posted on:
August 17, 2019
/
The CCELL DART is one of the leading vaporizers in the emerging pod vaporizer market.
CCELL is widely known for their ceramic core technology and is an industry standard for quality cannabis oil vape cartridges. CCELL manages to continue innovating vape technology, constantly raising the bar. Their CCELL DART vaporizer is no exception.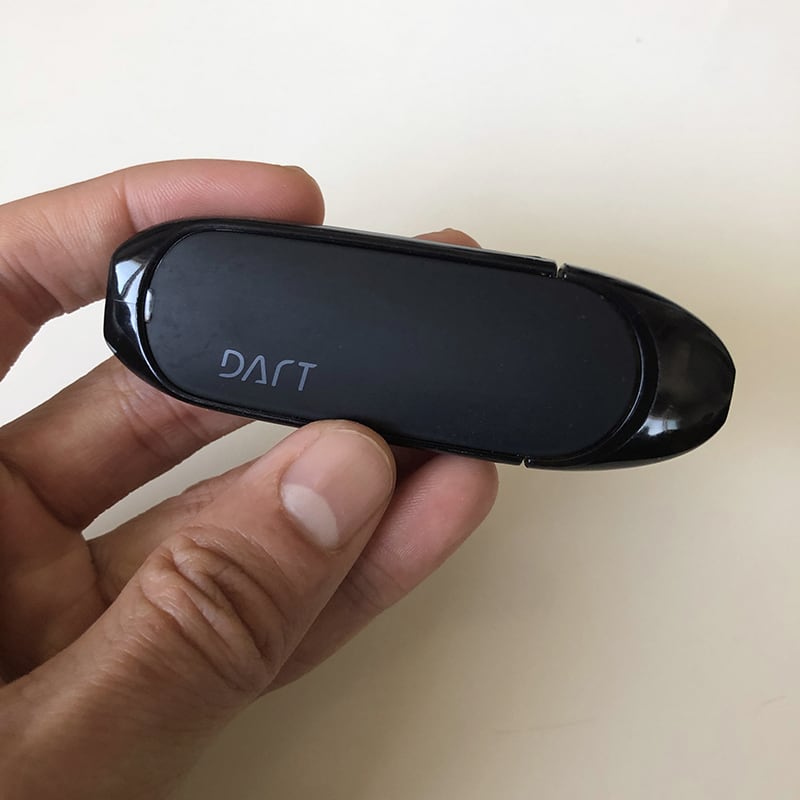 The DART is a closed vape pod system that consists of both a battery and proprietary DART vape pods.
As a high performance vaporizer, the DART is capable of delivering some of the most impressive cloud production we've experienced with any cannabis vaporizer. For such a tiny vape, the DART delivers powerful hits and holds its own in terms of looks, battery life, and stealthy, ergonomic design.
The DART vape uses DART pods which easily attach to the DART battery with a built-in magnetic connection. Do away with those annoying 510 threads and leaks, and experience huge, consistent hits every time.
Design & Features
Design
The CCELL DART is a high performing vaporizer pod system that's designed as compact as a USB thumb drive. The DART uses proprietary CCELL DART pods that were designed to be pre-filled with cannabis oil concentrates. The pods are compatible with cannabis oil of varying viscosities, but works especially well with thick oils.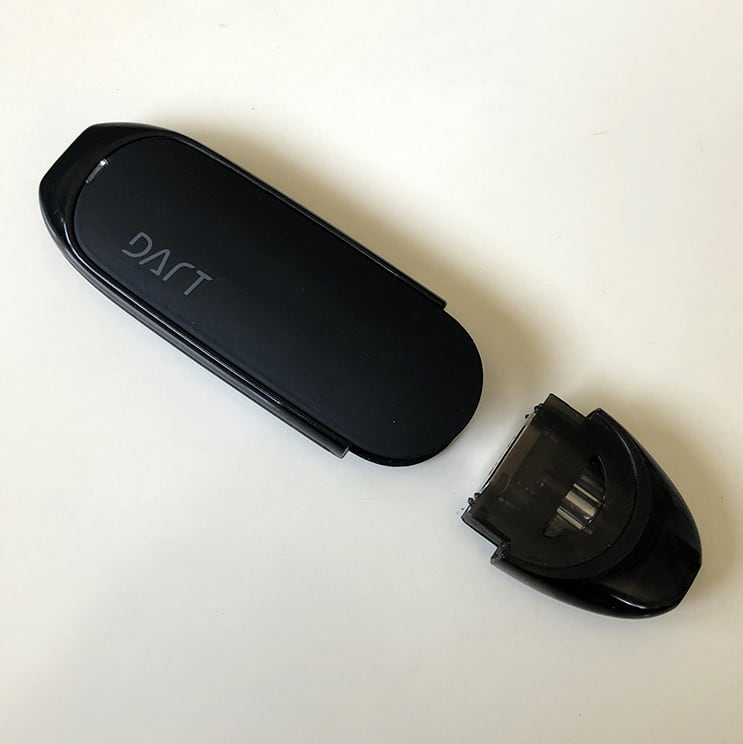 The CCELL DART is equipped with CCELL's very own ceramic heating element core technology. The same ceramic cores are used in CCELL's 510-threaded vape cartridges which are well-known as a cannabis industry standard because of their high performance and reliability.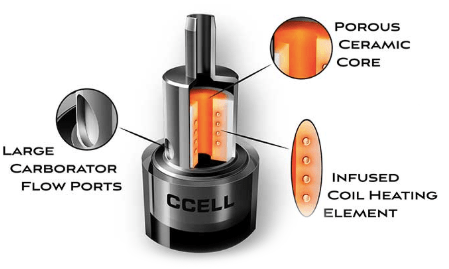 Unlike most 510-threaded cartridges which do not seal shut completely, DART pods use a closed, one-time use design that ensures minimal leaks.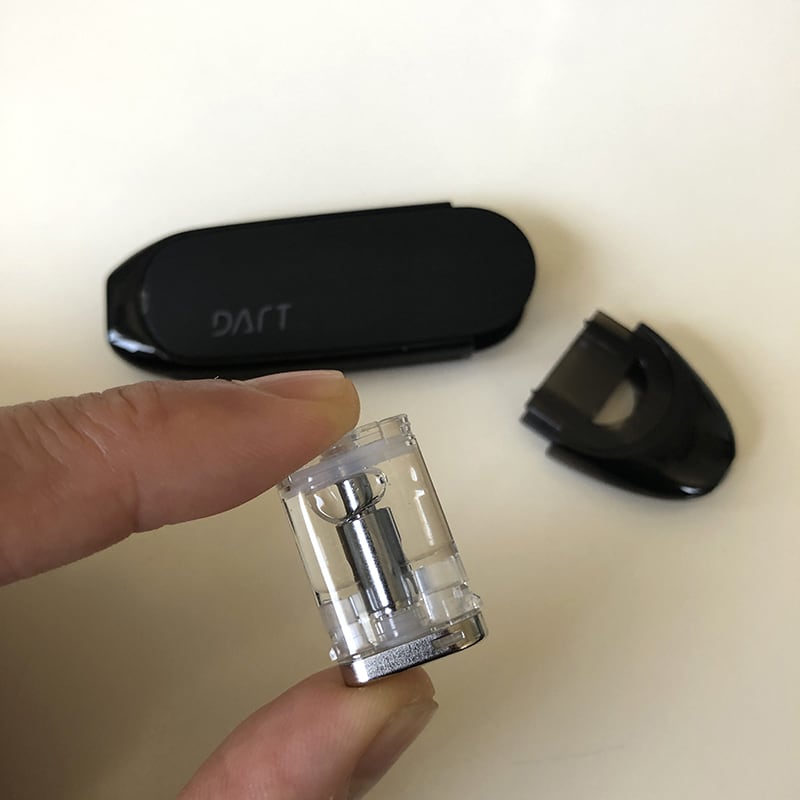 The electrical resistance with the DART pod system is engineered to produce 10-20% more vapor with each puff versus your standard vape cartridge. There's no question that this holds true.
On a full charge, the DART vape battery is able to produce around 210 puffs without a noticeable decline in vapor production. As with most vaporizers, you will notice that vapor production dwindles as the battery begins to drain. The DART is engineered to hit hard down to the last puff.
Standard Features
Rechargeable with micro-USB
Quality circuit board
Comfortable matte grip
Inhale activated
Stealthy breathing LED indicator
Magnetic connection
Tech Specs
DART Battery Specs:
Battery capacity: 480 mAh
Dimensions: 73 x 29 x 13mm
Battery Capacity: 480mAhRechargeable with Micro-USB Port
CCELL DART pod specs:
Dimensions: 32.7 x 28.5 x 11.3mm
Materials: Plastic housing
Tank volume: 0.5ml
Integrated mouthpiece
What's Included
1x DART vape battery
1x micro-USB charging cable
How to Use
The CCELL DART is incredibly easy to use.
Simply charge the battery using the included micro-USB cable. The tiny LED indicator light at the bottom of the DART battery will glow while recharging. The DART should reach a full charge in under two hours.
Once charged, insert your DART pod into the DART battery. The pod will snap right in and should stay held in place by the magnetic connection.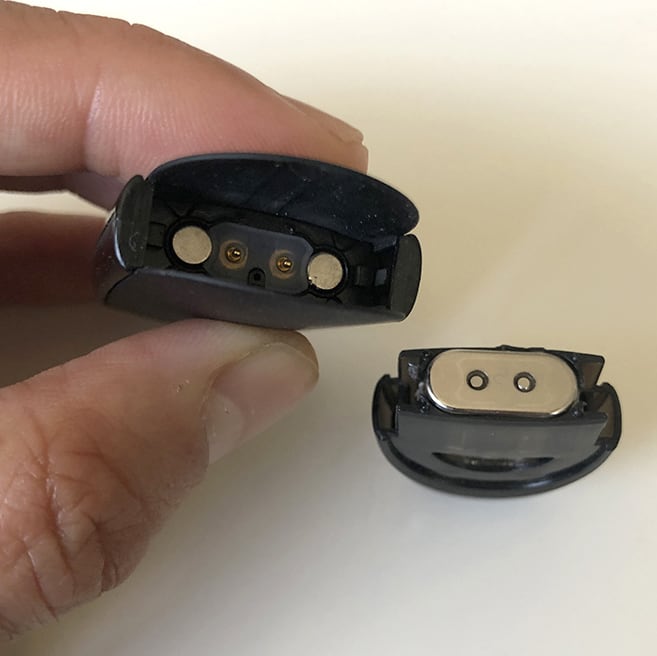 There's no buttons or settings. The DART is breathe activated so now you can start puffing away.
When the DART battery is completely drained, the indicator light will blink 10 times. This means it's time for a recharge.
NOTE: You should be aware that CCELL, as a B2B company, does not sell directly to consumers. Typically, you will not be able to purchase authentic, empty DART pods to fill yourself. DART pods are only available pre-filled with cannabis oils from exclusive cannabis extract partners and authorized retailers.
My Experience
The DART is an outstanding pod vaporizer system. The DART looks slick and feels great in your hand. The mouthpiece feels great against the lips. The magnetic connection makes it easy to swap pod cartridges without the hassle of screwing in threaded cartridges.
As a reviewer, I had the opportunity to test out samples of the DART along with some empty pod cartridges (not normally available to consumers). I tested out the pods with three different types of cannabis oils: CBD isolate e-liquids from Krypted and Hemp Bombs as well as some thicker concentrate from Honey Vape.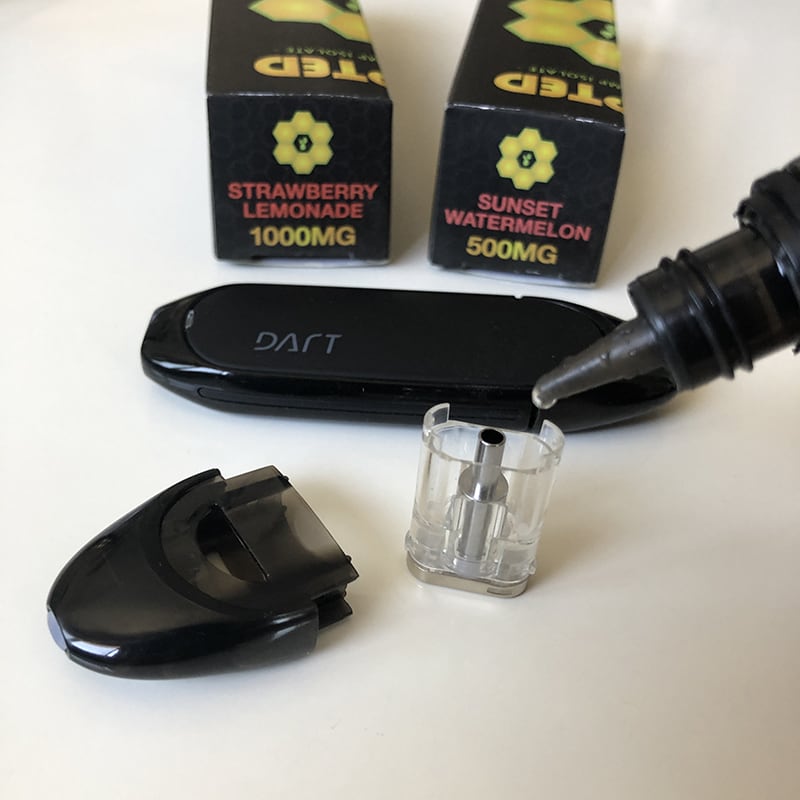 Although empty pods are not available for the general public, filling them with cannabis concentrate is easy. Once the empty pods are loaded up and popped into the mouthpiece, the DART is ready to go!
The DART rips so well that it's hard to leave it alone. I actually felt disappointed returning to regular vape cartridges after using the DART for several days in a row.
Great Vapors
Upon taking the first puff, you'll immediately hear a light sizzle and feel a huge plume of dense vapors fill your mouth and lungs. With each puff, you'll also notice that there's about 20% more vapor than a regular cartridge – amazing!
Powerful Battery
The long life of the DART battery is impressive. I was able to use the DART for several days with moderate use before having to refill. This powerful but tiny vape produces such thick, satisfyingly dense clouds which make it difficult to put this thing down. I noticed that I tended to blow through entire pods quickly just because the vapor production is so amazing.
Discreet & Compact
The CCELL DART's compact size and stealthy, streamline look make it a perfect every day carry vape that discreetly slips away into your pocket. Conceal the entire vape in the palm of your hand while you conveniently take casual puffs throughout your day.
Final Thoughts
While the CCELL DART is a truly fantastic vaporizer that blows serious clouds, it can be difficult to find DART pods as they are not widely available. I also wish that CCELL made re-useable DART pods. It would be nice to refill these pods with my own oils.

However, there's several popular brands that offer CCELL DART pods in California including: Absolute Extracts (ABX), the Bloom brand, and Moxie Extracts. You will have to shop around to find pods if you pickup a DART battery.
For a full list of cannabis brands offering CCELL DART pods, check out CCELL's list of where to buy CCELL DART pods.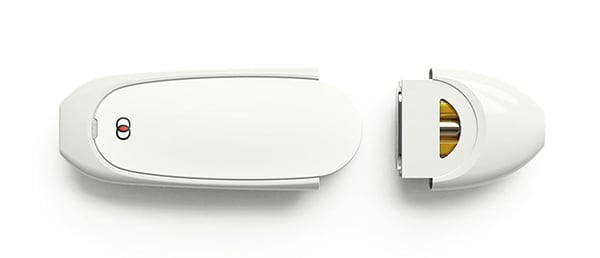 Because pod vaporizers have the ability to outperform typical 510-threaded vape cartridges, pod cartridges and pod vaping systems will continue to grow in popularity.
While cannabis extraction and vaping companies such as Stiizy and Juul offer their own proprietary pod vape systems and corresponding line of vape pods, companies like CCELL are providing a standard platform for other extraction companies to also offer pod vaping options.

Price & Where to Buy
How much is the CCELL DART? The CCELL DART battery retails for around $20-40. Half gram (or 500mg) DART pods typically run $30-$45.
CCELL DART is a B2B company and does not sell directly to consumers.
The CCELL DART vaporizer is available through dispensaries where DART vape pods are sold. Cannabis extract companies, such as the Bloom brand, produce their own white-labeled versions of the DART along with Bloom DART Pods. You can buy the DART batteries directly through these companies.
Like the CCELL DART? You may be interested in these pod vaporizer systems as well: G Pen GIO and PAX Era. There are also vape pod systems like the KandyPen Rubi that use re-fillable pods.
Also, be sure to check out our CCELL PALM vape battery review.