AirVape OM Wax Pen Keychain
Posted on:
July 11, 2019
/
The AirVape OM is both a compact wax pen and an oil vape that fits discreetly right on your key ring.
Featuring a removable dual quartz coil atomizer, glass mouthpiece and sleek metal body finished with faux woodgrain at the grip, the OM is a pretty elegant vape.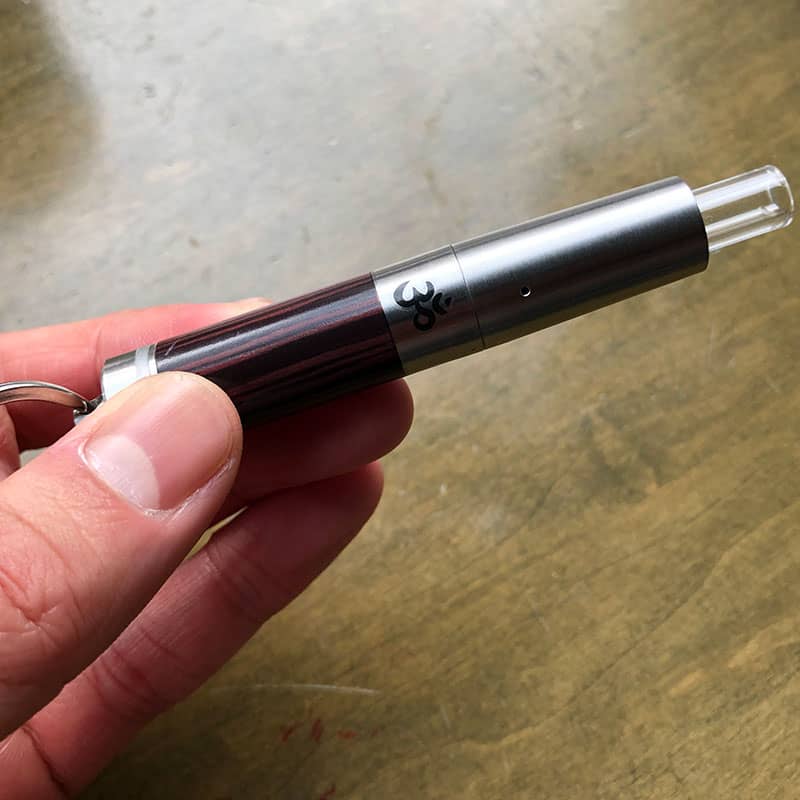 The OM vape is designed not only for your cannabis wax extracts and thick concentrates but with a quick adjustment, it's also compatible with most universal 510-threaded oil cartridges as well.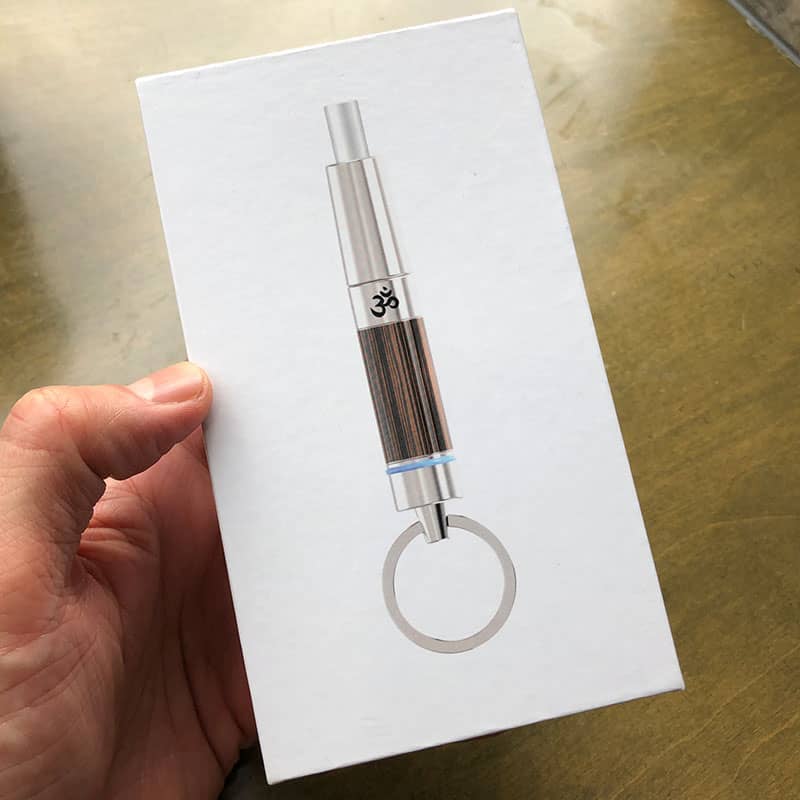 What's Included
1x battery
1x duel quartz atomizer with magnetic glass mouthpiece
1x default cap for atomizer
2x cover caps to cover most cartridges
1x USB battery charger
1x loading tool
1x instruction manual
Limited lifetime warranty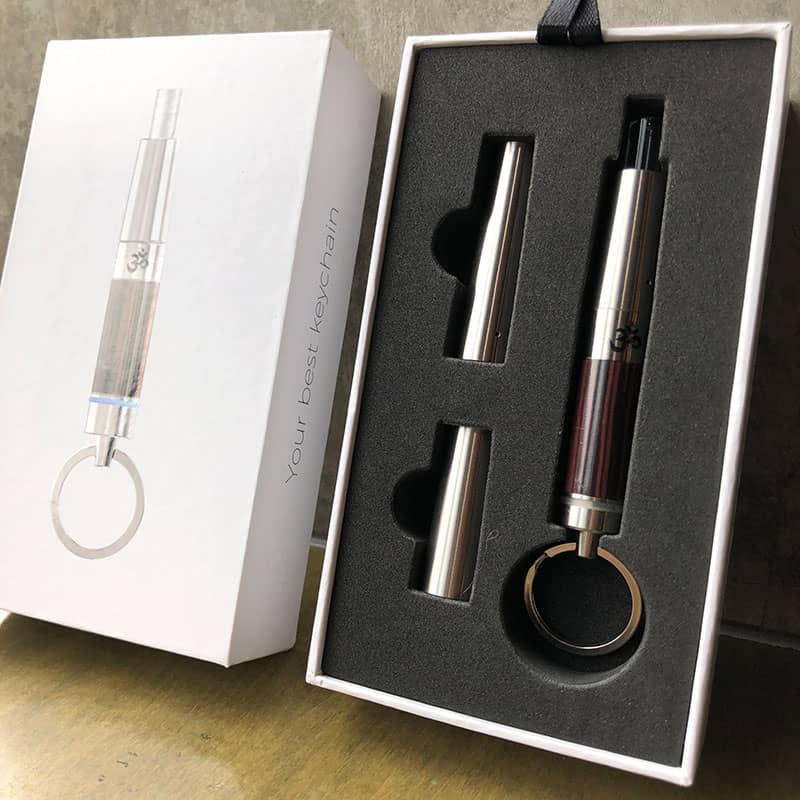 Design & Features
The AirVape OM is one sleek, discreet and compact wax/oil vaporizer. It comes beautifully packaged in a nice, iPhone-esque box and is fixed with a keyring to conveniently attach to your set of keys.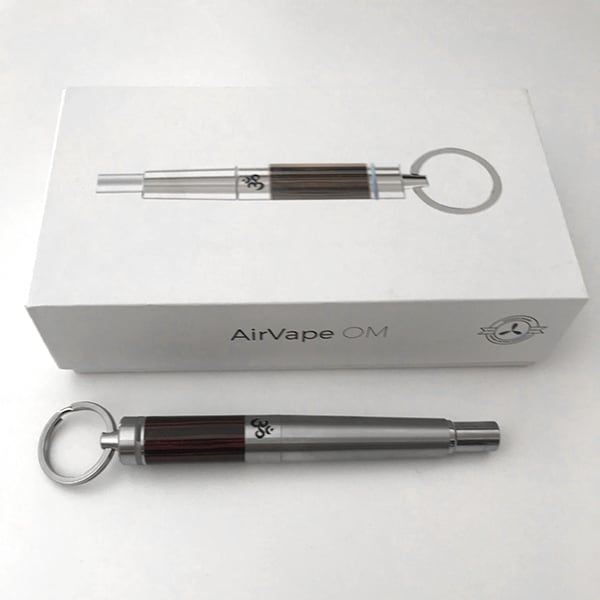 This vaporizer is fitted with a power button, located at the base of the ring which powers the vaporizer on/off and also cycles through 3 variable temperature settings. Each setting is indicated by a hidden LED indicator light that changes color depending on the selected temperature.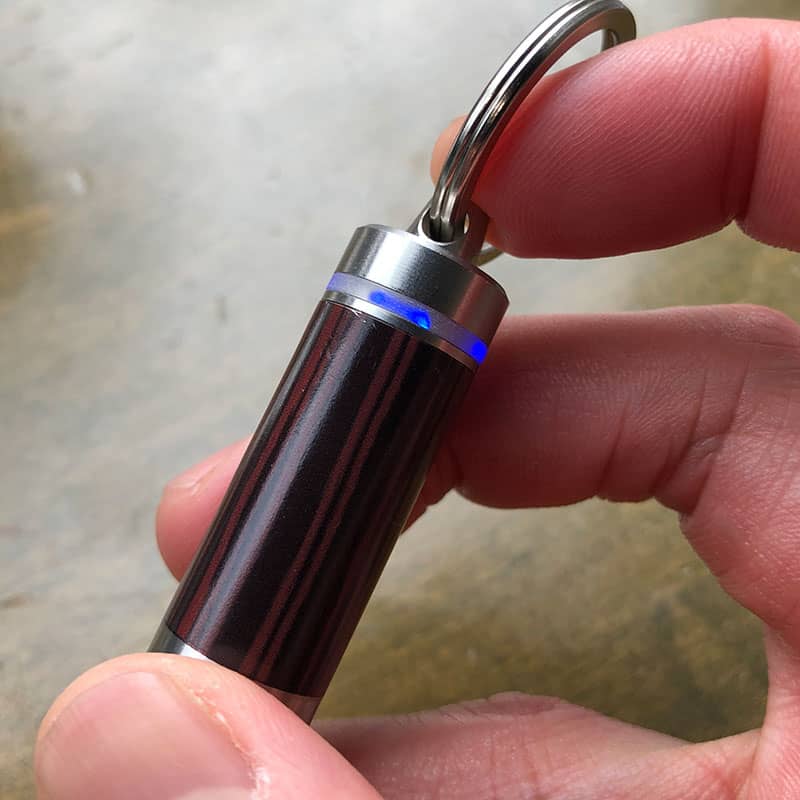 The OM has an easily removable, magnetic cap/mouthpiece that covers the tiny atomizer tucked away on the inside.
Want to switch from wax to oil?
When you unscrew the atomizer, the AirVape OM is compatible with any 510-threaded cannabis oil cartridge. Depending on the size of your vape cartridge, the medium or tall steel covers protect and hide your cartridge while on your keys.
Standard Features
Variable volt control
Power on/off mode
Keychain ring included
Faux woodgrain design
Discreet LED indicator light
Dual quartz atomizer
510-threaded compatible
Tech Specs
Dimensions: 4.5″ L x 0.5″ W
Weight: 1.6 oz
Materials: Steel body, duel quartz coils & glass mouthpiece
Battery: 350 mAh
Volt range: Low: 2.4v/Med: 3.2v/High: 4.0v
How to Use
The AirVape OM is simple to use and works just like most vape pens, but with the added benefit of working with both wax as well as oil. The battery itself comes ready for your vape cartridge, simply screw in, select your cover size and you're ready for an on-the-go vaping experience.

Unscrew the oil cartridge, screw in the atomizer and you're ready to load with your preferred cannabis wax!
Loading the Atomizer with wax
The duel-quartz atomizer has a magnetic cap/mouthpiece that is easily removable. Pull off the cap to expose the dual quartz coil atomizer. Place a small dab of wax on the coils and replace the cap. Press the button to allow smoke to collect in the mouthpiece and inhale.
Operating the AirVape OM
Click the button 5x to power the device on. While powered on, click 2x to cycle through the 3-volt settings (white=low/blue=med/red=high). Hold down the button for the duration of your inhale. Click again 5x power it back off.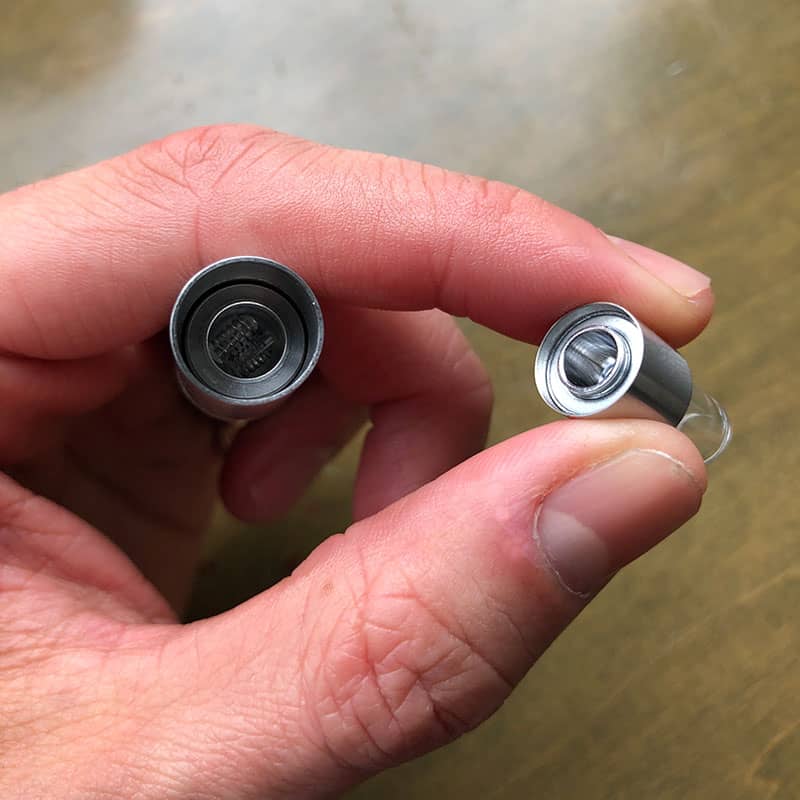 My Experience
While using the AirVape OM to vape both wax as well as cannabis oil, I found it to be sleek and effective with one big catch: the AirVape OM's design prevents you from keeping it upright, which can cause cannabis concentrates and waxes to collect in the mouthpiece. However, this is preventable by putting the OM in a cup or detaching your vape cartridge while storing the OM on your keyring.
I was able to pull excellent, flavorful vapor with both cannabis oil and wax, with the flavor of the wax being transferred cleanly by the glass mouthpiece. At 350 mAh, the battery life is substantial for such a small device, as I was able to go all day without needing to recharge.
I chose to detach my cartridges while storing on my keyring. The OM truly went everywhere with me, so I was never without a vape battery, and if you're forgetful like me, that's a big plus. Also, the added protection of the steel covers kept my cartridges from any damage, while maintaining the aesthetic of the design. If you're in public and want to keep a low profile while vaping, it's easy to use the ring to palm the entire vape while taking a few low key draws.
All in all, the OM is a good-looking vape and keeps a low profile while delivering solid puffs.
Pro tip: I found if the atomizer was getting a bit gunked up, dipping a cotton swab in rubbing alcohol and wiping it did the trick for a quick clean up.
Final Thoughts
With its stealthy design and capacity to switch from wax to oil with a quick adjustment, the AirVape OM is both cool and convenient, but when it comes to keeping your cannabis oil cartridges upright, you'll need to get creative with how you store it. However, you can't beat how discreet it is as you go about your day.
Price & Where to Buy
The AirVape OM is available online for $69.99 directly through AirVape and Vapor (formerly VaporWorld). There's also a smaller, cheaper version, the AirVape OM Mini, for half the price.
Get 20% OFF your entire order with "VAPELIFE" at AirVapeUSA.com.
AirVape also offers a whole line of dry herb vaporizers. Check out our other reviews on AirVape products.
AirVape OM Wax Vape Pen
$69.99