Pulsar APX WAX Vape
Posted on:
July 3, 2019
/
Located in Asheville, North Carolina,  Pulsar is perhaps most widely known for its APX Family line of vapes, which have helped progress the vaping experience to where it is today.
Now, Pulsar brings you the APX Wax vaporizer (Model: Anodized black with clear mouthpiece shown) that is elevating the vaping experience to a higher level, literally and figuratively.
Design & Features
This vape is powerful, portable and discreet at 3.5 inches tall. Palm-sized, but mighty – the APX Wax fires up its triple quartz coil atomizer remarkably fast using an 1100mAh battery.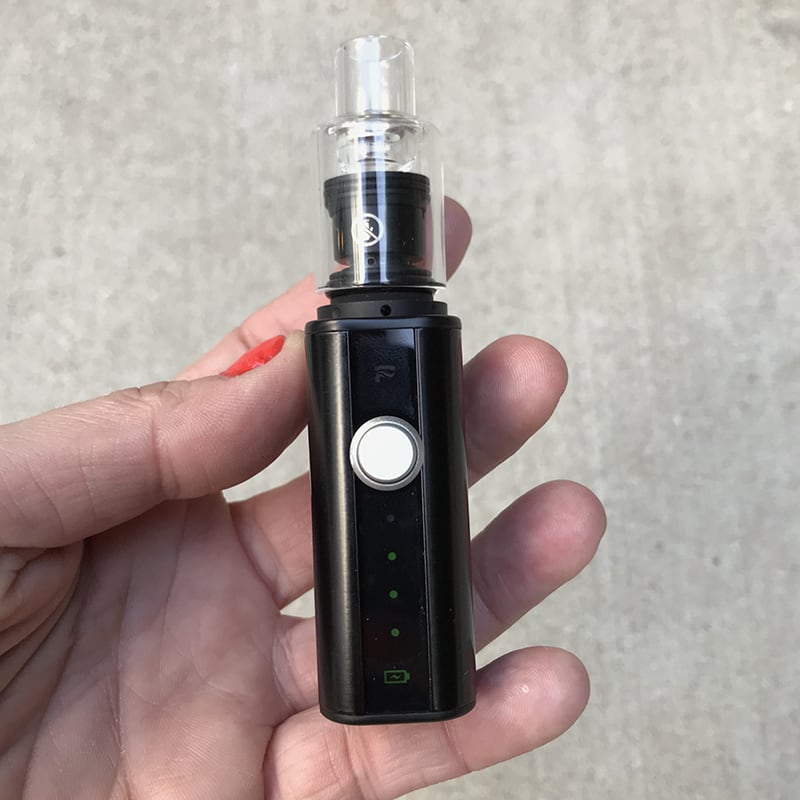 The removable, pure quartz heating chamber delivers even heat and the borosilicate glass mouthpiece keeps vapor inside until inhaled.
Standard Features
5-click power on/off function
5-second heat time
Temperature indicator
Compatible with universal 510-threaded oil cartridges
5-minute safety auto shut off
What's Included
1x Vaporizer battery
1x Borosilicate glass mouthpiece
1x Triple quartz coil atomizer
1x Micro USB charger
1x wax tool
1x 32mm silicone container
1x user manual
1 year limited warranty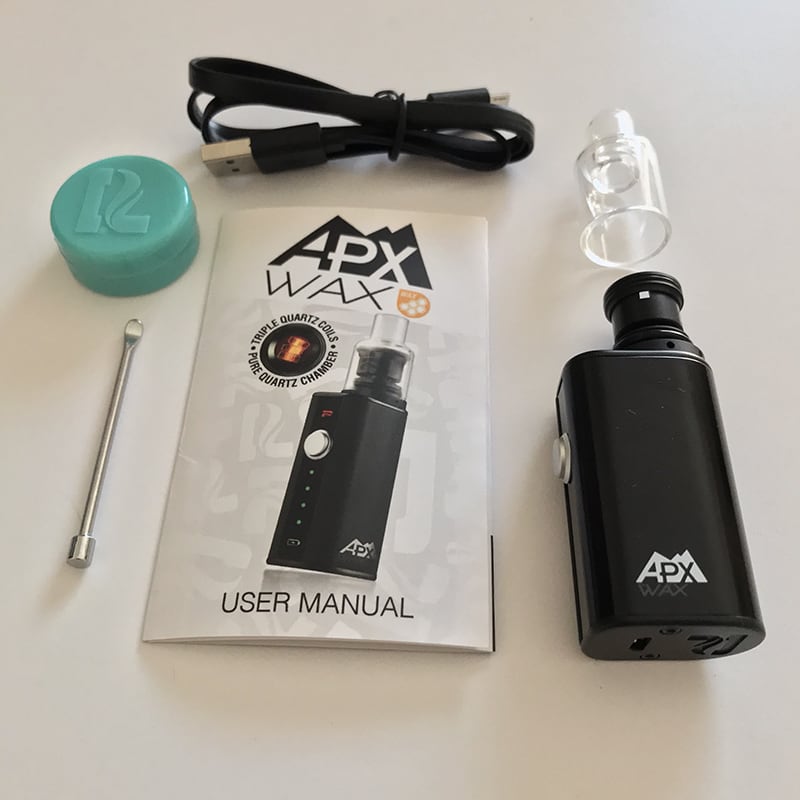 Tech Specs
Dimensions: 3.5" tall
Weight: 3.05 oz
Battery capacity: 1100 mAh
Battery charge: 1.5 hour charge time via micro-USB
Battery size: 30mm x 22mm x 53mm
Compatibility: Works with most oil atomizers (diameter<11.4mm, height<64mm, volume <= 0.5ml)
Materials: Pure quartz chamber
Atomizer resistance: 0.7ohm
How to Use
Charge the APX Wax vaporizer for 1.5 hours before use (do not overcharge or leave on the charger longer than 24 hours). The battery indicator light will show its progress by glowing green and a series of 4 indicators will light up toward the power button as it charges. Once fully charged, turn on the unit by pressing the power button 5x.
Important: Before you vape for the first time, you must first heat the coils inside the atomizer in order to burn off any contaminants or debris that may have accumulated during the manufacturing process. Press the power button until it turns from red to green. Do this a few times to ensure all contaminants have burned off. Now you're ready to start!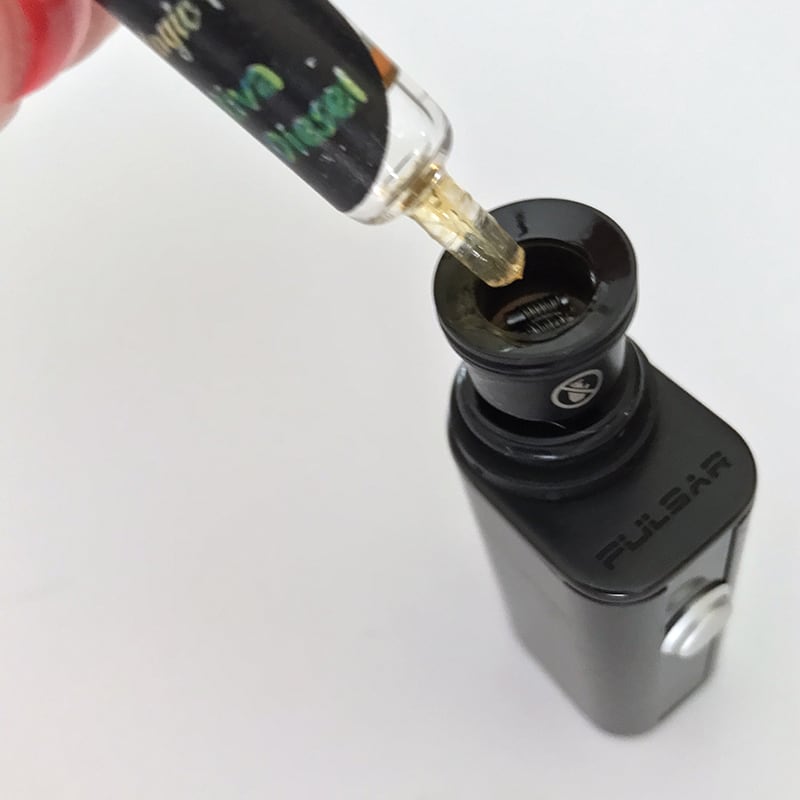 Place a drop of wax inside the atomizer directly onto the triple quartz coils, then gently place the clear mouthpiece over the atomizer. Press the button until the "P" turns from red to green – 5 seconds – and watch the vapor begin to build inside the mouthpiece to gauge the size of the hit you want. Release the button to stop the heating and inhale.
After the initial heating, you can press or pulse the button, as the triple quartz coils will have retained some heat and therefore, will reheat instantaneously. Once the coils have cooled, simply heat again for 5 seconds.
Now, if you're out of wax, or want to indulge in cannabis oil, all you have to do is gently pull the glass mouthpiece off, unscrew the atomizer and voila!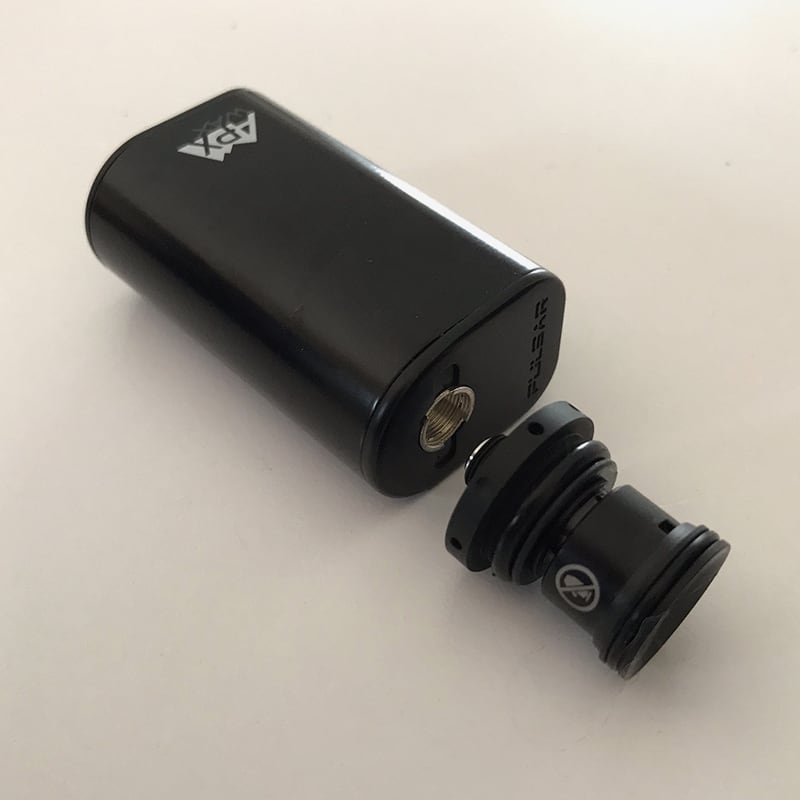 You're ready to screw in your universal 510-threaded oil cartridge!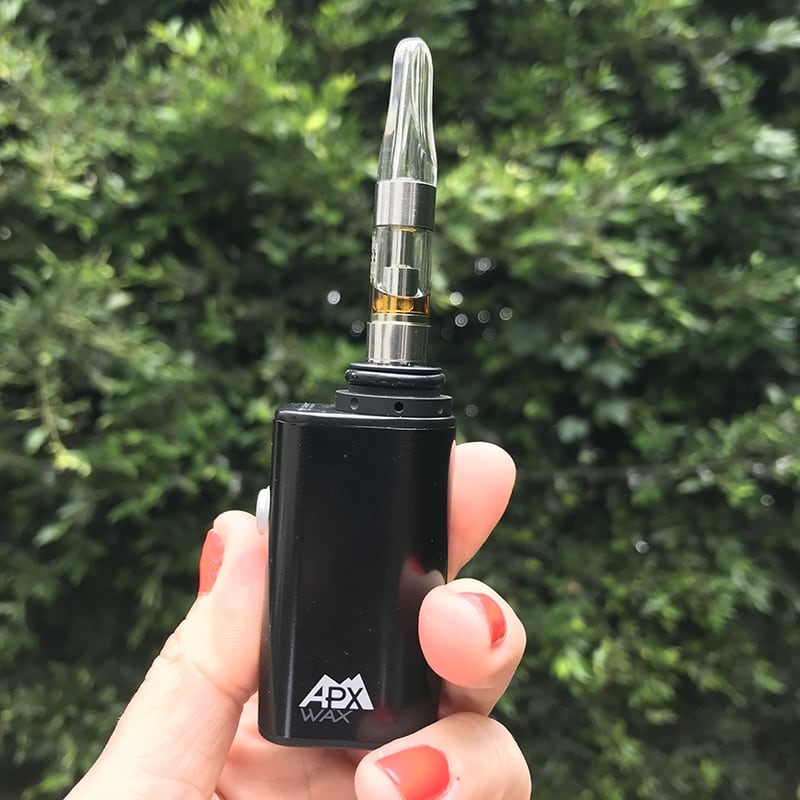 Press the button to draw the desired hit.
Note: you will not need to heat oil in your vape cartridge as long as you do with wax, as oil is thinner, so pressing the button for 2-3 seconds will be sufficient.
My Experience
As someone who uses vape pens more often than dabbing, I found using the Pulsar APX wax vape to be as user-friendly as they come.
I found that if I lightly preheat the coils (if they turn orange, you've heated too much), they "grab" the wax a bit, making it easier to disperse the product. You can use the included dabbing tool which is the perfect size for the chamber of the atomizer.
I got so much thick and buttery vapor using some Sour Diesel wax by Magic Pipe. Almost immediately, I felt that warm rush that seems proprietary to the high that dabbing provides.
The size of the battery is sleek and easily fits in your pocket, purse or jacket. When it comes to the battery life, you get what you take out and by that I mean, with 1.5 hours of charging time, I can get about that with continuous use… but with intermittent use and standby time, I'm able to go for hours.
I was mildly put off by the auto shut off feature as I had to power it back on every time I went 5 minutes without using it, but honestly, that's a minor thing when everything else works well.
When it comes to vaping wax and thicker concentrates, the Pulsar APX Wax is a great vaporizer. However,  with regards to vaping oil, I do wish it had temperature settings. I like to have control over the heat setting as less heat works better when vaping less viscous (thinner) oils and found that taking short puffs prevents burning your cannabis oil.
Basically, if you've ever wanted in on the dabbing game, but have been put off by the cost or confusion of dabbing rigs – the Pulsar APX Wax vaporizer is for you!
Final Thoughts
With its ability to transform from a portable dab rig into a 510-threaded oil cartridge vape, the APX Wax by Pulsar is a fantastic choice if you want one high-powered vape that does it all.
Price & Where to Buy
You can order the Pulsar APX WAX vape through Vapor (formerly VapeWorld) for $69.99. Use code "CVR10" at checkout to save 10% off your entire order.
You can also order the APX Wax vaporizer and many other style of vaporizers from the APX line directly from Pulsar. They offer free shipping on orders over $20.00.
The APX WAX is backed by a 1-year limited warranty.