The Plenty by Storz & Bickels
Posted on:
December 27, 2018
/
While some have described Storz & Bickel's The Plenty vaporizer as a power tool, others have described it as simply a powerful vape.
The Plenty is most certainly a powerful tool. With its unusual metallic coil design, the Plenty features a unique method of allowing vapor to curl around and cool down significantly with each inhale.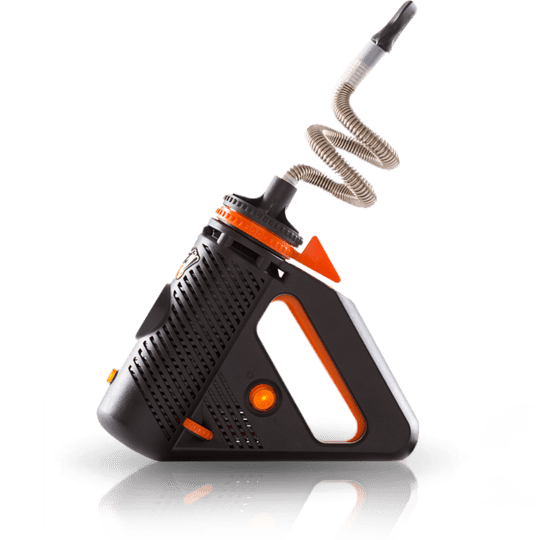 Storz & Bickel has absolutely dominated the dry herb vaporizer market. Their hugely popular vaporizers, the Volcano and The Mighty, have been some of the highest rated vapes on the market.

We obtained The Plenty vape to see if it lives up to Storz & Bickels iconic and superb line of vapes!
Designs & Features
Deadman's Handle
The Plenty dry herb vaporizer has an interesting feature not present in other vaporizers – the Deadman's handle.
This feature is based on the original deadman's handle design which is implemented in actual power tools like power drills and saws as a safety feature. This feature turns off the device after a set period of time in case the user dies while operating the device.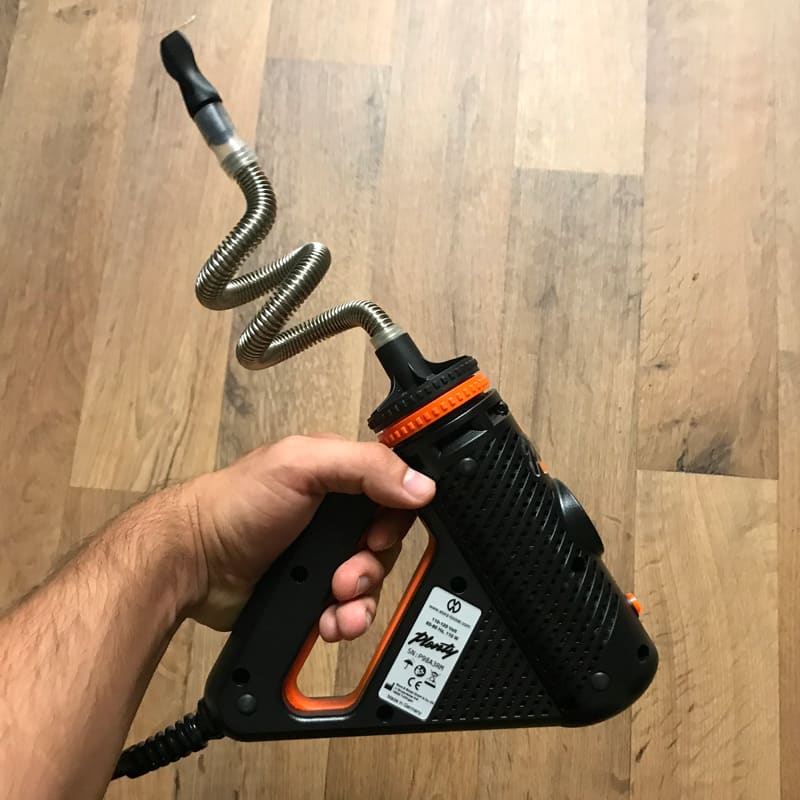 So you must be thinking, "Why is there a deadman's handle on a dry herb vaporizer!?"
Despite the name, no one expects you to die while using this vape… as long as you're safely vaporizing cannabis and not some nasty, toxic chemicals.
Rather, the reason is because it is the answer to many of those far too common experiences of "Oh [email protected], I forgot to pass the vape" and the flower is then subsequently burned and wasted.
The handle has a pull trigger which cranks up the heat. After a few minutes, the heat will start to cool down until you pull the trigger again. That way, you'll never waste flower in between hits or when forgetting to power down.
Metallic Coil Cooling Chamber
Perhaps the most peculiar feature on this vaporizer is the metallic coil that is its unique cooling chamber.
This innovative feature significantly cools down vapors for smooth hits.  By allowing the vapor to bounce off the metal walls of the coil, the heat is dissipated and cooled.
Other vaporizers that produce extremely hot vapor tend to straight vapor paths where burned flower moves directly from the heating chamber and out through the mouthpiece. This typical design does very little for cooling down vapors.
The Plenty's twisted, lengthy coil gives the initially hot vapor "plenty" of time to effectively cool off. As a result, you'll be able to take longer hits without experiencing harsh, dry vapors that irritate the throat and lungs.
Standard Features
Very effective cooling coil
Removable parts for easy clean up
Unique Deadman's handle trigger
Compatible with dry herb & concentrates
Easy to read temperature gauge
Adjustable temperature dial
Comfortable mouthpiece that will not burn lips
Plenty of power delivered through a 110 volt power cord
Large oven holding 1-1.5 grams of dry herb
What's Included
1 x Plenty Vaporizer
1 x Filling Chamber
1 x Cooling Coil
1 x Mouthpiece
3 x Normal Screens
1 x Liquid pad
1 x Tubing section (long)
1 x Tubing section (short)
1 x Cleaning brush
1 x Storz & Bickel Grinder
1 x User Manual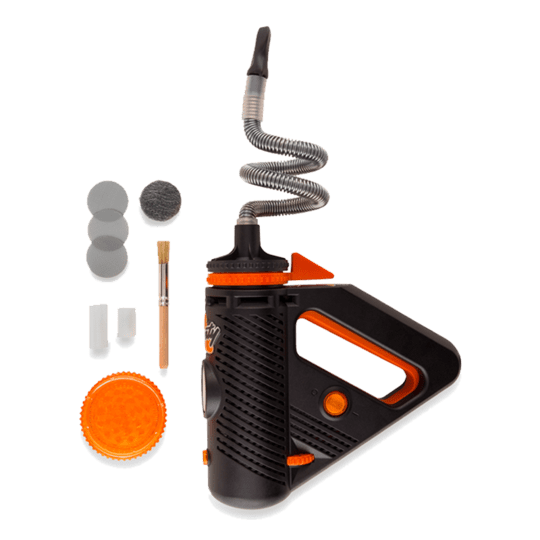 Tech Specs
Dimensions: 6.1″ x 8.9″ x 2″ (15.2 cm x 22.6 cm x 5 cm)
Weight: 1.5 lb (0.68 kg)
Battery: No battery – plugs into an electrical outlet using 110 volt power cord (US standard)
Heat time: 240 seconds
Materials: Aluminum, Stainless Steel, Silicone, Plastic
How to Use
With a handy grinder that's included, all you need to get started is some dry herb or concentrates (with the option of combining both types of cannabis).
Once your herb is all ground up, open and load the heating chamber by twisting the black top off from the orange chamber. Carefully load your delicious herbs into the chamber then twisted the black cap back on when finished.
Using concentrate or just a small amount of herb?
If you're not filling the chamber completely with herb, you can place the concentrate pad onto the chamber as a spacer. Add your concentrate on top if you want. Otherwise, you can twist the chamber back onto the black cap.
Twist the cooling coil back onto the vaporizer and adjust your temperature using the dial which has seven settings that each correspond to different temperatures.
Press the orange button on the side of the device to power on and adjust to your desired temperature. Pull the Deadman's trigger to start vaping.
Once the black arrow on the "Heat-o-meter" reaches your set temperature, take a smooth inhalation from the comfortable mouthpiece. Continue inhaling until you've reach a satisfyingly full hit of cannabis vapor in your lungs.
Every 3-5 minutes, simply pull the trigger on the deadman's handle to fire up again.
Our Experience
We tried the Plenty vaporizer with a couple of different strains. This vaporizer never failed to impress us in terms of flavor transfer and cooled, satisfying thick vapor clouds.
The Plenty consistently delivers those distinct flavors we expect from the unique terpene profiles of each strain we tried. The cooling chamber allows for comfortably smooth hits but the vapor production can fluctuate.
Because the Plenty vape uses convection style heating, you'll notice that the initial inhalations may provide great flavor light vapors. After approximately two minutes, the vapor begins to thicken (dramatically at times), creating hefty, potent clouds.
You'll have to experiment with different temperatures to find your designed experience.
Final Thoughts
The Plenty vape definitely had plenty to show us when it comes to exclusive features not seen with any other dry herb vaporizer. Its twisted metallic coil, meter to display temperature, and peculiar orange trigger left us with plenty to say about it.
While it is a very effective vaporizer, the vapor quality may not always remain consistent. We noticed that the more dry herb packed into the chamber leads to greater the vapor production. However, this can consume a lot of buds. If you use the liquid/concentrate pad with dry herb, you can pack less bud and get away with excellent vapor quality.
Since the Plenty has such a large chamber, this vape is great for packing huge bowls and passing around in a group vape sesh.
Price & Where to Buy
The Plenty Vaporizer is available through VapeWorld for $249.
Includes free shipping and is backed by a 3-year warranty manufacturer's warranty.
For other great options, check our dry herb vape reviews.

Storz and Bickel's The Plenty
$249
Pros
Smooth vapor quality
Unique temperature guage
Unique Deadman's handle trigger
Large heating chamber
Excellent flavor transfer
Cons
Pricy for dry herb vape
Not very portable
Must be plugged into outlet
Handle annoying for long sessions
Bulky build