Affiliate Disclosure: Cannabis Vape Reviews is supported by readers like you. We may earn commissions for purchases made through our links. Learn More
There are many options for ordering weed online, but how and what you can order will largely depend on where you're located.
Ever since recreational cannabis became legal in California, it's been a lot easier to order weed online than ever before. If you're in California, many local dispensaries and cannabis marketplaces offer at-home and on-demand delivery.
Online cannabis marketplaces are a fantastic way to access huge cannabis selections through menus that span across a network of hundreds of local dispensaries. These marketplaces give you access to a wide range of cannabis products and brands at affordable prices and with quick delivery times.
Depending on where you live, there are also subscription box services that will automatically deliver you monthly curated cannabis boxes and smoking accessories. And, if you're in a cannabis-friendly country like Canada, you can even order cannabis mailed directly to your door.
Online cannabis marketplaces are a fantastic way to access huge cannabis selections through menus that span across a network of hundreds of local dispensaries.
As cannabis legalization continues to spread across the United States, the number of options to order cannabis online is quickly growing. There are endless ways to get your hands on every type of cannabis product ranging from flower to edibles, vapes, CBD oil, and concentrates, and all from the comfort of your home.
So how do you buy cannabis online? How does it work?
This beginner's guide to buying weed online will cover all of your online ordering and delivery options, and will even show you how to save money doing it. We'll cover the basics of online cannabis marketplaces, delivery services, subscription boxes, and even Canadian mail-order options.
Once you understand how it all works, you'll be able to place your first order safely and with confidence. We'll also provide a few delivery service recommendations from some of our trusted partners that offer sweet first-time customer discounts.
How Do You Order Cannabis Online?
When it comes to ordering cannabis online, there are a couple of ways to do it.
Depending on where you're located will determine what services are available to you and if it's possible to buy weed from an online dispensary that delivers in-person or ships by mail.
California is one of the largest, legal cannabis markets and offers an impressive selection of options for ordering weed online. There are online cannabis marketplaces in California that deliver throughout most of the state. There are also local dispensaries that offer in-store pickup or home delivery, and finally, weed subscription boxes.
Check out this article on ordering through Los Angeles-based delivery service Emjay where we detail the online cannabis shopping and delivery experience. Emjay now delivers in San Diego as well.
In places like Canada, they have the unique convenience of mail-order cannabis services. Canadian mail-order services like Herb Approach allow you to order any type of cannabis product from edibles to vapes, dabs, and dry herb. Some services will even ship you magic mushrooms right to your door.
Unfortunately, mail order service is not available in the U.S.
Is Ordering Cannabis Online Legal?
Before recreational cannabis was legalized in California, I worked at an online collective/delivery service in Los Angeles. At the time, ordering from a delivery service was in a legal gray area. Delivery services were limited to specific, city blocks, zip codes, or counties. Delivery seemed risky and very few reputable companies were around to do it.
But today, ordering cannabis delivery online has become commonplace.
California has fully legalized adult recreational use of cannabis throughout the state. Delivery is now one of the safest and most reliable ways to acquire your cannabis. In California, it's common for dispensaries to openly advertise on billboards. Driving around Los Angeles, you'll spot many delivery services ads throughout the city.
Check out this article on Cannabis Delivery Services to try in SoCal & West Los Angeles.
However, the legality of delivery and ordering online can vary between states and countries. If you're looking for non-THC products (less than 0.3% THC), you can legally order CBD oils and extracts online from many retailers.
It is important to note that mail order is not legal in the U.S. as cannabis is still illegal federally. All local delivery orders must be placed online through the delivery service's website or app, then the products are hand-delivered by a private courier.
On the other hand, countries like Canada are more friendly with their cannabis laws. Because of this, Canada is home to some of the best online mail-order cannabis services on the market.
Online dispensaries in Canada, like Herb Approach, are allowed to ship through the Canadian postal system. They even offer psychedelic drugs like magic mushrooms (or at least they used to) and have no limits on how much product you can order as long as it's within a reasonable amount.
Aside from private third-party retailers, you can also shop for your cannabis through state-owned or government-owned enterprises such as BC Cannabis stores.
BC Cannabis Stores explained:
BC Cannabis Stores is a crown corporation chain of retail outlets operated by the British Columbia Liquor Distribution Branch to distribute cannabis products in the Canadian province of British Columbia. Unlike BC Liquor Stores, BC Cannabis Stores operates an online store for consumers.

It was established on October 17, 2018, following the introduction of the Cannabis Act, which legalized recreational cannabis use across Canada.[4] Lower Mainland locations were opened in late 2020.

Source: https://en.wikipedia.org/wiki/BC_Cannabis_Stores
Options for Online Cannabis Shopping
Cannabis Delivery Services
Since we're based out of Southern California, we're mostly familiar with the local cannabis market here.
If you happen to also be in SoCal, check out this list of delivery services to try in Los Angeles and Southern California.
For the broader market, you'll want to search marketplaces like Eaze, which serve almost all of California. They have a strong presence in SoCal as well as San Francisco and the Bay area.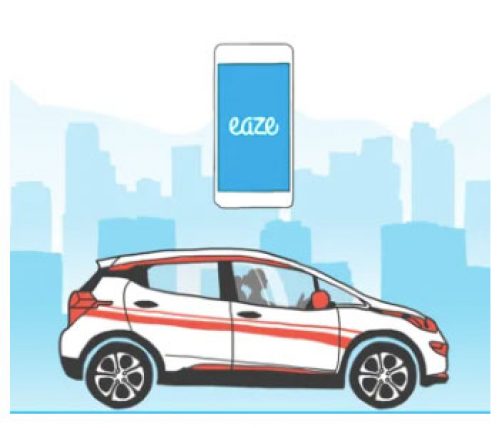 $30 off
$30 OFF 1st order
Get $30 OFF your 1st order with Eaze Delivery. Large selection of products, mobile app available on iOS. Serving Los Angeles and major cities in California.
So what can you expect with your first order?
Typically, ordering weed through any online marketplaces or delivery service is just like any other online shopping experience.
As with any e-commerce site, you'll have to create an account that includes your contact info and mailing address. Because it's cannabis, you will also be required to verify that you are at least 21 and provide a valid ID and a doctor's recommendation if necessary (for medical marijuana discounts and non-recreational purchases).
Then, you browse a menu of cannabis products, add the items to your cart, and checkout. Some services might require you to pay by credit card at checkout or pay by cash in-person upon delivery. You'll get a confirmation receipt along with an ETA or delivery time frame. Some services even offer real-time tracking and scheduled deliveries so you know exactly when your delivery is going to arrive.
Upon arrival, the delivery driver will contact you and will be able to arrange a meeting place such as your front door or whatever is most convenient to you.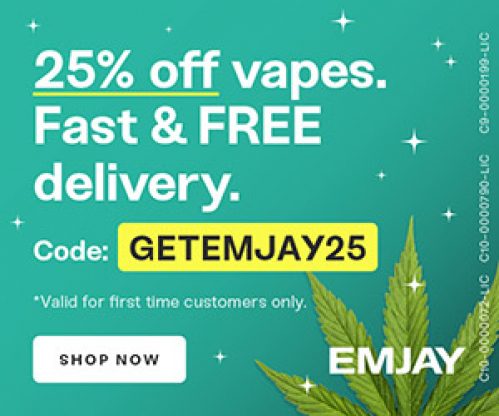 25% off
Discount with code at HeyEmjay.com.
NEW delivery service for Los Angeles, San Diego, and San Francisco. Fair prices, $0 delivery fees – Get 25% off your 1st order.
Cannabis Mail-Order Delivery
Canada is known for having legal mail-order cannabis services. It's great to see that cannabis is widely accepted and consumers are provided easy access to get cannabis by mail. Unlike in the U.S. where cannabis is still federally illegal, you don't need to worry about getting a doctor's note or government-issued card in Canada.
Services like Herb Approach make mail-order cannabis simple. They clearly display a full menu and all of their prices on their website.

In Canada, you can order cannabis online and have it mailed and delivered to your home through the postal system. You're not just limited to cannabis either. You can also order magic mushrooms, as well as cannabis-infused products, and cannabis-infused foods.

Canadian mail-order service offering a large selection of vapes, edibles, CBD, concentrates and more.
Discount with code at HerbApproach
Cannabis Subscription Boxes
Most subscription boxes are typically cannabis-themed and contain only smoking accessories like joint papers, grinders, and pipes. Since mailing cannabis is illegal in the U.S., there are limited subscription boxes that contain actual cannabis products.
The Daily High Club, for example, offers a curated smoker's box every month. They'll conveniently keep you stocked up with unique glass pieces, papers, lighters, and all the smoker's essentials every month.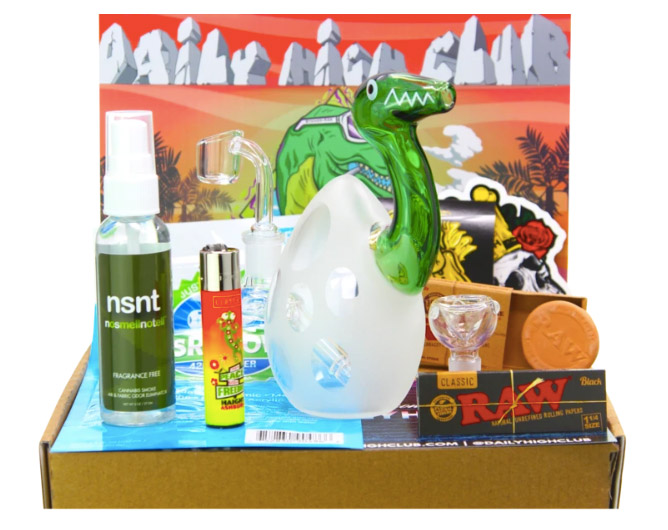 Cannabox is a similar monthly subscription box service that is also a large head shop with unique dab rigs and many other smoking products.

Cannabis smoking accessories subscription box and online store. Get new glass, over $100 worth of products, and all the essentials with each box.
In California, there are few subscription box services that will ship locally. Services like Nugg Club offer monthly subscription boxes that contain a curated selection of fantastic cannabis products.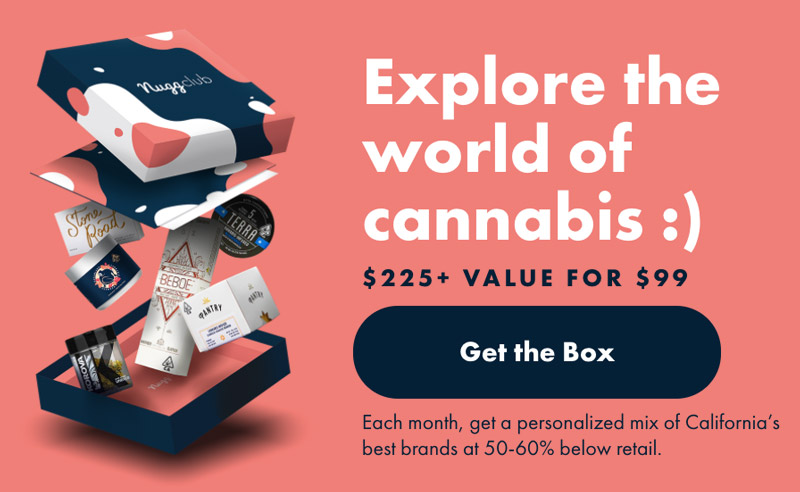 Available in California only.
Every month, Nugg Club's team of experts creates custom weed bundles at discounted rates. Each bundle contains a mixture of cannabis products like flowers, pre-roll joints, and edibles. They also offer specifically tailored subscription boxes like concentrates bundles or sativa lover bundles to suit your personal preferences.
Subscription boxes are an excellent way to explore new products and discover new cannabis brands.
Check out this list of cannabis monthly subscription boxes here.
How to Shop Vendors
You might be wondering if the online shop you're looking at is legit. It's understandable that buying weed online might not seem safe or you're afraid you might get ripped off.
While there are undoubtedly some sketchy "we will mail your weed anywhere in the world" type of websites, there's a few things to keep in mind that will help you steer clear of these shady sites.
Legitimate online dispensaries in regulated states should clearly display their license number somewhere on the website (usually in the footer of the website if in a cannabis-regulated U.S. state).

Their contact information should also be clearly visible a well as their ordering, delivery and return policies. Most modernized online services will also have live chat. Take advantage of the live chat to have all of your concerns addressed before you place an order.
When deciding where to buy your weed online, here's a few things to look out for:
Clear shipping & returns policy
Clearly provides delivery areas
Current contact info and live chat support
License numbers should be displayed
All products on the menu are lab-tested products with THC content
Well written product descriptions and quality product photos
When in doubt, contact the retailer and don't be afraid to ask for the specifics. If there's no way to get in contact with the retailer, I'd suggest looking into an alternative since there's so many options out there.
If you happen to try any of the services mentioned in this article, leave a comment below so others can learn from your experience.