Affiliate Disclosure: Cannabis Vape Reviews is supported by readers like you. We may earn commissions for purchases made through our links. Learn More
Ordering weed for delivery is simple – it's fast, easy and affordable.
It's been that way for years now, but there's way more competition which means better deals for you. New delivery services for California and Los Angeles are now offering faster delivery times and wider menus with better product selection from premium brands.
I recently had the chance to try out the Emjay cannabis delivery service.
Emjay is a delivery service that started out in Los Angeles. It's now branching out to cover more of SoCal, serving all of Los Angeles, San Diego, and up north in San Francisco too. If you love weed and online shopping, then you're going to fall in love with ordering cannabis for delivery. It's just too convenient.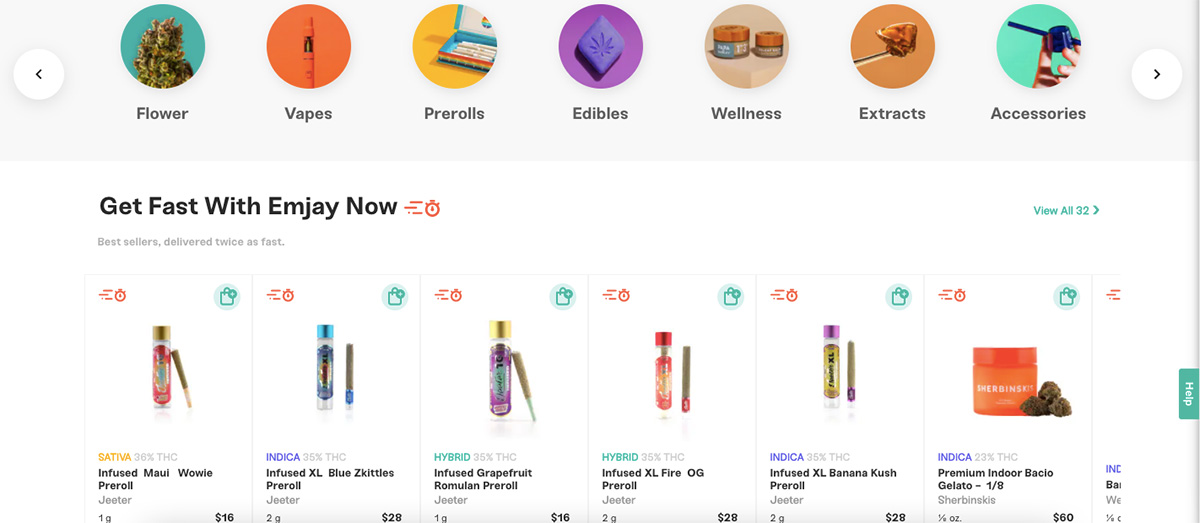 It was fun browsing through all the yummy products on Emjay's menu. I got a good mix of flower, vape and a concentrate for dabbing. Signing up and placing orders is easy. I placed an order and received delivery within about 3-hours – and I didn't have to leave my house! No more trips to the disepsnary.
I'm going to show you just how easy it is to order weed online for delivery in California. I'll walk you through my experience with Emjay and give you the run-down of how ordering weed online works.
Getting Started with Cannabis Delivery
The signup process is simple.
Log on to HeyEmjay.com and register a new account.
You'll be asked to enter your delivery address and answer a few other short questions like phone and email. Follow the instructions to verify your phone number. You'll also have to upload your ID before you can place an order.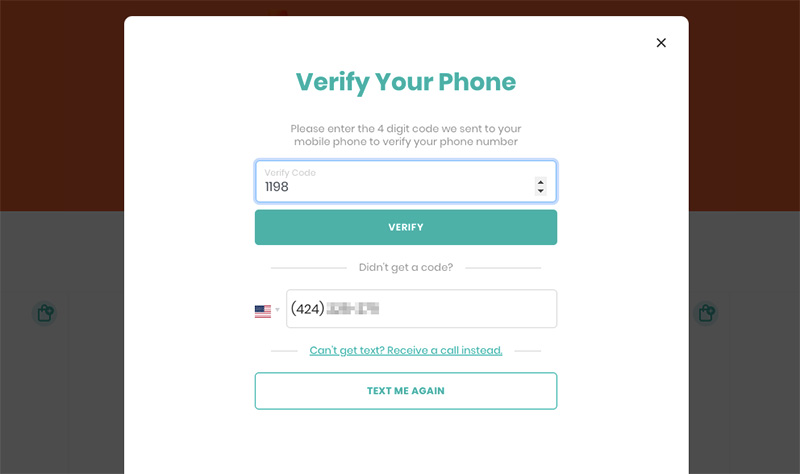 After registering an account, you'll receive an email with a nice discount for your first order. If you don't receive that email, you can always use the discount code "GETEMJAY25" for 25% off.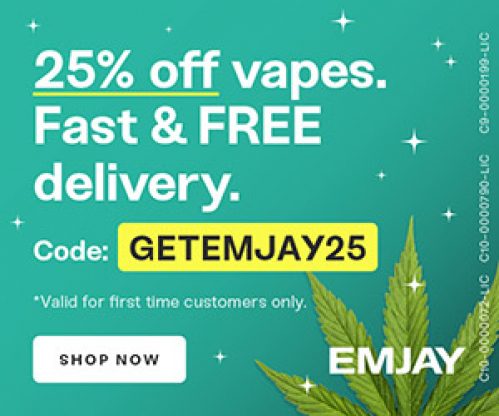 25% off
Discount with code at HeyEmjay.com.
NEW delivery service for Los Angeles, San Diego, and San Francisco. Fair prices, $0 delivery fees – Get 25% off your 1st order.
Ordering Products for Delivery
Once your account is up and running – now comes the fun part – browsing the menu and ordering products.
The Emjay website is optimized for both mobile and desktop browsers. So no matter how you shop, they've got you covered. I spent some time to shopping on both my laptop and phone to test out the user experience.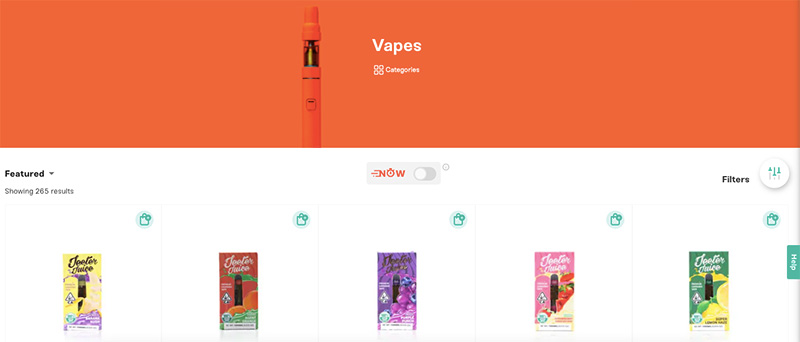 When you're shopping for products, you can shop by product category like flower and vapes. You can also filter by several options including strain type or shop by brand name. This is really helpful when you already know what you want.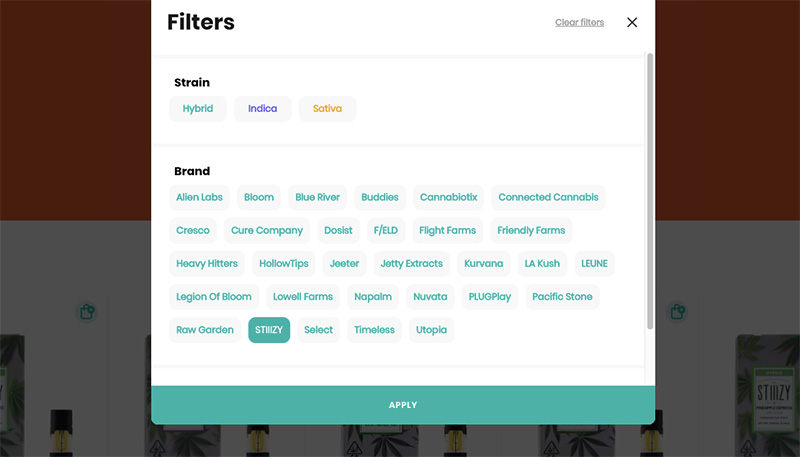 I've been looking to shop for some of the hottest brands in Los Angeles so I decided to browse some STIIIZY products. I simply filtered by brand and found a ton of STIIIZY cartridges and disposable vapes to choose from.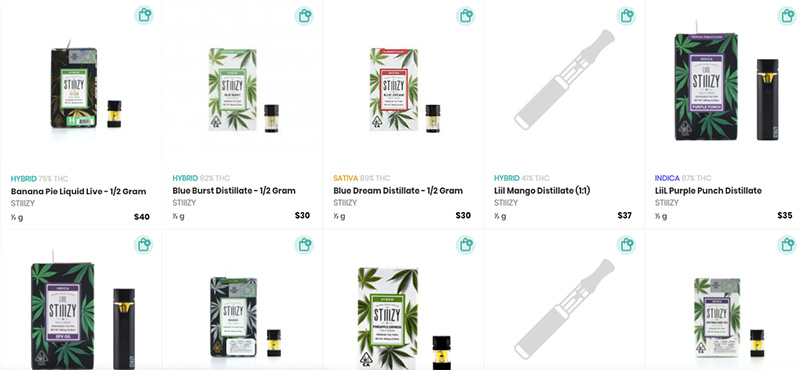 Emjay has a lot of STIIIZY oil pods in stock, but they were out of STIIIZY batteries (which you need for their pods). So instead, I opted for a LiiL STIIIZY vape which is STIIIZY's line of disposable vape pens (battery and oil combined in a one-time use device).
PRO TIP – If an item is out of stock, you can opt-in to be notified when the item is back in stock. Look for it on the product page.
Here's what an actual product page looks like for the STIIIZY disposable vape. You can clearly see product details like strain type, THC %, price and more. Their license # is also listed so you know you're not getting a counterfeit product.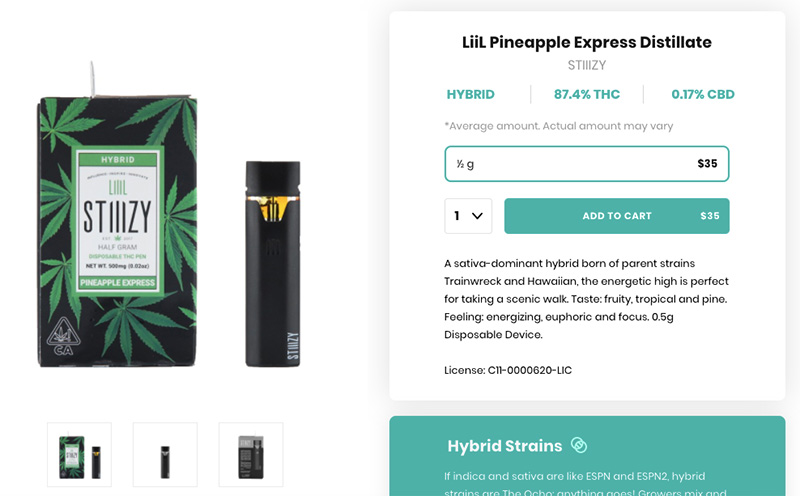 PRO TIP – Pay attention to what you're ordering. I noticed one product listing discrepancy. For example, when looking into the the LiiL Juicy Melon distillate disposable vape (hybrid strain), I noticed the that product image displayed was mistakenly a Sour Diesel vape (sativa strain) instead – however, this shouldn't be a deal breaker.
I used to manage an online-based delivery service so I know how hectic it can be to manage inventory and keep product listings 100% accurate, especially with a menu as large as Emjay's. Just something to look out for. Emjay has customer support on stand-by, ready to sort out any issues you may have.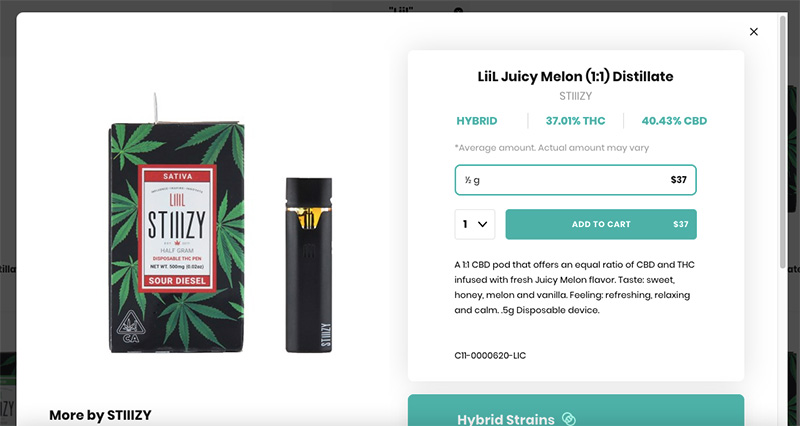 One thing to note is that while Emjay doesn't have live chat support, there's a help tab on the side of every page where you can send an email to customer support. I've reached out to them at least two times already. They replied within 10-minutes – excellent customer support! So if you're unsure of what you're ordering or how to use the site, don't hesitate to reach out.
I wanted a good mix of products for my first ever Emjay order so I got some STIIIZY flower, a disposable vape and some Cresco Live sugar to dab later. The STIIIZY vape I order sounded amazing as the oil is a balanced ratio of 1:1: THC to CBD. Their flower is some premium indoor grown and the Cresco Live Sugar sounds delicious.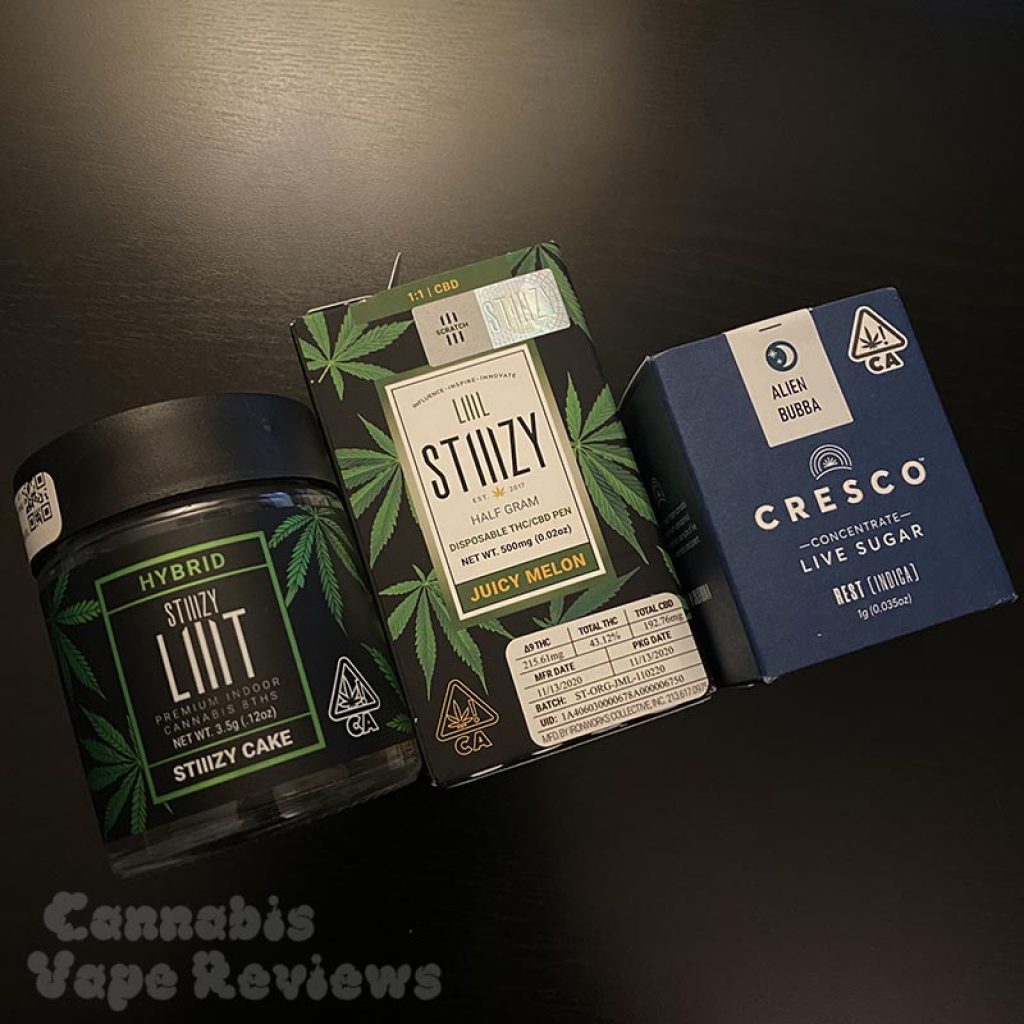 Once you've decided on the products you want, just add them to your shopping cart and checkout just like you would on Amazon or any other e-commerce site. Also when you checkout, there is an option to schedule your delivery for another day/time.
Don't forget to apply your discount code to save on your 1st order.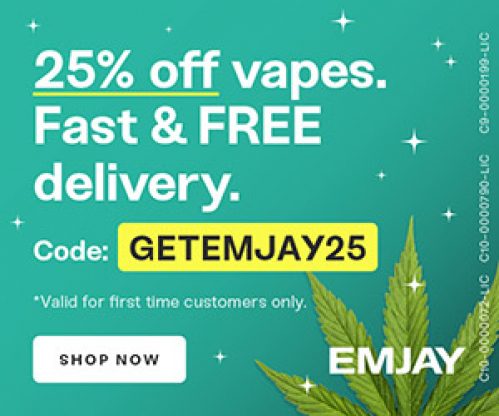 25% off
Discount with code at HeyEmjay.com.
NEW delivery service for Los Angeles, San Diego, and San Francisco. Fair prices, $0 delivery fees – Get 25% off your 1st order.
Receiving Your Delivery Order
I placed my order on a Saturday, around 4:30pm and was given notice that delivery is typically within two hours. After placing the order, I immediately received both a text message confirmation of my order which notified that the courier would be on his way soon. I also received an emailed receipt of my order.
While anxiously awaiting my order, I kept my desktop browser open to track the delivery. The website gives live time frame updates on estimated delivery windows and displays when the courier is en route.
While the time frames are great, one downside is that real-time tracking with GPS location is not provided.
At the delivery service I managed, we'd send customers a link to access real-time tracking so you can see exactly where your order is just like with Uber or Lyft. Hopefully, Emjay will implement this type of technology soon. I know our customers loved this feature.
I could see that my delivery driver is en route but I noticed that my order time frame kept updating and it looked like it was going to be late. The order eventually arrived around 7pm so Emjay's time frame was a bit off, but close enough.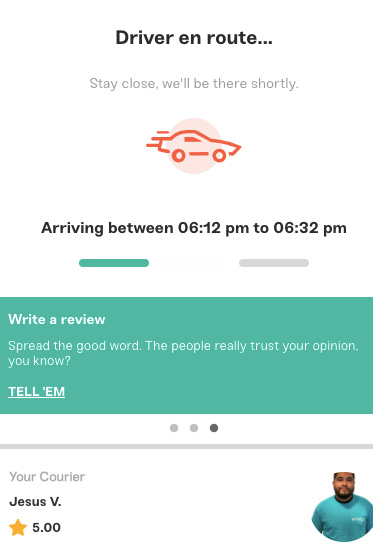 From my experience with delivery, I understand the logistics of meeting time frames can be difficult. If a driver is on a route with three stops, one customer delay can ruin it for the rest. I know the delay for my order was not the driver's fault so I was cool with it.
PRO TIP – When ordering, there's options for scheduled delivery (seen during checkout process) so you can choose exact time/date and also an option to filter products by availability for immediate ordering (seen when browsing the menu). You can also leave a note with your order at checkout such as "delivery to my front door" or "don't ring the doorbell" for example.
When your delivery driver is close by, you'll get a heads up text message. The driver will text you directly when they have arrived at your location. You'll need to show your ID and sign for the order.
Once your delivery is complete, you'll get a delivery receipt by email with a link to leave a customer review. You'll also get a text message with options to tip your driver electronically.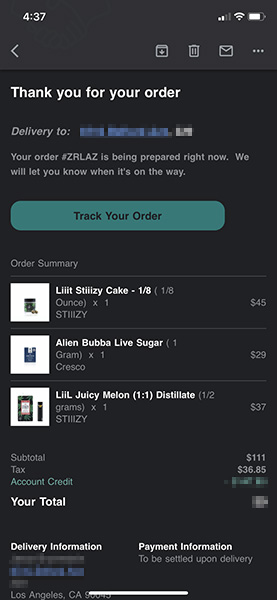 Be sure to tip your driver as they work hard to safely and quickly deliver your cannabis! Also, it's great that 100% of the tip goes to them.
All-in-all, my experience ordering cannabis delivery through Emjay was great. My delivery guy was super friendly and hand delivered to my door. The Emjay menu has a great selection for vapes and all kinds of other cannabis goodies. The prices seem fair and I like that there's no delivery fee as you can expect to pay about 30% in taxes.
Final Thoughts about Emjay Delivery
Positive
Large product selection
Premium brands
Product back in-stock email alerts
Delivery time frames
Allows scheduled deliveries
Mobile-friendly website
No Delivery fee
Fair prices
Friendly delivery driver
Negatives
Few user experience kinks
Lots of out of stock items
No live chat support
No-real time delivery GPS tracking
As far as taxes and prices, there's a local, state, and excise tax which you can't really get around. If you want to go cheaper, you're have to resort to shopping on the blackmarket or shop from a dispensary that offers medical marijuana discounts. When you sign up for Emjay, let them know that you have a medical cannabis recommendation. This could save you an additional 5% off and has other perks like the ability to place larger orders.
Depending on where you live or place the order will ultimately determine how much you pay in taxes. To give you an idea of how much I paid as an example, I'm located on the Westside and my delivery was in Los Angeles close to the beach by LAX. For a $111 order, taxes added up to around $36 (over 30% tax). While ordering seems costly, Emjay aims to keep their prices low with $0 delivery fee to compensate for the high taxes.
Now that I have my killer STIIIZY and Cresco cannabis on hand, it's time to toke up. Stay tuned for reviews on these products. Over the coming weeks and months, we'll be reviewing other brands on Emjay's menu to keep you on top of the latest and greatest.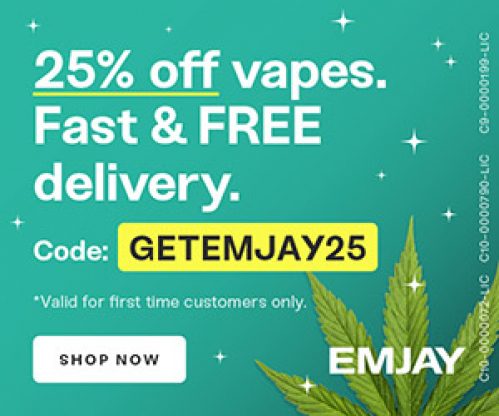 25% off
Discount with code at HeyEmjay.com.
NEW delivery service for Los Angeles, San Diego, and San Francisco. Fair prices, $0 delivery fees – Get 25% off your 1st order.