Affiliate Disclosure: Cannabis Vape Reviews is supported by readers like you. We may earn commissions for purchases made through our links. Learn More
One thing in life you can count on is that you get what you pay for.
While a cheap dab straw may save you a few dollars in upfront costs, it's probably not going to provide a good cannabis concentrate vaping experience.
When you choose a genuine, high quality electronic dab straw, like Rokin's Stinger, instead of a cheap look-alike, you can rest assured you are getting a vaporizer that will deliver the best user experience for your wax concentrates. 
What Separates High End E-Dab Straws from Counterfeits?
When you first get into dabbing, you may be tempted to buy the cheapest dab straw out there—especially if you're ordering from an online retailer and can't see or handle the product in-person.
Why is this a mistake?
Although some look-alike dab straws claim to deliver the same vaping experience, a quick examination of the components easily exposes the differences.
For instance, quality dab straws are fashioned from high-quality metal, never cheap plastic materials like you'll find with low-price offerings and "budget-friendly" vapes.
This means your vape pen will be durable and can stand up to some drops and still function as intended. Poorly assembled discount vapes and dab straws—when dropped—well, maybe they'll work, maybe they won't.
And really, would you rather buy one solid dab straw that lasts or cough up your hard earned cash to buy a new one every few months?
Furthermore, once you start using a high-quality E-dab straw, it becomes apparent what separates genuine vaporizers from cheaply made, inferior vapes.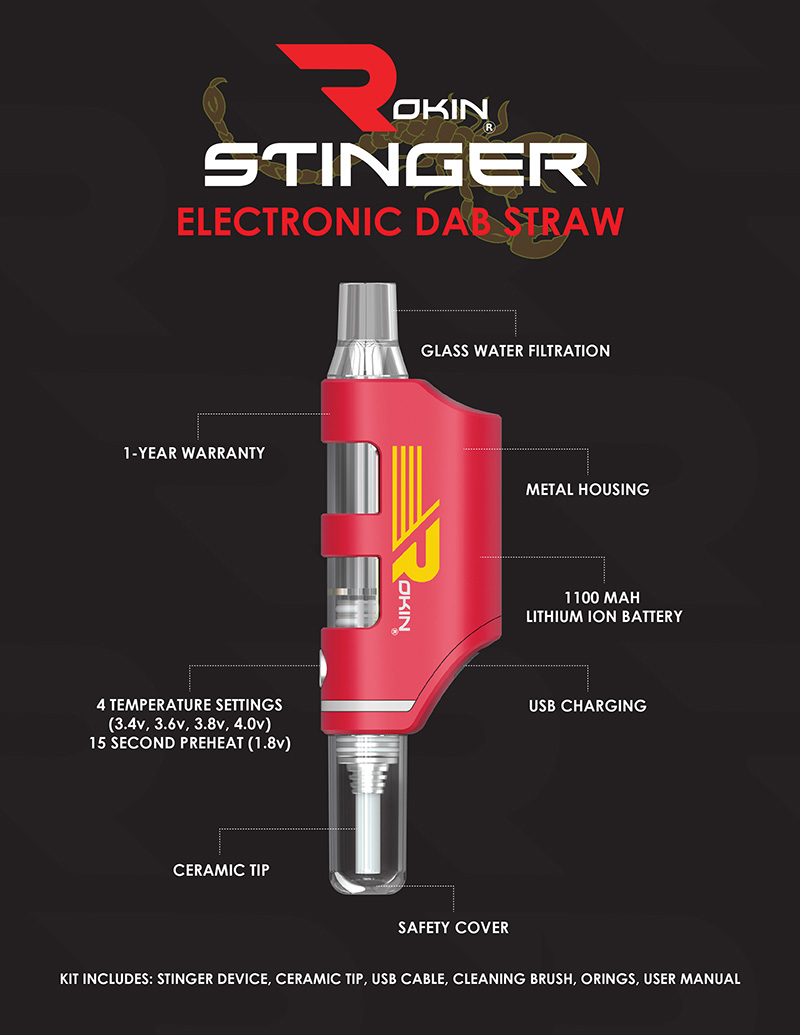 What Makes Vaporizers like Rokin's Stinger Superior?
Three words separate high quality dab straws from low price alternatives: flavor, efficacy, and usability.
Look for features like a pure ceramic tip.
Ceramic tips will give you the best flavor from your concentrates. This is because the ceramic tip's specially designed internal heating element can always deliver the correct temperature and it provides even heating. 
Devices that use cheap exposed coils will destroy the flavor and efficacy of your dabs. This compromises the terpene profile and renders your dabs less effective. As we all know, burnt concentrates are ineffective concentrates and they taste the worst.
Bottom Line: Unlike exposed coil dab straws, ceramic tip dab straws won't burn or alter the taste of your concentrates.
If you really want the smoothest hit—and who doesn't—look for a built-in water bubbler.
While "bargain" dab straws offer you nothing but an empty chamber (which won't cool your hit), a glass bubbler is a game changer when it comes to taking on-the-go dabs.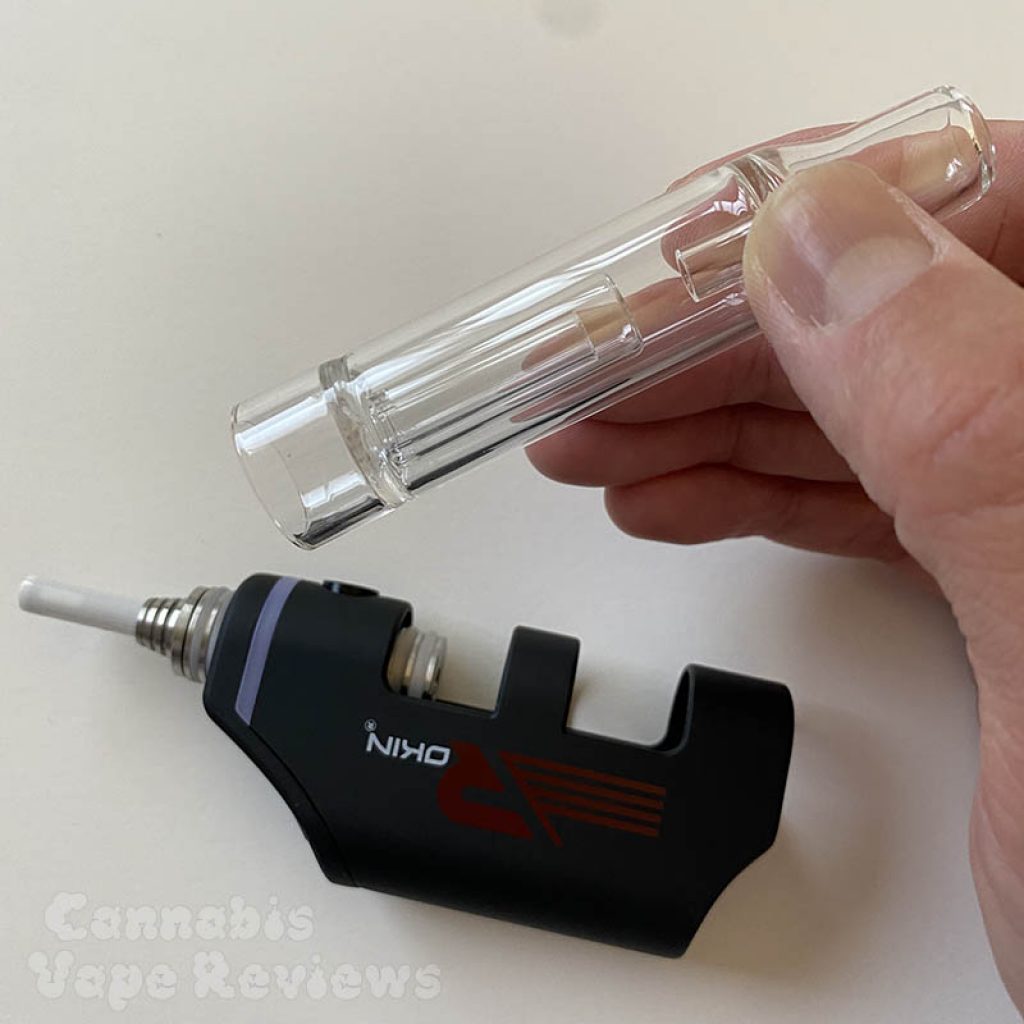 This feature will really allow you to savor the flavor!
Furthermore, a bubbler filters out impurities. Although there are a few high-quality E-dab straws out there, Rokin's Stinger is one of very few electronic dab straws with a built-in water bubbler.
Temp Control for Better Dabs
Any worthwhile E-dab straw should allow adjustable voltage or temperature control.
The Rokin Stinger, for example, lets you select from four different heat settings quickly and easily. This way, you can choose the temperature you want to control the size of your hit and to optimize for your particular cannabis concentrate.
So, whether you're flavor chasing or looking for maximum cloud production, a quality E-dab straw will have you covered.
More Airflow For Better Dabs
Dab straws featuring air holes on the ceramic tip take away some of the resistance when you inhale.
Why should you care?
First, this feature helps to conserve your cannabis concentrates. Who doesn't want that? The air holes also help you to get the best taste from your concentrates without leaving any residue in your mouth. The air hole also increases airflow for cooler hits.
Powerful Battery and Solid Internals
Finally, unless you want to head home to recharge your battery in the middle of a session, choose a dab straw with a powerful battery and solid internal components.
Rokin's Stinger is powered by a 1100 mAh battery which is USB-chargeable. The Stinger vape also features thicker internal wiring than some of the cheaper dab straw alternatives.
When comparing the Rokin Stinger versus a cheap dab straw alternative like the Seahorse Pro, you'll notice several key differences in features.
The discounted vape has a glass chamber that is not actually a water bubbler and the battery is much smaller at 650 mAh versus 1100 mAh. A battery that's nearly half the size will likely leave you stuck recharging your battery more often than actually enjoying your cannabis.
Don't Be Fooled by Discount Vaporizers
Remember, don't be deceived by similar superficial appearances when it comes to E-dab straws. To get the best concentrate experience from your electronic dab straw, honey collector, or similar straw-like vape, demand second-to-none build quality. This means a metal construction and components like a ceramic tip, multiple temperature settings, a water bubbler, and a long-lasting battery.
You can buy the recommended Rokin Stinger dab straw directly from Rokin Vapes.
Also, be sure to check out the Rokin Stinger vaporizer review to learn more.
For more information on Rokin's vaping products, visit www.rokinvapes.com.
About the guest author: A longtime volunteer for the Marijuana Policy Project, Daryl Bauer is  CEO of Rokin, one of the world's foremost developers of vapes and vaping technology.

-20%
20% off with discount code at RokinVapes.com
Rokin Vapes is offering 20% off sitewide for the Cannabis Vape Reviews audience.